History buffs are in for a treat with the number of museums our history-rich country has, but these 12 best history museums in the US are definitely the must-visits.
Let's be honest, every state is going to be rich in it's own history that it's hard to really narrow this list down.
So I went ahead listed the 12 most unique and attention grabbing museums from all different parts of the country, many of which are free to enter.
12 Best History Museums in the US
If you've got time off to visit just one museum, pick from any of these 12 amazing destinations.
You're sure to leave with a deeper understanding of our ancestors, culture, and history.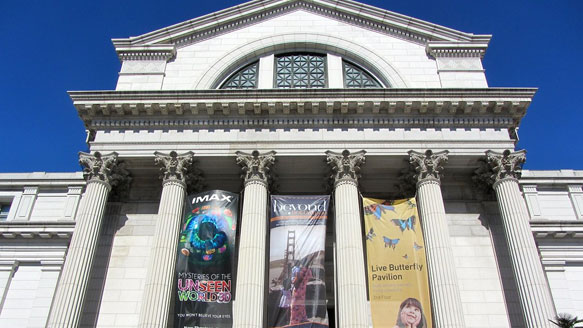 Address: 1300 Constitution Ave. NW, Washington, D.C.
Tickets: Admission is FREE
Hours: 10 a.m. to 5:30 p.m. daily, except Dec. 25
If you're in Washington, DC and want to explore without spending cash, make sure to visit the National Museum of American History, one of the Smithsonian Institute's many museums in the country.
This is one of the bigger ones – at THREE FLOORS packed with interesting artifacts and historical info, you can easily spend a day inside the museum discovering/rediscovering stuff.
When you visit the National Museum of American History, don't miss checking out Abraham Lincoln's hat (he was wearing it on the night of his assassination) and the cast of his "face", the clothes of former Presidents and First Ladies, and a cool-looking Incandescent Lamp made by the Edison General Electric Company around 1891.
(If you do decide to visit, include some of these 10 other FREE things to do in Washington, D.C.)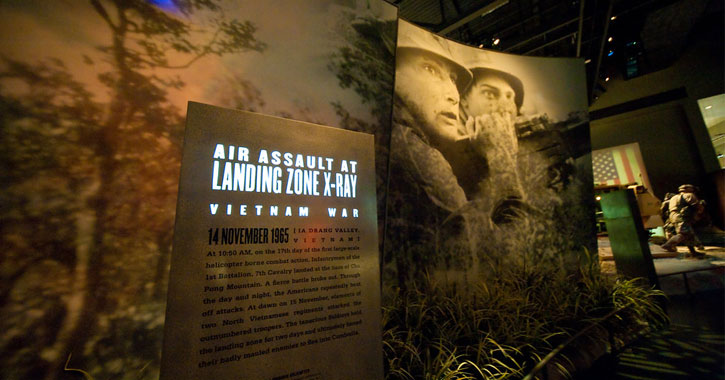 Address: 1775 Legacy Way, Columbus, GA 31903
Tickets: FREE admission, but donations are welcome.
Hours: Closed on Mondays, Easter, Thanksgiving Day, Christmas Eve, Christmas Day, and New Year's Day. It is open Tuesdays to Saturdays from 9am to 5pm, and 11am to 5pm on Sundays.
The museum entices people to "experience 240+ years of American history in immersive exhibits that put you in the fight for the Last 100 Yards."
But, does it hold up?
YES!
There's a reason the National Infantry Museum and Soldier Center has been voted USA Today's Best Free Museum and one of CNN Travel's 12 Best military museums in the world.
The 190,000-square-foot museum is a huge tribute to infantrymen of the past, present, and future. There are exhibit spaces from the Revolutionary War to modern-day wars in Iraq and Afghanistan.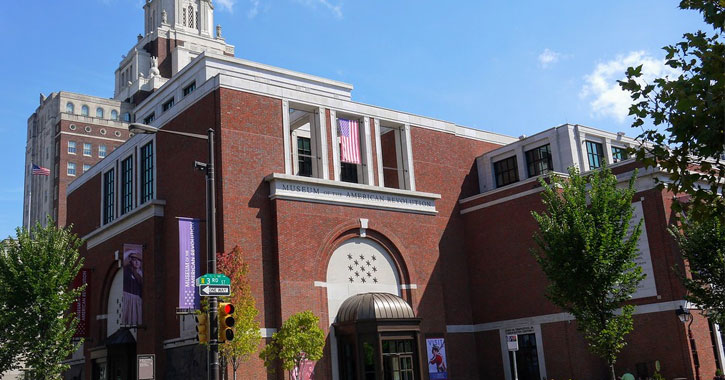 Address: 101 S 3rd St, Philadelphia, PA 19106
Tickets: Varies (From FREE to $25/person)
Hours: Open daily from 10am to 5pm, except on Election Days, Thanksgiving Day, Christmas Day, and New Year's Day.
This 118,000-square-feet museum is filled with artwork, manuscripts, printed works, weapons, examples of clothing, sculpture, household items and other artifacts from the country's Revolutionary Period.
The museum offers guided tours for a fee, as well as family-focused highlight tours, but you can definitely explore everything on your own. Just don't miss climbing through the sweeping staircase that takes you to all the exhibits upstairs.
After visiting the Museum of American Revolution, you'll come out with more knowledge about how the colonists got to a breaking point, fought for independence and won.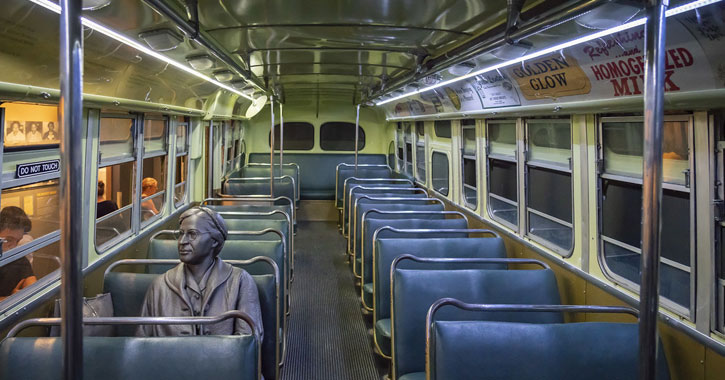 Address: 450 Mulberry St, Memphis, TN 38103
Tickets: From $15 to $18 (4-year-old kids and below get in free)
Hours: Open from 9 am to 6 pm daily, except on Tuesdays (when the museum is closed).
The National Civil Rights Museum preserves the legacy of Dr. Martin Luther King, Jr. and all the other movers of the American civil rights movement.
If the museum looked like a hotel from one side, that's because it is the exact hotel where Martin Luther King Jr. was assassinated on April 4, 1968, more specifically on the balcony outside his second-floor room#306.
Also don't miss the life-sized statues of Rosa Parks and the crowd at the "Standing up by Sitting Down" exhibit. You'd be surprised that thousands of unfamiliar names have given up their lives or contributed to America's civil rights history beyond what we've been thought in school.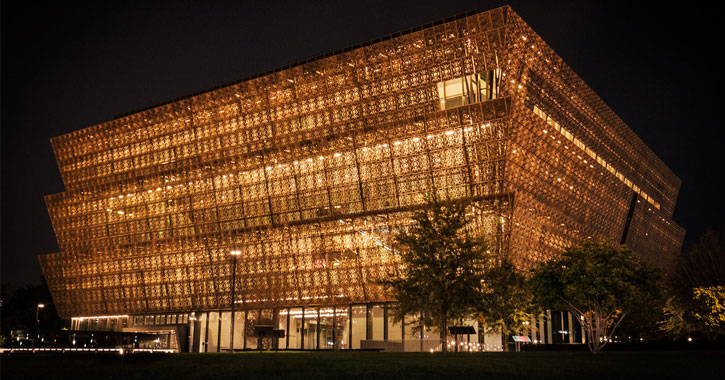 Address: 1400 Constitution Ave. NW, Washington, D.C.
Tickets: Free entry, but need to reserve timed-entry passes.
Hours: Open daily from 10:00 a.m. to 5:30 p.m., but the museum allows visitors to enter only until 4pm. It closes its doors on December 25.
The National Museum of African-American History & Culture (NMAAHC) is another Smithsonian Institute museum, so expect world-class tours and exhibits that are well-organized and comprehensive.
Some must-see exhibits here include the Point of Pines Cabine (which was shipped from South Carolina and installed in the gallery whole), the Emmett Till Memorial, and the breathtaking Contemplative Court.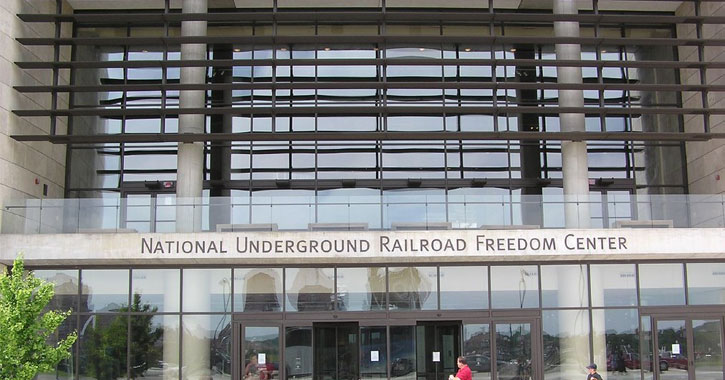 Address: 50 E Freedom Way, Cincinnati, OH 45202
Tickets: $10.50 to $15 (kids 3 and under go in free)
Hours: The museum is closed on Mondays and Tuesdays, but is open the rest of the week from 10 am to 4:30pm.
The National Underground Railroad Freedom Center hosts the world's first museum-quality permanent exhibition on the subjects of modern-day slavery and human trafficking.
Opened in August 2004, the museum offers an eye-opening experience from the era of the Underground Railroad to contemporary times.
Make sure to check out the Slave Pen (built in the early 1800s), Brothers of the Borderland, and Invisible: Slavery Today.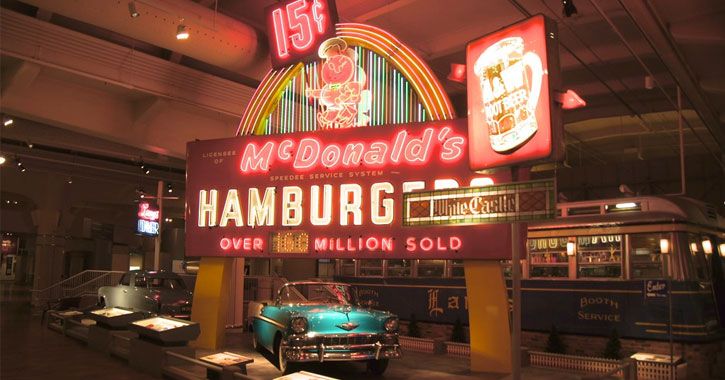 Address: 20900 Oakwood Blvd, Dearborn, MI 48124
Tickets: From $24 to $32
Hours: Open everyday from 9:30 am to 5pm
The Henry Ford Museum of American Innovation features a 250-acre of an awe-inspiring museum with collections of big and small breakthroughs and inventions that have made our world what it is today.
There are many historic vehicles here (From Rosa Parks' bus to an 1896 quadricycle), some of the earliest planes in the world (like the 1939 Douglas DC-3 airplane), a replica of Thomas Edison's Menlo Park lab, and the interesting, round-shaped Dymaxion House.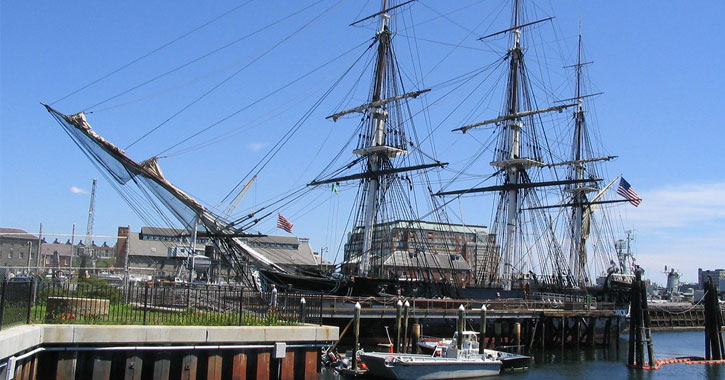 Address: Building 22, Charlestown Navy Yard, Charlestown, MA 02129,
Tickets: $5 to $15, depending on age of visitors
Hours: Open daily from 9:00 am to 6:00 pm, except on Thanksgiving, Christmas Day, and New Year's Day.
The museum may look simple from outside with its all-gray walls, but the USS Constitution Museum and the ship of the same name are voted must-see Boston attractions.
USS Constitution Museum features plenty of interesting artifacts and exhibits covering the history of this USS Constitution landmark.
You can see over 2,000 different artwork, arms and other navigation equipment (as well as 10,000+ archival documents) from hundreds of years ago.
Note that the two historic ships (including the USS Constitution ship) are owned by the United States Navy and operated separately from the Museum.
Go here if you're interested in visiting the ship (pictured above) – it's free to visit, but you'd need to reserve passes to be given entry.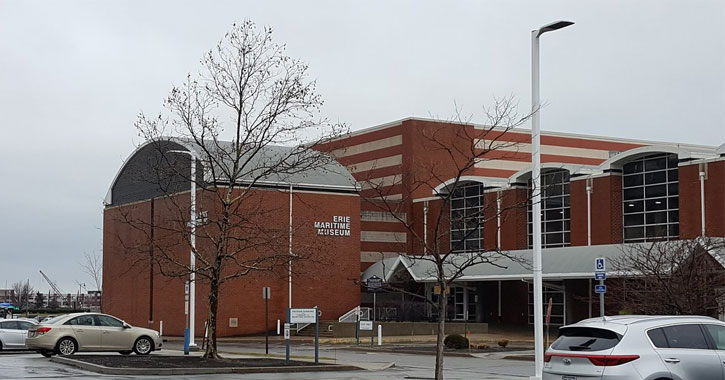 Address: 100 Blasco St, Erie, PA 16507
Tickets: From $3 to $7 (kids 2 and below go in free)
Hours: Open Thursday through Saturday, 9:30 a.m. until 5:00 p.m, last ticket sold at 4:00 p.m.
The Erie Maritime Museum showcases the maritime history and heritage of the Greater Erie region, so expect to see the artwork, documents, photos, and artifacts from military service and the maritime industry.
The Battle of Lake Erie was a pivotal moment in American history, and the museum brings the memory of this event alive with its exhibits and educational programs focused on the lessons learned from this battle.
Don't miss the U.S. Brig Niagara – it's the museum's centerpiece.
This massive ship is the flagship of the Commonwealth of Pennsylvania.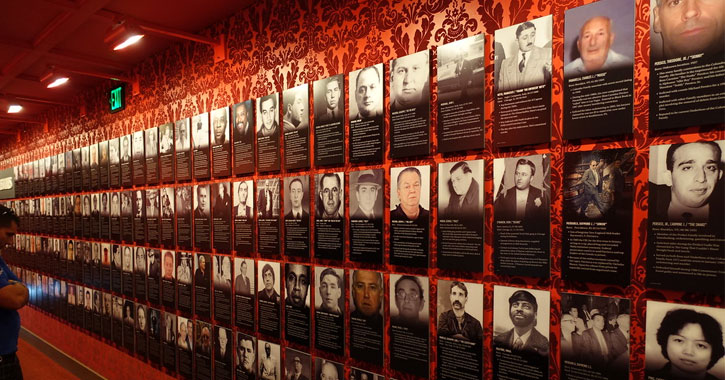 Address: 300 Stewart Ave, Las Vegas, NV 89101
Tickets: $29/person
Hours: Open daily from 9 a.m. to 9 p.m.
The Mob Museum is the most comprehensive museum on organized crime. It's one of the coolest history museums in the US.
Some of my favorites include the mob museum's super-cool speakeasy & distillery, the interactive crime lab, firearm training simulator, and the giant wall of mobsters (100 years of mob history with pictures/info of all the big bosses that took over the country during their respective eras).
Go on and spend an extra $2 for the audio tour – this gives an insider's perspective and brings you back to those mob-filled eras.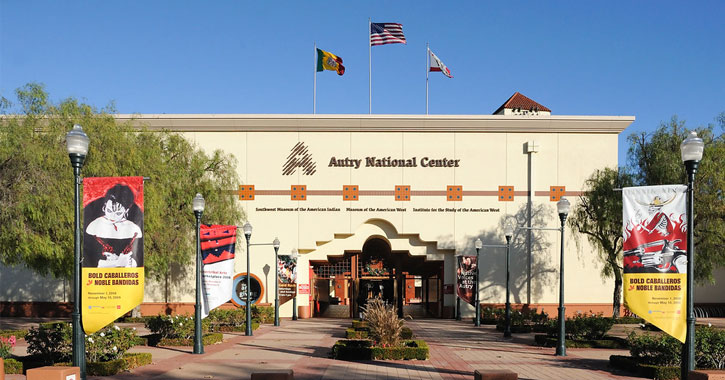 Address: Griffith Park, 4700 Western Heritage Way, Los Angeles, CA 90027
Tickets: From $6 to $14 (depending on the age of the visitor)
Hours: The museum and store are closed on Mondays, but open from 10 am to 4pm on Tuesdays to Fridays, then up to 5pm on Saturdays and Sundays
The Autry Museum of the American West is an LA-based museum dedicated to exploring an inclusive history of the American West, including exhibits, lectures and public programs.
Established in 1988, The Autry Museum features over 500,000 pieces of art and artifacts, including the largest and most significant collection known as the Southwest Museum of the American Indian Collection.
Interestingly, this museum doesn't just focus on the movie star Gene Autry, even if the museum was named after the guy.
Address: 202 SW O St, Bentonville, AR 72712
Tickets: FREE
Hours: Open Mondays to Saturdays from 9am to 5pm

Founded in 2006 by local businessman and Cherokee Nation member David Bogle, The Museum of Native American History showcases Native American history, art, and culture.
There is a priceless collection of arrowheads, tools, pottery, clothing, headdresses, photographs, and other interesting artifacts here that takes you on a 14000-year journey through America's past.
Beyond the Best History Museums in the US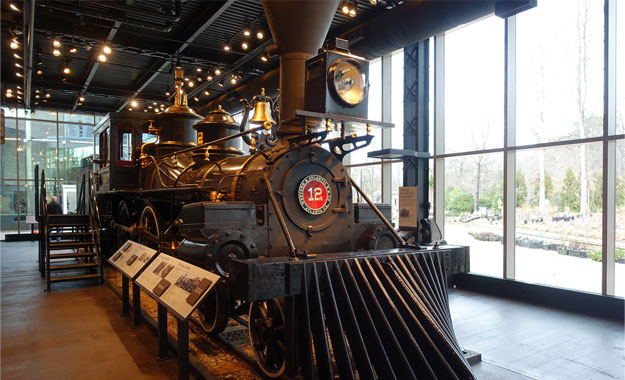 Many cities and states have a museum dedicated to the place's historical roots. Here are some examples:
If you've visited all the interesting history museums in the US I featured above and want to explore other museums, make sure you check out my best-of-the-best lists:
Those of you visiting Florida can read up on the state's best museums here.
If you're deciding between the natural museums in Washington DC and New York, read this guide to make an informed decision.