I first visited Yosemite back in 2016 and I knew from the second we arrived on the valley floor that this was a place I'd return to more than once.
While the Yosemite Valley has some of the most challenging hikes in the country (from Upper Yosemite Falls to the famous Half Dome), I wanted to round up 10 easy hikes in Yosemite that just about anyone can tackle.
10 Beginner-friendly Easy Hikes in Yosemite
You'll find many Yosemite hikes to be beginner-friendly, but not all of them would perfectly fit your interests.
Check out these ten easy hikes in Yosemite, categorized into 3: those that lead you to iconic views (or heights), hikes that lead you to the famous giant trees of Yosemite, and trails that bring you close to majestic falls.
Easy Hikes in Yosemite with Iconic Views
Are you looking for Instagram-worthy classic Yosemite views, but with the least amount of hiking?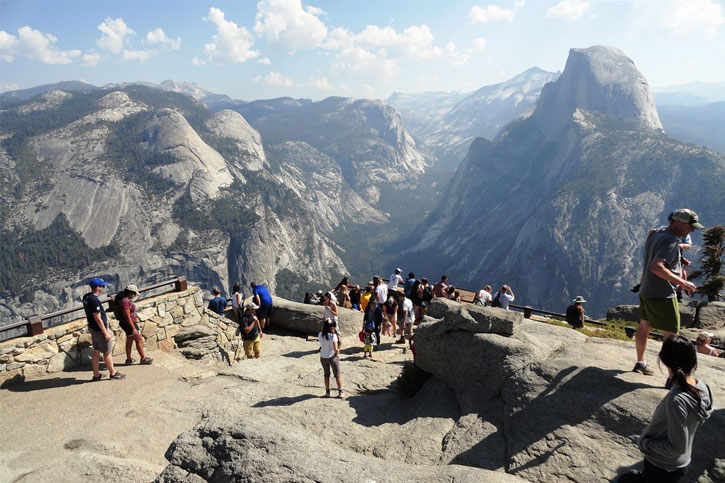 Starting Point: From Highway 41, turn right onto Glacier Point Road, then drive 15 miles until you reach the parking lot (and arrive at the South Entrance). If you prefer the West Entrance, take Highway 41 toward Mariposa Grove, then left to reach Glacier Point Road.
Distance: 1/3 mile round trip
Visitor Info: The trail described here takes you to this vantage point from Glacier Point Road. Note that Glacier Point Road is currently in renovation and will be opened to the public in June 2023. Until then, the only way to get here is through the more challenging trails via the Four Mile, Panorama, and Pohono Trails.
Anyone who has ever dreamed of Yosemite should visit this spot at least once in their lives.
Glacier Point showcases a stunning view of Yosemite Valley, including parts of Half Dome, the peaks in the eastern Sierra range, Clouds Rest, the Curry Village, El Capitan and even some of the waterfalls of Mist Trail (Upper and Lower Yosemite Falls).
If you're a fan of spectacular sunsets, you'll be in for a treat if you wait and watch for one here.
If you're thinking you'll be hiking crazy up, Glacier Point is actually just a minute or two walk from the parking lot. Definitely zero effort, but with maximum payoff. Just make sure Glacier Point Road is already open when you decide to go. Taking the other trails wouldn't make this an "easy hike in Yosemite" anymore.
There is a giant rock up there that you can climb to make it look like you're suspended thousands of feet above the valley.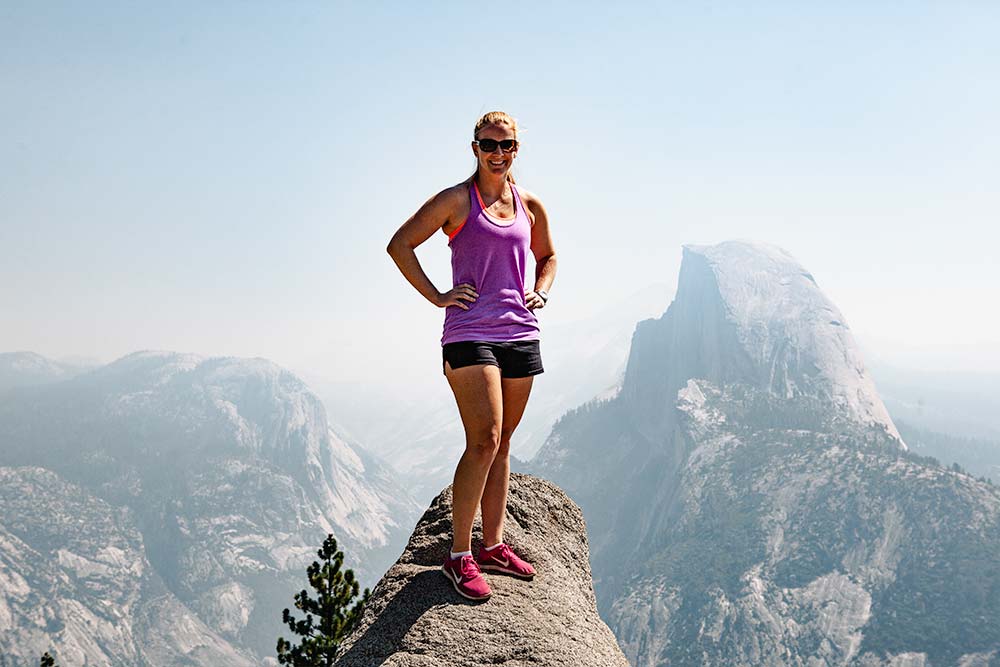 It's totally safe though as I'm only a few feet off of the ground and no where near any ledges. It does make for some spectacular pictures though!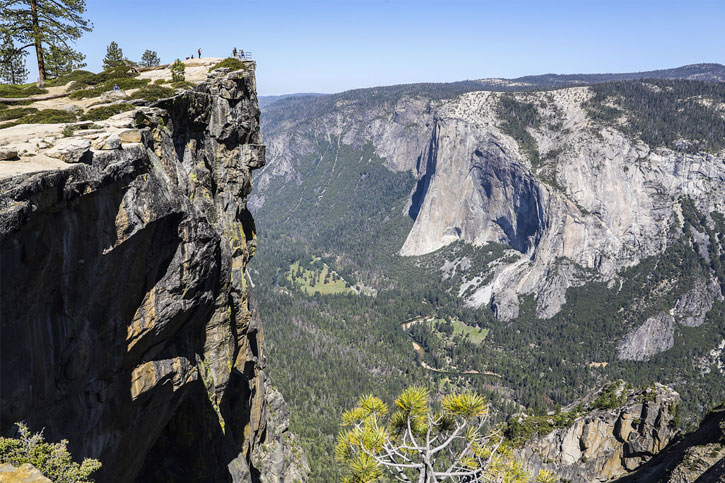 Reason to visit: Amazing sunsets, spectacular Yosemite views
Distance: 2.2 miles round trip
Visitor Info: Note that Glacier Point Road is closed for major road repair from 2022 to June 2023. Check here to see if the easy hike to Taft Point opens to the public.
One of the most famous vantage points at Yosemite comes from Taft Point… and it's totally accessible even for non-hikers.
Yes, no need to get jealous of people showing you a stunning view of the Yosemite Valley believing they climbed all the way up. But you do have to brace yourself for the heights with only basic guardrails to keep you and other visitors safe.
From here, you'll be able to see El Capitan, Yosemite Falls and the southern Yosemite Valley from about 3500 feet above the valley floor.
Taft Point isn't PWD-friendly (wheelchairs can't go up here), but if you want to experience a memorable hike with kids, the 2.3-mile Taft Point trail is perfect.
Note that as long as the road to Taft Point is closed, the only ways to get to Glacier Point are via the Four Mile, Panorama, and Pohono Trails, all of which are strenuous hikes. Don't plan to visit Taft Point if you can't drive all the way to Glacier Road Point. Check back in June 2023 once the shortcut to Taft Point opens up.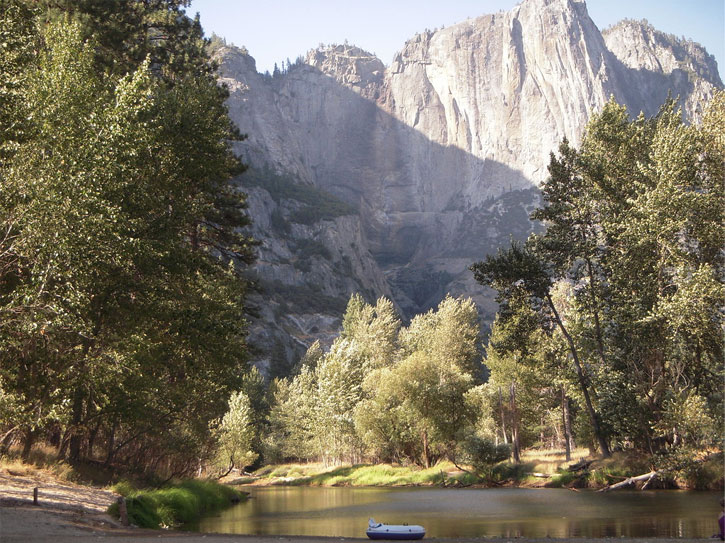 Starting Point: From Yosemite Valley, drive east Southside Drive until you reach the sign for the swinging bridge. There should be paved parking open if you follow Northside Drive west.
Distance: 2.25 miles round trip
Visitor Info: Open to visit year-round. Bike-friendly trail (there's a rental by the Yosemite Valley Lodge)
Here's why you'd love this trail: it's short, it's flat, it's wheelchair- or stroller-accessible and it brings you right in the heart of Yosemite Valley.
This means you'll get to have multiple views of the Half Dome, Yosemite Falls, Glacier Point, Sentinel Rock, the famous Swinging Bridge, and a picturesque Cooks meadow.
The only thing you have to look out for Sentinel and Cook's Meadow loop trail is that some parts can be steep, especially when you cross the Merced River.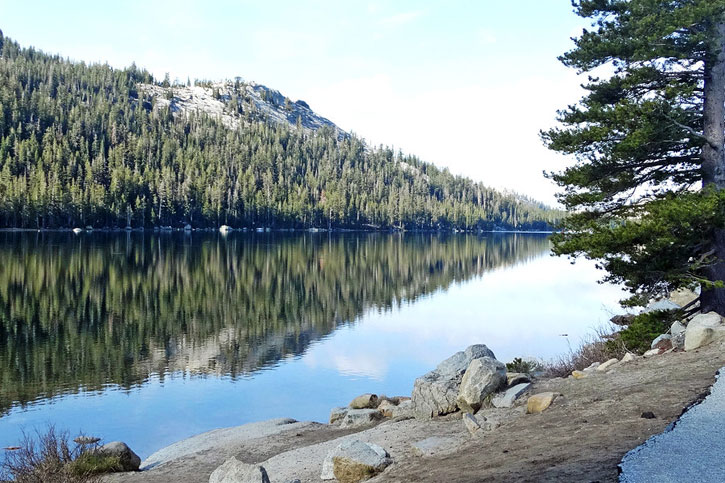 Starting Point: Take Highway 120 from Yosemite Valley, going to Tioga Road and about 31 miles east more until you reach Tenaya lake.
Distance: 2.5-mile loop around the lake
Visitor Info: Swimmable river with stunning backdrop
Tenaya Lake trail is an easy hike with no elevation gain. You'll walk along the sides that border the crystal clear waters of the lake, which is the main attraction of this trail. The surrounding granite domes and peaks are also awesome IG-worthy.
If you're not a fan of crowds, you'll love this trail because it's quite far from Yosemite Valley (the more touristy area at the park).
This means if you try to swim in the lake, there's a huge chance you'll be able to swim by yourselves when you visit.
Do note that there could be a lot mosquitoes, so bring repellant.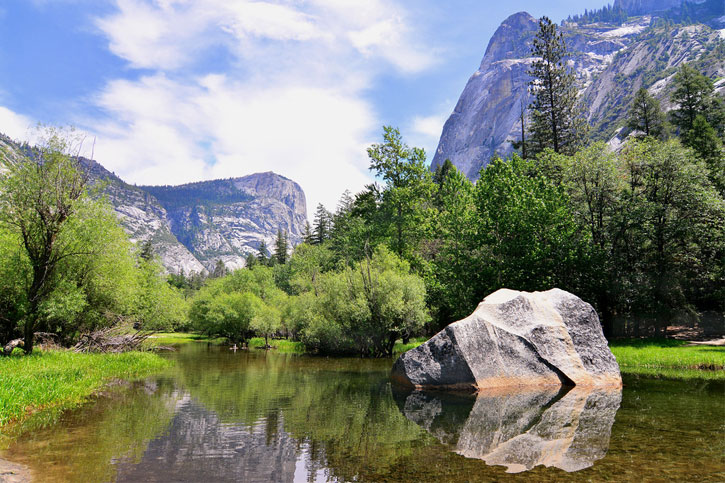 Starting Point: This trail begins at shuttle stop #17
Distance: 2 miles (roundtrip to the lake and back) or up to 5 miles (look around the lake)
Visitor Info: Visit in spring up to early summer to be mesmerized with the lake's mirror-effect
If you're looking for kid-friendly Yosemite short hikes with awesome views, the Mirror Lake trail will give you all the experience and wow factor you need to make it a memorable trip.
Best visited during snowmelt when you'll be left in awe as the lake reflects the granite cliffs (of Half Dome) surrounding it.
Mirror Lake trail begins with a paved road, followed by a slight elevation gain. It can accommodate bike rides up to 3/4 of the way, but the final stretch (which is pretty steep) can only be finished walking.
This hike is still easy, but if you wish to be challenged, you can extend the hike to 5 miles by taking the loop after Tenaya Creek. Here you'll see two bridges, the entire views surrounding the lake, and back to the starting point at Mirror Lake.
Easy Hikes in Yosemite Leading You to Giant Trees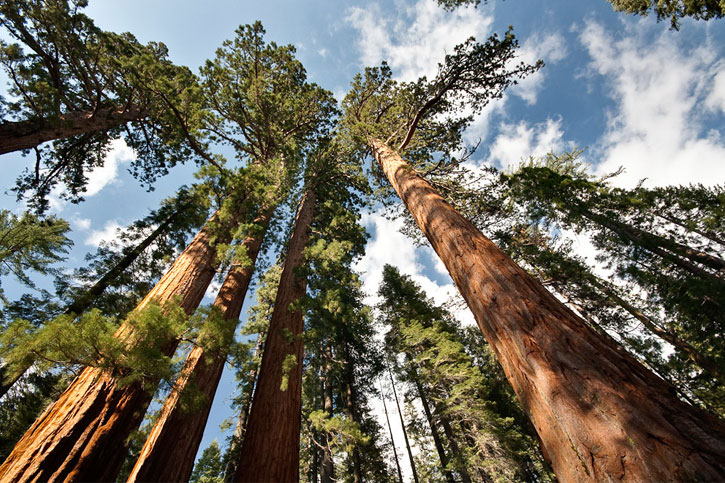 Starting Point: Depends on the season you visit (read below for more info)
Distance: 2 to 6 mile loop (various trail options)
Visitor Info: Get the Mariposa Grove map, so you won't go off the trails. No dogs allowed year-round.
The giant Sequoia trees are super cool – you'll feel the grandness of it all when you're there.
But some trees here are more special than the rest. For example, the Grizzly Giant has been around for around 3000 years. Measuring 209 feet tall and 25.4 feet wide, it is the second-largest tree in Yosemite National Park.
If you enjoyed seeing the Grizzly Giant, you can wander and continue walking to see the Fallen Monarch, Faithful couple, California Tunnel Tree, and Mariposa Grove Cabin.
Getting here begins at the Mariposa Grove Welcome Plaza. From April 1 to November 30, you can take the shuttle that would bring you straight to the trailhead. In the winter (from December 1 to March 31), the shuttle service isn't available but you can snowshoe the 2 miles from the South entrance all the way to the trailhead and up to Mariposa Grove.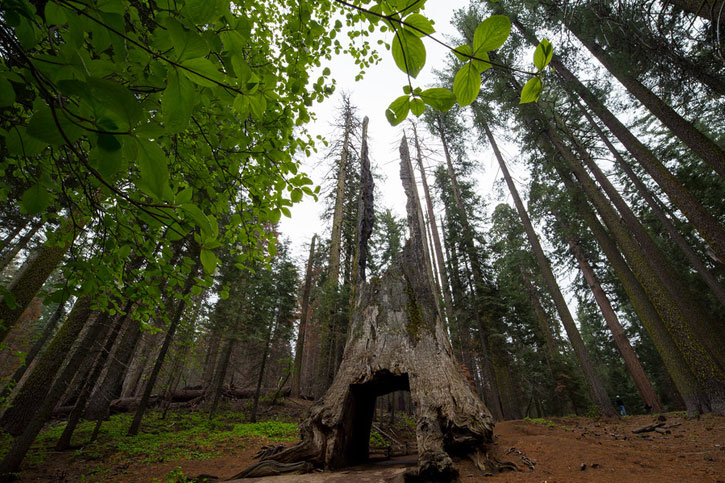 Starting Point: Begin at Tuolumne Grove parking lot
Distance: 2.5 miles roundtrip
Visitor Info: Open year-round, bikes not allowed, pets are allowed in some parts.
If you can't get enough of these giant sequoias, the trail to Tuolumne Grove gives you a chance to see over a dozen of them in the middle of Yosemite.
There is a 400-feet elevation change, but not overly steep. Expect to go downhill first on your way to Tuolumne Grove, then hike up as you return.
Don't miss checking out the Tunnel Tree, where most hikers begin, then marvel at other giant trees on your way to the picnic area. You can extend your hike by taking the road downhill 4.5 miles to the Hodgdon Meadow area.
Easy Hikes in Yosemite with Waterfall views
There are over 25 waterfalls in the park, but if you're after easy hikes in Yosemite with jaw-dropping sights, these three trails cannot be beat.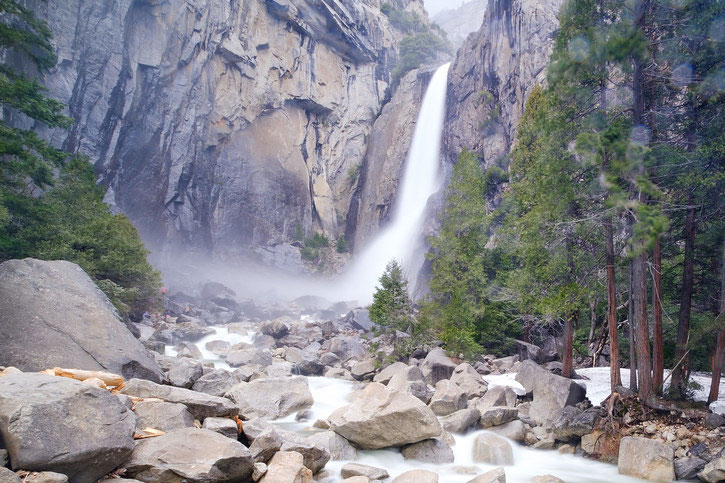 Starting Point: Yosemite Falls shuttle stop (get off at shuttle stop 6)
Distance: 1-mile roundtrip
Visitor Info: The trail to Lower Yosemite Fall is accessible year-round, but don't visit from late July or August through October (months when the waterfall is driest).
The entire Yosemite Falls cascades down 2,425 feet with three sections. The easiest section to visit is Lower Yosemite Fall (the final 320-foot (98-meter) drop).
Lower Yosemite Fall is one of the most popular hikes in Yosemite National Park, especially if visiting with kids. The trail to the waterfall is completely flat and paved. It leads you to the base of Yosemite Falls, which is an experience you won't forget.
I recommend you visit during spring snowmelt, from late April to June, when waters at Lower Yosemite Falls are the strongest.
The trail is dog-friendly and handicap accessible (in some parts).
Starting Point: Take Highway 41 from Yosemite Valley until you reach the Bridalveil Falls parking lot
Distance: 1.2 miles round trip
Visitor Info: The trail to Bridalveil Fall is open year-round, but the water is at its peak in spring and early summer. Check here for renovation info.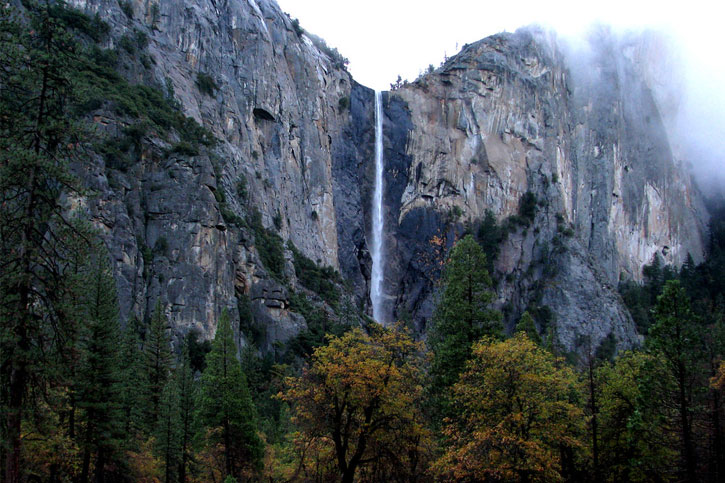 Bridalveil falls is the most prominent of all Yosemite waterfalls (its the first waterfall most visitors see while entering the Yosemite valley).
Reaching the base of the 620-foot Bridalveil Falls is easy (you only hike half a mile back and forth). But there's still a 200-feet elevation gain and slippery path from the waterfall's mist hikers should be careful about.
Don't worry about the mist though – since it is actually what people go here for. Bridalveil Falls was named for how the mist creates a "veil-like" design it leaves across the rocks.
This trail isn't handicap friendly, but dogs are allowed to join your adventure.
Starting Point: The Mist Trail can be accessed on Happy Isles (Yosemite Valley shuttle stop 16).
Distance: 1.6 miles round trip
Visitor Info: Prepare for the mist to reach you throughout your journey to Vernal Falls.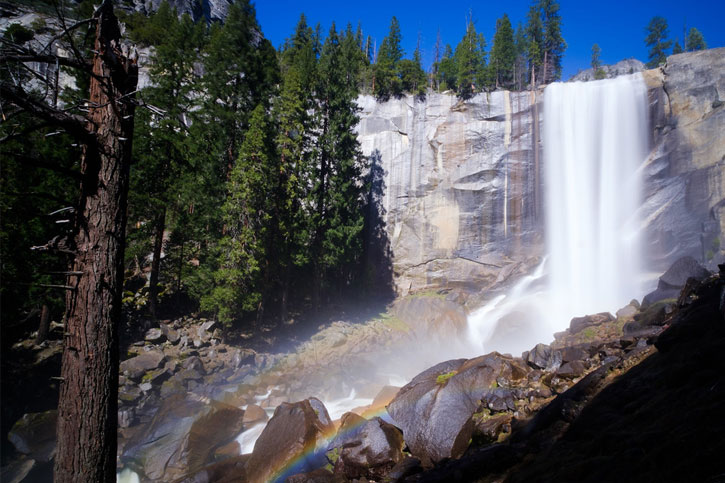 Out of all the easy hikes in Yosemite (from this list), the Mist Trail is probably the most difficult. Not for the distance (you'll get there in under half a mile), but the challenge is due to the uphill path to the falls.
However, once you get there, the view of Vernal Fall is just amazing.
If you're up for a challenge, continue uphill for another half-mile and enjoy the view of Vernall Fall from above (see picture below).
This trail not only leads you to Vernal Falls, but it could also head to Nevada Fall (if you wish to go further). Fortunately, both waterfalls are a year-round attraction. They don't dry up any time of the year, but can be icy in the winter.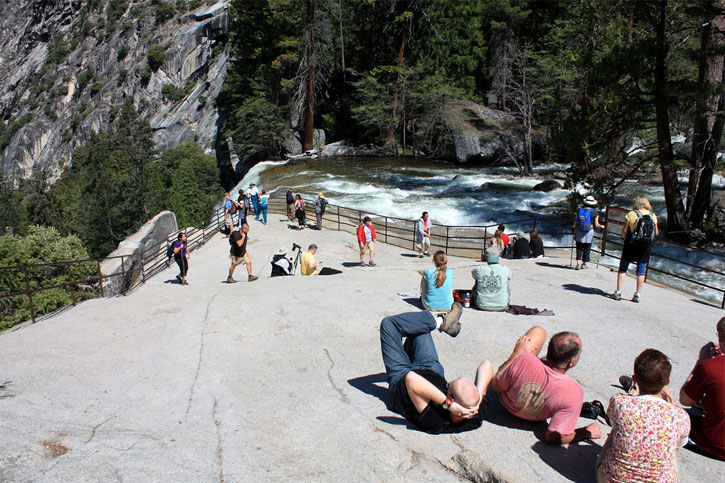 Done with easy hikes in Yosemite?
If you're done hiking the easier trails in Yosemite and want to explore the national park further, make sure to check out my guide on:
If Yosemite is too far from you, but you're interested in visiting a national park for your next vacation, here are your options for West Coast national parks and East Coast national parks.