The things to do in Chicago are so abundant and diverse that they have been making 2.7 million residents and about 50 million annual visitors interested, happy and inspired and in awe for years.
From the attractions that showcase century-old buildings architecture lovers would swoon over, to modern art installments smacked right in the middle of downtown, there is something for everyone.
A sports fan? A foodie? A family with small kids? A backpacker? On a comedy bar trail?
You won't run out of Chicago attractions to explore.
Chicago is MASSIVE, so one, two, or even three days of touring won't do this city justice.
If you truly want to experience the best things to do in Chicago, taking into consideration you interests and the people you're traveling with, you have to mix-and-match attractions I'm going to recommend below…
But before you check out my recommended Chicago activities, or plan out your Chicago itinerary, you should first see if the tried-and-tested Chicago attraction passes and Ventra cards to maximize your trip and save money.
Do You Need a Chicago CityPass, Go Chicago Card, or Ventra CTA Pass?
If this is your first time to Chicago, I recommend you check out the attraction passes from either Chicago CityPASS or Go Chicago.
Both the CityPASS and Go Chicago cards let you skip lines to Chicago attractions, which in turn, save valuable time. You also save money, since these passes bundle fees for the top Chicago attractions into one.
Unfortunately, these passes do not include transportation, so you have to complement your chosen package with a Ventra Card (more details about this later) to get around the city.
Here's a quick comparison between CityPASS or Go Chicago:
Price: $108 for adults, $89 for kids 3-11
If you buy a CityPASS, it lets you get into several Chicago attractions, including:
Shedd Aquarium
Field Museum
Skydeck Chicago
Art Institute of Chicago
Adler Planetarium
360 Chicago
Museum of Science and Industry
If you pay entrance fees for these attractions individually, you'll pay around $215/adult (about $90/kid), which is almost double the CityPASS price.
The CityPASS is valid for 9 days, so you don't need to rush through these attractions if you're spending more than just a weekend here.
Go Chicago Card gives more options to travelers and is more in with the times (there's an app to access your pass). You can choose from three types of passes:
All inclusive (Price: $77 to $260) – Price depends on the days you choose. There are 1, 2, 3 and 5-day passes available and you can visit over 25 Chicago attractions with this pass. You can save up to 55% if you're able to visit as much places as you can.
Explorer Pass (Price: $52 to $135) – Prices depends on the number of attractions you choose. There are 3-, 4- and 5-Choice passes available. The difference with the all-inclusive pass is that the Explorer Pass is valid up to 30 days.
Build Your Own depends on the number of attractions – If you're visiting Chicago for longer than 2-3 days, check out the 'Build Your Own' passes. They're valid up to 30 days and gives you over 20% savings vs. paying at the gate.
All transit (buses, subway trains, Metra Trains) in Chicago operate through one payment method, called a Ventra Card. You can purchase these cards at all subway stations for a single ride, or re-loadable pass, as well as online via the Ventra app, or over 4,000 retail locations.
You can enjoy unlimited CTA bus and train rides with Ventra CTA 1-day ($10), 3-day ($20), 7-day ($28) or 30-day ($33 to $105) passes. This is super-worth it if you plan to check off numerous things to do in Chicago.
Aside from the Ventra passes, you can also buy 24-hour pass from Divvy, Chicago's bike-share system found all over the city. It costs just $9.95 and offers unlimited 30 minute trips.
50 Best Things to Do in Chicago
Chicago has a lot to offer.
And because it's impossible to create any Chicago itinerary that would cater to everyone, it's always best to cherry-pick from a group of options.
So here are 50 things to do in Chicago you can choose from:
Chicago Attractions for Families with Kids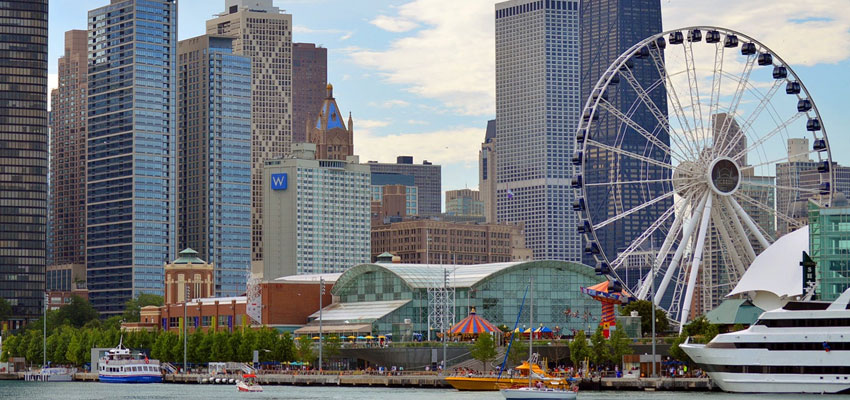 Lincoln Park Zoo is the oldest zoo in the country and one of only a few zoos left with free admission.
SHEDD Aquarium – 75-year-old favorite Chicago attraction is home to numerous turtles, eels, piranhas, frogs, snakes, sharks, and a whole lot more. It's included as one of the best aquariums in the country.
Chicago Children's Museum – Located at Navy Pier, this museum has 15 interactive exhibits spread within 3 storeys.
Hike the 606 trail – If you and your family is feeling a little adventurous, embark on this trail and get a spectacular view of the city.
Visit Adler Planetarium – It's the first-ever planetarium in the U.S. Kids will love going on a trip to the moon.
The Field Museum – This museum has 350k square feet of exhibitions to explore, but it's most popular for its Ancient Egypt area and the recreation of a 5,000-year-old tomb (and the mummy of pharaoh son Unis-Ankh inside it).
Montrose Beach – If you're visiting in the summer, Chicago's beaches are a must-visit.
Woolly Mammoth Antiques & Oddities – It's a fun shopping stop for oddity items like skulls, military supplies, antiques and other weird knick-knacks.
"Great Train Story" at the Museum of Science and Industry – The Great Train Storyis a 3,500-square-foot scale model railroad display that takes you through Chicago, Seattle, and the thousands of miles in between. The entire model costs a whopping $3 million.
Relive your glory days at an Arcade Bar – Introduce your kids to Space Invaders and other arcade games of your childhood, while you chill with a beer on hand. Chicago's Emporium bar is definitely a must-visit.
Things to do in Chicago for Sports Lovers
Chicago Foodie Guide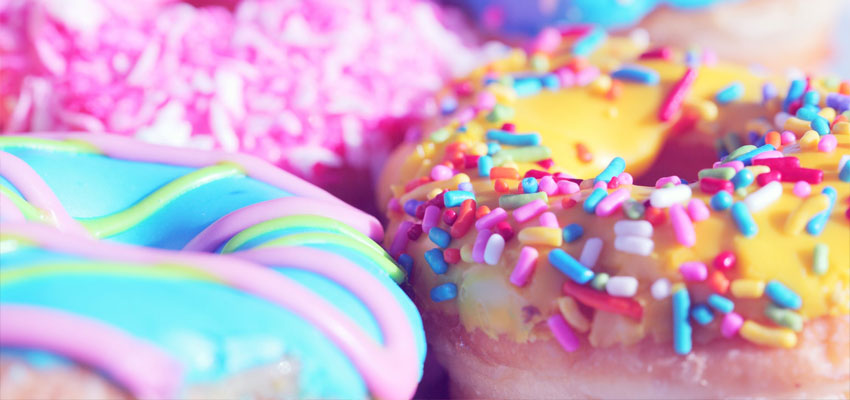 Your Chicago trip will be incomplete without sampling food this city is known for.
Some of you might even be embarking on a Chicago food trail.
If that's the case, I recommend you these:
If you're visiting Chicago in July, you're in luck. The Taste of Chicago Festival is held at the Grant Park, so get to taste all the best local food in one spot.
Chicago's Best Architecture and Historical Attractions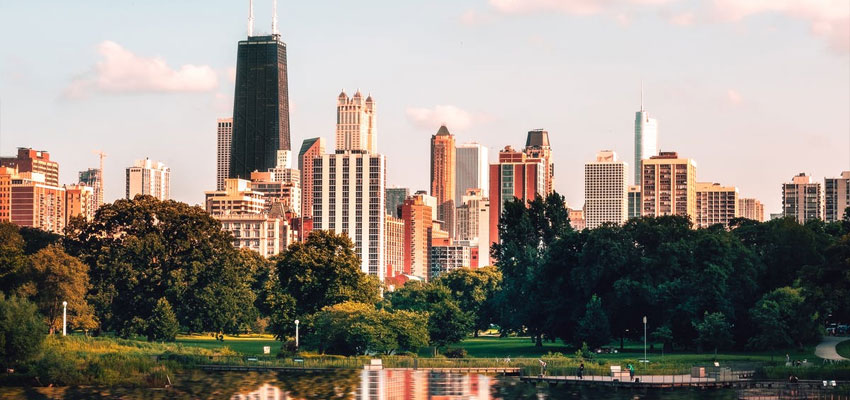 Join Chicago architecture cruise – These tours will last about 60 to 75 minutes, and it will be most information-packed boat ride of your life. There are many private companies offering this tour, but the Chicago Architecture Center's 90-minute tour aboard Chicago's First Lady is probably the most famous.
Stroll the Magnificent Mile – Made up of 13 blocks in downtown Chicago, this area is is lined with restaurants, local shops, and beautiful buildings.
Garfield Park Conservatory – This 184-acre urban park, located in East Garfield Park, houses over 100,000 plants. Don't miss landscape architect Jens Jensen's creations (from the building's shape to the stonework).
Robie House in Hyde Park – In this unassuming "house," Frank Lloyd Wright showcases his masterful skill in external appearance and interior design.
Bahá'í Temple – It's the only Bahá'í house of worship in North America and is a popular Chicago attraction. Just look at it. The impressive structure began construction in 1921 and was completed in 1953. Today, this "house" has been designated as one of the Seven Wonders of Illinois.
Terra Cotta Row – Proof of Chicago's history as the capital of architectural ornamentation, this north Chicago neighborhood showcases the rich earthenware design with impressive stained glass.
Chicago Cultural Center – The center's Preston Bradley Hall is home to a massive stained-glass 38-foot-diameter dome masterpiece, which is thought to be the largest Tiffany dome in existence.
Unique Things to Do in Chicago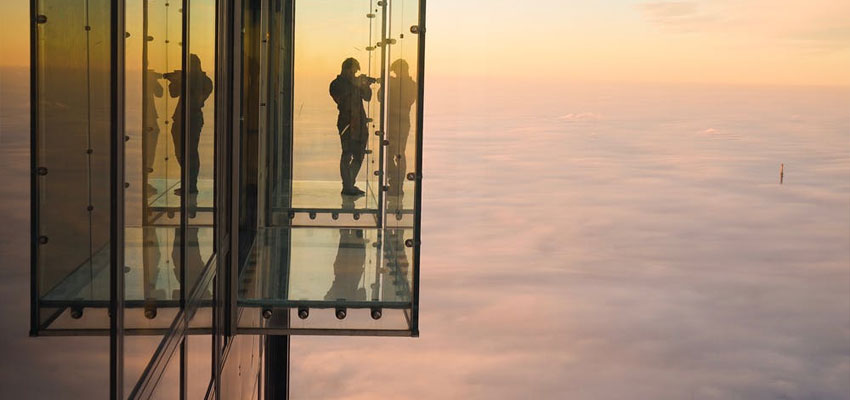 Here are the best things to do that will actually introduce you (and hopefully make you embrace) the culture of Chicago:
Chill and watch live comedy – Before SNL icons Tina Fey, Bill Murrey, or Steve Carell became big, they were mastering their craft at comedy bar Second City.
Go to Violet Hour – Good people, rich art, and "cocktail culture" all in one spot, a speakeasy takes on Chicago's drinking culture.
Visit local music stores – Chicago is home to several record stores (Hyde Park Records, Reckless Records, etc.) where you can buy records for your collection or meet fellow record-lovers.
Join the Mob Tour – Super-fun tour that showcases Chicago's underworld of gangsters and mobsters. Listen to stories of Scarface, the Untouchables, and other Chicago mobs. End this tour at the historical jazz place Green Mill, where Al Capone and his friends used to hang.
Get a spectacular view of Chicago from Signature Room on the 95th Floor – Located at the 95th floor of the John Hancock building, this restaurant is a landmark because of the jaw-dropping views of the city from its bathroom.
Willis Tower Skydeck – View the Windy City from 1,353 feet above the streets. Perfect for the thrill seekers, visitors walk onto a glass box on the observatory's ledge and view up to four states (about 50 miles) from there.
Witness the Future of Theater at Neo-Futurarium – This theater ensemble made famous the 30, two-minute plays cramped into a 60-minute show that makes everyone at the edge of their seats with a rollercoaster of emotions.
Be amazed by Chicago Magic Lounge performances –  This new spot is dedicated to re-introducing you to a style of magic created in the Windy City. It's slowly becoming an icon for locals and go-to destination of tourists.
Find hidden gems at Chicago's indie bookstores – Visit Wicker Park and check out indie books are available at Quimby's or Myopic Books. Other bookmarks are found in Logan Square (Challengers Comics), Humboldt Park (Space Oddities), and northern Rogers Park (Armadillo's Pillow).
Things to Do in Chicago on a Budget
All the attractions below are either free, or dirt-cheap.
Grant Park – Go stroll on "Chicago's front yard" (officially known as Grant Park). This 319-acre area is where you'll find numerous attractions, such as:
The Art Institute of Chicago – Called the Best Museum in the world by TripAdvisor.
Millennium Park – This is where you'll see "The bean" (formally known as "Cloud Gate") and where hundreds of people flock to take photos
Other free attractions include:
Oz Park (inside Lincoln Park) – Spot how many characters you know at this  whimsical Oz-themed park.
Navy Pier – Built in 1916, this pier is a popular tourist destination for its chill vibe. Plenty of food stalls and Chicago's best street artists are found here. Centennial Wheel, an iconic part of the Chicago skyline and a treasured piece of Chicago cultural history, is also located here. My favorite spot at the pier is the collection of stained glass art.
Stroll the lakefront – Experience local Chicago neighborhoods walking the 18-mile lakefront path starting from Ardmore Street to 71st. You can bike the trail, if you like.
Get epic photo-ops with Yoko Ono's art installation in Jackson Park – The Skylanding sculpture in Chicago's Jackson Park is Yoko Ono's first permanent public artwork in America.
Visit the National Museum of Mexican Art in Pilsen – This place isn't just a location for the museum, but is also considered Forbe's "one of the coolest neighborhoods in the world."
Explore food at Chinatown – This area has the most dynamic and delicious food offerings in the city. Come for the food, stay for the culture, and chill along the beautiful parks.
Creating Your Chicago Itinerary: Tips for First-timers
When customizing your Chicago itinerary, make a list of the attractions you want to see (by priority).
Indicate price beside it and find deals online (check the Chicago CityPASS/Chicago Go Card or deals on sites like Groupon).
Depending on the places you want to go and things you want to see, your Chicago itinerary could be a mix of free and paid attractions. Chicago is also the starting point of Route 66, the bucket-list road trip for many.
As long as you stay with attractions that interest you, or entertain your kids, you won't regret taking the Chicago trip.
What are you favorite things to see and do around the city? Let me know below!