If you're looking for a beach destination in Florida with a wide stretch of sand, clear warm waters, and spots for swimming, sunbathing, hiking, and just chilling by the sea, these 7 best Jupiter FL beaches are solid options.
Located in South Florida, specifically at the confluence of the Atlantic Ocean, Loxahatchee River, and Intracoastal Waterway, Jupiter has 3.4 miles of beaches along its coastline.
7 Best Jupiter FL Beaches to Choose From
Yes, Jupiter is just a small town (compared to famous Florida beach towns like Miami, Key West, Daytona, Fort Myers, and Panama (among others).
But I actually love the quieter vibe, the mangrove, and dunes around some of the beaches, as well as the pockets of family-friendly (and some dog-friendly) areas in the following beaches in Jupiter FL.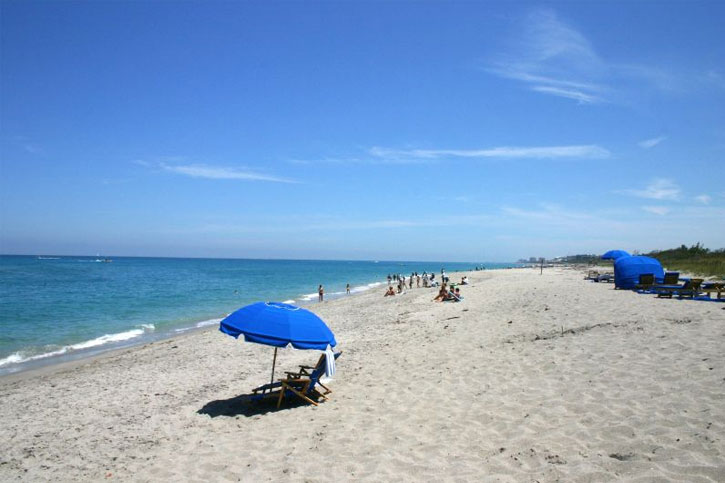 Jupiter Beach Park is a relaxing sandy beach located on the south side of the Jupiter Inlet.
While not as big as other beaches, Jupiter Beach Park has everything you need for a day of fun in the sun. The 1,700 feet of guarded beach has picnic areas with grilling station, outdoor showers and restroom, a sand volleyball court and ample parking. You might need to walk a little coming from nearby Dubois Park, but parking will never be a problem here.
Jupiter Beach Park is open from sunrise to sunset. If you came here for fishing, you can fish anytime of the day.
Dogs (any breed below 6 feet) are allowed, but you have to keep them leashed and away from the water.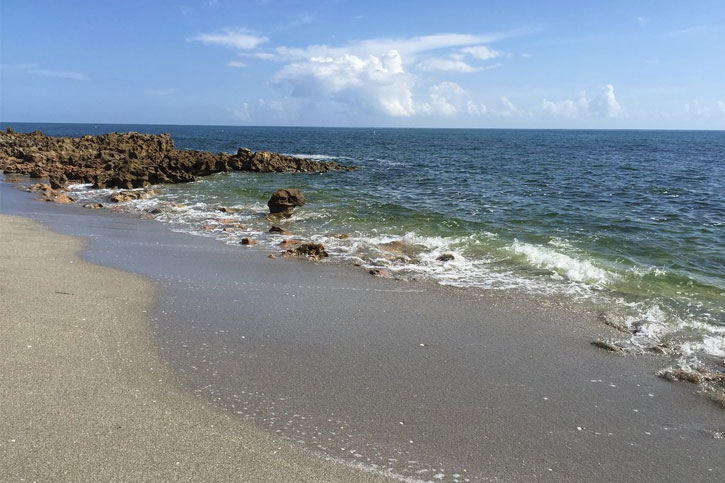 Coral Cove Park is as big as other Jupiter beaches, but only 600 feet of oceanfront is safe for visitors. This is due to the interesting rock formations found in the water.
The beach is family-friendly and has a lifeguard on duty. There are also readily available picnic tables, grilling stations, restrooms, changing areas, outdoor showers and even a playground.
Be careful around the rocks at Coral Cove Park. They are super photogenic, especially while taking a half-mile beach walk during sunrise and sunset. But these rock formations can be dangerous if you accidentally get cut between them. Some rocks are even hidden underneath the sand. Stay safe and swim, fish or stroll only within designated areas.
If you're bringing your furbaby, note that only dogs below six feet are allowed. Also, they can only run around leashed within blue signs.
Note that in most days, the beach has a lifeguard, but they announce whenever the frontage will be unguarded, so check the PBC Coral Cove Park page before visiting.
Like all other Jupiter FL beaches, any kind of balloon is prohibited in an effort to promote the safety of sea turtles.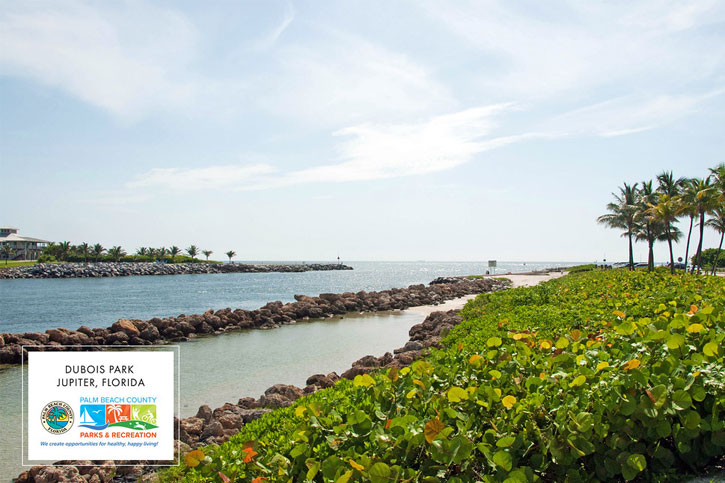 DuBois Park is a beautiful spot with postcard-ready views of the Jupiter Lighthouse, so you can have all the picture-taking opportunities to your heart's content.
Since the beach is technically along the Jupiter Inlet, the water is calm and kid-friendly. There are also designated swimming areas, so you and your family are safe from deep water or big waves. If you're feeling adventurous, explore further to a larger cove (still with shallow water), but with more sandy areas and shade.
The beach at DuBois Park is ideal not just for swimming and spending the day by the sand, but also for fishing and kayaking the Loxahatchee River.
DuBois Park also has its own playground, basketball court, and an outside hot tub (you can rent during colder months). There are picnic areas if you brought food, but there are also food stalls with hot dogs and burgers.
Dogs are allowed on the walking paths but not the beaches.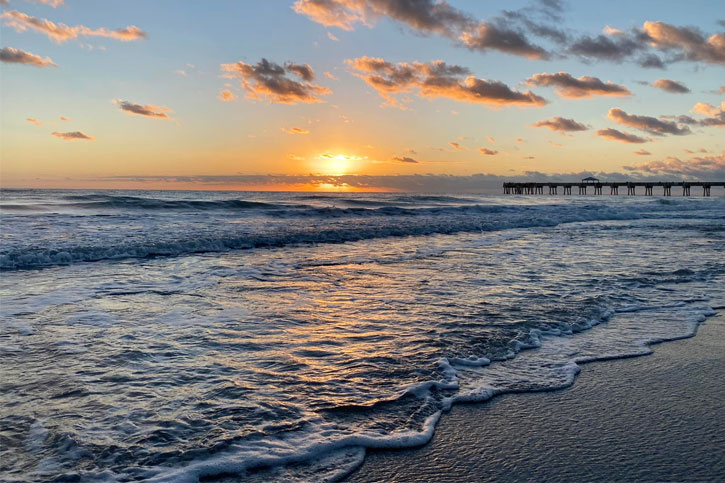 Ocean Cay Park is just beside the more popular Juno Park. If you like low-key, less-crowded beach with pavilions spaced out nicely, check out Ocean Cay beach.
The white sand is clean, there is volleyball nets always available to use, and outdoor water showers and restrooms. There's a big open green space for kids to run around, too!
You can bring food with you at Ocean Cay Park, or cook at any of the available grills near the picnic tables.
Ocean Cay Park is also a dog-friendly beach. Just make sure to keep them leashed and clean up after your furbabies.
What makes Ocean Cay Park and other Jupiter FL beaches awesome is that parking is free.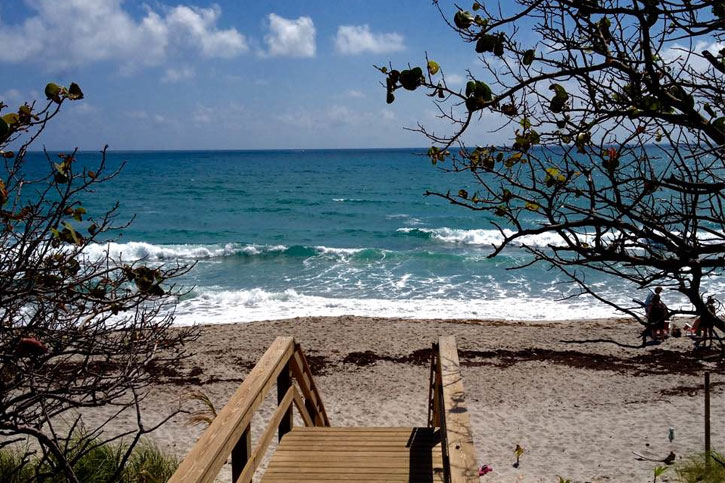 Juno Beach Park is one of the most popular Jupiter FL Beaches for its show-stopping views of the sunrise and sunset, but also its proximity to the Juno Pier.
The Juno beachfront comes with a guarded swimming area, picnic sites, volleyball courts with nets by the sand, and all the amenities you'll need for a fun and relaxing day at the beach. There are clean restrooms and outdoor showers where you can clean up.
And if you're not planning to surf, swim or chill on a shaded part of the beach, you can go to the 990-feet pier, check out the bait shop, rent a pole and enjoy fishing. There's also a snack bar by the pier.
Juno Beach Park is also a go-to spot for those who wish to see endangered sea turtles, which pick this area as nesting ground from May through October. The locals work with the Loggerhead Marinelife Center in taking care of these turtles.
Even if Juno Beach has food stalls and restaurants like Ke'e Grille, Cool'a FishBar and Hurricane Cafe, it still has the same chill vibe of Jupiter beaches.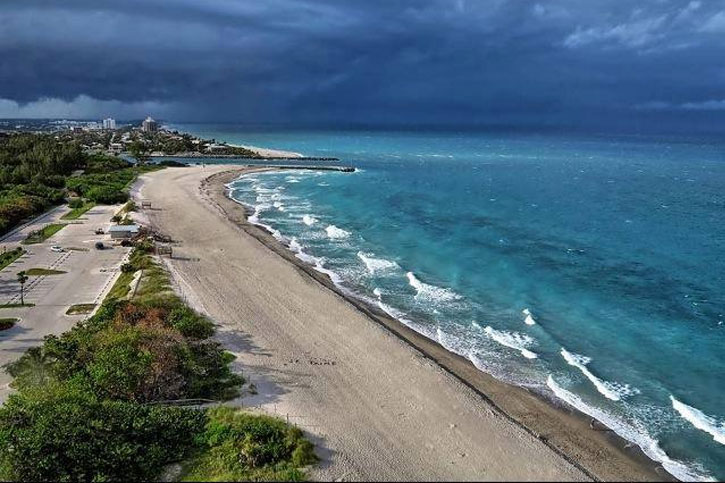 Carlin Park welcomes guests on its 3,000-feet beachfront. It's an ideal beach park for any recreational sand activity (volleyball, tennis, bocce ball, tag, and so on). Plus, there's a large grass area for kids and dogs to run around.
And because you can go to a clean restroom facility, wash up at the outdoor shower, and enjoy grilled meals by the picnic areas, anyone can spend an entire day at Carlin Park and bask in the sun's glory.
What I love about Carlin Park is the Seabreeze Amphitheater, which features events and live music. It is also home the annual Shakespeare by the Sea Festival.
Dog-Friendly Jupiter FL Beaches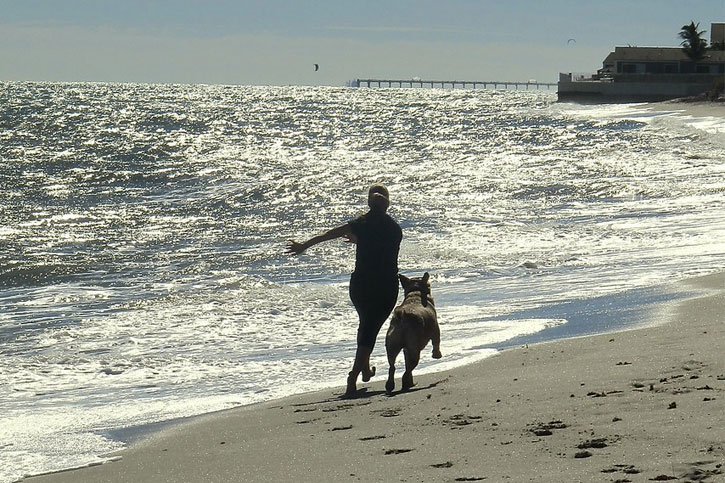 Jupiter beaches are some of the friendliest to dogs. Even the beaches that do not allow dogs near the water (and only within the park grounds) can be lax with their rules.
However, if you prefer to go to a beach where your dogs can go run free, there's a 2.5-mile stretch of beach, known locally as "Jupiter Dog Beach" with the beach marker #25.
To get here, go to Marcinski Road and walk going north to beach marker #57, just by the south end of Carlin Park.
More information about our dog-friendly beaches can be found here.
Beyond Jupiter FL Beaches
If you're exploring other Florida beaches, check out my guide on Florida beaches with the clearest, bluest water.
For rock hunters, here's my post about the best sea glass beaches in Florida.
You can also check out this list of awesome Key West beaches, or these natural springs in Florida.