There are over 1000 identified natural springs in Florida. The state has the biggest concentrations of freshwater natural springs in the world, with 250 springs located in Florida Panhandle alone.
Some people visit these natural springs in Florida to cool off, others to marvel at Instagram-worthy destinations, and others look for thrill-seeking caves to explore.
8 Must-Visit Natural Springs in Florida
If you've always wanted to visit Florida's natural springs, start with these eight places: all of which are known for their clear waters, but each offer something unique.
I've included some first-magnitude springs below. Spring magnitude is determined by the volume of flow per unit of time, so when a natural spring is called a "first-magnitude springs," they're the largest, discharging a minimum of 65 million gallons of water per day.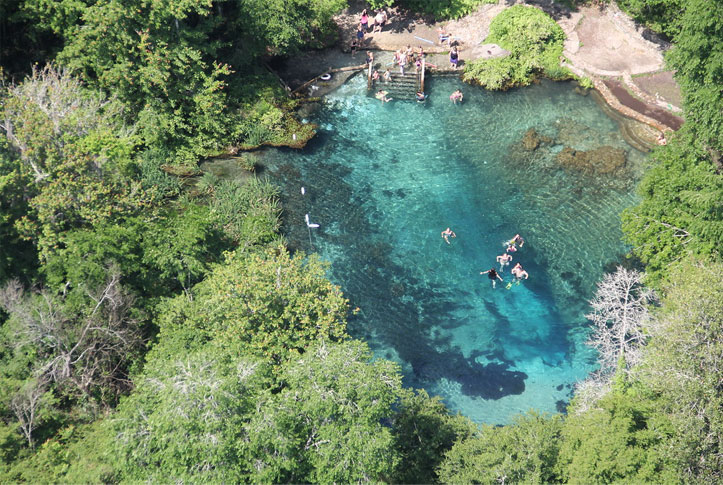 The area is famously called Ichetucknee Springs, since it is located in northern Florida's Ichetucknee Springs State Park, but this body of water is actually from 68 million gallons of water flowing daily from nine natural springs and join together to create the six-mile Ichetucknee River.
One of the springs here is Blue Hole Spring, where divers from all over the world visit for its underwater beauty.
Ichetucknee Springs is one of the best springs in the state for tubing and other "lazy river" activities. And with those lush trees shading you while you kayak or snorkel in the waters, you could spend hours just lazying in the gentle river.
If you love to hike, you can take the Blue Hole trail, Tressle Point trail, Pine Ridge trail and immense yourself with nature and see otters, turtles and beavers up-close.
Don't visit on weekends and holidays, if you're not a fan of huge crowds. Rentals of canoes, paddleboards, kayaks and tubes are available here.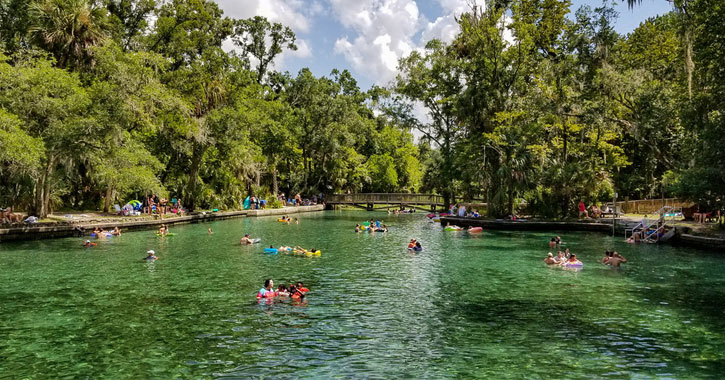 Wekiwa Springs State Park is one of the oldest springs in Florida. It is located in central Florida, just around 20 minutes north of Orlando.
Discovered in the 1860s, Wekiwa Springs feels more of a theme park with its own hotel, bathhouse complex and other modern amenities. Amazingly, Wekiwa Springs has maintained the clean and sparking clear waters to this day. If you're roaming around this part of Florida, you'll actually be surprised at how commercial the area around the state park is.
Named after the Indian word "Wekiwa" (meaning bubbling water), Wekiwa Springs is a famous family destination for camping and snorkeling. The water here is shallow, which means it's ideal for young kids, but not for scuba divers. The spring water, which retains to 72 degrees year-round, comes from an underground cave.
The 7,800-acre park also has spots for kayaking, fishing and non-water activities like birding, horseback riding, and biking.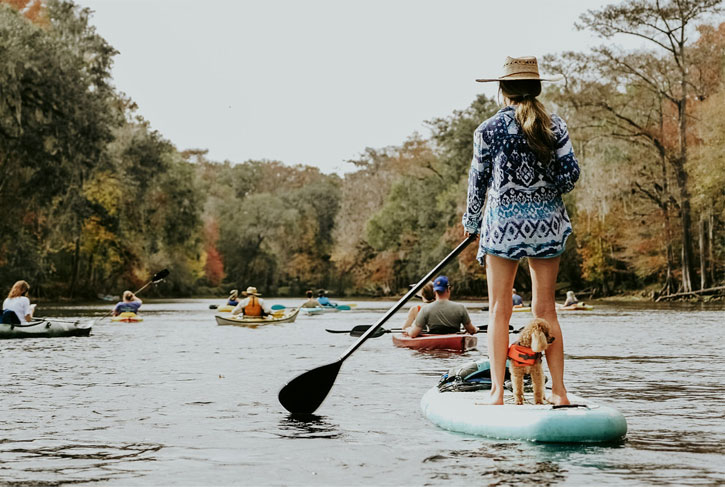 Ginnie Springs is located at the southwest of Jacksonville. Unlike other natural springs in Florida (that are on my list), Ginnie Springs has an admissions fee since it is a privately-owned park.
This 200-acre park is a two-hour drive from Tallahassee, Jacksonville or Orlando. It is one of the most sought-after campgrounds in Florida, catering to both tents and RVers at the same time.
Aside from swimming the clear turquoise waters, people also enjoy kayaking, canoeing, paddle-boarding and just floating lazily down the Santa Fe River. Ginnie Springs is also a famous diving spring with 1,000 feet of subterranean passages available for snorkelers and scuba divers to explore.
Most national parks allow pets, but Ginnie Springs has a strict no-pet policy.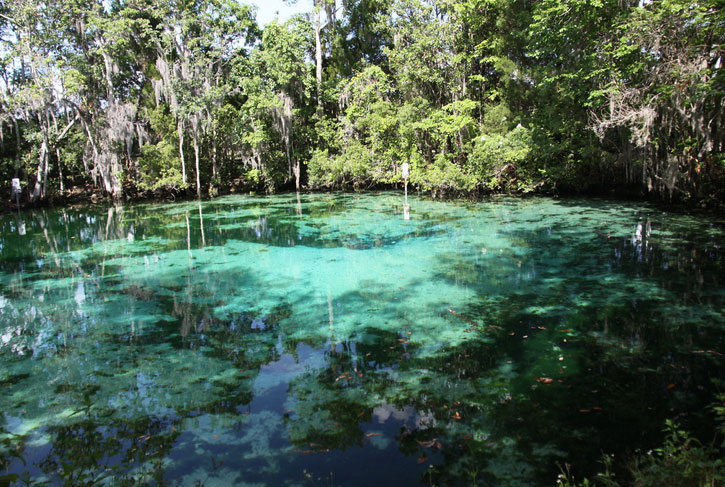 If you read my post about swimming with manatees and wanted to go, Three Sister Springs can be the destination that brings this dream to life.
Three Sister Springs is part of the Crystal River, known by many as the place where you go to see manatees up-close. It's the reason Three Sister Springs is one of the most popular natural springs near Tampa (it's just 78 miles north from Tampa).
You can access Crystal River by boat, kayak, or just with snorkeling gear. If you're into caving, visit the nearby Kings Springs and explore 75 feet across and 30-feet deep of underwater mystery at the 60-foot cave.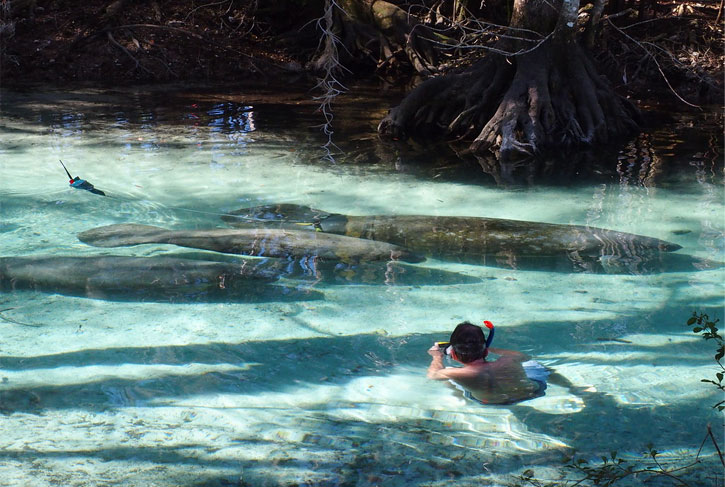 Those who don't want to swim can just walk along the boardwalk at the Crystal River National Wildlife Refuge and still get to see these giant manatees.
Dozens of manatees gather in Florida around November to March (most of winter). In the summer, this oasis in Citrus County becomes a favorite swimming spot by locals and tourists.
One thing I like best about this place is that local citizens and groups work double-time to maintain clean waters and environment, so the manatees continue to visit during the cold months.
There are 3 ways to enjoy Weeki Wachee Springs: on a river tour boat, watching the mermaid show, or swimming in the springs.
Since 1947, Weeki Wachee Springs has producing a popular mermaid show and hosting a river cruise to the crystal-clear spring. This tourist attraction/amusement park is unique for the spectacular real-life sirens performing synchronized underwater dance in front of massive glass "screens." It's definitely a mermaid show that both kids and kids-at-heart will remember.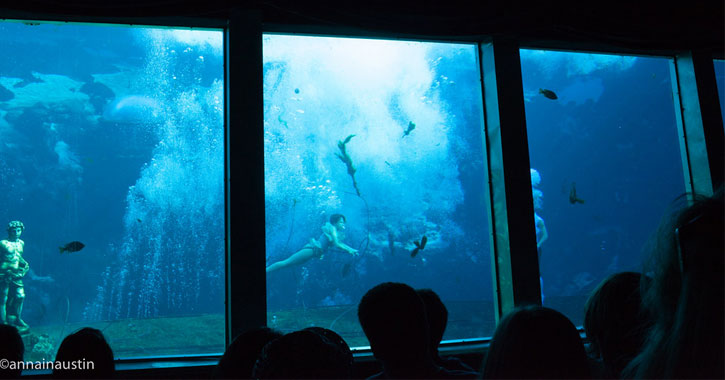 As a state park, you can expect Weeki Wachee's acres and acres of space for swimming the deep blue waters or just taking in nature. Unfortunately, pets aren't allowed here (except for service dogs).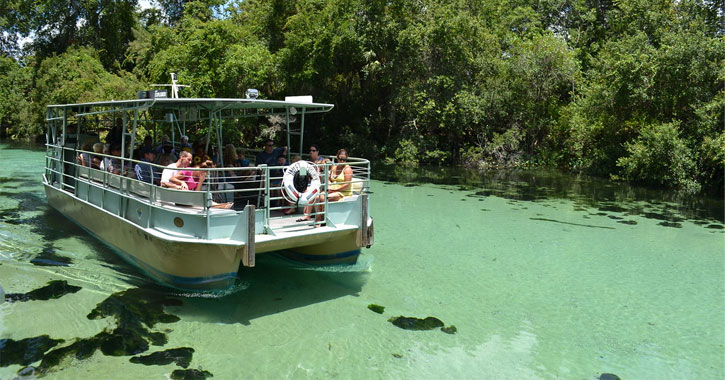 Don't miss the five-mile Weeki Wachee boat cruise – it's a great way to get embraced by Florida's best spring without getting wet.
If you're visiting with kids, check out the Buccaneer Bay, the adjacent water park (with slides for all ages). Its waters is fed by the first-magnitude spring, so you can experience the cool water of Weeki Wachee Springs from here as well.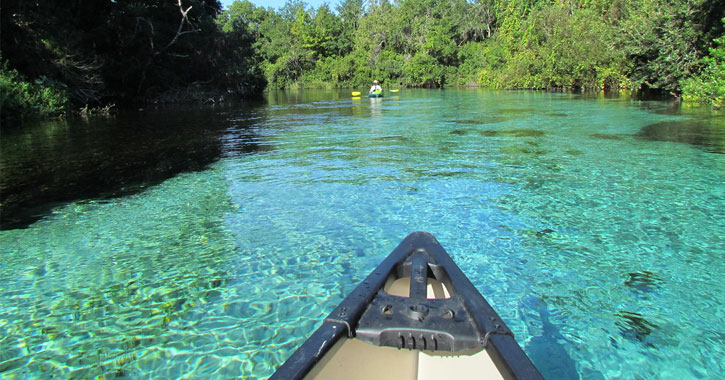 Weeki Wachee State Park offers paddleboats, kayaks and canoe rentals. If you love the wildlife, take a closer look at turtles and manatees in the water, bald eagles nests in trees, a wide range of birds hanging out by the cypress trees, and other harmless animals enjoying the park with you.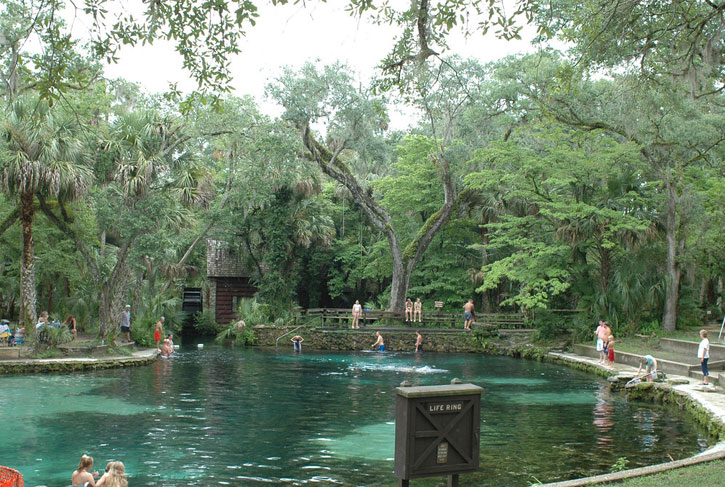 Rainbow Springs is located within Rainbow Springs State Park, around north of Dunnellon.
Rainbow Springs is the oldest natural springs in Florida. It has been open to the public since the 1930s as a family-owned attraction, but it became part of the Florida State Park System only in 1990. The spring water stays at a comfortable 72 degrees Fahrenheit year-round.
Pictured above is the main park spring, where people can swim within a large roped-off area featuring a dock and stairs. But this is just a small part of the spring. There are also spots for kayaking, tubing, and canoeing (with equipment available at the park for rent).
Walking around the park you have several trail options and floral gardens to explore. Pets are welcome in Rainbow Springs, but only leashed and if they don't swim in the water.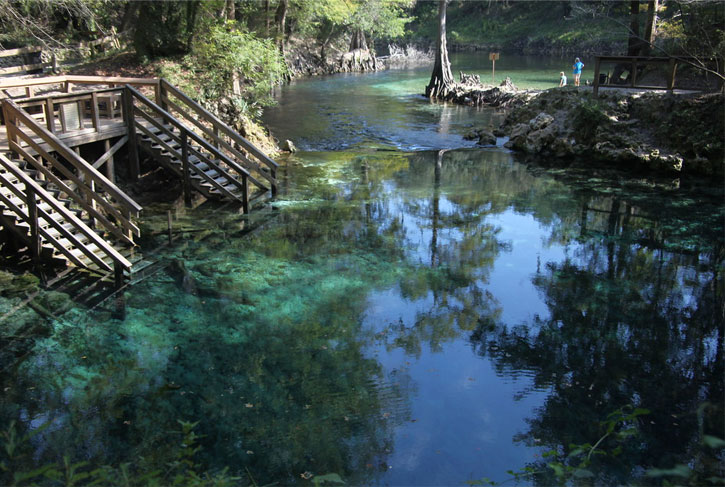 Madison Blue Spring is located east of Tallahassee, near the Florida-Georgia border. It sits on the west bank of the Withlacoochee River and considered one of the most gorgeous springs in northern Florida.
Madison Blue Spring is considered one of Florida's 33 magnitude springs. Here you'll find 150-foot deep underwater caves, a forest surrounding the waters, and crystal-clear waters perfect for snorkeling, scuba-diving, or just lazying on a canoe or kayak. The water is also home to many awesome creatures, from turtles to catfish and stunning rock formations.
If you're a fan of fairies and mermaids, this place definitely will give you an otherworldly vibe even if you just admire from land and take unlimited pictures.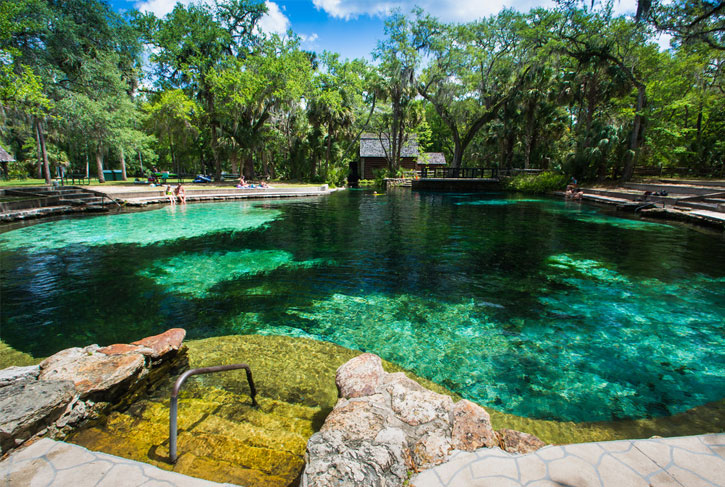 Ocala National Forest is the home of a couple of natural springs of Florida, but Juniper Springs is the most popular. Just look at the emerald-green and blue waters against that lush backdrop.
Located just a 3-hour drive from Sarasota, Juniper Springs is a go-to destination for kayakers, campers and nature photographers.
Once you're done swimming and exploring underwater in the natural oval-shaped spring, there are natural trails welcoming you. Here you can get face-to-face with Florida's wildlife from turtles and alligators to raccoons, deers and a wide range of birds.
Originally built in the 1930s by the Civilian Conservation Corps, Juniper Springs is also home to the old historical mill beside it (built decades ago to provide electricity for the park campground).
If you can't get enough of Florida's natural springs, visit Salt Springs, Silver Glen Springs and Alexander Spring – all of which are found in Ocala National Forest.
Other Things to do near these Natural Springs in Florida
If you can't get enough of the clear waters, you can also explore Florida's sea glass beaches and clear-water beaches.
I also recommend a picturesque Florida Keys roundtrip (this guide takes you from mainland Florida all the way to Key West).