Approximately 275 West Virginia waterfalls exist. It is why hiking to waterfalls is one of the best things to do in West Virginia.
But I'm sure you'd agree that you can't go on a waterfall trail to several waterfalls within a single weekend. It's just physically impossible, even if the waterfalls do not require much hiking.
If you're in the same boat and you're on the hunt for the best waterfalls in West Virginia, then this post is exactly for you.
7 Wonderful West Virginia Waterfalls
The following waterfalls are a mix of attractions with zero hiking, waterfalls with accessible overlooks, or swimmable waterfalls with shallow waters…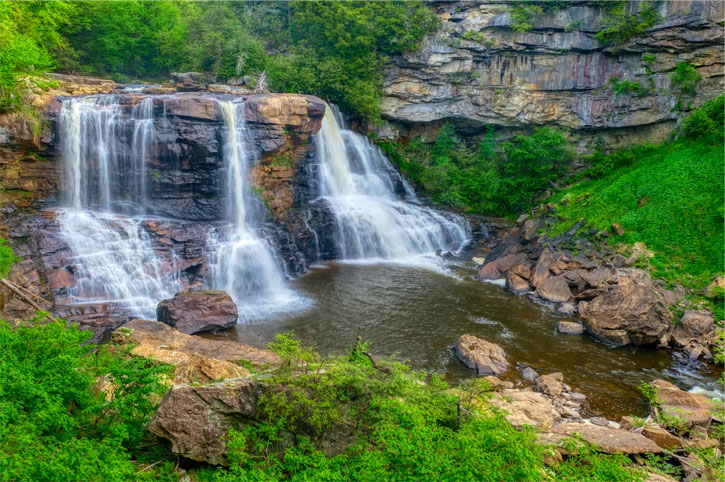 Fees: FREE
Reason to pick this waterfall: The entire 0.4-mile loop trail takes 16 minutes to complete. Plus, Blackwater Falls is the most popular West Virginia waterfall trail.
Located in the Allegheny Mountains of Tucker County, Blackwater Falls is probably the most popular waterfall in WV. It was named for its amber-colored waters caused by the tannic acid of fallen red spruce needles and hemlock that turn the waters brown.
This isn't unique to Blackwater Falls – West Virginia water actually has a darker hue.
Blackwater Falls is a cascading waterfall that falls 60 feet. To get here, there are several trails easily accessible and suitable for all ages. The main trail takes visitors to the main waterfall observation deck.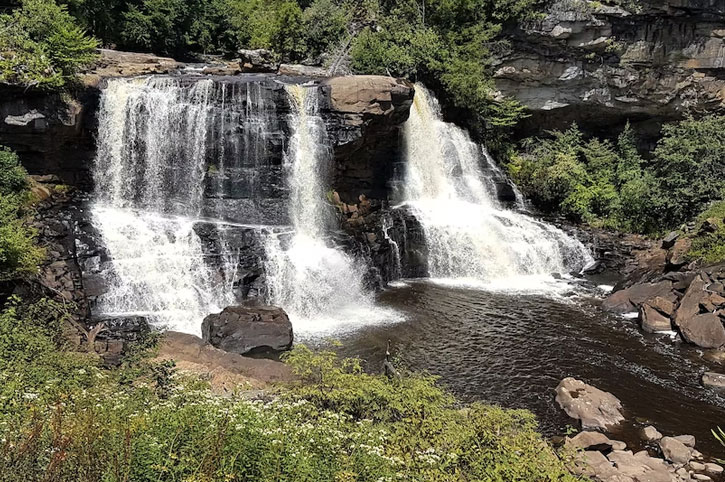 Blackwater Falls State Park is also home to 20 miles of hiking trails, the longest sledding magic carpet on the east coast, and camping spots or lodging options. Other must-see attractions at the park include the Pendleton Point and Lindy Point overlooks, and the nearby Elakala Falls and Pendleton Falls.
In the summer months, visitors can swim at Pendleton Lake. In winter, there are cross-country skiing, sledding, and snowshoeing activities available in the park.
Location: Athens, WV 24712
Fees: As a waterfall inside a state park, there is no fee to access Brush Creek Falls. But you'd have to shell out parking fees.
Reason to pick this waterfall: A quarter-mile hike away from parking with picnic spots.
Brush Creek Falls is located in Mercer County just outside the small town of Athens. It is a part of the 124-acre Brush Creek Nature Preserve, which is under the protection of The Nature Conservancy.
Brush Creek Falls is one of the largest southern West Virginia waterfalls. The waterfall is about 50+ wide and drops 25 feet and cascades quite dreamily. After several days of rain, the amount of water can be overpowering, but even the least amount of water makes for a fantastic waterfall shot.
To get here, you'd have to drive along Camp Creek Speedway Road (also known as Brush Creek Falls Road). You'll see a parking area here (where a small pavilion and picnic table awaits). From there, you can walk the 1.5-mile trail to the falls.
Visitors with kids love going to this waterfall because of its accessibility (it's just a short pathway away from the parking lot). Unfortunately, the downside to this accessibility is that teens and young adults love partying here and leaving beer cans and other trash.
If you're willing to walk a bit longer, you'll see a smaller waterfall nearby – it's called White Oak Creek Falls.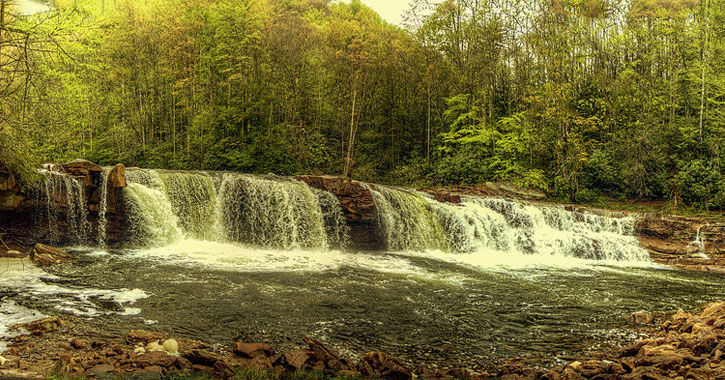 Location: Valley Bend, WV 26241
Fees: FREE
Reason to pick this waterfall: Challenging hike, but the payoff is priceless.
If you and your kids are learning how to take waterfall photography, High Falls is the best place to practice your skills as it is one of the most gorgeous waterfalls in West Virginia.
Embraced by the trees of Monongahela National Forest, High Falls is a super-wide waterfall with cascades dramatically falling over a bend of rocks.
Ideal for kids who are exposed to hiking at an early age, the trail to High Falls isn't beginner-friendly (the shorter trail is 7 miles while the longer one is over 12 miles) but manageable for a seasoned hiker.
I recommend you take the New Tygart Flyer excursion train which leaves Elkins once a day.
Note that this spot is a favorite among locals during high season, so schedule your visit appropriately.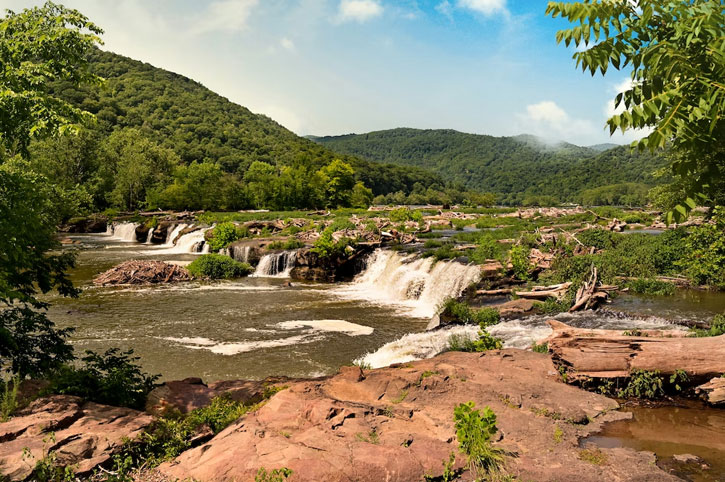 Fees: There is NO FEE to enter New River Gorge National Park and Preserve.
Reason to pick this waterfall: Viewable from two scenic overlooks, and a riverside scenic drive.
Sandstone Falls is one of the largest waterfalls in WV. It is positioned nearly a mile across the New River, tiered in a paint-like cascade in several places, before dropping the river over 1500 feet wide. Divided by a series of islands, the river drops 10 to 25 feet.
The way to Sandstone Falls begins at the Sandstone Visitor's Center, just off Interstate 64. Drive about 40 minutes more until you reach the parking lot of Sandstone Falls.
You'll be able to see the falls from your car, so if you're not feeling a hike, it is totally possible to see Sandstone Falls and Brooks Island from the roadside.
If you do decide to take the trail, you'll be welcomed by a boardwalk leading you to the falls. When visiting waterfalls like Sandstone Falls, one of my favorite spots to look for are wooden bridges and the trail has one of my favorites.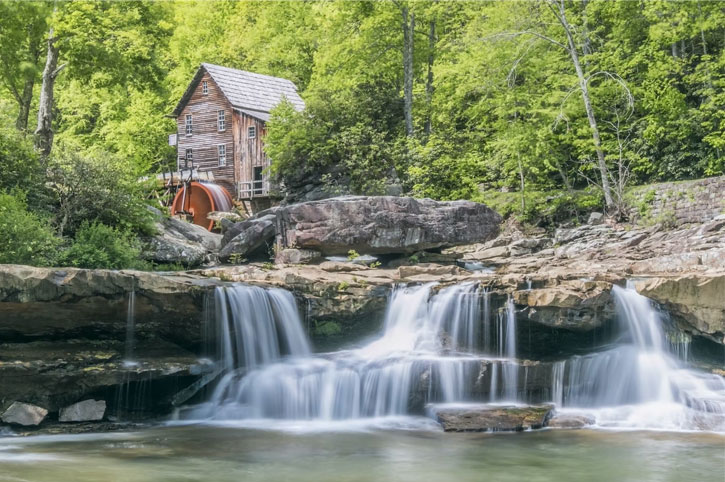 Location: 486 Babcock Rd, Clifftop, WV 25831
Fees: An annual pass with unlimited entrance to the parks is $12 per vehicle. A single-day pass also is available for $2.
Reason to pick this waterfall: Picturesque waterfall with painting-like bac
This picturesque West Virginia waterfall looks like it came out of a postcard.
Located on a 4,127-acre wooded at Babcock State Park, the Babcock Mill Creek Falls is situated about 20 miles south of New River.
Photographed at the back of the falls is the Glade Creek Grist Mill, a fully functional replica of the original Cooper's Mill.
Other attractions in the park include hiking trails, mountain biking tracks, fishing, hiking, and whitewater rafting in the New River Gorge nearby. If you're up for an overnight stay, there are cabins all over the park.
Note that the Glade Creek Grist Mill closes for the season on the last Sunday in October. Picnic area restrooms and certain area gates close for the season on Oct. 31.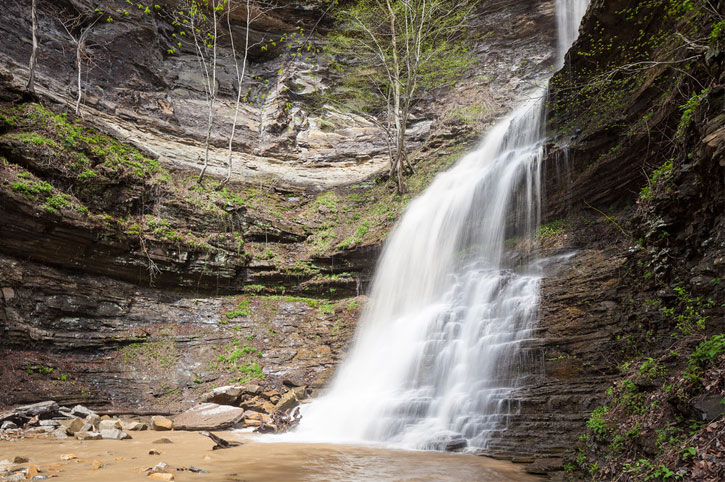 Location: Gauley Bridge, WV 25085
Fees: No fees to access the waterfall, but may be asked to pay for parking.
Reason to pick this waterfall: a tall, textbook waterfall that kids of all ages would adore.
Cathedral Falls is one of the highest and most scenic waterfalls in West Virginia. You can find it along Highway 60 one mile east of the town of Gauley Bridge, WV.
Cathedral Falls sits at 60 feet tall with its waters plunging down sandstone and cliffs.
This is a popular spot for families since it is easy to access. You can just park at the designated parking area from Highway 60. From there, follow a short trail (there are signs everywhere) to guide you to the foot of the falls.
You can even set up a picnic right there by the falls.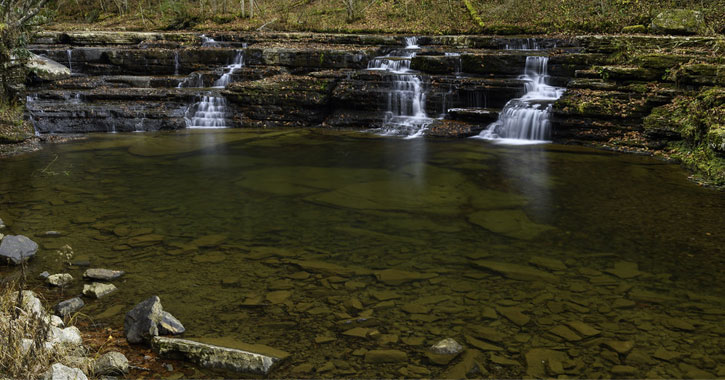 Camp Creek State Park is home to two well-known West Virginia waterfalls:
Campbell Falls – a cascade waterfall that is larger (measuring 40 feet wide and around 15 feet tall). Getting here requires you to take a 1.4-mile White Oak Road and Trail, followed by the Turkey Loop Road and Trail.
Mash Fork Falls – While this waterfall stands only 6 feet high, it is renowned for its gorgeous peak flow and unique sandstone ledges. You can access this waterfall from the Mash Ford Campground and a quick hike.
Both waterfalls are accessible by either car or foot. Aside from the waterfalls, Camp Creek State Park also has a campground, swimming hole, and fishing areas.
Other West Virginia Waterfalls & the Official WV Waterfall Trail
As I mentioned above, West Virginia has over 275 waterfalls across the state.
For those checking their waterfall bucket list, the West Virginia Department of Tourism made it easier – and safer – for you to explore the waterfalls around the state with the official WV Waterfall Trail. Sign up to get your digital passport and explore all the waterfalls of West Virginia with up-to-date guides.
If you're interested in waterfalls beyond West Virginia, check out my post about Ohio's waterfalls, Tennessee's waterfalls, and the best waterfalls in the US.