It is physically impossible to visit all Pennsylvania waterfalls in one year.
I'm passionate about visiting every nook and cranny of my beloved state and there are still over 200 waterfalls on my bucket list.
Pennsylvania is blessed with at least 340 waterfalls (that have been recorded and named so far).
If you're traveling to PA and want to marvel at the best waterfall throughout the state, here are my top picks:
10 Must-See Pennsylvania Waterfalls for all Hiking Levels
While Fall Run (pictured above) might be my favorite waterfall in all of PA, these are some of the best you can find across the state.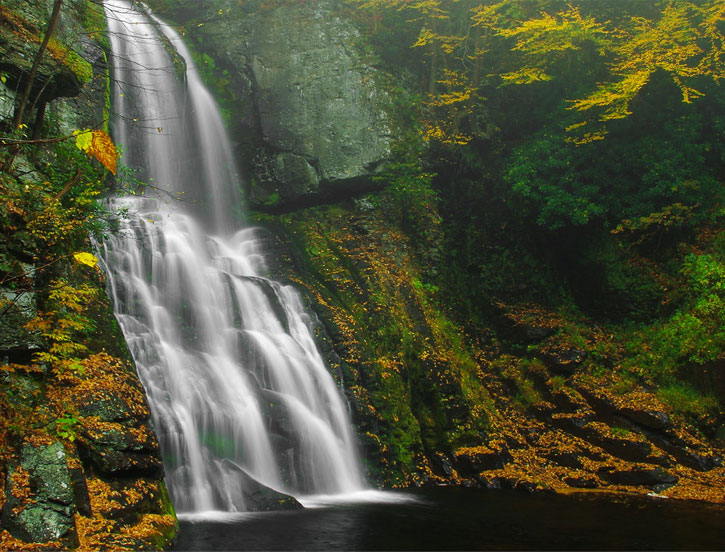 Known as the "Niagara of Pennsylvania," Bushkill Falls is actually a group of 8 waterfalls located in the Pocono Mountains.
The tallest and most-visited waterfall here is the Main Falls (100 feet high).
There is a 2-mile hike to reach these Pennsylvania waterfalls, but the payoff is high for this destination because you get to see a handful of waterfalls in one trip. Of course, you're still in control if you wish to hike more or turn back once you reach your preferred waterfall.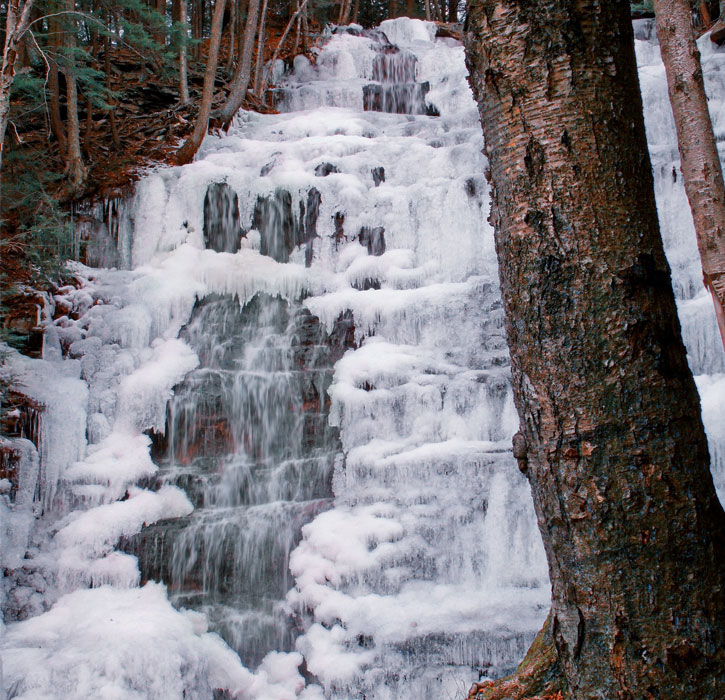 There are several Pennsylvania waterfalls known as "Buttermilk Falls," so finding this particular spot can be confusing if you go straight to Google.
From the parking area, you'll need to walk a short 5-minute trail with a hint of elevation change. The way to Buttermilk Falls is perfect for all ages, even young kids.
There is a picnic area, a designated viewing area (which gives you a close-up look at the Buttermilk Falls), and a restroom.
Make sure to print this out if you're planning to visit.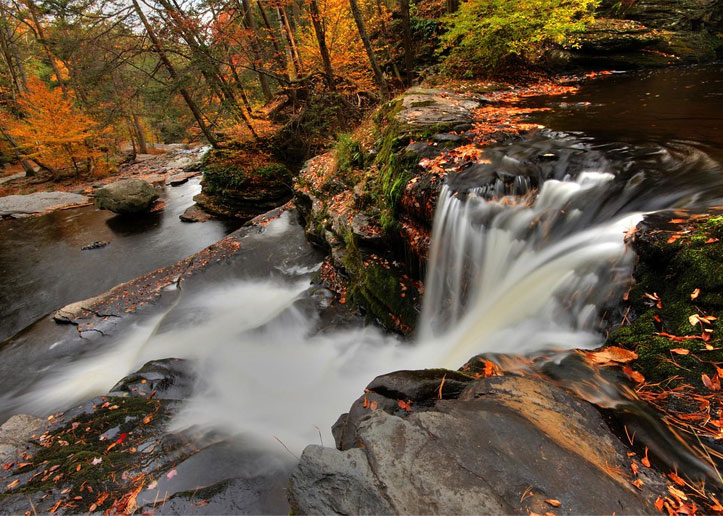 The Factory Falls is one of 3 waterfalls you can find in the George W. Childs Recreation Site in the Delaware Water Gap National Recreation Area in Dingmans Ferry, Pennsylvania.
The other two falls are Fulmer Falls and Deer Leap Falls, which are separated by a 90-degree drop for each fall.
Factory Falls got its name because of the 19th-century mill that used to run beside the waterfall.
To get here, you'll need to pass by a hike-friendly, handicapped-accessible wooded pathway. Unfortunately, all 3 waterfalls are closed due to a storm that destroyed the area in 2018.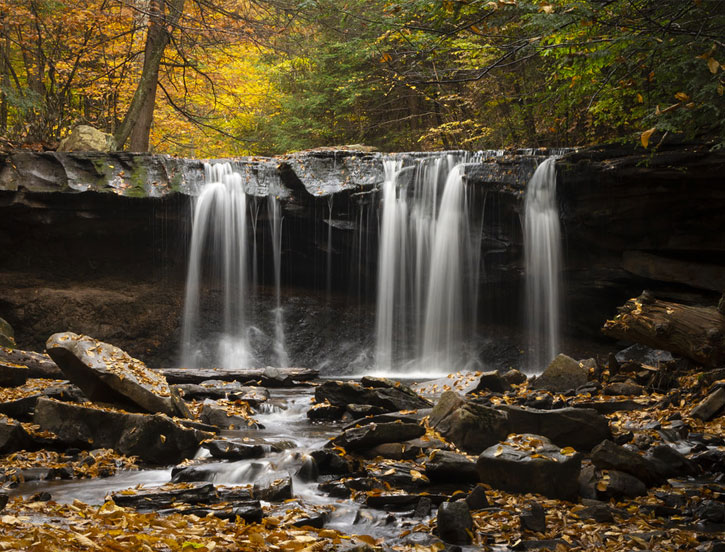 The best thing about Pennsylvania waterfalls is that many of them come in groups.
Rickett's Glen State Park, which has 24 named waterfalls in the state, is where you'll find Oneida Falls. More specifically, it is located in Columbia, Luzerne, and Sullivan counties of Pennsylvania.
Oneida Falls is the second waterfall along the Ganoga Glen branch of Kitchen Creek (this is where all waterfalls in the area occur).
Oneida Falls cascades 13 feet and drops to a streambed of about 30 feet wide water flows.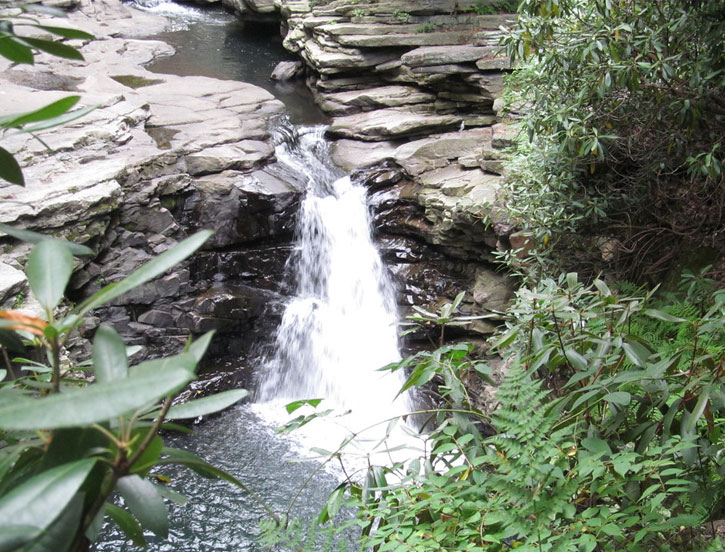 Located in Scranton, Nay Aug Falls is a stunning waterfall with several viewing outlooks (including one that's handicapped-accessible). However, the lower overlook would need a bit of a hike.
Often cited as the city's most treasured green space, the trail to Nay Aug is characterized by views of the deep green forest and the gorge.
The height of Nay Aug Falls is just 15 feet, but it's still an impressive sight when you get up close.
Nay Aug is the largest park in Scranton – it is also closest to the city, which means it can be crowded with families and groups flocking the falls on weekends and holidays.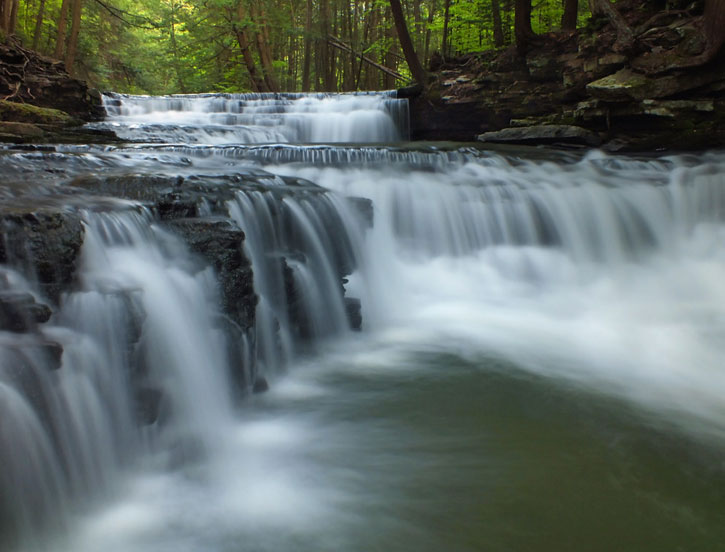 Fall Brook Falls (and another waterfall) are located in Salt Springs State Park. You can visit both waterfalls along the same trail. Of course, the way to the other waterfall can be more challenging due to some steep hills and large boulders blocking your way.
Fall Brook Falls looks fantastic with its "stair-like" quality. The rocks in the area have eroded into steps throughout the years. Note that these steps are often slippery, so be careful when trying to go near.
Unlike other Pennsylvania waterfalls on this list, Fall Brook Falls doesn't get crowded too often.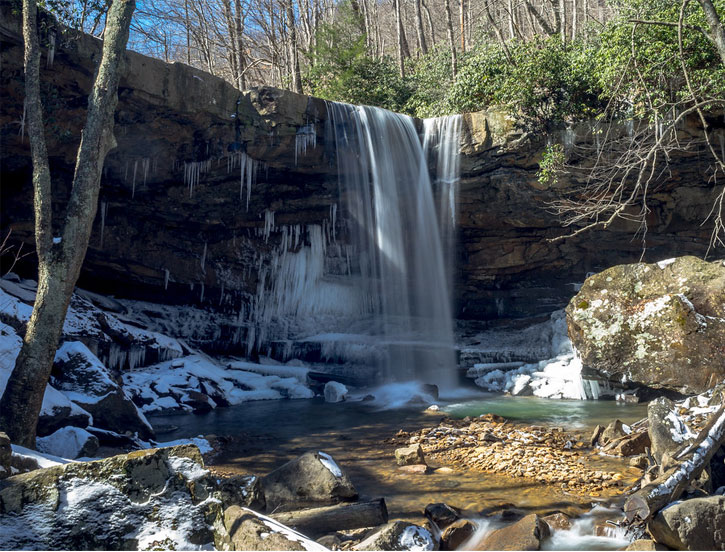 Ohiopyle State Park, a 19,000-acre state park located in Southwestern PA, is home to Cucumber Falls.
While the park has plenty of attractions and trails to explore, Cucumber Falls is one of the main ones people visit here.
At around 30 feet high, Cucumber Falls drops in a single cascade onto the rocks below.
To experience the waterfall at its prime, visit in the fall or spring when the ice has melted and when there is minimal rainfall.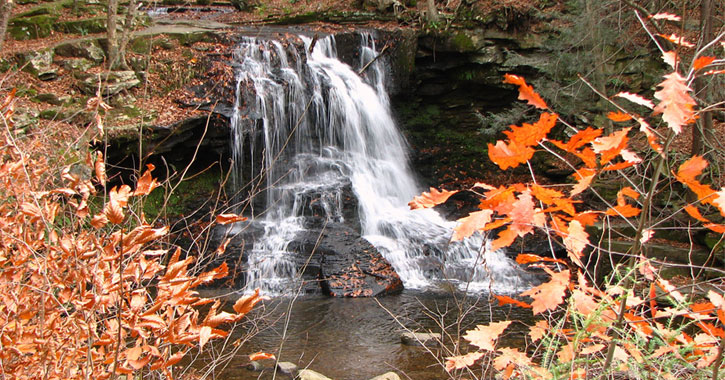 If you're looking for the most accessible out of all Pennsylvania waterfalls, then Dry Run Falls is your best choice.
This gorgeous 20-foot roadside waterfall is located in the Loyalsock State Forest. Once you reach the parking area, you only need to walk a few steps to arrive at the impressive viewing outlook.
If you're up for a challenge, you can hike up the top of the falls.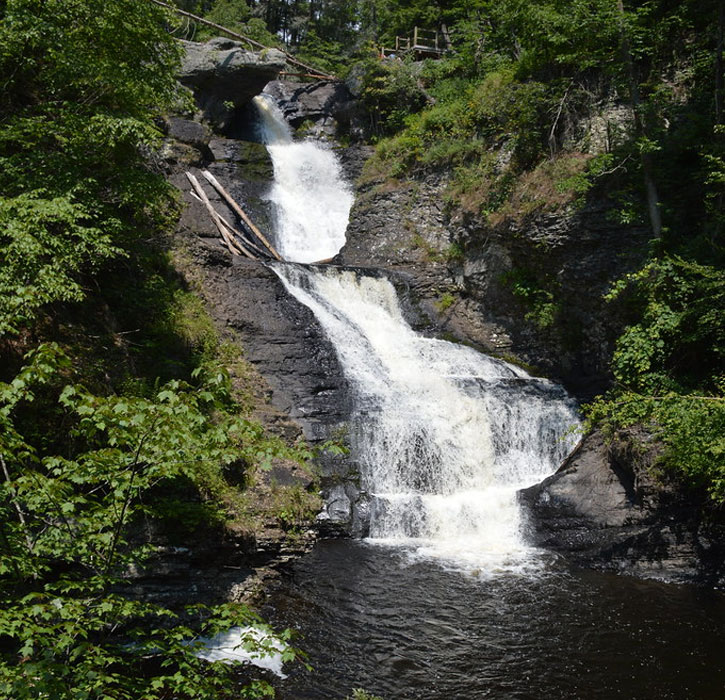 For a memorable hike, visit Pennsylvania's tallest waterfall.
Located within the Delaware Water Gap National Recreation Area, Raymondskill Falls is over 150 feet tall and is one of the most visited falls in the state.
Many people who are chasing the best waterfalls go here because the 2 other tallest PA waterfalls (that exceed 100 feet) can also be found at the Delaware Water Gap.
And despite the impressive drop of the falls, getting here is easy even for beginner hikers. The 0.3-mile Raymondskill Creek Trail leads to two observation platforms (one easy and the other a bit more challenging).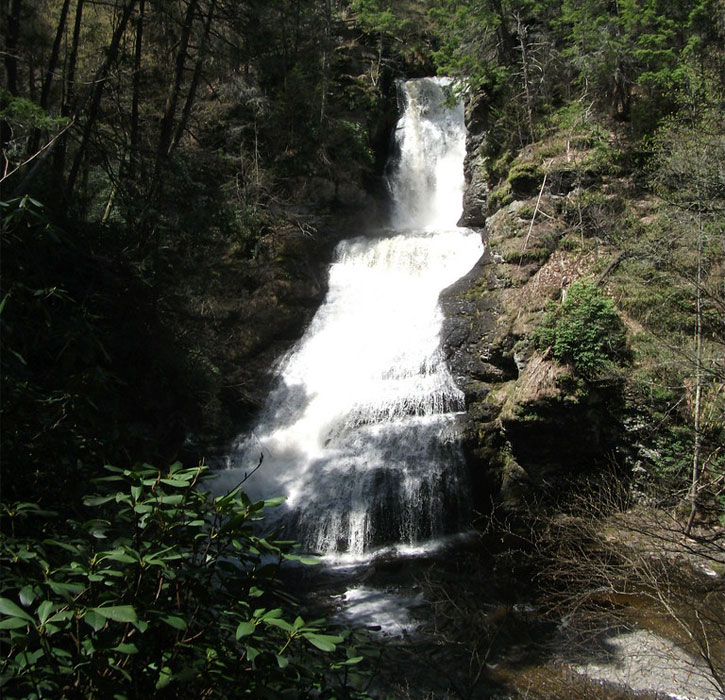 Dingmans Falls is the second tallest waterfall in Pennsylvania at about 130 feet high.
Located in Dingmans Ferry in Delaware Township, Dingmans Falls has a vertical drop of 39.6 meters and drops at a unique angle which is impressive to see in person but can be challenging for photography shots.
What's best is that Dingmans Falls can be visited by anyone thanks to the easy 0.4-mile trail. Do note that the last 0.1 mile is mostly stairs and would be considered moderate difficulty.
Beyond the Waterfalls of Pennsylvania
If you're interested in visiting two or more waterfalls in one trip, focus your itinerary on Ricketts Glen State Park where 22 named waterfalls are found.
Are you chasing other waterfalls across the country?
I am obsessed with waterfalls, even if the long hikes can be brutal. If you can't get enough and want to see other jaw-dropping waterfalls in the US, here are state-specific posts you should check out:
If you have an extended stay in PA, make sure to check out our local caves, beaches, water parks, and if you like cultural stuff, our covered bridges, and ghost towns.