What could be better than soaking it up in a relaxing hot spring?
It's no secret that there are some fabulous hot springs in the US but, while the West Coast is well-known for its hot springs, there are several hot springs on the East Coast still worth visiting.
The East Coast is already known for some incredible national parks, but hey, if you could add a hot spring to the day's agenda, why the hell not?
But, finding a baller East Coast hot spring does require some research.
That's why we've put together this list of some of the best hot springs on the East Coast so you can forget about the heavy googling and get busy packing.
Where are the Best Hot Springs on the East Coast?
So where exactly should you look for these steamy attractions?
Sadly, many of the states on the East Coast don't have any natural hot springs at ALL.
You will however find some in the states of Georgia, Florida, Massachusetts, North Carolina, and Virginia.
Luckily some other states on the East Coast have resorts and Spas that heat up mineral-rich spring water, so you can still get the benefits from a long soak.
Both North Carolina AND Virginia even have towns named "Hot Springs" (points for ingenuity there…). These towns have historically been a favorite haunt for those seeking hot springs on the East Coast.
Some hot springs, particularly in Georgia, are for sightseeing only. While you can't take a dip, they are well worth seeing for their natural beauty.
Top 10 Hot Springs on the East Coast
I've scouted out 10 gorgeous hot springs on the East Coast for you. Some are naturally occurring and others use artificially heated mineral spring water.
Check them out below.
Florida has over 1,000 beautiful springs, but Warm Mineral Springs is the only naturally occurring hot spring.
The water sits at a comfortable 85 degrees year-round and contains over 51 minerals!
Visitors access the hot spring by walking down a long, shadowy tunnel, before being greeted by a large pond surrounded by trees. Its high mineral content has given the springs the reputation of healing powers and people from all over visit to take a swim in its magical waters.
Warm Mineral Springs is open daily from 9am to 5pm, and the $20 entry fee covers the entire day.
This means you can go for a morning dip, head out for lunch and sightseeing, before heading back for a late afternoon soak! Avoid visiting in the busy seasons (October, November, and March through to May) if you don't like big crowds.
We all know Massachusetts for its awesome beaches, but did you know that the state also has the only hot spring in New England?
Sand Springs can be found deep in the Berkshires in the scenic little community of Williamstown.
The locals are sure that the warm waters have healing powers and the pool has been drawing visitors for over 250 years.
Magic or not, it is one of a handful of public, spring-fed, pools in the state (plus it's the only warm one).
So, if you're looking to visit a hot spring in Massachusetts, this is the one. With 72-degree waters, the hot spring is perfect for all ages and has become a popular family-friendly recreation area.
The pool is seasonal, open from late spring to early fall, with seasonal or day passes available.
The facility hosts regular events from game days, barbecues, concerts, and even outdoor art galleries, so even if you don't wanna swim, it is still worth checking out.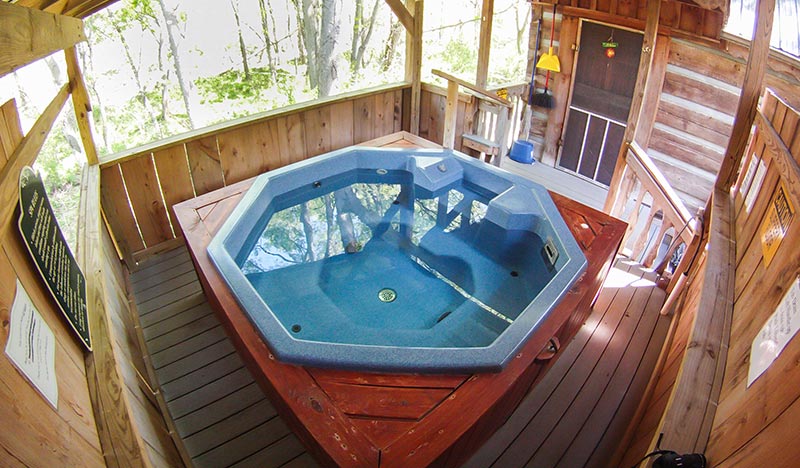 This might be my favorite hot springs on the East Coast.
The Hot Springs Resort and Spa in Hot Springs, North Carolina has been welcoming guests since 1778 – these guys really know what they're doing.
It's a little different from your typical hot spring experience, as they have outdoor, jetted hot tubs built on wooden decks *excited scream*.
The tubs are fed with hot, natural mineral water, and, if that wasn't enough, they sit by Spring Creek or French Broad River, giving you the best views of nature.
You can either stay overnight in accommodation that has its own private tub or rent a private hot tub by the hour.
Prices start at $50 for two for 60 minutes for their standard mineral bath, going up to $150 for 90 minutes for their signature tubs. They are open for reservation seven days a week, and the tubs can hold four to five people, depending on the tub.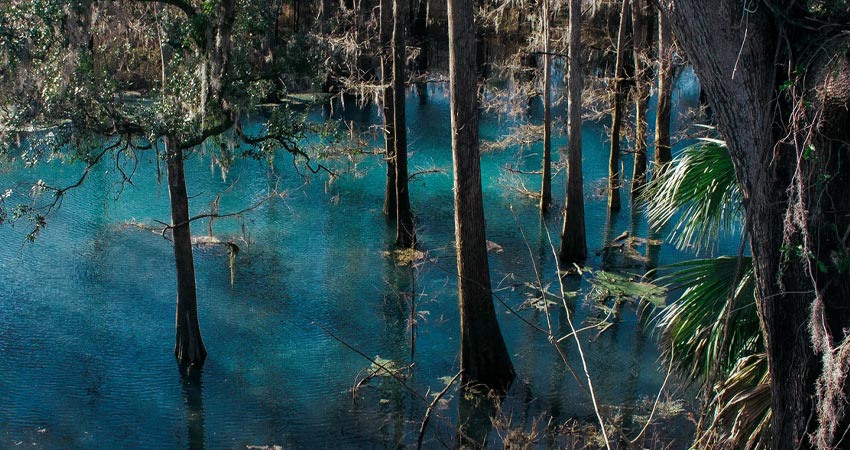 Radium Springs in Georgia gets its name from the trace amounts of radium in its waters.
Not only is this a rare occurrence, but it also creates a stunning luminescent blue color.
The earliest records of the hot spring are from 1540 when it was discovered by a Spanish Explorer, but Creek Indians had been in the area using the spring long before this.
Sadly, swimming in the 68-degree waters is no longer allowed, but as one of Georgia's seven natural wonders, it is well worth a visit!
The springs are in Radium Spring Gardens, which has various paths, beautiful plants and trees, plus a picnic area.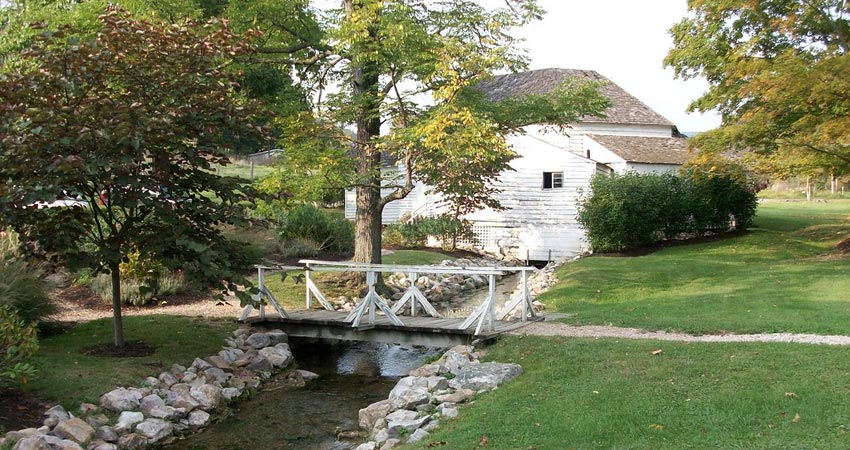 Jefferson Pools is in Warm Springs, Virginia.
It is named the Jefferson Pools since Thomas Jefferson used to go there for its healing properties.
In 1968 the pools were named a Virginia Historic Landmark and a year later they were listed in the National Register of Historic Places.
The octagon-shaped pool was made in 1773, and later in the 1820's a covered structure (now called the Men's Bath House) was added. It contains roughly 43,000 gallons of constantly flowing spring water, which maintains a content temperature of 98 degrees.
The Men's Bath House is said to be the oldest spa structure in the US, but, despite its name, it was intended for use by men and women at alternating times.
Sadly, in 2017, the Jefferson Pools were closed due to safety issues. But, the Omni Homestead Resort (we'll talk about them later) has purchased the hot springs and plans to do major renovations to get them back open.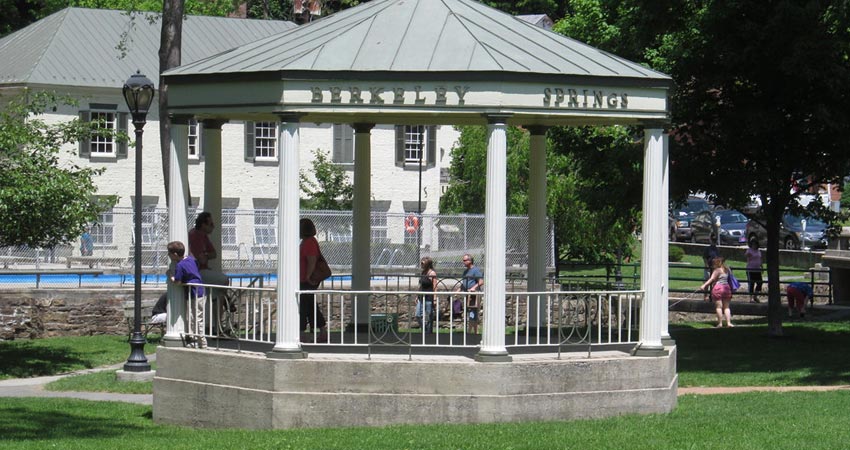 Okay, okay, this isn't technically a hot spring on the East Coast, but it's pretty close, so I'm going to include it.
Berkeley Springs is known as "America's First Spa", and Berkeley Springs State Park has been used as a health resort as early as the 1700s.
There are two facilities for spa-goers, the newer Main Bathhouse and the historic Roman Bath.
For traditional spa treatments and a luxurious heated whirlpool choose the Main Bathhouse.
But, for naturally heated water, the Roman Bath is the one to choose! It has 750 gallons of 102-degree mineral water that comes straight from the spring.
You can book tubs in the Roman Bath for 30 minutes slots and prices start at $27. Total bargain.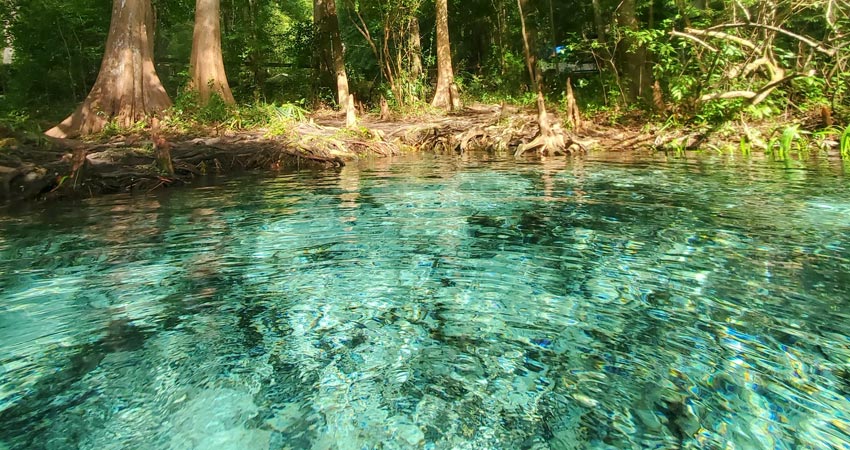 Ginnie Springs is verging more on warm springs territory, but with year-round temperatures of 72 degrees PLUS its insane turquoise color, I had to include it.
There are seven springs in total, each with crystal clear waters.
The place is open year-round, but in winter opening hours are shorter so you may want to double-check.
This spring is definitely for those who love adventure as there's swimming, snorkeling, diving, tubing, and more.
Luxury Hot Spring Resorts
It's time to let out your inner diva at one of these luxury hot spring resorts!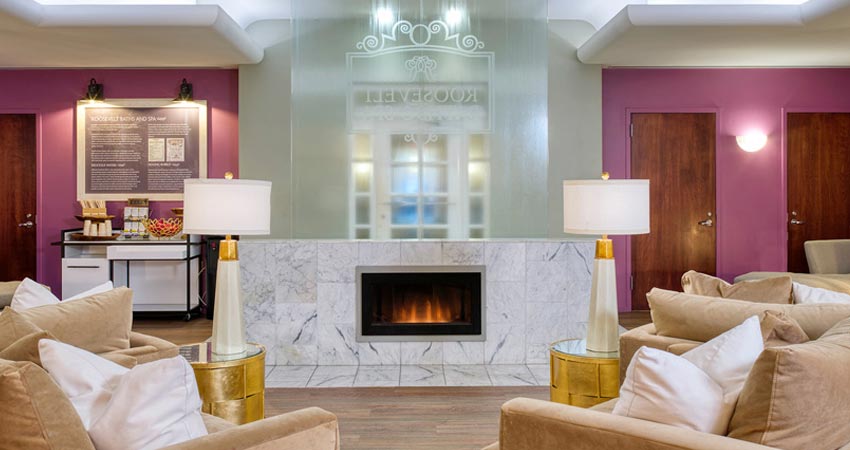 Saratoga Springs is well-known for its mineral-rich waters, many of which are naturally carbonated!
There are 21 public springs throughout Saratoga, but, if you wanna have a little heat, you should head to the Roosevelt Baths and Spa.
The spa was opened in 1935 and offers hydrotherapy experiences, amongst other more typical spa treatments. The hydrotherapy consists of a mineral bath drawn with a mixture of hot and cold fresh water and cold mineral water. The water temperature is between 97 and 100 degrees and is said to ease aches and pains.
The Roosevelt Baths and Spa is open daily from 9am to 5pm, but you can't just rock up a treatment. Reservations are required in advance.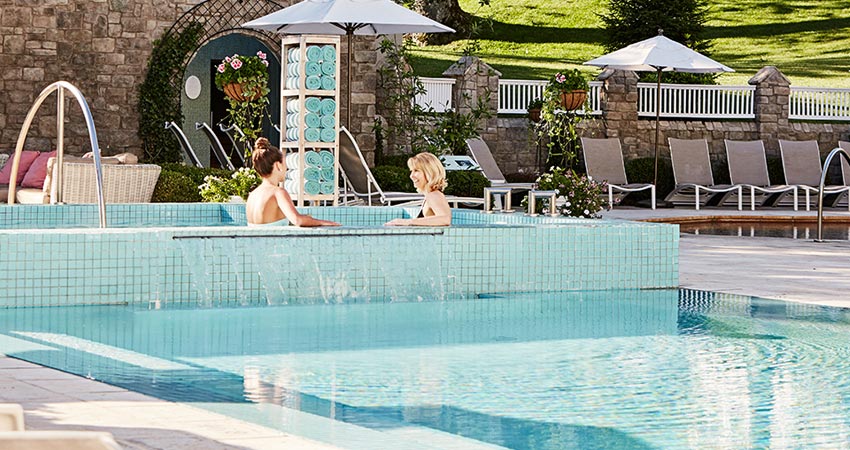 This is definitely one of the pricier hot springs on the East Coast, but who minds paying for a little luxury now and then?
The Serenity Garden in the Omni Homestead Resort is definitely the place to take your boo for a romantic getaway.
It is an adult-only part of the resort, welcoming guests over 18 only.
The garden has numerous pools and features, some that use naturally warm waters, and others that are heated.
The Octagon Pool is the garden's geothermal pool, fed by two hot springs and it is rich in minerals.
These waters are 96-97 degrees and are also used for the Deluge Shower and River Reflexology Walk. The Serenity Garden also has a hot tub and artificially heated infinity pool.
A day pass costs $75, however, if you're spending over $200 on the resort's other services, a day pass is included for same-day use. There are plenty of dining options at the resort so it's possible to make a whole day of it!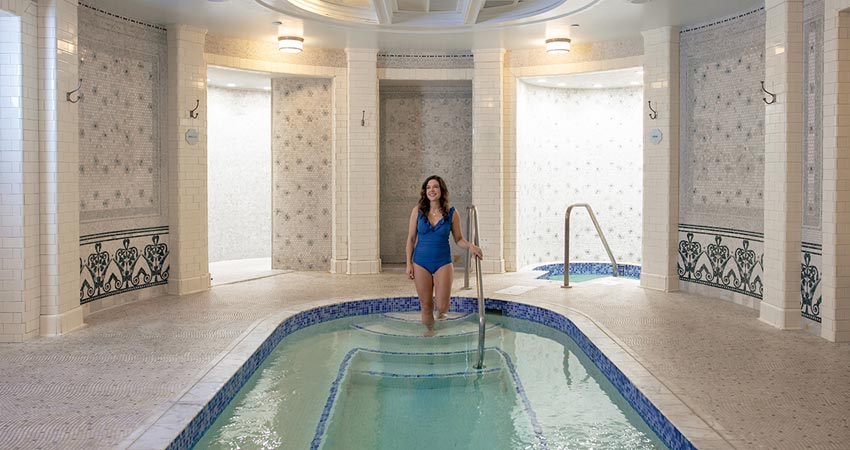 For anyone looking for luxury hot springs in Pennsylvania, head to the Omni Bedford Springs Resort in Bedford.
The town is famous for its medicinal springs, and the resort was built as far back as 1806 to cater to people seeking the healing powers of Bedford's waters.
Their Bedford Bath Ritual uses both artificially heated and cool natural mineral water to rejuvenate muscles and help you feel relaxed.
The resort is full of history, such as being the "summer White House" of President James Buchanan, and having the first Olympic sized swimming pool.
The hotel recommends making reservations six to eight weeks in advance, so if you're headed to Pennsylvania anytime soon, you better start booking.
The Few Hot Springs on the East Coast
There may not be a ton of hot springs on the East Coast, compared to the insane number out west, but the ones that are available are absolutely stunning.
If after all this, you're not really feeling the hot spring vibe but still wanna put your swimwear to use, check out my list of the best beaches in the US, many of which are on the East Coast.