Aquariums provide animal lovers the chance to observe strange, interesting creatures that live underwater without having to actually dive and snorkel. If you're trying to find an aquarium near Madison, WI, you're in luck; there are some great options within driving distance.
I've included aquariums as well as zoos with notable aquariums, listed in order of their distance from Madison, WI. I've also included nearby kid-friendly places and things to do so you can get the most out of your drive.
5 Aquariums near Madison, WI
Distance of aquarium from Madison, WI: 72 miles
Why visit: The Aquatic & Reptile Center exhibit showcases various hundreds of freshwater fish.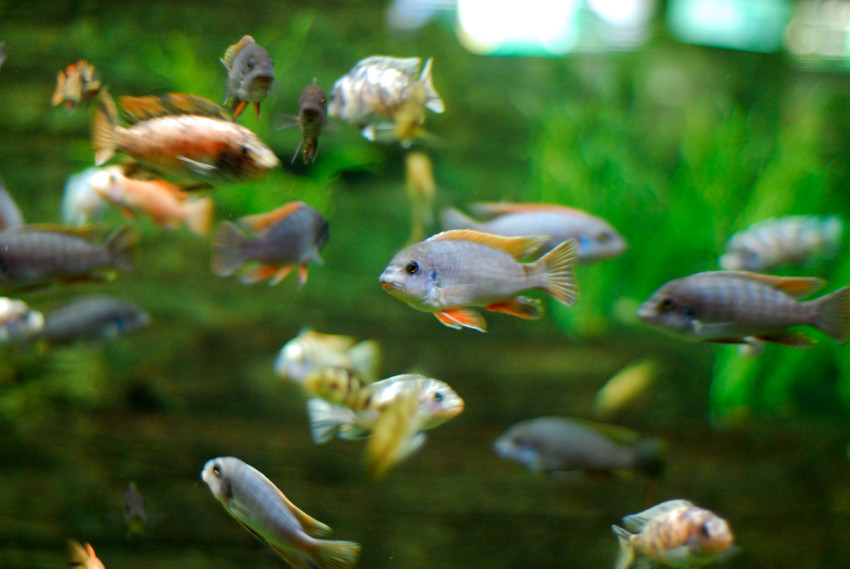 The Milwaukee County Zoo hosts over 2,100 animals from more than 370 species and is operated by the Zoological Society of Milwaukee.
The Aquatic & Reptile Center (ARC) has the most animals out of any area in this zoo, housing various fish, reptiles, and amphibians.
The 55,000-gallon aquarium at the Flooded Forest Amazon River Exhibit aquarium is home to impressive freshwater species, including cichlids, silver Arowana, and arapaima, one of the world's largest freshwater species.
Their center exhibit, Lake Wisconsin, features 30 species of native Wisconsin fish.
Behind the scenes, the ARC staff have been maintaining smaller saltwater aquariums with coral reefs housing Indo-Australian fish like clownfish and wrasse.
In addition, Ocean Connections, a non-profit organization, hosts interactive programs with seals and sea lions.
Aside from the animal exhibits, the Milwaukee County Zoo also offers various rides and attractions, such as a carousel, a train, a tram tour, a ropes course, a zip line, and an aerial lift.
Kid-friendly things to do nearby
Betty Brinn Children's Museum — An educational museum with interactive, hands-on exhibits especially for children 10 and under.
Milwaukee Art Museum — Wisconsin's largest art museum; kids 12 and below get in for free; story time, singing time, art classes on certain days and times
Manfred Olson Planetarium at the University of Wisconsin-Milwaukee — A planetarium with state-of-the-art projectors and telescopes for observing and learning about celestial bodies.
2. Reiman Aquarium, Discovery World, Milwaukee, Wisconsin
Distance of aquarium from Madison, WI: 79 miles
Why visit: It's the largest aquarium in Wisconsin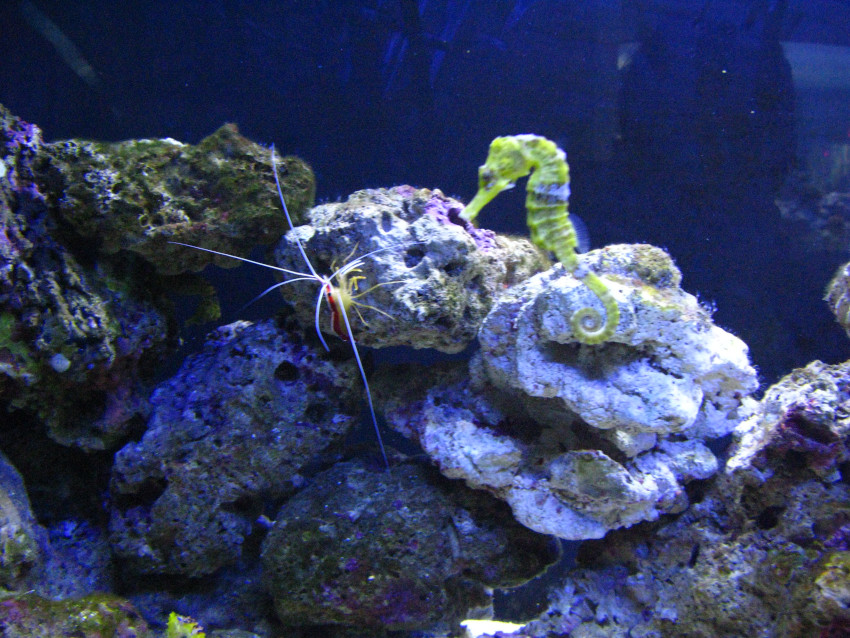 Discovery World is a museum aiming to nurture children's interest in STEM through educational exhibits and exciting activities.
Reiman Aquarium is on the lower level of Discovery World featuring exhibits of a wide variety of aquatic habitats, including Lake Michigan, Amazon Basin, Caribbean Sea, and the African Great Lakes.
The Lake Michigan Tank is the central showcase of the aquarium, with its 75,000-gallon cold freshwater tank housing species native to the Great Lakes, including lake sturgeon, largemouth bass, crappie, pike, walleye, carp, and many more.
By contrast, the Caribbean Tank is a warm saltwater tank with bamboo sharks, angelfish, triggerfish, stingrays, and many more.
Touch Tanks allow visitors to touch young lake sturgeon (freshwater tank) and stingrays (saltwater tank).
Kid-friendly things to do nearby
Discovery World — Within this large museum are several other exhibits that kids will enjoy, including Les Paul's House of Sound, Milwaukee Muscle, and the latest one All Aboard, which is a model railroad exhibit.
Milwaukee Riverwalk District — Stroll along the paved path and take selfies with RiverSculpture installations (look for Bronze Fonz!).
Grant Park Beach — Nestled along Lake Michigan, it's home to some of the best sea glass in the US.
Distance of aquarium from Madison, WI: 91 miles
Why visit: It's the largest museum, aquarium, and science center dedicated to America's rivers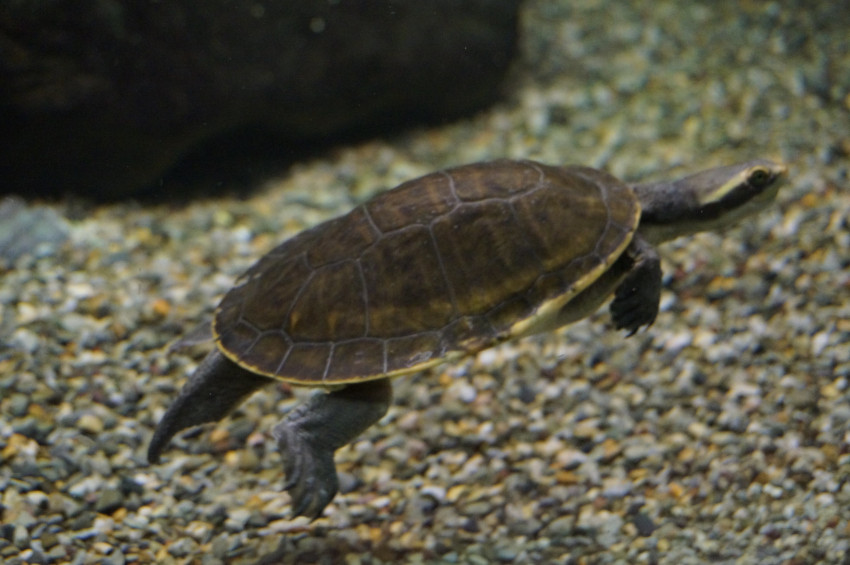 Part aquarium, part museum, part science center, the National Mississippi River Museum & Aquarium is the largest facility of its kind focused on the history, culture, ecosystem, and conservation of the great American rivers, particularly the Mississippi River.
Its exhibits occupy two buildings on its sprawling 14-acre campus on the shores of the Mississippi River. The main aquatic habitats are the Gulf of Mexico Aquarium (a 40,000-gallon saltwater aquarium) and the Main Channel Aquarium (a 30,000-gallon freshwater aquarium).
The Main Channel Aquarium features some of the biggest species of fish in the Mississippi River, including lake sturgeon, blue catfish, and alligator gar, as well as other river animals like spiny softshell turtles and river cooters.
Some of the daily events that kids will enjoy include stingray feeding, boatmaking talk and demos, and animal encounters.
Kid-friendly things to do nearby
Grand Harbor Resort and Waterpark — Day pass available for the 25,000-square foot indoor waterpark for kids of all ages
Crystal Lake Cave — Tour underground passages with growing stalactites and stalagmites. Visitors can pan for gems and fossils near the cave entrance
Distance of aquarium from Madison, WI: 144 miles
Why visit: It's one of the few zoos with polar bears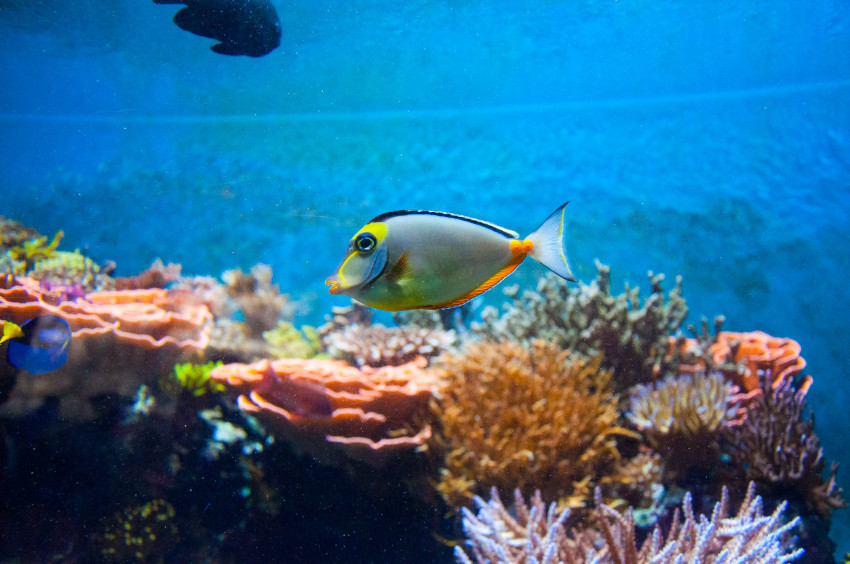 Brookfield Zoo is a 216-acre zoological park known as one of the best zoos in the Chicago area.
The Living Coast habitat is where various fish, sea creatures, and the endangered Humboldt penguins can be found.
You can get up close and personal with them by signing up for a Penguin Encounter or a Penguin Feeding.
The Seven Seas habitat is another popular attraction, where visitors can watch bottlenose dolphins swim gracefully through the water or do tricks above water during the Dolphins In Action program in the amphitheater.
Note: The Seven Seas underwater viewing facility and Dolphins In Action show are closed for renovations until Summer 2023.
Kid-friendly things to do nearby
Galloping Ghost Arcade is the largest arcade in the world with over 885 games and counting. Children and adults alike will love playing as many vintage games as they want for a $25 entrance fee.
Urban Air Trampoline and Adventure Park is the ultimate indoor playground, perfect for kids who need to loosen up after a whole day in the zoo.
Distance of aquarium from Madison, WI: 151 miles
Why visit: It's one of the few aquariums with Beluga whales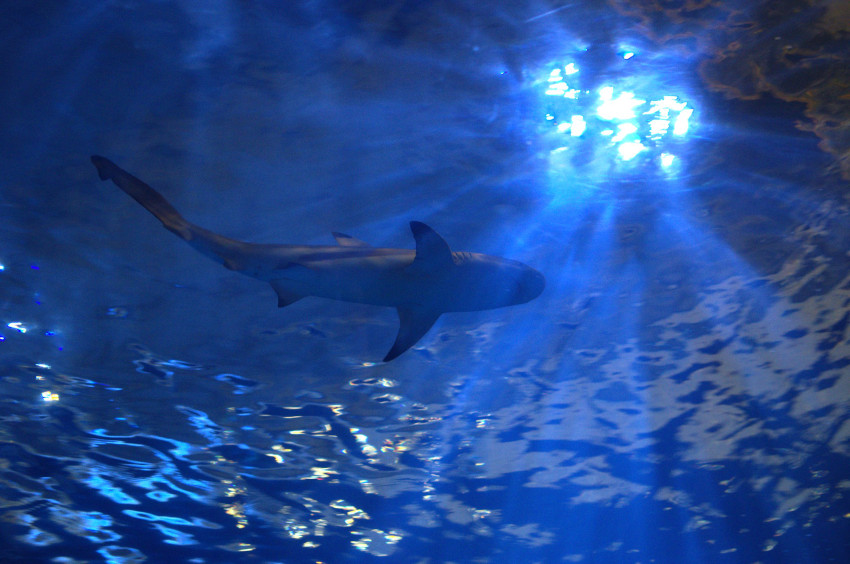 Shedd Aquarium inside the Museum Campus Chicago was the first inland aquarium with a permanent saltwater fish collection and for a time was the biggest indoor aquarium in the world.
The Caribbean Reef featuring a 90,000-gallon circular tank is the first exhibit visitors see from the main lobby. Get 360-degree views of a coral reef ecosystem with schooling fish as well as sharks and rays.
The Polar Play Zone is popular with children, as this is where they can play with sea stars in a touch pool, dress up as penguins, and observe dolphins, penguins, otters, and Beluga whales.
Other popular exhibits in the aquarium include the Abbott Oceanarium, Wild Reef, At Home on the Great Lakes, and Amazon Rising.
Shedd Aquarium also offers plenty of animal encounters for an extra fee. You can get close to and feed Beluga whales, stingrays, sharks, sea otters, penguins, and sturgeons.
Kid-friendly things to do nearby
Museum Campus Chicago — Within the same complex as the Shedd Aquarium are Field Museum (a natural history museum) and Adler Planetarium (a space museum with an observatory).
Navy Pier — A lakefront tourist destination with plenty of rides, attractions, parks, gardens, and other family-friendly experience. The Chicago Children's Museum is within the pier, along with Polk Bros Park, the Centennial Wheel, a drop tower, and a carousel.
Drive out to one of these aquariums from Madison, WI soon!
While there aren't any aquariums right in Madison, the ones listed range from a one-hour drive to almost three hours; still plenty of time for a day trip.
Of course, you can make a weekend out of it and make the most of the city you're visiting.
If you're looking for more child-friendly destinations in the country, check out our recommendations below: