The best beaches in the US are spread across the country. We're pretty lucky to be living in a place where there are many beach towns, secret islands, party beaches, and romantic coastlines – some still left to be discovered.
Whether you're looking for a lively beach with non-stop partying, a family-friendly beach, a haven for surfers and water sports, white-sand beaches where you can just chill, you can find one that would make your soul happy without going overseas.
Here are 20 of what I think are the best beaches in the US:
Best Beaches in the US East Coast
1. Clearwater Beach, Florida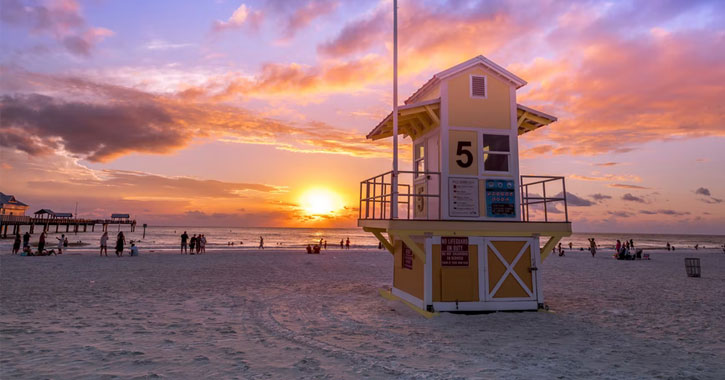 Clearwater Beach is known for its pristine powdery-white sands, over 1,350 miles of coastline, gorgeous clear blue waters, and an average of 360 days of sun.
If you're visiting with kids, you can also take a break at the Clearwater Marine Aquarium and get up close with the penguins and sea turtles.
Outdoor activities are never-ending, from boating to dolphin tours, parasailing, and everything in between.
There are also plenty of shops, restaurants, and street vendors right along the beach, so expect a lively crowd here.
2. Assateague Beach, Assateague Island (Maryland & Virginia)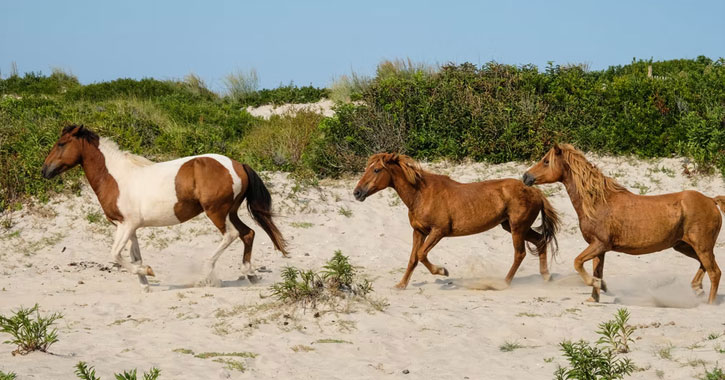 If you're after a spacious beach where you could frolic in the sand and water to your heart's content, the Assateague Beach at Assateague Island is definitely one for the books.
It's a perfect destination if you're looking for sea glass, or if you wish to see wild horses playing all over the island.
You can hike the dunes, explore the trails and be one with nature.
You really can't find a beach as "untouched" as Assateague beach. But if you're staying overnight, make sure to bring bug spray since mosquitoes do tend to get close by sundown.
3. Venice and Caspersen Beaches in Venice, Florida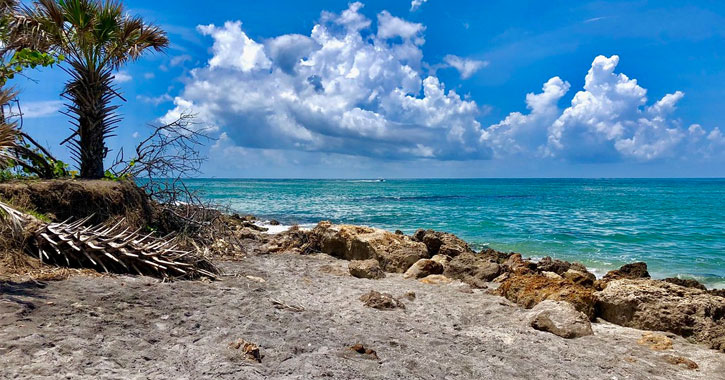 Venice Beach and Caspersen Beach are two very different spots in the Venice, Florida area.
If you're looking for the touristy part where all the bigger hotels, restaurants, activities, and people flock, Venice Beach will deliver.
It is a spectacular beach destination with everything you need to enjoy your stay. It's a public beach, but very clean and has plenty of opportunities for beach volleyball, shelling, and more.
Just make sure to wear beach slippers, especially in the summer because the sand could burn your feet and crushed seashells might not be pleasant for your kids' soft feet.
Venice Beach isn't really a crowded beach, but peak seasons make it a typical crowded, lively beach.
If you're looking for something more peaceful, walk 2 to 3 miles down to reach Caspersen Beach – a quieter, dog-friendly beach with a stunning view of the ocean.
Caspersen Beach isn't probably as impressive as Sanibel Island when it comes to shelling, but you can still find plenty of sand dollars, other seashells, and shark teeth to collect.
4. Sand Beach, Mount Desert Island, Maine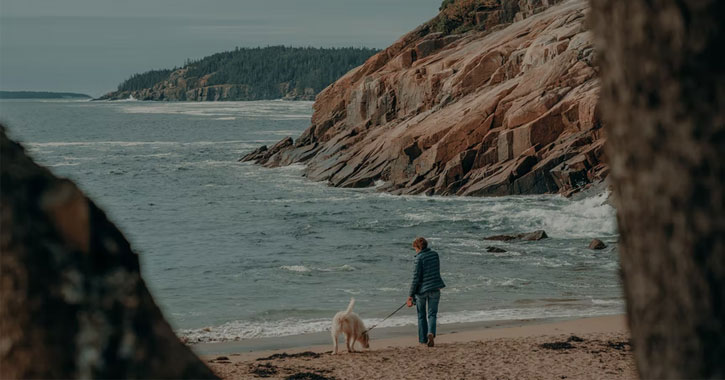 The beach is one of the most popular destinations in Acadia National Park. Even if Sand Beach is just 290 yards long, its location and backdrop make it an interesting destination.
Sand Beach is nestled in a small inlet surrounding the granite mountains. There are no hotels in sight, but the trees embracing the area is breathtaking.
The beach was formed due to thousand of years of pounding surf (this is also the reason why the sand is made up of millions of shell fragments). It's a dog-friendly beach (except for May 15 to September when pets are not allowed on the beach).
5. Coligny Beach Park, Hilton Head, South Carolina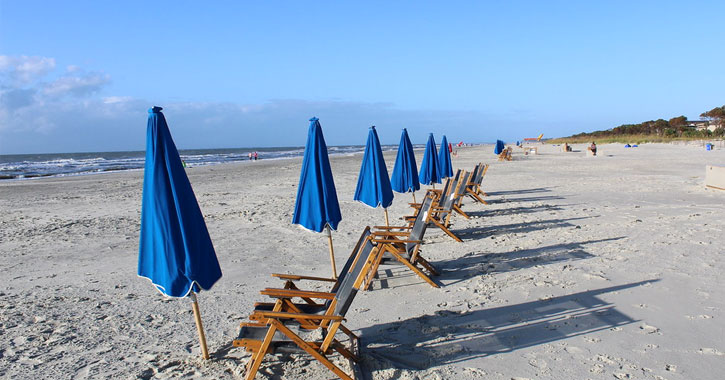 There are many South Carolina beach towns and North Carolina beaches to choose from, but if you have to decide on just one and you're looking for miles of sand you can walk on barefoot and uncrowded waters all year round, then head over to Coligny Beach Park in Hilton Head, South Carolina.
What makes this public beach super nice is that you can access it from the well-maintained park with modern amenities like public showers and bathrooms, gazebos, benches, and a water fountain.
There's also free Wi-Fi and a wheelchair-friendly sidewalk going to the beach, and a lot of stores and restaurants by the pathways.
Right on the beach you'll enjoy white sand, clear waters, dolphin sightings, and a lifeguard ready for any emergency. If you come here in the summer, watch out for jellyfish.
6. Driftwood Beach, Jekyll Island, Georgia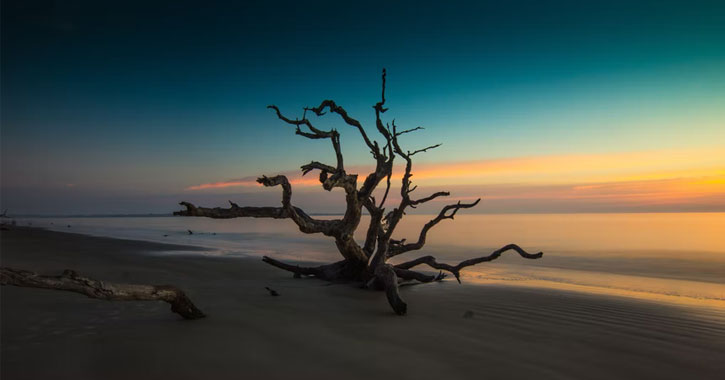 Out of all the Georgia beaches, the Driftwood Beach at Jekyll Island is one that would stick to your memories for the rest of your life.
Yes, those uprooted massive driftwood trees of all sizes, are just out of this world.
If you're on the lookout for a location for your prenup photos or just want glamour photos, Driftwood Beach can definitely give you the one-of-a-kind drama you can't find on other beaches.
There are places to stay and spots to eat nearby, but don't expect them to be by the beach.
7. South Beach Miami, Florida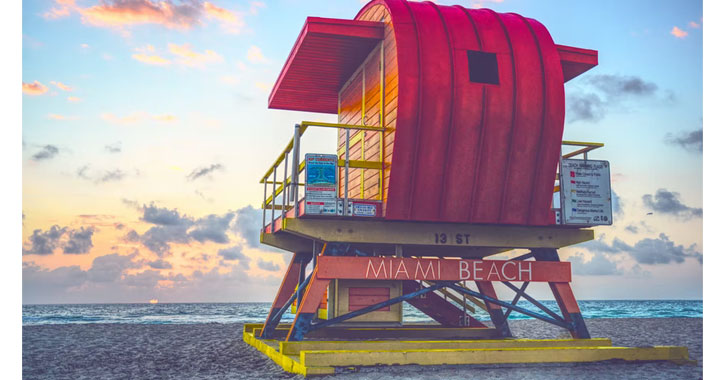 Miami Beach's nine-mile-long neighborhood is divided into three with South Beach (starting at South Pointe Park to 23rd Street) being the most famous.
If you're deciding on an area to stay in Miami Beach, you won't go wrong with SoBe (short for South Beach).
It is only about a 2.5-mile stretch but the heart and soul of Miami is felt in every inch of the place.
From the Art Deco buildings to the glitzy nightspots and celebrity-chef restaurants, SoBe is the party beach to visit for memorable honeymoons and other special events.
The beach, especially on sunsets and sunrise, is also a highlight of SoBe, especially since you can enjoy the sun and sand all year round.
8. Coney Island Beach, Brooklyn, New York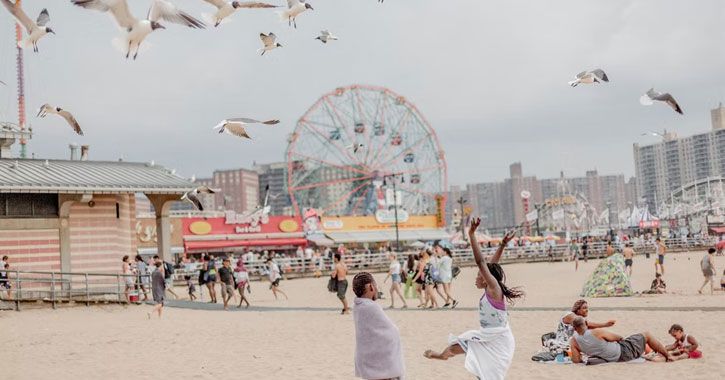 Coney Island is New York's must-visit summer destination not only for locals but also tourists visiting the state.
It is such an iconic place that has been featured in numerous movies through the years. But visiting the beach in person is definitely something everyone should do if given the chance.
The well-kept public beach with its sandy shore and calm waters is just a tiny part of Coney Island's charm.
There's also the New York Aquarium, Wonder Wheel, the historic B&B Carousell, Thunderbolt roller coaster, and other Luna Park attractions are also going to welcome you with open arms.
When you're ready to take a break from the amusement park or the beach, head over to the Boardwalk for live music (like the Connie Island Reggae event during summers), a ton of food stalls, and other free or budget-friendly entertainment. If you're visiting in June, check out how you can join the famous Mermaid Parade.
If you're looking for a similar laidback beach, but in New Jersey, check out my list of the best New Jersey beaches.
9. Tybee Island, Georgia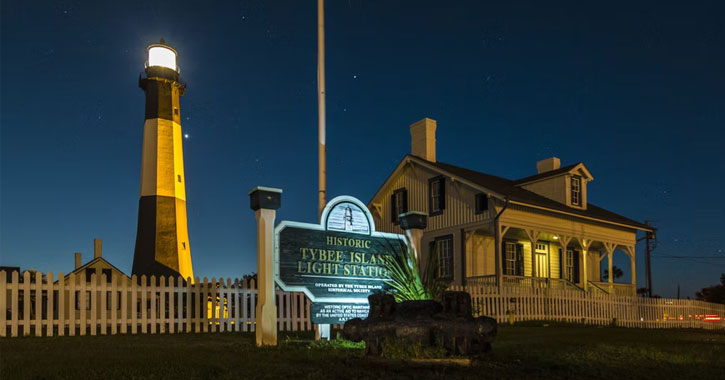 If you love the warmth of small towns and beautiful beaches, Tybee Island can be your next destination.
It's perfect for couples, families, and anyone interested in laidback beach getaway with plenty of opportunities for sunbathing, kayaking, fishing, hiking, dolphin, and bird watching (there are 200+ species of birds on the island), and more.
There are 3 miles of sandy Tybee Island shores, but this barrier island is actually divided into three distinct beaches (South, Mid and North) – all of which have a unique "personality" to offer.
Don't miss visiting the historic and Instagram-worthy 145-foot colonial-era lighthouse.
10. Coopers Beach, Southhampton, New York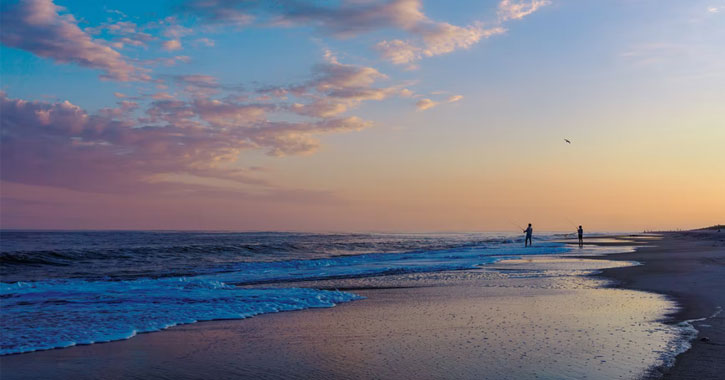 Coopers Beach is considered the best Hamptons beach by many locals and visitors alike.
This secluded, quiet beach stretches 500 feet along the Atlantic shoreline, giving you a unique view of many jaw-dropping historically-built mansions in the distance.
Cooper's Beach's clean Atlantic waters and stunning white sand is a perfect match for its well-kept bathroom facilities and beach chairs/umbrellas available for rent, a lifeguard on standby, and other first-class amenities.
The shallow waters are perfect for swimming, even for young kids. Non-resident visitors pay $50 to enjoy Cooper's beach. (Parking fees and other permits do add up, so be prepared.)
Best Beaches in the US West Coast
Washington, Oregon, and California have coastline access to the Pacific Ocean, so the number of best beaches in the US west coast is definitely overwhelming if you're trying to pick just one.
California alone has over 340 miles of beaches and about 65 state-maintained beaches.
Here are four that I highly recommend you start with:
11. Coronado Beach, San Diego, California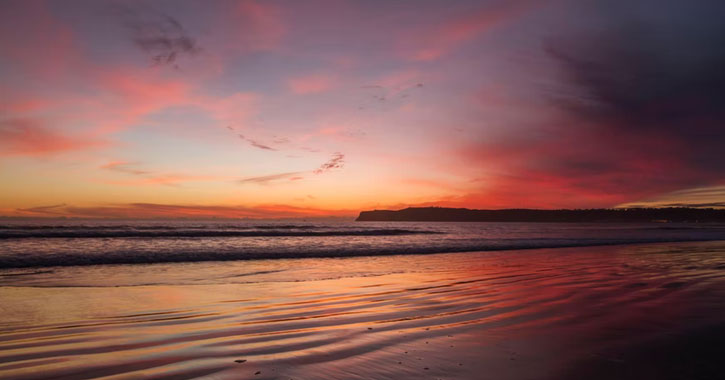 Coronado Beach offers just a mile-and-a-half stretch of golden sand with a spectacular backdrop thanks to the historic Hotel del Coronado, where Marilyn Monroe's 1958 film "Some Like it Hot" was filmed.
Ideal for families, couples, and just about anyone who loves an oceanfront getaway with all the modern amenities just a few steps away, Coronado Beach will deliver.
There are tidepools during low tide, body surfing, boogie boarding, paddle boarding, and never-ending sun-bathing and swimming.
Make sure to visit the award-winning, local brewery, Coronado Brewing Company, or take a water taxi or Old Town Trolley tour.
12. Carmel Beach, Carmel-by-the-Sea, California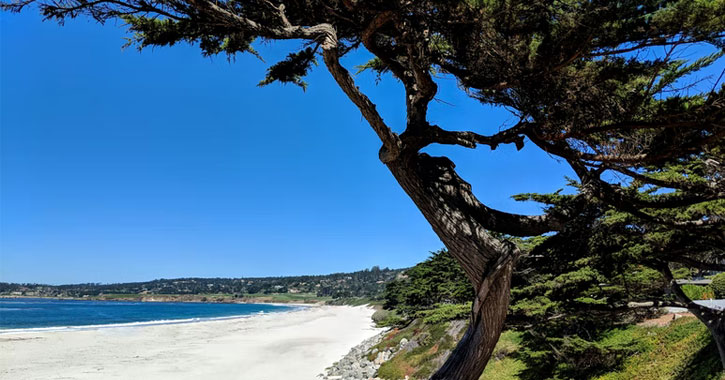 This European-style beach town is a charming beach getaway for its picturesque views, fairytale cottages, and a mile-long white sand beach embraced by cypress trees.
It's one of the most luxurious beaches in California thanks to America's #1 golf course Pebble Beach Golf and Refuge spa with views of the Santa Lucia Mountains, the live jazz buffet brunch at the Clint Eastwood-owned ranch (Restaurant at Mission Ranch) and Carmel-by-the-Sea Wine Walk, among other experiences that cost a pretty penny.
If you're on a budget, you can still enjoy Carmel Beach by hiking and kayaking around the Point Lobos State Natural Reserve (it's one of the best of California's 280 state parks).
Of course, you can always just enjoy the sunset by the beach – it's absolutely free and dog-friendly too!
If you're traveling with kids, stop by the Monterey Bay Aquarium with hundreds of exhibits, living animals and plants.
13. La Jolla Cove, California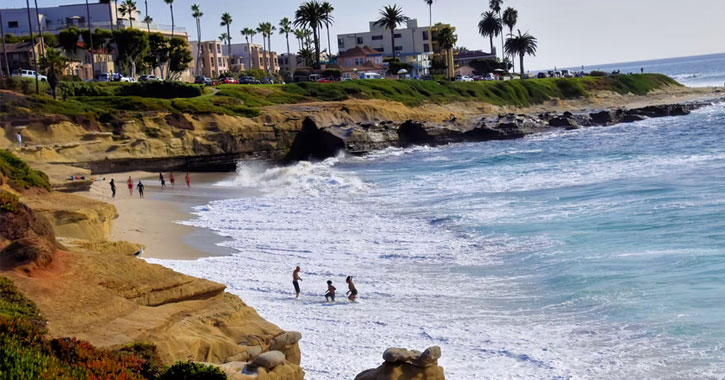 It's the making of the best postcard you can take on your own. La Jolla is an iconic San Diego beach not just for beach photographers, but also for divers and surfers seeking the thrill, kayakers, snorkelers, and bodyboarders as well.
La Jolla Cove can be crowded during holidays, summer, and weekends, mainly because of the small area within this tight-curved cove, but your visit will be worth it nonetheless.
If you're on a budget, a day trip to the spot is all it takes to keep your expenses down, but if you're spending for your honeymoon or anniversary, there are special hotels nearby with views of the cove to wake you up in the mornings.
14. Cannon Beach, Oregon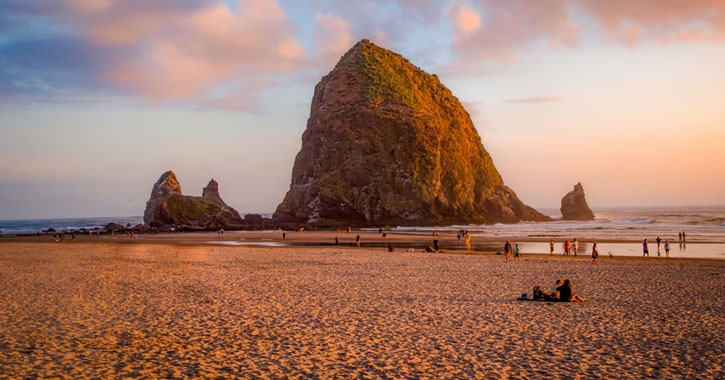 Cannon Beach is a marvelous beach destination, thanks to Oregon Coast's most famous landmark – the gorgeous over-a-million-year-old Haystack Rock that is in the middle of the ocean.
During low tide, you can walk to the edge of this majestic rock and take pictures up-close.
The white sand is expansive and if you love long walks by the beach, it's the perfect vibe Cannon Beach gives its guests.
Just don't expect to swim and participate in water sports (there are other beaches for that).
15. Long Beach, Washington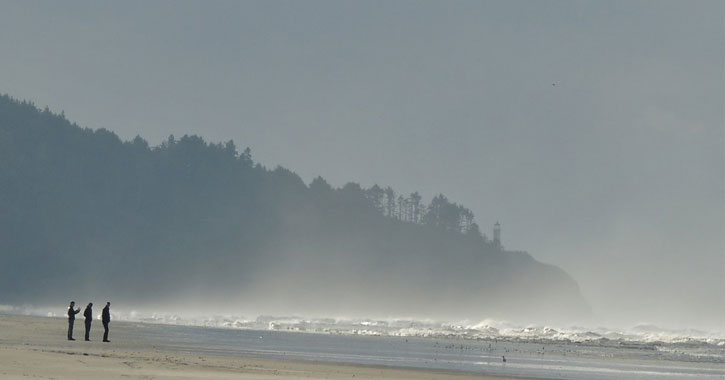 Washington's Long Beach was very appropriately named.
It boasts of a 28-mile coastline where you can enjoy walking through the sand or participating in the many events that happen here yearly.
One even is the annual kite festival that brings a lovely crowd to the beach.
Clam digging and oyster picking are popular activities here, but if you're up for more exploring, there are several good trails that lead you to historical trails (yeah, like the 8.5-mile Discovery Trail where 19th-century explorers passed as well).
Best Beaches in the US: Hawaii
Of course, this list wouldn't be complete without a look at Hawaii beaches.
Note that if you're interested in a more in-depth look at beaches in the Aloha State, I've written about the best Kauai beaches and the best Oahu beaches before. (Check them out!)
But if you can't decide, here are 5 must-visit Hawaii beaches on my "favorite best beaches in the US" list:
16. Hanalei Beach, Kauai, Hawaii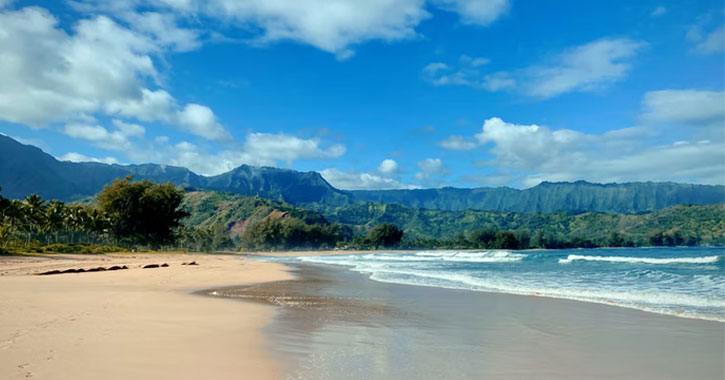 With exquisite landscapes and incredible weather, Hanalei Beach in Kauai offers an unmatched beauty with dramatic mountain backdrop and a lot of opportunities to walk along the wide soft sand.
The waters of Hanalei beach could be rough (especially in the winter), so don't expect to swim leisurely, but on the other hand, it's an ideal place if you came here to surf or do other water sports.
17. Black Sand Beach, Maui, Hawaii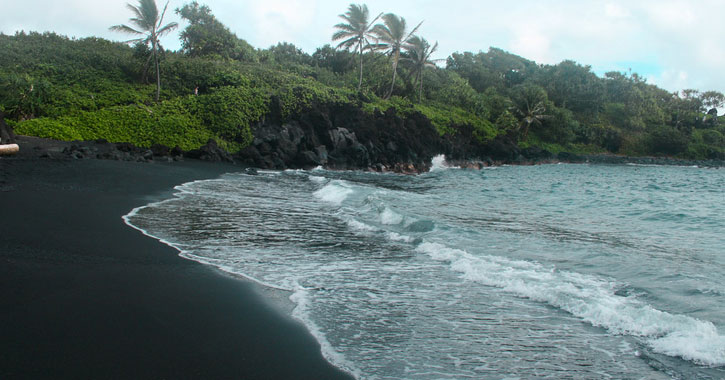 Hawaii has many white sand beaches with awesome sunset views, so when you visit this black sand beach in the heart of the Waianapanapa State Park, located just off the Hana Highway, it's definitely a sight to behold.
Black Sand Beach is also famous for its cliff jumping, waves fit for surfing, diving, and hiking.
What makes this beach super special isn't just because the sand is pitch-black (made actually of small black pebbles and some lava sand), but the contrast of the black with the "glistening waters" (which is what "Wai'anapanapa" literally means).
It's very Instagrammable, which is why even if crowds and parking are always full, the turnaround of visitors is often very quick – most visitors include the Black Sand Beach into itineraries for a day-trip thing, rather than their main beach destination.
18. Sunset Beach, O'ahu, Hawaii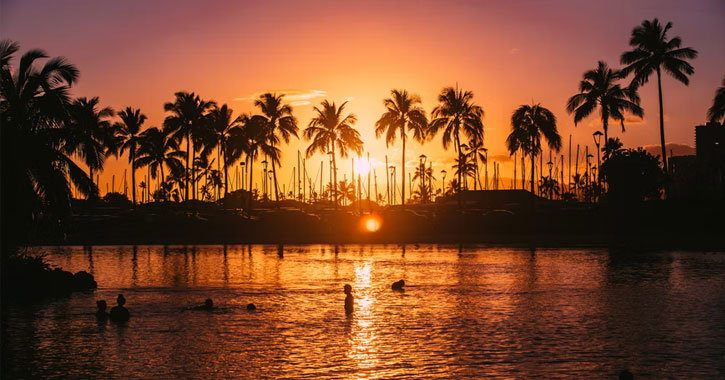 O'ahu is one of Hawaii's best spots for surfing, but Sunset Beach is where professional surfers go on a vacation. It is known as one of the longest stretches of rideable surf in the world with waves reaching up to 30 feet during winter.
If you're not a surfer, Sunset Beach is still a gorgeous place to watch the sun rise and set – it definitely lives up to its name. In the summer, the waves aren't as big and rough, so you can actually enjoy swimming and other water activities.
19. Hapuna Beach, Big Island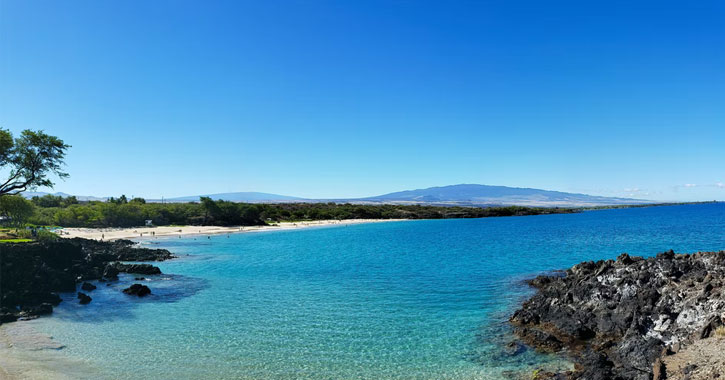 Hapuna Beach boasts of being one of Hawaii's most expansive white sand beaches.
It's the go-to beach in Big Island if you're in search of a spot for snorkeling, bodyboarding, swimming, and just sunbathing. In the early months of the year when whales are migrating, you can even go on whale watching tours.
Hapuna (meaning "spring" or "pool" in Hawaiian) is not too crowded and has shade trees perfect for an entire day in the sun.
20. Hanauma Bay, Honolulu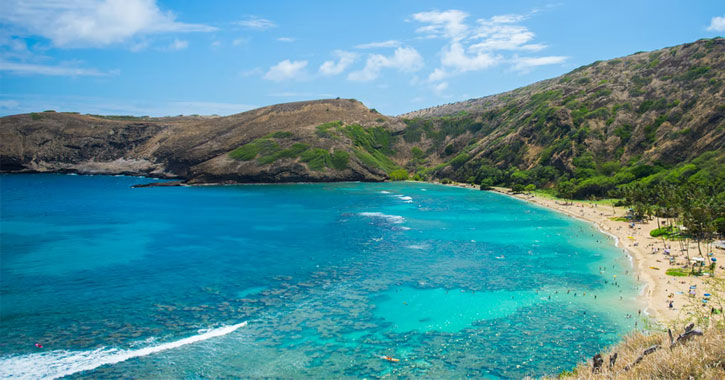 Formed within a volcanic cone, Hanauma Bay offers a pristine marine ecosystem that allows visitors an amazing place to snorkel daily.
It's the perfect location if you want to witness green see turtles, parrotfish and plenty of tropical fishes underwater, but you have to snorkel with pros because Hanauma Bay is considered one of the most dangerous Hawaiian beaches due to super-strong currents that visitors can't see from the shoreline.
Note that if you are not a Hawaiian resident, you will need to get a reservation for your visit.
Call (808) 768-3003 on weekdays from 7:45 a.m. until 4:30 p.m. or email parks@honolulu.gov for reservations.
What's Your Go-to Beach to Visit?
For me, these are the 20 best beaches in the US. I'm sure your list is far different than mine. Where do you go once you crave the sun, beach, and sand?
Are you looking for more beach inspirations for your next travel? Don't miss: