If you're just looking to chill and unwind, don't miss Lake Huron beaches in Michigan.
The four Great Lakes (Erie, Michigan, Superior, and Huron) surround Michigan quite spectacularly. In fact, wherever you are in the state, you'll never be more than six miles away from a beach. But for this post, I'll be focusing on beaches near Lake Huron.
Lake Huron is shared on the north and east by the Canadian province of Ontario and on the south and west by the U.S. state of Michigan. Many of the beaches in the US side are secluded and offer up a calming pocket of nature that's perfect for clearing your mind and refreshing your soul. Even the most party-designated Lake Huron beach is still more chill than its city-beach counterpart.
5 Lake Huron Beaches
There are dozens of beaches near Lake Huron, but this list highlights some of my favorite Michigan Lake Huron beaches…
Location: State Street, Alpena Area
Reason to go: Traveling with small kids, family-friendly spot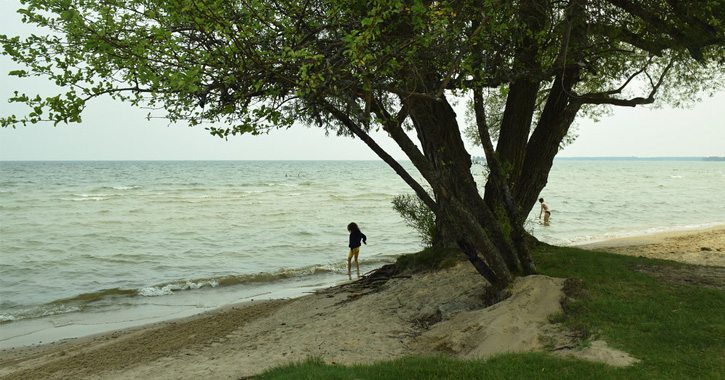 If you're visiting with kids, Starlite Beach is a must-visit stop in Alpena. Aside from the long stretch of sandy beach and shallow waters with views of Lake Hurom, there are also three large play structures for kids – two playgrounds and the splash park (opens at 9 am to 9 pm daily).
Starlite Beach is the area's only lifeguard supervised swimming area, which is always a plus if you're going to the beach with young kids.
There's off-street parking, public bathrooms, picnic tables, and barbeque pits for a perfect family day at the beach. And if you're not in the mood to cook, there are food options nearby with cafes and restaurants within walking distance.
Kids will never get bored here. They could even hunt for fossils dating back to 400 million years all over the Rockport State Park Recreation Area. And if the sun gets too hot, you can take a trip to Dinosaur Gardens or the Lafarge Fossil Park at Besser Museum.
Location: Beach Road, Cheboygan, Eastern Michigan
Reason to go: Family hiking and beach fun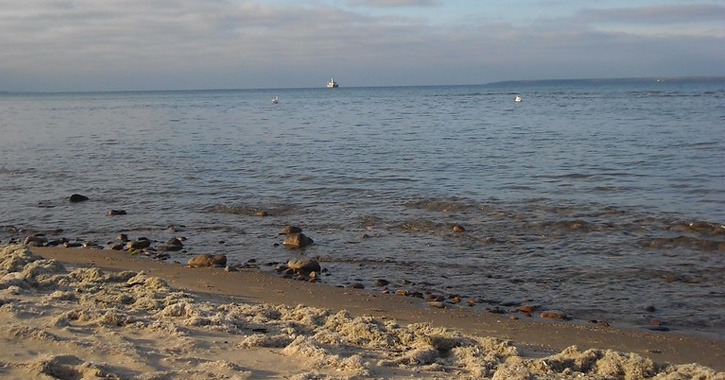 Perfect for a weekend getaway, a trip to the Cheboygan State Park gives you access to the scenic shoreline of Lake Huron, so you could spend as much time at the Duncan beach as you want building sandcastles, swimming in clear shallow waters, kayaking, and taking a stroll near two of the area's lighthouses.
When you want more adventures than a chill day at the beach, you can enjoy fishing, hunting, cross-country skiing, biking, and taking hiking trails throughout the park. And you get to snuggle up in a tent that you can set up in nearby campgrounds or take a good night's rest in rustic cabins.
If you have more time to explore this part of Michigan, I suggest you take a day or two to visit Mackinac Island, where a good mix of natural attractions, historical spots, and a lively, artsy, and cultural community welcomes you to their town.
Location: Garfield and Omar Streets, Port Huron, Michigan
Reason to go: Lighthouse chasers and beachcombing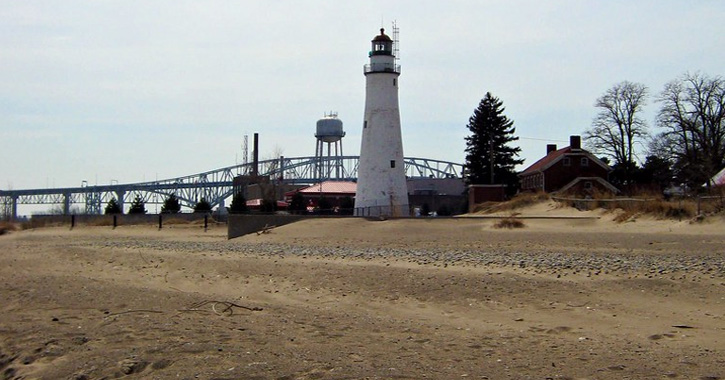 For those who enjoyed my sea glass guide, you're going to enjoy a quick visit to this stretch of Lake Huron shoreline, since it is famous for beachcombers on the hunt for beach glass, unique rocks, and other cool finds. Of course, kids could still enjoy playing at the playground and building sandcastles with views of the Blue Water Bridge and the historic Fort Gratiot Lighthouse, Michigan's oldest lighthouse.
The beach is open for swimming, but you have to be aware when you're swimming near the mouth of the St. Clair River since it is known to have a swift current.
Location: Rogers City, Michigan
Reason to go: Family-friendly beach with a chill downtown harbor and lots of food and accommodation options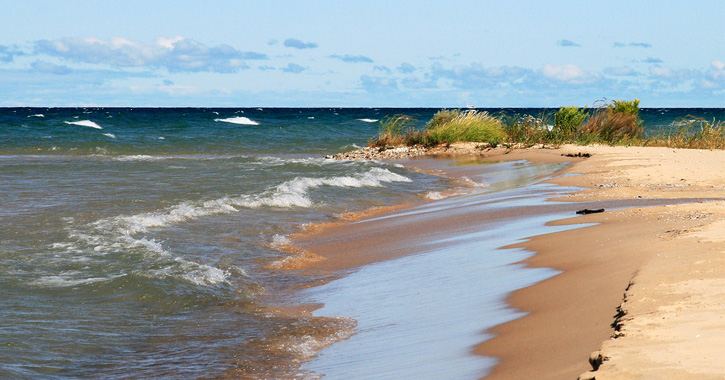 The Lakeside Park beach is a long stretch of sand (about 10 acres) bordering Lake Huron. The park itself is equipped with a public playground, volleyball courts on the sand, basketball courts in higher ground, picnic tables near the large pavilion, bathrooms, and drinking fountains. If you're visiting in the summer, there's an ice cream stall nearby.
Also known as the Nautical City, Rogers City has a charming downtown area that comes alive during the annual Nautical Festival.
There are also a couple of private houses being rented out if you wish to spend a weekend in the area, exploring the city's 140-slip marina, Lake Huron's graveyard of ships, wrecks that date to the mid-18th century.
Location: Huron Ave., Lexington, Michigan
Reason to go: Stay in an authentic sea-side small-town village just an hour away from Detroit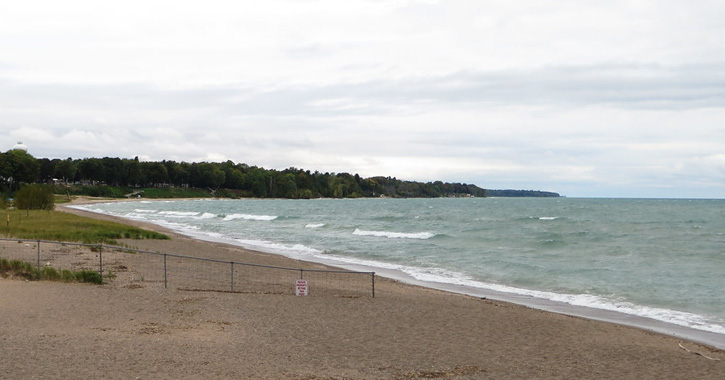 If you're coming from Detroit and want to spend a quiet weekend on one of the most beautiful beaches on Michigan's Thumb Coast, visit the Lexington Village. There's a well-maintained beach, a walkable pier, public restroom, playground, and a boat launch all in one area.
The beach at Lexington State Harbor is just within walking distance of downtown Lake Huron, giving you front-and-center views of the lake's sparkling blue waters. While you can feel the area has everything you'll need in a beach resort, from mom-and-pop's stores, ice cream shops, and affordable good-food cafes, Lexington still retains its small-town vibe.
One must-visit spot in Lexington is the Maltese Stone Castle, which was hand-built in the summer of 1930 by Valentine Falzon and his family using the sand and stones from Lake Huron.
If you want to stay in Lexington, drive north to find roadside parks with access to secluded beaches.
FAQs about Lake Huron Beaches in Michigan
Where can I find peaceful beaches?
Beach towns along Lake Huron are usually characterized by a small-town feel. If you're after quiet beaches, visit Lexington, Rogers City, Port Austin, and Harrisville.
Where can I find party beach spots?
If you're here to party and want to try local wineries, craft breweries, and bars, you'll have more fun in beach towns like Tawas, Caseville, and Mackinaw Island.
Of course, bigger towns like Cheboygan, Oscoda, and Alpena offer a mix of both worlds: small resort town charm with modern amenities. There will be areas here busier than normal with branded retailers mingling with local stores.
When is the best time to visit Lake Huron beaches?
Whether you want to party or enjoy a quiet beach vacation, if you're after the sun, sand, and waters, visit in summer and fall. This is also when most festivals and craft fairs are brought to the shores.
If you love taking pictures of frozen, gloomy picturesque waters during winter, then you'll love the cheaper rentals of beach houses with awesome Lake Huron views. If you're planning to participate in water activities, reschedule your trip to warmer months.
Beyond Lake Huron beaches: Things to do in Michigan
If you want to experience something unique and adventurous, head over to Port Austin and kayak your way to the Turnip Rock.
If you're still in the mood to continue your beach-hopping, Michigan has plenty more to offer you. Here are 8 more beaches around the state that you might want to check out next.
How about taking a day out of your vacation to visit the old-world Victorian charm of Mackinac Island? (It's in Lake Huron, so depending on where you are now, there's no need to travel far).
If you're a fan of lighthouses and the picturesque calm of the great outdoors, visit Isle Royale National Park in Houghton, Keweenaw County, Michigan. (I mentioned this spot here on my post about midwest national parks). If you're visiting Keweenaw Penninsula around October or November, you can also catch the Northern Lights from here. I recommend you camp out in Copper Harbor.