There are a ton of other things to do in Savannah than stroll around town with a to-go cup.
While Savannah is pretty chill about public drinking and it's definitely a fun experience, this coastal Georgia city is much more than its beer-drinking-in-the-streets reputation.
Established in 1733, Savannah is the oldest city in Georgia, so you can expect incredible historic architecture, squares and landmarks all around the city.
You can also find some of the best Georgia beaches here, as well as many picturesque areas such as Victory Drive's palm tree-lined path.
If you're visiting this gorgeous city and want to explore the true Savannah, here are 30 things you can do…
30 Things to Do in Savannah
If you're only visiting for only a weekend, mix and match these Savannah attractions to meet your budget and preferences:
JOIN SAVANNAH TOURS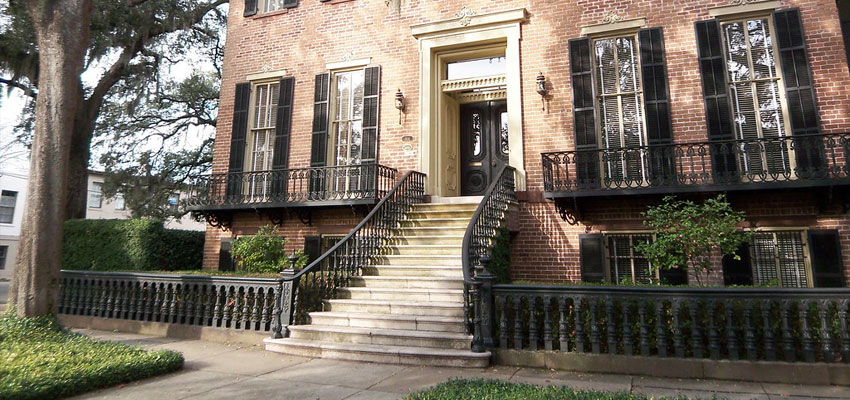 1. History tour
Since Savannah was established in 1733, the city has been through a lot. You'll learn all about this as you join walking tours that guide you through the Historic District.
2. Architecture tour
Join Savannah Rambles or The Architectural Tours of Savannah if you want an extensive tour of the city's 200+-year-old architectural landmarks like the Davenport House or Massie Heritage Center.
3. Ghost tour
This fun and educational after-dark ghost tour takes you throughout Savannah's most haunted spots.
Get the chills from ghost stories only the locals can share, as well as tidbits about the city's alleged voodoo culture.
4. Trolley or carriage tours
Not a fan of walking, but is interested in Savannah's history?
Visit the Historic District as part of the trolley tour, or while on horse-drawn carriage rides.
5. Civil War tours
The Civil War was one of the most significant events in Savannah's history, so in order to learn all about the true Savannah, this tour can be an eye-opener.
6. Black history tour
Learn first-hand of the African-American history of Savannah, from slavery to freedom.
ENJOY GEORGIA WATER
Like many of the coastal cities of Georgia, Savannah has interesting bodies of water.
7. Visit Tybee Island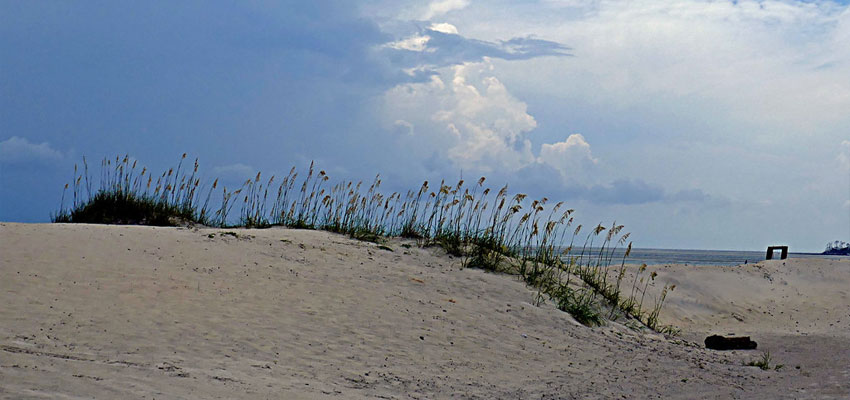 If you're up for some beach trip, Tybee Island is a laid-back beach destination just 20 minutes outside Savannah. It's one of the best Georgia beaches out there, but don't expect a party-crowded beach.
8. Savannah Waterfront
Walk through the old cobblestone streets of River Street, which lead you to historic building, new restaurants, quirky shops, then lastly to the scenic waterfront where you might see the cruises ready to go.
9. Savannah Riverboat Cruises
And while you're at River Street, why not join the riverboat cruise as well? The Savannah Riverboat Cruises has dinner, sightseeing, sunset cruise, and other packages.
The cool thing about Savannah's marshes and other protected areas is that you can still explore them by kayaking across them.
SAVANNAH ATTRACTIONS
If you're a first-time visitor and want to see the top Savannah attractions, here are the most-visited landmarks of the city:
 11. The Cathedral of St. John the Baptist
It's the most impressive building in Savannah with its stained glass and towering spires, so if you've joined the architectural tour, this church definitely is included.
Originally the Telfair Family's mansion, this museum is now the oldest art museum in the South and  houses the largest public collection of paintings by Kahlil Gibran.
13. Fort Pulaski National Monument
Located between Savannah and Tybee Island, the Fort Pulaski has been around since 1800s and was an important Confederate masonry fort in the city's history. While it looks just like a wall, it also has a lighthouse, bike paths, walk trails, historic dike system and more.
If you love marine animals, check out this modern building on Skidaway Island, near downtown Savannah.
It isn't one of the best aquariums in the US and there's a $30 entrance fee, but the visit is absolutely worth it.
15. Savannah's Statues
Savannah has dozens of statues in every city square, each with a story behind it.
Don't miss Sergeant William Jasper in Madison Square, the "Waving Girl" on River Street, Johnny Mercer in Ellis Square, and many more.
One of the oldest-standing buildings in Georgia is also this kitschy tavern and home to the early editions of "Treasure Island."
17. Factors Walk
Savannah's cotton industry used to be right in the middle of Factors walk – a mix of interesting iron walkways and bridges.
It's a popular photo-op spot because of its peculiar riverfront structural problem.
18. The Salt Marshes
Get up and close to Georgia's salt marshes and lowcountry riverside lifestyle.
If you can't go on a side-trip to Tybee Island, visit Skidaway Island State Park instead.
Ideal for families, this museum houses numerous ship memorabilia from the 1700s and 1800s.
20. Go Shopping at Broughton Street
Savannah's shopping district is a must-visit, if you're after the city's quaint shops like Civvie's.
21. City Market
Four blocks of open-air shopping, this is where you'll meet locals and experience true Savannah hospitality.
Plus you get to dine, enjoy art and shop 'til you drop too!
FOR THE MOVIE BUFFS
22. The Historic Savannah Theatre
The Historic Savannah Theatre was built in 1818 and is now the oldest, continually-operating theatre in the United States.
23. Find Forrest Gump Scenes
Right outside The Historic Savannah Theatre, at Chippewa Square, you'll find the infamous bench where Forrest Gump sat.
It's a favorite spot for tourist photos, but there are other 'Forest Gump' scenery all across the city.
PHOTOGRAPH SAVANNAH
For Instagram-worth photos, visit these Savannah attractions:
If you want a photo taken at that famous mossy oak trees hanging over a beautiful lane, Wormsloe is the place to be.
25. Forsyth Park
Forsyth Park is another spectacular site you shouldn't miss, with its massive fountain at the center of mossy trees.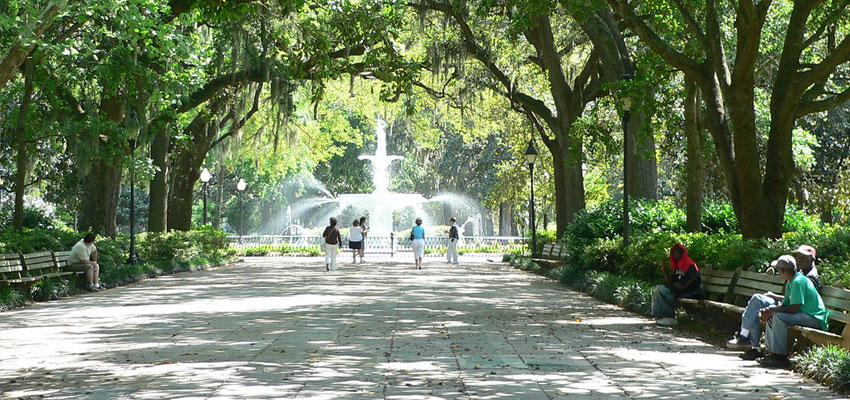 26. The Savannah Squares
Savannah boasts over 22 squares, all of which offer something unique and historical. It's been there for centuries. Visit Bull Street if you're short for time, several popular squares (namely Johnson, Wright, Chippewa, Madison and Monterey) can be seen along this street.
27. Bonaventure Cemetery
This 100-acre property is one of the most beautiful cemeteries in the world.
28. Historic Homes of Savannah
Savannah's historic homes are beautiful. Take a peep at the Owens-Thomas House, Flannery O'Connor House, The Wilkes House, The Mercer-Williams House, The Andrew Low House, and many more.
29. Experience  St. Patrick's Day Parade Like No other
Savannah puts on the second-largest St. Patrick's Day parade in the United States (behind only New York City), so if you're lucky to be visiting on the very first Sunday of every March, don't miss this event.
30. Wander the Savannah Botanical Gardens
Botanical gardens with large bamboo display and one of the best collections of camellias in the country.
Savannah Food: Must-try Restaurants in the City
If you're planning out meals for your stay in Savannah, here are some of the city's highly-regarded restaurants and food places: 
If you're a fan of brewed beer, visit Southbound Brewing Company, Service Brewing Company, Coastal Empire Brewing Co., Ghost Coast Distillery, and Moon River Brewing Co. for free sampling.
When is the Best Time to Visit Savannah?
The best time to visit Savannah is from March to July, especially if you're planning a lot of nature tripping, trails, and conducting other outdoor tours.
Many Savannah events also occur during these months. However, accommodation may go a bit higher because of the demand.
Savannah's winters (temperatures from December through February) are short and generally pleasant, so you can visit around this time, too.
Cover Photo Credit: Jeff Gunn