While you're surely aware the naturalistic beauty of Arkansas, you may not know about the many caves scattered across the state.
Arkansas counts almost 2 thousand caves and caverns, but only a few are worth visiting and exploring.
Here are the best so-called "living caves" in Arkansas, where the water still shapes new stalagmites and stalactites every day.
4 Stunning Caves in Arkansas near Eureka Springs
Eureka Springs, and in general Arkansas North-western side, is a prime spot to go spelunking and exploring caves. But what are the best caverns in the area?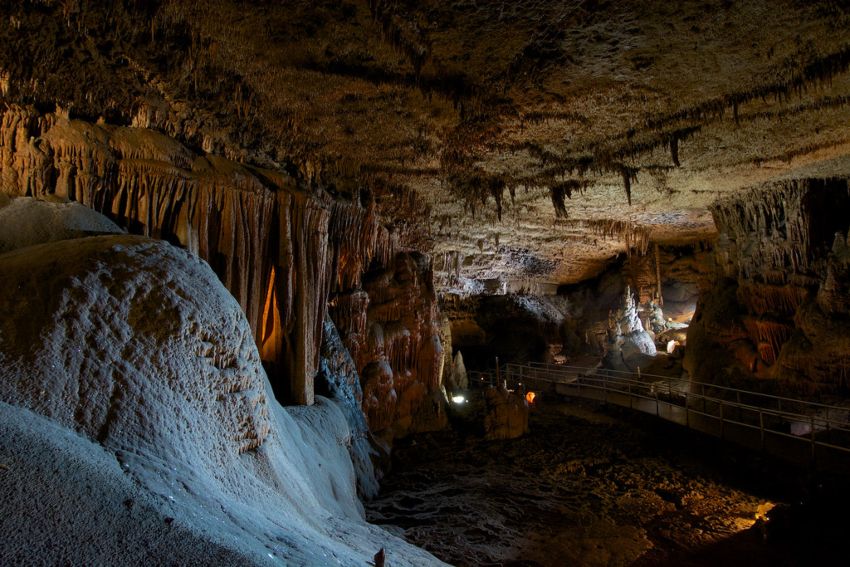 Blanchard Springs Caverns deserves the first spot among all the stunning caves in Arkansas.
Rest assured, you'll hardly find another location as beautiful and as rich in caverns as this one.
So if you're looking for the ultimate one-stop cave destination, Blanchard Springs Caverns is the way to go.
Blanchard Springs Caverns Facts and Figures
The Blanchard Springs Caverns' underground system is believed to be between 350–500 million years old, and the mainly formed by limestone.
The caves were shaped back when the whole area was underwater and inhabited by ocean life. The sea creatures gradually fossilized and went on to create the rock formations we can admire today in the caves.
The caves are inhabited…by animals. Deep underground you'll still be able to spot frogs, salamanders, ferns, mosses, and the disappearing gray bat.
What You'll See at Blanchard Springs Caverns
These caves are spacious and filled with incredible rock formations such as cave straws, soda straws, flowstones, stalactites, stalagmites, cavern curtains, and even cave popcorn.
More significant and even more impressive formations are the natural underground rock bridge, and the thousand feet long Cathedral Room.
Tours Offered at Blanchard Springs Caverns
There are three different tours available to explore the caves.
Dripstone Trail: this is the "classic" tour and it's the fastest as well.
In under one hour, you'll get a quick tour and explanation of the main rooms, including the stunning cathedral room.
Discovery Trail: the Discovery Trail will get you much deeper underground and is a bit more challenging compared to the Dripstone Trail.
You won't see as many of the classic rock formations as this tour's highlight is reaching Blanchard Springs' underground stream.
Wild Cave Tour: this is the newest and most adventurous tour by far. While the tour is guided and perfectly safe, know that you'll have to climb on rock formations and crawl in small and confined spaces.
The Wild Cave Tour is not a cavern tour for the faint of heart, and children under 10 years old are not allowed for safety reasons.
All of the necessary safety equipment will be provided and is included in the price.
Other Activities near Blanchard Springs Caverns
The best way to fully experience the area and make great memories is to explore the whole park over the weekend.
You can camp at the Blanchard Springs Campground, and take a few days to visit the surrounding Ozark National Forest.
2. War Eagle Cavern – Stunning caves in Arkansas surrounded by pristine nature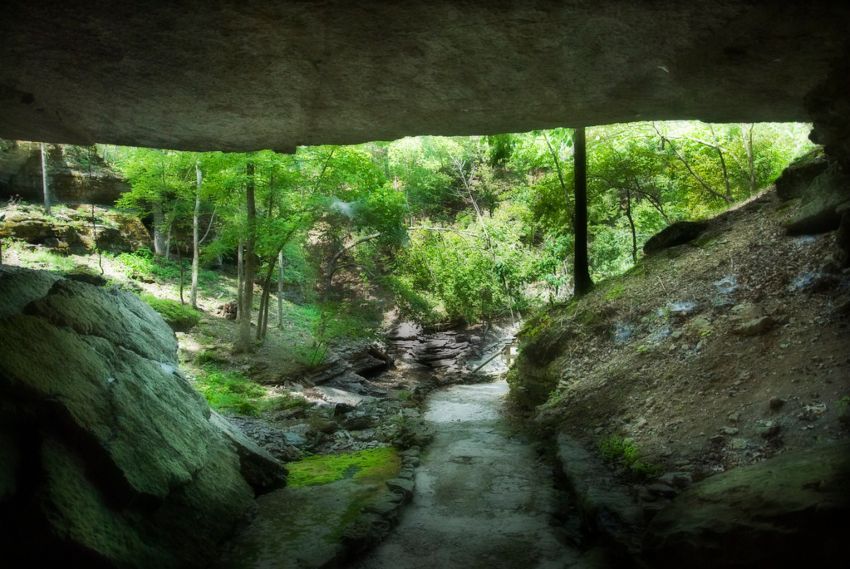 There is something truly breathtaking about the whole area surrounding War Eagle Cavern,
with the caves being enclosed in deep forests together with plenty of trails, waterfalls, and canyon lakes.
War Eagle Cavern Fun Facts
War Eagle Cavern is a great location for history enthusiasts, as it was inhabited by Native Americans more than a thousand years ago, and later on by runaways and outlaws. You can get on the 1-hour Cavern Tour to learn everything about the cavern's history.
What You'll See at War Eagle Cavern
War Eagle Cavern is gigantic and has a lot to offer.
Apart from the classic rock formations, you'll find the unique cavern "domes", and a few streams running within the cavern. War Eagle is also home to plenty of cavern wildlife.
Tours Offered at War Eagle Cavern
Traditional Cavern Tour: check out the stunning domes, and a few underground streams at War Eagle Cavern in this introductory tour.
Lantern Tour: for a truly historically accurate tour, you can't go wrong with the lantern tour. With everyone holding an oil lamp, the cave system will look magical as you explore it "old-style".
Wild Cavern Tour: this 3-hour long tour will take you deeper in the cave system than any other tour, and is very physically demanding. Imagine a 3-hour long hike, then add all the climbing and crawling needed to explore a cavern.
It's a great option for those looking for some real adventure and a thrilling afternoon.
Other Activities near War Eagle Cavern
Especially for families with children, there is so much to do around War Eagle Cavern. The location also offers "fun above ground", with pedagogical and fun activities such as Lost in the Woods Maze and Gemstone Panning.
A treasure hunt-themed tour of the natural surroundings is also available for families and children.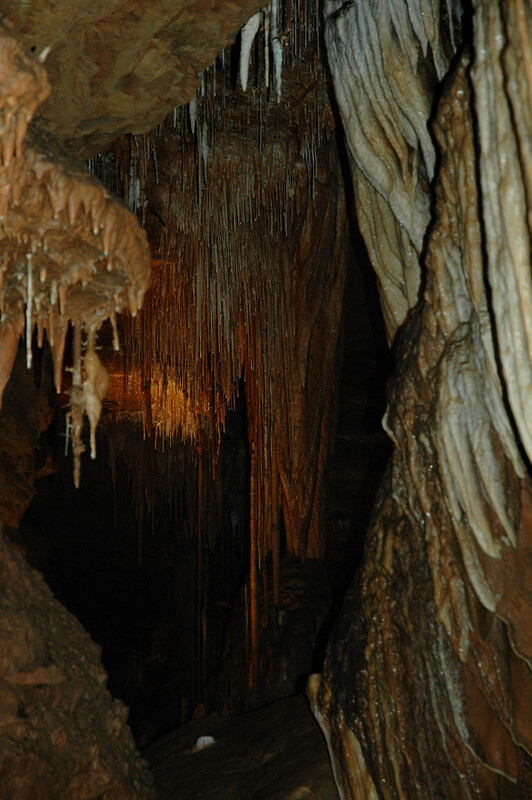 Mother Nature spared no pennies on Cosmic Cavern and its natural surroundings. A visit to the entire area is worth it because of the famous caverns, as well as the scenic views.
Cosmic Cavern Fun Facts
A couple of things you may not know about Cosmic Cavern? This is the most extensive privately owned cavern in Arkansas, and one of the warmest as well, with temperatures pretty much consistently at 64 °F throughout the year.
The Cosmic Cavern's cave system includes two bottomless lakes, meaning that even the most experienced divers could reach these underground lake's bottoms to measure their depth.
What You'll See at Cosmic Cavern
From stalactites, to cave popcorn, white soda straws, cave bacon, and much more, Cosmic Cavern's rock formations are many and diverse, with plenty to explore, and many great opportunities for terrific pictures.
Tours Offered at Cosmic Cavern
Both regular cave tours and more thrilling wild cave tours are available daily.
The caves are mesmerizing, but the one thing every visitor mentions in the wildly positive reviews is the quality and knowledge level of the tour guides.
You can check the Cosmic Cavern Website for pricing and tour schedules.
Other Activities near Cosmic Cavern
When visiting Cosmic Cavern, one can finish the perfect trip with a visit to Dogwood Canyon Nature Park in Missouri, easily reachable in less than 20 minutes by car.
Want to check out even more caverns in the area? Then your next stop should be Onyx Cave.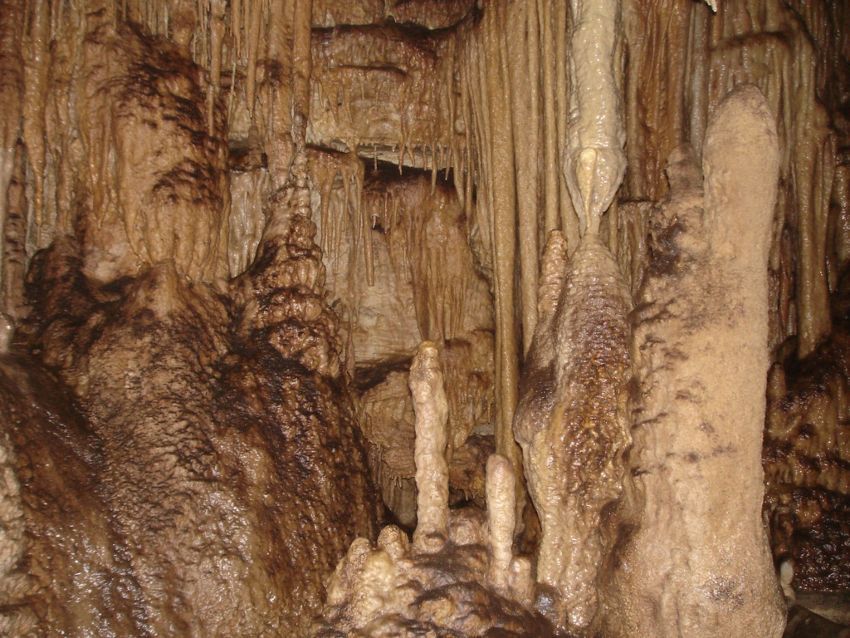 Does an amazing cavern, complete with plenty of fun outdoor activities available at a stone's throw away, sound like a dream? Then pay a visit to Onyx Cave.
Onyx Cave is one of the main attractions near Eureka Springs, located less than 15 minutes' drive from the town.
Onyx Cave Fun Facts
Opened to visitors in 1893, Onyx Cave has been a preferred tourist destination for almost 130 years, making it the earliest show cave in Arkansas.
If you love caverns for the spooky and eerie atmosphere, you'll love to learn that Onyx Cave was the set for a horror movie in 1969. The movie is called It's Alive, and its almost unbelievable plot includes an actual dinosaur living in the caves.
What You'll See at Onyx Cave
This is one of the smallest caves open to the public in Arkansas.
The caves are stunning and feature many of the most common cavern rock formations, but don't expect to be wandering around for hours. Onyx Cave is a trip that can last about 1 hour.
Tours Offered at Onyx Cave
There is a self-guided tour available to explore Onyx Cave in complete autonomy.
You can just put on the headset and dive into the cave system, using the listening device to learn more about the science and history of the location.
Other Activities near Onyx Cave
You'll find the outdoor axe-throwing activity and the smash rage room experience at Onyx Cave life-changing if you're looking to unwind from work-related stress.
Keep an eye on the Onyx Cave Facebook page to stay updated on the various activities and special offers.
4 Dazzling but lesser-known Caves in Arkansas to Explore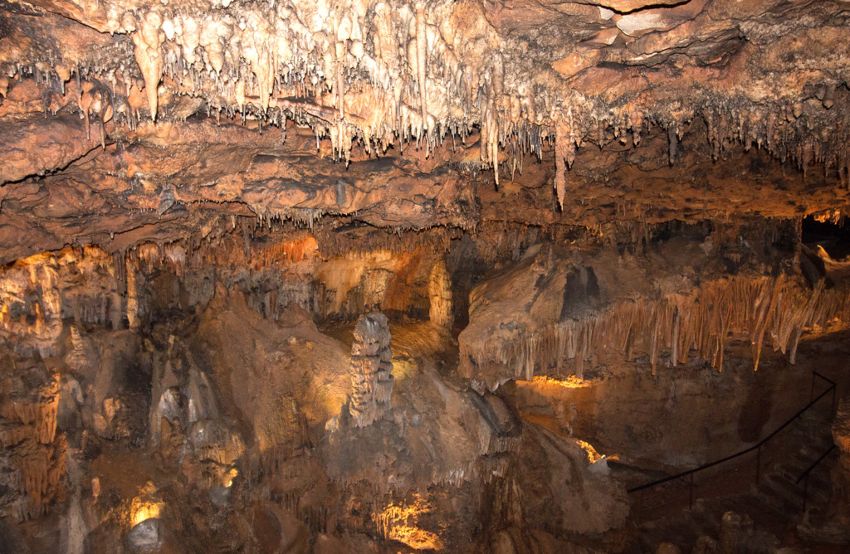 When you are vacationing in Eureka Springs and are seeking something unique and fun to do, this is a great choice.
It is a great location for families with children due to how fun and interesting it is, as well as being non-demanding.
What You'll See at Mystic Caverns
There are two beautiful caves in the Ozarks available for guided tours at Mystic Caverns.
With its crystal stalactites, regal columns, and electric helicity, the Mystic Cavern is just gorgeous. There is even a cave organ that stands over 28 feet high.
Tours Offered at Mystic Caverns
The guided tour will take you about one hour, and you'll get to explore both caves with the help of one of Mystic Caverns' super professional guides.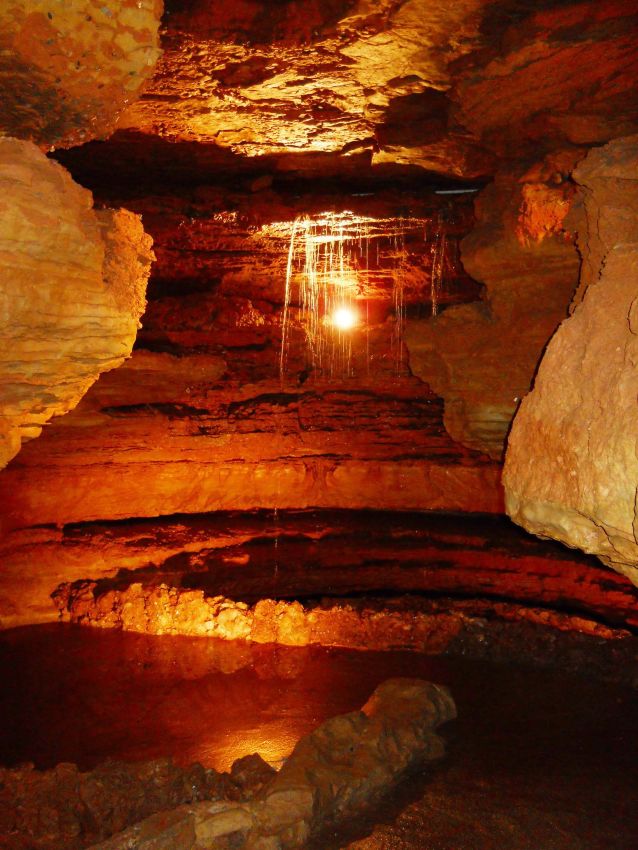 Why is this cavern called Old Spanish Treasure Cave? Well, surprisingly enough, in the cave is believed to be hidden a treasure buried by the Spanish Conquistadors.
While these may be just legends and rumors, the stories are mysterious and adventurous enough to spark interest among tourists.
What You'll See at Old Spanish Treasure Cave
The cave in itself is stunning and you'll have plenty of fun exploring it and admiring the various formations and underground rooms.
But what makes this location so special are the treasure-related decorations (whimsical conquistadors' skeletons, treasure chests, etc), and the mysterious history of the never found treasure.
Will you manage to locate the fabled chest?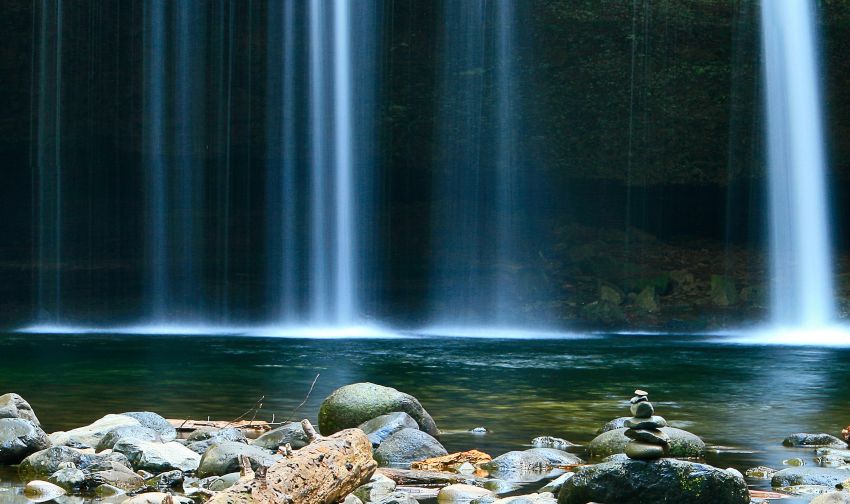 You can reach Moonshiners Cave through the Moonshiners Cave Trail, in the heart of the Ozark National Forest.
The trail is beginner friendly and quick to complete (less than 30 minutes one way). It's perfect if you're traveling in the area and want to make a quick detour to explore a cavern.
What You'll See at Moonshiners Cave Trail
The cavern is small but great to explore and generally considered safe.
The surrounding nature is gorgeous and there's even a waterfall coming off the entrance of the cave.
I recommend scheduling your trip after a couple of days of rainy weather for admiring the waterfall at its best.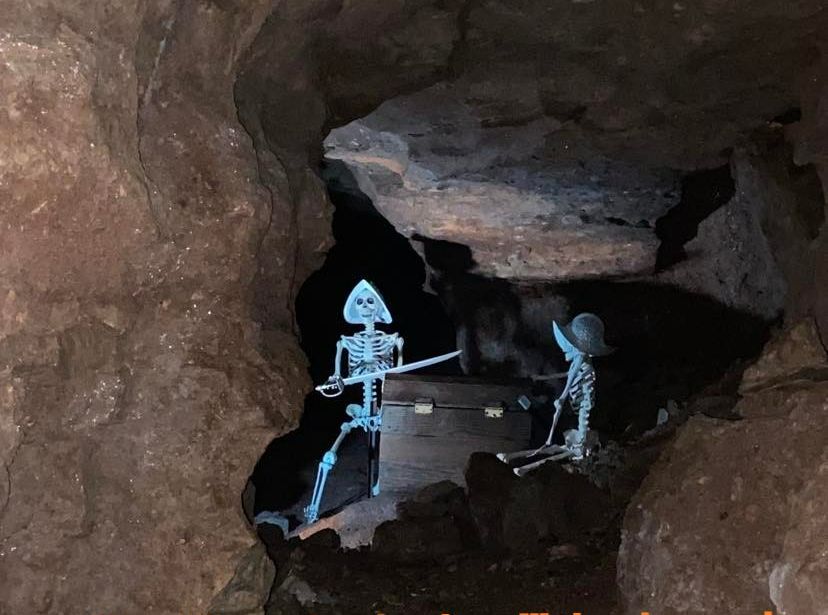 If you love an underground adventure with some history here and there, Bull Shoals Caverns are a must-see.
There isn't much time involved in visiting the caverns, so they're perfect for field trips, and the guided tour is filled with interesting facts about the history of the caves.
What You'll See at Bull Shoals Caverns
At the caverns, you'll be able to observe all of the usual cave rock formations and some. Apart from the common stalactites and stalagmites, the cave is filled with columns, graptolites, box work, flowstone, and cave pearls.
More Breathtaking Caves in the US Await You
If you're not done spelunking and are looking for more stunning locations, check out the best caves in the US and the caverns of Indiana.
For something that you don't see every day, read more about the Colorado Ice Caves.