Exploring the unexplored and unmapped parts of the underworld has always been a source of allure for travelers, and this list of the best caves in the US should help you get started.
Think lava tubes that extend for miles, astounding crystal formations, pigment-free animals, and gravity-defying formations.
There are thousands of caves in the US, most of which provide an adrenaline rush, unlike anything you've experienced before.
The largest caves in the US will make you feel like the next Indiana Jones.
Putting on your hiking boots, reveling in caves that are rife with history, and gawking at impressive geological formations is only a small part of it all.
But where do you start?
After all, there are over 17,000 caves in the United States, with some of the world's most popular caves. Here are some of the most noteworthy and largest caves in the US.
The 8 Best Caves to Visit in the US
1. Mammoth Cave, Kentucky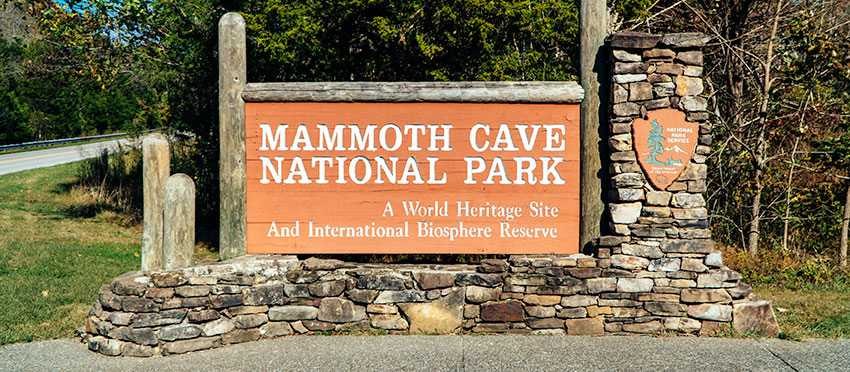 Time needed to visit: One to two days.
Mammoth Cave is one of the largest caves in the US and in the world. Spanning over 400 miles, there are plenty of passageways that snake their way through the caves.
Mammoth Cave will open up your eyes to a whole new subterranean world, one with peculiar canyons and massive rooms.
If you're visiting the cave for the first time, you'll need a tour to explore both the underground tight passageways and the long trails winding their way through the hills above.
Mammoth Cave Fun Facts
The cave extends for more than a staggering 400 miles. It's also the longest cave system and one of the largest caves in the US.
Mammoth Cave was declared a UNESCO World Heritage site in 1981.
What You'll See in Mammoth Cave
Plenty of vast chambers, rooms, and labyrinths that you can explore.
This cave in the US is specifically known for its unique "flora" and fauna. There are rare gypsum flowers, mirabilite flowers (minerals that look like flowers), and a lot more. On top of that, the diverse ecosystem of Mammoth Cave allows for over 130 animal species (from bats to blind fish) to survive.
Expect to see gorgeous bubbling springs, unique rock formations, and falls.
Other Activities in Mammoth Cave
If you're done exploring the underground and want to spice up your trip a little, you can choose anything from camping to horseback riding to biking.
Tours Offered at Mammoth Cave
There are around a dozen different types of tours you can go on, including a Drips and Dripstones tour (to see stalactites and stalagmites), a Historic Tour, a River Styx tour, and an accessible tour where you don't have to use the stairs.
Pro tip 1: Don't worry about getting your own equipment to Mammoth Cave. You will be supplied with everything: equipment, outerwear, and gloves. The only thing you're allowed to bring is a pair of boots.
Pro tip 2: I highly recommend going on the Wild Cave Tour, an off-the-beaten-path tour with plenty of climbing, crawling, and a lot more adventure than your normal tour.
More Information:
Mammoth Cave National Park | US National Park Service
Mammoth Cave National Park | National Park Foundation
2. Jewel Cave, South Dakota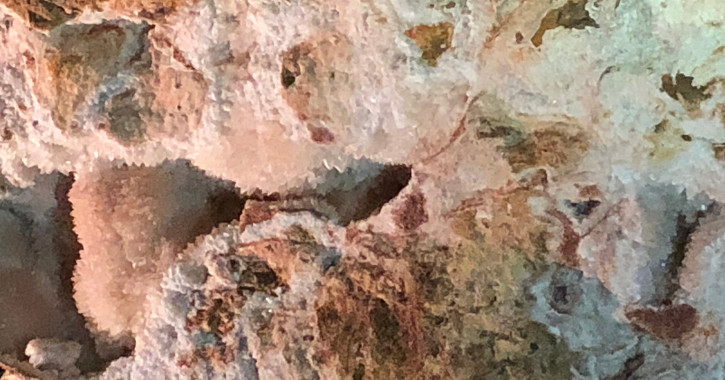 Time needed to visit: 1 to 3 hours
Jewel Cave is the third-largest cave in the world and easily one of the best caves in the US. It's one of two scenic caves in Black Hills, South Dakota, near Mount Rushmore.
The cave is a staggering 160 miles of passageways that are yearning to be explored. A lot of the cave has remained undiscovered until today. Caves in the US are known for their scenic wonders, and Jewel Cave is no exception.
Jewel Cave Fun Facts
It took the Conns couple around 6,000 hours of exploration and mapping just to discover the mysteries held by the Jewel Cave.
What You'll See in Jewel Cave
Take a wild guess.
Yes, there'll be jewels.
Or what looks like jewels, anyway.
The calcite spar crystals that sparkle when illuminated are what give Jewel Cave its name.
Expect to see formations of boxwork, cave popcorn, flowstone, and much more.
Other Activities in Jewel Cave
When you're done exploring the cave, exploring the surface is the next best thing to do. Go hiking in one of the two self-guided trails at the monument. Trail guides are available at the visitor center.
Tours Offered at Jewel Cave
There are no self-guided tours available at Jewel Cave.
There are two types of tours that need plenty of physical strength: the Scenic Tour and Historic Lantern Tour. Both of these require an ascend up 600 ladder-like steps.
The tours are also moderately strenuous and not recommended for beginners or people with low fitness levels.
Pro tip: Due to White Nose Syndrome (a disease that is currently destroying the cave-dwelling bat population caused by an invasive fungus), most caves in the US will not allow you to bring in your own resources. So backpacks, handbags, and hiking sticks will not be permitted.
More Information:
Jewel Cave National Monument | US National Park Service
Jewel Cave National Monument | National Park Foundation
Jewel Cave National Monument | South Dakota Tourism
3. Wind Cave, South Dakota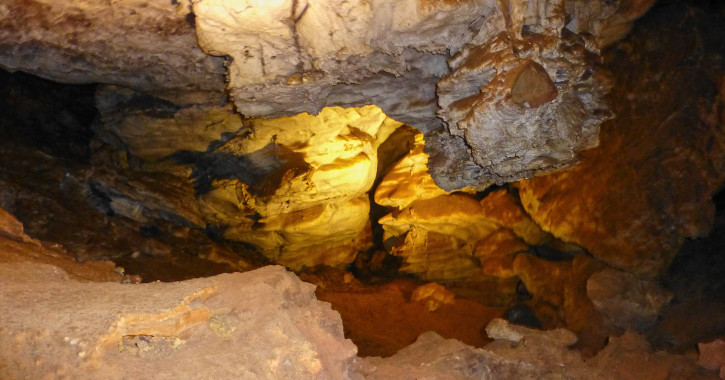 Time needed to visit: 1 to 3 hours
Wind Cave, the other South Dakota cave on this list, is the sixth-longest cave in the world and one of the largest caves in the US, spanning over 145 miles of passageways that are divided into three levels.
Wind Cave Fun Facts
The cave has over 95% of the world's collection of boxwork cave formations.
Wind Cave is also the first of its kind to be designated a national park.
The cave was named after the ever-present whistling wind that emanates through the entrance of the complex.
What You'll See in Wind Cave
The maze-like passageways are home to an astounding natural display of underground lakes, boxwork, and diverse geologic formations.
Think calcite resembling honeycombs and plenty of other mysteries that you'll explore along the way.
Other Activities in Wind Cave
Hiking the Rankin Ridge Trail is popular here, as you'll get to the highest point in the park and be treated to spectacular views.
Driving along the park road in the Bison Flats area is also popular for those who'd like to see some wildlife, such as bison, prairie dogs, and pronghorn.
Tours Offered at Wind Cave
There are no self-guided tours in the cave.
The cave offers five tours with varying degrees of difficulty. The Historic Candlelight Cave Tour is suitable for groups with children, while the Wild Cave Tour is done away from the developed trails and is thus more strenuous and involves more physical activity.
Accessible tours (without stairs) are also offered.
More Information:
Wind Cave National Park | US National Park Service
Wind Cave National Park | National Park Foundation
Wind Cave National Park | South Dakota Tourism
4. Natural Bridge Caverns, Texas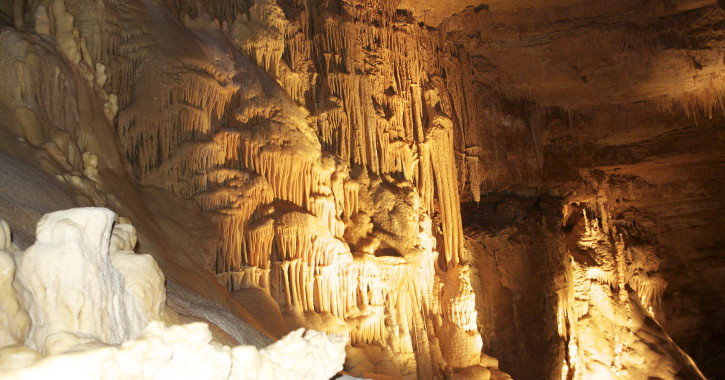 Time needed to visit: 1 to 4 hours, depending on the tour
The Natural Bridge Cavern deserves to be called one of the best caves in the US.
It's the largest commercial cavern in Texas and extends for over 55 meters underground. The cavern drips with water, glistens with prehistoric formations, and has a massive amount of artifacts.
Natural Bridge Caverns Fun Facts
The Natural Bridge Caverns go way back to over 10,000 years. They were originally home to prehistoric settlers, which you'll find evidence of in all of the artifacts that were found there.
One of the best otherworldly experiences you can have while visiting the cave is the Bracken Bat Flight that takes place during the summer months. This is when the largest bat colony in the world (we're talking millions) spirals out of the cave into the night in an almost ethereal manner.
What You'll See in Natural Bridge Caverns:
The Natural Bridge Caverns have long been known for their interesting formations. Some of the most popular include The King's Throne, Valley of the Fallen Lords, and the Castle of the White Giants.
Not only is this one of the best caves in the US but it's also one of the most interesting in terms of things you can see inside. For example, look out for the 14-foot soda straw stalactite.
Other Activities in Natural Bridge Caverns
You can visit the Natural Bridge Mining Company before or after your tour and pan for gems, arrowheads, or fossils. Or if you're in the mood for something more adventurous, head over to the Canopy Challenge Adventure Course and Zip Lines and test your strength and stamina over a series of more than 40 obstacles.
Natural Bridge Wildlife Ranch is also right next to the caves, which is a drive-through safari where you'll have zebras, ostriches, and more come right up to your car window. Buy an extra bag of food at the gate!
Tours offered at Natural Bridge Caverns:
There are plenty of tours available, including the basic Discovery Tour to see the popular formations, and the more intense Discovery Adventure Tour, where there are added obstacles to up the stakes.
The Hidden Passages Tour involves exploration with nothing but a headlamp light and a lot of crawling!
More Information:
Natural Bridge Caverns Official Website
Natural Bridge Caverns | Nature Rocks San Antonio
5. Antelope Canyon, Arizona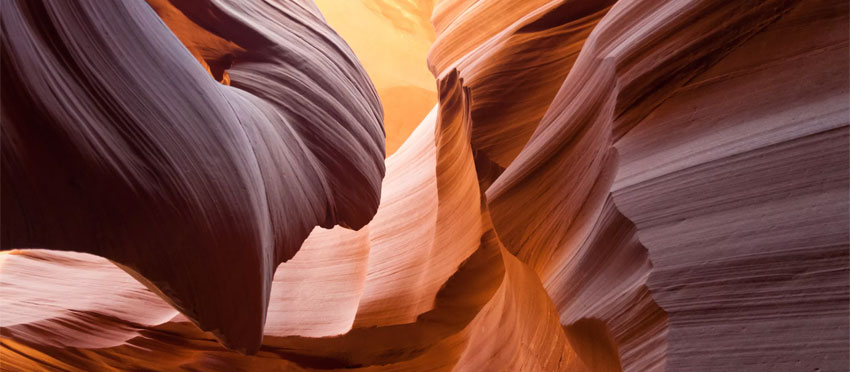 Time needed to visit: 1.5 to 4 hours
Are you ready to explore one of the beautiful caves in the US?
The Antelope Canyon in Arizona is a simply awe-inspiring slot canyon in Arizona that you have to see to believe.
Antelope Canyon Fun Facts
The canyon was formed as the result of millions of years of water erosion of the Navajo Sandstone.
The Navajo people consider this canyon a spiritual and sacred place. Entering it is like entering a place of worship, so behave accordingly.
What You'll See in Antelope Canyon
Canyon walls climb 120 feet above the stream bed, forming red-hued, wave-like sandstone. Visiting the caves during the summer is highly recommended for the light beams that illuminate the inside of the canyon from above, creating a mystical appearance.
Other Things to Do near Antelope Canyon
Head over to Glen Canyon and photograph one of the most famous bridges in the US, as well as Horseshoe Bend, an Instgrammable meander that's also called the east rim of the Grand Canyon.
Tours Offered at Antelope Canyon
You can only explore the caves on guided tours. Some are hiking-based, others are photography-based, while others are more intensive and give you a more in-depth perspective on the cave.
More Information:
Antelope Canyon Official Website
Antelope Canyon | Visit Arizona
6. Meramec Caverns, Missouri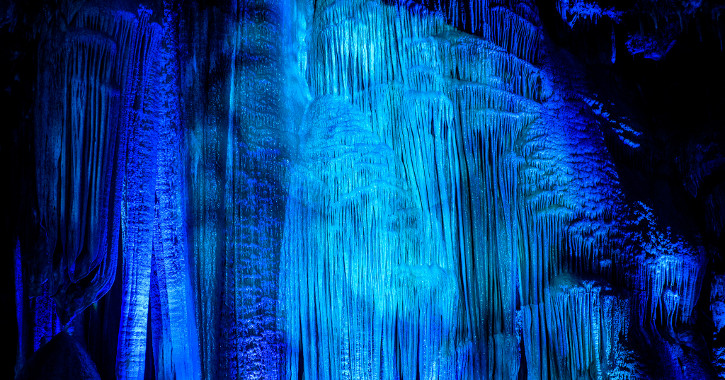 Time needed to visit: 1 to 2 hours
The Meramec Caverns is a cavern system that's one of the most well-known caves in the US for all the right reasons. Located inside a state park, the Meramec Caverns are home to gorgeous cave formations.
Meramec Caverns Fun Facts
This is the most visited cave in Missouri with over 150,000 visitors annually.
The Meramec Caverns are notorious for being the former hideout of Jesse James.
What You'll See in Meramec Caverns
Probably the last thing you'd expect to see in a cave: Neon lights, manmade props, and multicolored lights spanning miles.
An ancient limestone Wine Table.
There is an entire seven-story mansion that was built underground.
400-million-year-old rock formations
Out of all of the other caves on the list, this is one of the best caves in the US when it comes to interesting things you can see while you explore.
Other Activities in Meramec Caverns
The caverns are found inside Meramec State Park. Popular activities include hiking, camping, boating, and fishing.
Tours Offered at Meramec Caverns
The Cavern Tour takes you on a round trip inside to see some of the largest and rarest cave formations in the world.
More Information:
Meramec Caverns Official Website
Meramec State Park | Missouri State Parks
7. Moaning Caverns, California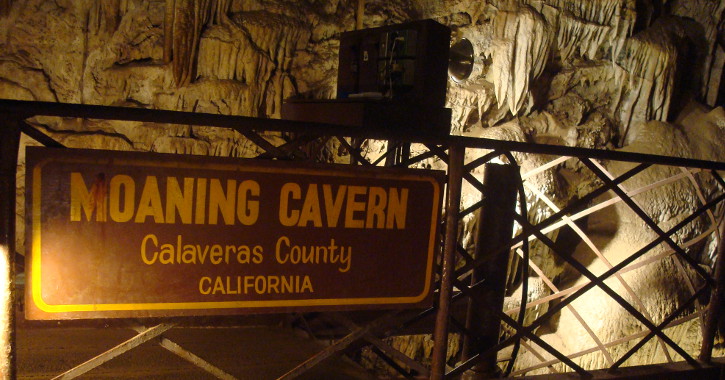 Time needed to visit: 1 to 4 hours
The mysterious Moaning Caverns is one of the most unique and best caves in the US.
Get ready for an interesting sensory overload: the sound of water dripping into holes of the cavern floor, the skeletal remains around you, the eerie sounds coming from inside.
Moaning Caverns Fun Facts
Moaning Caverns is the final resting place of hundreds of prehistoric bodies that fell into the cave's opening. Those skeletal remains date back as far as 13,000 years ago.
Moaning Caverns got its name due to the mysterious moaning sound coming from inside. This sound was thought to have lured in gold miners.
What You'll See in Moaning Caverns
Stalagmites, crystal "cauliflower" on the wall, and the "Mushroom Patch," a flowstone formation cascading down to the main chamber
On your walking tour, you'll be able to see some of the oldest human remains to ever be discovered in the US.
Pro tip: Try scheduling your trip around mid-December to catch a caroling concert inside the cave's main chamber.
Other Activities in Moaning Caverns
Pan for your own gemstone collection at their Sluice, or throw some axes in their ax-throwing lanes.
Tours Offered at Moaning Caverns
The Spiral Tour takes you down a ten-story spiral staircase all the way down to a platform where you can see the unique cave formations.
More Information:
Moaning Caverns Adventure Park
Moaning Caverns | Visit California
8. Carlsbad Caverns, New Mexico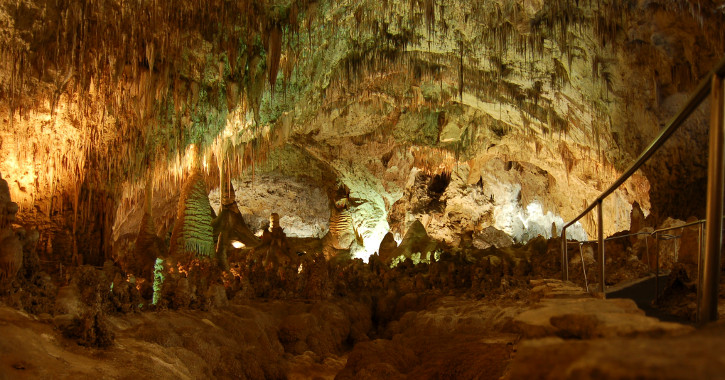 Time needed to visit: 1.5 to 4 hours
Millions of years ago, sulfuric acid dissolved miles of limestone to form the Carlsbad Cavern cave formations in New Mexico.
A total of 119 caves make up this national park, all home to flora and fauna dating back to pre-Jurassic times.
Carlsbad Caverns Fun Facts
Most of the formations you'll see in the cave date back to the ice age.
Those caverns served as a coastline around 250 million years ago.
What You'll See in Carlsbad Caverns
Unique rock formations that are nothing short of awe-inspiring.
The Big Room, a natural limestone chamber that's the third-largest in the US and the seventh-largest in the world.
If you visit during dusk, you'll see the otherworldly sight of thousands of bats leaving the caves to hunt for dinner.
The remains of the ancient coastline are embroidered with an eroded Permian reef that creates a final dazzling structure.
Other Activities in Carlsbad Caverns
Carlsbad Caverns hosts night sky events, such as star walks, moon hikes, and telescope programs (currently suspended, but will likely continue when situations become normal).
Tours offered at Carlsbad Caverns
Unlike most of the other caves on this list, you can go on a self-guided tour to the Carlsbad Caverns.
You can also choose between a few ranger-led tours, with the King's Palace Tour being the most kid- and senior-friendly.
More Information:
Carlsbad Caverns National Park | US National Park Service
RELATED Complete List of National Parks in America by State
Which state has the most caves?
Despite Missouri being called "the Cave State", Tennessee has the most caves in the US with a staggering 10,000 caves mostly found in eastern Tennessee. A lot of them are also open to the public so you're more than free to go exploring!
Can you visit more than one cave on the same vacation?
If you want to go on a condensed caving vacation, then Missouri is the state to be. It's not called the "Cave State" for nothing! There are plenty of awe-inspiring caves there and you can do them all in one trip.
Sample Itinerary:
Day 1: Head to Marvel Cave in Missouri.
Day 2: Rest day.
Day 3: Visit the Crystal Caverns on a tour that lasts around 80 minutes.
Day 4: Rest day.
Day 5: Head towards the Fantastic Caverns in Springfield for an enjoyable (and non-strenuous) hike. You can also take a tram through the brightly lit rock formations of the cave and explore the interesting variety of animals and formations inside.
Day 6: Rest day.
Day 7: Spend your last day exploring the Talking Rocks Cavern on a 50-minute tour that will take you through gorgeous mineral and rock formations.
RELATED How to Visit All 50 States in 12 Trips: Epic US Road Trip
Reminders When Exploring Caves in the US
Caves are dangerous.
Caving usually has a reputation for being dangerous. That doesn't mean that this should discourage you from exploring. You just need to know exactly what you're getting into and you need to take the right precautions.
Some risks you might face include:
The biggest risk: Hypothermia. Luckily for you, this is also the easiest to prevent. Caves are usually much colder than the outside, so make sure you dress in layers so you can adjust your body temperature to your surroundings.
Getting lost: That's why tours are always recommended over exploring on your own. Especially if it's your first time. Make sure you have enough light sources and a fully charged phone.
Always know your skills and limitations.
Make sure you have the right skills for the right tour and cave. You need to be properly trained if you're planning on cave diving or vertical caving.
Make sure you have the right equipment.
Having the right gear is one of the most important things to keep in mind while exploring the caves in the US. You will need:
A solid helmet.
Light sources.
Hiking boots (unless the cave specifically mentions that they're not allowed)
A small first-aid kit.
Enough food and water for the length of the tour.
RELATED College Football Bowl Locations – When, Where, and How to Get There
Which caves are wheelchair accessible?
Most caves in the US that are located within national parks are accessible. From this list, Mammoth Cave, Jewel Cave, Wind Cave, Upper Antelope Canyon (the lower canyon is not accessible), parts of Meramec Caverns, and Carlsbad Caverns are wheelchair-accessible.
RELATED Your Guide to the Old and New Route 66 Attractions
The Bottom Line
There are thousands of caves in the US that you can explore. I know that this in itself sounds quite overwhelming, but think of it this way:
The more options you have, the more likely you'll find a cave that feels like it has been catered specifically to your interests!
Hopefully, this list has started you off in the right direction.
Did I miss a cave that you think is the best cave in the US? Let us know in the comments and we might add your selections to this list!