Struggling to find the perfect winter holiday destination? National Parks are just as beautiful and worth visiting during the coldest months, as they are during the summer.
Just because temperatures go down and days become shorter, it doesn't mean that the time for outdoor activities and adventurous holidays is over.
From Hawaii to Mount Rainier, here are my 9 top National Parks to visit this winter.
5 National Parks to visit in Winter for the warm weather
Looking for a winter holiday that feels like spring? These national parks are blessed with pleasant temperatures and good weather even during the coldest months.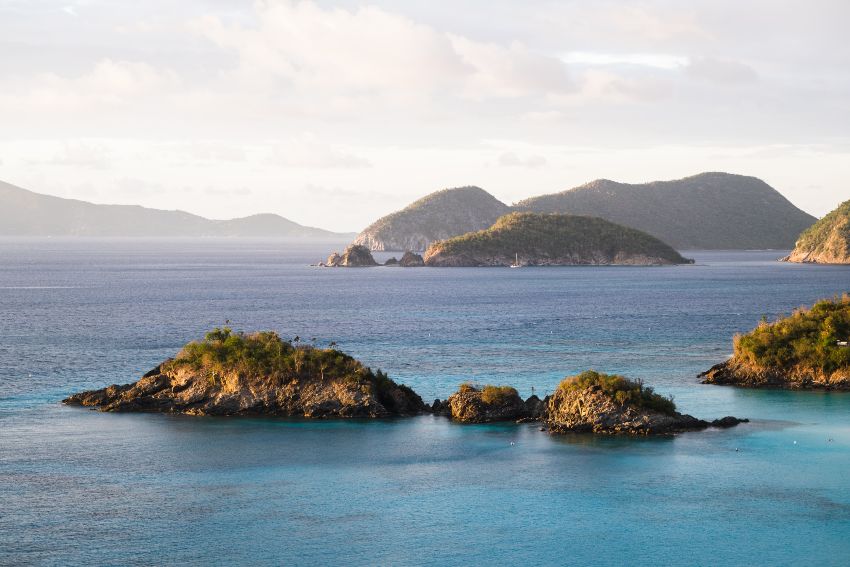 Hiking, swimming, kayaking, scuba diving. All of this and more is possible at Virgin Island National Park, even during the coldest months of the year.
Some believe winter is the best time to explore the Virgin Islands, as the temperatures drop slightly compared to the summer's extreme heat.
Surprisingly, you're also less likely to get caught in the rain if you visit the Virgin Islands during winter.
The only downside? You'll have to deal with the strong winds that howl through the Virgin Islands from November to March.
Despite the water temperature going slightly down during wintertime, swimming is still possible all over the Virgin Islands National Park.
You can find the best scuba diving and snorkeling at Cinnamon Bay Beach, or at the white sand beach of Honeymoon Bay.
Want to go for a swim on one of the most beautiful beaches in the world? Trunk Bay is open year-round and just as stunning in winter.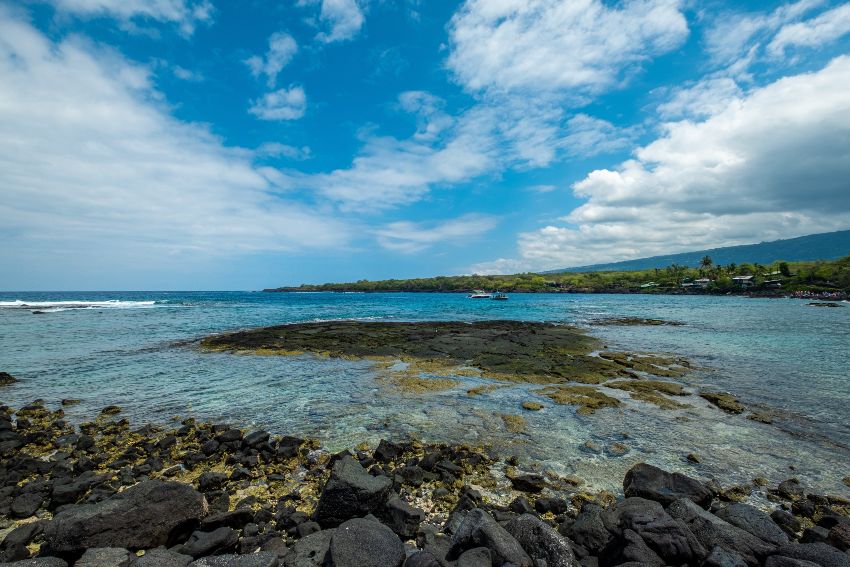 If there's a place you won't feel cold, is near the active volcanos at Hawaii Volcanoes National Park.
Eruption viewing is one of the most popular activities on the island, and there are several observation points from which you'll be able to actually look inside the volcanos.
If your dream is to spot an actual lava eruption, your best shot is reaching the Kūpinaʻi Pali observation point by hitting Crater Rim Trail.
Another popular destination for eruption viewing is the Keanakākoʻi Crater overlook, reachable through a fairly challenging 3 miles path called Devastation Trail.
Lastly, to observe the impressive lava lake you can hike to Uēkahuna bluff, which is easily reachable by foot from Kīlauea Overlook through a very short hike with little elevation.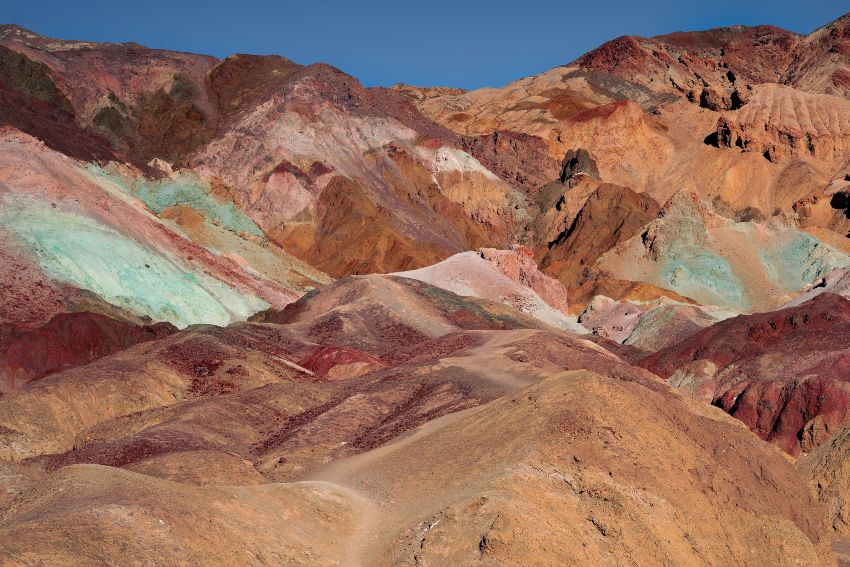 The hottest and driest National Park in the US, Death Valley is an ideal getaway from winter temperatures.
Death Valley gets virtually no rain throughout the winter, so if you plan to hike and explore there, don't worry about rain.
Temperature excursion is particularly harsh during the summer, with temperatures ranging from unbearably hot to below zero throughout the year.
For this reason, the high season at Death Valley goes from November through March, when the climate allows for a more comfortable visit.
While visiting the park in the summer means putting up with daytime temperatures reaching 120°F, wintertime offers great weather and pleasant temperatures around 70/80°F.
The best way to explore the National Park is by driving through it and stopping by for the best hikes and more interesting landmarks.
I recommend checking out the otherworldly Mesquite Flat Sand Dunes, Artists Palette, Dantes View, and Badwater Basin.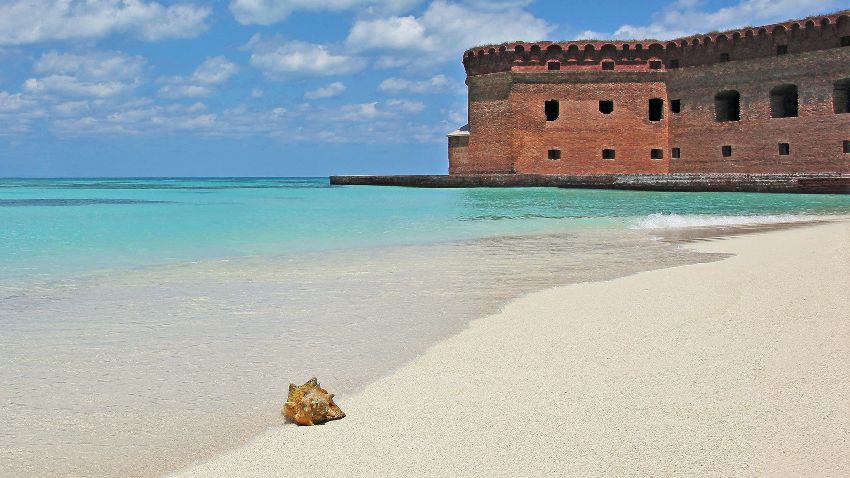 Wintertime is a great time to visit Dry Tortugas National Park and enjoy a relaxing time surrounded by stunning nature, history, and the ocean.
Temperatures from November to March are spring-like, with daytime temperatures over 80°F, and even the ocean water is pretty warm and perfect for swimming.
Did you know that dry ground makes for less than 1% of Dry Tortugas National Park? Boating, swimming, and snorkeling are the most popular activities in the park, and there is certainly a lot to see.
A proper underwater exploration of Dry Tortugas National Park has to include swimming around Moat Wall, Little Africa Coral Reef, Loong Reef Key, and Garden Key.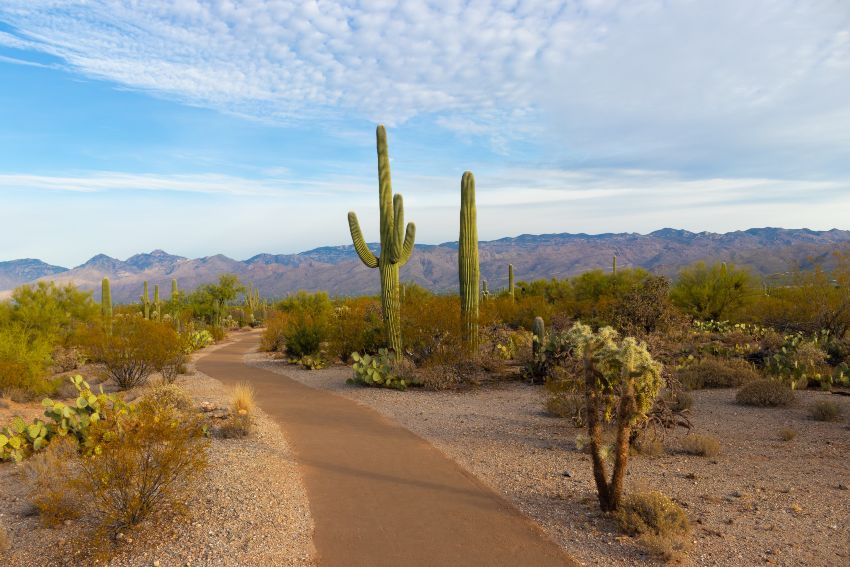 Named after the Saguaro Cactus that populates the park, Saguaro National Park offers some impressive views, amazing desert scenery and nature, and plenty of hiking opportunities.
For those planning to camp in Saguaro National Park, you won't even have to worry about the temperature varying much from day to night.
Wintertime at the park is nothing but pleasant, with daytime temperatures around 60/70°F, great for hiking without fearing excessive heat.
On the other hand, nights can be a bit cold, averaging 40°F, but it is still possible to camp comfortably without alpine gear.
Hiking and cactus viewing are the two most popular activities in Saguaro National Park, with tourists competing to find either the tallest or strangest-shaped Cactus.
4 National Parks to visit in Winter for the best snow
Put on your winter sportswear and embrace the cold season in one of these amazing national parks. The best snow of your life awaits you.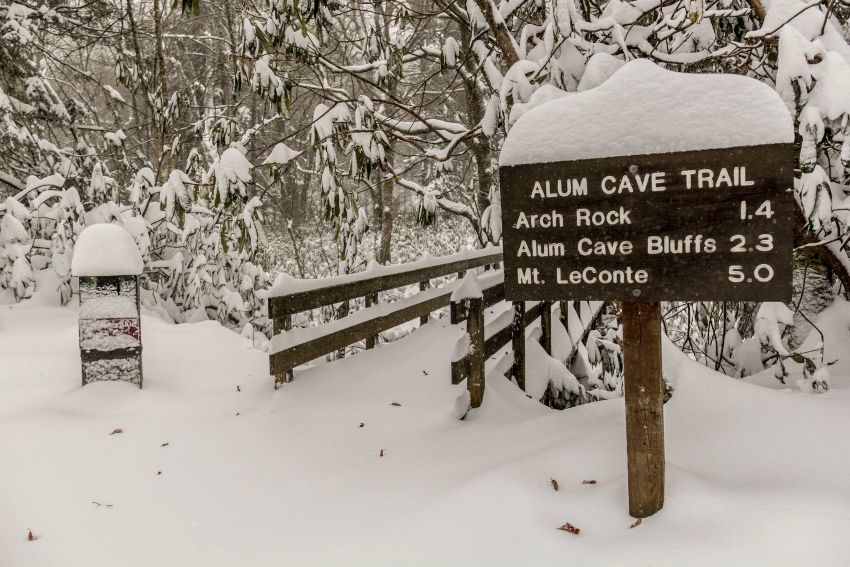 Great Smoky Mountains National Park is the way to go if your perfect winter holiday includes snow-capped mountains and a winter-wonderland atmosphere.
From December through March you'll have the time of your life enjoying all kinds of winter sports, immersed in the stunning natural backdrop offered by the Great Smoky Mountains.
Between skiing, snowshoeing, snowboarding, and more, a winter holiday in the National Park can be a lot of fun.
A few of the best areas to explore are Charlies Bunion, Rainbow Falls, Alum Cave Bluffs, Chimney Tops, and Andrews Bald.
Low temperatures during the coldest months come with some disadvantages, but there are many ways you can make your holiday as comfortable as possible.
Looking for homey accommodation? You can rent a nice wooden cabin with heating, to spend the night immersed in nature, but safe from cold at the same time.
If you don't own a 4-wheel vehicle, you can still explore the park with a car thanks to the ice taxi service.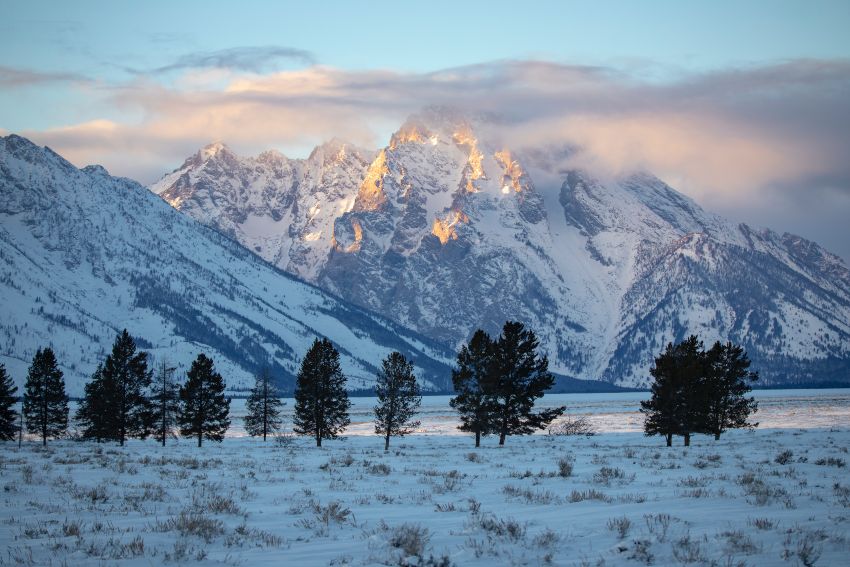 Snow-covered Grand Teton National Park is simply stunning, making winter an excellent time to visit.
The park also offers many organized activities and events during wintertime, usually held by rangers and local experts.
For instance, the Snowshoe with a Ranger event is offered for a few days in December and every week from January to March. This could be a great opportunity for first-timers to explore the park and at the same time learn more about winter ecology and the science behind Grand Teton National Park's winter paradise.
Cross-country skiing and snowshoeing make great winter activities, and there are tons of trails to explore at Grand Teton National Park.
You can check out Teton Park Road and reach Signal Mountain Lodge when it's closed to mother vehicles.
Other good options are Antelope Flats Road, Colter Bat, Moose-Wilson Road, or Flagg Ranch.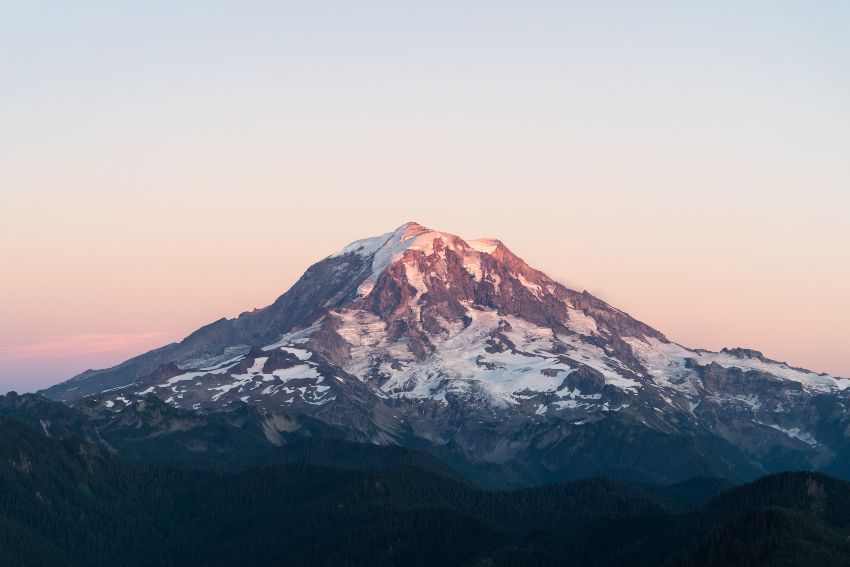 Looking for a remarkable mountain to climb this winter? At a staggering 14,410 feet, Mount Rainier is not only a glaciated peak but an actual active volcano.
From cross-country skiing to sledding or snowshoeing, the park offers plenty of opportunities for winter activities, as it's covered in snow from December to February.
If you love to snowshoe, you can take a day to explore the forest at Longmire.
There are a few trails that cross the area, and you'll get amazing views of Mount Rainier to accompany your walk. Finally, for a rewarding dinner after a day in the snow, you can try the National Park Inn nearby.
For cross-country skiing and snowmobiling, the most popular locations within the park are Longmire and Paradise Areas.
If you like to stay away from big crowds, the Northeast Area of the park is worth checking out, as it's remote and less visited.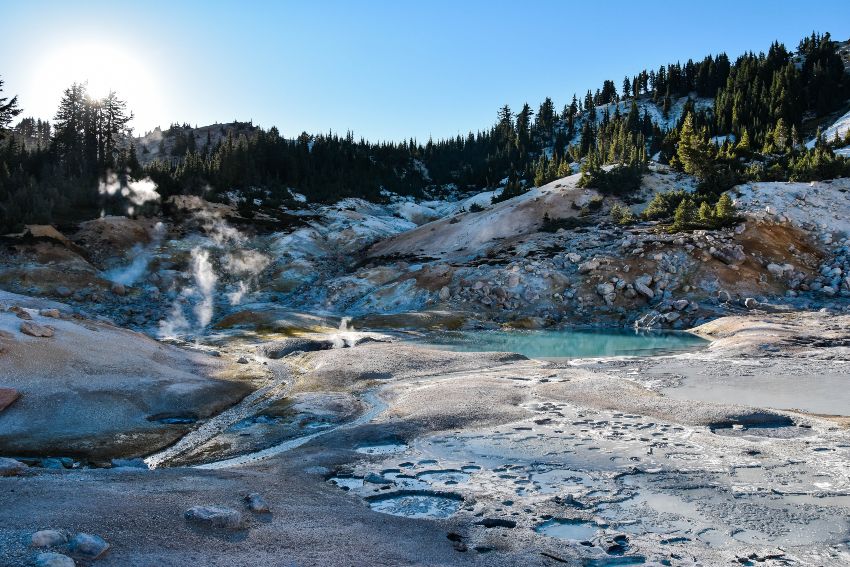 At Lassen Volcanic National Park you'll find everything you need for an amazing winter holiday on snow.
This is one of the best parks to enjoy the snowfall season in the state, as it's blessed with beautiful nature and caters to everyone.
On one hand, the wonderful snowy hills of the park are perfect for winter sports beginners, or for families with children to sled all day long.
On the other, Lassen Volcanic National Park also offers steep slopes and more challenging trails for cross-country skiing.
For the most elevated slopes, you can explore the trails at the Southwest Area (averaging between 6,700 – 10,457 ft), while for more scenic and relaxing paths you can check out the Manzanita Lake Area (slightly lower peaks around 5,800 – 7,200 ft).
If you love an adventurous holiday, why don't you stay multiple days and try snow camping? The SouthWest Campground is open during wintertime, but you can also place your basic camp in the park's backcountry.
Your next Winter Adventure is Just Around the Corner
If you want to discover more winter adventures besides the National Parks, check out my article on my favorite winter holidays.
For more skiing destinations, here are the 9 best places to ski in the US, while for those looking to lay on the beach in the middle of December, check out my guide on warm winter destinations.