If you're planning to beat the Winter blues and escape the cold for warm winter vacations, you're not alone.
Many people actually explore good warm getaways to avoid the chilly weather, at least for a couple of days.
In a perfect world, anyone who wants to visit warm places in December to February outside the country should be able to do so.
But not everyone has the budget or time to explore nearby Cuba, Mexico, Costa Rica, Honduras, or on the other side of the world like Thailand, Dubai or Morocco  that are blessed with warm sunny days during our Winter season.
Don't worry though… there are still some perfectly warm Winter getaways in the US you can visit. Join us in escaping to warmer temperatures with one of the following destinations…
Hawaii Warm Winter Vacations
Of course, Hawaii is the number one place people recommend to get your heat on. It's perfectly understandable – Hawaii is the perfect temperature all year round!
Plus, it has many of the best beaches, surf spots, rainforest trails, volcano tours, eco-friendly adventures, and chill activities perfect for kids, families, couples, solo travelers and more.
Don't miss my best places to visit in Hawaii list for a more comprehensive look.
1. Honolulu, Oahu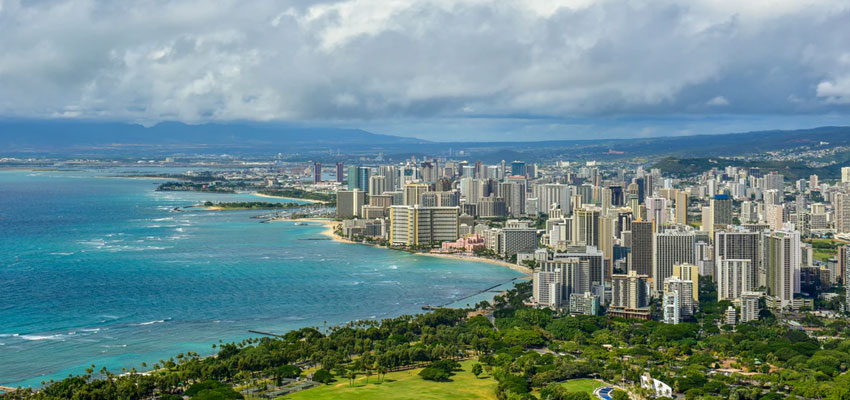 This capital city is a must-visit, if you only have limited time to check out Hawaii in the Winter.
It has everything you'd expect with Hawaii: shopping neighborhoods, outdoor adventures, beach bumming to your heart's content, and interesting history tours going to the Diamond Head State Monument or taking the Pearl Harbour tour.
Reason to go: Between November and December yearly, Sunset Beach (at Oahu's north shore) gets filled up with the best surfers on the planet. They're here to attend one of the largest surfing competitions in the world, the Vans Triple Crown of Surfing.
If surfing isn't your thing, you can always check out Honolulu's City Lights and parade or Oahu's Hawaiian Christmas trees at the renowned Helemano Farms. There's also a ton of Christmas-inspired activities and the Honolulu tradition "Countdown to Christmas" at the Polynesian Culture Center every December 9 to 22.
2. Maui
It's the second largest island in Hawaii and one of the World's Top 10 Islands.
Visit one of the most spectacular sites on Maui – the Haleakala Crater but make sure to wear something to keep you warm. It can get cold on the way up, but the views of the sunset (or sunrise) is worth the hike.
On the west coast of Maui, you'll find the fabulous beaches of Kaanapali. If you can splurge a little, say at the Kaanapali Hotel, which has the best views of the golden Pacific sands. Learn the ukulele, go pineapple cutting, and partake in other family-friendly activities.
Reason to go: My husband and I like to go here from late February to March because that's when the humpback whales are in migration. Plus, the weather in Maui is similar all year round, just a bit more rainy in the winter… a fair tradeoff to see the whales from our balcony every morning.
3. Kauai
If you're after an adventure, Kauai is the place to go. Not only will you find the 173-foot Wailua Falls (yep, the one from the opening credits of old school TV show 'Fantasy Island'), you can explore the area on a sailboat ride, helicopter tour, or exploration trails.
Reason to go: Kauai is one of the oldest islands and is characterized with a spectacular mix of cliffs, hills, valleys, waterfalls, and other nature's best attractions… it's perfect for the outdoorsy crowd.
4. Kailua-Kona
It's not the most popular warm winter vacations in Hawaii, but it's a good contender because of its perfect sunny weather in December through February.
You can also hike to the Kona Cloud Forest Sanctuary for some breathtaking views, or just chill along Kahalu'u Beach. But Kona is most popular as a spot where you can surf, dive to see manta rays, and swim with sea dolphins and sea turtles.
Reason to go: Kona is home to some of the most popular places to see manta rays in Hawaii: "manta village" at the South of Kona, where over 95% of mantra ray tours have been successful, and "manta heaven" at the North of Kona which is popular for mantra ray night dives.
5. U.S. Virgin Islands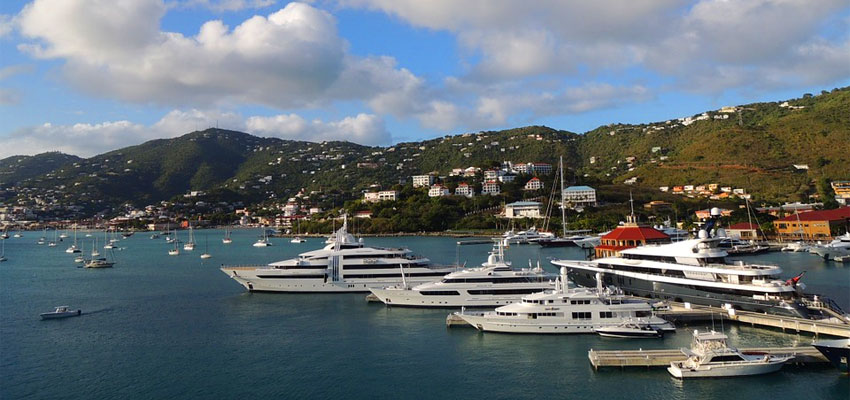 Dubbed as America's Caribbean Paradise, this U.S. territory is located 1,770 kilometers from Miami, Florida and 2,655 kilometers from New York City.
There are three major islands you can check out, each with something different to offer.
John is a honeymoon getaway with 7,000 acres of beaches and parkland
Croix serves up a mix of history, rum distilleries and nature tripping
Thomas "Rock City" is where the rich keep their mega-yachts and lines of luxury stores are found
It's a year-round destination with an average winter temperature of 28 degrees Celsius, making it a perfect winter getaway for anyone interested in soaking up the sun.
Reason to go: Although the resort rates shoot up in winter, it is still cheaper than going to other beach destination countries.
Winter Vacation Ideas in California
Known as "The Golden State," California is one of the sunniest states in the country with plenty of sunshine and little rain during winters.
6. Catalina Island
Located one-hour boat ride away from Long Beach, Catalina Island is a fantastic Caribbean alternative known for its wildlife, dive sites and highest peak Mt. Orizaba.
Reason to go: Lover's Cover ranks as one of the world's best snorkelling spots where you can swim with eels, octopi, sea stars, and other creatures.
7. San Francisco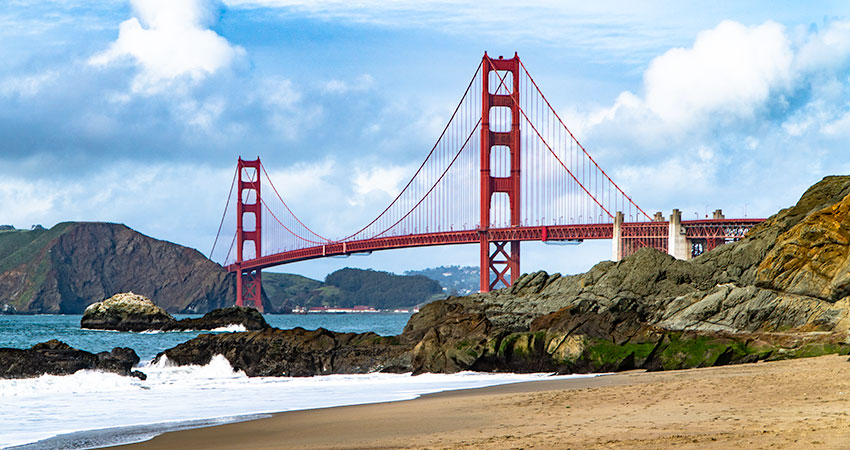 If you're not a beach person and would rather explore a city's rich history and attractions, San Francisco is a fantastic destination.
The city is home to many annual festivals from December to February, including the Chinese New Year Parade and the Noise Pop Music & Arts Festival. There are also many free-ticket museum days here. Of course, it's always a good idea to visit the Golden Gate Bridge.
Get on your holiday cheer with Illuminate SF's Festival of Light, Fairmont's Gingerbread Tea, and ice skating at several San Francisco spots like Embarcadero Center, Cal Academy's ice rink, and Union Square.
Reason to go: The average high during winter is about 57˚F (14˚C), which makes it a perfect walking tour city with tons of attractions for kids, families, couples and more.
8. Palm Springs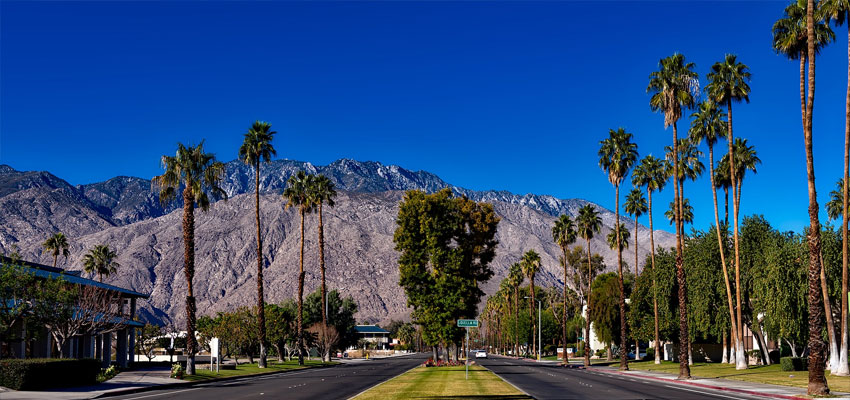 For years, Palm Springs has been the weekend getaway for people all over California.
It has one of the most spectacular backdrops, especially with the peak of the mountains covered in snow, then every other landscape sun-soaked in glorious Palm Springs weather.
Outdoors activities are aplenty at Palm Springs.
From hiking to horseback riding, camping, fishing, walking acres of parklands, you'll never run out of things to do outdoors. And if you wish to get up-close with Mount San Jacinto, take the 11-minute cable car ride via Aerial Tramway. Take the Mission Creek Preserve Trail or South Lykken Trail.
Holiday attractions like the  Robo Lights Sculpture Garden and The Renova Ice Rink at The River in Rancho Mirage are also a must-visit.
Reason to go: Aside from the environmental tours and outdoor sports (it's a haven for golfers, tennis players and hikers), you'd also love the open-air markets, tons of food choices, and wine festival.
9. Los Angeles
Here's another winter vacation idea without the typical beach trip.
LA is the capital of film and television, so you'd find a plethora of things to do here. Don't miss the three popular spots in LA: Hollywood Boulevard, the Sunset Strip, and Santa Monica Pier.
Reason to go:

Plenty of food, entertainment, attractions, and experiences you won't find anywhere else
10. Anaheim
Anaheim-Disneyland is ranked Second-Best Winter Family Vacation Destinations (after Orlando's Disney World from US News & World Report in 2017-18).
And with the warm weather of SoCal, you'd be able to enjoy every inch of the park.
Reason to go: Experience Disneyland with pleasant weather
11. San Diego
Snow doesn't visit San Diego that much – in fact, it has only snowed here five times in over 150 years.
So if you're trying to escape sheets of snow from home, "America's Finest City" will welcome you with open arms.
Visit the Cabrillo National Monument, or go straight to San Diego's renowned Black's Beach, Coronado Beach, or La Jolla for surfing. The waters may be too chilly for swimming, but you can always watch whales at Mission Beach as they pass by San Diego during whale migration season.
Go on walk tours to visit the city's history district, or embrace winter festivities all over. Don't miss the San Diego Zoo – it's always a must-visit whether you have kids with you or not.
Reason to go: San Diego's sunny winter days and awesome beaches
Texas Winter Getaways
Thanks to the relatively mild climate, outdoor activities, golfing and fishing, pools, springs and beaches, the Lone Star State is an outstanding choice to visit during winter months.
12. Austin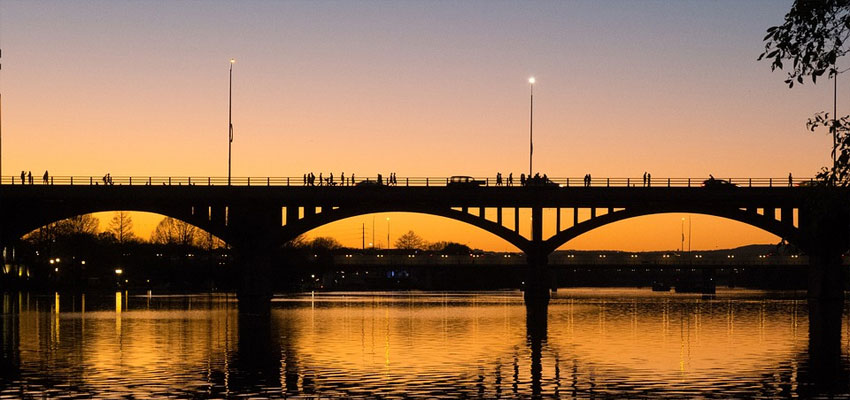 Austin has a very lively music scene, plenty of outdoor attractions from the Barton Springs pool to Horseshoe Bay Resort.
For couples, it's a romantic place to snuggle up and take a Moonlight Cruise on Lady Bird Lake during December Friday nights, or stroll along the Colorado River.
For some holiday cheer, join locals as they have fun with the Trail of Lights (it's been happening in Austin for over 50 years) along with a ferris wheel, carousel, and tons of entertainment. There are other light shows around the city, such as the Annual Mozart's Light show at Lake Austin Blvd.
Reasons to go: While the temperature at Austin isn't tropical, winter lows of 50 degrees and highs of 65 degrees allows guests to perfectly explore the great Austin outdoors
13. Houston
Houstonians can count by hand the number of times snow has blessed their city in the last 50 years, so if you're looking to escape the snow, there's no better place than to visit here.
Explore Houston from the vantage point of the bayou, stroll around downtown's Discovery Green, get the best view of the city lights from George Observatory in Brazos Bend State Park, or join a heart-stopping off-road sport cyclocross.
If you're visiting in January 18 (or the weekend closest to it), join Houston's long-running dual parades in honor of Martin Luther King Jr.
Reasons to go: A good mix of outdoor and indoor attractions, combined with the perfect winter weather, and a unique local vibe.
Florida Warm Winter Vacations
As you might guess, Florida is one of the top warm places in December, January and February because of its many many beaches.
I'm going to skip obvious places like Miami, Key West and Fort Lauderdale to focus on other underrated Florida spots that should be on your Winter getaway options.
14. South Walton
There are 16 sugar-white sand beach neighborhoods in all of South Walton, most of them are family- and kid-friendly destinations.
Don't miss checking out Grayton Beach's snorkeling reefs and North America's first underwater permanent sculpture park: The Underwater Museum of Art.
Reason to Go: Fantastic beaches for families
15. Sanibel and Captiva Islands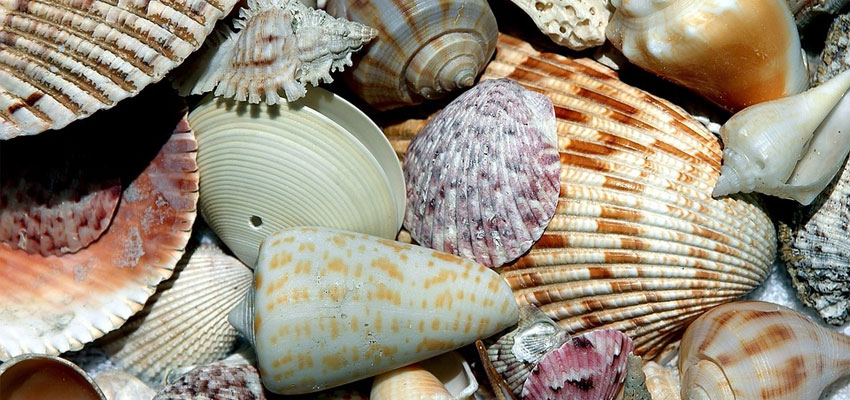 Because of the islands geography and water orientation, Sanibel and Captiva Islands become a "dumping site" of thousands of shells in all colors, shapes, sizes and varieties.
Shell treasure hunting can be a free and safe activity for kids, so if you'd like to beach-bum under the sun and keep your kids busy all day, this destination is right on the money.
Reason to Go: It's the "shelling capital of the world", so kids and shell collectors would definitely go gaga over this place
16. Orlando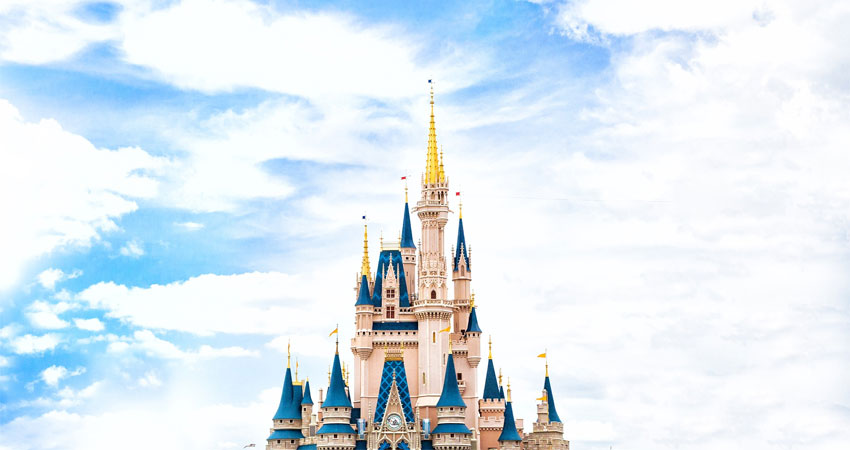 Orlando is home to Walt Disney World, which has some of the most fantastic Christmas decorations you'd ever see in your life. December is peak season, but if you have no choice but to go there during the holidays, make your trip memorable by learning how to skip lines with Fastpass or eat in Walt Disney World without reservations.
Of course, the city also boasts Universal Orlando, Legoland, Sea World, Aquatica Park, and several other theme parks aside from Disney.
Reason to go: January to March is usually a slower season at Walt Disney World, so if you're looking for warm places to visit in January with your kids, they'd be super excited you chose Orlando.
The Best of the Rest
17. Las Vegas, Nevada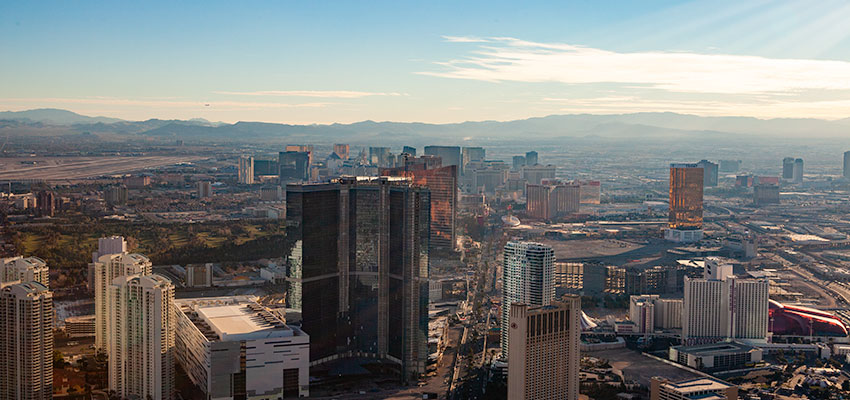 The Sin City is a popular destination, even if it's not winter. But you'd understand why it can be the best warm winter vacations you'd ever planned.
There are tons of things to do in Las Vegas. Casinos are all over the place, if you'd like to stay indoors.
You can also experience a different view of the city from the iconic Stratosphere Observation Deck, visiting the Mob Museum, or watch Circus Circus, the world's largest permanent circus.
Outdoors, you can tour the city on top of the Big Bus Hop-On Hop-Off, check out the Hoover Dam, or go on a side trip to the spectacular Grand Canyon, and more.
There are also Christmas-inspired activities, such as Holiday Magic at the LINQ Promenade all over the city.
Reason to go: Flights to Vegas go down to around $200 roundtrip during winter, so if you've always wanted to go but found flights expensive, plan it around the holidays instead.
18. Tucson
In Arizona, "winter" is code for hiking because it provides the perfect cold weather to hit any outdoor destination without getting burned by the desert heat.
Tucson is home to a number of interesting museums, historical sites, luxury resorts, and an amazing backdrop of mountains, deserts, parks and hiking trails.
Don't miss visiting the city's El Presidio Historic District, The University of Arizona, and millions of saguaro cacti in Saguaro National Park.
Reason to go: The "City of Sunshine" is a cultural destination with the best of Arizona deserts has to offer
19. Phoenix
Bask in more than 300 days of sunshine a year, Phoenix is at the center of the Sonoran Desert and is home to over 200 golf courses.
If you picked Phoenix to be your winter destination, make sure you visit the 'Cactus League' at the Desert Botanical Garden, Old Town Scottsdale's Wild West, and the sandstone formations of Papago Park.
Reason to go: The "Valley of the Sun" lets you enjoy nature, golfing, and hiking all under the warm winter sun
20. Georgia Coast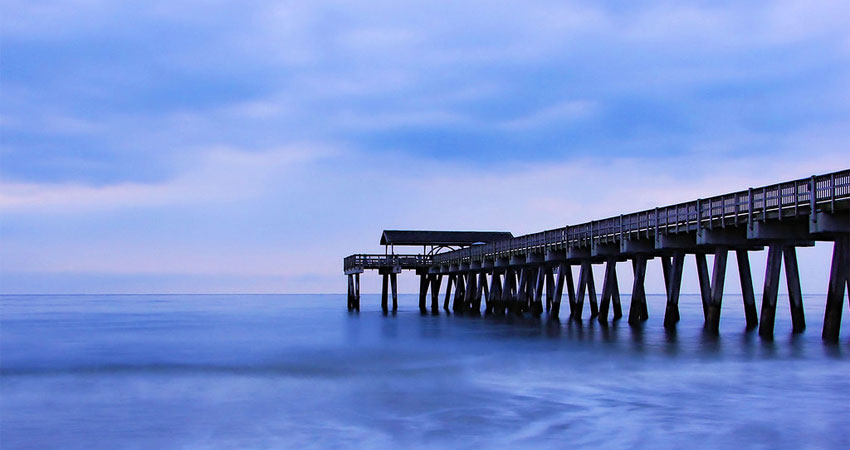 The Georgia coastline is unique and has a distinct characteristic not found anywhere else. I've written quite extensively about my favorite Georgia beaches on this post. Long story short though: you'll be confused by the sheer number of amazing beaches to choose from.
Which Sunny Winter Destination Have You Gone to?
The snow and ice can be magical, but it can also feel gloomy and grim. If you need the sun to give you some loving, I hope these warm winter vacations give you an idea on where to escape to next.
How about you?
Have you planned any warm winter vacations lately?