In 2018, New York City welcomed over 65 million tourists from all over the country and the world.
The major spots and attractions that these visitors visited include Central Park, Times Square, the Empire State Building, Ellis Island, the Statue of Liberty, and Coney Island.
While you definitely need to visit these popular sites at least once in your lifetime, there's a whole different side of New York City that tourists (and even locals) don't get to see.
So if you've already been to New York and seen all the usual, touristy stuff, and you want to see something different on your next visit, or if you're planning to visit New York City for the first time and want to experience a whole
In today's blog post, discover 10 hidden gems and unusual things to do in New York City.
10 Unusual Things To Do In New York City
1. Visit the Met Cloisters.
You've heard of the Metropolitan Museum of Art, but have you heard about the Met Cloisters?
Built back in 1917 by John D. Rockefeller, the Met Cloisters is a collection of buildings that were originally created to store the overflow of artifacts from the Metropolitan Museum of Art.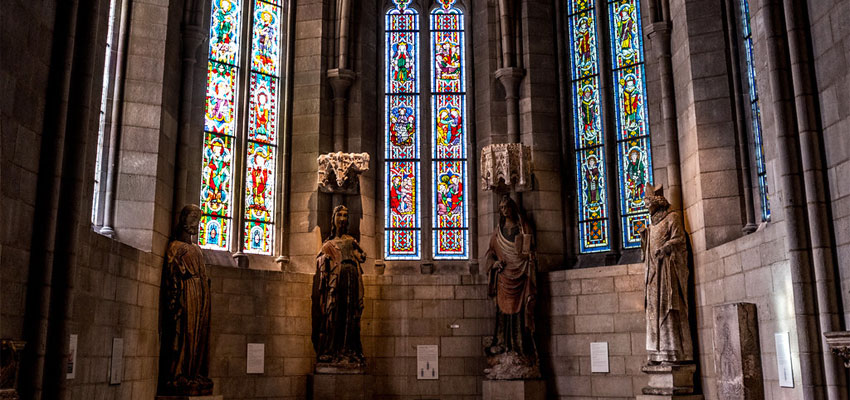 Today, these buildings are an architectural and artistic treasure in their own right. Some of the masterpieces you can visit here are the The Belles Heures of Jean de France, duc de Berry, a 15th-century French illuminated book of hours, and the Unicorn Tapestries, a set of seven hangings that depict the hunt of the unicorn.
Essential Information
Address: 99 Margaret Corbin Drive, Fort Tryon Park, New York City, NY | 212-923-3700
Hours: March to October: Mon-Sun 10am-5:15pm; November to February: 10am-4:45pm
Duration:
Cost: $25 per head for adults; discounts available for seniors and children 12 and above; Free for children under 12, members, and patrons
Website: The Met Cloisters
2. Catch a New York Subway performance.
Broadway is Broadway, but New York City is teeming with local musicians, artists, and performers that you've never heard of.
It's legal for anyone to perform in the New York City Subway, with certain conditions, such as not disrupting normal operations or blocking people when they're walking. Political chanting or distribution of pamphlets aren't allowed, as well as collecting donations.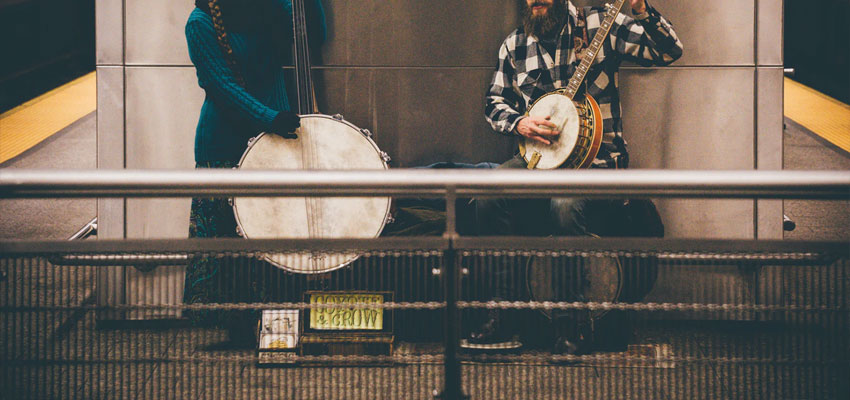 The MTA's Music Under New York (MUNY) committee holds auditions for artists to perform on platforms and subway stations. Affiliation with MUNY benefits musicians by having fewer problems with law enforcement, priority timeslots, and easy access to the railroad terminals.
Check out the following subway stops to catch a great show:
Times Square – 42nd Street (Midtown)
Grand Central – 42nd Street (Midtown)
Fulton Street (Lower Manhattan)
Atlantic Avenue – Barclays Center (Downtown Brooklyn)
14th Street – Union Square
34th Street – Herald Square
59th Street – Columbus Circle
Delancey/Essex Street (Lower East Side)
Lorimer Street (Williamsburg Brooklyn)
Essential Information
Website: MTA Arts & Design
3. Peek into the Mmuseumm.
It's one of the most unusual things to do in New York that even its spelling is quirky.
The Mmuseumm is a tiny museum housed in a freight elevator specializing in seemingly random objects that tell a story about modern existence in a modern world.
It hosts permanent and rotating exhibitions, specializing in the "overlooked, dismissed, or ignored."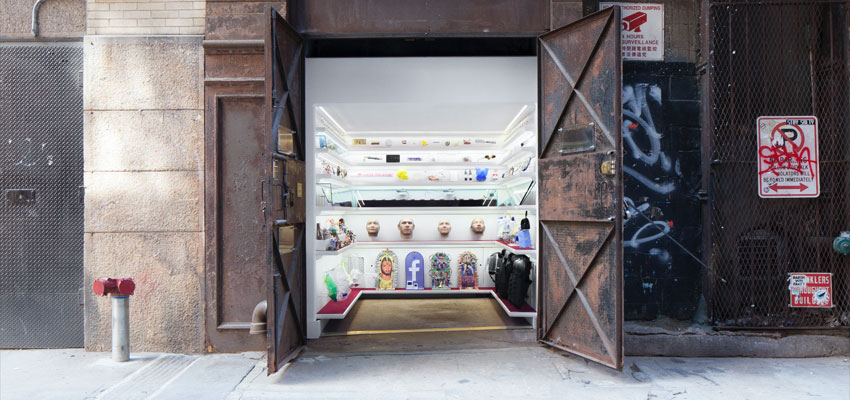 Among the unique objects featured in the museum have been receipts from the purchase of last meals of death row inmates and counterfeit objects that were sold in Venezuela in the wake of its economic collapse.
Exhibitions are organized neatly on shelves, with small, pocket guides detailing the logic behind each of them.
When the museum is closed, the inside is still visible 24/7 through viewing windows. You can also contact them to arrange for a private viewing.
A gift shop and café opened recently just a few feet away from the Mmuseumm, offering espresso, chips, snacks, as well as Mmuseumm Bbookss, souvenirs, 3D postcards, etc. All proceeds go toward supporting the Mmuseumm.
Essential Information
Address: 4 Cortlandt Alley, New York City, NY
Hours: April to November: Fri-Sun, 11am-6pm; December to March: closed
Cost: Free; suggested donation $5
Website: Mmuseumm
4. Get into a secret speakeasy or bar.
New York City is the city that never sleeps and is never lacking in bars and clubs that you can party in.
Why would you want to go through the trouble to get into a secret bar that needs a reservation before they can let you in?
Well, because it's a unique experience.
Not everyone can brag about getting into Please Don't Tell, a Prohibition-inspired speakeasy on St. Mark's Place that shares its space with Crif Dogs, a hotdog joint.
You need to call (and call, and call, and call…) ahead for a reservation from 3pm onwards. If you get lucky and score a reservation, don't be late. Show up 15 minutes late and you give up your slot to someone else.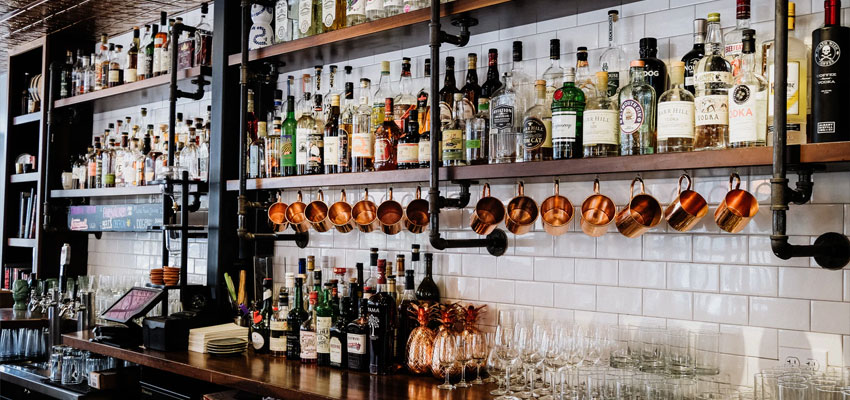 Go inside Crif Dogs, look for a telephone booth, dial the number/s in the instructions, and you're in!
Without a reservation, you can only get in if a reservation is canceled or is a no-show.
Essential Information
Address: 113 Saint Marks Place, New York City, NY | 212-614-0386
Hours: Sun-Thu 6pm-2am; Fri-Sat 6pm-3am
Attire: Business Casual
Reservation Required: Yes; same-day reservations every day by phone, starting at 3 pm
Website: Please Don't Tell
Another secret bar you can try to get into is in the Grand Central Terminal.
Yes, there's a secret bar in there.
The Campbell is named for John W. Campbell, a financier in the Jazz Age.
To get here, look for a plaque on Grand Central, along Vanderbilt Avenue, under the portico at 43rd street, and enter through the Campbell Terrace.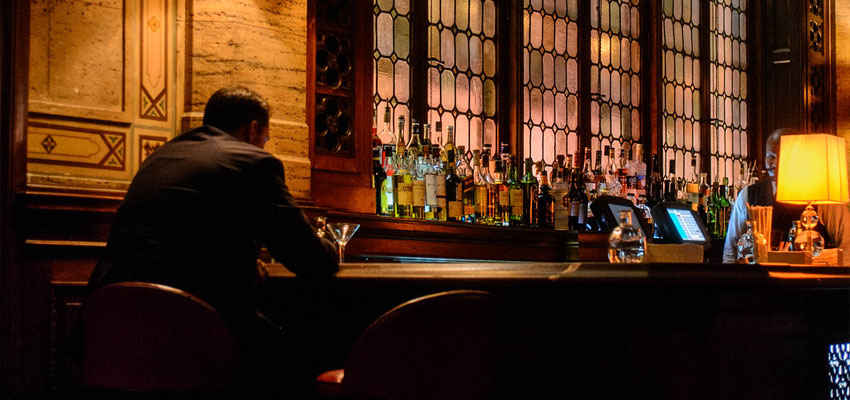 Walk-ins are accepted, but you may have to wait for hours to be seated. Call for reservations instead so that you don't have to wait.
Essential Information
Address: 15 Vanderbilt Avenue (between 42nd Street and 43rd Street), New York City, NY | 212-297-1781
Hours: Mon-Sun 12pm-2am
Attire: Polished Casual
Reservation Required: Encouraged
Website: The Campbell
5. Relax in a hidden New York garden.
Who would think that amid the bustle and noise of the Financial District hides a secluded garden oasis?
The Elevated Acre is exactly that: a one-acre garden elevated above the city streets.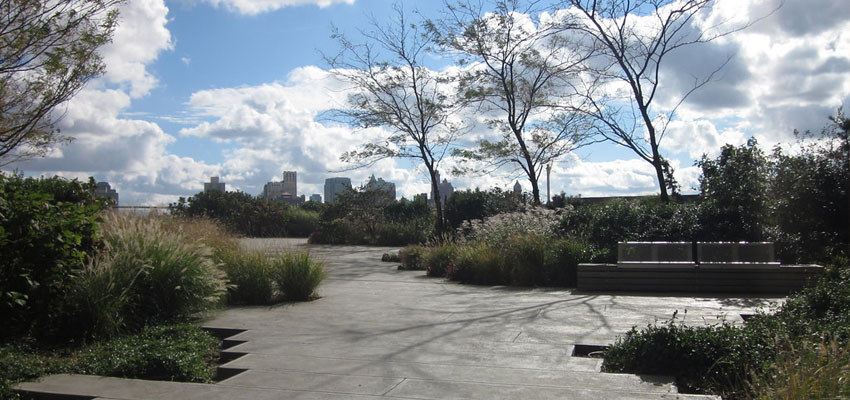 You can access it via an escalator on downtown Manhattan, easy to overlook because it's set back from the sidewalk.
This secluded urban oasis features a lawn, a seven-tier amphitheater, a beer garden, winding paths of Brazilian hardwood, and breathtaking views of the East River, Brooklyn, and the Brooklyn Bridge.
Essential Information
Address: 55 Water Street, New York City, NY
Hours: Mon-Sun 7am-10pm
Cost: Free
Website: 55 WATER
6. Explore New York's catacombs.
When you hear "catacombs," the first places you think of are probably Rome and Paris.
But there are catacombs right here in the United States, and touring the catacombs underneath Manhattan is one of the most unusual things to do in New York City.
Technically, any chamber used as a burial place is a catacomb, and beneath the Basilica of St. Patrick's Old Cathedral are the only catacombs in Manhattan and only one of the few that exist in the country.
Tommy's New York has an exclusive agreement with the basilica, and you can only arrange a tour of the catacombs with them.
Their expert tour guides will lead the way by candlelight and point out the final resting places of bishops, politicians, and New York's richest families.
Essential Information
Address (Meeting Place): 32 Prince St, New York City, NY | 212-300-7683
Hours: Sun-Wed, 11am, 1pm, and 3pm; Thu-Sat, 11am, 1pm, 3pm, and 5pm
Duration: 1 hour 30 minutes
Cost: $35 per head for adults; $25 per head for children below 12
Website: Tommy's New York: The Catacombs By Candlelight
7. Become a spy for a day.
Spyscape is a recently established attraction featuring plenty of world-class galleries of spy gadgets and stories, as well as interactive displays where you get to do some spy challenges.
Learn all about the history of spies all over the world and what it takes to be a spy: skills such as cryptography to cyberhacking.
All the tasks you get to do inside will help you determine what kind of spy you should be: Agent Handler, Hacker, Special Ops, or Spycatcher? Or maybe a whole other spy type.
They also have a Missions & Martinis event every Friday, including food and drink, as well as an All Access Pass.
Essential Information
Address: 928 8th Ave, New York City, NY | 212-549-1941
Hours: Mon-Thu 10am-9pm; Fri 10am-10pm; Sat-Sun 9am-9pm
Online Prices: General Admission: $39 per head for adults; VIP: $65 per head for adults; All Access Pass (General Admission + 007 exhibition): $52 per head for adults; discounts available for students, teachers, seniors, military, and law enforcement; family packages (2 adult + 2 children) available
On-Site Prices: Add $5 to online prices
Website: Spyscape
8. Experience theater in a brand new way.
New York is such an artists' haven that they even found a new way to appreciate theater.
Sleep No More is an award-winning theatrical experience that tells Shakespeare's Macbeth in a unique, immersive way.
When you enter the premises, you're asked to wear a white mask to set you apart from the actors and crew.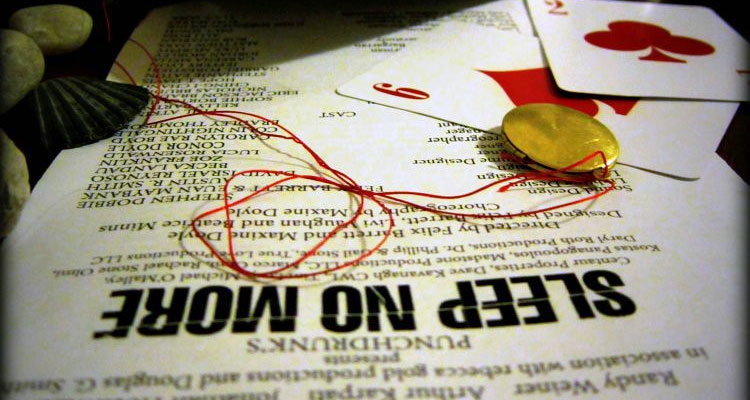 Afterward, it's like a museum that comes to life. The actors will interact with you as if you were part of the action, so expect to be talked to, touched, sometimes even kissed on the hand. So if this is something that makes you anxious, you may not want to participate in this.
A tip is to pick out a specific cast member and follow them around so you don't miss out on any action.
Also, if you're watching with someone or with a group, don't cling to them too much; this ruins the experience for the cast and other members of the audience.
Tickets can be purchased an hour in advance and in 15-minute increments until the start of the show. Showtimes don't vary, but purchasing an earlier ticket means you have more time to hang out in the hotel bars, pool, or restaurant.
Essential Information
Address: 530 West 27th Street, New York City, NY | 212-904-1880
Hours: Mon-Thu: 8pm show; Fri: 8:30pm show; Sat-Sun: 6pm and 10pm
Duration: 3 hours
Cost: Show: $139.50 per head for adults; Champagne Guest + Show: $325 per head for adults; Maximilian's Guest + Show: $200 per head for adults; Pre-show Dinner + Show: $201.03 per head for adults; Post-show Dinner + Show: $201.03 per head for adults
Website: Sleep No More
9. Take the tram to Roosevelt Island.
Taking a tram may not sound like a very unusual thing to do in New York, but hear me out.
The view of the Manhattan skyline is awesome from the air, and one of the best (and cheapest) ways to get this aerial view is to ride a tram from Manhattan to Roosevelt Island.
Yes, it's suspended in the air.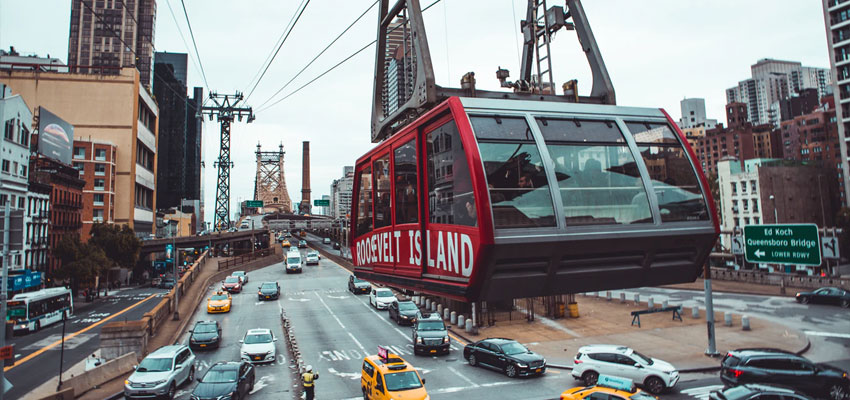 This aerial tramway was intended to only be a temporary solution until a subway line could be built from Manhattan to Roosevelt Island, but it remains operational to this day even if the subway line was built in 1989.
If you're getting a MetroCard anyway, you can use that to ride this tram. Make sure to avoid morning and afternoon rush hours, though; people actually ride the tram to commute from their house in Roosevelt Island to their work in Manhattan.
Essential Information
Address: E 59th Street and 2nd Avenue, Tramway Plaza, New York City, NY | 212-756-8739
Hours: Sun-Thu 6am-2am; Fri-Sat 6am-3:30pm; trams depart every 7 to 15 minutes, depending on the time of day
Cost: $2.75 per way
Website: Roosevelt Island Tram
10. Wind down at a century-old bathhouse.
The Russian and Turkish Baths have been around since 1892.
Also called the Tenth Street Baths (because of their address), it has survived two world wars, the Mafia Wars, and the shutdown of bathhouses due to the AIDS crisis. Nowadays, hipsters mix with Russian and Jewish old-timers.
Enjoy the sunroof, different kinds of saunas, and an aromatherapy room. When you're done with the heat, take an ice-cold shower or a dip in the ice-cold pool.
You can also get a massage (Swedish, deep tissue, sports massage), a salt scrub, or their signature platza oak leaf treatment, where a specialist will beat you (not in an assault kind of way)
One of the quirks of this bathhouse is that there are two owners but they aren't partners; they don't share the profits. Every week, a different owner runs the bathhouse.
When you buy passes, you need to make sure you only use the right owner's pass on that day.
Essential Information
Address: 268 E 10th St, New York City, NY | 212-674-9250
Hours: Mon-Tue 12pm-10pm (Coed); Wed 10am-2pm (Women only), 2pm-10pm (Coed); Thu 12pm-5pm (Men only), 5pm-10pm (Coed); Fri 12pm-10pm (Coed); Sat 9am-10pm (Coed); Sun 8am-2pm (Men only); 2pm-10pm (Coed)
Cost: $48 per head per admission; discounts available for buying multiple admissions at one time
Website: Russian & Turkish Baths
Visiting New York City
It this isn't your first time in New York, you can skip this part.
Getting To New York City
If you're flying into New York City, you're likely going to come in via the John F. Kennedy International Airport (JFK). Other airports that serve New York City include LaGuardia Airport (LGA) and the Newark Liberty International Airport (EWR).
Getting Around
New York is an expensive city to drive in; rental cars are expensive, parking is expensive, and gas is expensive, especially if you're just going to be stuck in traffic.
The classic ways to go around New York are the subway and public buses. The subway is the quickest way to go around, while buses are the second-best if your destination doesn't have a nearby subway stop.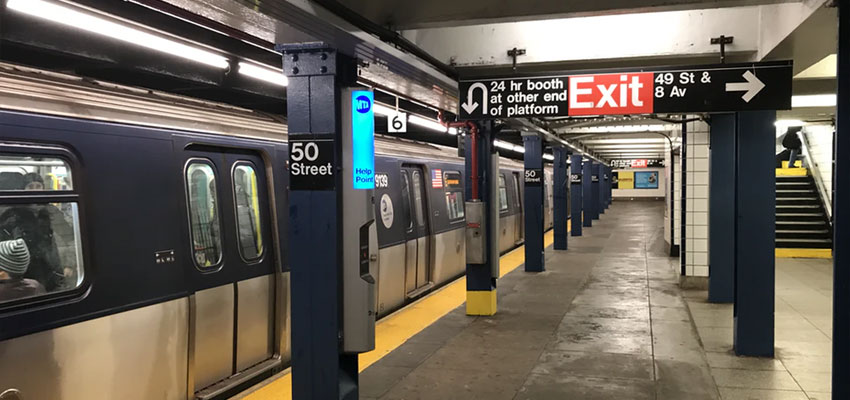 They're both available 24/7 and you don't need to carry coins to access them. Simply buy a MetroCard online or from virtually any subway stop and you can be on your way.
The routes can be quite complicated to navigate if you're not a local, but the MTA website and its mobile app have updated schedules and routes.
Ridesharing apps like Uber and Lyft are also available and are more convenient, since you get picked up and dropped off at your exact destination. However, prices are highly variable and you might end up with a highly marked up fare.
Grabbing a yellow cab (or green Boro taxi) is another option, especially for when you're tired, carrying a lot of shopping bags, or when it suddenly rains.
The newest way to get around New York City is through the NYC Ferry, which takes advantage of the city's waterways to transport people between places that are formerly inconvenient or difficult to travel with other forms of transportation.
Where To Stay
New York City offers a wide range of accommodations to fit every taste and budget, and you can certainly find one for you through sites like Airbnb or Booking.com.
But if you're looking for safe neighborhoods to stay in, locals would probably say Tribeca, Battery Park, Nolita, or Dumbo.
Best Time Of Year To Visit
Probably the best time of year to visit New York, especially if you're going to do a lot of walking around, is April to June and from August to October.
The temperatures during these times are moderate and thus perfect for outdoor activities without having to lug around a heavy jacket.
Summer in New York is punishably hot and humid, while winter means lots of snow and biting winds. You'll want to avoid these two seasons as much as possible.
What To Wear
As I've mentioned, New York's weather is extreme during the summer and winter seasons, so pack clothing that is comfortable to walk around in, whether indoors or outdoors.
Pack light clothes for summer and always take a handheld fan, facial mist, and a pack of body wipes.
A heavy coat and gloves aren't optional in the winter; they're mandatory if you want to survive the cold.
Spring and fall have more moderate temperatures, for which you can dress in layers and not be too uncomfortable. You can get through a day outdoors with a light jacket, scarf, and a hat in the bag that you carry around.
Let the weather and your comfort dictate your footwear as well. Smart choices include open-toed shoes or sneakers during the summer, fur-lined shoes during the winter, sneakers or trainers during the spring, and boots during the fall.
Don't forget to pack at least one formal outfit in case you want to go to a nicer bar or club, or maybe watch a Broadway show.
What To Expect
New York City, in general, is a pretty safe city, although certain parts and districts are notorious for being unsafe, especially for tourists.
Try to avoid East New York, Brownsville, South Bronx, the Theater District, and Hells Kitchen, and even Central Park after sundown.
What To Eat
There's plenty of food choices to try in New York, from their iconic pizza to the more exotic falafels.
But in keeping with our theme today, here are the more unusual things to eat in New York City:
Extra virgin olive oil ice cream at Oddfellows. This isn't the only unique flavor they have; other outrageous flavors they carry include foie gras, tequila pineapple, and tobacco, smoked chili & huckleberry.
Fork-free chicken and waffles from Chick'nCone. If you've ever felt a need to eat fried chicken while walking around New York, Chick'nCone has got you covered.
Los tacos chapulines from Toloache. These are tacos filled with dried grasshoppers. Yup, sounds weird, but trust that these grasshoppers smothered with onions, cilantro, jalapeno, and salsa verde are really good.
Ramen Burger from Smorgasburg. The ramen burger is simply a beef patty in between two buns made of ramen. The ramen is seasoned, the burger is seasoned, and all the flavors come together in each and every bite.
Calf's brain cream with blini and caviar at Takashi. Once you've gotten over the ick factor, you'll begin to appreciate the one-of-a-kind taste and texture of the brain cream.
Visit New York This Weekend!
Which one of these activities will you do first? Do you have any of your own suggestions for unusual things to do in New York City? Talk to me in the comments!