Arches, Bryce Canyon, Canyonlands, Capitol Reef, and Zion: The Big 5 National Parks of Utah score high in the ultimate bucket list of any wanderlust chaser, backpacker, and outdoor lover.
Organizing a trip through the parks requires a deal of planning and preparation and is crucial to address any questions you might have right away.
What do you need to know before visiting the Mighty 5? What are the best hikes or winter sports opportunities?
Keep reading as I explore them all.
Visiting the Big 5 National Parks of Utah in 7 Days
Visiting Utah's Big 5 in one trip is the perfect basis for a memorable adventure, and it can take as little as 7 days to complete.
If you choose a 7-day itinerary, traveling by car, bike, or RV will be a great asset since a personal means of transport guarantees freedom and speed.
Moreover, choosing scenic routes to move around will allow you to take in even more of what Utah's natural landscape has to offer.
Day 1 and 2 – Arches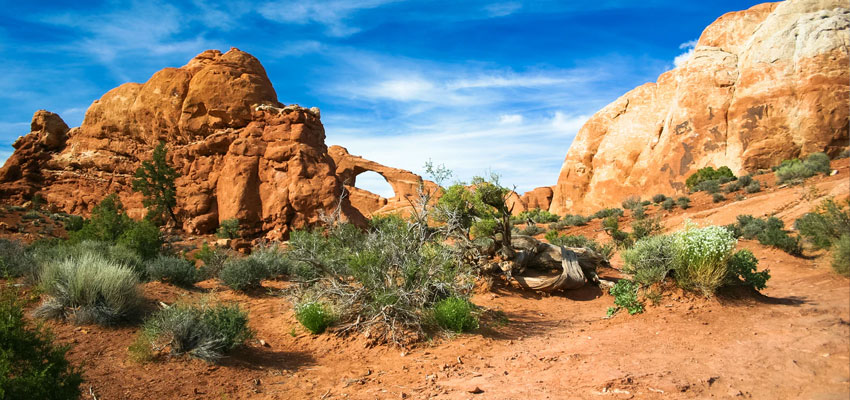 To make the most out of your week in Utah you can start your 7-day itinerary in Moab at Arches National Park.
The Arches National Park Road is 22 miles long and among the most famous scenic roads in the world.
Many amazing viewpoints are easily accessible from the Arches Scenic Route: Among the more popular ones you don't want to miss out on the Delicate Arch Viewpoint, the iconic Balanced Rock of Arches, and the Fiery Furnace Viewpoint.
Take in the sights and sounds of Moab at night while you're here.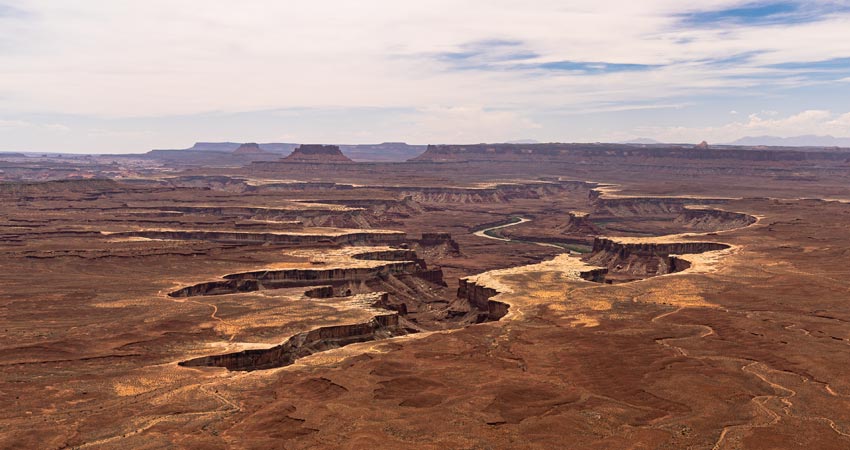 From Arches National Park and Moab, it's a short drive to the Canyonlands National Park.
Be sure to check out its surroundings, for example, Dead Horse Point State Park, the Dominguez-Escalante National Conservation Area, or the Needles District.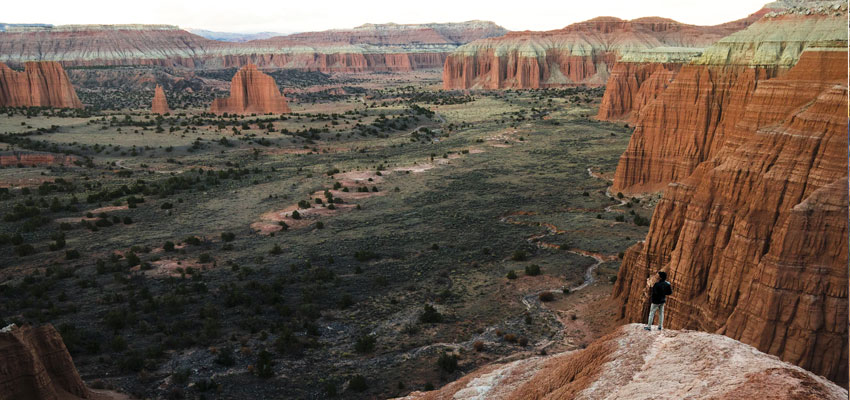 From Canyonlands to Capitol Reef, take the iconic Highway 24, the scenic route that runs over 15 miles within Capitol Reef.
Leave early in the morning and arrive at Capitol Reef before 10AM to maximize your time in the park.
For the fourth day of your trip make sure to put on your bucket list Sunset Point, Goosenecks Overlooks, the Cassidy Arch, and the Cathedral trails. A convenient way to hit the main landmarks is to stick to Capitol Reef Scenic Drive until Capitol Gorge Trail.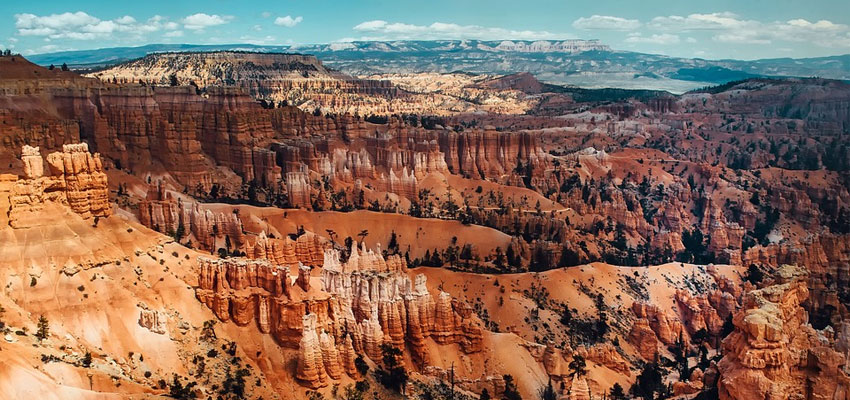 Take Highway 12 to go from Capitol Reef to Bryce Canyon.
This panoramic highway will take you from Boulder Mountain, through the Grand Staircase Monument, and ultimately to Bryce Canyon National Park.
Day 6 and 7 – Zion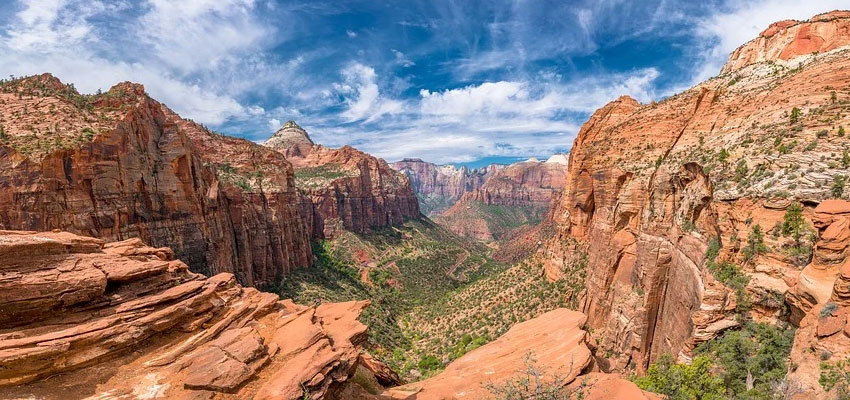 Take the last 2 days to take in Zion's National Park natural surroundings and extensive hiking trails.
Zion National Park is worldwide famous for its dramatic scenery, pristine natural surroundings, and astrophotography-friendly night skies.
This park is the perfect destination for backpackers looking for the perfect mix of adventure and stunning views.
The Park is huge and offers a variety of hiking trails at different stages of difficulty, from the most strenuous paths such as Angels Landing or The Narrows to beginner-friendly and family-friendly hikes like Canyon Overlook Trail or Taylor Creek Trail.
For more on hiking trails in Zion, check out the 10 Best Hikes in Zion that You'll Never Forget.
When's the best time to visit Utah's National Parks?
The answer is: it depends!
Utah's National Parks are beautiful all year round, and the perfect time to plan your trip comes down to what you expect from the trip and what activities you have in mind.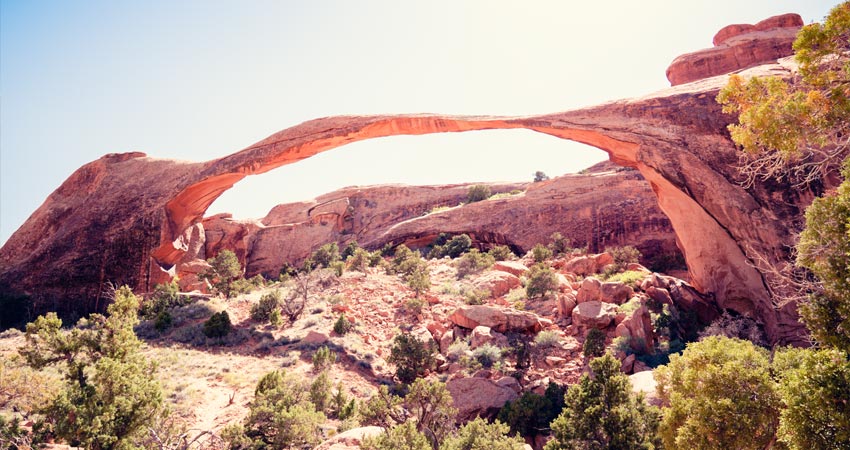 Winter ( December to March)
Plan your trip to Utah's mighty 5 during these months to enjoy The Greatest Snow on Earth®.
Utah, with its impressive average of 600 inches of snowfall per year, is the perfect wintertime destination for winter sports lovers.
The parks offer plenty of snowshoeing trails, ski slopes, and even snowmobiling-friendly trailheads.
More than 15 ski resorts are available in the Salt Lake City area, making northern Utah the perfect place to set up base and explore the surrounding peaks.
But wintertime isn't only for skiing in the north. Southern Utah during the coldest months, with its snow-covered desert scenery, offers the unforgettable opportunity of hiking surrounded by unique and truly breathtaking scenery.
If your heart is set on a winter holiday, but you need some inspiration in deciding where to go, read more on the Best Winter Vacations to take this year.
Spring (April to mid-June) and Autumn (September to November)
Utah's Big 5 in the Spring and Autumn truly are a hiker's Nirvana.
When the snow starts melting, that's how you know springtime is coming to Utah's National Parks, opening the possibility for all kinds of outdoor activities in pleasant and warmer weather.
And after the most buys and hottest months, September kickstarts a cooler season, characterized by mesmerizing fall colors.
These are the perfect months to start backpacking through the Alpine forests, to schedule a hike, cycle, or try rafting!
Utah's National Parks offer virtually endless possibilities in terms of backpacking and hiking itineraries. Among the most popular choices are the West Trail of Zion National Park, The Big Needles Loop, and the Harvest Scene Hike in Canyonlands National Park.
Summer (Mid June to August)
Summer is the busiest season for the 5 National Parks, and the warmest, with temperatures going up to 100 degrees during the day.
Summertime in the Big 5 can be highly enjoyable, however, it must be noted that from July to August, the Parks are more likely to be packed with tourists. With the weather being mostly sunny, Summer is the preferred season to engage in water sports such as kayaking or rafting.
If you're looking for some unusual and unique activities to add to your "Summer in Utah" bucket list, check out the 7 Cool Utah Caves to Explore in 2021
Can I camp in the Big 5 National Parks of Utah?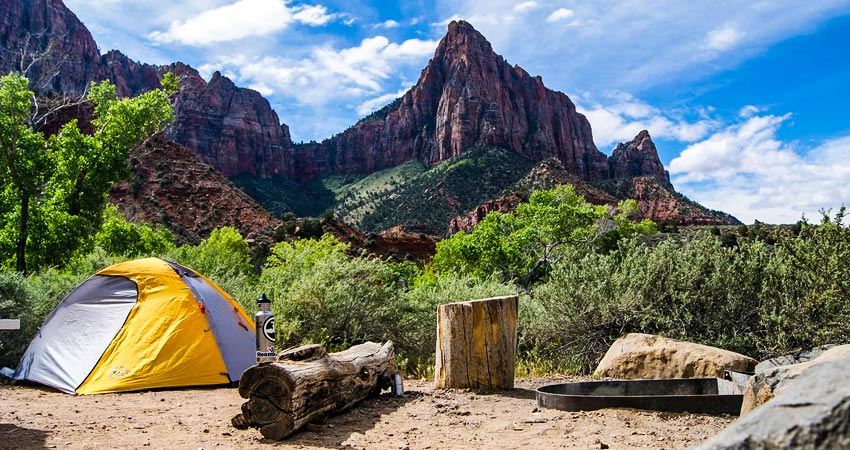 Of course!
Camping is one of the many ways one can enjoy Utah's natural beauty. The region includes over 300 campgrounds, many of which are directly located inside of the Big 5.
Here are the main camping options available on the grounds of Utah's Mighty 5:
Camping in Arches National Park
Inside the park's borders the only available campground is the popular Devils Garden Campground.
The camp is fully equipped and benefits from a privileged location in the very heart of the Arches Park.
Spots are limited and reservation is obligatory from March to October. The price of a spot/per night can vary from $25 to $250 depending on the number of people. The backcountry surrounding Arches, and the Bureau of Land Management area (BLM) are also popular camping options.
Camping in Canyonlands National Park
Island in the Sky is the cheapest camping option in Canyonlands, with a single spot starting at a mere $15 a night.
The campground has a first come first served policy so be sure to arrive as early as possible if you're planning on camping here.
Running water is not available, as well as hookups for RVs.
The second and slightly more expensive option ($20 per night) is The Needles Campground.
This campground is immersed in juniper trees, which offer shade and protection from the sun during the warmest months. The camp allows reservations from mid-March to the end of June and again from September to October while during the rest of the year booking is not required.
Camping in Capitol Reef National Park
For all travelers on a budget out there: If you're spending the night at Capitol Reef, you'll be glad to know that a completely no-fee campground is available.
The Cedar Mesa Campground is always open during the year and does not require booking.
For a more comfortable and all-inclusive camping experience at only $20 per night, check out Fruita Campground. The campground allows booking all year round except during wintertime, and it offers firepits, picnic tables, a dump, and drinkable water.
Camping in Bryce Canyons National Park
There are two campgrounds in Bryce Canyons National Park, both perfect places to set base and use as a starting point for exploring the park: North Campground and Sunset Campground: these are great options for backpackers and travelers who love spartan camping.
The campgrounds in fact do not include electrical and water hook-ups, as well as a sewer system (although access to drinkable water is provided).
Both campgrounds are also good for travelers on a budget, with really affordable tent and RV spots going from $20 to $30 a night.
Camping in Zion National Park
Among the big 5, Zion is the one that offers the widest range of choices for campgrounds.
If you're looking to stay at a primitive campsite, Lava Point Campground is the choice for you. T
he site is somewhat remote and reachable by car, but it does pay back with a stunning view from the highest viewpoint over Zion.
Note: Lava Point Campgrounds is only open from May to September.
Other valid alternatives are South Campground and Watchman Campground.
These two campgrounds offer a total of more than 300 regular sites and around 10 wheelchair-accessible sites. Prices can vary from $20 to $30, with significant discounts for large groups!
Just be sure to book with great advance for these 2 campgrounds (at least 6 months in advance) since are really popular and often crowded.
Stargazing in Utah's Mighty 5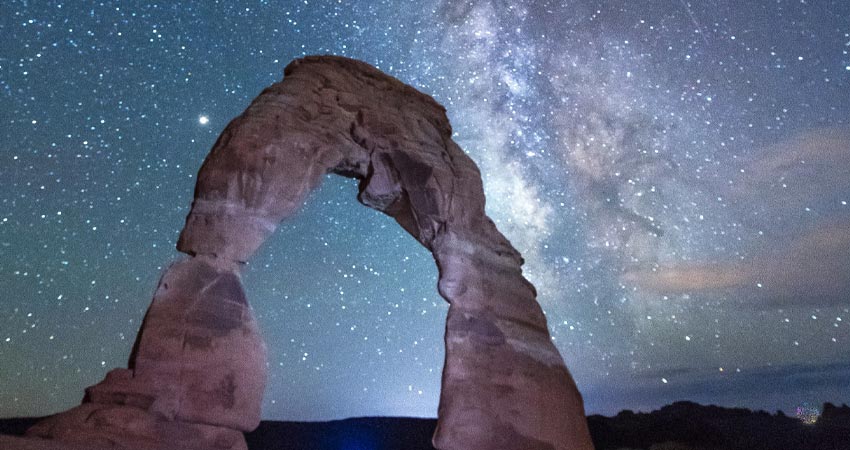 Discover the Big 5 National Parks of Utah at night and admire the Milkyway in some of the certified International Dark Sky Parks: Arches, Canyonlands, Zion, Bryce Canyon, and Capitol Reef have all been awarded the certification, and several guided tours and telescope viewing observation points are available throughout the National Parks.
In Utah's pristine and pollution-free environment, the oldest galaxies and faintest stars are visible to the unaided eye, offering a perfect setting for truly stunning astrophotography.
Spring and Fall are the preferred months for stargazing, especially in the Arches and Canyonlands National Parks, where every year are held several night-sky-observation events led by expert rangers.
In June, the Astronomy Festival of Bryce Canyon National Park offers a great opportunity to observe the sky and learn about astronomy in a fantastic context.
Moreover, throughout the summer, up until October, Capitol Reef National parks features night events, moon observation activities, and the Annual Heritage Starfest event.
What are the "Leave No Trace" principles?
When visiting Utah's National Parks, you should keep in mind the Leave no Trace (LNT) principles for a mindful and respectful relationship with nature. Being safe, preserving the natural landscape, and protecting the local wildlife should be a priority and an integral part of your journey.
With thousands of visitors flooding Utah's Big 5 National Parks every year, accidents are bound to happen, and this can mean a huge workload for local rangers. Come prepared and well equipped to the Parks in order to be as autonomous as possible, even when faced with difficulties.
Make sure you're being environmentally conscious and as low-impact as possible by following the 7 LNT principles:
Plan ahead and prepare
Travel and camp on durable surfaces.
Dispose of waste properly.
Leave what you find.
Minimize campfire impacts (be careful with fire).
Respect wildlife.
Be considerate of other visitors.
Traveling through the Big 5 National Parks of Utah
The Big 5 National Parks of Utah are our ancestral past and have to be preserved for future generations to enjoy as well.
When visiting the parks, remember to be mindful, take plenty of pictures and have the time of your life!
If you're looking for more information and tips on Utah, check out this article on Highway 12: all the best Canyons, Plateaus, and Valleys you don't want to miss out on.