Niagara Falls isn't the only waterfall in the country that will take your breath away – these 12 best waterfalls in the US can definitely compete.
I hand-picked 12 must-see waterfalls in America – 6 without much hiking, and the other 6 for up for a challenging hike.
6 Best Waterfalls in the US without Strenuous Hikes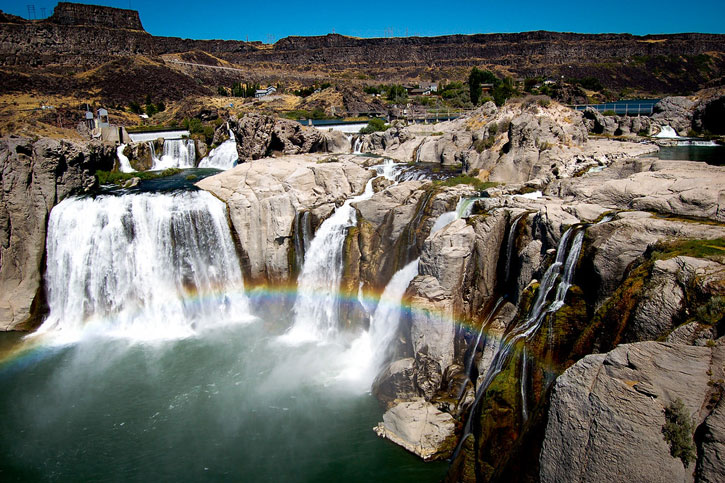 Shoshone Falls is called the Niagara of the West for a reason.
The 900-feet waterfall may look massively tall with water flows ranging from 10,000 to 20,000 cubic feet per second, but you can view Shoshone Falls without any hiking involved.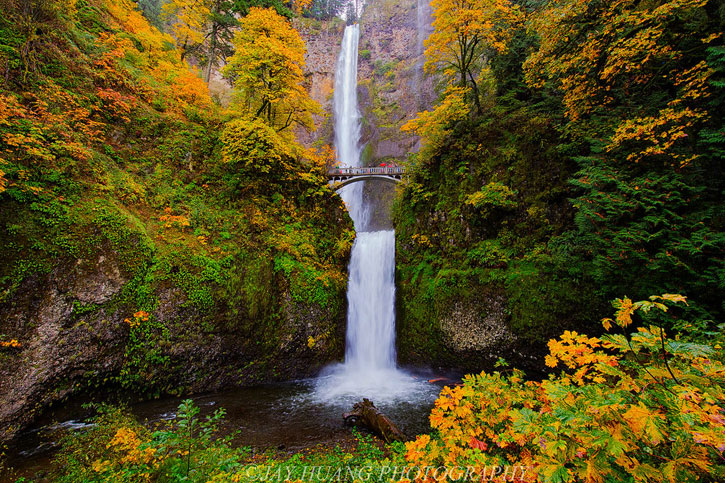 The breathtaking view of Multnomah Falls will make you come back to Oregon again and again.
The 620-feet waterfall comes in two parts, a 543-feet upper falls, divided by the historic Benson Bridge, and then the 69-feet lower section of the falls.
What makes Multnomah Falls double dramatic is the thick forest that frames the whole thing from the main highway.
You can still enjoy a hike, trailing the upper falls, but the view isn't as enjoyable as the one depicted on the picture above.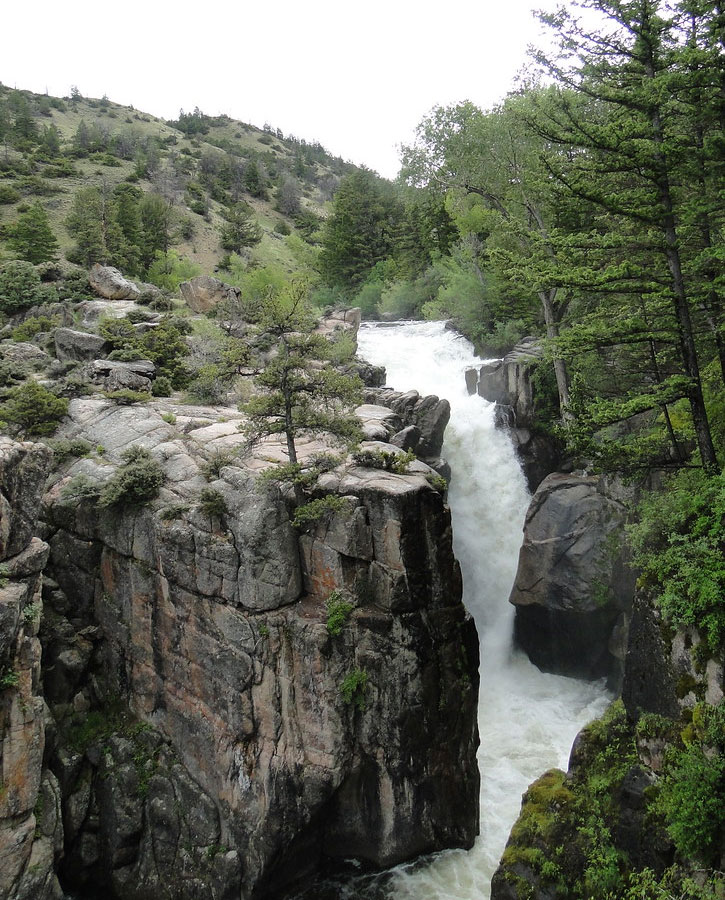 The Shell Falls boasts a stunning sight with water that plunges 120 feet over granite cliffs into a carved out canyon just near the walkway.
For those who want a big payoff, but without any hiking involved, Shell Falls is always there to impress. And it's just off the main road (U.S. 14), which makes it a perfect side trip if you're going somewhere nearby.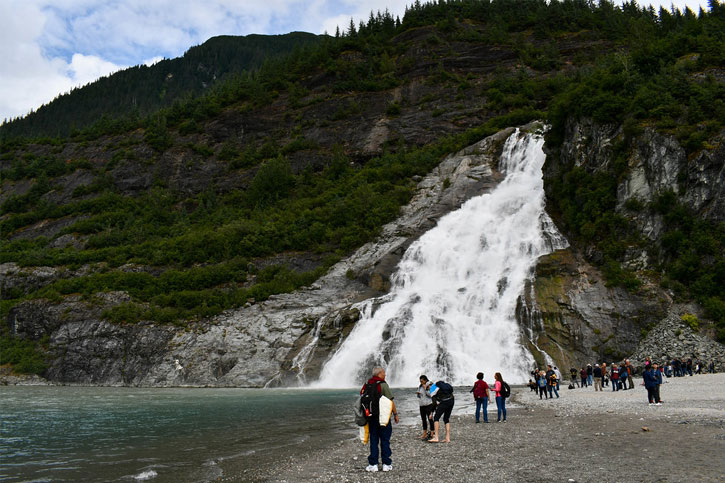 You'd have to take a 1.5-mile roundtrip hike going to base of Bullard Mountain, but you'll be mesmerized by Nugget Falls once you get here.
The 377-feet waterfall would tower over you as you stand in front of the Mendenhall Glacier and watch the water make its way into Mendenhall Lake.
Nugget Falls is usually included as part of the Mendenhall Lake tour or Juneau shore adventure.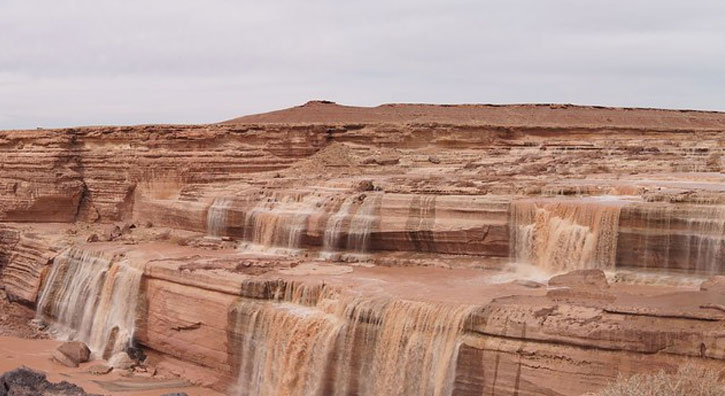 Grand Falls on Navajo Nation land in the Painted Desert is completely unique. This chocolate-colored waterfall is taller than Niagara Falls, dumping muddied snowmelt and seasonal rain into the Little Colorado River below.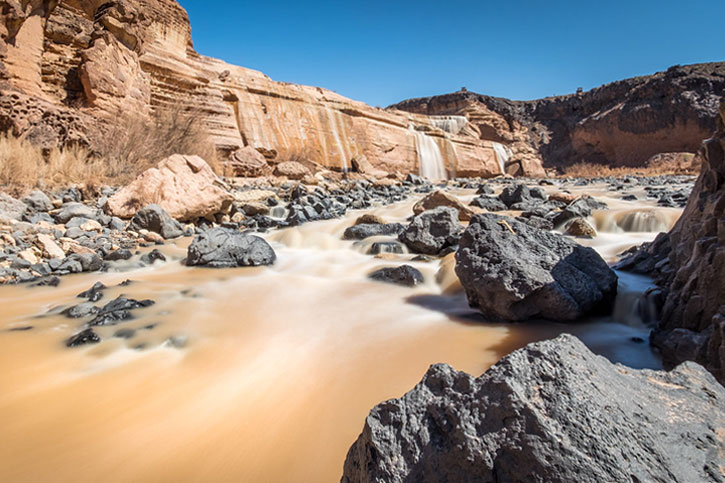 The 181-feet waterfall was created when lava from a nearby crater flowed into the Little Colorado River, creating a muddy, lava dam we know today.
Unfortunately, the access to the Grand Falls is closed until further notice due to tourists leaving trash behind.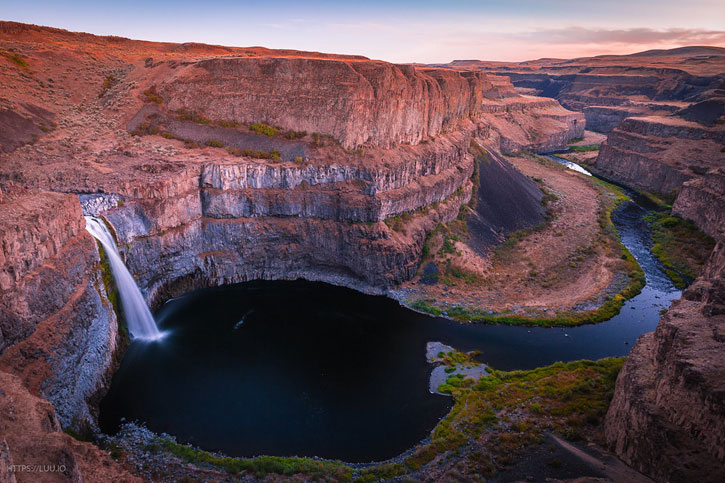 Any picture of Palouse Falls can be intimidating, but one glance and you know it's a special waterfall. And because getting to this viewpoint is super-near the parking lot, it can be a family-friendly, kid-friendly stop that everyone is bound to remember.
Carved through the basalt cliffs over 13,000 years ago, Palouse Falls drops a dramatic 200-foot plunge down. The entire view will make you want to soul-search right then and there.
6 Best Waterfalls in the US with Major Hiking Involved
The next six waterfalls are for those looking for a challenge – and with a stunning end to a demanding trip.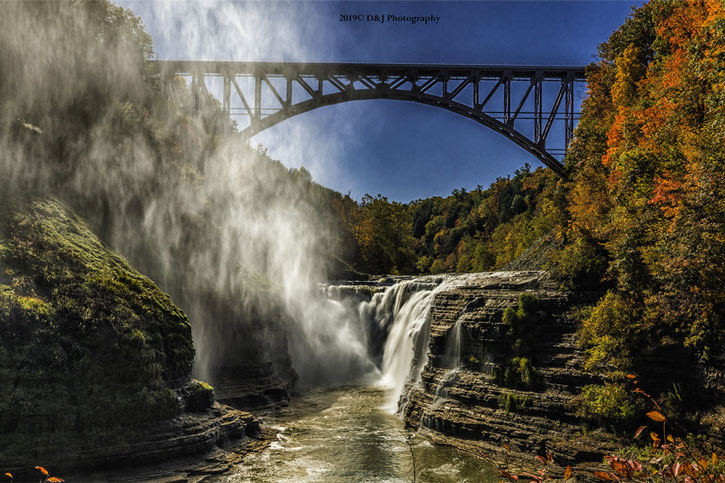 The waterfalls at of Letchworth State Park is called the Grand Canyon of the East for the dramatic three-part Genesee Falls.
You don't need to be a pro to visit all Upper, Middle and Lower Falls, but if you're out of shape or have injuries, the hundred or so steps back and forth could be strenuous. The middle Falls is the highest waterfall, at around 105 feet.
You can also take the Inspiration Point route and view the Upper Falls and Middle Falls from there instead.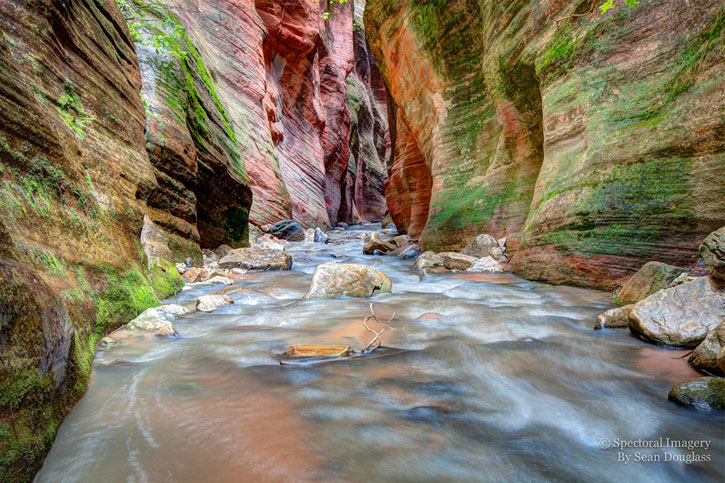 Kanarra Falls is a spectacular place, but the effort it takes to get to the waterfall isn't a small feat.
Aside from climbing a ladder (without handrails), hiking in the water, squeezing through a slot canyon, and even climbing a boulder, Kanarra Falls is quite a dangerous hike. Some unlucky hikers are even caught in the middle of a flash flood.
Kanarra Falls isn't breathtaking because of its height. What would make you double-take is the canyon walls that breathe like a painting. Plus, there's a pool, a smaller waterfall and a bunch of natural water slides adults can enjoy in.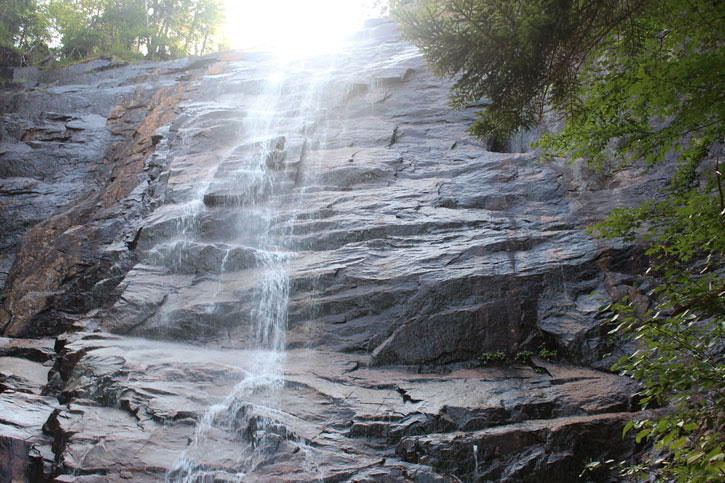 Arethusa Falls is located within Crawford Notch State Park in New Hampshire.
The exact height of Arethusa Falls is unknown since it cascades over 200 feet in the White Mountains, but you know you're in a majestic place.
Arethusa Falls has an elevation gain of around 900 feet, which is doable for experienced hikers, but challenging for beginner hikers.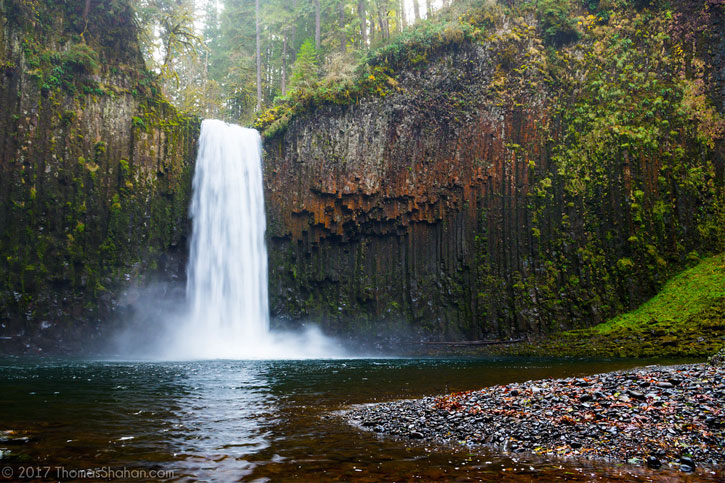 If you love the ruggedness of nature and exploring hidden trails, you'll love the path to Abiqua Falls.
Yes, the hike to Abiqua Falls is not the friendliest for beginners, but because the hike only takes less than a mile, I say go for it.
The falls is tucked in a lush forest with moss-covered trees. At the end of the hike, you'll be greeted by the 102-foot waterfall that splashes into a large pool below.
Abiqua Falls will lure you to swim in, but be careful of the slippery rocks.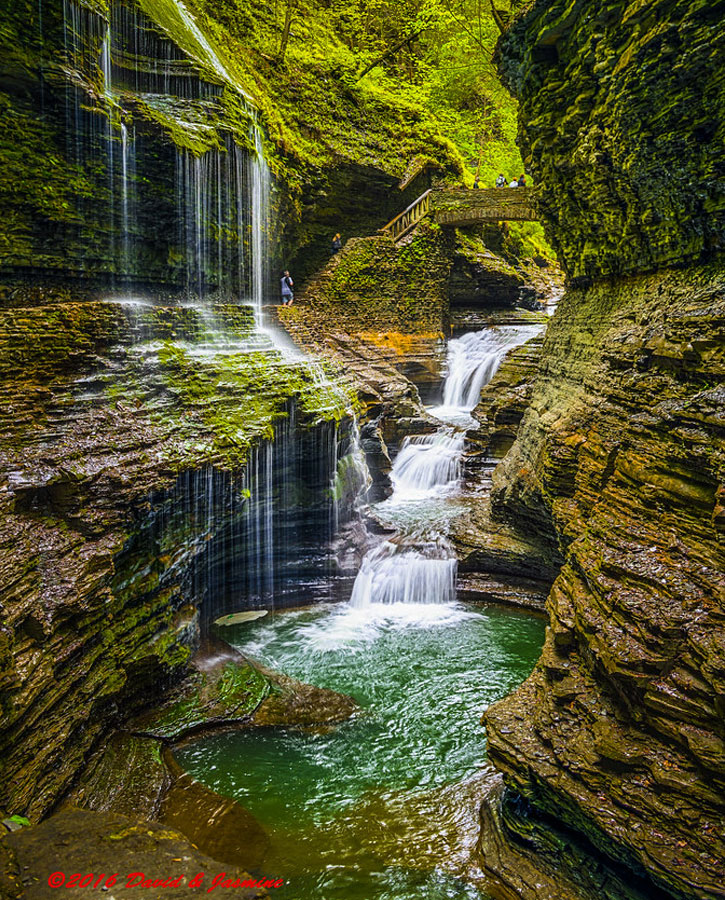 If you've always loved the vibe of the Lord of the Rings and you want to see such a whimsical waterfall, the Rainbow Falls at Watkins Glen State Park is a MUST-VISIT!
Yes, the path going down (and back up) isn't kid-friendly or super-easy, but believe me when I say, it's worth it once you get there.
Rainbow Falls falls 400 feet past 200-foot cliffs and if you look closely, it seems like it creates over 20 smaller waterfalls as it trickles down the gorge.
And if you're lucky to be there when a rainbow hits, make sure to take a photo – it's going to be a shot you'll be showing off for years!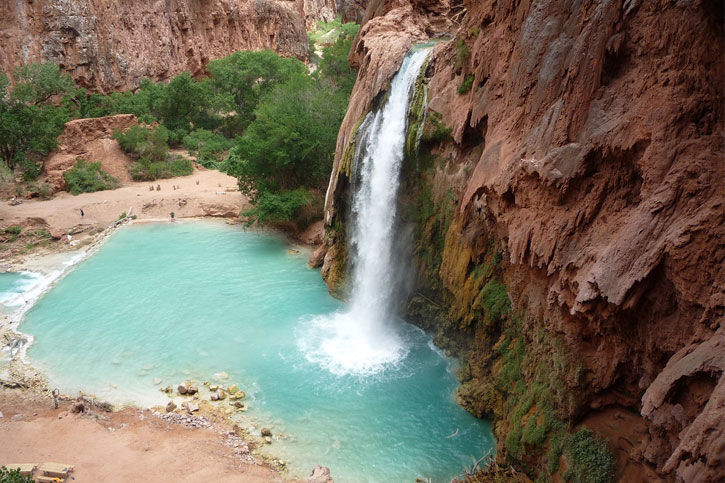 If you always imagine paradise with a waterfall, the Havasupai Waterfall is definitely the closest to paradise you can visit. Plus, you can swim in this gorgeous blue pool.
The 100-foot Havasupai waterfalls is one of the most popular Arizona waterfalls. Just take a look at this breathtaking sight!
But getting to Havasupai waterfalls is somewhat challenging that requires about 5 hours of hiking the 10-mile hike.
Can't Get Enough of Chasing the Best Waterfalls in the US?
What I think is the best waterfall may not be what you consider the best, so if you're still in search of other places where you can continue your journey of chasing America's best waterfalls, here are other guides I've written in the past: