If you loved my post about Hilo waterfalls, I'm sure you're gonna love this roundup about Hawaii waterfalls.
Hawaii is home to 100 documented waterfalls spread across its 8 main islands, so if you're crafting an itinerary for your Hawaii vacation, make it more epic with a visit to any of these ten Hawaii waterfalls.
Must-Chase Hawaii Waterfalls
1. Falls (the Weeping Walls)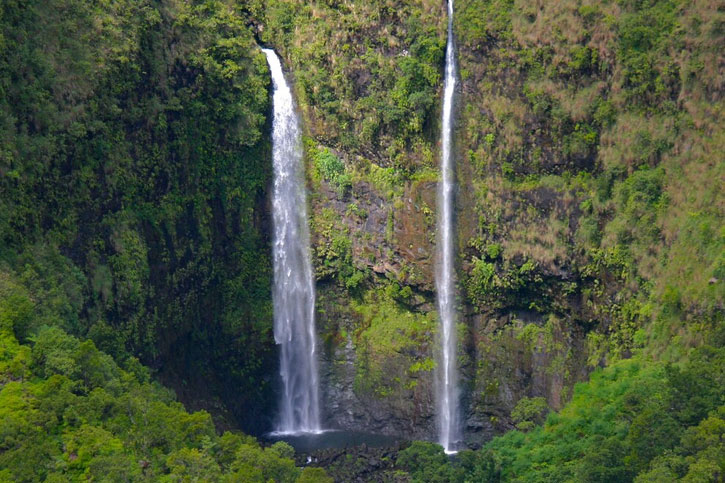 Location: Hawaii 96746
Visitor Info: Expert-level hikes, helicopter tours, or view from afar
This dramatic waterfall, known fondly as the "Weeping Wall," looks literally how it's described.
In Hawaiian, Waialeale means "rippling, overflowing water." This waterfall cascades down Mount Waialeale, which is considered Kauai's second highest peak at 5,148 feet.
Waialeale Falls is also one of the wettest part of earth. The area averages 452 inches of rain a year and over 330 rainy days daily, so dress appropriately when hiking the Blue Hole trail (base of the waterfall).
The trail is pretty challenging, often recommended for pro hikers, but there are two things that would make the trial worth it for you:
Plenty of rainbows – the area is prone to rain, which means rainbows are formed dramatically more than other Hawaii waterfalls
Gate in Jurassic Park – note that the massive wooden gate shown in the film is no longer there, but only a pair of cement posts remain. The gorgeous backdrop is also a sight to behold.
If you have cash, take the helicopter tour to get to the base of the waterfall. If not (and you're an experienced hiker), take the Waialeale Blue Hole trail instead.
2. Hanakapiai Falls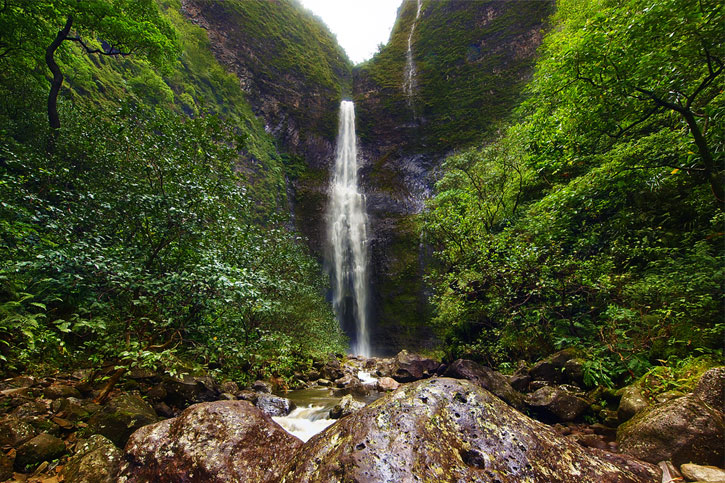 Hanakapiai Falls or Hanakapi'ai Falls is located in the Na Pali Coast of Kauai.
The trail to Hanakapiai Falls isn't short or long, but just average at 2 miles. But this entire trail can be considered as challenging because:
The trail isn't smooth. There will be muddy paths, high cliffs, narrow passages, and crossing streams and boulders.
The trail starts from the Hanakapi'ai Beach, then goes through a total elevation gain of 760 feet upon reaching the waterfall.
The trail can only be passed when there's good weather – a bit of rain can turn this trail triple challenging even for pro hikers.
The Hanakapiai waterfall itself is around 300 feet high and is definitely worth all the trouble once you reach it.
3. Road to Hana: Oheo Gulch and Makahiku Falls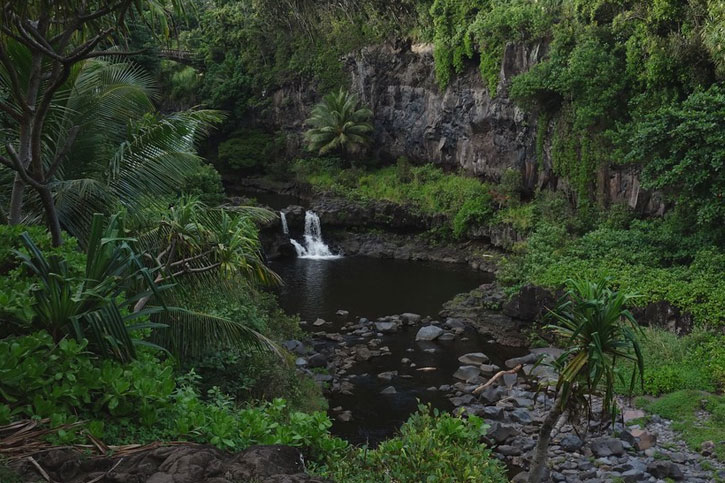 Visitor Info: Open from 9:30-4:30, $30 (to gain entrance to this park and others in Hawaii)
If you've only got limited time in Maui, let Pipiwai trail be the one you pick for nature-tripping. The trail leads you to some of the most beautiful scenes, including a massive banyan tree, a stunning bamboo and fresh ginger forests, and a couple of one-of-a-kind natural attractions.
The Pipiwai trail is a 4-mile roundtrip hike with 650 feet in elevation. Depending on your skill level, the hike could take from 2 to 5 hours.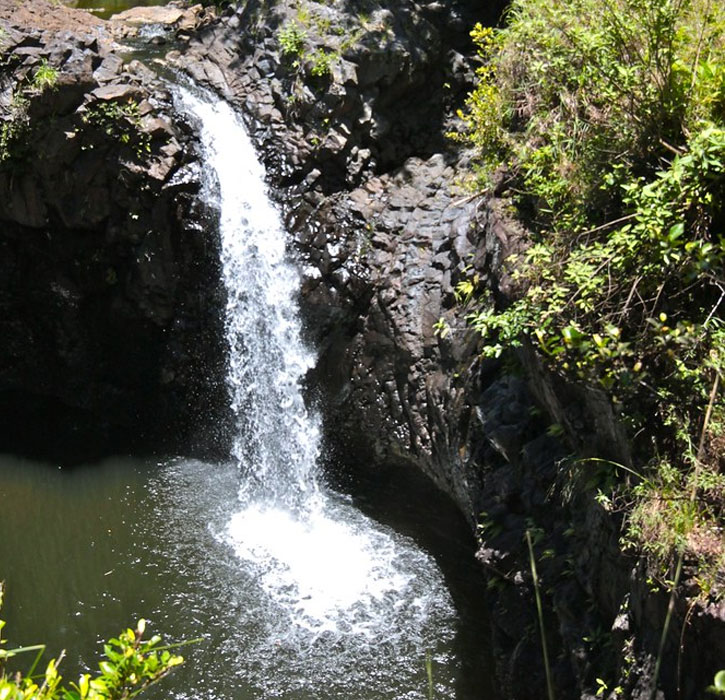 Oheo Gulch, also called Kipahulu Area or Seven Sacred Pools, is the name of the area. But it actually refers to the natural pools formed for hundreds of years through a river in the rainforest. When water levels are up, you can see more than 7 pools.
Tempting as they are, the Ohe'o Gulch is usually closed for swimming.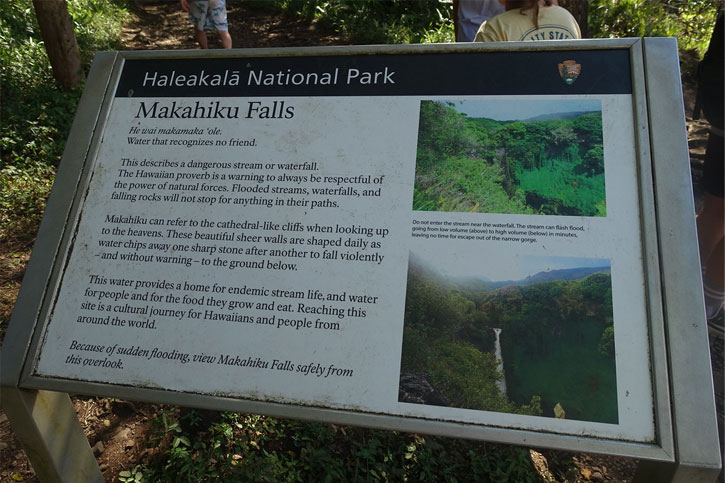 If you only have a few hours for hiking the Pipiwai trail and want to see a Maui waterfall, Makahiku is a good destination.
You'll have to turn left (ayaw from the trail) and go on a 1-mile roundtrip hike to reach Makahiku's overlook.
This is where you'll be able to marvel the Makahiku Falls, an 185-foot beautiful falls, from a distance.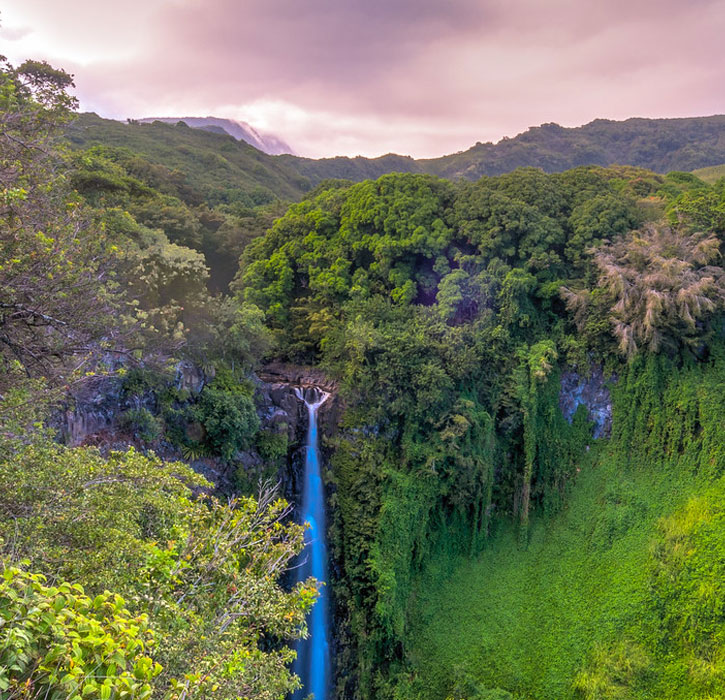 This hike is perfect for visitors looking for a shorter hike that does not require a half day.
Continue reading if you have more time to explore and your goal is to reach Waimoku Falls – Maui's tallest waterfall.
4. Road to Hana: Bamboo Forest and Waimoku Waterfalls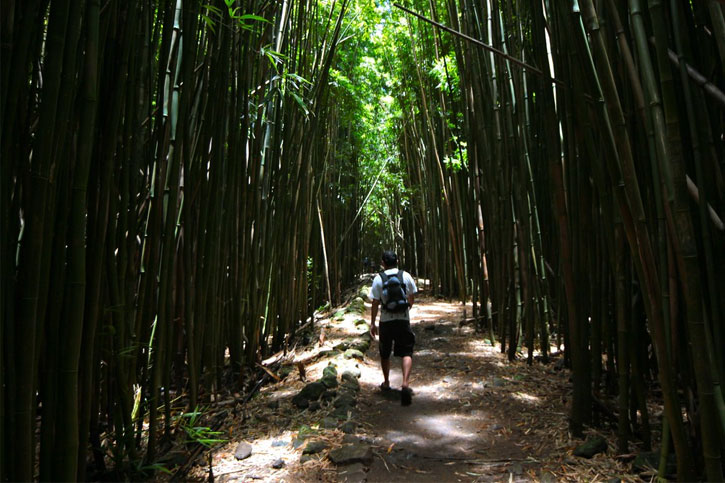 This is a continuation of the Pipiwai trail.
If you're coming from Makahiku Falls overlook, you'd have to turn around and go back to Pipiwai trail.
The Bamboo Forest, known as Na'ili'ili-Haele in the Hawaiian language, is another popular attraction inside Maui's Haleakala National Park.
You'll find this famous bamboo trail in the Kipahulu area. It leads you to the amazing Waimoku Falls.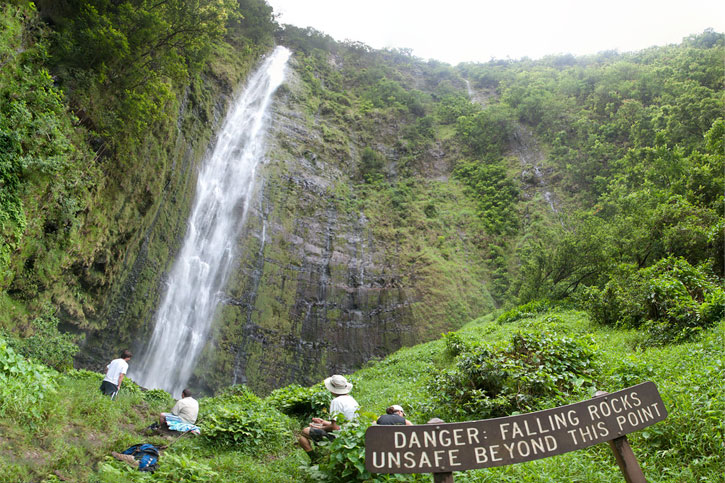 This massive waterfall drops 400 feet down a lava rock wall into another pool. Like most waterfalls, the amount of water that gushes down depends on whether it rained or not.
If you've read a Maui travel guidebook before, there's a chance Waimoku Falls is featured there. Unfortunately, you can't swim under this waterfall, and you can only view it from a distance due to falling rocks.
5. Uluwehi Falls (Secret Falls)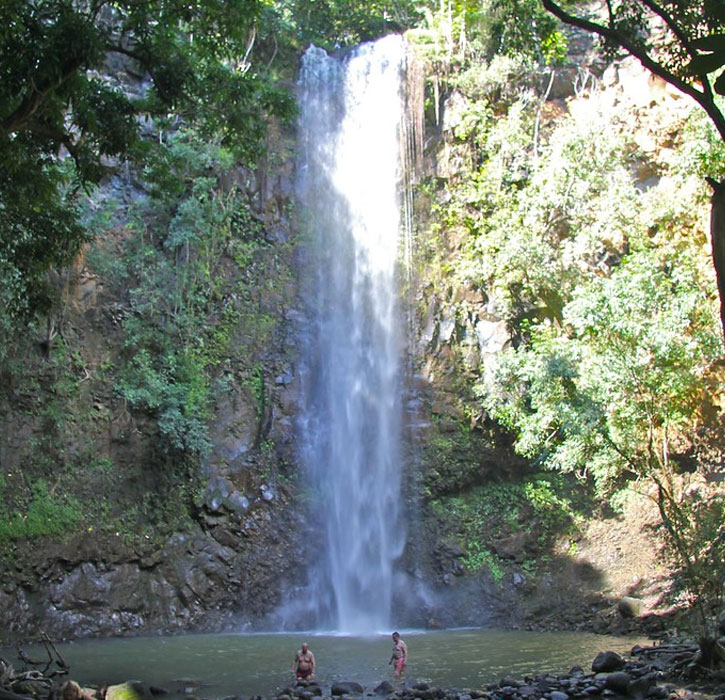 Getting to Uluwehi Falls isn't easy. It requires joining a kayak tour, then hiking to the famous waterfall.
If you're planning a trip here, make sure to give half a day to really enjoy the beauty of Wailua River and take in views of Nounou Mountain (aka Sleeping Giant) and the Fern Grotto.
It takes about 45 minutes from the mouth of the Wailua River to the start of a hidden walking trail. The walking trail is easy and takes 20 minutes with scenic views of historic ruins.
You'll know once you reach Uluwehi Falls. Make sure to take time swimming as prize for your adventurous hike to the waterfall.
6. Onomea Falls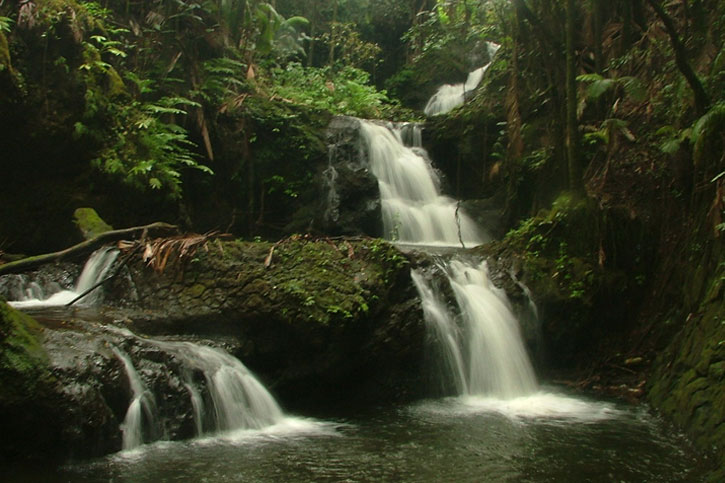 Onomea Falls is a picturesque waterfall located inside the Hawaii Tropical Botanical Garden on Hawaii's Hamakua Coast.
The best thing about Onomea Falls is accessibility and visit to a second waterfall. If you're visiting Onomea Bay, you can visit Hawaii Tropical Botanical Garden within 30 minutes.
Deeper into the park, located on Alakahi Stream, you'll find another waterfall. Named Boulder Creek Falls, this 10-feet waterfall tumbles into a boulder-filled stream.
The problem with Onomea Falls is that you'll have to pay to enter Hawaii Tropical Botanical Garden. There's no other way since the garden is on private land.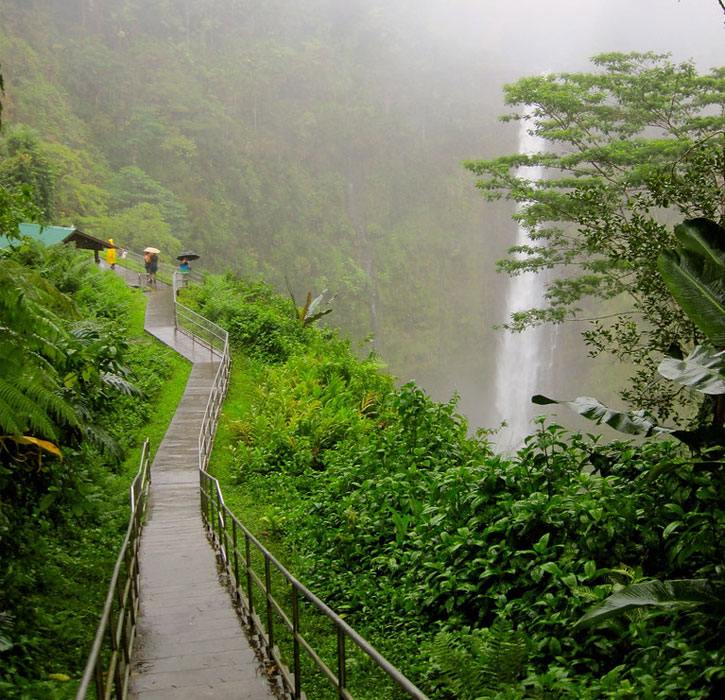 Location: Hawaii 96720
Visitor Info: Ideal for whole-family hikes (even kids), but not wheelchair accessible.
I briefly mentioned Akaka falls on my Hilo waterfall post, but I think this deserves a spot on this list.
The 422-foot waterfall is the heart of the Akaka Falls State Park. It is very easy to visit and require a quick 0.4-mile hike from the parking lot.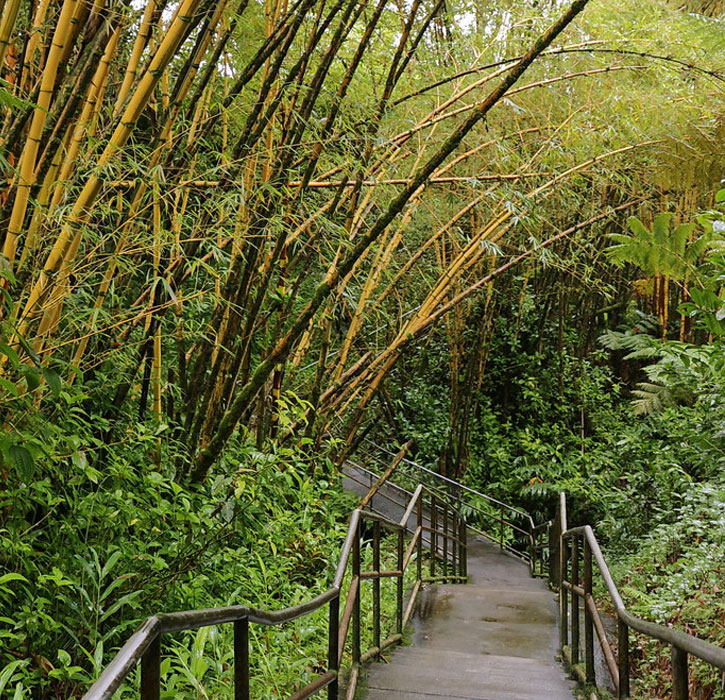 What I love best about Akaka is the lush rainforest you'll pass by on your way to the falls. From the draping ferns to the bamboo groves embracing the paved stairs. Enjoy the scenery every step of the way, the waterfall won't go anywhere.
Because the park is a popular park, it could get tourist-y in some hours of the day, especially on a sunny day. Fortunately, visitors can view the waterfall from several points of the trail.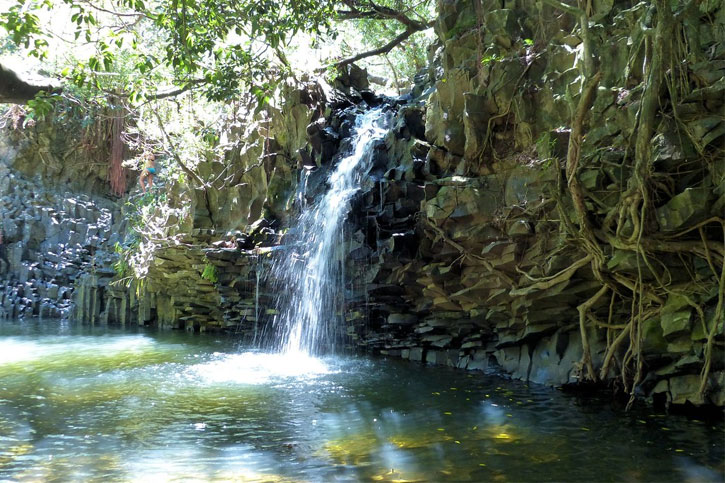 Twin Falls is another waterfall along the Road to Hana drive in the jungle of East Maui.
The 1.8-mile trail is easy, pet-friendly and only has elevation gain of 350 feet. Plus, the path to Twin Falls has gorgeous scenery from the colorful plants and rainforest-like jungle.
The one-of-a-kind Twin Falls is located on private property, but it is open to the public. Just look for the "Twin Falls Maui Waterfall" on Google Maps that will direct you to the parking lot.
9. Manoa Falls
Here's another famous spot made more popular by films like Jurassic Park and The Hunger Games: Catching Fire.
The 1-mile trail leading to this Manoa Falls looks pretty awesome, especially since beginner hikers can also join in and no guides necessary.
Just look at this cool-looking "gate," which has been a favorite IG-worthy spot.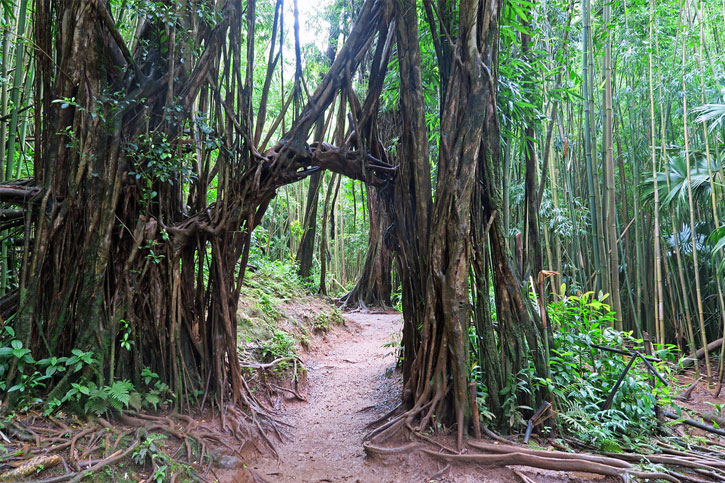 This trail ends with a big pay off – a view of the Manoa Falls that cascade 150 feet down the mountain.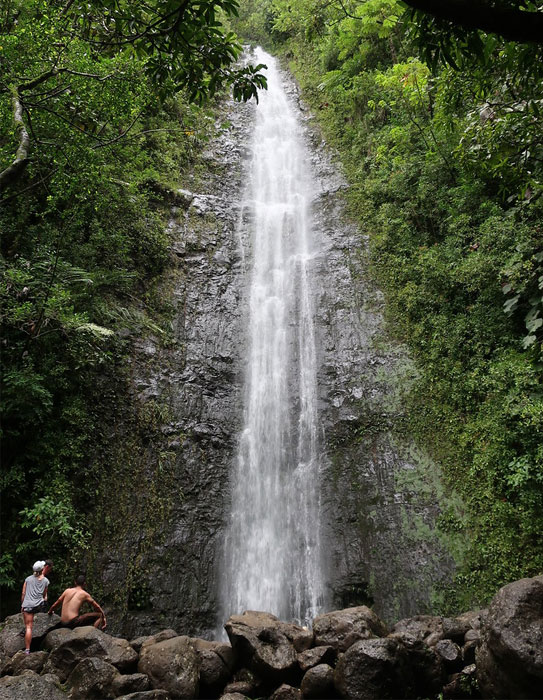 Manoa Falls get more beautiful in the winter months.
Many people still swim in the waters, even if there is a danger of Leptospirosis. Don't get tempted to dip into the pools.
10. Lulumahu Falls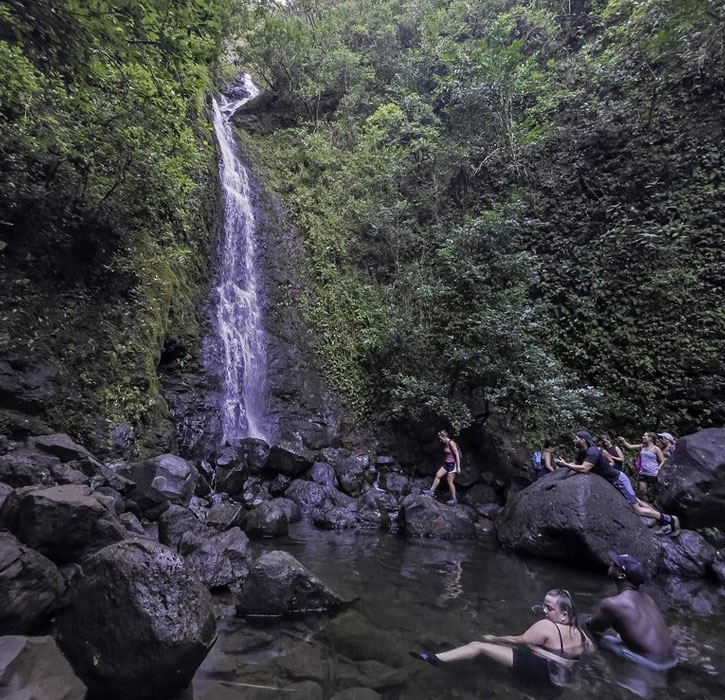 Lulumahu Falls is located near the Kaniakapupu Ruins. The 1.5-mile 2-way hike starts at the end of the Old Pali Road with an elevation of 900 feet.
This trail leads you to a bamboo forest, a stream, and several boulders within a private property where you'd actually be considered trespassing. If these things do not scare you and you're looking for an adventure, you'll reach the 50-feet swimmable waterfall.
This trail isn't a family-friendly one, there are rock-hopping, muddy paths and streams to pass. It can also be dangerous during rainy seasons, and since no official guided tours occur here, you should know when or when not to explore this path.
Other Hawaii Waterfalls
I didn't include the Hilo waterfalls I already featured here. If you're visiting near Hilo, make sure to check out these waterfalls.
Other guides in Hawaii you might find useful include:
Those creating a waterfall-chasing bucket list, check out my U.S. waterfall series featuring waterfalls found in Maryland, Kansas, Pennsylvania, West Virginia, Oklahoma, Massachusetts, Tennessee, Vermont, Arizona, Ohio, Oregon, and Yellowstone, among others.