Hawaii is home to many beaches you'd love to go back to, but if you're a fan of chasing waterfalls, then I recommend you explore Hilo waterfalls.
Hilo has over a dozen waterfalls with unique characteristics and jaw-dropping backdrops. Many of these waterfalls you can swim in, but some are exclusive only for sightseeing. What I can know for sure is that any of these six waterfalls in Hilo, Hawaii, will make for a memorable trip.
6 AMAZING Hilo Waterfalls that Should be on Your Bucket list
These are six of my favorite waterfalls: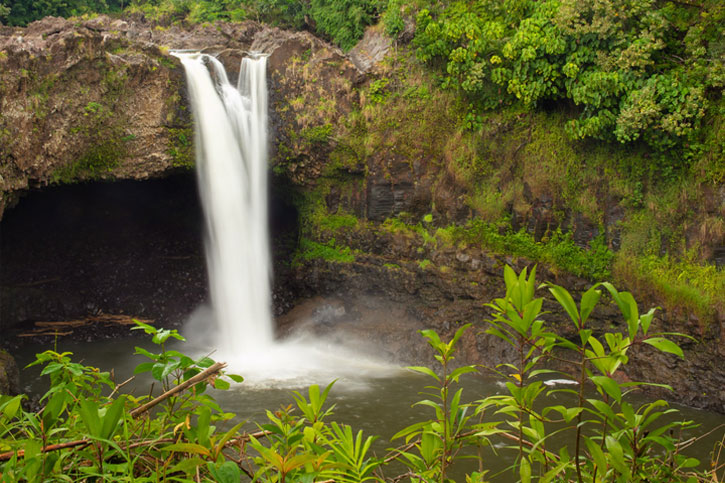 Location: Hilo, HI 96720, US
Visitor Info: No swimming allowed, accessible near parking lot, perfect for those without time for hiking.
Entrance fee: FREE, open daily
Adventurers and hikers won't have fun visiting Rainbow Falls, but for those interested for awesome pictures and a quick sightseeing side stop without much effort, Rainbow Falls is for you.
The 80-feet Rainbow Falls (also known as Waianuenue Falls) is located in Wailuku River State Park, just a few minutes away from Hilo's city center.
This spot is named after the stunning rainbows visitors usually see thanks to the sun shining on the fall's mist. But even if you're not lucky to glimpse this massive falls with a rainbow, it's still a sight to behold.
You can view Rainbow Falls in any of the super-accessible pair of viewpoints.
Near the parking lot – A paved walkway leads you to this is the main lookout, which is awesome if you're traveling with kids or adults with mobility issues.
Above the falls – If you want another view of the falls, take to the staircase (found to the left of the main lookout) for a vantage above the falls.
In the summer when the water is calm, swimming in the river is allowed. Skip the pool during rainy or colder months when flash floods are common. To be sure, check Wailuku River State Park for updates.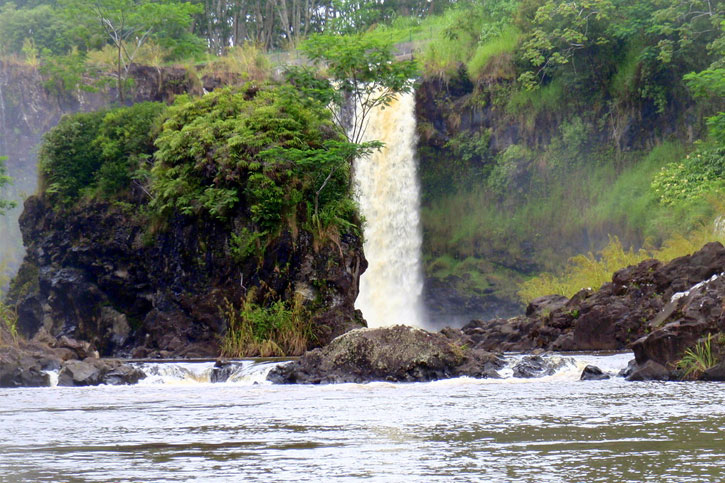 Location: Hilo, HI 96720
Visitor Info: Swimmable, but only for strong swimmers. No kids allowed in the water
Entrance fee: Free
Peepee or Pe'epe'e Falls (pronounced peh-eh peh-eh) is the lesser known waterfall located approximately 1.5 miles upstream from the famous Rainbow Falls.
Boiling Pots is more famous. It's a series of small pools notorious for strong currents that make it look like the water is boiling… and it's located near Pe'epe'e Falls. In fact, you'll need to follow the Boiling Pots trail to get to the falls.
The 50 to 60-feet Pe'epe'e Falls is fed by the Wailuku River, which is known for flash floods. Locals are aware of the sporadic rise in water and often brave the waters and swim near the falls. If you're visiting, it's best to enjoy Peepee Falls from the viewpoint.
Location: 875 Akaka Falls Rd, Honomu, HI 96728
Visitor Info: Perfect for sightseeing, photography and natural trails (no swimming here)
Entrance fees: Free parking, $5 per person entry. If you're a resident with a state park pass, your party goes in free.
If you're looking for the tallest waterfall in Hilo (and on the Big Island), you've got to see Akaka Falls.
Located within the Akaka Falls State Park, Akaka Falls is one of the most kid-friendly and accessible waterfalls in this area. You have several options of paved pathways to roam around the park.
You can't swim in the water, but the 440+ feet Akaka Falls is very well worth the tip with minimal effort. It's perfect if you just want another spectacular stop in your itinerary without spending much time, energy or money.
The park opens at sunrise and closes by 6pm. There's a 0.4-mile loop trail that takes you through a part of the jungle, then onto the lookout point, where you can view Akaka Falls in all its glory. You can view the smaller Kahuna Falls from here, too!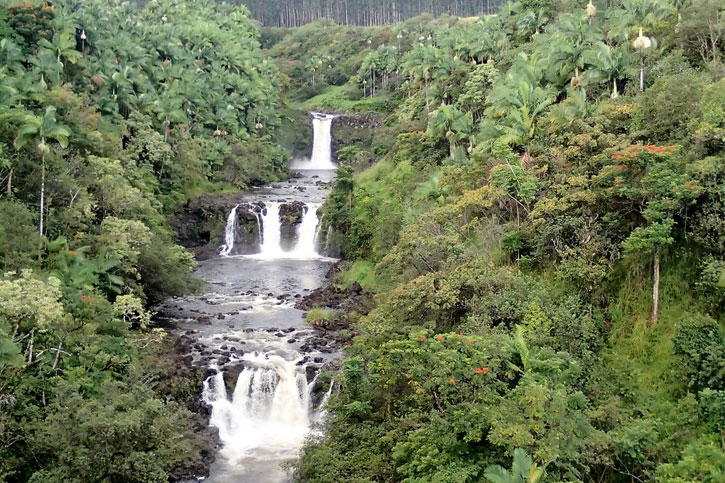 Location: 31-313 Old Mamalahoa Hwy, Hakalau, HI 96710
Visitor Info: Open from 8am to 5pm every day, except for Sundays
Entrance Fees: $12 + taxes & fees for the self-guided walking tour, discounted for locals with ID
Out of all the Hilo waterfalls, Umauma Falls is the destination to pick if you're looking for plenty of things to do and not just watching the falls.
Don't get me wrong, the Umauma Falls is a three-tiered, captivating 300-feet waterfall that would take anyone's breath away. But if you prepared a whole day to visit the waterfall, you might as well enjoy a full experience.
That's what The Umauma Experience is offering. Since the waterfall is located on private property, the area was more developed and offered several activities, including:
9-line zipline – This takes you to the falls super-quickly for $199 to $219/person. There's also a zipline+kayak combo (from $274 to $294) that lets guests ride a zipline to the falls, then enjoy swimming in the waters or on a kayak.
ATV tours – An exceptionally scenic ATV tour around the 5.5-mile private area. The tour lasts about an hour and a half and costs $212+taxes.
Horseback riding – Perfect for riders of all skills, this 2.5-hour tour lets guests see Hilo in a different light. You are led to the waterfall and picnic area as well. Fees begin at $145.
Guests can also just kayak and swim the Umauma River for $75 to $85 per person.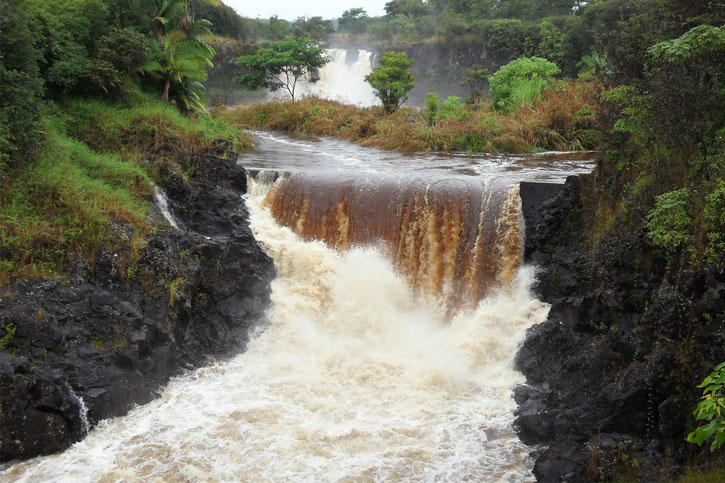 Location: Hilo, HI 96720
Visitor Info: The viewpoint by the road is always open for guests, but the path near the waterfall is sometimes closed out. Check the Wailuku River State Park for up-to-date announcement.
Entrance Fees: No fees to view the waterfall
Waiale Falls is a more underrated waterfall found further upstream from Pe'epe'e Falls, Boiling Pots and the famous Rainbow Falls. This means if you're visiting either of these three destinations, you can drive quickly to Waiale Falls.
Located on the outskirts of Hilo with just a 0.6-mile trail, Waiale Falls has two viewpoints:
One from a bridge (no need to hike) with free parking
The other requires a trek down to the falls, which can be slippery, rock or overgrown
Either route you go, you'll be glad you checked out the two-tiered Wai'ale Falls that cascade along the Wailuku River.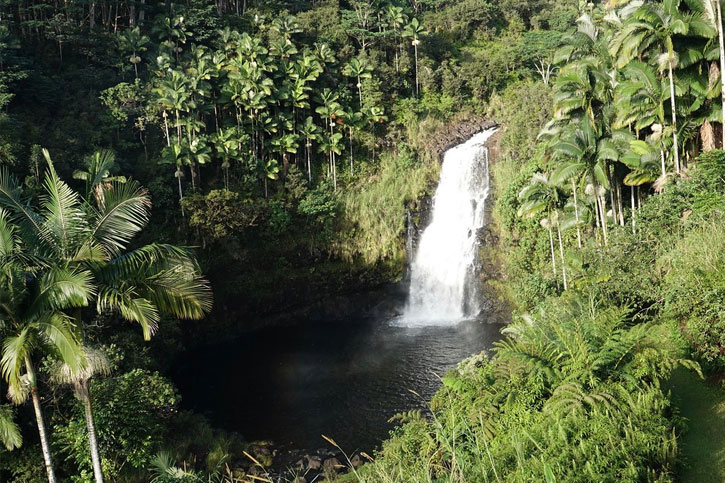 Location: Hilo, Hawaii 96720
Visitor Info: This waterfall is located in a private inn and you can't just visit without paying.
Entrance Fees: $29 to $49 day passes, overnight fees vary from $159 to $599 between accommodation type
Kulaniapia Falls is a 80-feet waterfall sitting on a 42-acre private land.
On one hand, you'd have to pay up to access the waterfall. Compared to other falls on this list, which have fees ranging from zero to $15, the day passes for Kulaniapia Falls seems steep.
However, because it is a private waterfall and the inn maintains the surroundings, you won't have to deal with crowds, the trail to the waterfall is kept clean.
The Inn at Kulaniapia Falls was featured on Netflix's "World's Most Amazing Vacation Rentals." If you're looking for an off-the-grid vacation where you can experience kayaking, rappelling, and swimming by the waterfall (that seems like it's your private natural pool), then the fees are definitely worth it.
Plus, the hike to the waterfall is ideal for all ages, even for kids.
Note that you need to book in advance, even if you plan just to do the day tour.
Exploring Hawaii Beyond Hilo Waterfalls
If you're looking for other Hawaiian destinations, check out Kauai's 10 best beaches, how to get up-close with Hawaii's manta rays, the best snorkeling spots in Maui, and 20 best places to visit in Hawaii.
I've also talked about a couple of awesome activities in Oahu, from cliff jumping to snorkeling. Also check out my 10 best beaches in Oahu and 6 botanical gardens in Oahu where you can discover exotic plants.