If you're planning to check off your bucket list cliff jumping Oahu, Hawaii, read on to find out which thrilling spots are best for beginners or advanced jumpers…and other essential details before you go.
Cliff Jumping Oahu: Safety First
Oahu is home to many cliffs and waterfalls that have attracted thousands of adrenaline-seeking people from all over in hopes of cliff-jumping to their hearts' contents.
Note that before you jump, not all of the spots below are open to the public. Some cliff-jumping spots in Oahu are located or within private property, so you are risking trespassing if you decide to continue walking to the diving spot.
Fortunately, many have signs that let you know if cliff-jumping in that particular spot is allowed or not. Plus, remind yourself of these tips:
Talk to locals. Many cliff-jumping spots have a small crowd waiting for people to jump off. If this is your first time, ask them which area to get out of the water from (and other possible tips). If there's no one to ask, do the next tip instead…
Observe. Watch how others before you do it. Where did they swim after reaching the water? How did they avoid rocks?
If unsure, don't force it. Confidence and cliff jumping go hand-in-hand. If you're unsure of your own swimming skills or you're not feeling well, it's better to try again next time.
Lastly, if there's an emergency. Call Ocean Safety and Lifeguard Services Division via +1 808-723-7861 or dial 911.
10 Cliff-Jumping Spots in Oahu for all Skill Levels
There are over a dozen spots around Oahu that's perfect for jumping off cliffs, but here are the 10 options locals recommend:
1. Laie Point State Wayside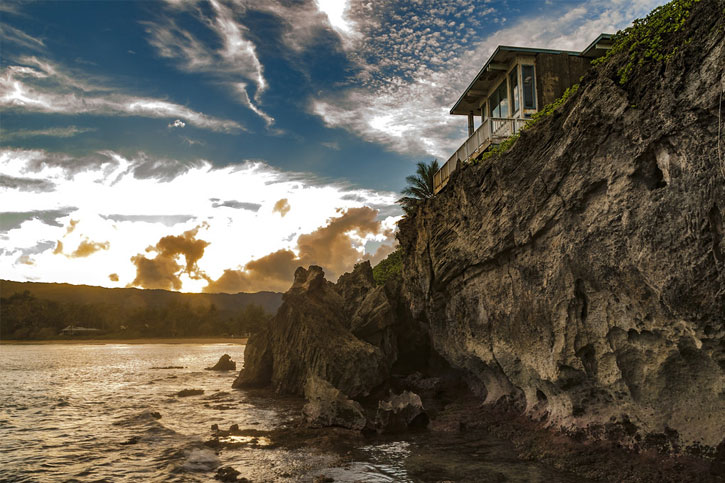 Skill level: Advanced or Experienced
Height: 45 feet high
Laie Point is one of the most popular cliff-jumping spots in Oahu's North Shore since it isn't death-defyingly high, but also not super-low. It's ideal for someone who has experienced jumping off a cliff before and want to go higher up a notch.
At about 45 feet high, Laie Point isn't just for thrill-seeking cliff jumpers. It's also a perfect spot for fishing and photoshoots, thanks to the views of Oahu's gorgeous coastline and picturesque mountains. If you get the feeling that you've seen this place, it's probably because it's the main beach in the comedy flick "Forgetting Sarah Marshall."
If you plan to jump, be extra careful of the strong waves, especially in colder months.
2. The Mokes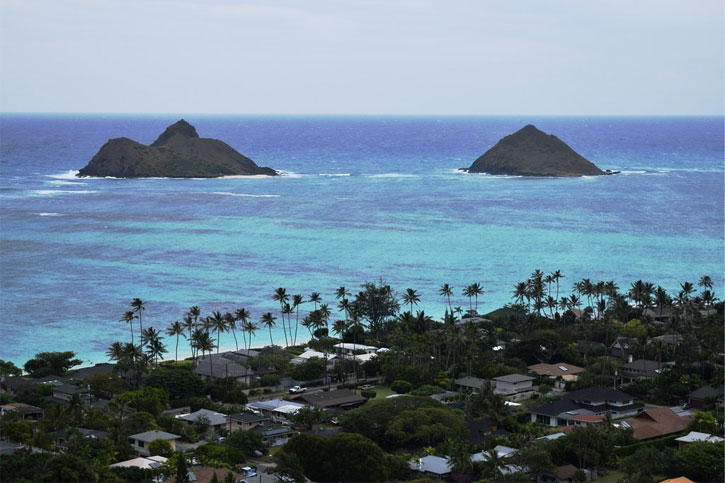 Location: Kailua, HI 96734, USA
Skill level: Beginners to Experts
Height: 13 feet high
Lovingly called "The Mokes" by locals and those who visit the place often, this pair of small islands is officially called Na Mokulua.
The Mokes has two parts: Moku Nui (the big island) and Moku Iki (the little island). To get here, you'll have to take a 30-minute canoe or kayak trip from either Lanikai Beach or Kailua Beach.
The famous cliff-jumping spot at The Mokes is found on the island on the left – the Moku Nui. What makes this spot great is that it can accommodate both beginners and experts. If you're new, jump from the lower part of the cliff, while beginners could get a more thrilling experience by jumping from the top.
Aside from cliff-jumping, The Mokes is also good for snorkeling and birdwatching (it's a sanctuary of over a dozen water birds).
3. Waimea Bay Beach Cliff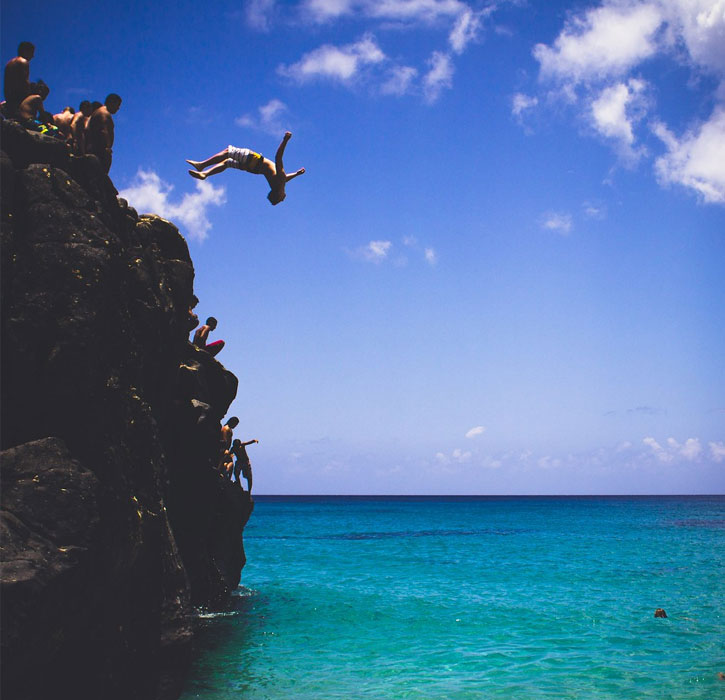 Waimea Bay Beach is a family-friendly beach with all things fun-in-the-sun, as long as you skip the winter when big waves can lead to strong waves that beginners may not be able to handle. Summer is the perfect time for cliff jumping because of the calm waters.
The jump is about 25 feet high and jumpers can begin from any spot. The highest point of the rock is near the middle.
Many love the Waimea Bay Beach cliff because the climb back up is quick, giving jumpers a second, third or unlimited jumps to their hearts' content. Beginners even jump from the 5-feet level and work their way up.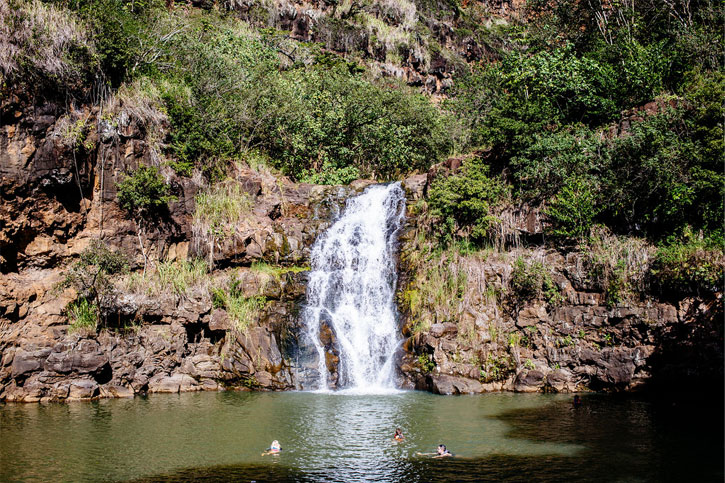 Waimea Falls is located in the heart of Oahu's North Shore, hidden just behind Waimea Bay Beach. It is another popular hike that ends up with a cliff jumping area.
The trail leads you to Oahu's best animals and flora and fauna without going to deep into the forests. Once you get to the falls, you can choose to swim (there's a natural pool behind the falls) or jump off the cliff.
Jumping off the Waimea Falls is quite dangerous because of the large rocks. Lifeguard also prefer visitors not to jump here as well.
4. Spitting Caves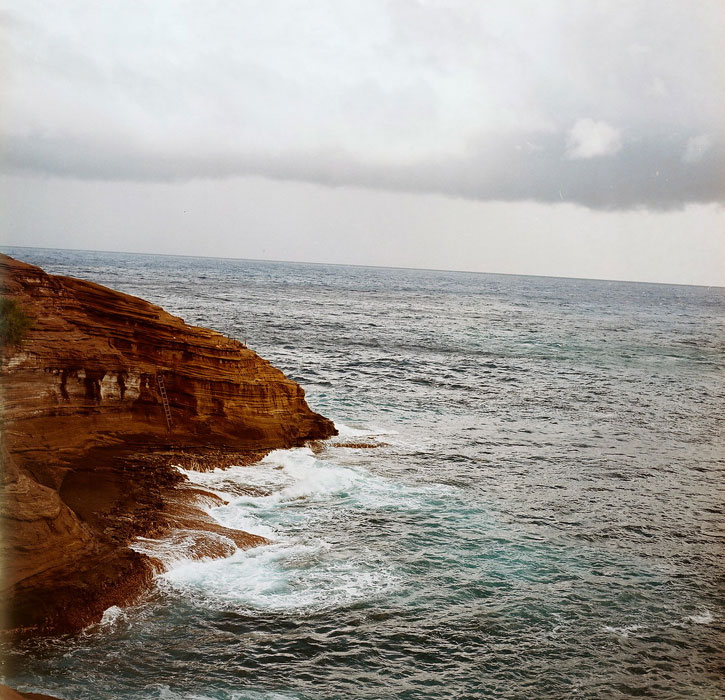 Located in Portlock, Spitting Caves is a popular (but dangerous) spot for cliff-jumping in Oahu. The place is named as such because of the hidden cave underneath, which is filled with water then "spits" it out right after.
Spitting Caves offers a 60- to 80-feet jump, which is why it's only ideal for experienced jumpers. It's still a cool place to hang out, as many skilled cliff jumpers really show off their skills here.
There are ledges that make it a bit ideal for beginners, but since the waters can get pretty deep during high tide and it is prone to ripples, it's best left for the pros. If you're not jumping, you can still enjoy whale watching (Spitting Caves is known for).
5. Mauna Wili Falls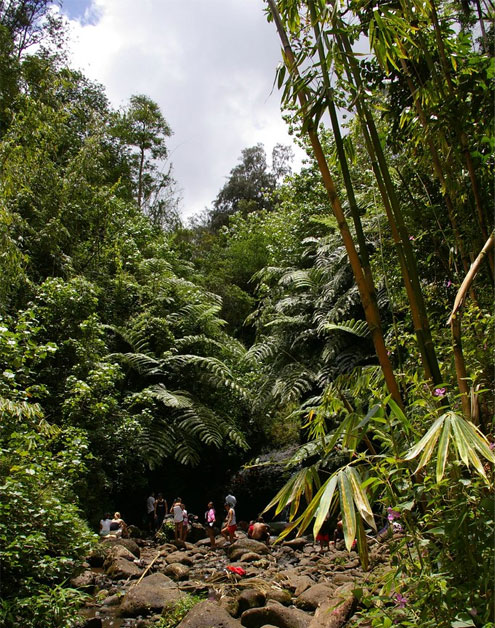 There are several cliff-jumping spots located at Oahu waterfalls – one of them is the Mauna Wili Falls.
The problem (or advantage), depending if you like natural trails or not, is that there needs to be some hiking involved for waterfall cliff jumps.
In the case of Mauna Wili Falls, you'll have to go on a two-mile hike to reach the falls. The path is quite picturesque with thick foliage, but it can be slippery in some parts.
Mauna Wili Falls is only 20 feet high, so the jump can be for beginners to mid-skilled jumpers.
6. Waimano Falls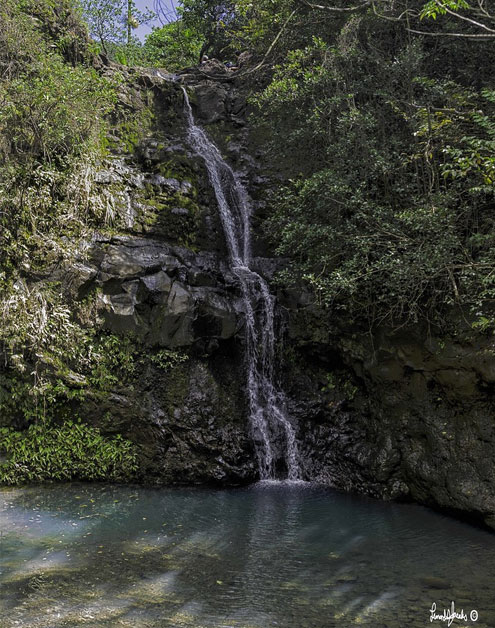 The path to Waimano Falls involves a strenuous two-mile hike, but the payoff is good if you're looking for a unique cliff-jumping spot in Oahu.
Like most waterfalls cliffs, the water depth at Waimano Falls will depend on the season. Summers tend to be dryer, while rainy seasons fill up the pool.
7. Alan Davis Plank Jump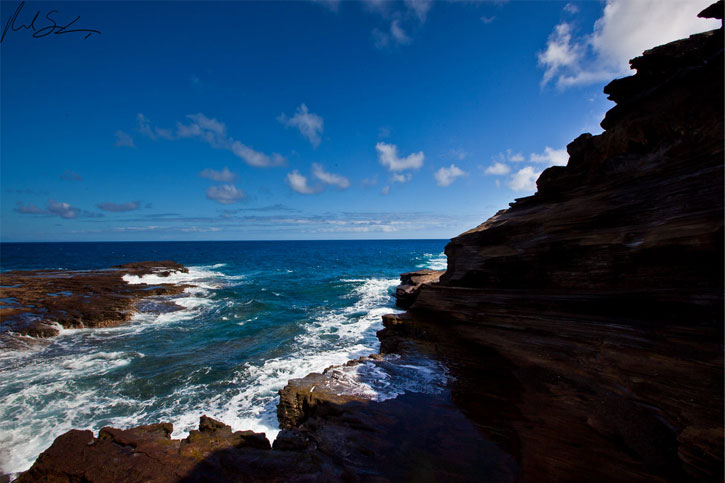 The cliff jumping spot at Alan Davis Beach is ideal for all ages – it's only 5-feet high! But you do need to be careful going up the rocks and out of the water. There usually are two wooden planks available so you could go out more safely.
If your kid really wants to try cliff-jumping, Alan Davis Beach is the place to go. It can be pretty crowded here though, especially during weekdays. Even schoolkids and local kids visit this spot just to hang out and have fun.
8. Kapena Falls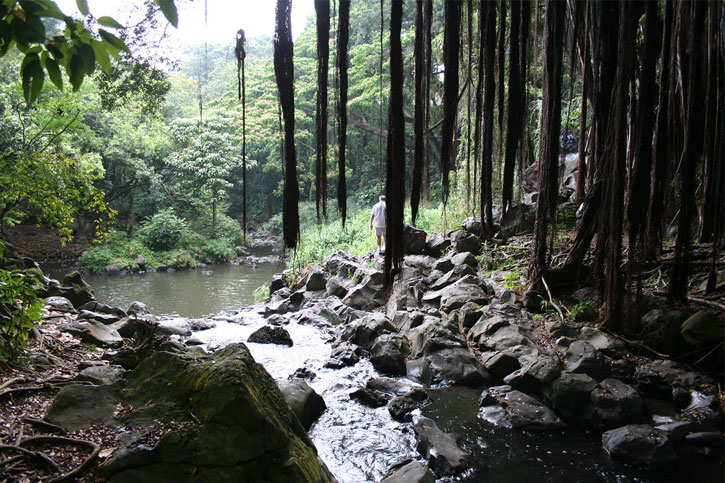 Located near the Nuuanu Memorial, the path to Kapena Falls is an interesting mix of jungle-like forest and boulders. As such, prepare for a challenging hike.
The Kapena Falls itself drops to 40-feet high as well. And because there's rocks and deep-blue waters when you jump, you have to be super-careful when making the jump.
9. China Walls Cliff Jump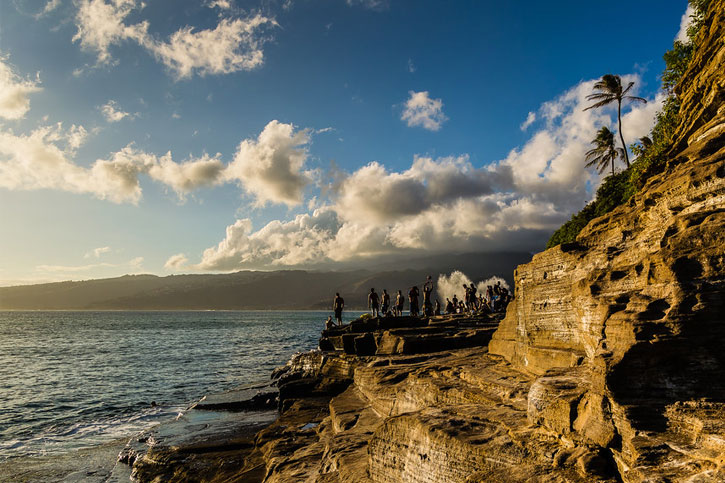 Located near Spitting Caves, China Walls is another awesome cliff-jumping destination. Here, you'll be in awe with the unique rock formation that attracts serious surfers and cliff-jumpers
If you've been around other cliff-jumping spots in Oahu, you'll get deja vu with this one since China Walls feel similar to Spitting Caves, which is just around the corner.
China Walls feature 15- to 20-feet high jumps, which is ideal for experienced but medium-skilled jumpers.
Skip this spot during winter – strong currents can be dangerous (especially to those who are new to Oahu's waves).
10. Leap of Faith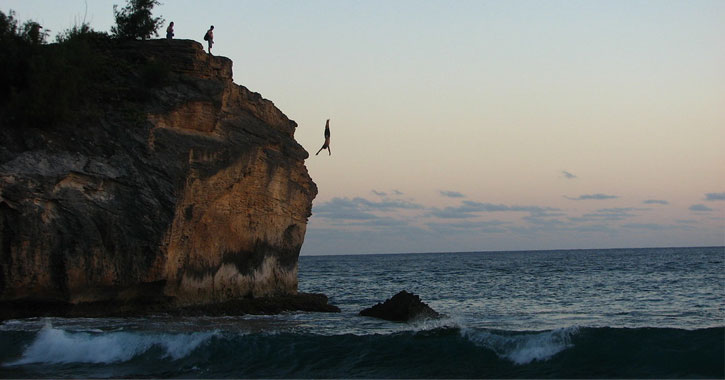 Skill level: Professionals
Height: 85 feet high
If you're looking for the most challenging cliff-jumping spot in Oahu (or in all of Hawaii), this Portlock spot, southwest of the Hanauma Bay Nature Preserve is definitely a-must visit!
The jump of this cliff is 85 whopping feet high and once you reach the water, turbulent tides will embrace you as well. It is why locals and lifeguards warn people to only jump if they've done something this extreme before and if they're strong swimmers.
Out of all the cliff-jumping Oahu spots, the Leap of Faith is one of the most aptly named jump-offs.
Beyond Cliff Jumping Oahu
If you've faced your fears and successfully jumped off some of the best Oahu cliff-jumping spots above, what's next?
Explore more of Oahu – this time underwater with some of the best snorkeling spots in Oahu or just chill under the sun of any of these 10 best beaches in Oahu. In land, you can also discover exotic plants at these 6 botanical gardens in Oahu.
If you're looking for other Hawaiian destinations, check out Kauai's 10 best beaches, how to get up-close with Hawaii's manta rays, the best snorkeling spots in Maui, and 20 best places to visit in Hawaii.