If you read my post about 15 Northern California waterfalls and you're curious about more, let's explore other marvelous waterfalls in California.
Did you know that there are actually over 250 waterfalls in the Golden State?
10 Must-See Waterfalls in California
Here is my list of 10 waterfalls in California that every waterfall-chasing adventurer should include in their bucket lists.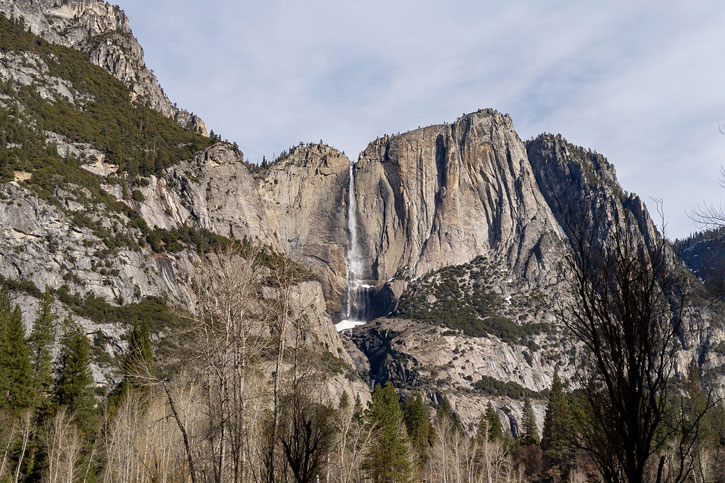 Picking Yosemite to chase waterfalls is such an awesome idea, especially if you're planning a weekend-long or week-long adventure and camping out.
One Yosemite waterfall I missed in my last post is the 500-foot Horsetail Fall. This waterfall is also called "Firefall," since it looks like it glows in winter (a few weeks by the end of February) when the orangey sunset lights up the waterfall making it look like the waterfall is ablaze.
Even if you don't get to see its Firefall version, Horsetail Fall is still a must-see waterfall.
Check here if you wish to include other Yosemite waterfalls into your itinerary.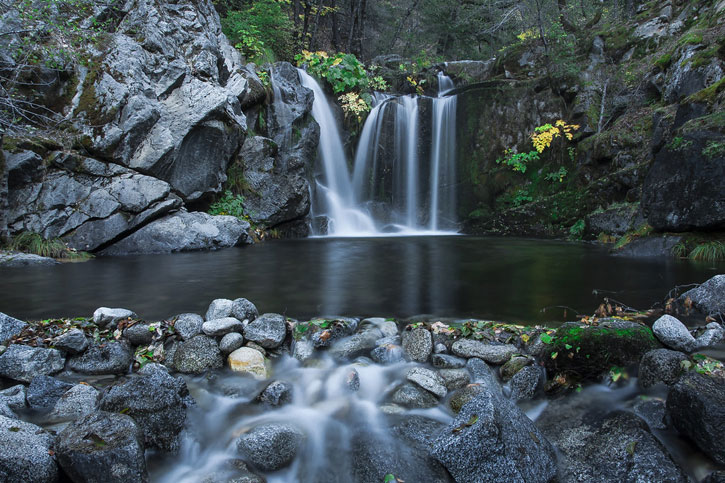 Visitor Info: You'll need your National Park Pass or pay $25 day pass at the visitor center of Whiskeytown National Recreation Area
Whiskeytown National Recreation Area is home to several waterfalls: Whiskeytown Falls (discovered in 2004), Brandy Creek Falls (recently closed to the public), Boulder Creek Falls, and Crystal Creek Falls.
Getting to the Crystal Creek Falls requires a friendly flat and paved half-mile hike. Local families tend to go in the summer since the natural pool below the waterfall offers a shallow swimming spot ideal for all ages and the surrounding areas provide plenty of shade.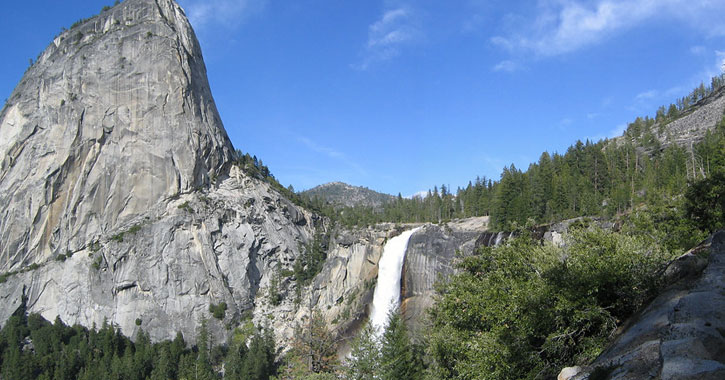 Visitor Info: $20 to $35 entrance fee (or Annual pass), except for several holidays that are free-to-enter days
The best thing about this Nevada Falls is that you can go very close to the falls. It is often visited along with Vernal Fall (which shares the same trail as Nevada Fall).
This 594-foot Yosemite National Park waterfall is formed by the Merced River and drops down on a granite cliff, making that spectacular tumble more dramatic.
There are two paths going to the Nevada Fall – either the 5.4-mile roundtrip Mist Trail (with 600 steps to the falls), or the John Muir Trail (with views of Half Dome and Mt. Broderick).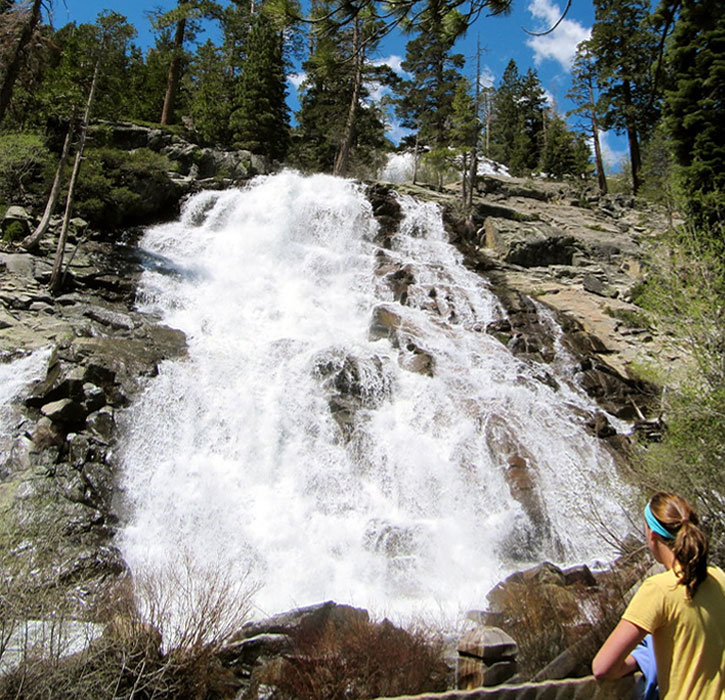 Visitor Info: There is a $10 parking fee at the Eagle Falls/Eagle Lake trailhead, Only accepts cash.
You can find several waterfalls in the Lake Tahoe region thanks to the amount of snow the place gets and the high elevation – it's a perfect combination for cascading falls.
But if you can only visit one, I recommend you go with Eagle Falls. Visit in the summer – it can get pretty dangerous here in winter.
Eagle Falls isn't the biggest waterfall on this list, but it's one of the easiest to visit (there's only a 2-mile roundtrip hike from the parking area to the falls). You also get to view Lake Tahoe peeping at the back.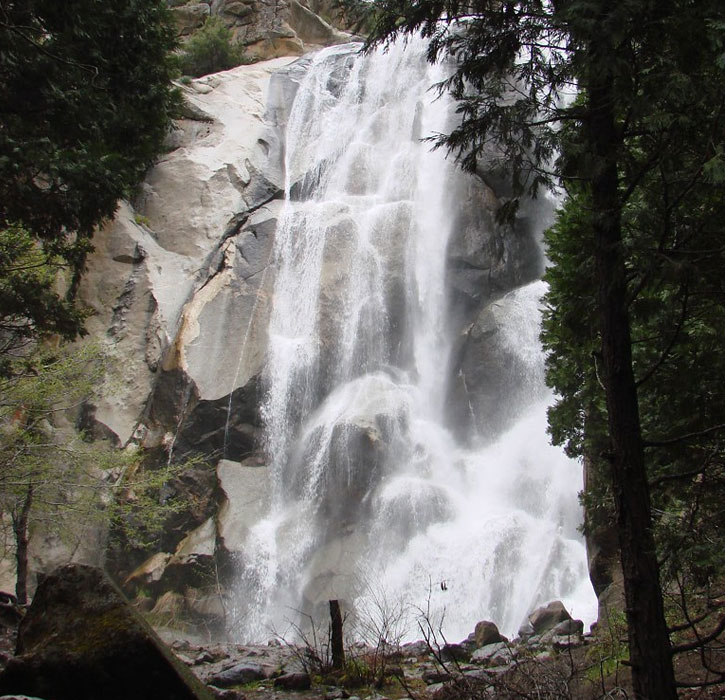 Visitor Info: Road going here is closed in the winter.
I mentioned Grizzly Falls on my Sequoia vs. Redwood post in passing, but this waterfall should definitely have its own spotlight.
You have two ways of checking out this 80-feet waterfall:
You can partially view Grizzly Falls from Generals Highway, the scenic road you take when going from Sequoia National Park to King Canyon National Park.
Make the 0.1-mile roundtrip hike that takes you to the picnic area and base of the falls.
Grizzly Falls is best viewed in the spring or early summer when Grizzly Falls look "fuller" from snow melt.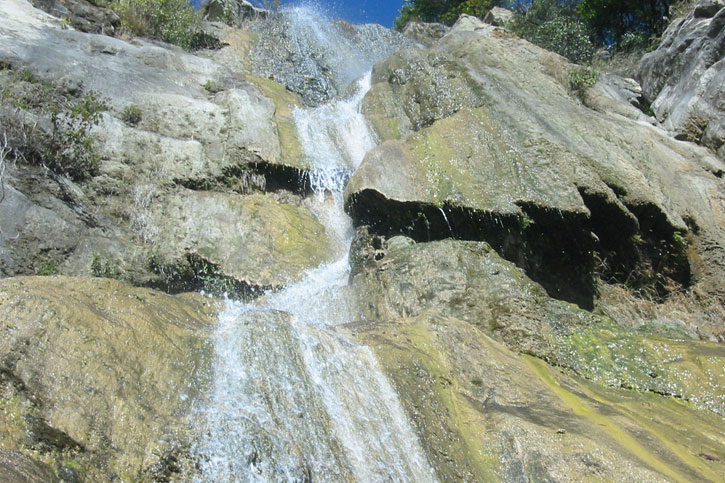 Visitor Info: No fee is required to hike the falls, but entry to the Los Padres National Forest requires either an annual pass or vehicle pass.
The hike to Tangerine Falls is considered quite challenging. Not because the waterfall drops a whopping 100 feet, but due to several creek crossings and climbing boulders at the end of the trail just before the base of the falls.
Ideally, the best time to visit Tangerine Falls is March to November where the boulders aren't so slippery and the waters aren't as shallow.
The payoff once you reach Tangerine Falls is worth everything! You have a panoramic view of the canyon below and parts of the Pacific.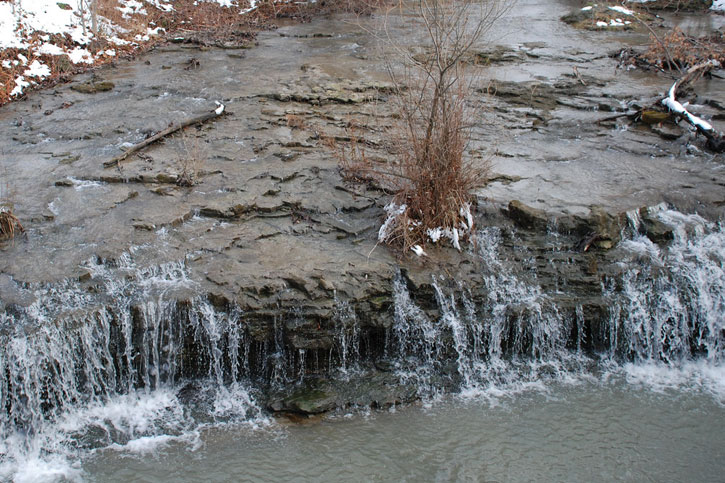 Three Sisters Falls is just a 4-mile roundtrip hike, but this isn't a dog-friendly, kid-friendly trail. It is quite a treacherous hike that begins on a descend, but many people visit because it's San Diego's and Southern California's most famous waterfall.
Three Sisters Falls is named after the 150-foot waterfalls three tiers, each of which stand about 25- to 30-feet high. If you're after a waterfall with a swimming hole to cool off, stick with the top two tiers.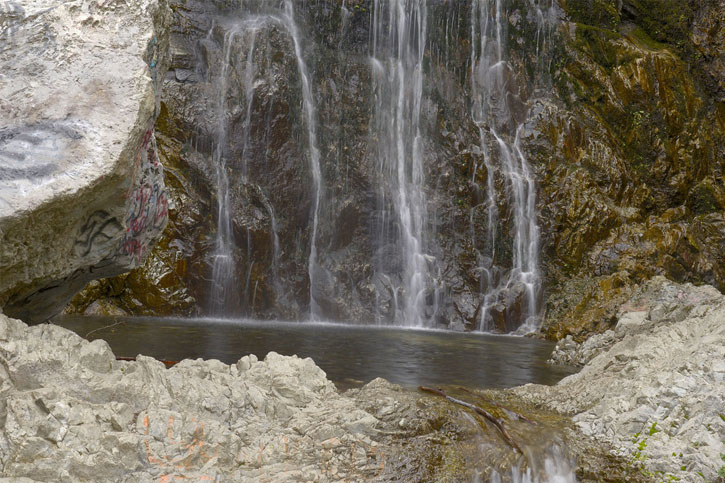 Formed by Bonita Creek in San Bernando National Forest, Bonita Falls is actually a set of waterfalls that is reportedly up to 500 feet (no one is sure because two drops in the canyon above are still undocumented and even pros advise not to hike up there).
Bonita Falls is one of the tallest waterfalls in southern California. Getting here requires a 1.5-mile hike with some challenging areas. If you can pick a time to visit, go around 12 noon to 3pm when the water falls the strongest.
The good news with Bonita Falls is that there is amenities nearby (you can go to the restroom at the campground), but the bad news is the graffiti has gotten bad in recent years.
9. Darwin Falls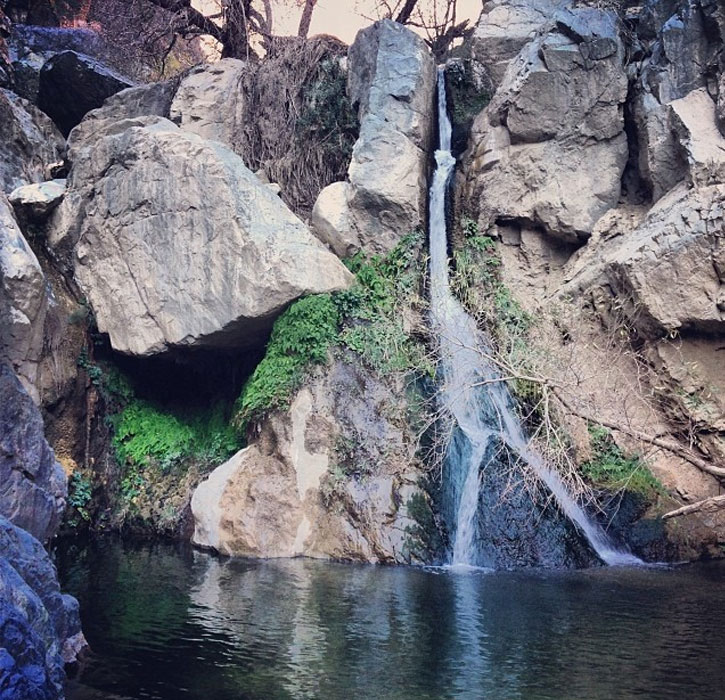 Ironically, Death Valley National Park is known as one of the driest places on the planet, but Darwin Falls is just one of the many waterfalls that flows year-round.
The access road from CA-190 is a rough gravel road, but it still amazing to go past the dry desert only to be welcomed by a rushing Darwin Falls, a creek and lush vegetation, frogs, insects, and birds. Getting here begins with a hike from Panamint Springs Resort, where the two-mile roundtrip trail consists of an unmarked dirt road.
Note that the hike to the 80-feet Darwin Falls has some creek crossings. Ideally, visit in the morning when temperatures in the park are still low.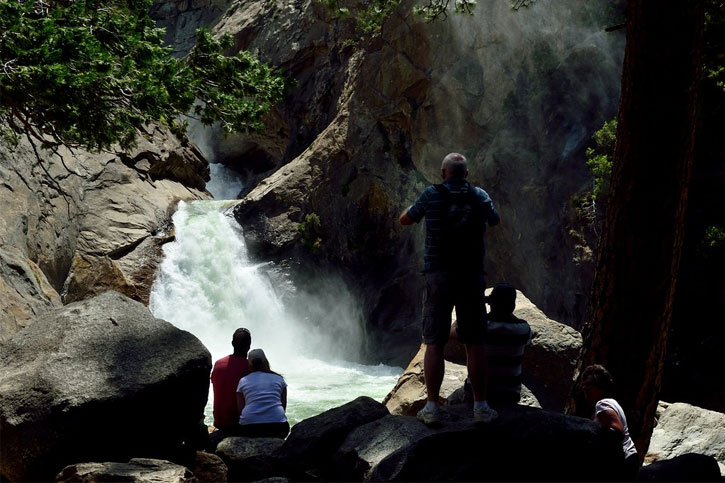 Visitor Info: You'll need either an annual pass, or pay for a pass (per vehicle or per motorcycle). If you're entering Kings Canyon National Park by bike or foot, you'll need to pay per person.
Roaring River Falls is a 25-feet waterfall located near Kings Canyon and Sequoia National Parks.
If you're here for the view, you can access Roaring Falls within a very quick walk (about 0.3 miles) from the paved trail off Highway 180.
Roaring Falls cascades over granite monoliths into a rock pool. If you want to go up-close to the pool below, you'd have to climb down.
FAQs about Waterfalls in California
Which are the tallest waterfalls in California?
9 out of the top 10 tallest waterfalls in California are found in Yosemite National Park.
Yosemite Falls (2,425 ft or 739 m)
East Snow Mountain Falls (2,200 ft or 670 m) <- located at the Eldorado National Forest
Sentinel Fall (1,920 ft or 590 m)
Widow's Tears (1,680 ft or 510 m)
Ribbon Fall (1,612 ft or 491 m)
Horsetail Fall and Columbia Cascade are tied at 1,400 ft or 430 m
Wapama Falls (1,310 ft or 400 m)
Staircase Falls (1,300 ft or 400 m)
Royal Arch Cascade (1,250 ft or 380 m)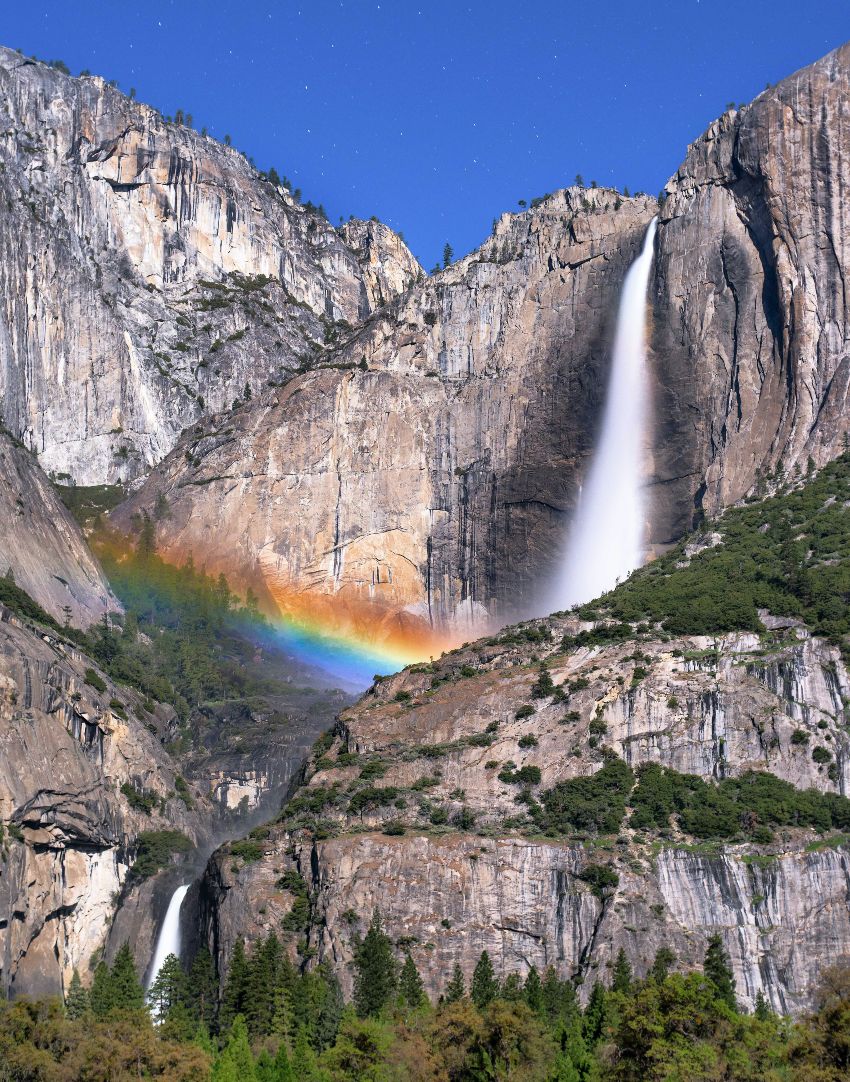 What are the most famous waterfalls in California?
Yosemite Falls isn't just a famous waterfall in the country. Aside from the Niagara Falls, Yosemite Falls is also often included in lists of the world's best waterfalls.
Which waterfalls in California are the hardest to reach?
The most challenging waterfall hikes in California is the Vernal Falls and Nevada Falls via Mist Trail, which takes about 4 hours to complete but gives you a memorable payoff with sights to two waterfalls. Prepare to get wet on this trail.
Are they drive-by waterfalls in California?
The McCloud River boasts three gorgeous waterfalls that you can access either via hours-long hike, or from strategically-placed overlooks. If you're just passing by and want a big payoff without the hikes, you can drive to the overlooks for Middle and Upper Falls.
If you're driving to Big Sur, McWay Falls is an amazing stop. However, there is a very quick hike (about 5 to 10 minutes) going down the overlook). But once you get there, I'm sure you'd be glad you went down for this view: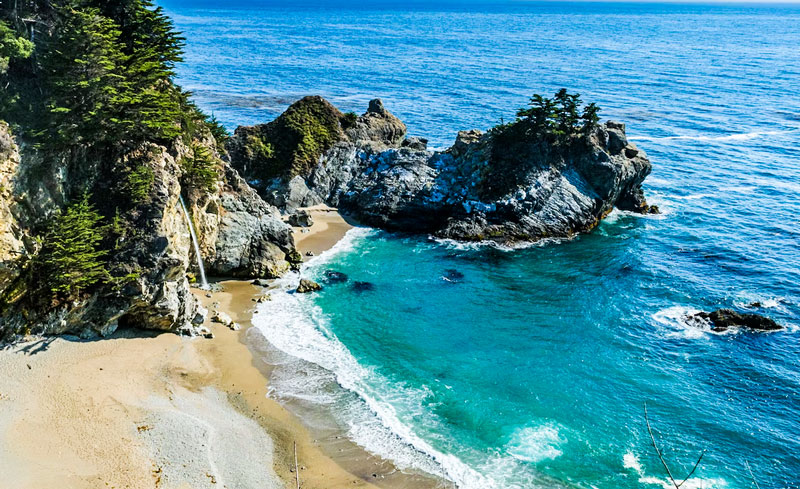 It's a majestic 80-foot waterfall situated in a cove with turquoise blue waters and a backdrop of lush, Big Sur forest.
Northern California Falls
I intentionally didn't include Northern California waterfalls, since I wrote about them more extensively awhile back. If you're traveling on that side of the Golden State, then check my post on my 15 favorite waterfalls in Northern California.
If you're on a mission to chase waterfalls around the country, I've also written guides about waterfalls in Kansas, Oklahoma, Massachusetts, Tennessee, Vermont, Arizona, Ohio, Oregon, and other under-the-radar waterfalls in the US.