Visiting the best mountain ranges and mountains in the USA is an experience you cannot match with any other activity. Being one with nature and all its glory makes you appreciate everything else.
Whether you're new to hiking or have been checking off your bucket list for years, this list of the country's best mountains to explore should give you some inspiration on which area to tackle next.
8 Most Stunning Mountain Ranges in the US
Mountain ranges, a series of mountains/ hills ranged in a line and connected by high ground, are some of the most beautiful views in the world. Not only is the trip to the top extremely satisfying, some of these mountain ranges are also great for nature photography, bird watching and other wildlife viewing, camping, and hiking.
Here are 10 major mountain ranges in the US that you should visit at least once in your life: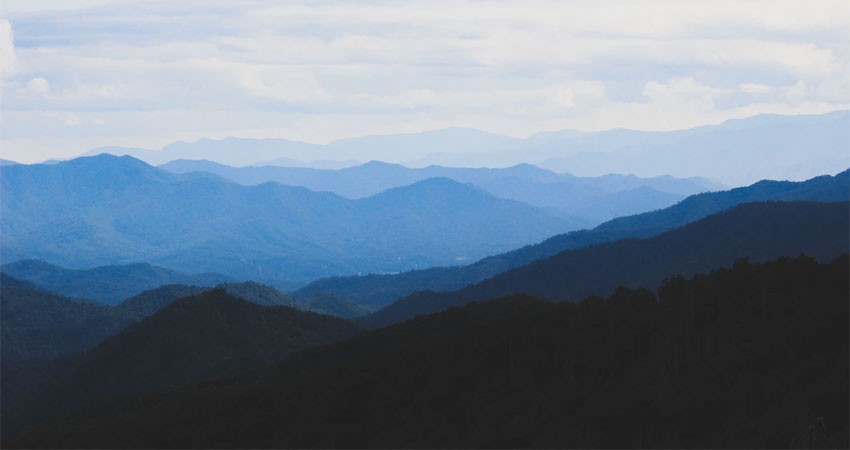 Location: Great Smoky Mountains National Park, North Carolina and Tennessee
Highlights: Clingman's Dome, Mt. Cammerer View, and Cades Cove
As its name suggest, the Great Smoky Mountains is known for the "smoky" fog that you see hovering at the peaks. You can get up-close by going to Clingman's Dome (highest point in the park at 6,644 feet), Mt. LeConte, or Mt. Cammerer.
Aside from camping, fishing, white-water rafting in the Nantahala or Ocoee, horseback-riding, ziplining over Dunn's Creek, waterfall chasing at Ramsey Cascades and Laurel Falls, you can also witness the cool synchronous fireflies light up the summer nights in Elkmont around early June.
There are also over 200 species of birds, black bears, about three dozen salamander species, and other wildlife all over the Smokies.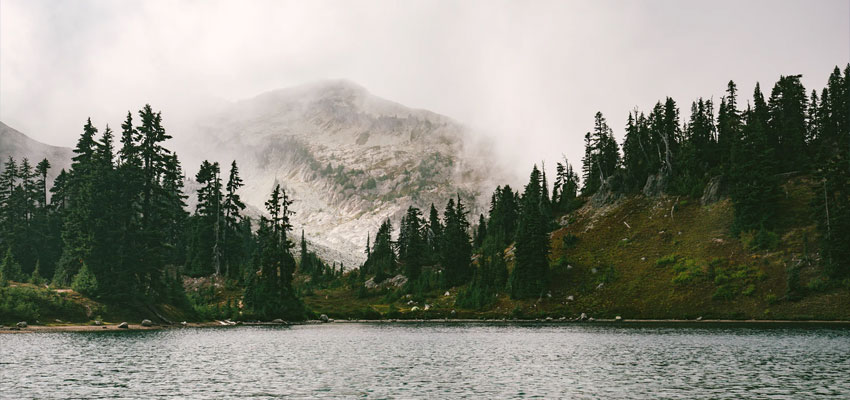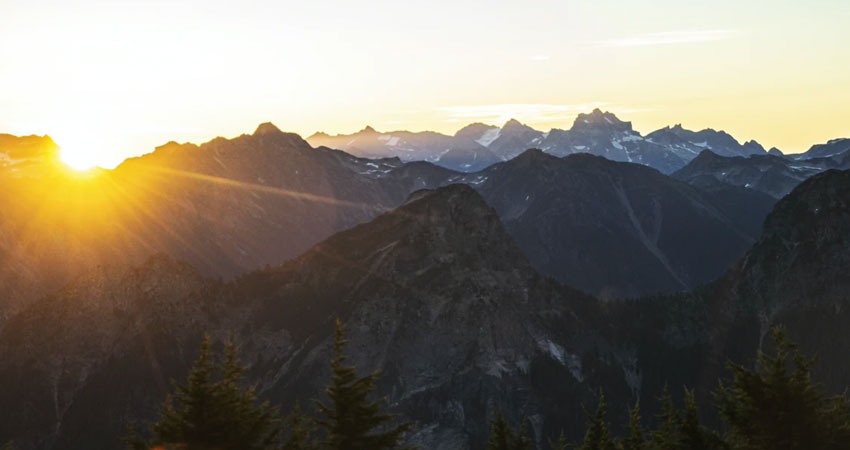 Location: North Cascades Western US (Washington, Oregon, and California) plus parts of Canada
Highlights: Mount Saint Helens, Mount Shuksan (second-highest peak in the park), Ladder Creek Falls 
Located within the North Cascades National Park, this range is aptly called the American Alps because of its beautiful snow-capped mountains. It is home of Mount Rainier, the highest point of North Cascades with an elevation of 14,411 feet and has many world-class climbing routes (cliffs, ice and other challenging routes).
Camping is possible, but hikes are required since there is no driving to campgrounds allowed. Good thing there are endless woodland wilderness you can explore and experience.
Don't forget to take pictures because passing through any of the 400 miles of forest hiking trails can be one-of-a-kind experience. Even better if you can paddle in stunning glacier lakes (check Diablo and Ross Lakes), if you're after breathtaking photos.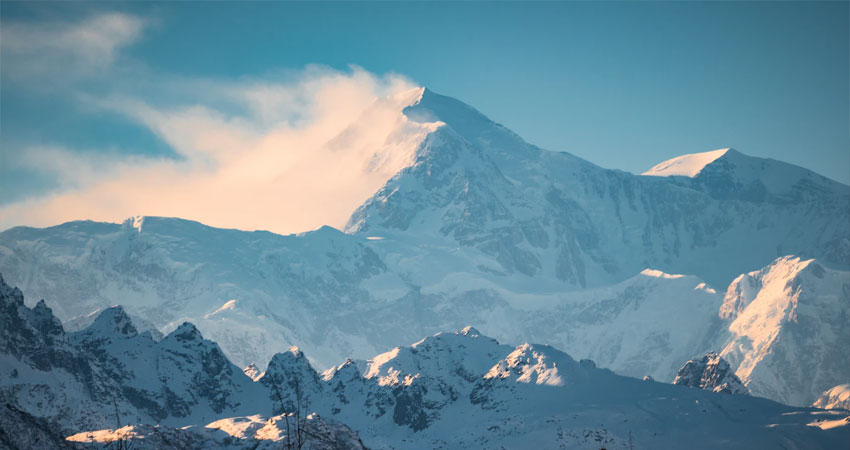 Location: Alaska-Canada border all the way to the Alaska Peninsula
Highlights: Denali, the world's coldest mountain, Caldwell Glacier and other famous mountains like Mount Hayes, Mount Moffet, Mount Shand and the Delta Mountains 
The Alaska Range is a 600-mile long arc of mountains located within the Denali National Park and Preserve. There are 278 named mountains in Alaska Range and numerous majestic rock formations. Because of the range's height and distance from the equator, this range is a place of eternal winter and glaciers.
As you'd imagine, the Alaska Range can have violent winds and snow. Many areas, such as the Kichatna Mountains, offer quality, but very technical climbing that only advance climbers are able to explore.
There are a ton of trails available, each with varying degrees of difficulty. Also note that nature photography may be tricky in sub-zero temperatures.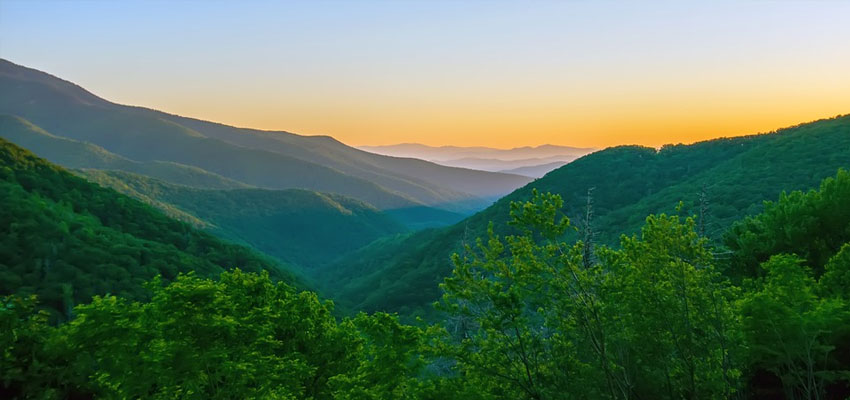 Location: From Carlisle, Pennsylvania, through parts of Maryland, Virginia, North Carolina, and South Carolina, to Mount Oglethorpe, Georgia
Highlights:  Blue Ridge Scenic Railway, Pisgah National Forest  
This mountain range is just a small part of its parent Appalachian Mountains range, but it is a famous one for its blue-tinged landscape which comes from isoprene emitted by plants and trees in the area.
The Blue Ridge Mountains is also ripe with options for outdoor activities from camping to hiking, horseback riding, ziplining, fishing, paddle-boarding, and wildlife sightseeing.
If you're into nature photography, but not so much on hiking, there's a scenic drive through a section of the mountains.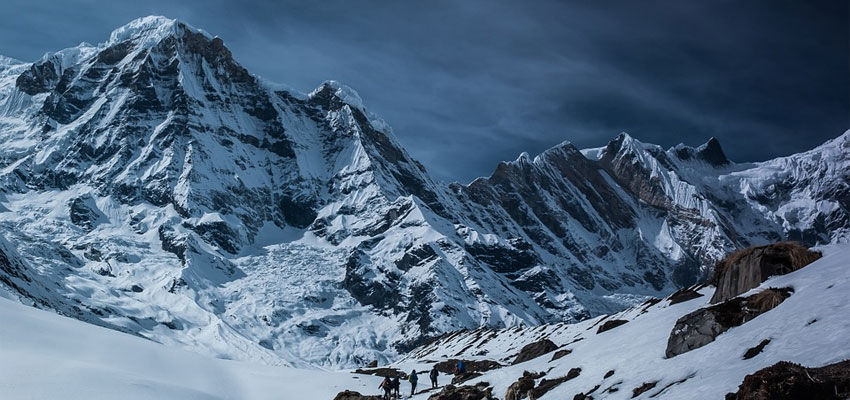 Location: From British Columbia and Alberta in Canada through Idaho, Montana, Wyoming, Colorado, and down to New Mexico in the U.S.
Highlights: Teton Range, Uinta Range, Jackson Glacier, Grand Prismatic Spring, sandstone formations at Denver's Roxborough State Park 
Also known as "The Rockies," the Rocky Mountains cover 3,000 miles, 300 miles of which are exclusive for hiking trails.
The Rockies is home to several US national parks (Yellowstone National Park, Glacier, Grand Teton, Great Sand Dunes, Sawtooth National Recreation Area) and Canada national parks (Banff, Jasper, Kootenay, Waterton Lakes and Yoho National Parks).
There are four subdivisions of the Rocky Mountains: the Canadian Rockies, the Middle Rockies, the Southern Rockies, and the Colorado Plateau.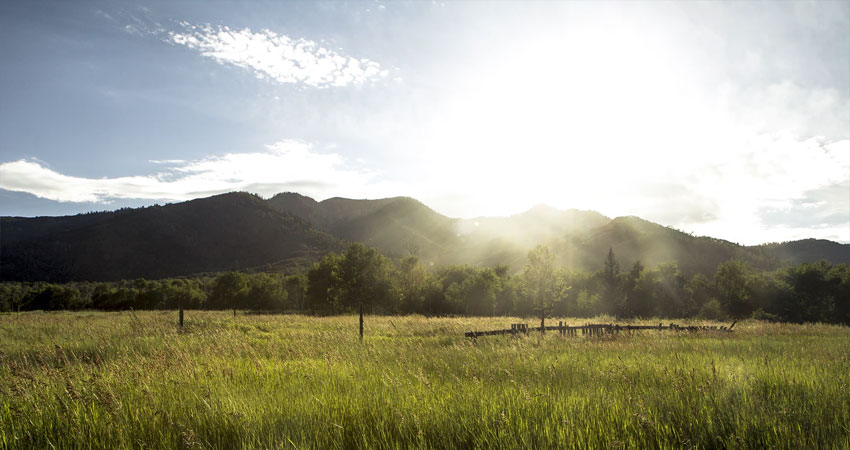 Location: Inside the Ashley National Forest, Northeastern Utah and a small part of Colorado and Wyoming
Highlights: Naturalist Basin, Mirror Lake, Bald Mountain, Notch Mountain, Dinosaur National Monument  
The Uinta Mountains is just a small mountain range, but it is noteworthy because of their great number of lakes (about 1,000 natural lakes), and 400 miles of streams that flow down through thick forest.
In the Uinta Mountains, you can camp, hike, raft, go boating or fishing, as well as a plethora of other outdoor activities. Note that there are many dead-ends deep into the forest, so prepare your trails extensively.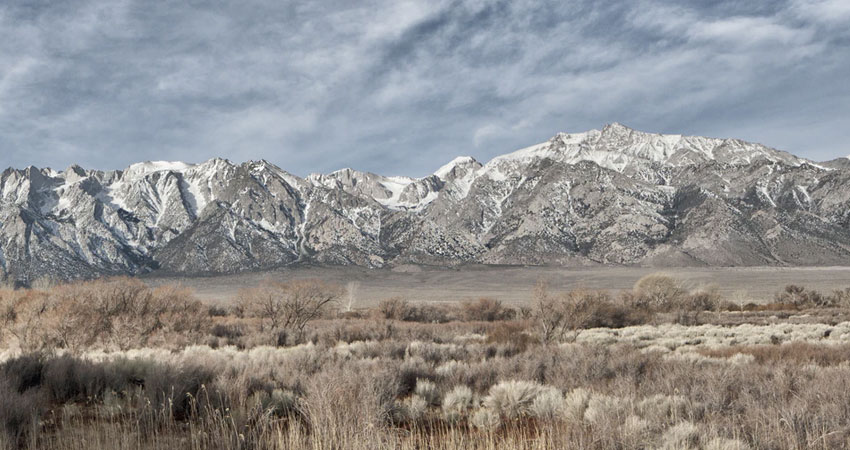 Location: California and Nevada
Highlights: Mount Whitney, giant sequoias at Yosemite National Park, Lake Tahoe, Mammoth Lakes 
Sierra Nevada extends more than 250 miles and is famous for having one of the most beautiful physical features in the country. Take time looking up to see magnificent skylines or the spectacular landscapes at any of the numerous stops readily-available for tourists.
As one of the biggest range in California, the Sierra Nevada range is a favorite quick getaway of Californians if they're after some outdoor activities. This area was the home to dinosaurs 5 million years ago and was also the focus of the celebrated California gold rush.
Sierra Nevada range encompasses a vast area. Even the Yosemite National Park can't be explored in just 1 day. But I'm sure this range has everything for everyone. For example:
Nature photography at Kings Canyon National Park (if you're looking for less crowds than Yosemite
Trekking, water activities, and if a rich mining history of Mammoth Lakes
Horseback-riding at the eastern side of Sierra Nevada
Marveling at the giant trees and climbing the 6,725-foot Moro Rock of Sequoia National Park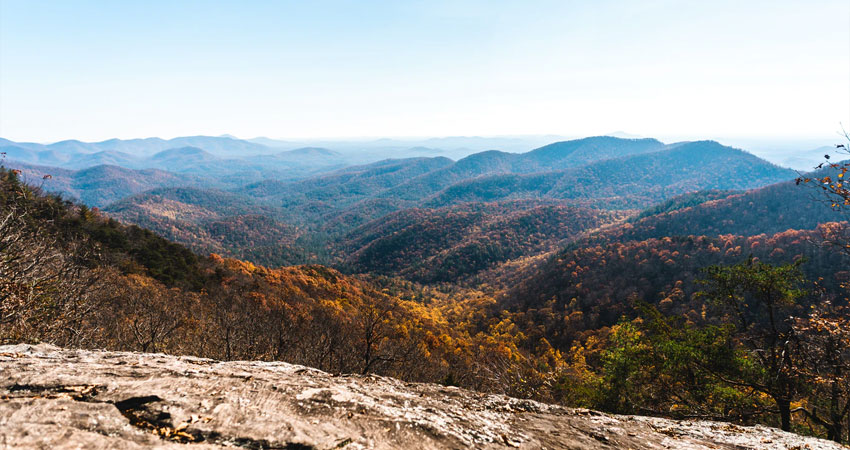 Location: Definitions vary on the precise boundaries of the Appalachians, but many documents include parts Kentucky, Tennessee, Virginia, Maryland, West Virginia, North Carolina, as well as northern Alabama, Georgia, western South Carolina, or Pennsylvania, southern and east central Ohio, and parts of southern upstate New York.
Highlights: Mount Mitchell, Great Smoky Mountains National Park, folk art capital Berea in Kentucky, Virginia's Luray Caverns, Museum of Appalachia in Tennessee 
Known more simply as "The Appalachians," this range has the oldest mountains on Earth with ancient crystalline rocks as old as 1.1 billion years old. Its rivers, such as the ironically-named "New River" is also pretty old with some ranging from  260 to 325 million years old.
As you can imagine, there are unlimited things to do here. From mountain climbing, biking to kayaking to fishing to trekking through wilderness, there is something for everyone
7 Bucketlist-worthy Mountains in USA
If your goal is to face some of the highest, most challenging, or most beautiful mountains in USA, any of these mountains should make a good spot on your bucket list: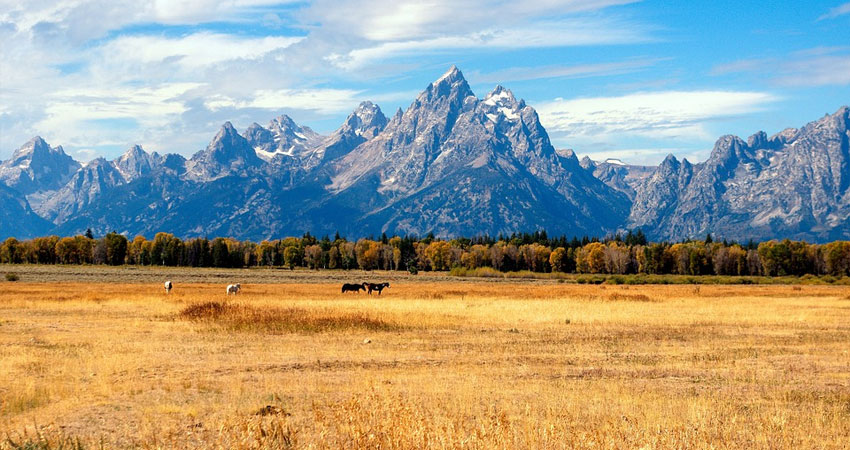 Location: Northwestern region of the U.S. state of Wyoming
Reason to Visit: Perfect stopover if you're going to Yellowstone Park, or if you're on a hunt for a majestic mountain.
It is the tallest mountain in Wyoming and nearby. But even if you don't reach the 13,770-foot summit, you can still marvel at its beauty from afar. It's a classic alpine peak – all with deep snow, sheets of ice, slippery rocks no matter what time of the year you visit.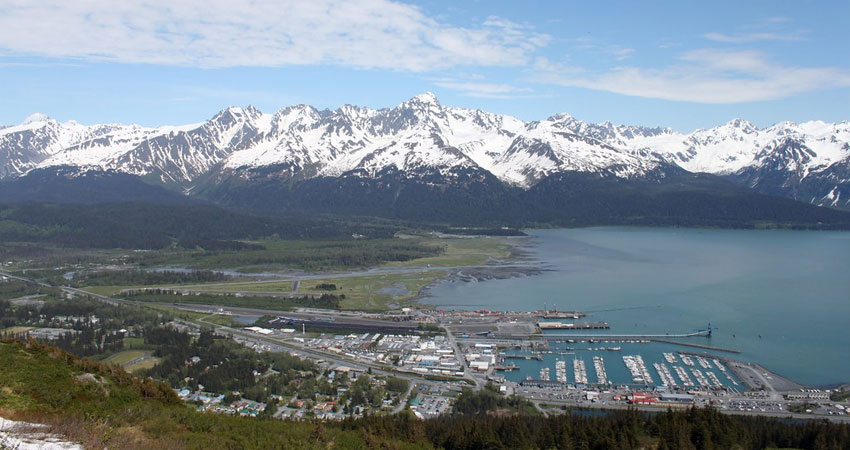 Location: Found at the Kenai Mountain range in Alaska
Reason to Visit: Join the oldest foot races in America (Mount Marathon Race)
Marathon Mountain isn't as famous as other mountains in USA, but if you're interested in a unique experience, check out how to join Mount Marathon Race. This event is held annually during the Fourth of July, and it is the biggest draw of the area.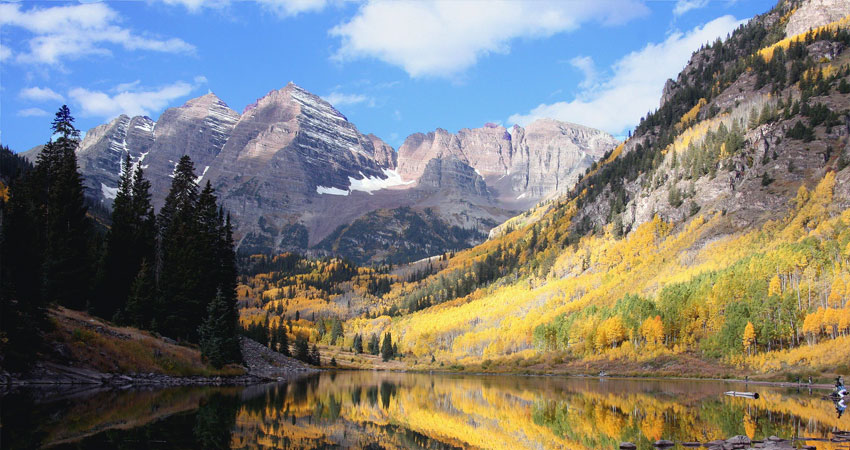 Location: Gunnison and Pitkin counties, Colorado
Reason to Visit: Postcard-looking photography all-year-round
Like almost everything else in nearby Aspen, Colorado, Maroon Bells is a gorgeous-looking mountain with rock formations dating back to over 250 million years old. The Crater Lake, Maroon Creek and Maroon Lake all provide Maroon Bells with stunning landscapes worthy of your time photo-taking to your heart's content.
You can visit in each of the four seasons – skiing and snowboarding during winter, while fishing and trekking are more popular in the summer.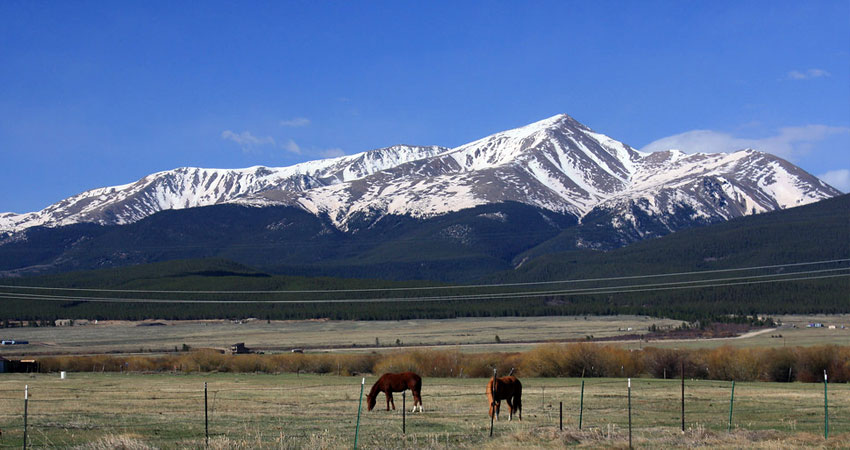 Location: Inside the San Isabel National Forest, at the City of Leadville in Lake County, Colorado.
Reason to Visit: It is Colorado's tallest mountain with peaks above 14,000 feet and also boasts one of the best mountains to visit during fall
Of all Colorado's 53 fourteeners (mountains with peaks above 14,000 feet), Mount Elbert is a favorite for three reasons: (1) it is a perfect climb for all skill levels, (2) it has many vacation resorts available, and (3) the experience of hiking through a massive aspen grove during Fall months is quite a one-of-a-kind experience.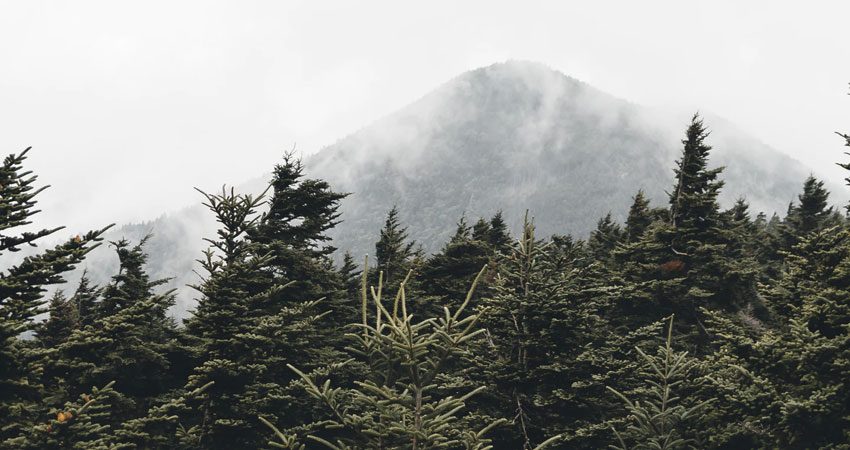 Location: Yancey County, North Carolina
Reason to Visit: The oldest mountain range in the country, and one of the more challenging hikes on this list
Ideal for the experienced hikers, Mount Mitchell is the highest peak east of the Mississippi River and is high enough to get altitude sickness (thanks to the quick elevation gain of 3,689 feet in just five-and-a-half miles).
It was named after Elijah Mitchell, a University of North Carolina science professor, who fell to his death from the slopes in 1857.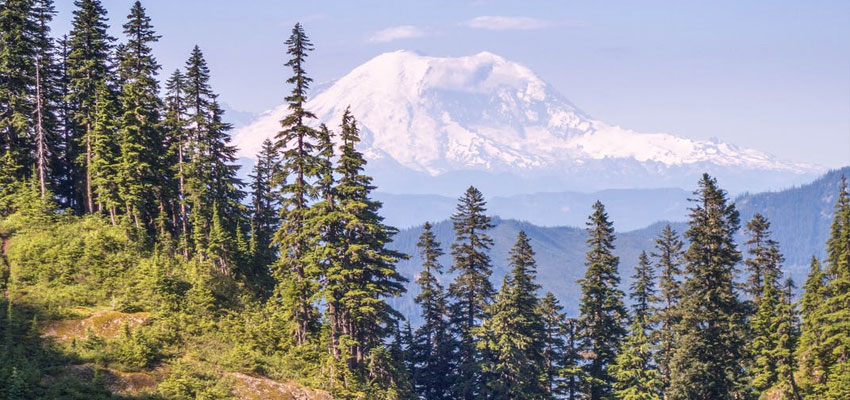 Location: 40 miles north-west of Tacoma, Washington
Reason to Visit: One of the most difficult alpine mountains in USA
Mt. Rainier is an iconic Washington landscape, ascending to 14,410 feet above sea level. Thousands of people from other states and countries attempt to climb this fifth highest mountain in the USA.
Mount Rainier isn't just the most glaciated peak in the country; it is also the most deadliest since it is also an active volcano. The most popular trail (known as Wonderland Trail) spans an amazing 95 miles up and takes even the most experienced climbers an average of 15 days to complete.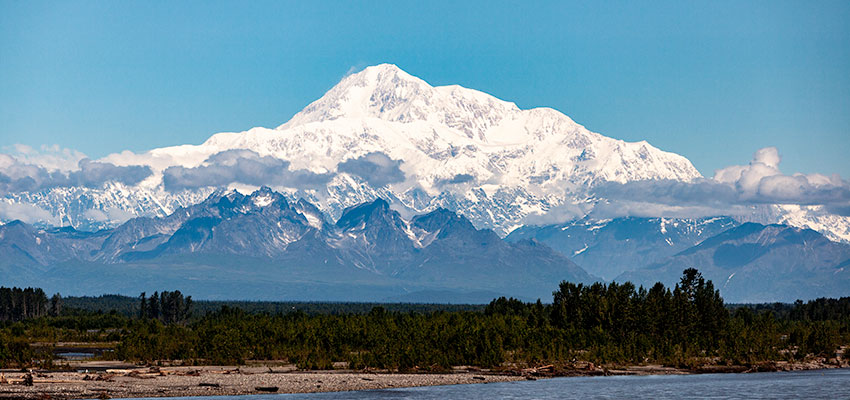 Location: In the northwest corner of Wyoming inside Grand Teton National Park
Reason to visit: As this is the highest peak in North America, it is considered the most difficult mountain to climb in the country as well.
At over 20,000 feet, Alaska's Denali (formerly known as Mount McKinley) is the highest peak in the United States. But even if it seems perfectly fit for extreme adventurers, Mount Denali can be a perfect family getaway. With over 6 million acres of land, there are beginner-only trails, camping opportunities, lakes and various outdoor activities even for those with zero or little mountain-climbing experience.
Which mountain in the US do you most want to visit?
I've visited only a handful of these mountain ranges, but would love to explore more. Which have you visited and recommend? I'd love to know your top 3.
If you can't get enough of the country's highest peaks, check out my list of the best mountain towns, or take a closer look at the best national parks in all 8 mountain states.