If you're looking for the most scenic drives in America, you won't go wrong with road trips that bring you high up in bridges, mountains, or highways with spectacularly jaw-dropping views of picturesque backdrops.
Some examples of what I'm saying are:
Colorado's Pikes Peak Highway and its world-famous, 100+ year-old donut place made 14,000 feet in altitude.
Virginia's Skyline Drive (that runs through parts of North Carolina's Blue Ridge Parkway) has over 70 breathtaking overlooks throughout the route.
Idaho's Western Heritage Historic Byway with the Owyhee Mountains as backdrop,
West Virginia's State Route 16 and its marvelous hills
Whether you're after for scenic drives of historical sites such as Maryland's Chesapeake Country Scenic Byway, or wanting to get one with nature and sandwiched by mountains, forests or the sea, I compiled some of my bucket-list road trips and a few memorable drives we've experienced in the past.
Here are 20 of the most scenic drives in America, in my opinion:
Most Scenic Drives in America: Views of Beaches, Lakes and Water
If you're after the relaxing views of water, here are some roads you might want to check out: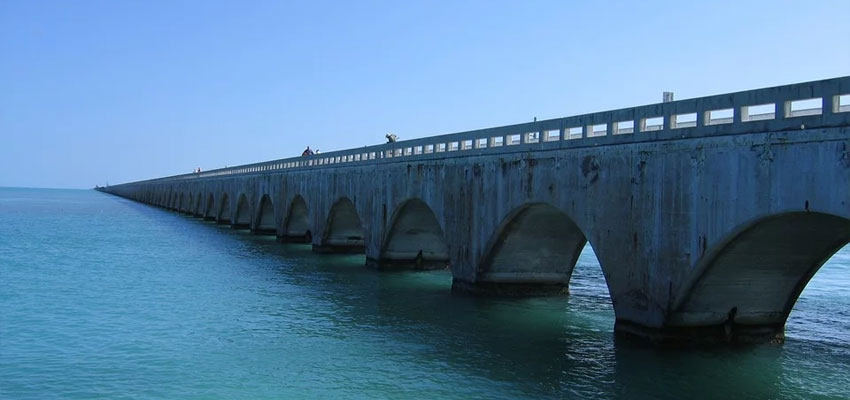 It is the longest bridge in the Florida Keys and one of the longest in the world. You'll be driving with both sides of the road on open seas for 6.8 miles.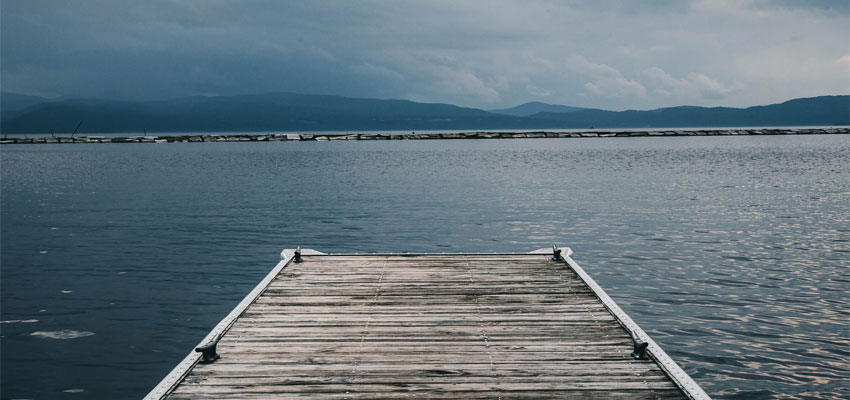 This midway between Manhattan and Montreal, this inter-connected waterway is a scenic byway in upstate New York.
This route goes for 200 miles and passes the Adirondacks and Green Mountains, as well as the western edge of Lake Champlain, which make this path breathtaking no matter what season you drive through on it.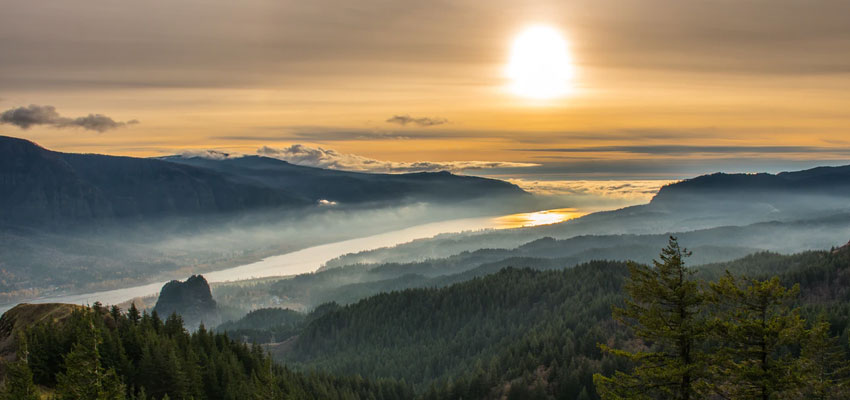 This 80-mile stretch of road was planned and built specifically for the scenic views.
This winding road takes road trippers front-seat view of the Columbia River, the Gorge, cascading waterfalls and woody, forests with unique plant life.
About 125 miles of the Marinette County road in Wisconsin boasts 14 different waterfalls along the way.
And even if you don't plan on hiking, many of these waterfalls (such as the Long Side and Twin Bridge Park) are located near parking areas that it is easy to just take a quick break.
Route 90 is massive. In fact, it runs about 300 miles along Louisiana's entire southern border, which passes over the Sabine River, historic towns like Lake Charles and the culturally-rich New Orleans.
Be careful though, as the Route 90 has been named one of the top 10 most dangerous major roads in the country.
6. Pacific Coast Highway (California)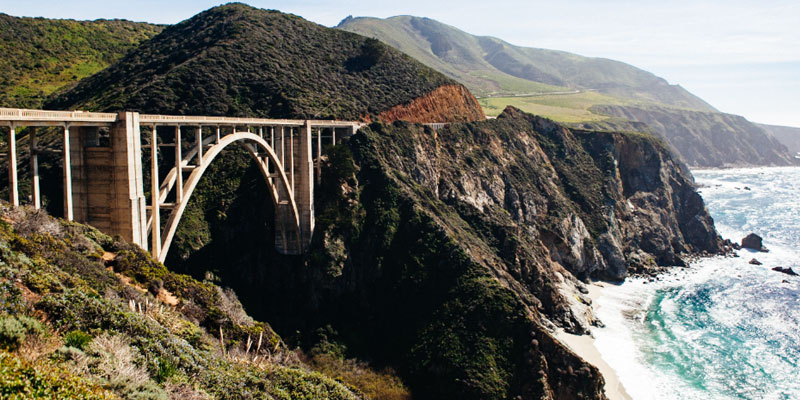 In California, the Pacific Coast Highway is one of the most beautiful roads in America.
It gives passersby equal views of scenic mountains, Pacific Ocean vistas, and dozens of famous beaches from Malibu, Long Beach, Santa Barbara, and Big Sur.
There are multiple stops (like the Muir Beach Overlook) where you can breathe in the backdrop and take selfies as well.
This 11-mile stretch of the Highway 129 is infamous thanks to the number of curves it has: there's 318 in total.
For this reason, it makes an interesting (and even dangerous) drive for group of motorcyclists – a bucket list of sorts.
Hawk's Nest is part of the Route 97 out of Port Jervis.
If you're afraid of heights, this isn't the road trip for you as one side has steep drop overlooking of the Delaware River.
But if you do have the heart to pass by this snake-like route, you'll be blown away by the views from afar.
Most Scenic Drives in America: Mountains and Forests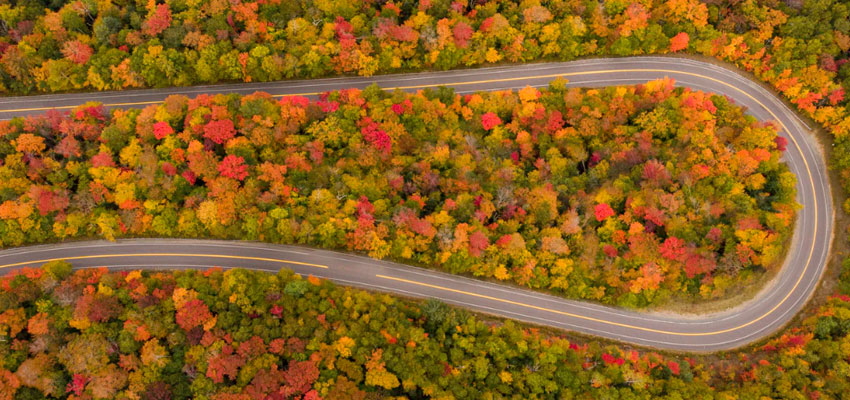 Located at the Route 112 in Northern New Hampshire, the Kancamagus Highway is a 34.5 mile scenic drive with the most perfect fall foliage in the country.
Plus, it passes through the White Mountain National Forest, which means you'll be at awe at the views of the Swift River, Rocky Gorge, Sabbaday Falls, and of course, the White Mountains.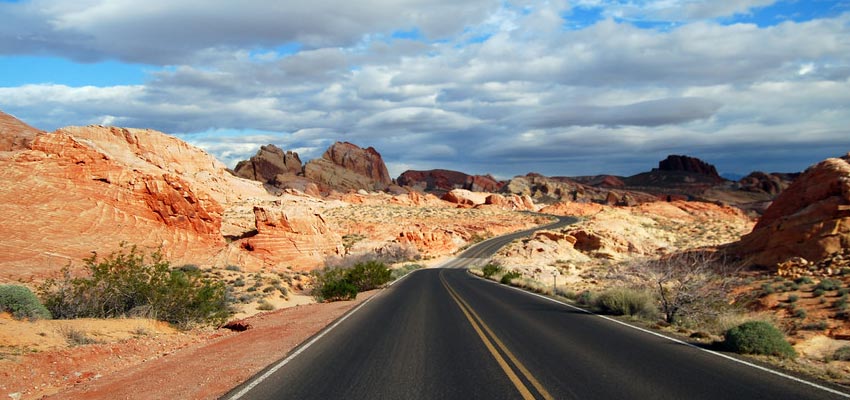 One of the most dramatic ways to go to Vegas is through the Interstate 15, where the sandstone in reddish, orange and earth colors blend perfectly.
It looks like you've stepped into Mars, especially once you've reached Mouse's Tank Road and its picturesque view.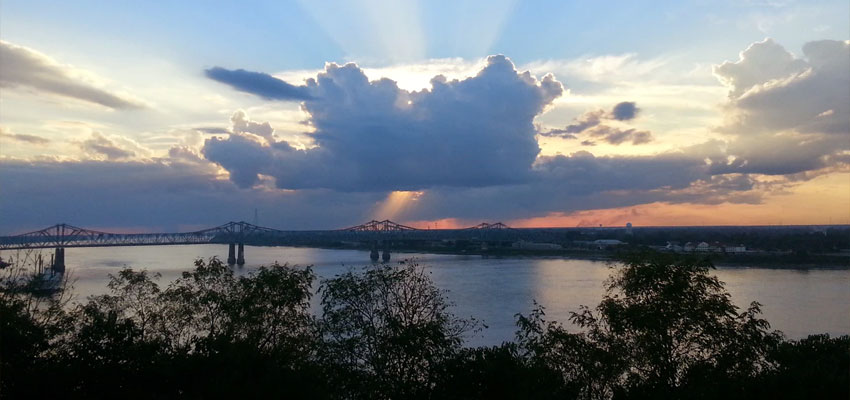 The Natchez Trace Parkway is a 444-mile-long National Park featuring beautiful scenery and historical sites from Natchez, Mississippi, to Alabama, and finally to Nashville, Tennessee.
Stop around Mile 41 to see the Sunken Trace where the road as well as the trees seem to be sinking lower than the rest of the route. (It actually is, due to decades of foot traffic).
This path also has amazing fall foliage.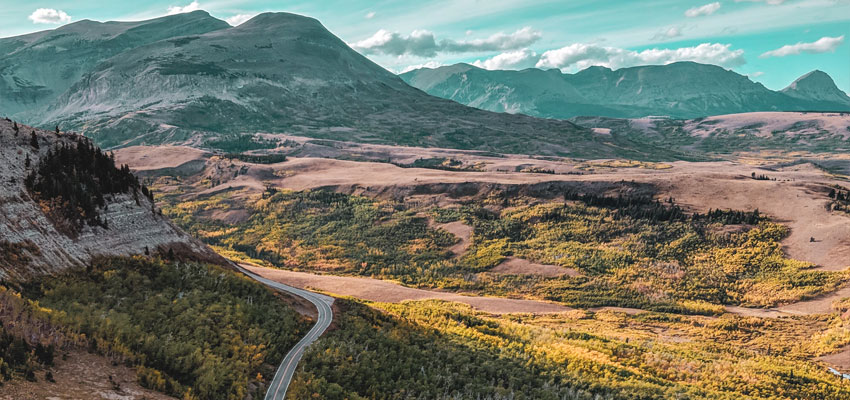 This scenic mountain road in the Rocky Mountains of the western United States is located in the middle of in Glacier National Park in Montana. 
It's a 50-mile road that winds over passes, crosses the Continental Divide and travels through uniquely varied terrain, from glacial lakes, thick forests, to jagged cliffs and mountains.
The Going-to-the-Sun Road was the first road to be designated both a National Historic Landmark and a National Civil Engineering Landmark, so expect a couple of overlook stops you can check out.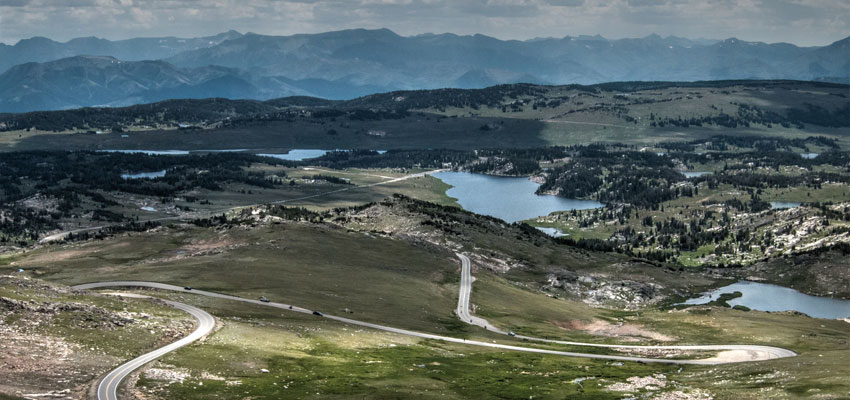 Also located in Montana, the Beartooth Highway is  one of the most breathtaking routes to Yellowstone National Park.
Named a National Scenic Byway's "All-American Road," this 68-mile highway leads you to enchanting pine forests, alpine lakes, vibrant flowers and memorable sights.
Of course, don't miss the Bear's Tooth, the glacially-carved pyramid rising up between the granite mountains. It is a spectacular sight and the reason why the Crow Indians named this place as such.
If you're looking for a memorable road trip and you're near Utah, there are two reasons to pick this route:
You'll pass by some of the best national parks of the US, including Arches, Bryce, Zion and Grand Teton,
It was created as Utah's first tourist route dedicated solely to offering passersby a legitimate Western heritage experience, which includes almost all of Utah's terrains and multiple historical and cultural pit stops.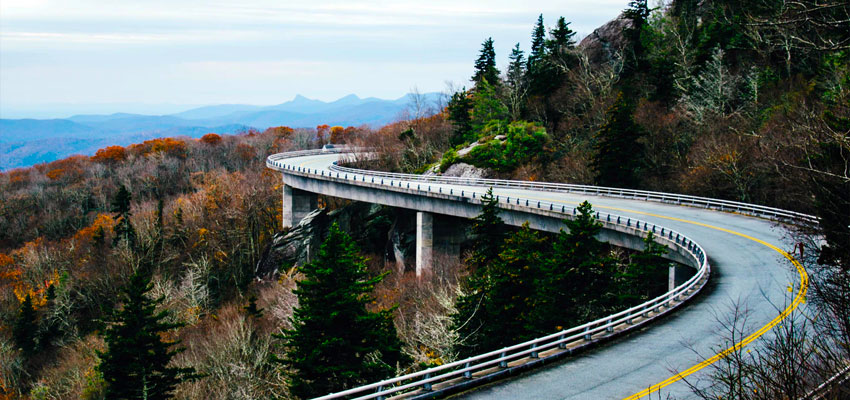 Everyone should experience a drive on The Blue Ridge Parkway at least once if you're planning to go to Virginia or up to Cherokee, North Carolina.
This scenic 469-mile road is situated high up along the Appalachian Mountains with multiple camping spots, waterfalls, hiking and picnic areas sandwiched in the gloriousness of nature.
Unique Drives in America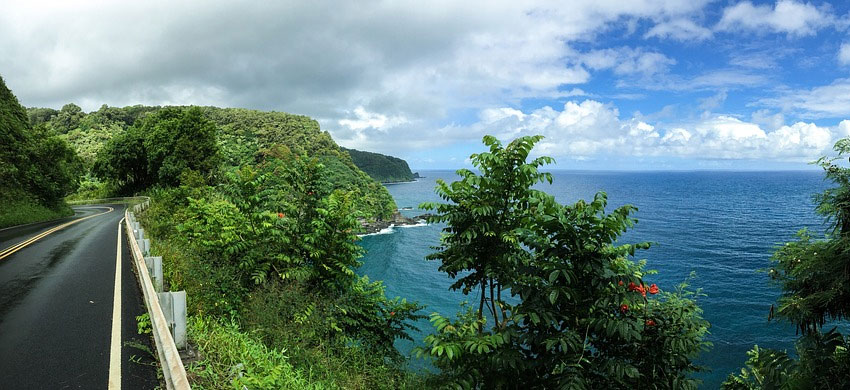 Also known as "The Divorce Highway," the Hana Highway is a 64.4-mile-long stretch of Hawaii's Routes 36 and 360, connecting Kahului to the town of Hana in east Maui.
From these two points, the road features heart-pounding, 617 hairpin curves, 59 one-lane bridges, and a ton of blind spots along the way (which is why the speed limit here is only 25 mph or less).
Don't miss numerous waterfalls, Hawaiian culinary and roadside stand stores for leis, pineapples, and so much more.
The Highway 179 is simply known as "SR 179" or the Red Rock Scenic Byway. As with other roads with All-American Road designation, Highway 179 has a lot of iconic spots with breathtaking rock formations similar to those found on Route 66.
Make sure to pass by what locals call "vortexes" or the rock formations known as the Bell Rock and Cathedral Rock. If you have time to stop, check out the Amitabha Stupa & Peace Park and get a photo with the 36-foot-tall Buddha.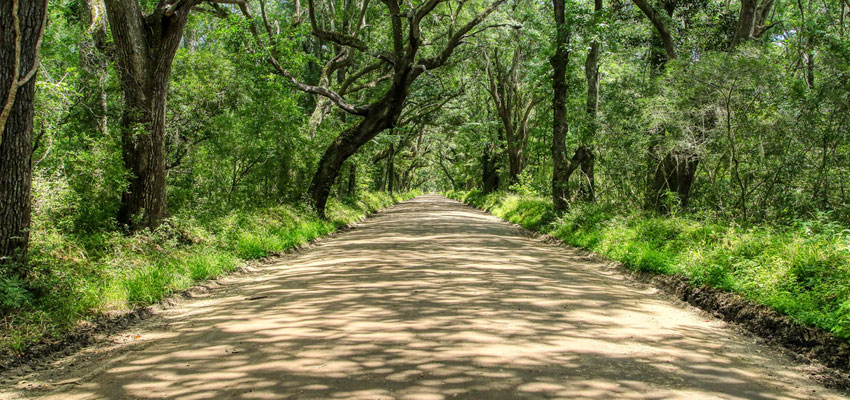 One of my favorite roads out of this list comes from South Carolina. You have to intentionally plan your visit since it is a plantation-turned-wildlife-preserve.
The Botany Bay Road is 3,363 acres of historically and culturally rich land located on Edisto Island, South Carolina.
Don't miss the 0.4-mile "tunnel" made of eerily beautiful, moss-covered, entwined oak trees that gives the Sleepy Hollow vibe.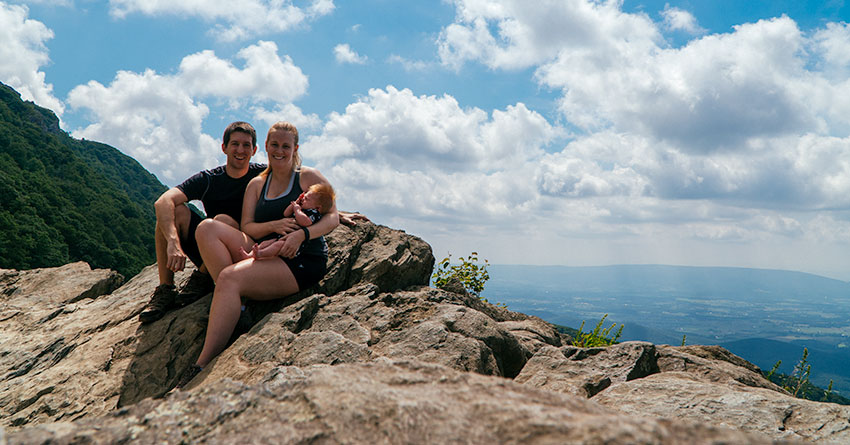 Skyline Drive weaves and winds its way across the ridge of the mountains through Shenandoah National Park.
It runs approximately 105.5 miles and offers jaw-dropping views that only get better the further south you go.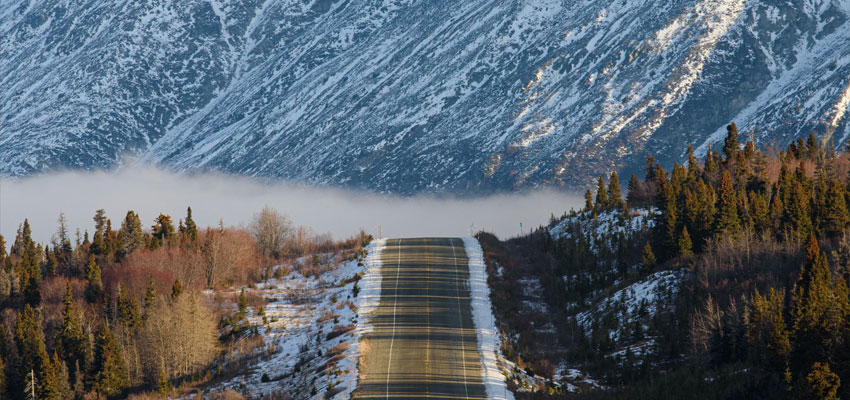 The Haines "Cut-Off" Road, approximately 160 miles of spectacular beauty, connects Haines, Alaska, in the United States, with Haines Junction, Yukon, Canada, passing through the province of British Columbia.
Aside from the majestic sights of the mountains and other natural beauty Alaska is known for, the area called Valley of the Eagles can be a memorable one if you visit at the right time: whenever the largest gathering of bald eagles appear.
What scenic drive is your favorite?
You can find an incredibly scenic drive in just about every state.
If you enjoyed this post, I bet you'd also be interested in the old and new attractions on Route 66.
What about you? Have you gone on a road trip lately and accidentally found some memorable roads? How many have you driven and which one is your favorite?