When it comes to sea glass beaches in California, you might have heard of the famous Glass Beach, but the truth is, there are many more beaches in the state where you can go beachcombing.
Beachcombing for sea glass has always been one of my favorite activates by the ocean. I love to take a scenic stroll, enjoy the scent of salty air, and collect little treasures along the way.
The only thing I like finding more than sea glass may be shark's teeth. But that's a topic for another article.
Isn't it amazing how nature transforms what was once garbage into something so gorgeous as colorful sea glass?
9 Sea Glass Beaches in California to Comb Through
I've listed the best 9 sea glass beaches in California in this guide, but you can also check out my article on the best sea glass beaches in the country.
There may be some repeats, but that's only because California has some of the best beaches around.
You can't talk about sea glass beaches in California without mentioning Fort Bragg, also known as Glass Beach.
This is by far the most popular spot in the state for beach glass searching, and it attracts thousands of tourists every year because of its colorfulness and unique composition.
Fort Brag was once an illegal dump, polluted by tons of garbage and of course, broken glass bottles.
But while the history of how this beach became known as "Glass Beach" is a bit sad, the result is spectacular.
There is so much colorful glass mixed with the sand that the beach almost shines in the sun like a rainbow.
If you're looking to take gorgeous pictures, Fort Bragg is the perfect setting.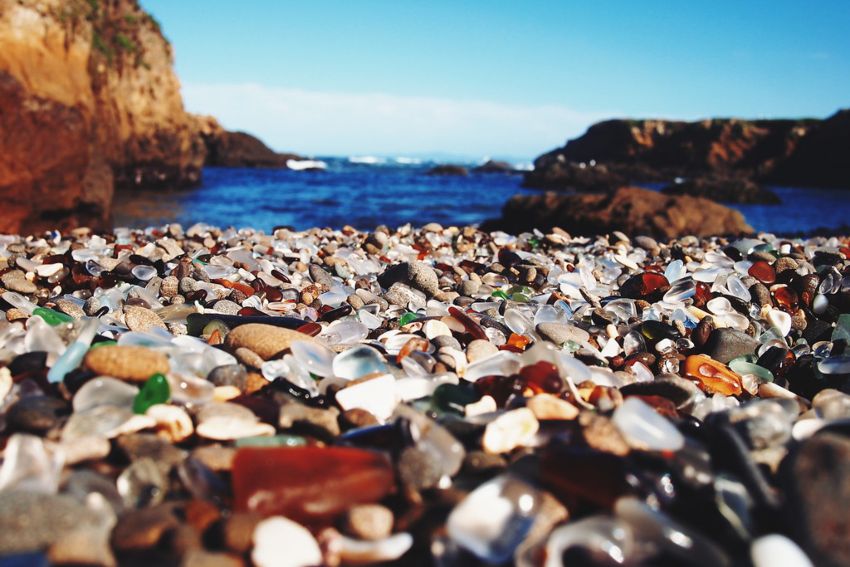 Glass beach is a great place for enjoying unique scenery and looking at sea glass, however, since the sea glass ists what makes this beach so beautiful, it's illegal to collect it.
Since tourists have been taking small amounts of glass from the beach, unfortunately, the beach is becoming less and less colorful every year.
Another beautiful location nearby is Pudding Creek Beach, which can be reached from Fort Brag through a scenic hike with gorgeous views of the cliff.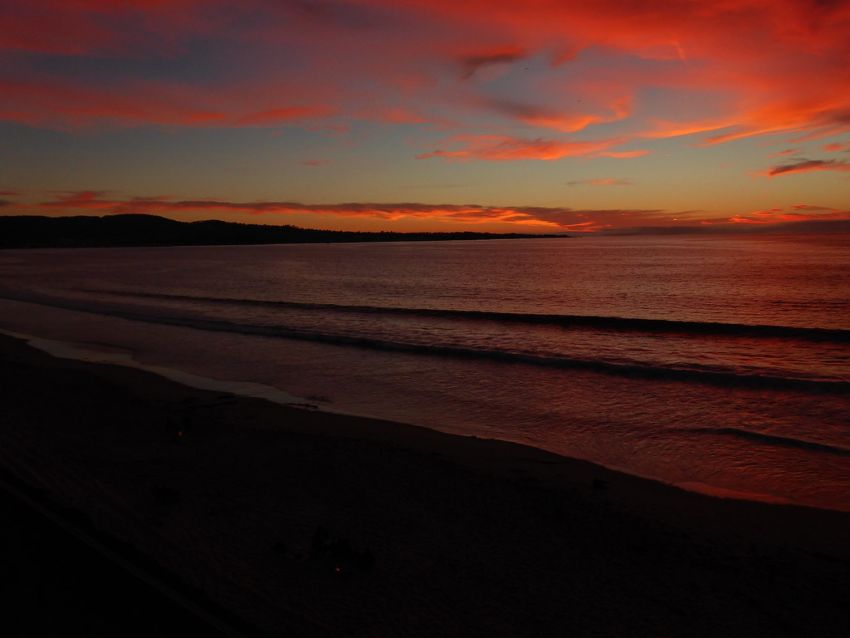 This lesser-known beach is located not far off the more famous Monterey Beach and while it's not a popular spot for swimming, is one of the best sea glass beaches in Califonia.
Sand City Beach is the perfect location for strolling along the seaside and beachcombing.
Because of a factory nearby that has long been shut down, countless colorful sea glasses still was ashore nowadays.
The beach is family-friendly, however, it's just partially dog friendly as pets are only allowed on a leash.
I don't advise taking a bath here as there are no lifeguards on duty, but it's perfectly safe to spend time by the water or walking along the coast.
For those who love biking, the Monterey Bay Coastal Trail will take you through the dunes, connecting the city center of Monterey to the little beach.
The trail is scenic, running along the ocean, and is a great way to reach the beach without worrying about parking.
If you cannot bring your own bike, you can rent bikes in Monterey for the day.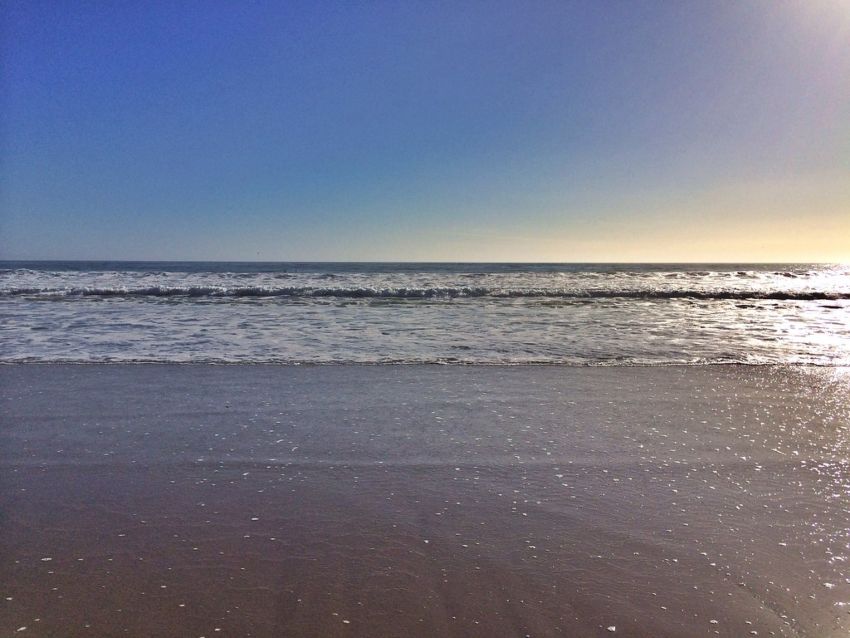 Rio del Mar Beach is one of the best spots in California to look for not only sea glass but also shells and fossil rocks.
It's a popular spot, known by tourists and locals alike, so you might find some competition when it comes to beachcombing.
This is a popular location also for wildlife watching, as you'll be able to spot a wide array of marine life, from dolphins being often spotted along Rio del Mar Beach, to sea lions and even whales.
I love this beach because you never run out of things to do. When I get tired of strolling along the coast and beachcombing, I love to kick back and relax with a picnic (there are barbeque spots available), or a nighttime bonfire.
For those who love to stay active on the holidays, Rio del Mar Beach is also a great spot for hiking, biking, surfing, kayaking, and of course swimming.
On the paved promenade that runs along Rio del Mar Beach, I recommend walking, jogging, or bringing your rollerskate for skating surrounded by beautiful scenery. This is also a great wheelchair-accessible option for a fun afternoon.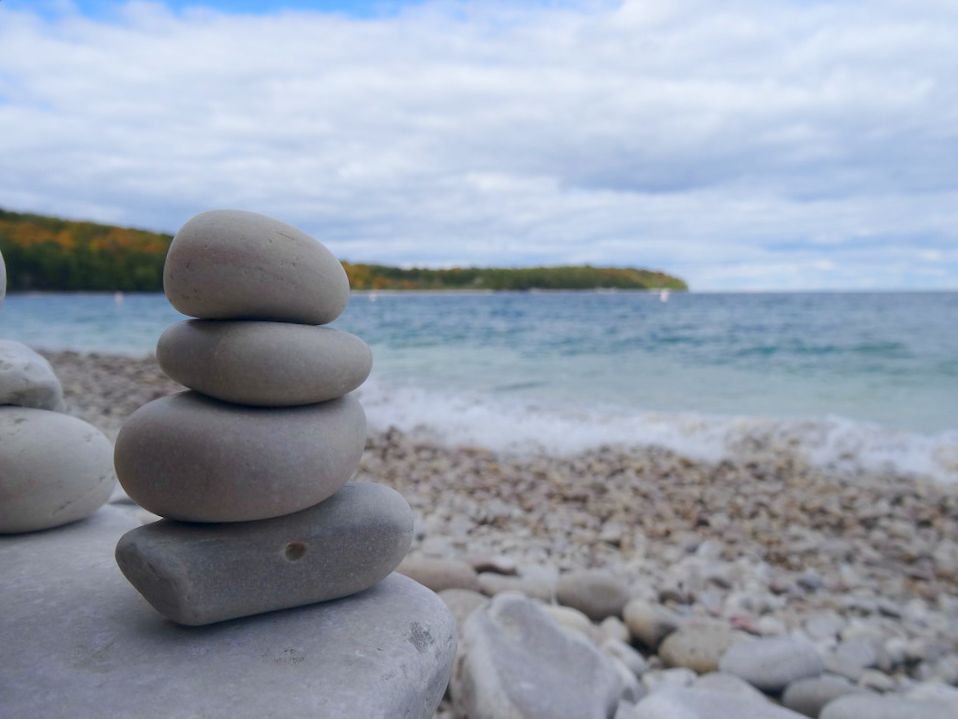 I recommend Schoolhouse Beach to those looking for fantastic views and a super-photogenic location, without the nuisance of crowds and tourists.
From a naturalistic standpoint, this little beach is wonderful, with high cliffs on both sides, deep blue ocean water, and gorgeous sunsets.
Looking at Schoolhouse Beach you might think "wow, this looks just out of a movie", and you wouldn't be wrong.
The famous beach scene from "I Know What You Did Last Summer" was in fact filmed right on Schoolhouse Beach.
Nonetheless, the beach is more popular among beachcombers than horror-movies fanatics.
While most people come to Schoolhouse Beach to run through the pebble looking for shells (the beach is full of shellfish) there is also a great deal of sea glass to discover.
The highlight of Schoolhouse beach is the gorgeous view, while the only downside is the beach itself which is composed mostly of pebbles and can feel rough under the feet.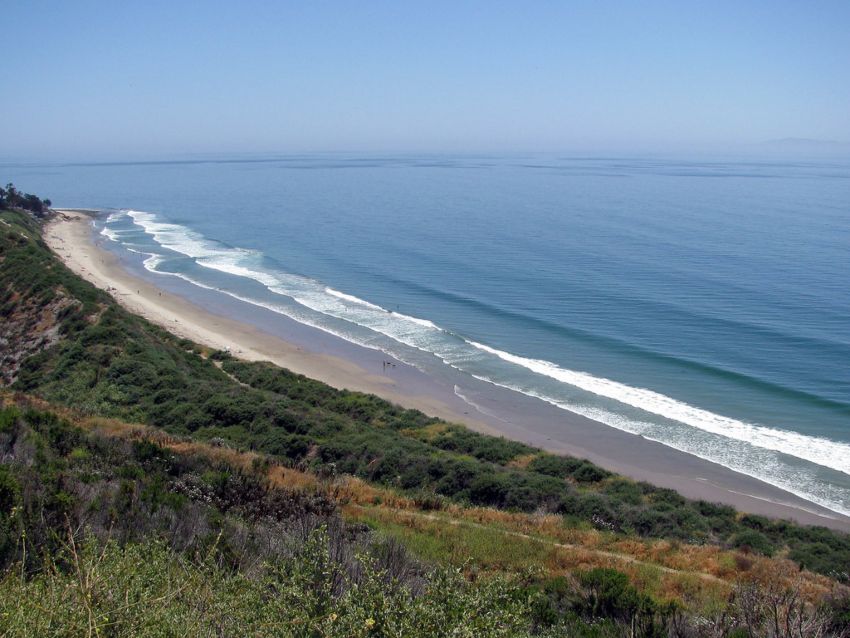 With its clean sandy beach, and slow-moving waves perfect for surfing, Rincon Beach is a true paradise.
If you love to collect little keepsakes from the beach, you'll find a lot of what you're looking for at Rincon Beach.
The beach is a good spot for sea glass hunting as it's rich in everything, from shellfish to fossils, shiny rocks, interesting rock formations, sand dollars, and of course glass.
On the southern shore of the beach, you'll find Rincon Parkway Campground, a good RV campground, with plenty of oceanfront RV campsites.
The view from the campsite is amazing (especially at sunset) and you'll be sleeping right on the water.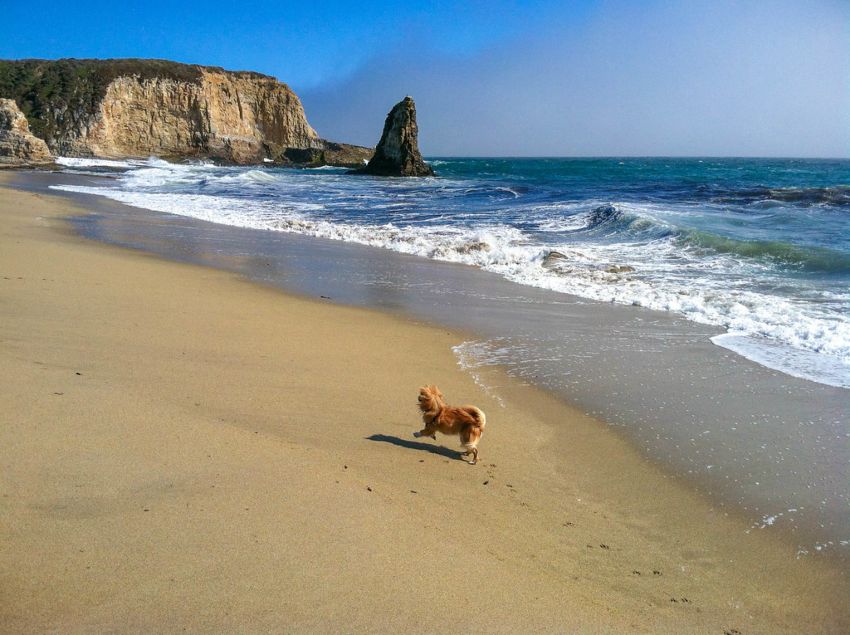 While some know Davenport Beach for its incredible views and picture-perfect scenery, this is also one of the best sea glass beaches in California.
People love beachcombing ad Davenport Beach as it is especially famous for its multicolored glass.
Visitors have also reported finding ultraviolet sea glass (the glow-in-the-dark-looking sea glass).
A good strategy to find the largest amount of sea glass at Davenport Beach is to wait for a low tide and look in the tide pools.
A low tide is also great for sea life observation as the tide pools become the home of sea urchins, crustaceans, and more.
This is a gorgeous, secluded beach, perfect for relaxing in good company, with family, and even with your pets, as the beach is dog friendly.
This location also offers some great photo opportunities. There is a pier swing, a large tunnel ending in an arch underneath you can pose for a very dramatic effect, and a short hike will lead you to the peak of the Davenport Bluffs for the best views of the beach.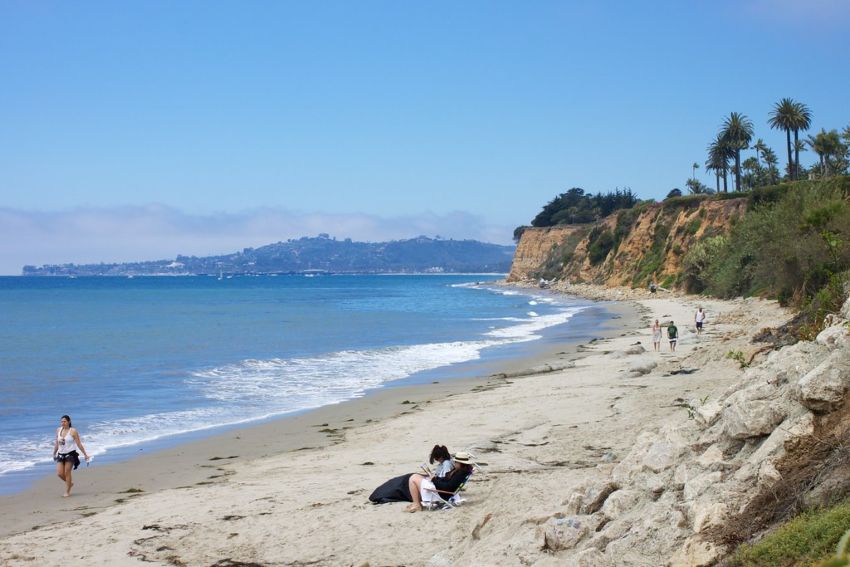 Long and sandy, with clean azure water, wonderful sunsets, and interesting rock formations, Butterfly Beach is likely to become your next favorite beach.
While being beautiful and pristine, Butterfly Beach in Montecito is somewhat of a well-kept secret, as it is never crowded and one can always appreciate some privacy.
This is a perfect beach for those who hate being cramped in a tight space together with other thousands of tourists but are still looking for a paradise-like destination.
At Butterfly Beach, you won't have trouble finding a parking spot or where to lay out your towel.
People come here to relax, stroll along the shore, and of course, look for colored glass in the sand.
The beach runs from east to west, allowing you to enjoy not only sunsets but colorful sunrises as well.
While beachcombing, you'll likely going to come across old corals, as there used to be a coral reed not further from Butterfly Beach.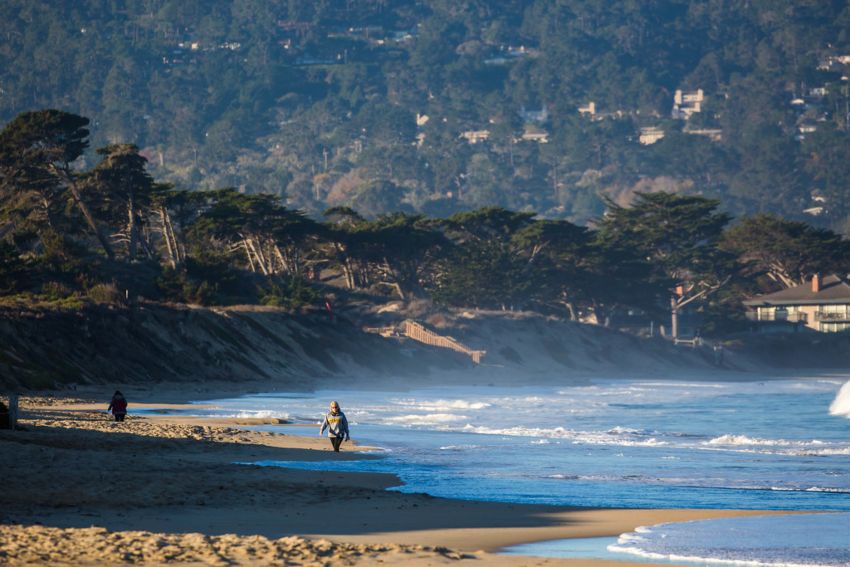 While Monterey State Beach is more famous, these two beaches located one next to the other are both worth visiting.
On both shores, beachcombers will find sea glass, colorful shells, sand dollars, and coral to collect and bring home.
Monterey State Beach is perfect for those looking for the classic long sandy and white beach, with plenty of amenities, a promenade, and a number of cafes and restaurants nested nearby.
Compared to Monterey State Beachy, Del Monte Beach is much more intimate and less crowded.
There is little parking space but the beach is still easily accessible from Tide Avenue, where you can also park.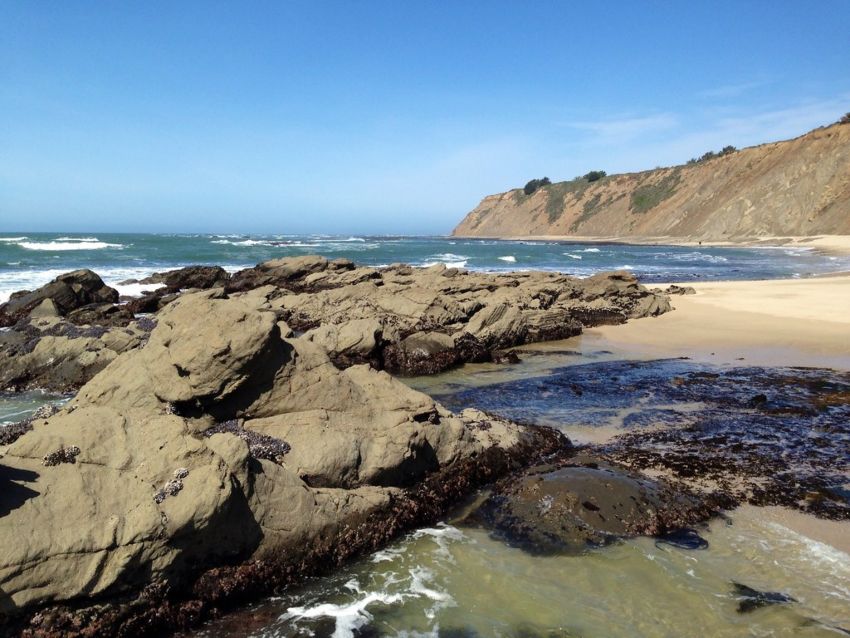 Fairly hard to find but all the more interesting for it, Mavericks Beach is a hidden gem nested south of San Francisco.
This secluded beach getaway is far away from masses of tourists and the atmosphere is relaxed but fun.
When the weather is right, this is a great spot for surfing, but any day on a low tide is perfect for beachcombing.
You can look through the sand and in the tide pools around Mavericks Beach and you'll find anything from shells to sea glass. If you love to discover marine life in the tide pools, at Mavericks Beach you'll find starfishes, crabs, and more.
Since it's a popular spot for beachcombing, there are regulations on how much can one visitor harvest from the beach. You will find specific information on signs scattered around the beach.
Beachcombing Around California
For more beachcombing and sunbathing in California, check out the best beaches around San Diego, or the mesmerizing Pismo Beach sand dunes.