It's not easy to pick the best beaches in San Diego.
But the good news is, with over 70 miles of coastline, there are gorgeously secluded pocket beaches or long stretches of beachfront resorts to choose from.
There's a San Diego beach for everybody.
And because of perfect temperatures throughout most of the year in Southern California, this is a good destination choice whenever you're in need of some sea, sun, and sand therapy.
I'll share the best San Diego beaches for surfing, partying, families with kids, and couples in this post.
Best Beaches in San Diego for Surfing & Diving
If your goal is to enjoy surfing, diving, and other water activities on San Diego beaches, these are your options.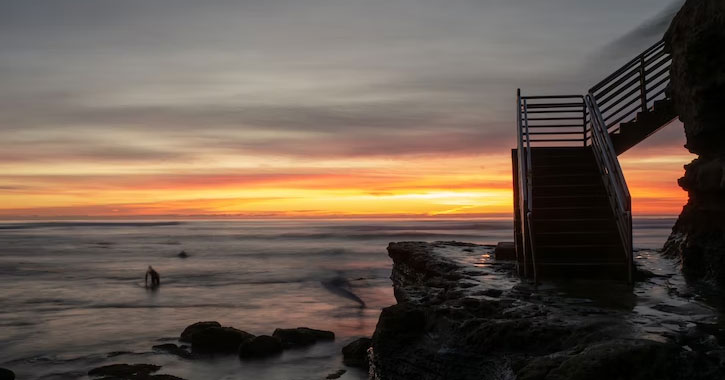 Grandview Beach is the north-most beach at Leucadia State Beach, a California state park run by the city of Encinitas.
The beach is a popular surf spot and surprisingly not crowded even during the summer.
It probably has something to do with the intimidating cliffs and wooden stairs that lead you to the water. But for surfers, divers and thrill-seekers, Grandview Beach is the perfect beach.
Casual swimmers and sunbathers can still enjoy Grandview Beach – just time the visit during low tide to enjoy the waters. Note that there are no restrooms or other facilities here, but there's Fish 101 restaurant is just up the stairs.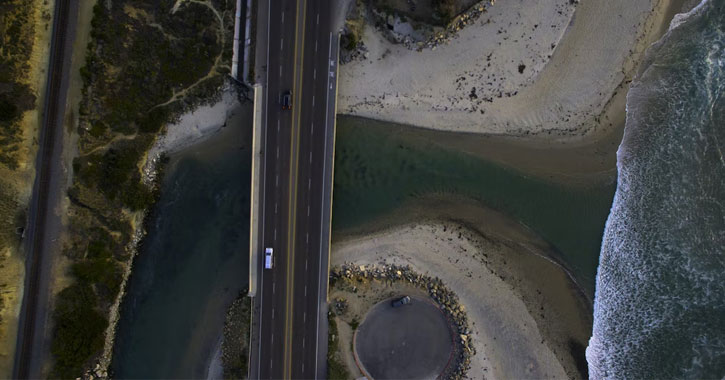 Cardiff State Beach is a protected beach located on the San Diego Coast.
With its gently-sloping beach, popular activities here include surfing, diving, and beachcombing. This is where professional local surfer, Rob Machado, had called home.
If you're not a pro surfer, it's okay too. Sea snails, hermit crabs, and other sea creatures are often seen at low tide in one of the tide pools.
With white sand, convenient parking, restrooms, seasonal lifeguards, and restaurants like Pacific Coast Grill, Cardiff State Beach is a pretty good beach option, especially if you're looking for a laid-back crowd.
If you want to sleep overnight, the nearby San Eligo State Beach has a state-run campground.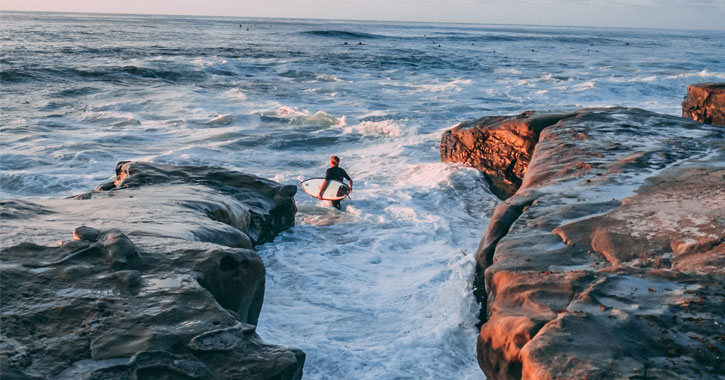 Located in La Jolla, Windansea Beach features big rocks and strong waves that local and visiting surfers love.
The water, as you can imagine, isn't ideal for swimming. Non-surfers who visit Windansea Beach are often after photoshoots, wedding ceremonies, or just casual selfies at the famous Windansea palm-covered surf shack that doubles as an arch.
While there are no facilities like public restrooms by the beach, surfers relax, eat tacos and chill at the Shack Bar & Grill nearby.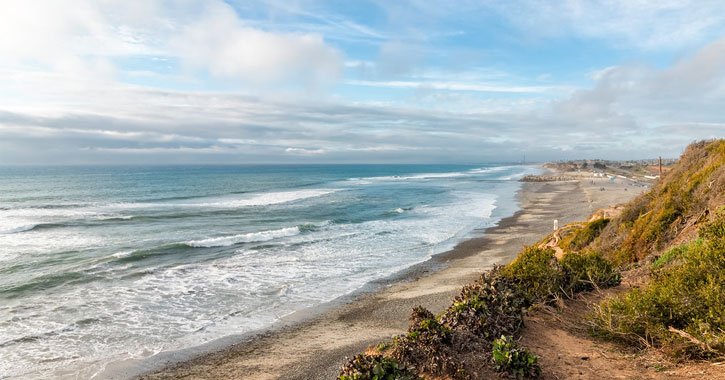 South Ponto Beach is located at the south end of South Carlsbad State Beach, bordering Leucadia.
This undeveloped spot has one of the widest beaches in the county, which make it a prime spot for volleyball (just bring a net and ball) and non-stop surfing and other water activities.
Secluded by sand dunes, South Ponto Beach is perfect for anyone who wants to go back to the basics: a beach without crowds, buildings, and other establishments. Just the sea, sun, and never-ending sand.
South Ponto Beach does have public restrooms and showers.
Plus, camping is allowed. You have to pay $8/day for parking at the south end of the beach but go further north for free parking.
As its name suggests, Tourmaline Surfing Park is a beach dedicated to serious surfing and sailboarding. It is located in North Pacific Beach, bordered by 75-feet-high cliffs.
There are two areas at Tourmaline Surfing Park – one exclusively for surfers, and the other just for swimming (where a lifeguard is also present).
Tourmaline Surfing Park attracts mostly surfers, but the free public parking is small and fills up quickly during peak days/times. You have access to a public restroom, shower, and picnic areas.
Go here for sunsets, jogging or to walk your dog – just be careful of rocky areas that can sometimes be slippery.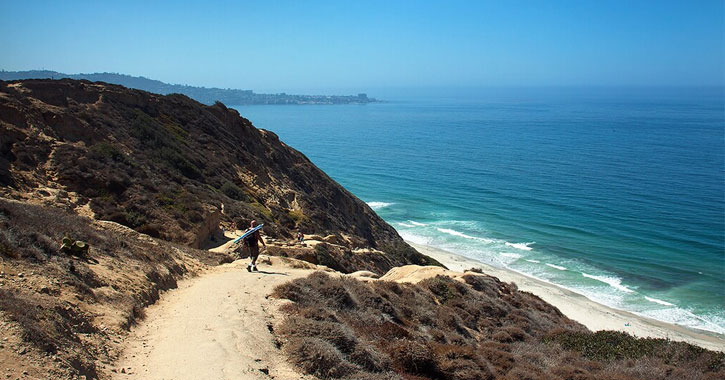 Black's Beach "entry point" is just as dramatic as the epic swells the place is known for.
This surf spot is ideal for experienced surfers. It can be pretty challenging for beginner surfer especially in the winter.
The beach, which you can access from the Torrey Pines Gliderport dirt parking lot, offers a two-mile strip of sand as well. So non-surfers can still enjoy sunbathing here. Just be careful since the way down from the parking involves a steep trail of sand and rough steps.
During low tide, Black's Beach is accessible from La Jolla Shores if you can walk 3 miles south, or via Torrey Pines Beach if you walk 2 miles north.
Best Beaches in San Diego for Partying
If you consider the best beaches in San Diego those that would accommodate your spring break getaway, birthday trip with friends, or other party-filled activities, then these beaches would fit your preference more appropriately.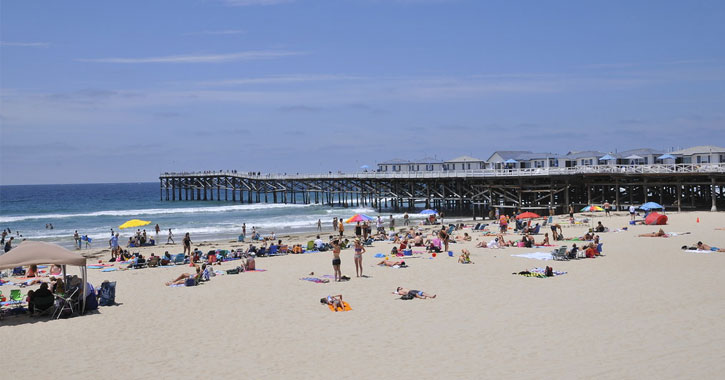 While the older generation knew Pacific Beach as a beachside residential area, it has now been transformed into a busy business spot with plenty of bars, restaurants and clubs that attract springbreakers and young adults looking to party.
Pacific Beach is divided into three distinctive San Diego beaches: Tourmaline Surfing Park, North Pacific Beach and the main Pacific Beach:
Tourmaline Surfing Park – If you came here to party with a group of surfers, this beach (as I stated above) will be the perfect fit for you. It's farther from the clubs, but the waters will welcome anyone serious about surfing.
North Pacific Beach – This area runs from Tourmaline Surfing Park to Crystal Pier. It is watched over by several lifeguards and crowded with tourists during holidays and peak summer days. Beginner surfers go here to learn how to surf.
Pacific Beach – This area runs from Crystal Pier (pictured above) to Pacific Beach Drive. This takes up the biggest stretch of sand, so many tourists flock here the most.
Establishments like hotels are found in North Pacific Beach and main Pacific Beach. All areas have public restrooms and showers.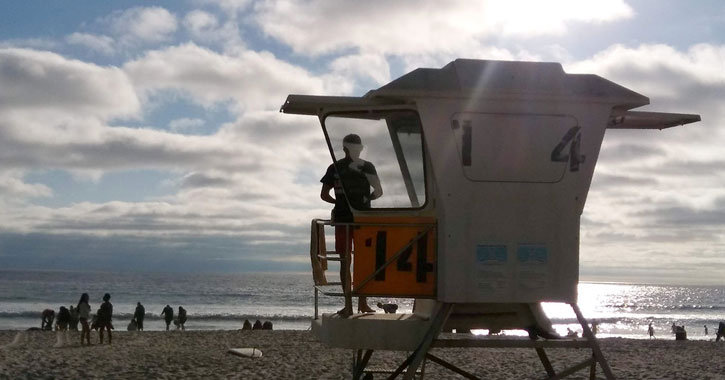 For those who prefer all the amenities of a modern beach community available at their chosen beach getaway, Mission Beach won't disappoint.
Here you'll find all the hotels, bike and surfboard rental shops, restaurants, bars, and everything in between at the intersection of West Mission Bay Drive and Mission Boulevard.
Mission Beach is home to Belmont Park, the amusement park (opened in 1925) that showcases the Giant Dipper rollercoaster, carnival rides, bumper cars and more. When it comes to water activities, go toward Mission Bay.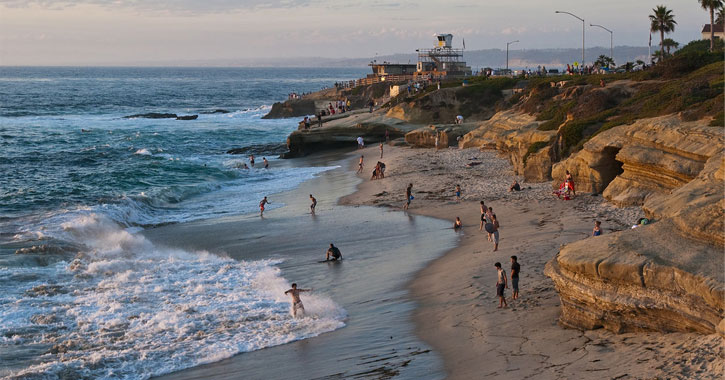 The La Jolla Underwater Park and Ecological Reserve at the La Jolla Shores is a favorite spot for surfers, scuba divers, and kayakers.
There are two nearby underwater canyons ideal for exploring the deep sea (and even for spotting leopard sharks that are known to visit the area in the summer).
If you're staying over the weekend, La Jolla Beach and Tennis Club and La Jolla Shores Hotel are two beachfront accommodations that both locals and tourists fill out during the summer and peak days.
Families love Kellogg Park, a beachfront playground designed specifically for kids.
Going to La Jolla is perfect for commuters since it is very accessible. Many students just take an Uber to and from the beach, use the public restrooms/showers available, and even chill by the fire pits.
Best Beaches in San Diego for Couples and Families
Not everyone is after a thrill in the waters or a party beach getaway.
If you're looking for a beach to enjoy with your partner or family, these San Diego beaches have a more laidback vibe: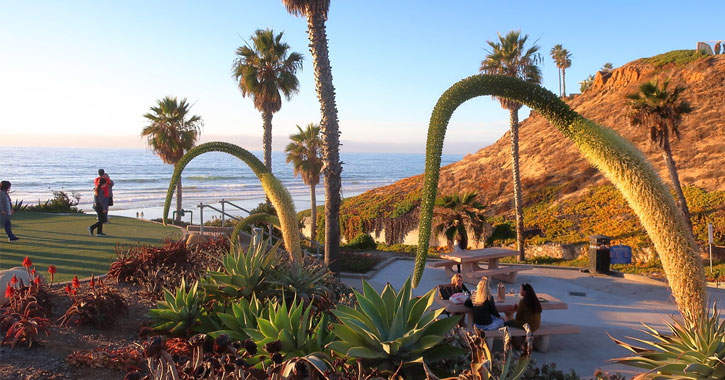 Fletcher Cove Park, located in Solana Beach, is small and is far from the best beaches in San Diego, but for families looking for an intimate beach with easy parking, this area is a must-visit.
You can get to Fletcher Cove Beach Park from South Coast Highway 101.
The upper part of the beach is a grassy area with a basketball court and playground, but once you walk down the ramp to the beach, you'll be welcomed by the waves and cool breeze of the waters in front of you.
There are outdoor showers, public restrooms, and picnic areas – all free for guests, so come bring everything you need – food, water, blankets, umbrellas, and enjoy a laidback day at Fletcher Cove Beach Park.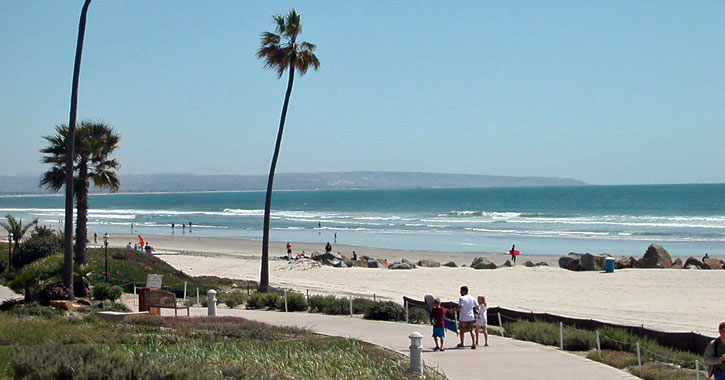 Many people consider Coronado Beach as one of the best beaches in San Diego for several reasons.
First, this is what the iconic Hotel Del Coronado calls home.
The long sandy beach is also a favorite of both locals and tourists for its gorgeous white sand that literally "sparkles" thanks to the mineral mica found all over the sand. It's a sight both young and old would enjoy.
Dining, drinking, and staying at Corona Beach aren't a problem.
It is lined with restaurants and bars near the beach. Coronado has a dog-friendly spot, where your furkids could run without a leash.
Just pick after your pup if they poop.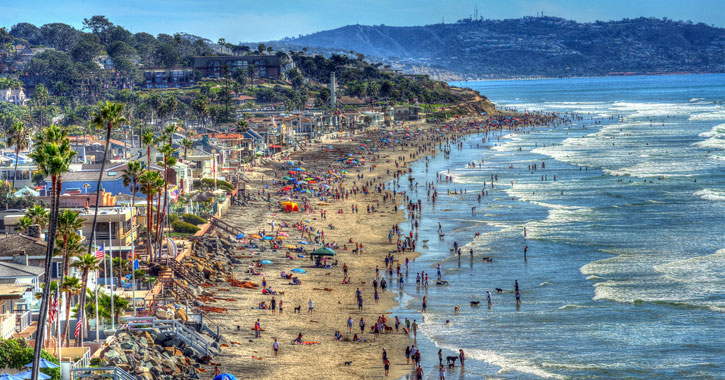 Del Mar beaches stretch for two miles, but it is divided into three family-friendly beach areas: North Beach, Del Mar (main beach) and Del Mar (south beach).
North Beach – Known as one of the best beaches in San Diego for dog lovers, North Beach is located north of 29th street. Dogs can go off their leashes after Labor Day until June 15, but on leash the rest of the year. It's no wonder locals call this place "dog beach." It's also a popular jogging and volleyball spot. Water is shallow and virtually no waves, so don't expect to be able to surf around this beach.
Del Mar (main beach) – This beach runs from the north boundary of Powerhouse Park and continues north to North Beach. Many restaurants, bar and hotels line this beach. This is also nearest to Powerhouse and Seagrove public parks.
Del Mar (south beach) – If you're looking for a quiet beach, the southern part of Del Mar would be the best part to explore. It is located in the south of Seagrove Park and 15th street.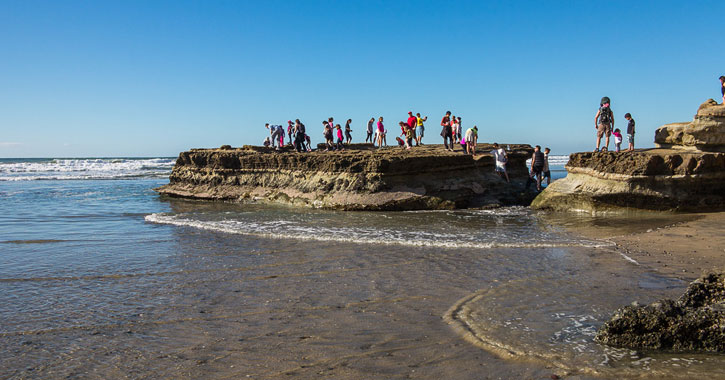 Flat Rock Beach is a pretty cool beach at Torrey Pines in La Jolla, California.
If you and your partner are looking for an interesting stop around La Jolla, take a hike to Flat Rock Beach.
Get a map at the Visitor's Center and follow the Beach Trail and Broken Hill Trail. If you're coming from Torrey Pines South Beach, you can walk to the south to reach Flat Rock. If you're coming from Black's Beach, walk north instead.
When you reach Flat Rock Beach, make sure to take a selfie on top of the amazing rock. The ocean views from up there are just as stunning.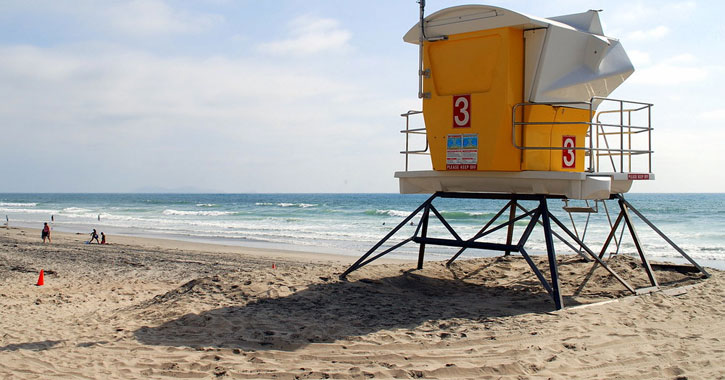 Imperial Beach welcomes hundreds of people in the summer during the U.S. Open Sand Castle Competition. It is located in the southernmost beach of San Diego (almost near Mexico's Tijuana) and is home to over 300 bird species.
The beach here is perfect for many hobbyists – from birdwatching to fishing (there's a pier at the beach), and even surfers looking for serious waves.
The Surfboard Museum, which I think even non-surfers would enjoy, is located by the beach as well.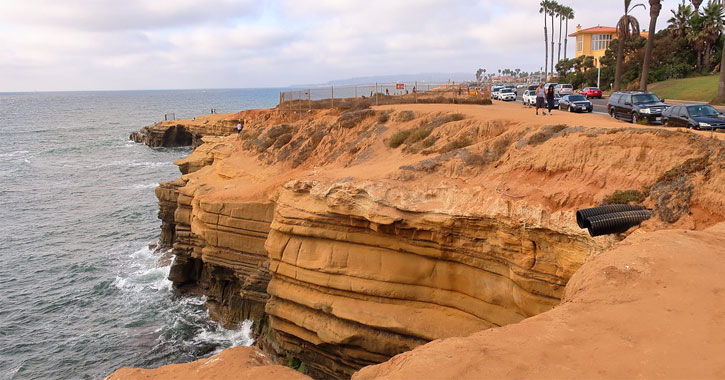 Bermuda Beach isn't as popular as other San Diego beaches, but it boasts one of the most picturesque locations in the area (especially during sunsets or sunrise).
The quiet beach is located in the southern Ocean Beach district, just below the residential area. It is accessed via the stairs at the end of Bermuda Avenue.
Best Beaches in San Diego Not Enough?
If you soaked in the sea and sun of the best beaches in San Diego, but you're still itching to explore other beaches across the country, you won't run out of options.
It doesn't matter if you're in search of a surf spot, a place for you and your family to bond, or a beach for partying with your friends… there's a beach on this list for everyone, starting with these 20 beaches in the US, or any of the following destinations: