There are two vast and gorgeous national parks in Washington State, Olympic National Park, and Mount Rainier.
They have many similarities, but differ in several key areas, including naturalistic settings, wildlife species, weather conditions, and more.
Your nature-immersed holiday must begin with choosing the right park to suit your interests.
Olympic National Park and Mount Rainier National Park, Where Are They Located?
Where To Find and How To Reach Olympic National Park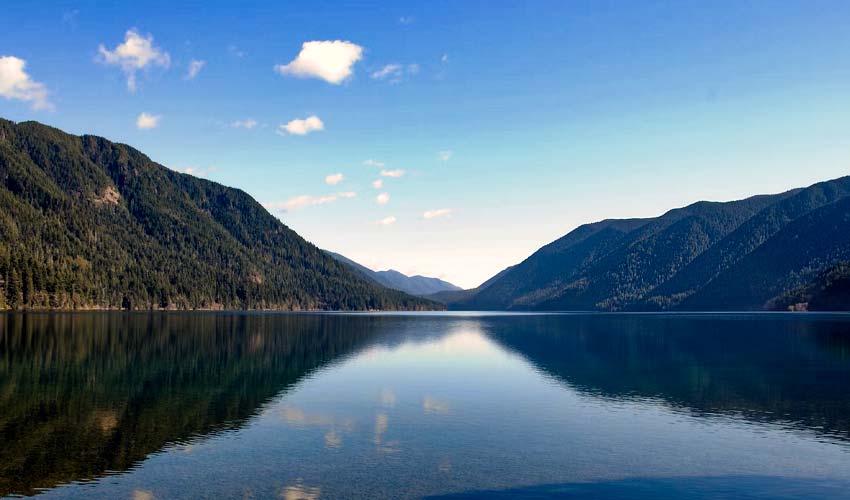 Olympic National Park is in Washington State, between the Olympic Mountain range and the West Coast.
The park is vast and for this reason, there is more than one way to reach it, depending on where you're traveling from or which part of the park you intend to explore first.
For example, if you want to check out Lake Quinault first, then the South Entrance will be the most convenient, while for exploring the Hoh Rain Forest, the Central same-named entrance is the way to go.
Check out the many entrances to the park before planning your trip.
If you're planning a road trip, coming from California or Oregon, you can reach the park by a car traveling north on Interstate 5 North. From Montana and North Dakota, you'll want to take Interstate 90 and 94 going east.
If you're traveling from further away states, you can fly to one of the closeby airports. The best option for flyers is to land at Seattle-Tacoma International Airport.
Where To Find and How To Reach Mount Rainier National Park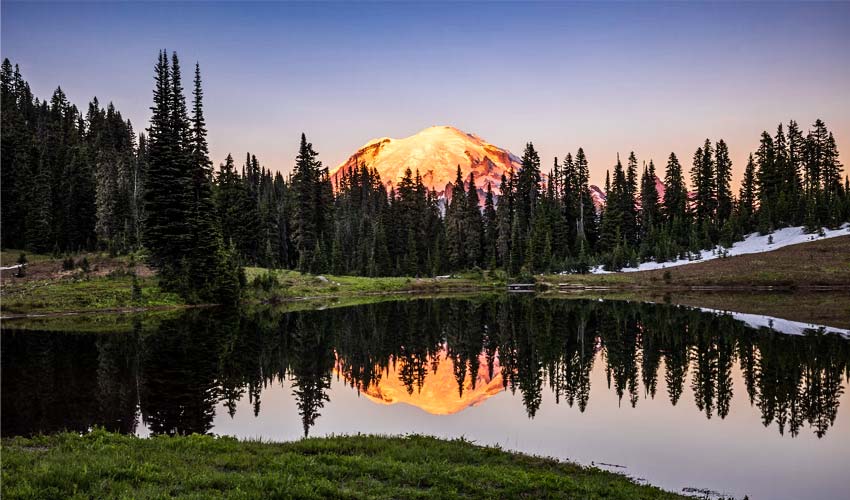 Also located in Washington State, Mount Rainier National Park is easily reachable from Portland, Seattle, Yakima, and Tacoma, which are all conveniently close by.
If you are not coming from bordering states, the best option could be to fly, then rent a car.
There are three airports close to Mount Rainer National Park: you can fly at the Seattle Tacoma International Airport, then take Washington State Route 706.
Another good option is to fly at the Yakima Air Terminal and then reach the park through U.S. Route 12.
Finally, if you're landing at Portland International Airport, then take Interstate 5.
Olympic National Park vs Mount Rainier National Park
How Many Days Should It Take To Visit?
2-3 Days in Olympic National Park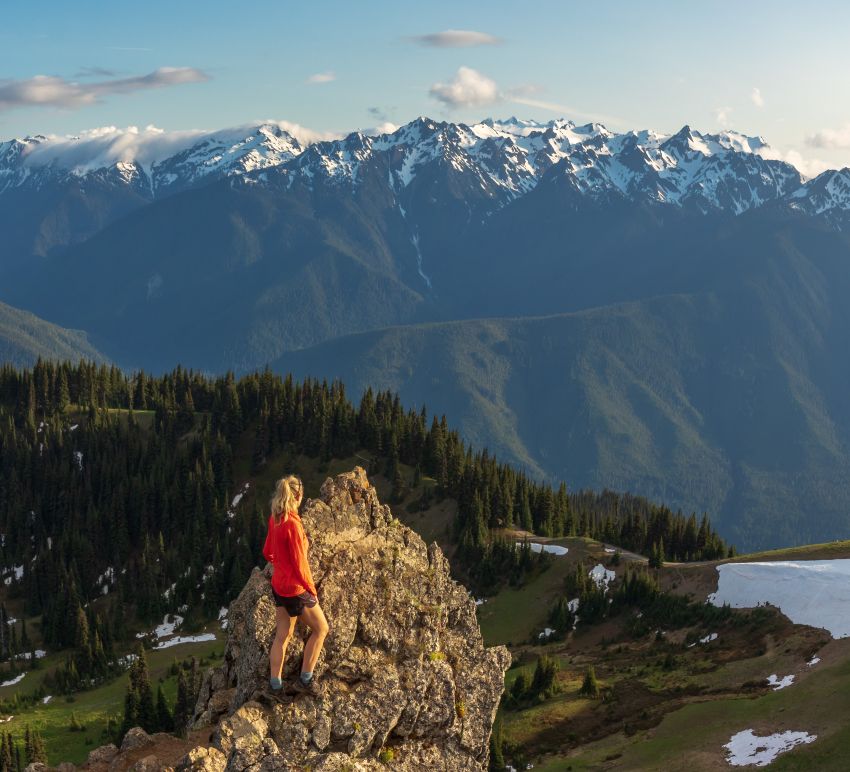 While you could spend a week exploring this vast park, even in just 4 activity-packed days you can take in a lot of the natural beauty that the park has to offer.
From the glacier mountains to the waterfalls, lakes, and ocean beaches, there is a lot to see at Olympic national park.
Some of the most popular sights and gorgeous spots within the park are located close to each other and can be hit all on the same day.
A popular one-day itinerary includes Hurrican Ridge, the Holt Rain Forest, and Lake Crescent, and ends at Rialto Beach. Other must-see destinations are Ozette Lake and Kalaloch Beach.
3-5 Days in Mount Rainier National Park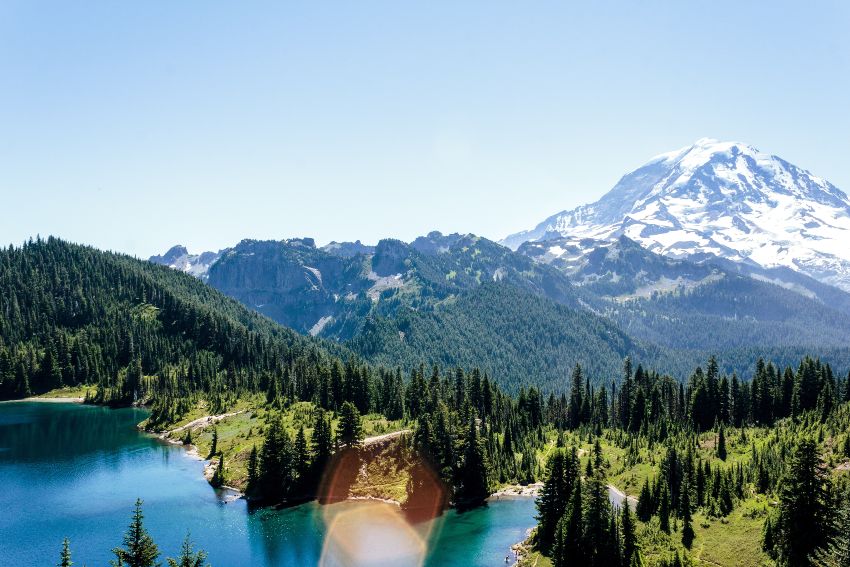 Mount Rainier National Park is diverse in landscape, and for this reason is divided into five sections: Longmire, Sunrise, Ohanapecosh, Carbon River/Mowich, and Paradise.
You can choose to spend a whole day in each area, pack 2 areas on the same day and manage to see the whole park in just the span of a long weekend or choose just a couple of areas to explore thoroughly.
If you start your visit at Longmire, you can set up camp at Cougar Rock Campground, and from there visit Christine Falls, Glacier Bridge, and Ricksecker Point Road.
The other must-see area is Paradise, which is known for its beautiful flowery meadows, which truly make the area look like a small paradise on earth.
Weather at Olympic National Park vs Mount Rainier National Park
Best time to visit Olympic National Park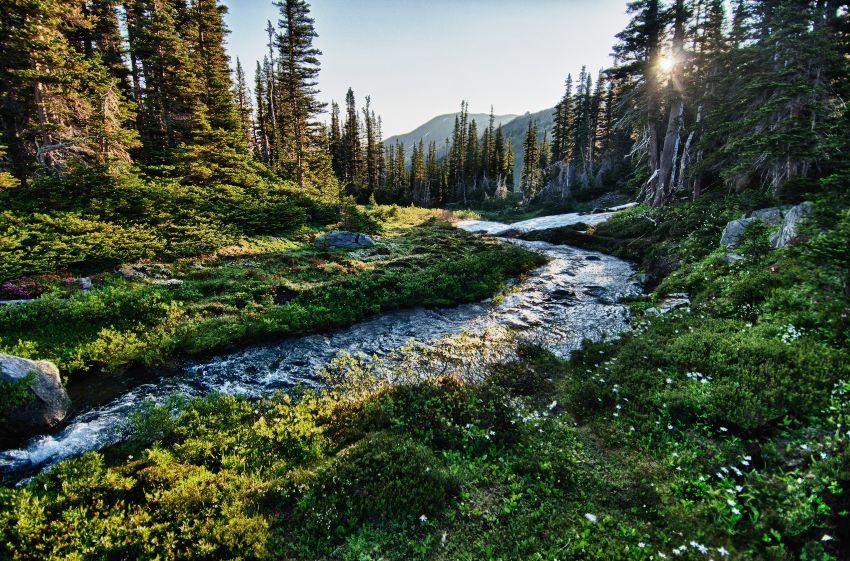 Every season has something to offer at Olympic National Park, however, I would recommend scheduling your visit during late spring or Summer.
From April to May, you'll get the mildest temperatures, and you'll get to witness the lushest post-wintertime-rains vegetation.
However, the weather can change in a heartbeat during the Spring, and it is not uncommon to even get your hike interrupted by snowfall. Fall has similar conditions as well.
The summer is great for hiking, camping, and backpacking, as you'll get the least precipitations throughout the years. Temperatures in the summer are warm, and even if they are variable they usually never go below 10 degrees.
Wintertime at Olympic National Park is characterized by low temperatures, often below 0, heavy snowfalls (around 35 feet of snow at Hurrican Ridge), and even avalanches and floodings.
This means that often some areas of the park might be inaccessible due to poor weather or dangerous conditions. On the upside, it is usually possible to ski at Hurrican Ridge during the weekend.
Best time to visit Mount Rainier National Park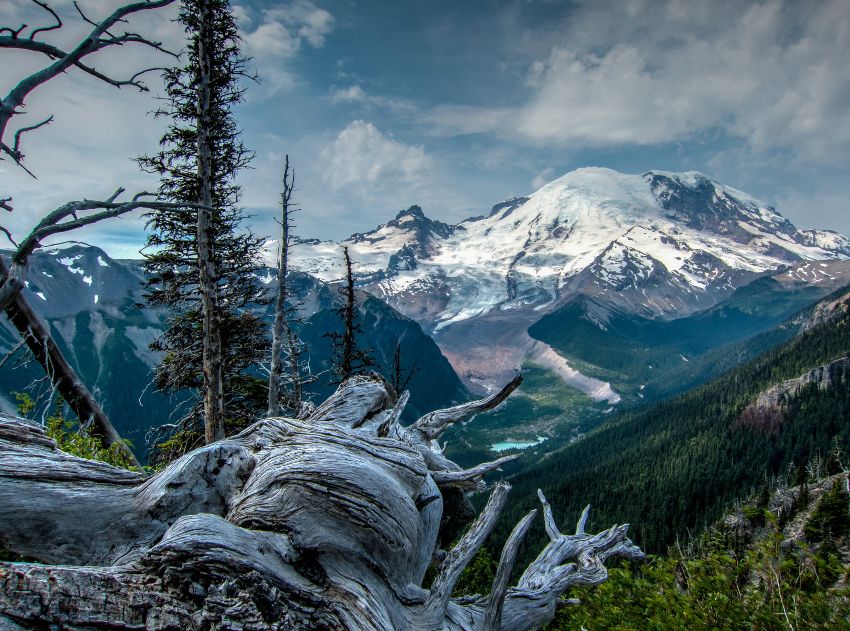 Summer and early Fall are the best seasons to visit Mount Rainier National Park, as you'll get the best, warmest temperatures (around 50 to 70 degrees), and the highest likelihood of sunny days.
The park is known to be quite rainy, and especially during Winter and early Spring, the weather can change abruptly.
Because of the unpredictable weather conditions, I recommend paying extra attention to the forecast and packing smart to be prepared in case of rain.
Winter especially is very affected by cold and wet weather, to the point where from November to March, it is very likely to find parts of the park completely closed to the public.
You can check beforehand if a road or area is inaccessible, on the MountRainierNPS Twitter account.
Hiking in Olympic National Park vs Mount Rainier National Park. Which one is more strenuous?
Great Hikes and Viewpoints in Olympic National Park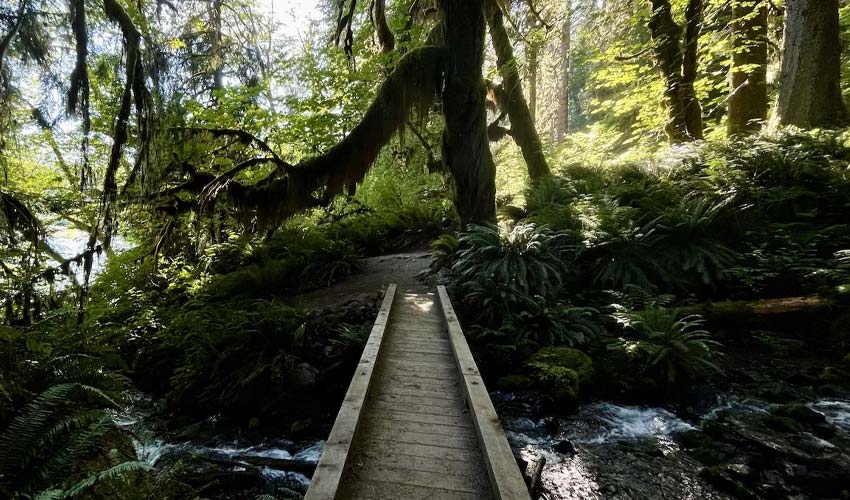 To explore the Temperate Rainforest of Olympic National Park, you can get on the Maple Glade Trail. The trail is only 0.5 miles long and it loops, starting and ending at the Quinault River Ranger Station.
There are a few trails that will get you around the coastal area of the park, with a gorgeous view of the Ocean. Cape Alava Trail is 3.3 miles long, leads from the inland to the coast, and is pretty panoramic.
If you're in the mood for more strenuous, mountain trails, Hurrican Hill is a very popular path, 1.6 miles long and looping around Hurricane Ridge Road.
This is one of the best viewpoints in the whole park, but you'll need to be ready for around 700 ft of elevation.
Best Trails and Viewpoints in Mount Rainier National Park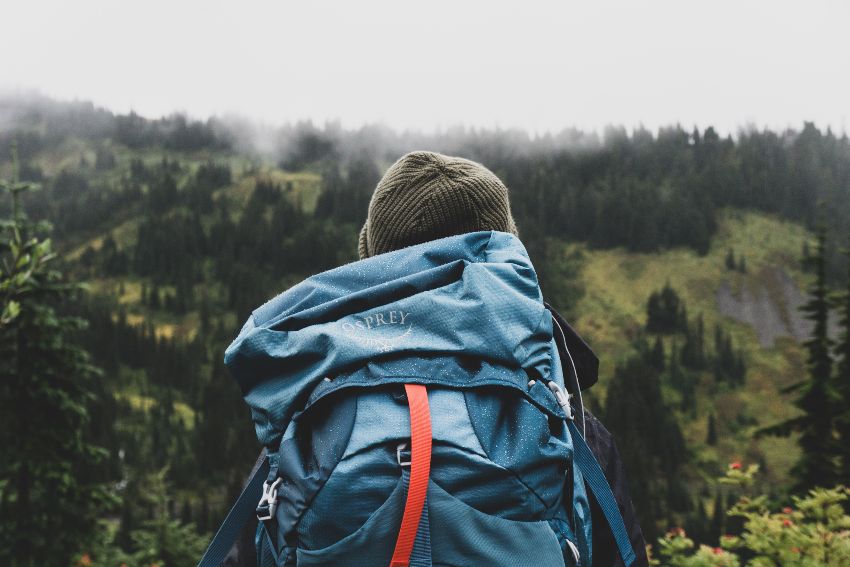 One of the best trails to enjoy stunning views on Mount Rainier National Park is Rampant Ridge Trail, located in the Longmire area.
This is a fairly strenuous and long hike, which will take you sound 2.5 hours to complete and come back. The elevation gain is also not to be underestimated, as it rounds up around 1340 feet.
On the bright side, you'll reach stunning viewpoints along the way, and get plenty of great photo opportunities, especially on a sunny day.
More beginner friendly, and even stroller friendly, but still boasting gorgeous views, Nisqually Vista Trail is a great choice even for families.
The trail is not strenuous and will get you around the flowery meadows and subalpine views of the Paradise area. Moreover, you'll have a chance to observe nature, maybe witness the wildlife, and get some nice views over Mount Rainier.
More strenuous but very rewarding, Paradise Meadows & Skyline Trailhead is a 5.5 miles round-trip, with almost 1700 feet of elevation gain. The trailhead is located at the iconic Muir Stepsen and is the best way to explore the Paradise area thoroughly.
Wildlife Viewing Olympic National Park vs Mount Rainier National Park
Wildlife Viewing Olympic National Park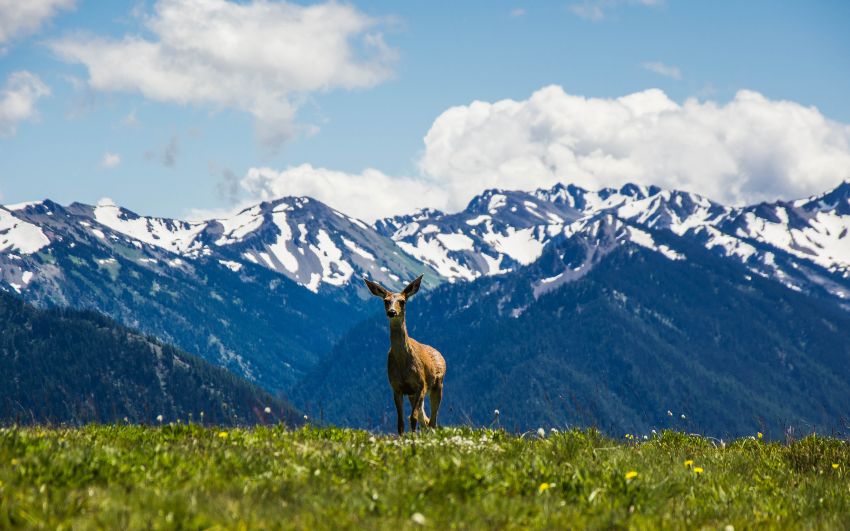 You can find a wide range of wildlife roaming around Olympic National Park, you just need to know where to look.
There are almost 300 different kinds of birds living in the park, and they can be spotted all over the park. From Bald eagles to Steller's jay, sooty ground, black oystercatchers, winter wren, and pygmy owls, birdwatchers are bound to catch sight of some interesting birds along the way.
Another animal you can easily spot in all areas is the deer, while you usually only see Roosevelt Elks in the rainforest areas.
The animal you are less likely to see is the black bear, which while living in the park is usually scared of visitors and does not approach hikers.
Last but not least, the park has a coastline on the ocean, so in that area, it is not uncommon to even spot whales.
Wildlife Viewing Mount Rainier National Park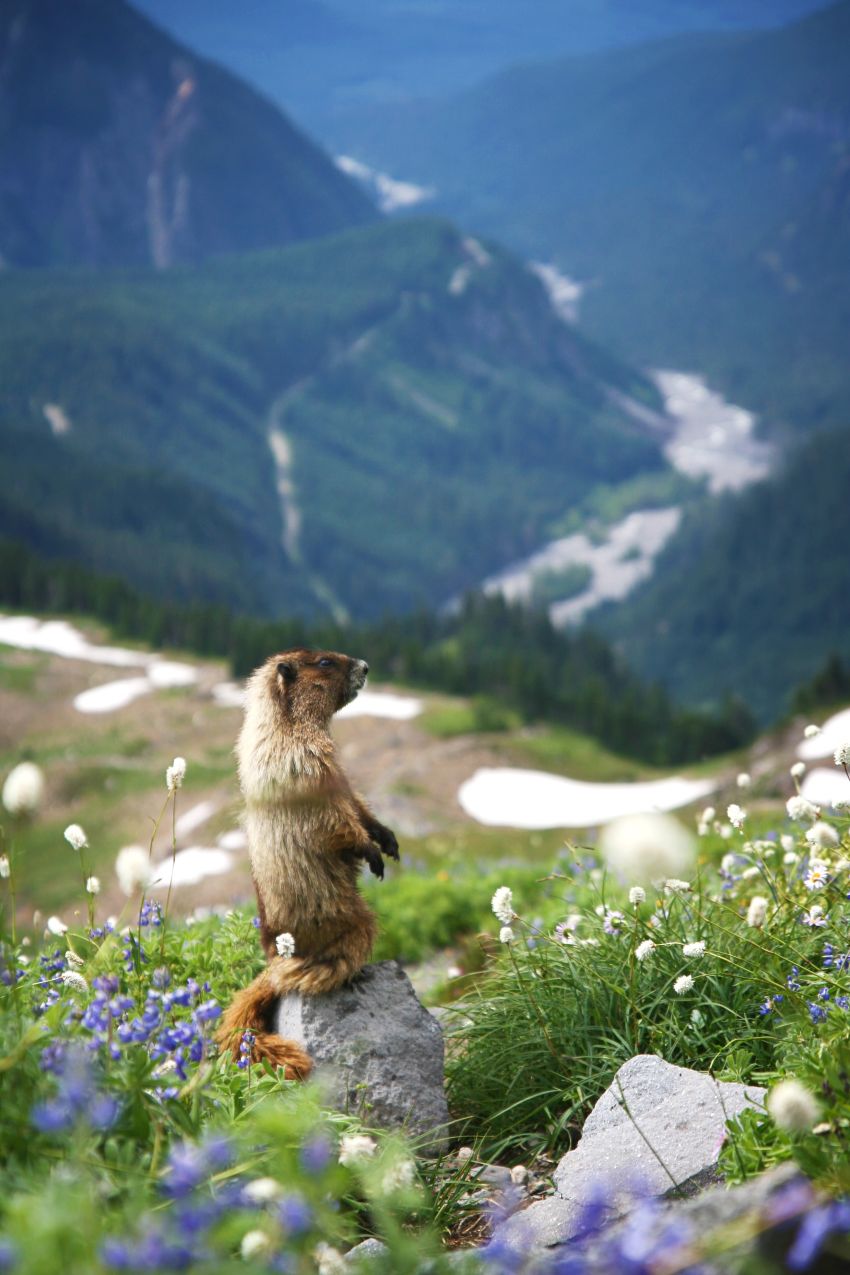 Birdwatchers will want to get around Mount Rainier to try and spot some of the species the park has to offer.
At the lowest altitudes, it is common to spot the northern spotted owl, western hemlock, douglas-fir, and western red cedar.
In the subalpine and deeply forested area of Mount Rainier, you'll be able to see the Chestnut-backed Chickadee and the Mountain Chickadee.
Black-tailed deers, elks, mooses, and mountain goats can be spotted as well, especially on the higher peaks.
Exploring Washington's Exceptional National Parks
If you're traveling through Washington State, don't miss out on the 10 most exciting caves to explore.
And after hitting Olympic or Mount Rainier National Park, why don't you check out the other 10 best west coast national parks?