Eastern Washington is not widely known as a winter wonderland, but skiing near Spokane can actually compete with the more popular western Washington resorts.
If you decide to ski in one of the several resorts situated on mountains on the east side, you just have to drive about two hours or less to reach your winter destination.
7 Places to Go Skiing near Spokane
The Spokane area, situated in Eastern Washington and near Idaho, gets over 300 inches of snowfall every season. Take advantage of this by visiting the following resorts: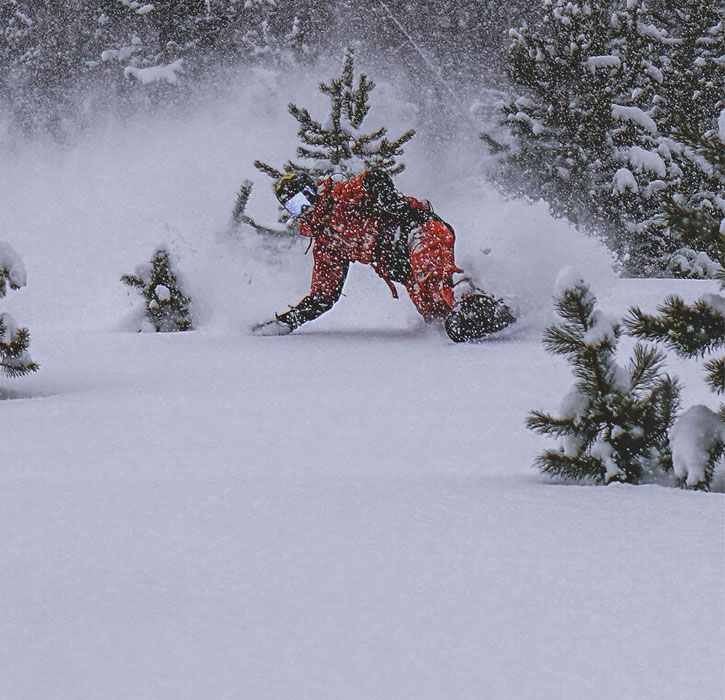 Silver Mountain is an hour's drive east of Spokane. It is a year-round resort that guests visit for snowboarding, snowshoeing, snow tubing, and skiing in winter.
Home to the famous gondola ride, where you'll get amazing views of Kellogg Peak, Silver Mountain is a mecca for serious mountain biking and golfing in the summer.
Silver Mountain is actually two mountains: Kellogg Peak (east side with a summit of 6,297 feet) and the original Wardner Peak at 6,205 ft. The ski area gets an average snowfall of 300 inches and has a vertical drop of 2,197 ft (670 m) on its north-facing slopes.
Silver Mountain is set on 1,590 acres of skiable terrain with 72 named trails and terrain divided into 20% for beginner, 30% for advanced, and 10% for expert level.
This resort originally opened as "Jackass Ski Bowl" in January 1968, then renamed "Silverhorn" in 1973 after an ownership change, and finally renamed "Silver Mountain" in 1989.
The ski area has 7 lifts, which include 5 chairlifts (1 quad, 2 triples & 2 doubles), a magic carpet, and the gondola that services the parking lot and base village.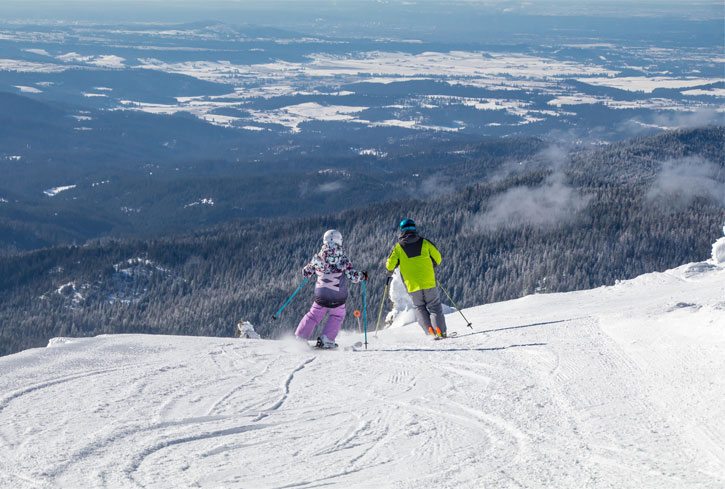 Mount Spokane Ski and Snowboard Park is your best bet if you want to ski near Spokane. It is just 23 miles northeast of Spokane via State Route 206.
Located inside Washington's Mount Spokane State Park, this winter sports area offers 1,773 acres of skiable terrain. The base elevation of the mountain sits at 3,818 feet with the summit reaching 5,889 feet.
Mount Spokane Ski and Snowboard Park has been serving guests since the 1930s. It became popular initially in 1947 for having the world's first double chairlift. It is one of the oldest night skiing resorts around with multi-lifts continuously serving skiers even after sundown.
The only downside to being closer to the city? Weekends and holidays during the ski season can be crowded, so be prepared.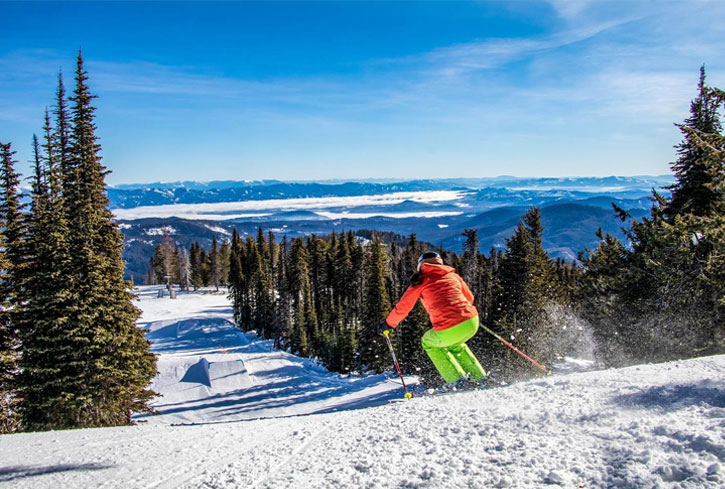 49 Degrees North ski area offers 2325 acres of skiable terrain serviced by seven chairlifts (one quad, one high-speed detachable quad, and four doubles).
The ski area's base is at an elevation of 3,923 feet with the summit at 5,774 feet on Chewelah Mountain, yielding a vertical drop of 1,850 feet.
The history of 49 Degrees North ski area dates back to 1970 when Chewelah Basin Ski Corporation applied to develop the land as a ski resort. After a couple of changes in ownership, the resort was most recently sold to CMR Lands LLC in 2019. This company is the same group that owns Silver Mountain (above).
The latest upgrade to 49 Degrees North ski area gave locals and ski enthusiasts quite a buzz. They brought in the Northern Spirit – the longest, newest, and most powerful chairlift designed by Doppelmayr USA.
Like Silver Mountain, 49 Degrees is now also being advertised as an all-season resort with a focus on hiking, biking, huckleberry picking, and other activities for the summer.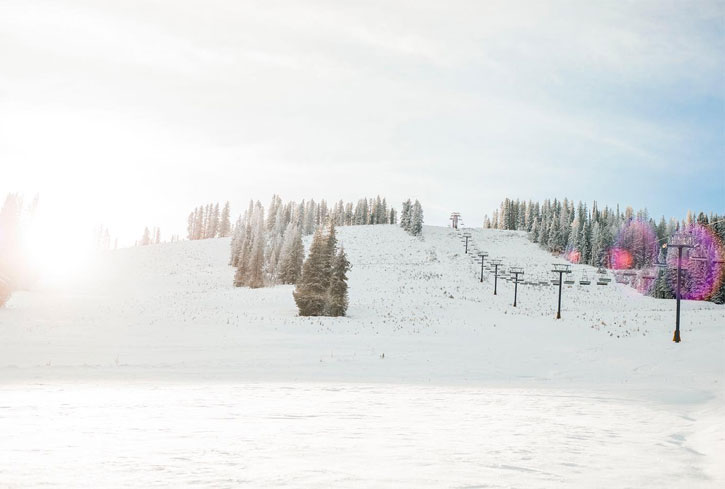 The Lookout Pass ski area is located on Interstate 90, on the border of Idaho and Montana, about an hour and 45 minutes east of Spokane.
The place opened in 1935 and has undergone gradual improvements through the years. Today, Lookout Pass has tripled in size and features 540 acres of skiable terrain with 34 trails serviced by four lifts. About 30% of the trails are rated for expert-skilled skiers.
The ski area has a summit elevation of 5,650 feet on Runt Mountain with a vertical drop of 1,150 feet on the northeast-facing slopes.
While the Lookout Pass ski area is smaller than the resorts on this list, but it has a loyal following thanks to the cheaper prices of season passes, the free ski school offered to kids and the 400+ inches of snowfall every year.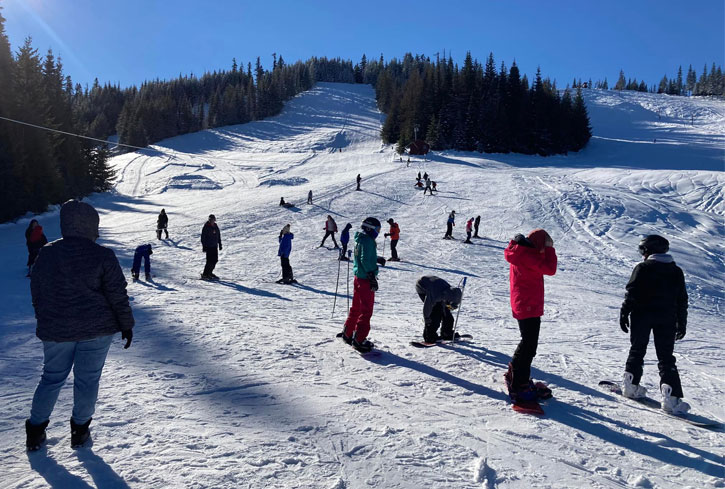 Bald Mountain Ski Area is a small ski area located in north central Idaho.
Originally built in January 1960 with only an engine-powered cotton rope tow exclusively for Potlatch Corporation employee use, the area was opened to the public in the 1960s for recreational purposes. To this day, Potlatch Corp leases the land to Clearwater Ski Club so people of all ages can enjoy winter activities when the mountain isn't "so bald."
The summit elevation is 4,400 feet above sea level, with a vertical drop of 684 feet. The north-facing slopes at Bald Mountain ski area are served by a pair of surface lifts – a T-bar (added in 1969) and the original rope tow.
Bald Mountain also has equipment rental and lessons for skiing and snowboarding (offered to all skill levels).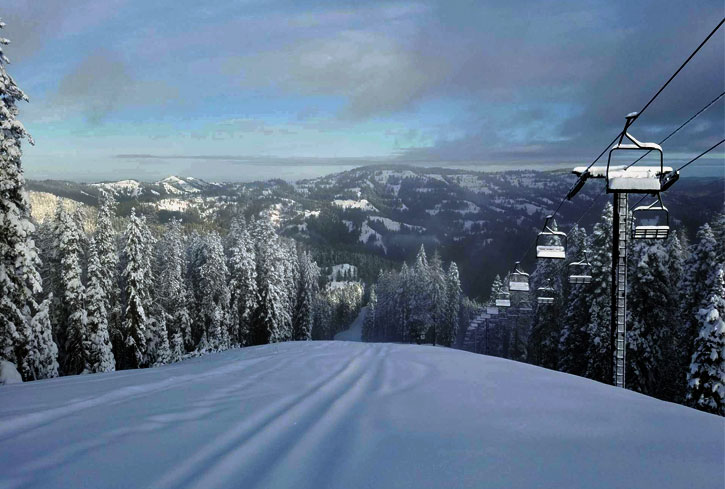 Bluewood features 400 skiable acres with 24 trails and four chairlifts.
The terrain is classified as 25% easy, 45% intermediate and 30% difficult.
While it isn't as huge as other places for skiing near Spokane, Bluewood Mountain still has a terrain park and six backcountry runs.
The ski area's base is at an elevation of 4,545 feet with the summit at 5,670 feet, yielding a vertical drop of 1,125 feet.
The downside? It's a bit farther from Spokane (it's located north of the Washington-Oregon border), but the good news is the tickets are cheaper than resorts closer to the city. And you'll be joined by fewer crowds.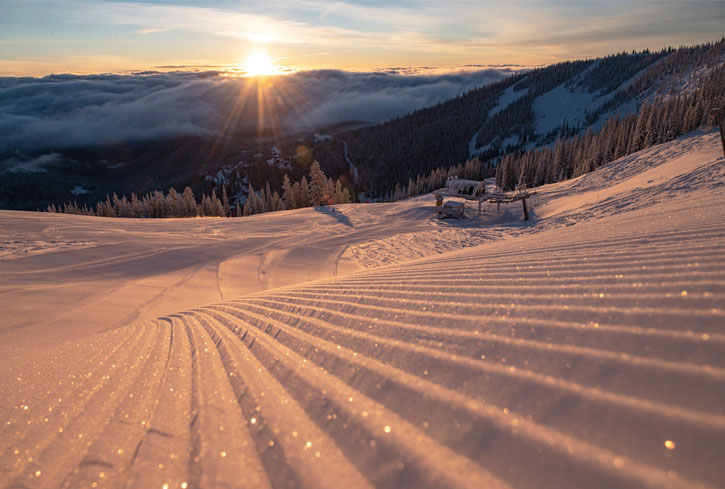 Schweitzer Mountain is not just the largest skiing near Spokane, it's also one of the best ski resorts in the west.
Located in Bonner County in the Selkirk Mountains, the ski resort offers 2900 acres of skiable terrain with 92 runs served by Idaho's only high-speed six-pack chairlift called "Stella." Schweitzer also has several other chairlifts, including 1 T-Bar, 1 conveyor lift, two high-speed quads, one triple chairlift, and three double chairlifts.
Schweitzer Mountain has 92 named runs and open bowls with the longest continuously-groomed run (Little Blue Ridge Run) spanning 2.1 miles.
The ski area is so huge that the Schweitzer village is home to two condominium hotels: The Selkirk Lodge and The White Pine Lodge. If you decide to spend your winter vacation at Schweitzer, you won't have any problems with dining and shopping. There's even a small market, liquor store, and the Chimney Rock Grill.
The best thing about this resort is the spectacular views of Canada and Idaho in one summit, plus the outdoor hot tubs that lodging guests can use freely.
Attractions to Visit after Skiing near Spokane
Ski season has begun (or is soon to open) in many of the places above. Skiing near Spokane will surprise you with the numerous backcountry runs, snowshoeing, Nordic trails, and other snow activities. You just have to get your season passes now, or book your ski vacation to experience skiing in the mountains of eastern Washington.
If you're willing to drive farther or fly out to America's top ski resorts, check out my guide about the best places to ski in the US, the best winter destinations, the country's best weekend getaway destinations, and the best places to see the northern lights.
For those who have time to explore Washington in all its glory, I recommend spending a day at Cape Flattery or being amazed at the caves of Washington. Enjoy!