Outdoor enthusiasts and adrenaline chasers won't disagree: almost nothing beats visiting the amazing caves in Washington State.
From gigantic natural caverns to hidden ice caves, the caves in Washington state are nothing short of spectacular.
8 Best Caves in Washington State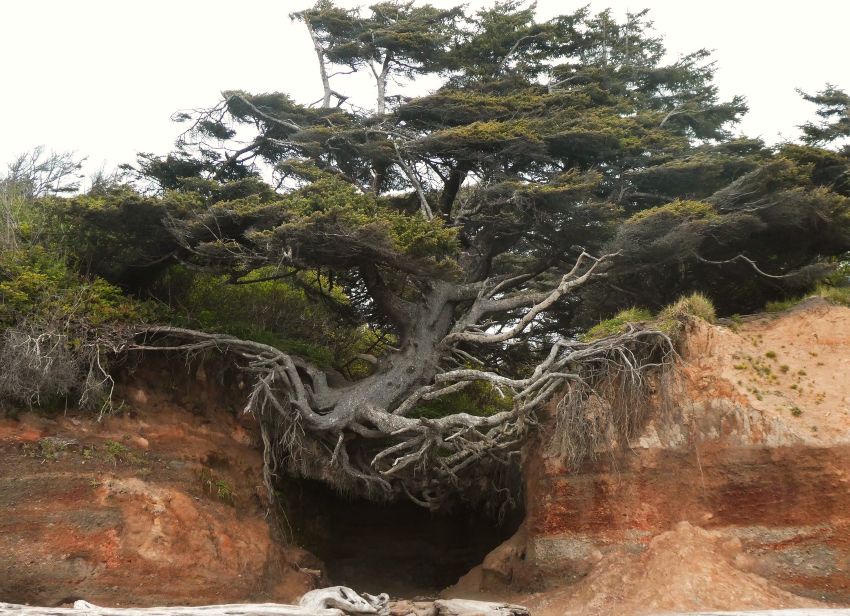 Want to make your trip truly unforgettable? You can't miss out on this magical WA cave. Located in the wonderful Olympic National Park, Tree Root Cave is easily one of the locals' and visitors' favorite caves in the state.
This unique location will satisfy every kind of traveler, from adventure chasers to those who love mindful and even spiritual traveling.
What makes it so special is the Tree of Life, the centenary tree that guards the entrance and creates a stunning arch in front of the cave.
The tree's gigantic roots hang in the air, making it hard to understand how can this tree be possible still alive.
This cave is a perfect location for those looking for an awe-inspiring view and an unparalleled photo opportunity.
Better to visit this location soon, because tides and erosion are unfortunately slowly damaging the resilient tree.
2. Ape Cave – Gifford Pinchot National Forest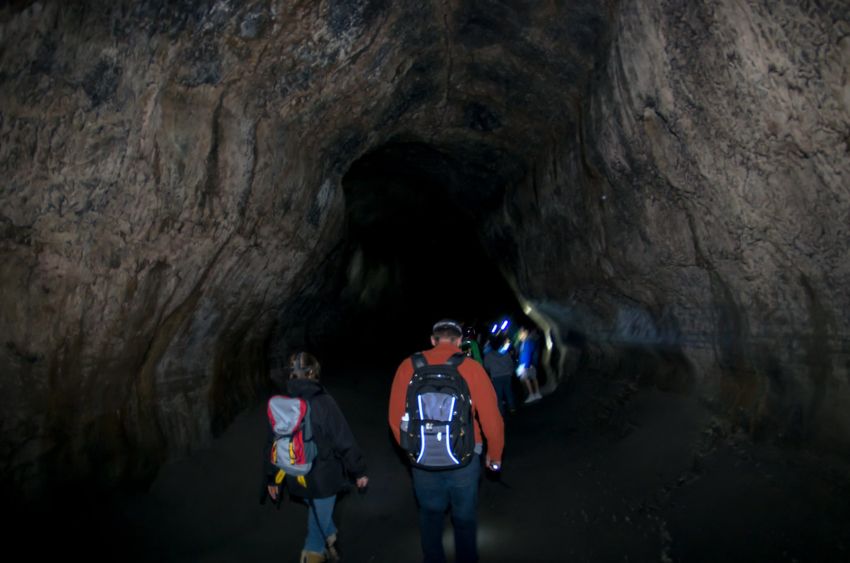 Looking for the experience of a lifetime? Then you can't go wrong exploring the Ape Cave at Gifford Pinchot National Forest.
If you ask a local to suggest the perfect WA cave, they are likely to tell you to visit the iconic Ape Cave.
The lava tube runs underground for 2.5 miles and is one of the longest in North America.
Inside you'll find two main trails, intended for different levels of hiking experience and capability.
The upper trail is the most demanding and rewarding in terms of fun and excitement.
Either way at Ape Cave you'll be in for a pretty intense hike, and you'll have to bring with you a torch (it's pitch black underground), and cold weather clothes, regardless of the season.
3. Layser Cave – Gifford Pinchot National Forest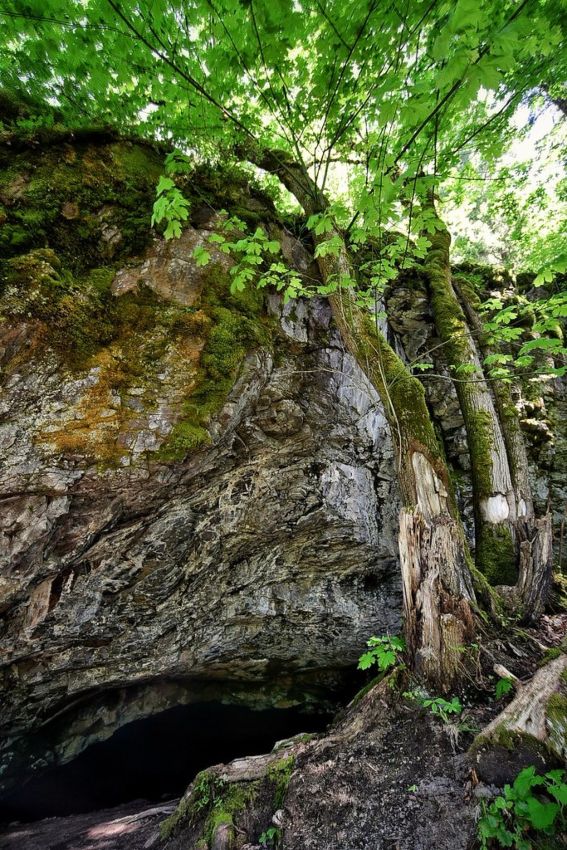 Layser Cave is a small but interesting archeological site located near the entrance of Gifford Pinchot National Forest.
The cave can be reached through a short and painless hike (around half an hour's walk) immersed in greenery.
Around Layser Cave, experts found an astonishing number of artifacts and relics, evidence that the site was inhabited by many during the prehistoric era.
This is a perfect destination for those who enjoy a history-dense day.
Keep in mind that Layser Cave is not one of those deep caverns that you get to explore for hours.
The cave is small but is surrounded by an interesting site and beautiful nature. It's great for a quick detour or going for a scenic stroll.
4. Big Four Ice Caves – Big Four Mountain, Cascade Range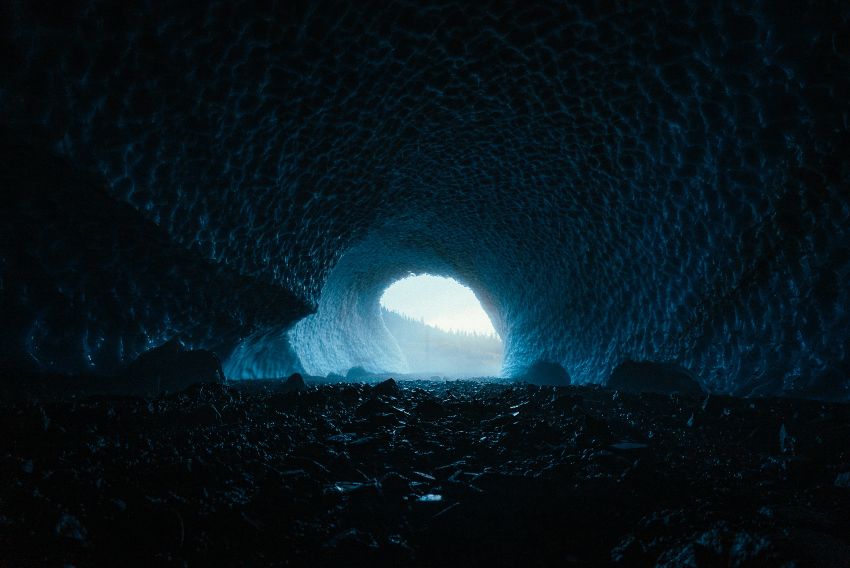 If admiring a glacier to discover a stunning hidden waterfall sounds like you're perfect day, put Big Four Ice Caves on the must-visit list.
The hike (about 2.2 miles) leading from the parking lot to the ice caves is very easy, with little to no elevation and a well-trodden path.
The caves are beautiful and can be safely admired from the outside. Some hikers choose to explore the caves, but it is considered highly dangerous by local guides.
It is not advisable to wander deep into the ice caves as it is possible for small avalanches to occur, especially during spring and summer.
It gets pretty cold around the ice caves, so remember to pack warm clothes, especially if you're planning on spending the night.
Many choose to camp in the vicinity of the caves, and because there is almost no light pollution in the area, stargazing and even sleeping under the stars are popular activities.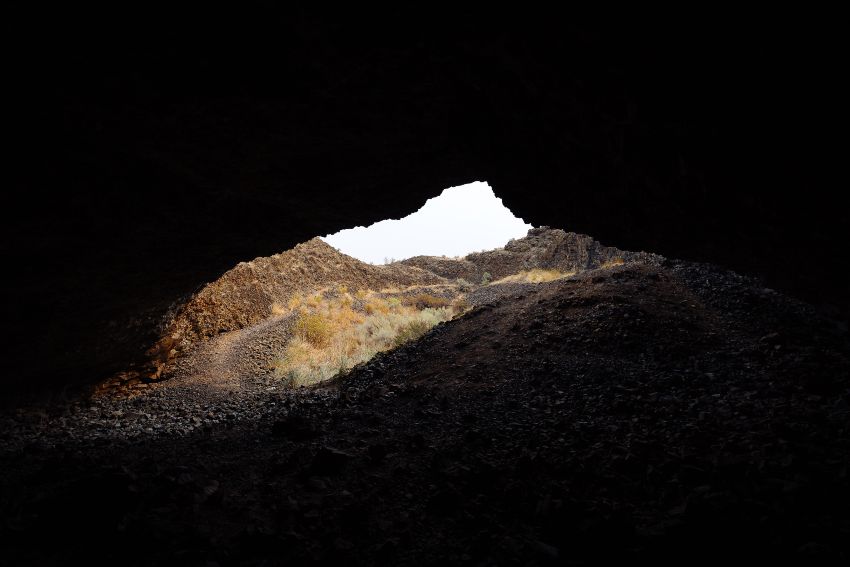 This is a location for true hikers and adventurers, looking to explore in autonomy as many caves as they can.
Don't be put off by the somewhat remote location, because Lake Lenore Caves State Park won't disappoint you.
The whole area is dotted with little caves, which can be found scattered across the park or along the main trails.
This is a perfect destination for those looking to spend time in nature, hike for days and explore a vast area.
The park is characterized by caves and rock formations that alternate seamlessly, and several small lakes, small creeks, and waterfalls also can be found.
The trails are not always well signaled and the ground can be at times steep and rocky. For this reason, I recommend packing smart and bringing your sturdiest pair of mountain shoes.
The rocky scenery is simply mesmerizing, however, it does mean that in the summer you won't find much shade, so it's better to bring a hat and lots of water.
6. Boulder Caves – Lost River Gorge and Boulder Caves Natural Area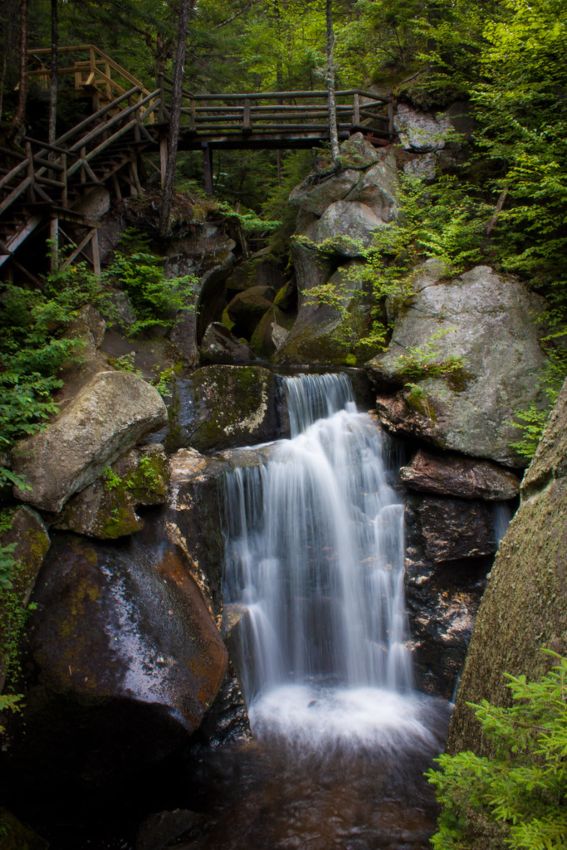 At Boulder Cave, you'll be in for one of the most rewarding hikes ever.
Reaching the caves by foot is fairly easy, and the view, in the end, is something out of a fairy tale.
The trail leading to the caves follows the Lost River Gorge and even features some charming wooden boardwalks crossing the water from time to time.
In general, the trail is not challenging and well marked, which makes it perfect even for beginner hikers.
At the trailhead, you'll be asked to purchase an entrance ticket of $5, in cash, so remember to bring money with you to avoid disappointments.
The Boulder Caves can be visited without a guide but is recommended to come prepared and bring eclectic flashlights since it can get pretty dark inside.
Want to be let in on a well-kept secret? Just before the signaled turn for the caves, you can instead turn right and reach a small, hidden waterfall. These falls are almost always empty as not many know it's even there.
7. Gardner Cave – Crawford State Park Heritage Site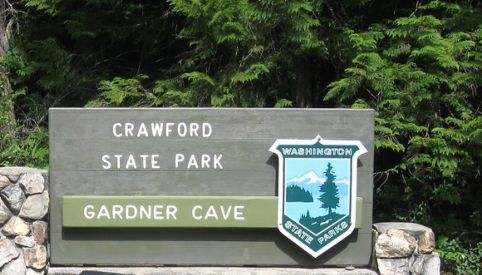 If you love a high-quality, entertaining guided tour, you must pay a visit to Gardner Cave. Located in the heart of Crawford State Park, Gardner Cave is a location blessed with otherworldly beauty.
The limestone caves run deep underground but the vaults are wide (not your classic claustrophobic cave) and the rooms fool of centuries-old stalactites and stalagmites, towering columns, and natural underground pools.
Note that f you want to visit the caves you have to book in advance one of the free guided tours.
From the caves, you can explore the state park, and even reach the border with Canada through a short hike.
There are picnic tables scattered across the natural area surrounding the caves, so if you packed your lunch you'll have no trouble finding a comfortable place to eat. There's even one picnic table located in front of the Canadian border.
8. Guler Ice Caves – Gifford Pinchot National Forest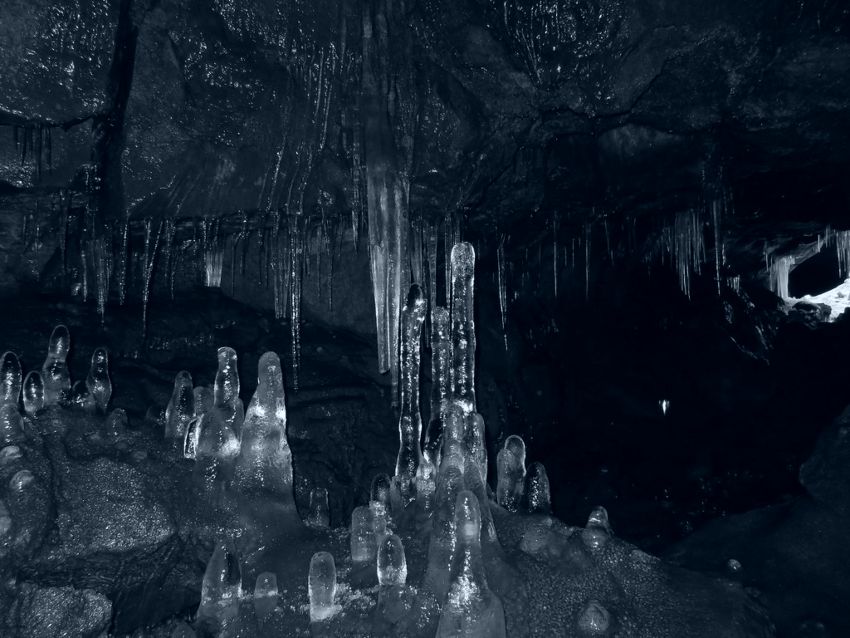 This amazing lava tube is one of the most popular caves in Washington state. It's great to visit year-round, however, you'll see much more of the ice formations during wintertime and early spring.
You can enter the caves through a steep wooden staircase (sometimes icy, so be careful).
Close to the entrance you'll find one of the main rooms, a natural rock arch, the iconic crystal grotto (only in wintertime), and much more.
Because of the nature of the cave, it is highly recommended to wear a helmet or something protective on the head.
The paths within the caves can be slippery and the low visibility makes it even harder to explore underground. Therefore, for the most comfortable and exciting experience, I recommend bringing a headlamp (or helmet with a headlamp) instead of a flashlight when visiting the caves.
After exploring the main cave, you can hit the McClellan's Trail and find the two smaller lava tubes called "pits".
This is also a great location during the wintertime for xc skiing and snowshoeing.
2 Falls with Natural Caves and Rock Formations in Washington State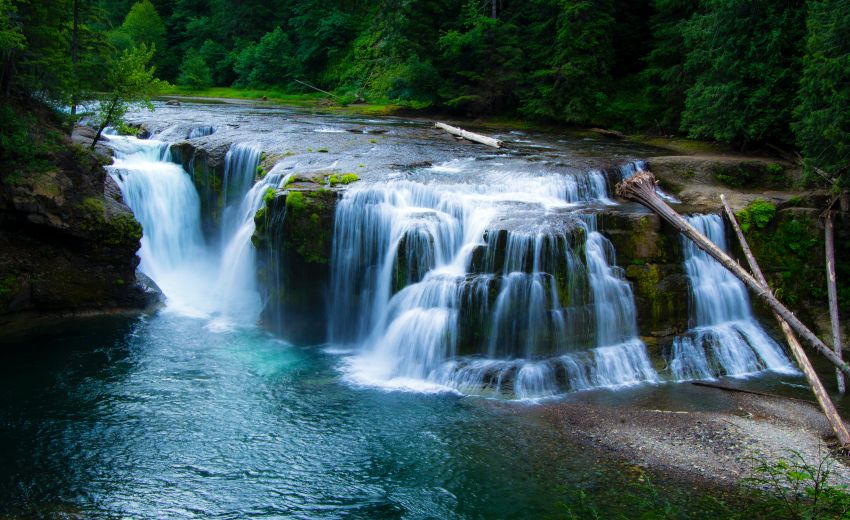 If you love natural lava rocks, you'll have plenty to see and do at the Lower Lewis River Falls.
The scenery created by the smooth lava rocks and waterfalls is unrivaled, but this location is yet not touristic enough to make it crowded, even during the summer.
This stunning naturalistic area includes magnificent waterfalls, natural pools of crystalline (and very cold) water, and interesting rock formations.
But are there caves to explore? Some of the waterfalls are less rushing and can be crossed to reach a few natural caves hidden behind the water.
10. Iron Creek Falls – Gifford Pinchot National Forest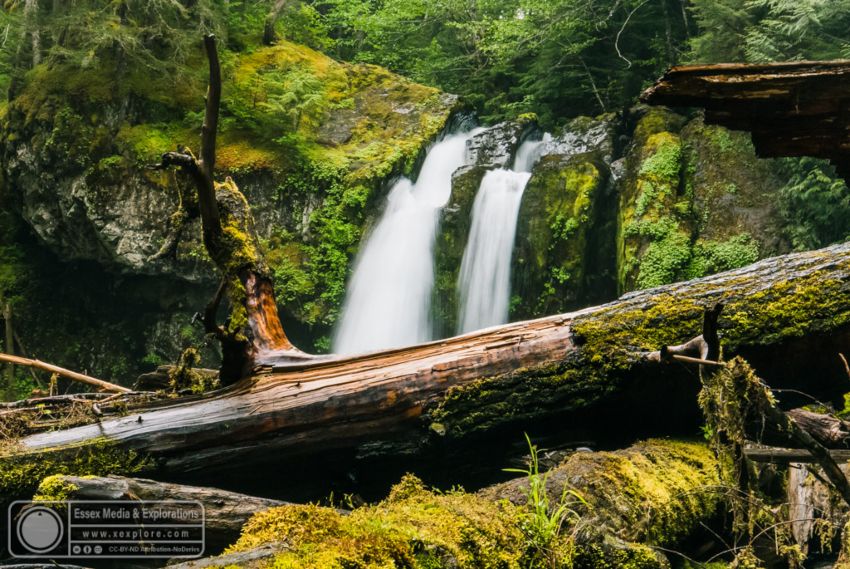 Iron Creek Falls are easy to reach and almost always deserted despite being beautiful. From the trailhead, a short hike will lead you to the main attraction, the waterfall, and to a small cave area that can be accessed and explored easily.
There are a few swimming holes beneath the falls, however, the water is very cold regardless of the season, so beware!
Also, since the surroundings are very rocky, it is best to pack swimming shoes or rock shoes to walk comfortably and best appreciate this location.
You can never get enough of Caves? Check out the Best Caverns in the States
If you're planning on seeing the best of the best, here are my favorite caves in North America. Another great option, especially during wintertime, is to visit one of the many ice caves in Colorado. Utah and Indiana are also preferred destinations when it comes to exploring caverns.