Alabama beaches are some of the best spots for travelers looking for quality sand, surf, and sea.
While the neighboring beaches of Florida are more popular for their party scene and larger coastline, Alabama beaches are known for their laid-back atmosphere, sugar-white sand, and blue-green Gulf waters.
There's a beach for everybody in Alabama, but these 5 beaches and nearby areas should definitely be on the top of your list.
5 Most Popular Alabama Beaches
Alabama has over a dozen beaches.
If you ask the locals, this number doubles pretty quick as every access point at the Gulf Shores or Orange Beach is sometimes considered a beach as well.
If you're mulling which beach in Alabama to visit, here are your best options…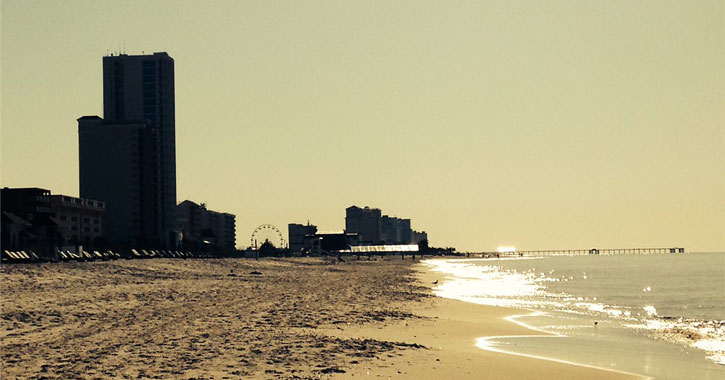 The Gulf Shores main public beach is the most popular of all Alabama beaches. It is where the long stretch of sand contrasts the sky-high buildings and hotels. And even with a lively community, modern amenities, and 2-star to 5-star hotels nearby, you can rest assured that the peaceful splashes of the coast remain the star of the show.
If you're visiting from somewhere else, the main public beach of Gulf Shores is likely the meeting spot for many tours (such as dolphin tours, or island tours).
The beach is clean, well-lit, and with plenty of walking paths and access points, thanks to the major renovation it faced recently to promote greener space, PWD access, additional bathrooms, and even build its own amphitheater.
Note that the Orange Beach and Gulf Shores communities have a "Leave Only Footprints" campaign that they strictly implement.
It's why the beaches here are virtually litter-free and why most establishments have no glass containers.
Other Alabama beaches in the Gulf Shores area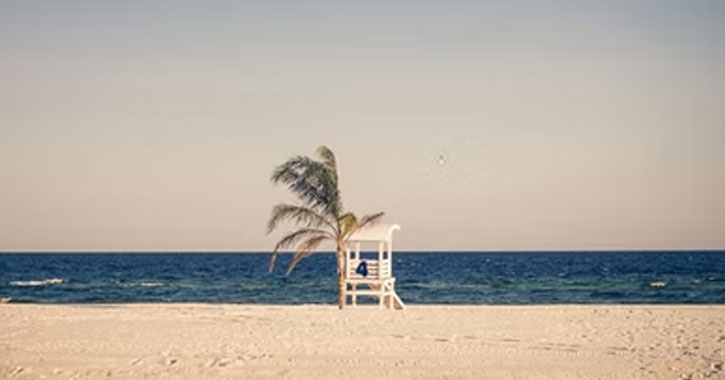 The Gulf Shores has 32 miles of stunning beaches to choose from, which means aside from the main public beach, there are other worthy beaches in the area such as:
West Beach Gulf Shores (Gulf Shores, AL 36542) – The area is quieter than the main public beach, but the accommodation is mostly rental beach houses (instead of hotels). The good news is you can still enjoy most Mobile Bay restaurants, which are walking distance from parts of Gulf State Park and Waterville USA waterpark.
Fort Morgan Beach (Fort Morgan Rd Trail, Gulf Shores, AL 36542) – The Fort Morgan beach is at the tip of the Alabama Gulf Shores, away from the typical beach bars, restaurants and souvenir shops of nearby beaches. But the effort to get here is worth it once you experience the pure isolation, fine white sand and pristine beaches.

Gulf State Park (20115 State Park Rd Gulf Shores, AL 36542) – This is the perfect spot if you're planning on camping with your family. Aside from the campground, unlimited trails to explore, picnic tables by the pavilions, and even a swimming pool, there are 2 miles of family-friendly beach at the Gulf State Park to enjoy.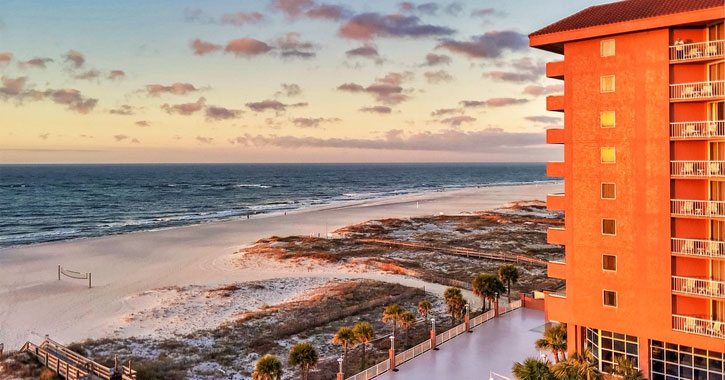 Aside from Gulf Shores, Orange Beach is the other seaside town of Alabama that brings tourists to this side of the country each summer.
It's smaller than the stretches of sand of Gulf Shores, but the eight-mile-long sandy beaches are enough to marvel at the beauty of Alabama beaches.
Orange Beach is the perfect spot if you wish to maximize outdoor activities.
There are bike paths, walking trails, flyboarding activities, fishing, and other sea-based tours (dolphin watching) offered here. Of course, if you just prefer to enjoy the calm of the sea, the scenic Orange Beach will welcome you with open arms.
To change things up, you can visit the south's first Adventure Island Amusement Park and Arcade, too!
Other Alabama beaches in the Orange Beach area
If you decide to stay in the area, you have the option of exploring other nearby beaches such as: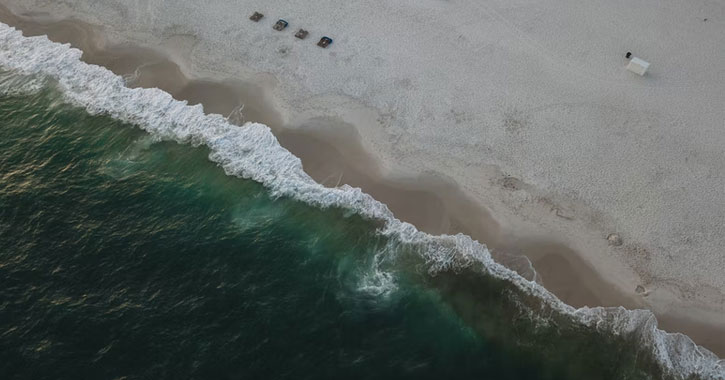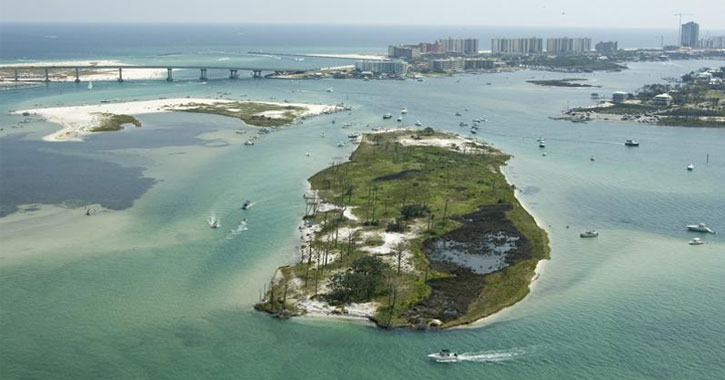 Technically speaking, Robinson Island is still a part of Orange Beach, but since you can only reach it by boat off Marina Road, it's in its own isolated paradise.
Robinson Island is located north of Perdido Pass bridge (just like the other two small sandbar islands known as Bird and Walker islands).
All 3 islands are shorebird nesting habitats, so if you're up for some bird-watching, any of the islands can be the best spot for this.
If you're looking for a memorable day trip to Robinson Island, bring a picnic basket and everything you may need, then relax for an hour on two.
Aside from boat trips, you can also reach the island by kayak (Coastal Kayaks offer trips to these island bars).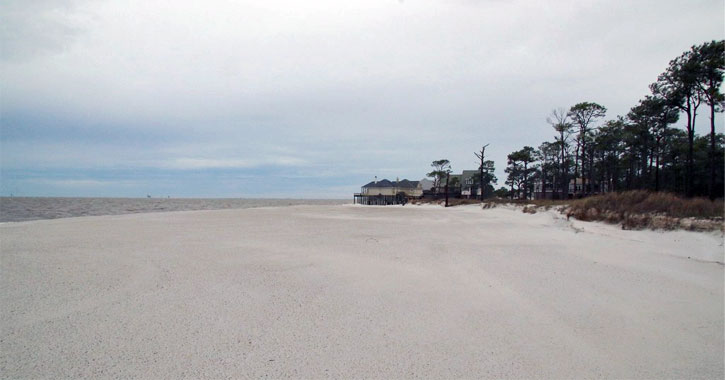 This small barrier island is away from all the hustle and bustle of Orange Beach.
Called the "Sunset Capital of Alabama," Dauphin Island offers spectacular views not just during sunrise and sunset, but throughout the day.
If you're planning to camp, Dauphin Island is the only family-friend and pet-friendly beach in the area. There are several fishing spots, a public golf course, shady parks, and 14-mile shoreline with powdery-white sand.
To reach Dauphin Island, you have three options:
Drive to Dauphin Island from Mobile (Pin the map going to the Dauphin Island bridge)
Take the Mobile Bay Ferry from Fort Morgan
Ride a ferry from the Gulf Shores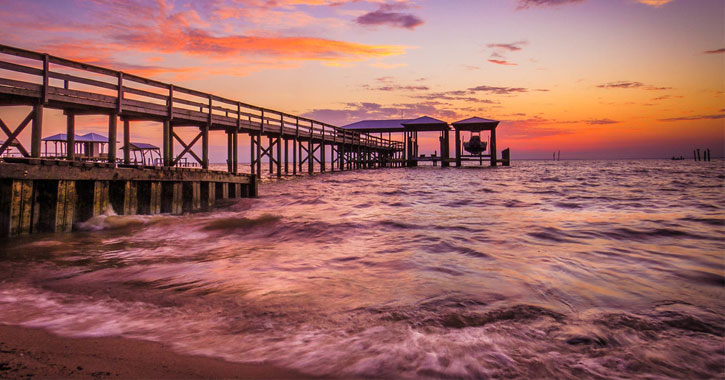 Fairhope Beach is located just off Mobile Bay.
It offers the perfect mix of quiet beach ambiance with lively small-town activities at the nearby park, where you can find shops, boutiques, restaurants and the Fairhope pier.
Fairhope Beach is ideal for all ages, especially because the waters are calmer than other areas. There is minimal waves and just the right amount of people (even during peak months). Plus, accommodation options here range from affordable mom-and-pop cottages to 5-star hotels from Marriot, Holiday Inn, and so on.
If you're lucky to be visiting in March, you get to witness how locals celebrate their annual Fairhope Arts and Crafts Festival.
Attractions Beyond Alabama Beaches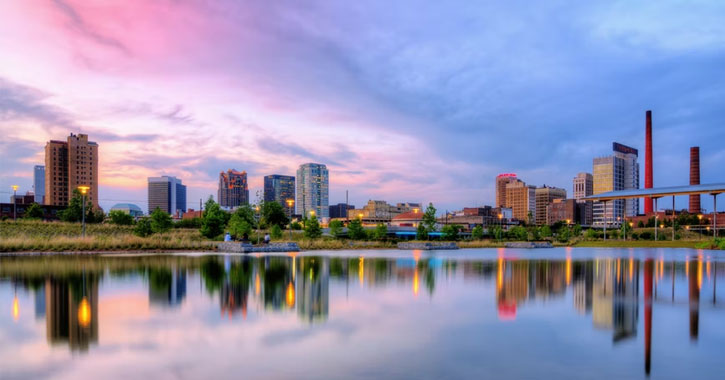 The best time to visit Alabama beaches is between May and October when the beaches are not as crowded as usual.
If you're visiting Alabama for over a week, you should also explore one or more gorgeous lakes in Alabama – they're just as peaceful and awe-inspiring as the beaches of Alabama.
For travelers with only a few days to explore the state, pick and choose from 20 of the best things to do in Alabama so you can add to your itinerary.