The best hikes in Utah are the ones you can successfully climb and inspire you to continue reaching new heights.
The good news is, that whether you're just a hiking beginner or already a pro, Utah has over 3,000 hiking trail options for you to explore.
Here are just 15 of the most popular ones fit for beginners, pros, and all skill levels (if you're planning to hike as a group of mixed-skilled hikers).
5 Best Hikes in Utah for Beginners
The trail you seek shouldn't just depend on your skill level (or whether you haven't hiked before or not). When choosing between some of the best hikes in Utah, pick one that leads you to what you're searching for.
Are you looking for scenic views?
A path toward a gorgeous lake?
Trails that pass through caves?
Hiking to a waterfall?
Dreaming of reaching the highest peaks?
Want to take a sunset photo from one of Utah's stunning arches?
The following beginner-friendly Utah hiking trails could just be what you're looking for:
Reason to pick this route: Ideal for beginners with gorgeous scenery all the way to the lake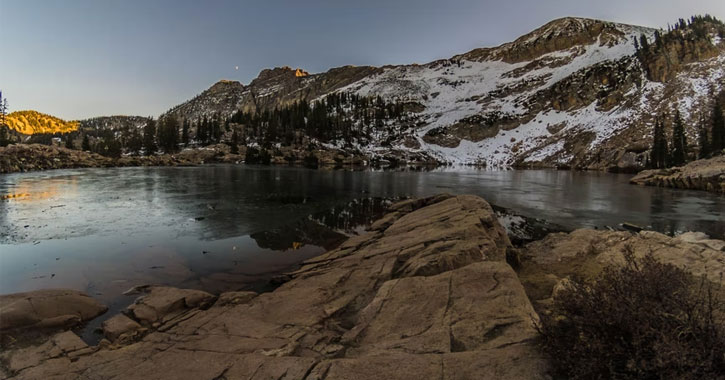 If you're visiting Salt Lake City, this day trip is a popular family-friendly hike that leads you to a crystal-clear alpine lake in the Albion Basin of Little Cottonwood Canyon near the Alta Ski Area.
Foot traffic here is heavy, especially between June through September. On weekends, you'd be lucky to ride the free shuttle from the Alta Ski Resort to the Cecret Lake trailhead. Prepare to see wildflowers on your way up and the possibility of moose sightings.
Reason to pick this route: If you've been dreaming of those Utah arches, this is a relatively easy trail to follow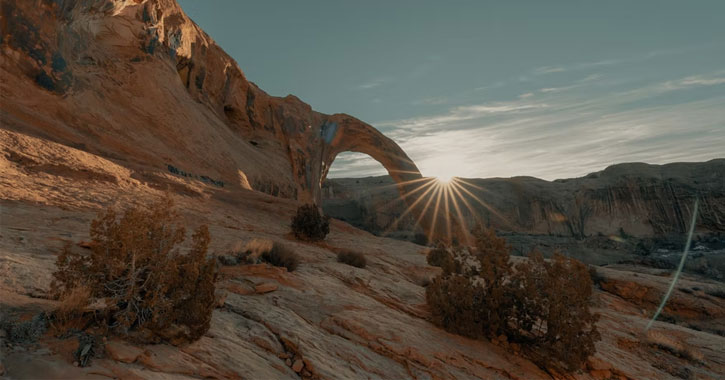 Distance: 3 miles round trip
Elevation gain: 250 feet
Difficulty: Moderate
Permit: none needed, pets are allowed
This trail passes by the Pinto Arch and Bowtie Arch before reaching your final destination – the gorgeous Corona Arch (also known as the Little Rainbow Bridge). It's the largest arch in Moab outside of the national parks.
As a popular trail, you can expect many markings along the way. There are also different spots to view the arch, one higher than the next, which is perfect for those with a fear of heights.
Reason to pick this route: Amazingly scenic hike for sunrise or sunset, very near the visitor center too!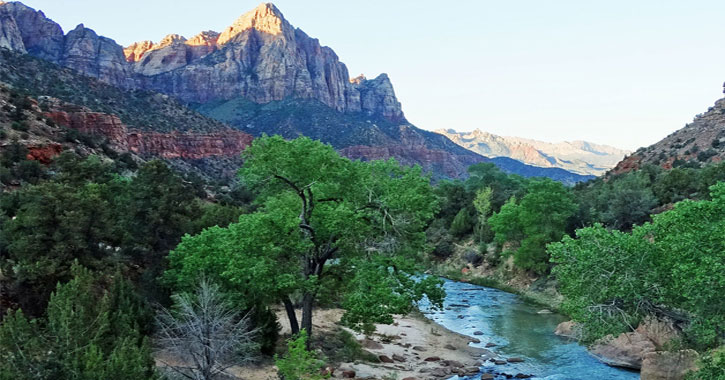 This dirt path remains a Zion classic for beginner hikers because you can see almost all Zion landmarks such as West Temple, Towers of the Virgin, Beehives and Altar of Sacrifice. Just don't expect to feel like you're on top of the world, since this family-friendly trail doesn't lead you to the top of Watchman Mountain.
Both sunrise and sunset hikes offer picturesque views of Zion's colors, but it gets hot in the afternoon during summer.
Reason to pick this route: Ideal for those chasing waterfalls, this trail isn't as dangerous as other hikes in Utah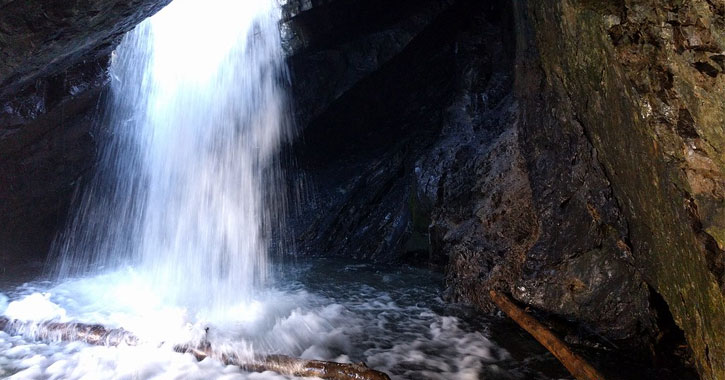 Location: near Salt Lake City, UT 84121 (located approximately 9 miles from Big Cottonwood Canyon)
Distance: 1.53 miles
Elevation gain: 413 feet
Difficulty: Easy
Permit: None required
Donut Falls is one of the most popular hikes in the Salt Lake area. The trek is easy with plenty of shade along the way but offers a satisfying end if you're willing to get a little wet. Donut Falls is small, but being super-close to one inside a cave is a one-of-a-kind experience.
Kids and seniors might need help climbing a steep rock wall going to the actual donut fall, but the rest of the trail isn't technical.
In winter, Donut Falls is near a sledding area as well.
Reason to pick this route: Fantastic 10,000-feet high viewpoint of Cedar Breaks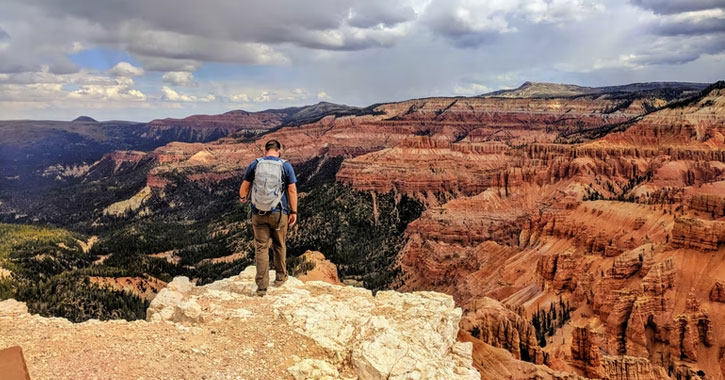 Distance: 2 miles round trip
Elevation gain: 380 feet
Difficulty: Moderate
Permit: Needs a pass to enter, dogs are not allowed
You'll feel like you're on top of the world (at 10,000 feet), but the trek is fully marked and is even considered family-friendly even if there are sudden steep parts.
Ideal for hiking between March and October, the Spectra Point trail takes you across the amphitheater of Cedar Breaks, giving you amazing views of red rocks, wildflowers, and bristlecone pines (one of the oldest living tree species in the world).
5 Best Hikes in Utah for Advanced Hikers
The next five best hikes in Utah are suitable for the pros. The difficulty level of these hikes ranges from strenuous to downright dangerous:
Reason to pick this route: If you're after arches, you'll see 9 arches here (including the massive Landscape arch)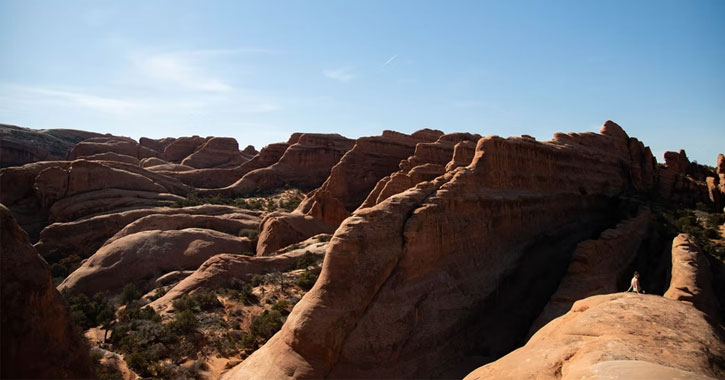 Distance: 7.9 miles round trip
Elevation gain: 400 feet
Difficulty: moderate to difficult
Permit: Timed Entry Tickets are needed if you plan on visiting between April 3 to October 3, 2022.
Don't let the name fool you – Devil's Garden loop is actually a place of heavenly views.
The best thing about this trail is that you can aim for Landscape Arch (the longest arch in North America with a light opening of 306 feet) and go back to the trailhead in under 2 miles.
The hike becomes difficult beyond Landscape Arch toward Double O Arch and Primitive Trail.
Reason to pick this route: One of the most difficult Utah hikes, but with the most amazing geology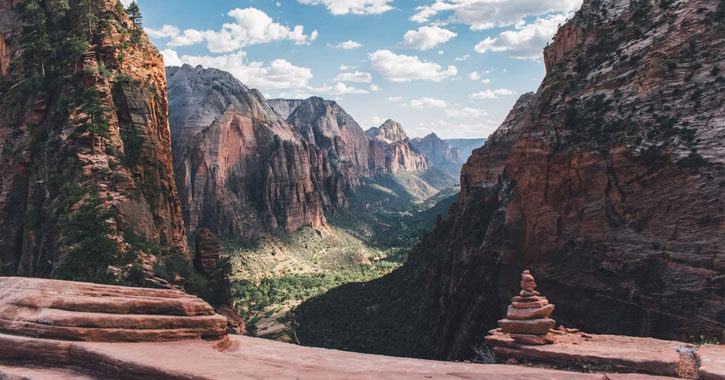 Angels Landing is a classic hike in Zion National Park with breathtaking views of the whole canyon. It's also one of the most dangerous hikes in Utah, which is why it's best left for the pros and why thousands of adrenaline junkies are attracted to this trail each year.
From the trailhead, you can see Angels Landing in front of you, but you'll need to pass a 2-mile steady uphill climb, the shady Refrigerator Canyon, the 21 switchbacks (known as Walter's Wiggles) that you can definitely feel in your thighs, and the Scout Lookout.
The last 500-feet climb is where the real thrill seekers are separated from the faint-hearted and where many people have died. Yes, this is the path with chains hikers hold on to until they reach the top.
Reason to pick this route: Instagram-worthy pictures, sandwiched by the picturesque Navajo sandstone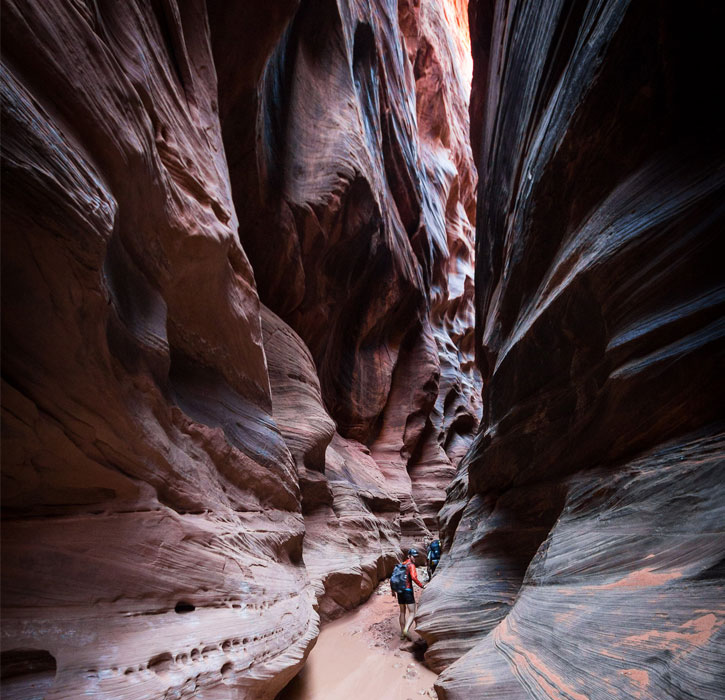 Location: Paria Canyon-Vermilion Cliffs Wilderness Area (along the Utah/Arizona border)
Distance: 14 to 51 miles
Elevation gain: -500 to 1500 feet depending on the route
Difficulty: Moderate
Permit: yes, $6 per person and $6 per dog
Buckskin Gulch is the longest slot canyon in the world. If you've been here before, you know that it does feel like it goes on forever. But every inch of the slot is worth it.
Once you're in, you'll be walking 16 miles of unique formations, and impressive sandstone walls.
Buckskin Gulch can be dark and narrow in some parts. Anyone can do it technically, but it's been rated as strenuous due to its length and deemed dangerous due to potential flash floods that gave it a nickname of "gambling in the slots."
Reason to pick this route: For bragging rights (Kings Peak is the tallest peak in Utah)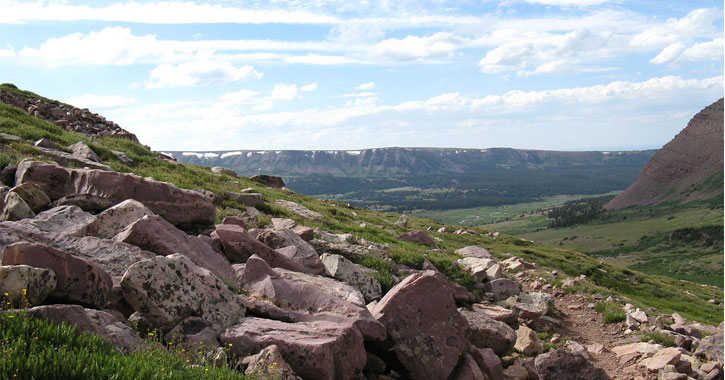 Kings Peak is located 80 miles (130 km) east of Salt Lake City in the Uinta Mountains and the Ashley National Forest.
If you're looking for a multi-day trip, Kings Peak offers you a chance to pass by several lakes (like Alligator Lake and Dollar Lake) and campgrounds. The air gets pretty thin by the final stage of the trail gains around 2000 feet to The Crown of Utah, so be prepared for altitude sickness.
Reason to pick this route: Most photographed slot canyon in Utah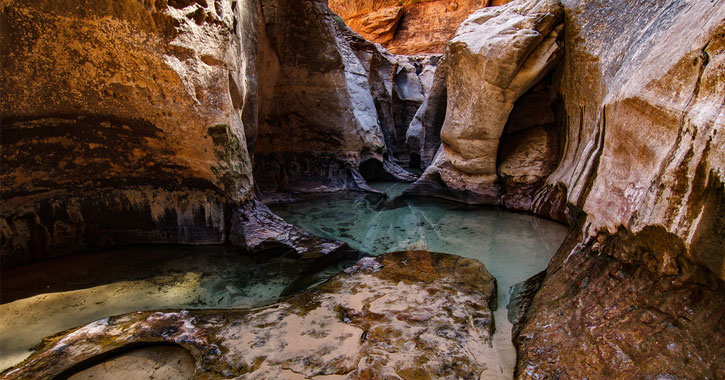 After the Narrows and Angels Landing, the Subway is one of the most sought-after hikes in Zion National Park. But it isn't for everyone. To get to the Subway, you have two options:
Bottom-up (about 9 miles round trip)
Top-down: Ideal for experienced hikers. This path requires a car shuttle and several technical rappels.
Both rugged trails have challenging parts (especially the no-marking creek crossings) and natural attractions (like staircase waterfalls, giant boulders, jaw-drop gorgeous kaleidoscope walls and sandstones).
The subway itself is quite a short hike, but you won't run out of photo opportunities inside, that's for sure.
5 Best Hikes in Utah for all Skills
The following Utah hikes are perfect for all skill levels. It's the perfect hike for groups of pro hikers and beginners combined.
Reason to pick this route: For those interested in visiting a slot canyon, but inexperienced for The Subway
Location: Utah 84737, USA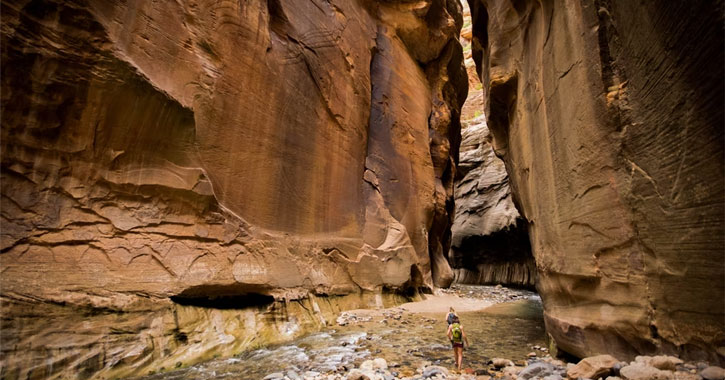 The Narrows is the narrowest section of Zion Canyon in Zion National Park.
This scenic hike is popular with hikers of all skill levels since you can either turn it into an easy day hike, walking through a river that's sandwiched between 2000-feet-high canyon walls.
You can also turn this trail into a more challenging overnight hike (there are 12 campsites here) until you reach a waterfall.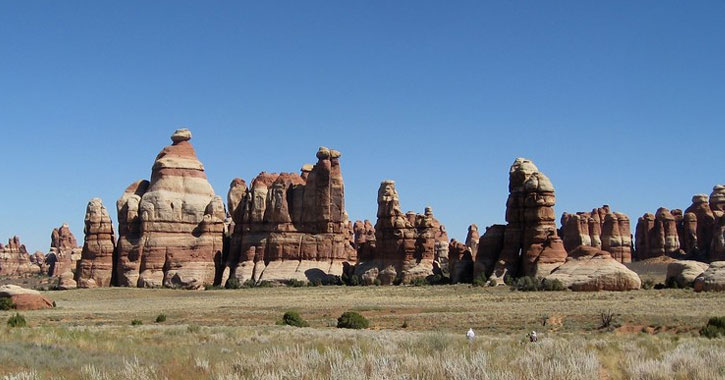 The hike can take 5 to 7 hours, depending on which sandstone rock formations you plan to climb. Chesler Park Loop Trail is a 10.3-mile trail, but since it's broken up into smaller sections, you can hike as short or long as you like.
This trail takes you close to Utah's famous "Needles" and spectacular views of the La Sal Mountains and the Island in the Sky of Canyonlands.
Reason to pick this route: Easy hike with a waterfall at the end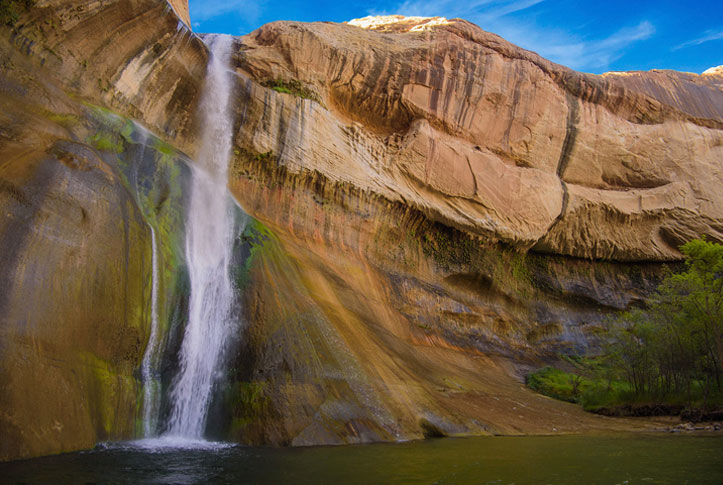 This 6-mile round trip hike leads you to the 125-foot lower Calf Creek falls.
If you're introducing the best hikes in Utah to beginner hikers, this hike can encourage them to build up their skills. It's a perfectly easy hike, dog-friendly, and easily accessible, which also means crowds can affect your experience so it's advisable to hike early.
To turn this easy hike into a more challenging hike, you can extend your trip to the Grand Staircase-Escalante National Monument or explore Coyote Gulch.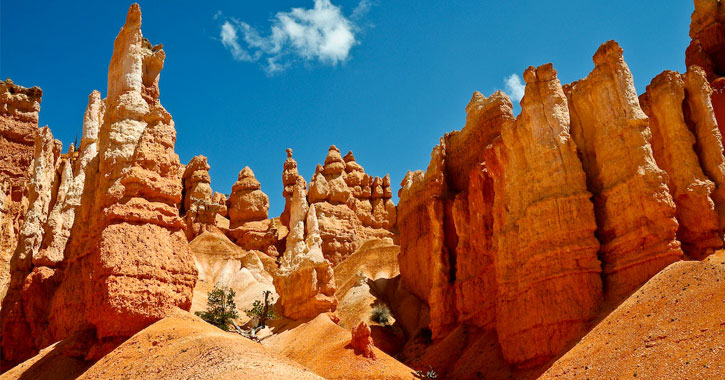 The Queen's Garden and Navajo Loop Trail are actually two trails combined to make a 3-mile hike. It showcases diverse scenery from the pink and orange Hoodoos and other Bryce Canyon sandstone rock formations, to the canyons, arches, pine tree forests, and Thor's Hammer.
You can choose quick day-hikes or longer trails for longer stays and more impressive overviews of the Bryce Amphitheater or Wall Street (the only slot canyon in the area).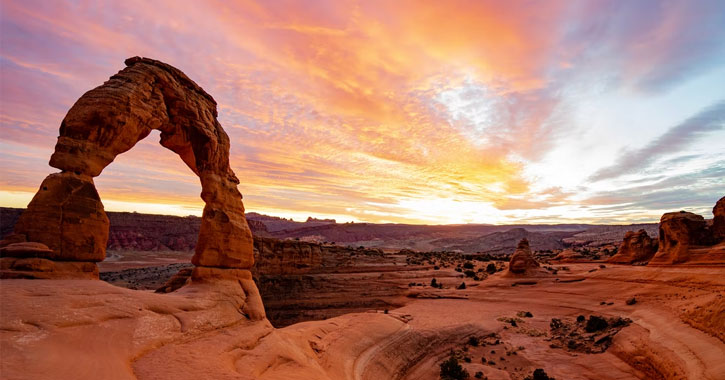 This iconic, free-standing arch is one of the most popular out of all 2,000+ stone arches in Utah.
The hike to Delicate Arch is just over 1.5 miles each way, approximately a 3-mile hike round-trip. The trail gives you views of Ute Indian petroglyphs and the Frame Arch.
Be warned, the hike up covers some steep ground. It's not too challenging as our 3 year old did it on his own and I had a baby strapped to my back, but the initial climb is fairly steep and goes on for awhile.
Many people can reach the Delicate Arch in under an hour, but the views at the top make you want to stay a lot longer. The sunrise/sunset views here are one-of-a-kind.
Which of the Best Hikes in Utah Have you Experienced?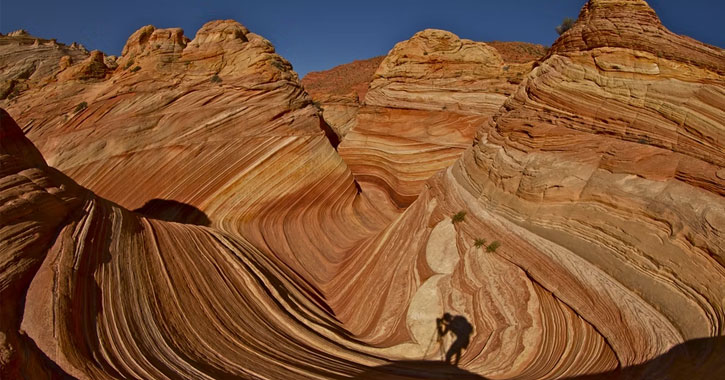 The Wave Trail is something you should check out if you're not really chasing heights or waterfalls, but you're hoping to be wowed by your destination.
Another natural attraction that's wow-worthy? The Bonneville Salt Flats of Utah!
Don't miss my guide to the 5 BIG national parks in Utah or the 7 Coolest Utah caves to explore.
If you're on a road trip and would just love to see the canyons, badlands, and small towns, check my post about Highway 12 Utah, and all the best stops on this road trip.