If you browsed pictures of Pismo beach sand dunes on Instagram, you might think that the stunning views are taken in the middle of a desert. But in reality, there's a beach, pier, creek, a national park, and a vibrant local community in the area.
Officially called Oceano Dunes State Recreation Area, the area is also referred to as Oceano Dunes SVRA, Pismo Dunes, Pismo Beach Oceana Dunes, and Pismo Beach sand dunes, among others. These dunes are located just south of Pismo Beach town. They are part of the Guadalupe-Nipomo Dunes Complex, which boasts 18 miles of coastline in Central California near San Luis Obispo.
Want to take a million pictures at these spectacular-looking dunes? Or are you more interested in ATV rides? Read on to learn everything about your future visit to Pismo Beach sand dunes.
6 Best Things to Do at Pismo Beach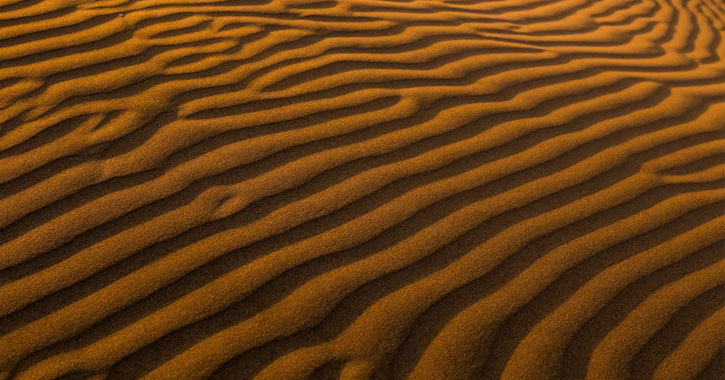 Before you do anything else, you must first marvel at the unique dunes. Walk barefoot, go sledding, ride on dune buggies, take unlimited pictures, and explore the expansive sand dunes to your heart's content.
The wave shape of the dunes is formed thanks to the wind blowing sand particles from the ocean. The sand accumulates on the east side, then slips to the west (where the sand is more gentle).
The entire Oceano Dunes State Recreation Area is about 3,500 acres and 1,100 of which are exclusive to the sculptured sand so there's really a lot to explore.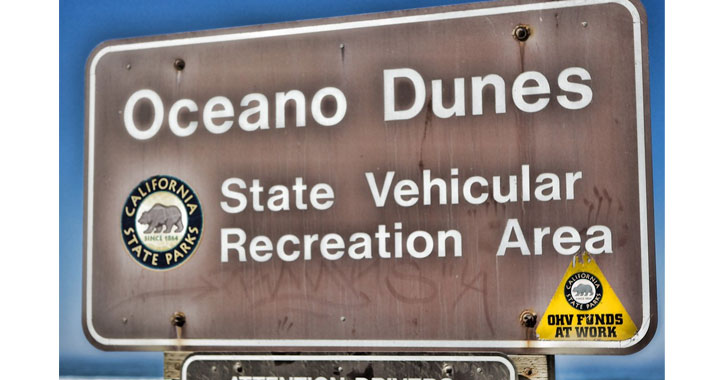 A few things you should know before visiting:
It is FREE to enter the Sand Dunes State Park.
It can be hot midday (especially since there is no shade there).
Bring a jacket or wear layers, if you're visiting early morning or staying past sundown.
Sleds are allowed, so make sure to bring them along with you for unlimited fun in the sand.
There is an area reserved for those who just want to explore the sand dunes by foot (and areas reserved for ATVs and dune buggies).
1. ATV Riding
If the sands are calling you for ATV riding, YOU HAVE GOT TO VISIT SOON because changes in the next 2 years have been decided and will make Off-Highway Vehicle (OHV) use banned throughout the dunes by 2024.
Read below about this important change, but for now, enjoy the dunes while you can.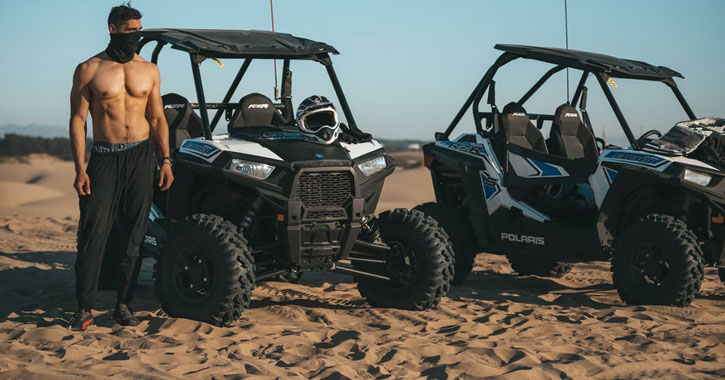 Here are some things to remember:
The speed limit on the beach is 15mph.
All ATV riders must wear an approved helmet.
No OHV/ATV driving under the influence of alcohol.
Motor vehicles must stay out of vegetated areas and closed-off areas, since these can be the natural habitat for native specifies like the California least tern and Western snowy plover.
Passengers are not allowed on a 3- or 4-wheeled ATV.
"Off-Highway Vehicles" must stay in the designated OHV area.
There are rentals of ATV and dune buggies available, mainly from these providers: Arnie's, BJ's ATV, Steve's, and Sun Buggy Fun Rentals.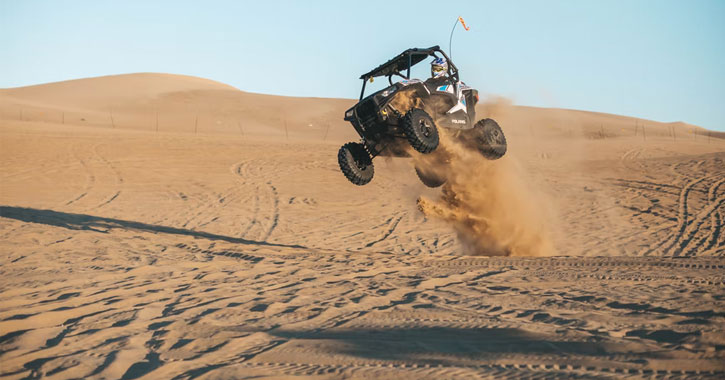 In 2021, after decades of debating this issue, the California Coastal Commission voted to phase out OHV use within the Oceano Dunes State Recreation Area. This will take effect in 2024, but other guidelines and official timelines will be gradually put in place, so be aware of these changes:
No vehicles are allowed to cross Arroyo Grande Creek. (since March 2021)
Vehicles will no longer be allowed access via The Pier Avenue Entrance starting July 2022.
Camping in cars will only be allowed in the beach area (between Pier and Grand avenues). Only the first 500 campers per day will be allowed to camp. (This rule begins in 2024).
After January 1, 2026, vehicles will be allowed access to the Oceano Dunes ONLY on the one-mile beach stretch between Pier and Grand Avenues.
2. Monarch Butterfly Grove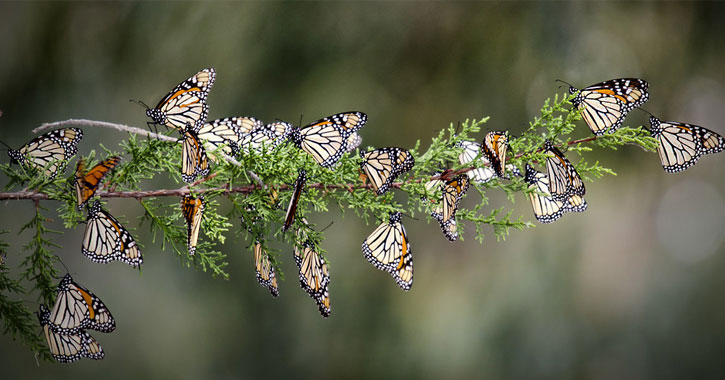 Pismo's Monarch Butterfly Grove is a sight to behold. If you're visiting sometime in October through February, you're in luck because this is the time when butterflies rest at Pismo's eucalyptus trees before they continue their migration.
Nature photographers will surely be in awe as dozens upon dozens of these gorgeous butterflies cluster in branches.
The entrance to the grove is via CA-1. There's parking available on the street.
3. Fishing by the Pier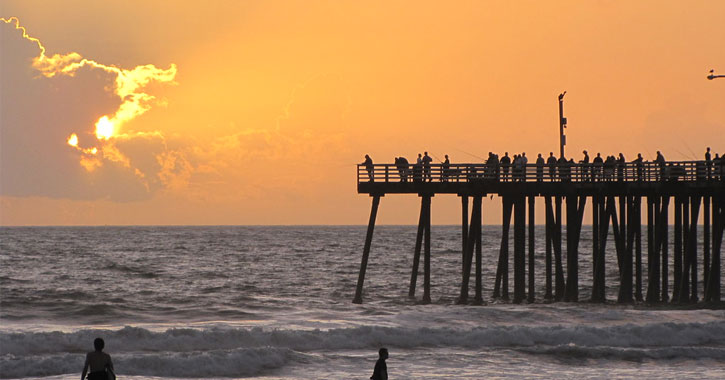 Pismo pier welcomes over a million and a half visitors every year. It is the most heavily fished of all central coast piers.
You don't need a fishing license to fish here. You can catch snapper, barred surfperch, jacksmelt, Spanish/jack mackerel, Pacific mackerel, Pacific sardine, and anchovies.
You might even compete with pelicans, dolphins, and seals who love to eat sardines as well.
4. Surfing in Pismo Beach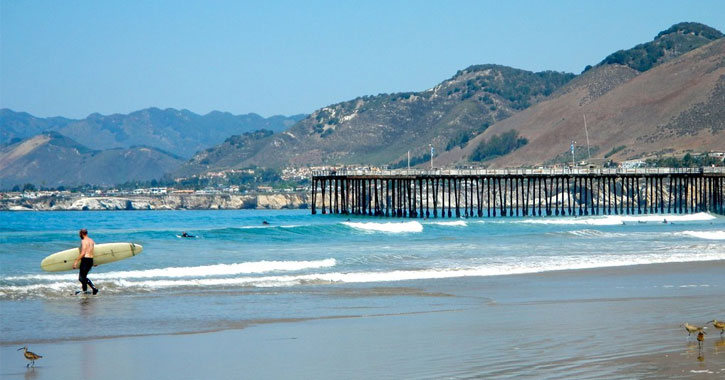 Pismo Beach is a favorite among beginner and professional surfers because you can surf there all year round. It is also the site of the World Surf League's Pismo Beach Open.
There is an 18-mile coastline in all of Pismo, but if you're after the waves, go by the north side of the Pismo Pier where most of the surfing happens.
The fall and winter seasons have the best waves when the surge goes above the surfer's heads. People surf early mornings year-round since the wind picks up in the afternoon.
5. Caving and Hiking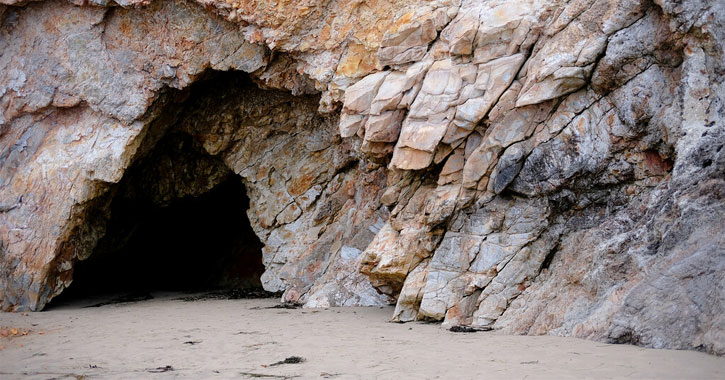 If you're in the mood to explore, visit the northern end of Pismo Beach for some caving. There are several caves ranging in size with some stretching over 100 feet into the rock. Some are yellow, while others are gray and white.
The caves are easily accessible, but visitors should only explore inside during low tide. There are several spots you can park, the most popular of which is Wilmar Avenue, which has a public staircase that leads to the beach and caves.
The Dinosaur Caves Playground, located on the cliffs above the beach, was named after these majestic caves.
There's an easy trail all the way to Dinosaur Caves. If you want more hiking adventures, there are several trails you can explore all under 10 kilometers.
Discovery Trail (within the Pismo Preserve) and Cave Landing/Pirate's Cove are the two most popular trails.
6. Eating Out and Wine-tasting
You won't run out of eating spots in Pismo beach sand dunes.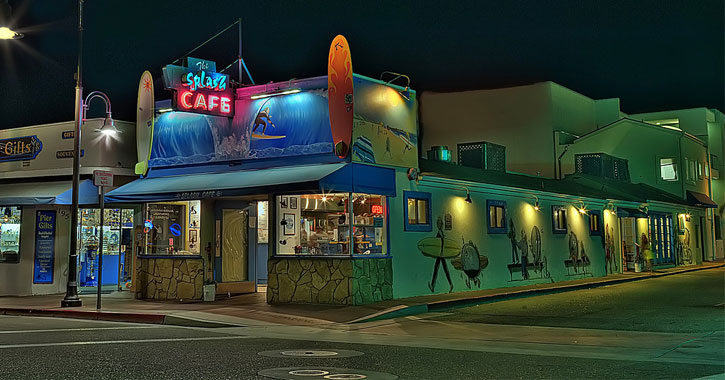 From the iconic Splash Café and its legendary Clam Chowder to Hoagie's (home of the Pismo Wrap), you'll have numerous choices when it comes to good and easy comfort food. You can also find delicious Mexican food from places like Zorro's Cafe & Cantina and Papi's Grill.
If you're craving sweets, make sure to stop by for some yummy cinnamon rolls at Old West Cinnamon Rolls or delicious crepes at the downtown Mon Ami Creperie Cafe.
Within Pismo beach, you can get good wine at the Monarch Grove Winery in Grover Beach and at Sans Liege Wines and Tastes of the Valleys (both in Price Street).
If you're traveling as a couple and want to go wine-tasting, Pismo beach isn't actually known as "the" wine country, but quite close. A short drive could take you to where the wine action is, including:
Arroyo Grande (Timbre Winery, Laetitia Vineyard, Kynsi Winery)
Avila Beach (Alapay Cellars, Peloton Cellars)
San Luis Obispo (Claiborne & Churchill Winery)
If you're staying in a hotel, ask about wine-tasting tours (the hotel could arrange this for you).
How to Get to Pismo Beach Sand Dunes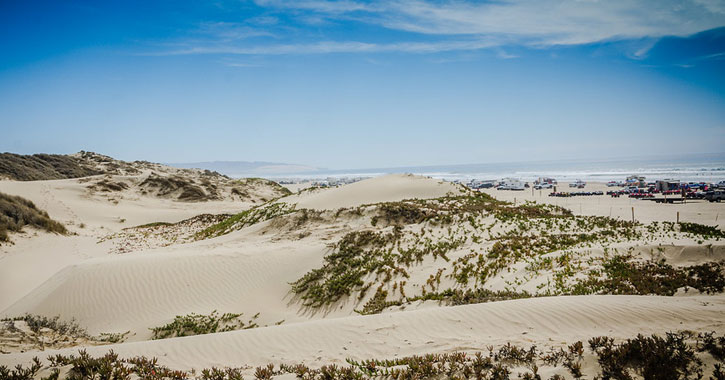 Pismo Beach is located about 180 miles from Los Angeles (3-hour drive) and 245 miles from San Francisco (4-hour drive) in San Luis Obispo County.
The closest airport is located in San Luis Obispo. You can reach the area with public transport, but it is best to rent a car if you don't have your own.
You can also get to Pismo Beach by train, via the Amtrak station in Grover Beach, but you'll still need a car to get to downtown Pismo and experience the entire Oceano Dunes State Recreation Area.
The Best Entrance to visit the sand dunes: You can enter Oceano Dunes SVRA several ways, but the best way to access it is via the Pacific Dunes Ranch and RV Resort Entrance. (If you're using GPS, pin this address: 1205 Silver Spur Place, Oceano) You can park just outside of the resort and walk up the hill until you arrive at the sand dunes.
The Best Entrance to access going to the beach or pier: Located in the southern part of Pier Avenue and the beach area where most OHVs usually use, pin the address 100 Pier Avenue, Oceano.
You can also enter via Grand Avenue in Grover Beach (this is the north entrance). This is a popular spot for watching the sun go down because a bonfire is always present in the area.
When is the Best Time To Visit The Pismo Sand Dunes?
If you like a party vibe, visit Pismo Beach from June to August where it becomes a tent city with a lot of people and stores by the foot of the pier.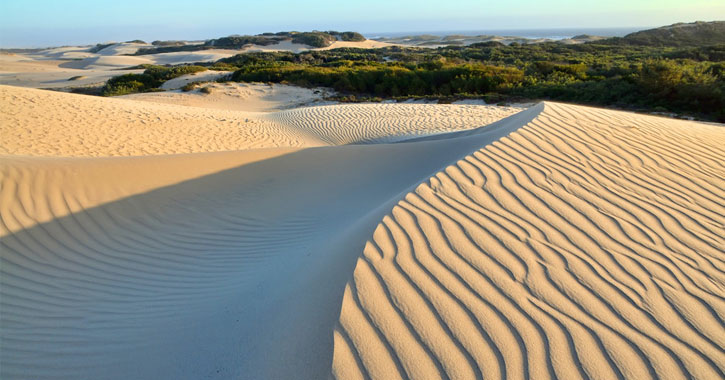 Since Pismo has California weather, you're good to visit all year-round. It is somewhat crowded during summer, but I prefer winter not only for having smaller crowds but also for its cooler weather that makes rolling around the dunes and hiking much more pleasurable.
If you're after events, there's the Clam Festival in October, Taste of Pismo in April, California Wine Month in September. There are also non-food events like the Classic Car Show in September, California Western Monarch Day in February, and The Jubilee by the Sea Jazz Festival in October.
Where To Stay In Pismo Beach Sand Dunes
If you're planning to go on a weekend getaway at Pismo beach, you can rough it out and camp or stay indoors at several inns available in the area.
There are two popular campgrounds – North Beach and Oceano.
North Beach campground, located just a mile south of Pier Avenue, has over 100 grassy campsites. It is located near the Monarch Butterfly Grove with a quick trail going to the beach.
Oceano campground (near the dunes) and just by the fresh-water lagoon has around 80 campsites. Like the ones in North Beach, there are flush toilets, showers, water, and electricity hookup (perfect for RV travelers).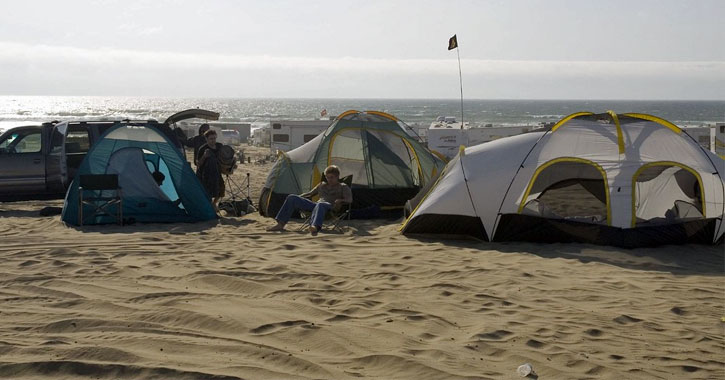 Pismo beach is one of the few places that allow camping (almost) right on the beach. Of course, there are a few rules, including:
There are dump stations (with a $10 fee), pay showers, vault toilets, and chemical toilets available.
You'd have to bring your own water.
You have to pile your trash and bring them with you.
Don't dump any kind of water on sand.
Campfires are allowed on the beach but must not be greater than 3 feet in diameter and 2 feet in height.
You have to make reservations at the campsite (Call 1-800-444-7275) 8:00 am – 6:00 pm Pacific Time (PT). Reservations are required year-round, but more so during peak season and holiday weekends. Pets are also allowed on the leash.
Other Accommodation Options
If you're staying longer than a day or two, it is best to stay indoors.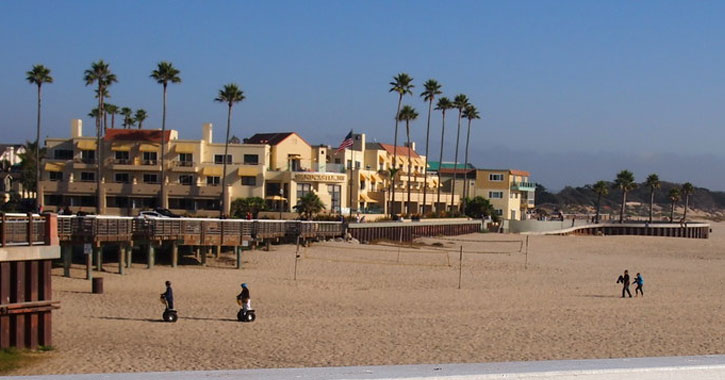 You have a handful of options, including:
Beyond Pismo Beach Sand Dunes
Of course, Pismo Beach is just one of over a dozen beaches along the Pacific Coast highway. If you're driving through this legendary row as part of your cross-country road trip or you just passed by Santa Barbara, spend a day or two at Oceano's famous dunes.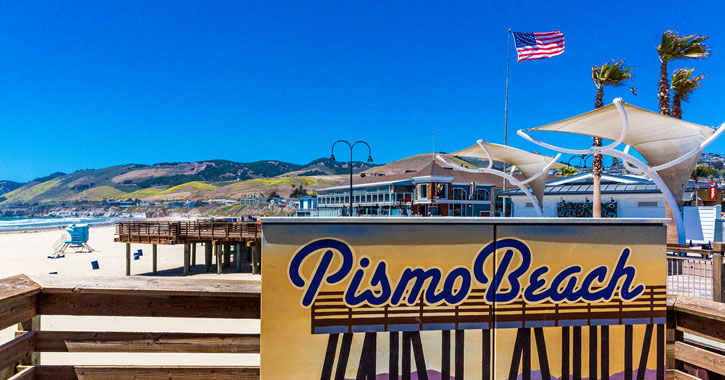 As you can see from the mini-guide above, there is something for everybody at Pismo Beach. You can hike to your heart's content or go sea-glass hunting, fishing, snorkeling, and do other water activities. Pismo Beach sand dunes should be included in your list of best weekend getaways for all ages.