Wax figures can go so horribly wrong, or exceptionally right, but whether you love the creepiness of it all, the accuracy of every figure, or just the art as a whole, any of these 9 best wax museums in the US will be a memorable visit.
The origin of wax museums goes back to the early 18th century when royalty and other famous people were honored with wax tomb effigies.
But it was Marie Tussaud who brought her waxworks to the masses in 1835, created a wax empire as a result, and inspired many other institutions to honor politicians, celebrities, and other individuals with their wax counterparts.
9 of the Best Wax Museums in the US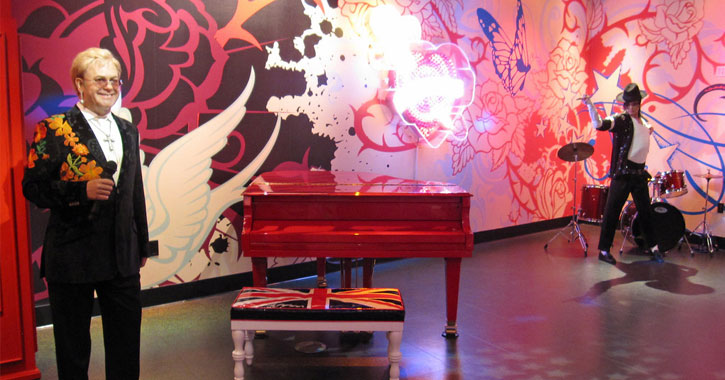 If you're visiting LA for the first time and you're ticking off your Hollywood bucket list, Madame Tussauds is a must-visit.
First, because it's super-near the Hollywood Walk of Fame and TCL Chinese theater, and second because out of the 6 Madame Tussauds locations in the country, the Hollywood experience offers the most memorable figures.
After all, many of the scenes depicted in this museum came from the movie industry.
There are spaces dedicated to Jimmy Kimmel, Ariana Grande, the Marvel superheroes (in costume, of course), the 90s, Western icons, big-named actors like Dwayne Johnson, and pop icons like Tupac, Elton John, Michael Jackson Lady Gaga, Beyonce, and more.
There is also a virtual area and about 115 wax figures inside Madame Tussauds Hollywood's three-story building.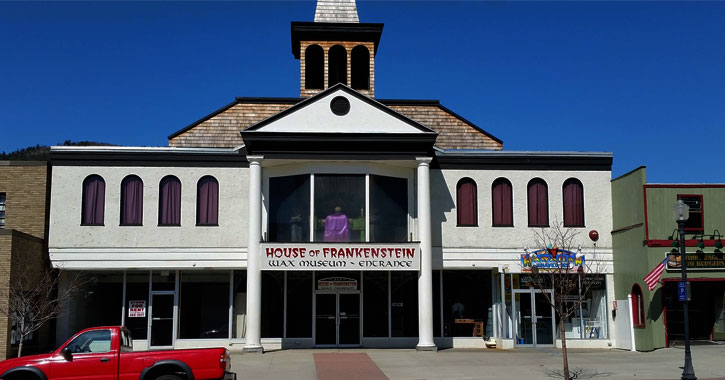 If your heart is set on visiting a horror wax museum in the US, go to Lake George, New York, where the House of Frankenstein Wax Museum has been "charming" people of all ages for years.
The House of Frankenstein is definitely about Frankenstein's monster, but there are other monster- and horror-themed dioramas, including the mummy, Freddy Krueger, the Grim Reaper, Dracula, Michael Myers, and other scenes you'd expect (and wouldn't expect) in a horror wax museum.
There are areas depicting medieval torture or executions, but don't expect any jump scares here even if some do move a little and scream.
It's not a full-blown horror house, but young kids may not be suitable (unless they're huge horror/monster movie fans).
Check the website and official Facebook before visiting. The days and hours might change.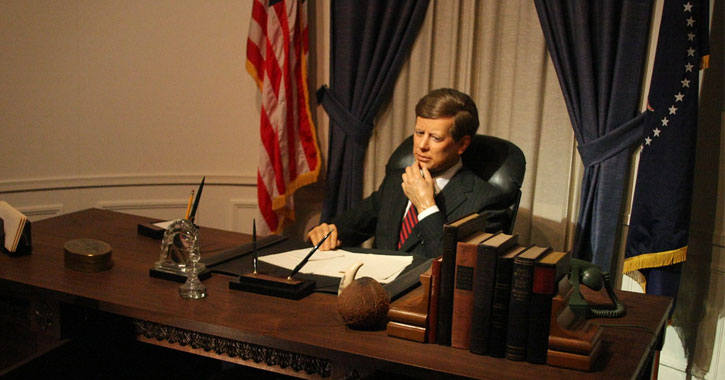 If you're visiting Mount Rushmore as an educational trip for your kids, include the National Presidential Wax Museum into your itinerary because they're minutes away.
Inside, you can see over 100 lifelike wax figures of 46 U.S. presidents (all staged in visual recreations of their significant US history moments).
Don't miss the 7-minute theater video showcasing how the museum's artists create the wax sculptures from start to finish.
Guests with children can request a "scavenger hunt" from the ticket sales counter – clues are found all over the museum and those who complete the hunt can win a free National Presidential Wax Museum button.
Here are other things to do near Mount Rushmore.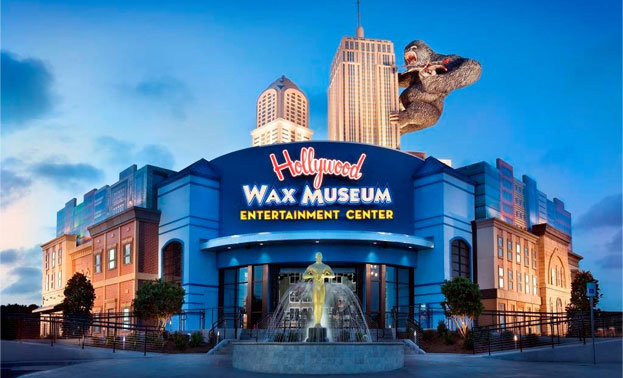 The Myrtle Beach version of the Hollywood Wax Museum is one of 3 attractions in the area – it's why many of the reviews of this wax museum also talk about Hannah's Maze of Mirrors and OUTBREAK, Dread the Undead.
You can get an All Access Pass and visit 3 museums that work out at cheaper prices.
As for the figures inside Hollywood Wax Museum, you won't find icons from sports, politics, or other sectors.
Instead, this wax museum only features the biggest names in movies, music, and the Hollywood industry now and in the past.
There are 3 other Hollywood Wax Museums – one in Branson Missouri, another in Pigeon Tennessee (near Dollywood), and the OG in Hollywood California.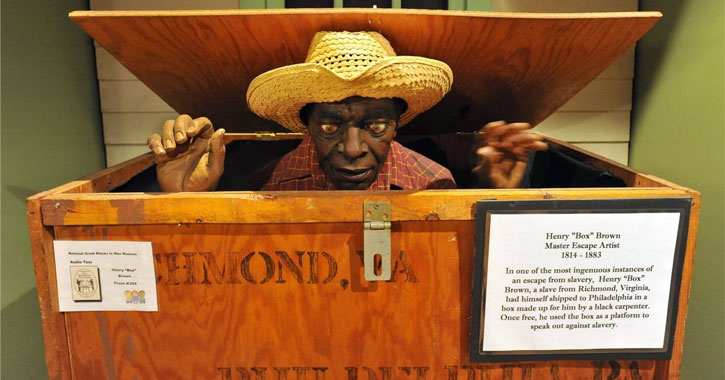 This Baltimore museum has one of the richest African-American histories with over 150 life-sized wax figures and exhibit rooms depicting various themes.
These exhibits include A Journey to Freedom, The Slavery Era, The Magnificence of Africa, Islamic Africa, The Colonial Period,
The Christian Tradition, The Underground Railroad (Featuring Harriet Tubman and Thomas Garrett), The Mason, Rebellion, Modern Civil Rights Era (with Martin Luther King, Rosa Parks, & Thurgood Marshall – the first African-American Supreme Court Justice – leading the list of iconic names), Outstanding Marylanders…and more.
Aside from the popular names of black people who made their mark in America, there are a lot of important figures that aren't exactly studied in history class, but whose legacies should definitely be highlighted.
Note that like other smaller wax museums on this list, their hours change by the season, so you check their website before visiting.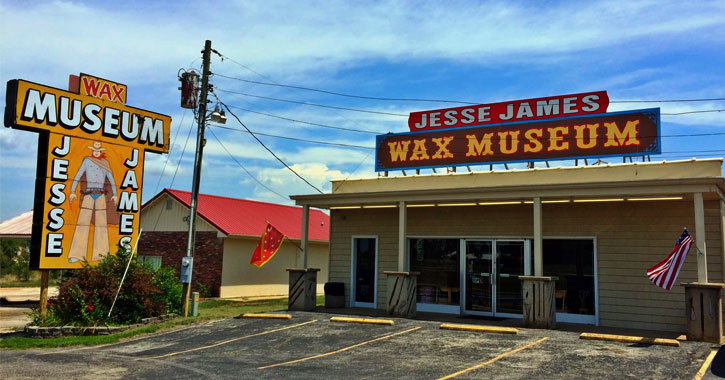 Jesse James has one of the most mysterious/interesting histories in America.
He was a legendary Wild west bandit who died in 1882 and the museum contains over 100,000 photographs, belongings, vintage items, weapons from his life as a bandit, and robberies during the Civil War.
What makes Jesse James Wax museum interesting is that they believe and offer evidence supporting the claim that James's death was a hoax that allowed him to escape the law and that he live under an assumed name until he died in the 1950s at the age of about 100.
It's probably not true, but interesting nonetheless.
Note that the museum is closed for winter (October to March).
It opens from April to May, but only on weekends from 9 am to 5 pm. From June to Labor Day, they're open daily. then go back to weekend-only hours throughout September.
The Jesse James Wax Museum is near the Meramec Caves and is one attraction you can visit on Route 66 once you reach Missouri.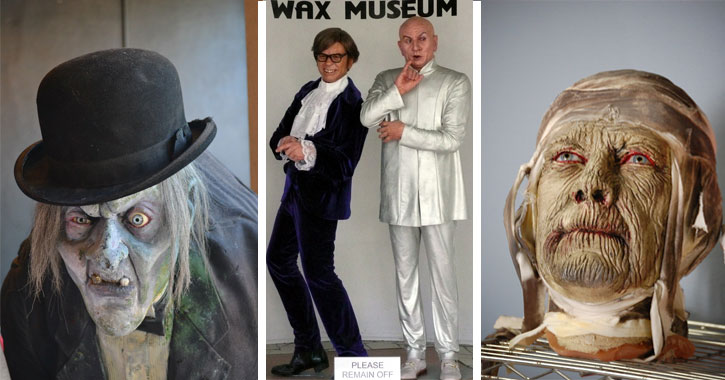 Not only is St. Augustine the oldest founded city in the country, but also Potter's Wax Museum is said to be the first Wax Museum ever opened in the United States.
George Potter, the museum's founder, was inspired by Madame Tussauds during his visit to London.
He wanted to do a similar exhibit in the US, except with a focus on national political figures.
This became a reality in 1949 and began with figures of Roman centurions and has expanded to modern celebrities.
The museum is located within the National Historic District, San Agustin, the oldest European neighborhood in the country.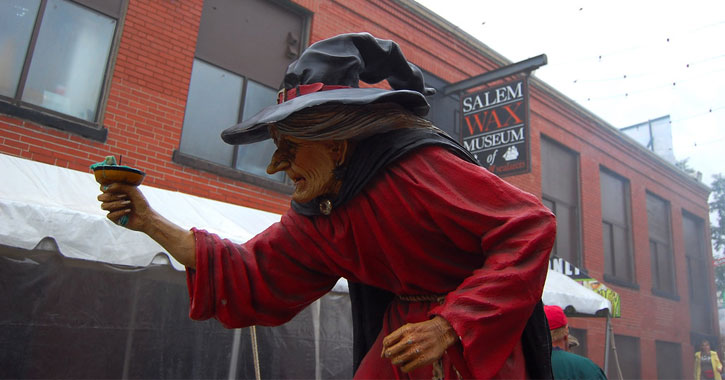 This small museum is in Salem, Massachusetts, but it's been around for over 25 years.
It features many life-size figures depicting scenes from local history.
It bundles with local attractions all related to the Witch hunt – such as the Charter Street Burying Point, Salem Witch Village, and Trails Memorial.
The wax figures in this witch-themed museum include scenes from the town's 1626 founding, the local shipping industry, and the infamous 1692 witch hysteria.
As you can imagine, your tour will involve discussions about spirits and witchcraft, as well as a horror-themed Frankenstein exhibit at the lower dungeon.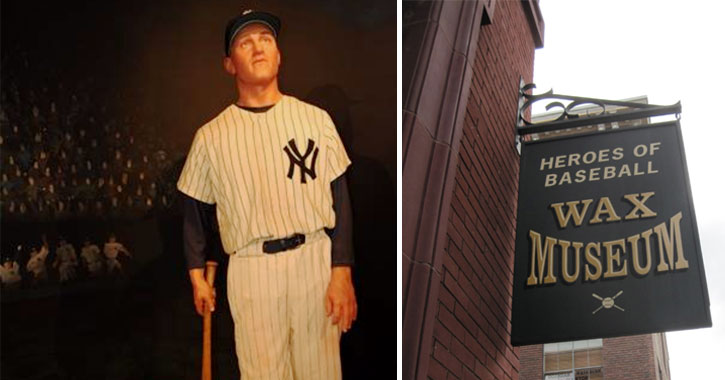 If you're planning a trip to Cooperstown, New York, it's already a given that you, your kids, or other people in your travel group that are fans of baseball.
The Heroes of Baseball Wax Museum features realistic, life-sized wax figures of about 30 of the greatest players in baseball history, including Lou Gehrig, Mickey Mantle, and Babe Ruth immortalized in wax.
Of course, there are other baseball iconic films and characters, such as Kevin Costner from "Field of Dreams", Yankees-era George Costanza from "Seinfeld", and the ladies from "A League Of Their Own" with Tom Hanks.
It's a great addition to your baseball-themed trip to Cooperstown.
Other Similar Attractions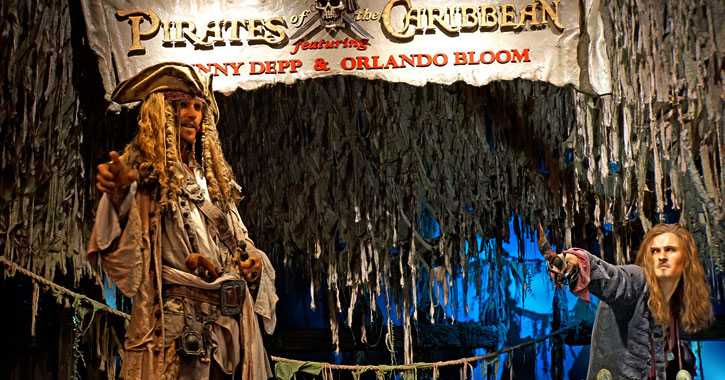 If you can't get enough of the best wax museums in US and you're visiting Niagara Falls, why not plan to cross the border to Canada for a day trip and visit two more wax museums nearby?
I'm talking about these two wax museums from the other side of the pond:
If you're looking for other impressive museums in the US, check out my posts showcasing Florida museums and Texas museums.
I also talked a great deal about niche-specific museums, like dinosaur museums in the country, or the best art museums in the US.
For those planning their trips to be kid-centric, don't miss these: the best US aquariums, best US zoos, and the best children's museums in the country.