Also known as The American Riviera, Santa Barbara is a seaside city that offers gorgeous beaches, historic architecture, magnificent mountain views, lush vineyards, spacious parks, and a vibrant, diverse community. Whichever aspect you enjoy, you'll never run out of fun things to do in Santa Barbara.
In today's guide, learn all about all the best things to do in Santa Barbara, as well as essential information about Santa Barbara: how to get here, the best time to visit, and what to expect from your visit.
The 10 Best Things to Do in Santa Barbara
These activities and attractions are grouped into different categories for different types of travelers.
Things to Do for Families With Kids
Santa Barbara is a wonderful place to vacation with kids. With sunny weather that lasts year-long, it feels like summer never ends in this city.
Here are some fun activities to do with kids in Santa Barbara.
1. Embrace your animal side at the Santa Barbara Zoo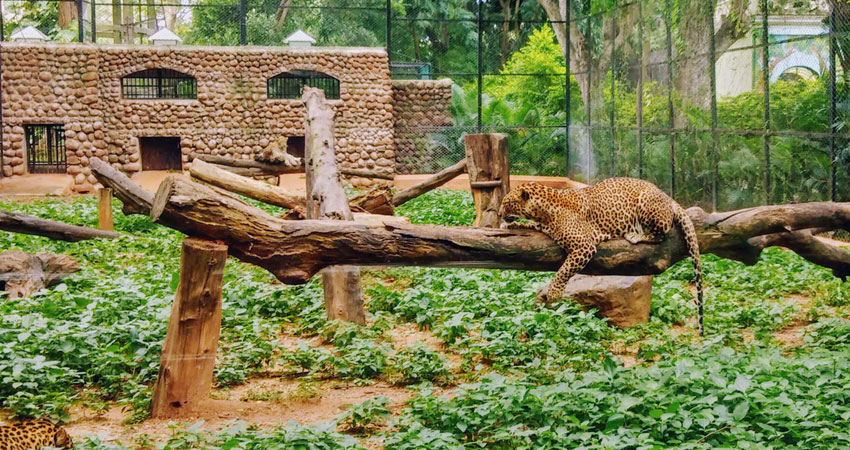 The Santa Barbara Zoo is considered one of the best small zoos in the country and known to be highly involved in research, education, and education to preserve and conserve our natural wildlife.
Over 500 animals that are of 146 species of mammals, reptiles, birds, and insects call this zoo their home.
If you're willing to pay extra, kids can enjoy feeding animals such as giraffes, condors, tortoise, frogs, penguins, or leopards, as well as shuttling through the exhibits through the Zoo Train.
Essential Information
Address: 500 Ninos Drive, Santa Barbara, CA 93103 | (805) 962-5339 main | (805) 962-6310 info line
Hours: Mon–Thu 9:30am–5pm; Fri–Sun 9:30am–7pm | (805)962-5339 (main); (805)962-6310 (info)
Cost: Ranges between $11.95 to $19.95
Website: Santa Barbara Zoo
2. Walk down Stearns Wharf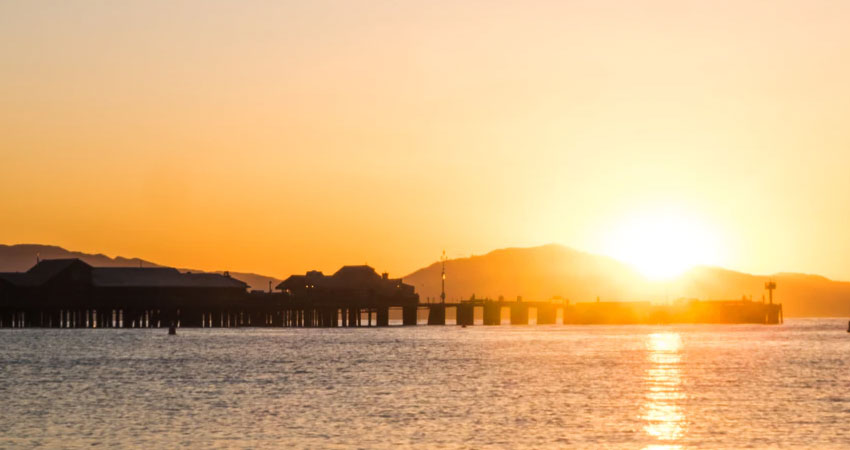 No visit to Santa Barbara is complete without a walk down Stearns Wharf.
Built in 1872 and the oldest working wooden wharf in California, Stearns Wharf is one of the most visited places and iconic landmarks in Santa Barbara.
Today, there are plenty of businesses along Stearns Wharf, including restaurants, a shellfish market, shops to buy souvenirs and presents for people back home, and a museum.
The Santa Barbara Museum of Natural History Sea Center is an engaging hands-on experience that will excite kids and adults alike. Get to interact with sea creatures in their touch pools and observe dancing jellyfish in all their graceful glory.
Lil' Toot Water Taxi Rides also have this wharf as the starting point, and you can also ride a water taxi from here to Santa Barbara Harbor.
Or simply stroll down the wharf and enjoy the salty air while looking for sea lions in the water and watching herons and pelicans perched everywhere.
Stay until late in the afternoon to see spectacular views of the ocean and the mountains.
Pro tip: don't forget your camera! There's just too much to see from the Wharf!
Stearns Wharf
Address: 217 Stearns Wharf, Santa Barbara, CA 93101 | 805-564-5530
Hours: Mon–Sun 8am–10pm; hours for different establishments may vary
Website: Stearns Wharf
Santa Barbara Museum of Natural History Sea Center
Address: 211 Stearns Wharf, Santa Barbara, CA 93101 | 805-962-2526
Hours: Wed–Sun 10am–5pm
Cost: Ranges between $7 to $10
Website: Santa Barbara Museum of Natural History Sea Center
3. Blow off some steam at some of the kid-friendly parks in the city.
The coastline of Santa Barbara is indeed magical, but the many parks and outdoor playgrounds scattered throughout the city, offering a great experience for kids and kids at heart.
The Shipwreck Playground at Chase Palm Park is a popular space for kids to play in. This large custom-built playground is designed after an ocean schooner featuring a conch shell lighthouse, murals, and a nautilus shell play area.
Chase Palm Park itself is a waterfront park that has plenty of picnic spaces and paths for walking and biking, so the whole family can have fun.
Another popular place for children to play is in Alameda Park, specifically Kid's World, an 8,000-square foot playground that has a Magic Castle, swings, slides, and 2 party sites so that kids can celebrate birthdays and other events right in the park.
Chase Palm Park
Address: 323 E Cabrillo Blvd, Santa Barbara, CA 93101 | 805-897-1983
Hours: Mon–Sun 8am–5pm
Alameda Park
Address: 1400 Santa Barbara St, Santa Barbara, CA 93101 | 805-564-5418
Hours: Mon–Sun 6am–10pm
More parks in Santa Barbara:
Romantic Things to Do in Santa Barbara for Couples
Scenic coastal cities always make for great romantic getaway destinations, and Santa Barbara is undoubtedly one of them.
In fact, celebrities often tie the knot here: Gwyneth Paltrow, Nick Carter, Jessica Simpson, and Chris Pratt are just some of the celebrities who got married in various locations in the city.
Here are a few of the most romantic things to do in Santa Barbara.
4. Go up the Clock Tower at the Santa Barbara County Courthouse.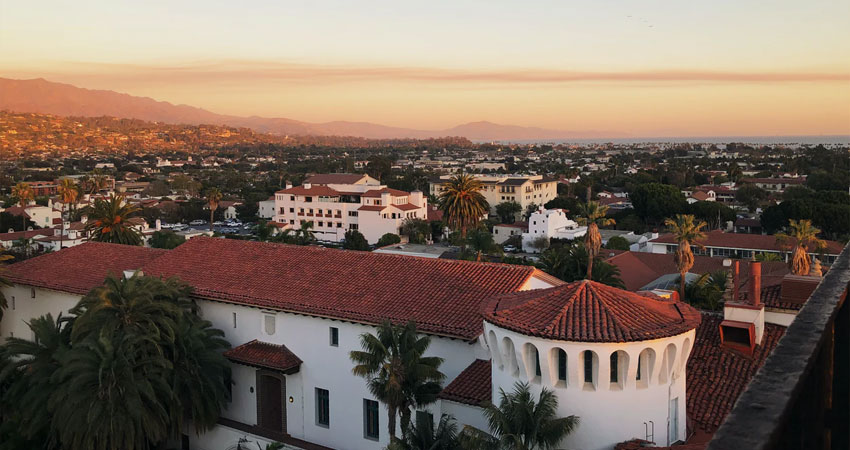 I know what you're thinking: what's romantic about a public building?
But the Santa Barbara County Courthouse is no ordinary courthouse. Built in 1929, the building is designed in the Spanish Colonial Revival style, with distinct features of this style such as the red tile roof, stucco walls, and rounded arches.
The surroundings of the building are no less stunning, with flawlessly trimmed lawns accented by beautiful flowers and palm trees.
It's no wonder this courthouse has been called the most beautiful public building in the country.
Take an elevator up the El Mirador Clock Tower for a 360-degree view of the Santa Ynez Mountains, the shoreline, Channel Islands, and the adobe houses. Steal a kiss among the fantastic views
Note: If you decide to seal the deal here, you can get your marriage license and get married here in the same day!
Santa Barbara County Courthouse
Address: 1100 Anacapa St, Santa Barbara, CA 931011 | 805-882-4520
Hours: Visitors booth: Mon–Fri 8:30am–4:30pm, Sat–Sun 10am–4:30pm; Free tours: Mon–Fri 10:30am and 2pm; Sat–Sun 2pm
Website: Santa Barbara County Courthouse
5. Spend an afternoon at Butterfly Beach.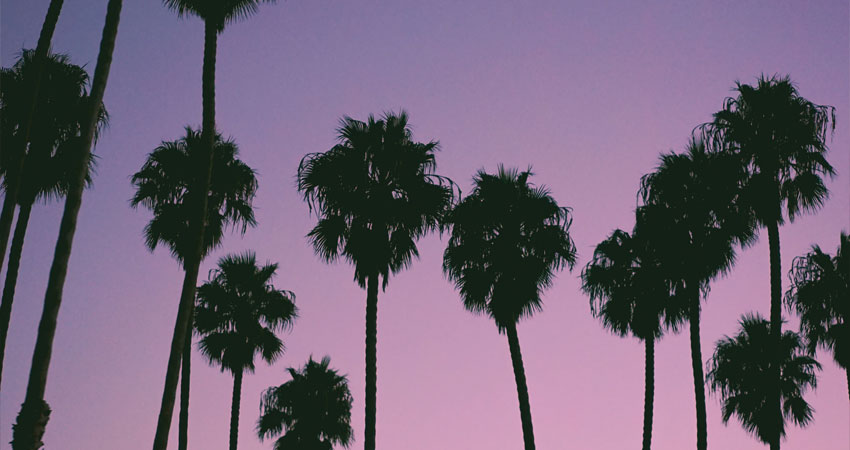 Butterfly Beach is technically in Montecito, but it's worth the drive as it's one of the best spots in Santa Barbara County to watch the sunset.
It's a 10- to 15-minute drive from downtown Santa Barbara or a bike ride from Stearns Wharf via the Cabrillo Bike Path.
Whether you want to kayak, have an intimate picnic on the waves, or simply stroll barefoot on the sand, Butterfly Beach has it all (except public showers and restrooms, that is).
Once the sun sets, you can cross over to the Four Seasons Biltmore to have a cocktail or two.
Butterfly Beach
Address: 1260 Channel Drive, Montecito, CA 93108 | 805-681-4200
6. Have a romantic dinner.
Having dinner at a classy, dimly lit restaurant is the classic highlight of a date night, and Santa Barbara more than delivers, with dozens of restaurants fit for different tastes and different budgets.
If you can afford to splurge, take a drive to the Stonehouse Restaurant in the historic San Ysidro Ranch. Dining with an ocean view under twinkling beside a wood-burning fireplace is sure to put you in a romantic mood.
As if you need any more encouragement, John and Jackie Kennedy spent part of their honeymoon in the San Ysidro Ranch.
Stonehouse Restaurant
Address: 900 San Ysidro Lane, Santa Barbara, CA 93108 | 805-565-1720
Hours: Lunch: Mon–Sat 11am–2pm; Dinner: Mon–Sun 5pm–10pm; Champagne Brunch: Sun 10:30am–2pm
Website: San Ysidro Ranch – Stonehouse Restaurant
If you want the ambiance without breaking the bank, Toma Restaurant & Bar features Italian-inspired Mediterranean handcrafted cuisine in a waterfront setting.
You don't even have to dress up too fancy here; the dress code is "Santa Barbara casual." Don't forget your jacket, though.
Toma Restaurant & Bar
Address: 324 W Cabrillo Boulevard, Santa Barbara, CA 93101 | 805-962-0777
Hours: Dinner: Sun–Thu 5pm–9pm, Fri–Sat 5pm–10pm
Website: Toma Restaurant & Bar
While the food here is exquisite and the location gorgeous, Boathouse at Hendry's Beach is for the more laidback couples to be able to kick back, have some fresh oysters in the shell with their cocktails, and watch the sunset at Hendry's Beach before moving on to dinner.
The restaurant sits right on the sand and features a large beachside patio with a fire pit, an inside/outside bar, and a display kitchen with mesquite grills.
Boathouse at Hendry's Beach
Address: 2981 Cliff Dr, Santa Barbara, CA 93109 | 805-898-2628
Hours: Mon–Sun 8am–9pm; Happy Hour: Sun–Thurs 3pm–6pm
Website: Boathouse at Hendry's Beach
Free Things to Do in Santa Barbara
If you haven't noticed at this point, Santa Barbara can be quite an expensive city to visit.
But it doesn't have to be.
You can certainly experience Santa Barbara without spending an obscene amount of money.
Here are some free yet no less enjoyable things to do in Santa Barbara.
7. Hit the beach!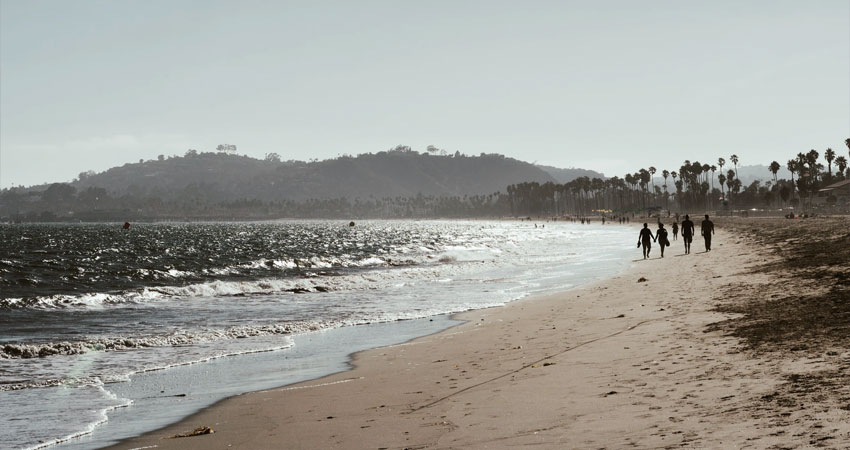 It would be a shame to go all the way to Santa Barbara without visiting at least one of the dozens of beaches here!
Grab your beach towel, sunscreen, and large hat, and head to one of these highly recommended beaches.
East Beach is a skip and a hop from Stearns Wharf, and just like Stearns Wharf, it's a family-friendly beach with scattered lifeguard stations, a playground, and other amenities.
Bonus: Spot the nearby Chromatic Gate, an Instagram-worthy art installation by Herbert Bayer.
East Beach
Address:1118 East Cabrillo Blvd, Santa Barbara, CA 93101 | 805-963-0611
Arroyo Burro Beach, better known to locals as Hendry's Beach (see the previous item on the Boathouse Restaurant), is a scenic, pet-friendly beach that is a favorite of locals.
Arroyo Burro Beach
Address: 2981 Cliff Dr, Santa Barbara, CA 93109 | 805-681-4200
One Thousand Steps Beach can be thought of as Santa Barbara's hidden gem.
It's quite close to Shoreline Park Beach but is relatively secluded because of all the steps you need to walk down to get to it (and to walk up to get out of it).
"One thousand" is an exaggeration, though; the actual number of steps is closer to 150.
Plus, instead of the usual sand-to-water beach, this one actually has more rocks than sand. Nevertheless, the ocean view is spectacular, and sometimes you can just make out the Channel Islands from afar.
One Thousand Steps Beach
Address: 1429 Shoreline Dr, Santa Barbara, CA 93109
More beaches in Santa Barbara: Santa Barbara Beaches | Santabarbara.com
8. Take a self-guided walking tour in Downtown Santa Barbara.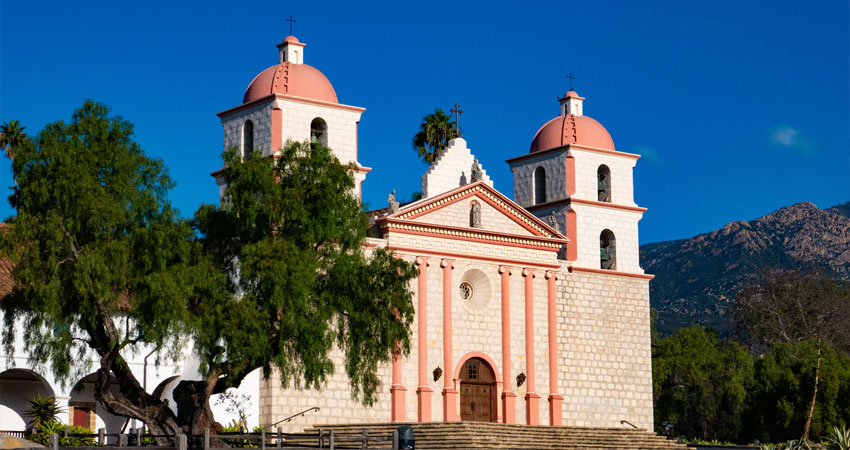 As if there aren't enough reasons to love Santa Barbara, this city is known as one of the most pedestrian-friendly cities in the US.
It's all thanks to policies that support walking within the city, effective information dissemination, and the design of the city.
Wide sidewalks, paseos (walkways designed for strolling) leading to shops and restaurants, widespread information on walkable destinations, and even the littlest details such as bicycle racks, benches, and trash cans specially designed for easy access for pedestrians.
Santa Barbara CarFree is a joint effort by the city, Amtrak California, as well as hundreds of businesses and local agency partners to support a walkable community.
Here are maps of some of the popular walking tours in Santa Barbara.
Go on a culinary adventure in Santa Barbara
Santa Barbara isn't just a treat for the eyes; it's also a treat for your taste buds!
Here are a few ways to explore the best food and drink that Santa Barbara has to offer.
9. Drink your way around Santa Barbara.
Santa Barbara is wine country.
With the various microclimates, more than 50 types of grapes, and more than 200 local wine producers, making many different types of fine wine to appeal to many different taste buds.
Here are some of the top wine tasting tours you can go on.
Santa Barbara might be wine country, but craft beer is steadily growing more popular year after year. Here are a few interesting brewery tours to take in Santa Barbara.
10. Eat your way around.
Santa Barbara's culinary heritage is almost as diverse as their wines. Here are some of the best and highly recommended food tasting tours around Santa Barbara.
Information and Tips on Visiting Santa Barbara
Here is some information you should know before booking your trip to Santa Barbara.
Getting to Santa Barbara
Santa Barbara Airport (SBA) is the closest airport to Santa Barbara, but few airlines have service in this airport. A better option is to fly into Los Angeles Airport (LAX) and take a 2-hour shuttle bus ride to Santa Barbara.
If you live on the West Coast and want to do a scenic road trip, hop onto the Pacific Coast Highway and drive along the coast to Santa Barbara.
If you want a scenic trip but don't want to drive, the Pacific Surfliner is almost the same route as the Pacific Coast Highway, but from a different perspective.
Getting Around
The most convenient way to travel around Santa Barbara is by car, but as previously mentioned, walking is highly encouraged and is one of the best ways to see and experience Santa Barbara. Plus it's free!
Where to Stay
The downtown area is a great place to stay, especially for first-timers. Plenty of tourist spots, dining spots, and amenities are accessible from downtown.
Here are a few options depending on your budget:
Luxury hotels:
Mid-range hotels:
Budget hotels:
Best Time of Year to Visit
Actually, there is no bad time to visit Santa Barbara.
Summer months are ideal for the classic beach experience, while winter is perfect for walking around downtown and other urban spaces (too cold to swim in your bikini, that's all I'm saying).
Spring and fall seasons are cooler than summer, but thinner crowds and less expensive fare and accommodations make these months attractive to visitors.
What to Wear
You can get by with shirts and jeans for most of the year, but don't forget your jacket and scarf, as the weather can get unpredictable, especially near the beach.
What to Expect
Plenty of celebrities call Santa Barbara their home, and the reason they chose to live here is precisely because they don't relish fans (or haters, for that matter) coming up to them for selfies and autographs.
Chances are you'll see a celebrity or two here, and while it's tempting to approach them for a nice vacation anecdote, it's better to keep your distance and give them their privacy.
Start planning your trip to Santa Barbara!
Hopefully, this guide has been helpful in your planning process.
Which of the things to do in Santa Barbara are you most excited to try? Did I miss an attraction or activity that should have been here? We want to know! Share your thoughts in the comments below!