As far as US cities go, Atlanta has plenty to brag about: a rich cultural history, a flourishing arts scene, an exploding business district, all within a "city in a forest."
There's plenty to see and do in Atlanta, and plenty of good eats, too. In today's article, we look at the best things to do in Atlanta, as well as the best places to eat.
The Best Things To Do In Atlanta
I've divided this list by Museums, Kid-Friendly Attractions, Arts & Culture, Outdoors, and National Parks.
Museums
Atlanta has a long, rich tradition of first-rate museums with a broad scope of subjects. Immerse yourself in an educational experience unlike any other.
1. Georgia Aquarium
Known as the world's largest indoor aquarium, the Georgia Aquarium is home to a spectacular array of marine life, with 100,000 animals from 700 species.
It's also a scientific institution that aims to entertain and educate guests on the importance of conserving aquatic biodiversity.
The Ocean Voyager is the largest single aquatic exhibit in the world, featuring an acrylic tunnel and a giant acrylic viewing window for guests to view thousands of marine creatures, notably stingrays, whale sharks, and grouper.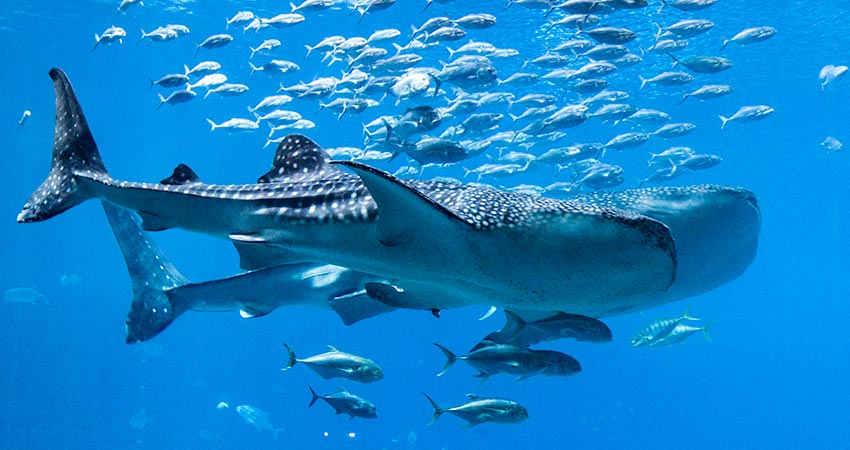 We included it in our list of the best aquariums in the US.
More information: Georgia Aquarium
2. Fernbank Museum of Natural History
Explore the wonders of our natural world at the Fernbank Museum of Natural History.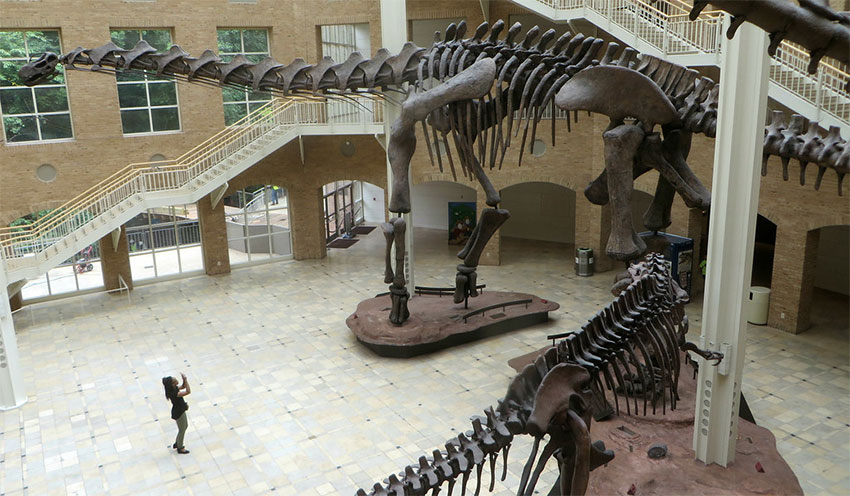 Marvel at fossil replicas of gigantic dinosaurs, including the largest dinosaur ever to walk the earth in the Giants of the Mesozoic exhibit.
Kids from 2 to 10 can experience nature in an interactive way through the NatureQuest exhibit.
They also offer outdoor nature adventures on a 75-acre forest with immersive trails, gorgeous scenery, and hands-on exhibits.
The museum also has an IMAX cinema, where you can watch educational movies on our natural world.
There are plenty more exhibits for everyone to learn while being entertained.
More information: Fernbank Museum of Natural History
3. National Center for Civil and Human Rights
The National Center for Civil and Human Rights is a museum that educates visitors on the history of the American civil rights movement as well as the ongoing human rights struggles all over the world.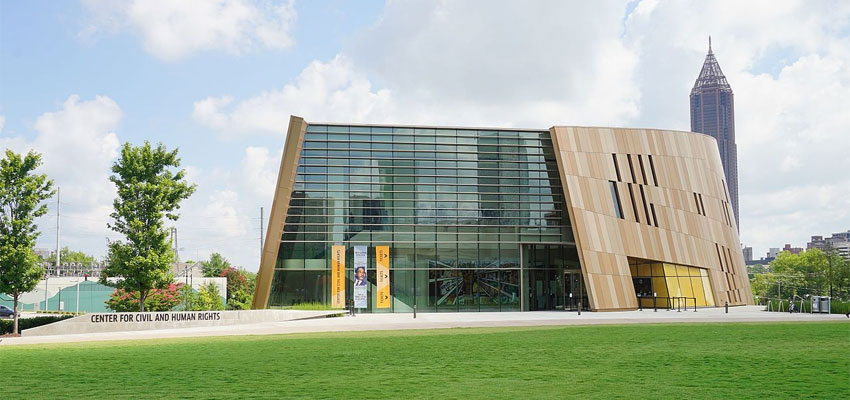 There are two permanent exhibits; "Rolls Down Like Water," which presents the fight for equality in the American Civil Rights Movement in the 1950s and 60s, and "Spark of Conviction," which is an interactive exhibit that aims to help visitors understand human rights and how they affect each and every one of us.
The "Voice to the Voiceless" gallery exhibits various items from the Morehouse College Martin Luther Jr. Collection, including the personal papers and items of Dr. Martin Luther King, Jr.
More information: National Center For Civil And Human Rights
4. Atlanta History Center
The 33-acre Atlanta History Center features fascinating exhibitions, historic houses, gorgeous gardens, interactive activities, and a variety of adult and family programs throughout the year; all aiming to educate visitors about the history of Atlanta and its contribution to American history.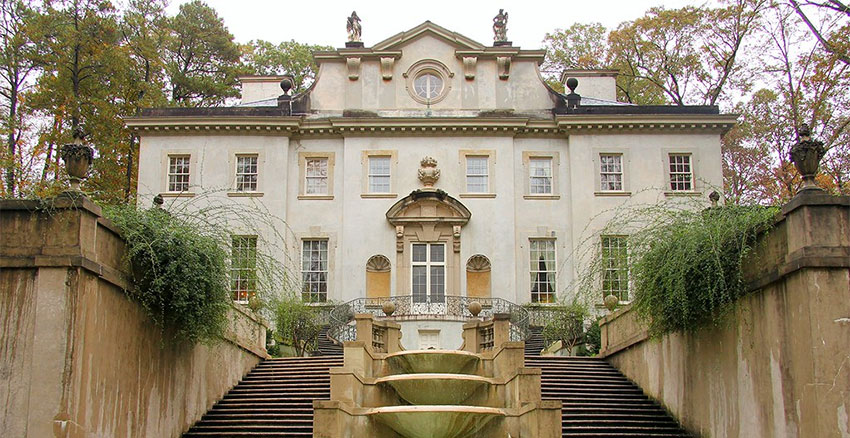 The history center includes the Atlanta History Museum, Goizueta Gardens, Swan House, Smith Family Farm, Wood Family Cabin, Kenan Research Center, Fulton County 4-H, and StoryCorps.
If Swan House seems familiar, it's probably because you've seen it in the movie Hunger Games: Catching Fire.
More information: Atlanta History Center
5. Jimmy Carter Presidential Library and Museum
The only presidential library in the Southeast, the Jimmy Carter Presidential Library and Museum is a research facility and museum.
It has a massive archive containing 27 million pages of Carter's White House documents, half a million photographs, and hundreds of hours of film, audio, and videotape.
Located on 35 acres of beautifully landscaped grounds, the museum also features plenty of interactive displays and exhibits highlighting Former President Carter's life and career.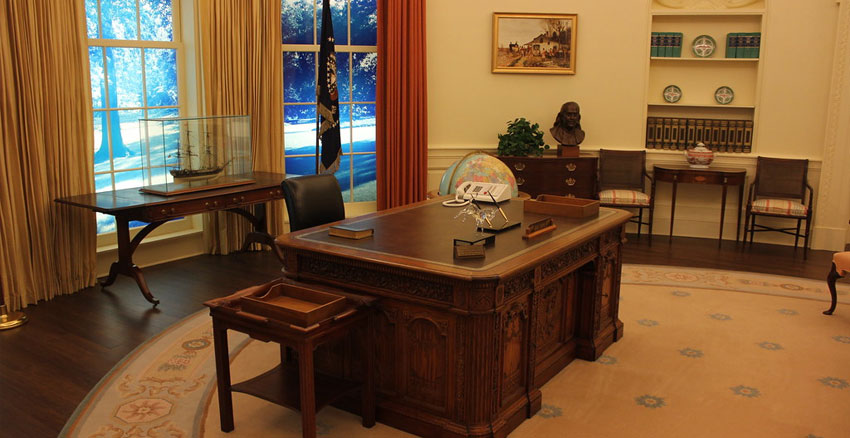 A highlight of the museum is an exact replica of the Oval Office, where you can pretend to be a US President for a day.
You can also stroll through the grounds to see all 50 state flags, a rose garden, a Japanese garden, and a koi pond.
Plus, Jimmy Carter himself sometimes drops in, announced or unannounced. Check their website to see if there are any scheduled appearances, or just try your luck when touring the museum.
More information: Jimmy Carter Presidential Library and Museum
Kid-Friendly
There's no shortage of family- and kid-friendly things to do in Atlanta. Educational, recreational, or just plain fun, here are some of the kid-friendly things to do in the city.
6. World of Coca-Cola
The World of Coca-Cola is a fun, interactive museum dedicated entirely to one of Georgia's most iconic brands.
Take a look at the historical milestones of the brand, its role in pop culture, and how the world's favorite soft drink is bottled.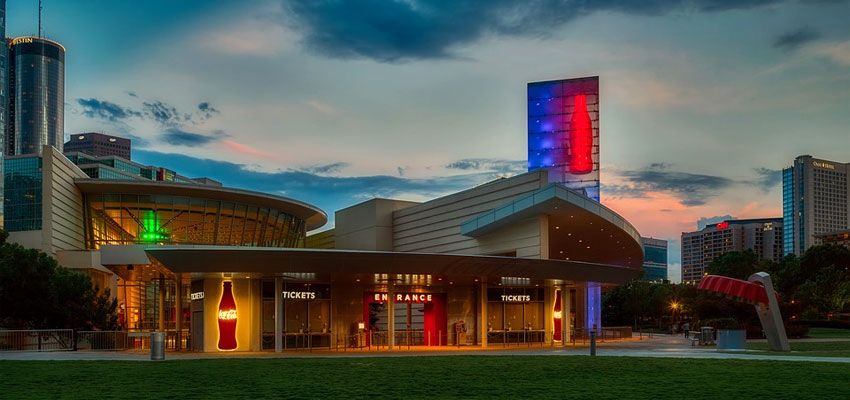 View over 1,200 never-before-displayed artifacts ranging from vintage bottles to a 1939 Coca-Cola delivery truck from Argentina.
Experience a 4D movie that takes you around the world in search of the secret formula, and visit the vault that keeps that secret formula.
The highlight of the museum is the Taste It! beverage lounge where you can taste over 100 different beverages made by the Coca-Cola company around the world.
Before you go, have your photo taken with the Coca-Cola Polar Bear, one of the most popular Coca-Cola advertising symbols.
More information: World of Coca-Cola
7. Zoo Atlanta
Zoo Atlanta aims to teach visitors about the value of wildlife and how they can be preserved through various educational activities.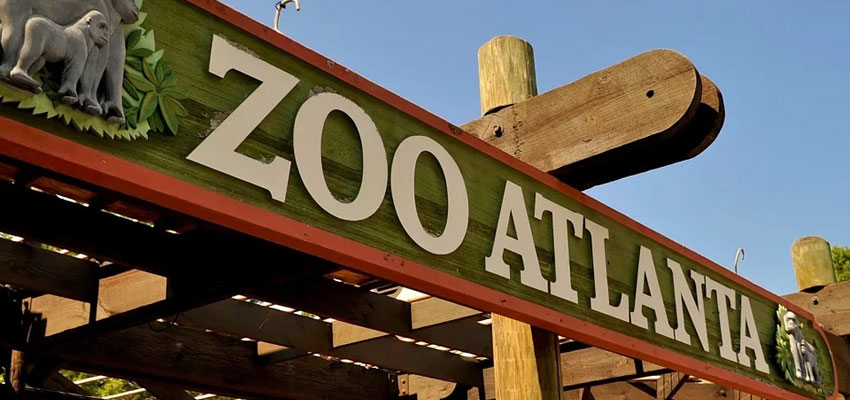 They offer close encounters with more than 1,400 animals, from popular native wildlife to critically endangered species.
Some of the habitats it has are the Scaly Slimy Spectacular, home to more than 70 species of reptiles and amphibians, and the newly established African Savanna, home to various African wildlife.
They also have the largest collection of gorillas and the largest zoological collection of orangutans in the US.
Zoo Atlanta is also home to giant panda twins Lun Lun and Yang Yang and their seven giant panda cubs. This zoo is only one of four zoos in the US housing giant pandas.
For an extra fee, you can get up close and personal with some of the animals, like the elephants, Aldabra tortoise, lions, and giant pandas.
They also offer outdoor activities like the Zoo Train, the Nabisco Carousel, a ropes course, and a rock-climbing wall.
More information: Zoo Atlanta
8. Children's Museum of Atlanta
The Children's Museum of Atlanta is the only children's museum in Atlanta and the largest children's museum in the state of Georgia.
There are six permanent interactive learning zones, a variety of exhibits, and Imaginators, who are the museum's dedicated troupe of actor-educators, that all bring learning to life for kids and kids of all ages.
The exhibits focus on STEAM (Science, Technology, Engineering, Art and Math), literacy, health and nutrition, social studies, and the arts.
The Children's Museum also has a dedicated toy store offering age-appropriate children's toys.
More information: Children's Museum of Atlanta
9. Center for Puppetry Arts
The Center for Puppetry Arts hosts puppetry shows for all ages, educational workshops for every level of learning, and the Worlds of Puppetry Museum featuring the Jim Henson Collection Gallery and the Global Collection Gallery.
Jim Henson Collection Gallery featuring the largest and most comprehensive collection of Jim Henson puppets, with more than 500 puppets and props.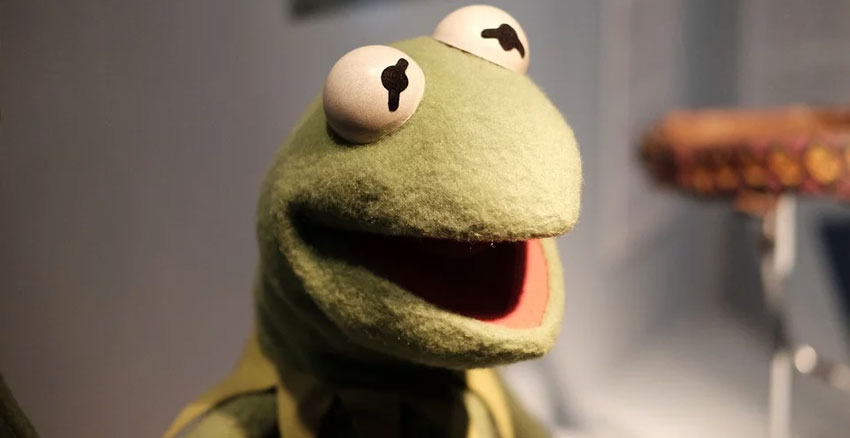 Learn how Jim Henson's characters come to life and see iconic puppets such as Kermit the Frog and Grover.
Meanwhile, the Global Collection Gallery celebrates puppetry traditions in various major cultures in different continents, namely, European, African, and Asian puppets.
The artifacts from all over the world are displayed in contextual backdrops and presented in an interactive manner so that visitors can immerse themselves in these puppetry traditions.
More information: Center for Puppetry Arts
10. SkyView Atlanta
SkyView Atlanta is a 200-foot tall Ferris wheel with 42 air-conditioned gondolas from where you can marvel at stunning panoramic views of downtown Atlanta and its skyline.
The view from the ground is not bad as well; the lights on the Ferris wheel itself are lovely.
The best time to ride this is during the holidays so you can see the Christmas lights all over the city, although lines may be long at this time.
Looking for a more luxurious experience? Check out the VIP gondola featuring glass floors and Ferrari-style seats that can fit 5 people. Spring for the VIP gondola and you get to skip the line and stay up in the air for longer.
(Can't get enough of city skylines? Check out our picks for the best skylines in the US).
More information: SkyView Atlanta
Arts and Culture
From classic and contemporary visual arts to entertainment and sports, Atlanta offers a rich, varied cultural experience that you can take home with you.
11. CNN Studio Tours
Cable News Network (CNN) was the world's first 24-hour TV news network, and CNN Worldwide is headquartered in Atlanta.
The Inside CNN Atlanta Studio Tour takes you on a 50-minute guided tour that teaches you how news is gathered, production secrets and trivia, and gives you exclusive access to where news is broadcast every single day.
Your tour would begin on a long ride up the world's largest freestanding escalator (196 feet long, 8 stories high) to reach the news studio.
Watch the action inside Studio 7, the largest CNN studio in the world, and get an inside look at how a live broadcast is produced and sent to viewers worldwide.
Throughout the tour, keep your eyes open. You might see famous newspeople walking down the halls.
Come away from the tour with a sense of awe for the worldwide leader in news and the hardworking men and women behind it.
More information: CNN Studio Tours
12. High Museum of Art
The High Museum of Art, one of the leading art museums in the US, connects with audiences all over the world through its vast collection of more than 17,000 pieces of classical and contemporary art.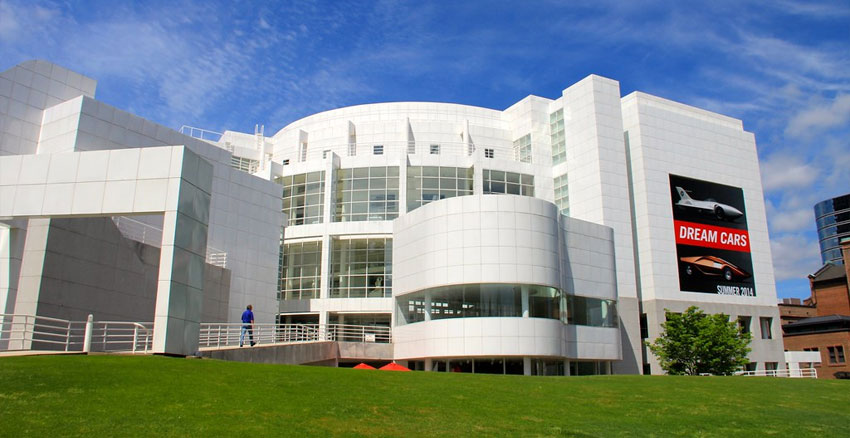 Even the building is aesthetically stunning. Designed by Richard Meier and Renzo Piano, Pritzker Prize-winning architects, the building is covered in white porcelain both on the exterior and the interior, which also features winding paths and a striking light installation at the top.
Its most significant collection is the 19th- to early 20th century American fine and decorative arts, with pieces by artists such as Thomas Sully, Norman Rockwell, and Frederic Church.
The museum is also home to 14th- to 19th-century Italian works, as well as sub-Saharan masks, sculptures, and ceramics.
They are dedicated to educate and engage visitors with the world of art, its history, artists' lives, and the creative process.
The museum occupies three buildings filled with galleries, a highly rated restaurant, and a gift shop.
They also feature temporary exhibitions aside from the permanent ones, as well as family activities and events. For instance, Friday nights are for live jazz performances and wine.
More information: High Museum of Art
13. The Museum of Contemporary Art of Georgia
The Museum of Contemporary Art of Georgia is a gallery with more than 1,300 works of art by Georgia-based artists.
But more than just curating significant, contemporary works, its mission is to promote local artists to the community and place them on the global platform.
The museum's permanent collection includes the works of 300 Georgia artists. Aside from the permanent exhibitions, the museum opens temporary exhibitions including both Georgia artists and artists around the world, all presenting innovative art.
The museum also hosts public talks and forums to encourage an exchange of ideas and insights between the artists and the community.
More information: The Museum of Contemporary Art of Georgia
14. Krog Street Tunnel
The Krog Street Tunnel is a 106-year-old structure connecting DeKalb Avenue on Inman Park to Wylie Street in Cabbagetown.
On paper, it seems the last place you'll go to for art. It's simply a two-lane tunnel with pedestrian walkways.
But in recent years, this tunnel has started becoming a functional, dynamic work of art that serves as a canvas and even as a message board for the local community.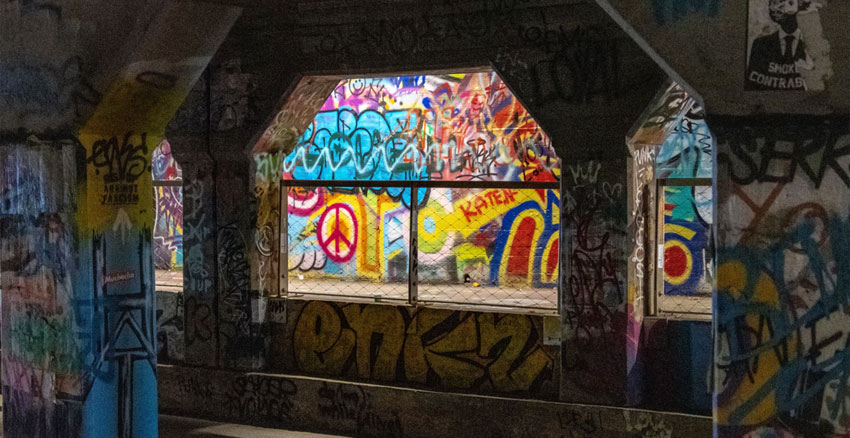 From small tags to huge, detailed murals and even marriage proposals, the walls and pillars display overlapping images, words, and ideas.
The graffiti is ever-changing such that visiting on different days or even times of day will show you a different work of art.
More information: The Daily Krog
15. College Football Hall of Fame
If you're a college football fan, this is a place you wouldn't want to miss.
The College Football Hall of Fame offers more than 50 interactive exhibits dedicated to college football and all its pageantry and traditions inside a 95,000-square-foot facility.
When you come in, you'll be greeted by a three-story high Helmet Wall, featuring school helmets of every college team in the country.
The first floor also has a 45-yard football field used for special events or where you can kick a field goal.
A huge, panoramic theater shows visitors a game day film that will make you wish you were really at a football stadium on game day.
On the second level is the Chick-Fil-A Fan Experience with plenty of interactive activities, such as making a pick at the ESPN College GameDay desk, singing along to fight song karaoke, and an augmented reality booth where you can get a 360-degree view of important sports history moments.
The actual hall of fame is housed on the third level, where only the best of the best of the best are inducted. Learn about all the players and coaches who have made the sport what it is today.
More information: College Football Hall of Fame
Outdoors
Atlanta is a metropolitan area, for sure, but this city in a forest has plenty of open spaces and parks where you can move around and appreciate nature. Here are some of the outdoorsy things to do in Atlanta.
16. Atlanta Botanical Garden
Love plants? The Atlanta Botanical Garden should be on your to-do list in this city.
Opened in 1976, the Garden has been home to world-famous plant collections, gorgeous sculptures and water features, and exquisite exhibits.
The Garden includes 30 acres of outdoor gardens, displaying plants from all sorts of climates and countries, from flowering plants to succulents to conifers.
The Southeastern Center for Conservation focuses on science and research, global conservation efforts, as well as restoration and monitoring of endangered plants. They also educate other conversation experts, teachers, and the public about the importance of conservation.
The Lou Glenn Children's Garden is where children can climb, play, and splash around in the spring and summer. It also features a vegetable garden, conservation bog with Venus flytraps and pitcher plants, and flowers near the entrance during the spring.
The Anne Cox Chambers Flower Walk, Skyline Garden, Conservation Garden, Fuqua Orchid Center, Fragrance and Sensory Garden, and Tropical Rotunda are just some of the gardens that you'll encounter when you come in.
The Botanical Garden also hosts various seasonal exhibitions and events. For instance, Atlanta Blooms! features 80,000 bulbs, daffodils, and other bulbs during the springtime months, while Garden Lights, Holiday Nights light up the garden at night from Thanksgiving all the way to the New Year.
More information: Atlanta Botanical Garden
17. Piedmont Park
Adjacent to the Atlanta Botanical Garden, Piedmont Park is a great place to spend a lazy afternoon, hot summer evening, or even an entire day.
Covering over 200 acres, it has plenty of walking, jogging, and cycling paths, dog parks, picnic grounds and facilities, playgrounds, tennis, volleyball, and basketball courts, soccer fields, a public swimming pool, and a weekend farmers market.
You can even fish in Lake Clara Meer in the summer and ice skate indoors in the winter.
Piedmont Park is also the site for many festivals, such as the Summer Arts Festival, Atlanta Dogwood Festival, Atlanta Pride, and Chicken + Beer Festival.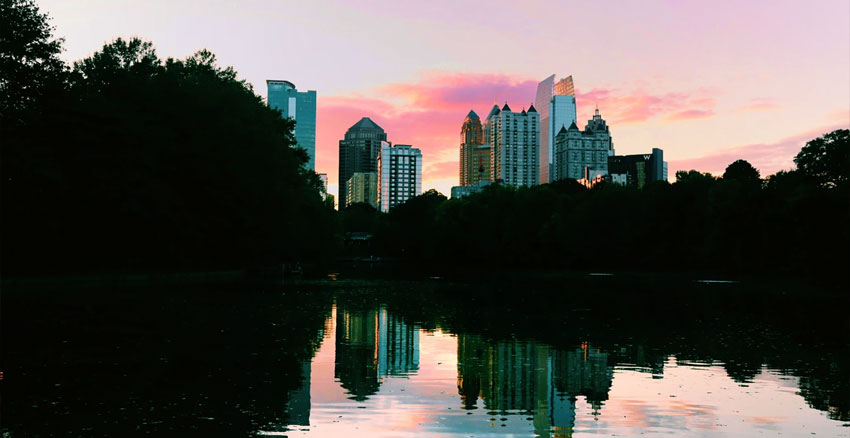 The park also offers spectacular views of the Midtown Atlanta skyline.
More information: Piedmont Park
18. Centennial Olympic Park
The Centennial Olympic Park in downtown Atlanta is a popular gathering place and lasting legacy to the 1996 Olympic Games.
The 22-acre green space has plenty of open space and hosts various free, family entertainment throughout the year, such as concerts, Family Fun Days, an extravagant Fourth Of July celebration, and the bright and colorful Holiday in the Park.
There are 5 newly completed or renovated places of interest in the park, all completed this year.
The West Lawn Promenade showcases a new medal podium to highlight the ties of the park to the Centennial Olympic Games.
The Fountain of Rings Plaza is probably the most recognizable and Instagrammable section of the park. The Fountain of Rings lights and music show plays four times a day. Outside showtimes, kids can splash around its 251 water jets.
Close by is The Spectacular, a plate aluminum sculpture depicting the Olympic rings.
The Southern Company Amphitheater hosts a variety of outdoor events.
Unity Plaza houses the Androgyne Planet sculpture, representing the spirit of international unity, with a new water feature.
Paralympic Plaza honors more than 3,000 athletes who participated in the 1996 Atlanta Paralympic Games.
The Centennial Olympic Park is also the centerpiece of downtown activities. From here, you can easily access the World of Coca-Cola, College Football Hall of Fame, CNN Studio Tours, SkyView Atlanta, Georgia Aquarium, Children's Museum of Atlanta, and National Center for Civil and Human Rights.
More information: Centennial Olympic Park
19. Atlanta BeltLine
The Atlanta BeltLine is a comprehensive urban redevelopment program aiming to transform transportation and outdoor recreation in Atlanta.
Once completed, the project will produce a 33-mile paved, multi-use trail connecting 45 Atlanta neighborhoods where people can bike, Segway, skate, run, or simply walk.
Already, there are multiple family-friendly events, experiences, and sights that showcase the best of Atlanta along the ready-to-use portions of the BeltLine.
Currently, there are 5 paved trails publicly accessible; of these trails, the Eastside Trail is the most popular and heavily used by both locals and visitors, especially on days with great weather.
The trailhead of the Eastside Trail is at the intersection of 10th Street and Monroe Drive near Piedmont Park. It runs southeast, tunneling through an underpass under Virginia Avenue, crosses Ponce de Leon Avenue via a bridge, and passing Ponce City Market.
Continuing its southbound journey, the trail crosses the North Avenue bridge, passes through the Old Fourth Ward Skatepark, dives under the Highland Avenue bridge, approaches the end of the paved trail at Irwin Street, and ends at the trailhead at Piedmont Park.
Watch out for curated art installations, such as the Iron Giants and Tiny Doors, as well as the ever-changing murals along walls on the Eastside Trail.
You can also sign up for bus, bike, or walking tours so you can learn about the BeltLine project, Atlanta's famous landmarks and history, and appreciate the dynamic natural space.
Download the "Get on the Atlanta BeltLine" mobile app on your smartphone to know which parts of the BeltLine are already open, how to get to the trailheads, and be notified of upcoming events and activities along the BeltLine.
More information: Atlanta BeltLine
20. Historic Fourth Ward Park
The Historic Fourth Ward Park is located in the Old Fourth Ward neighborhood near the Martin Luther King Jr. National Historic Site and the Jimmy Carter Presidential Library and Museum.
Connected to Freedom Park and Piedmont Park via the Atlanta BeltLine, the Historic Fourth Ward Park has 17 acres of green space that serves as a gathering place for the community and a center for family fun.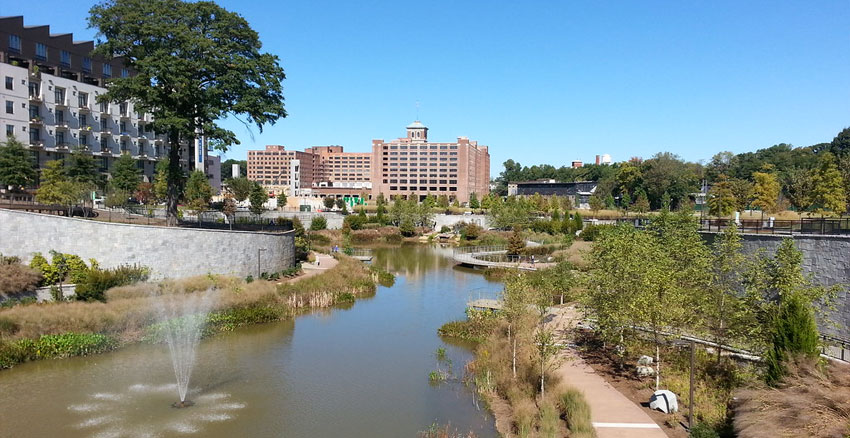 At the heart of the park is the two-acre Clear Creek Basin that serves as a stormwater detention lake that has reduced flooding in the nearby neighborhoods.
The Historic Fourth Ward Skatepark is a world-class collection of enormous bowls, ramps, rails, and half-pipes that are a stage for Atlanta's skateboarding talent. Aside from these skateboard amenities, the skatepark features an athletic field and a playground for kids.
Aside from these amenities, the park has a splashpad, a playground, and an amphitheater that hosts plenty of events throughout the year.
More information: Historic Fourth Ward Park
National Parks
National parks may not be the usual touristy thing to do, but national parks are affordable, if not free, there are dedicated national park rangers who are eager to help and educate visitors about the park, and national parks often have ecological, aesthetic, or historical significance to American heritage.
Here are the two national parks in Atlanta that are worth your time.
21. Dr. Martin Luther King, Jr. National Historical Park
The Dr. Martin Luther King, Jr. National Historical Park is a 35-acre landmark of the South's historic struggle for civil rights.
Explore the neighborhood and places that shaped the life and civil rights legacy of Dr. King.
Make your way to the Visitor Center for a brief orientation, which facilities are open, and how to sign up for a Birth Home tour. View the Children of Courage and the Courage to Lead exhibits.
Stroll along the International World Peace Rose Garden and view the "Behold" Monument close to the Visitors Center.
Tour Dr. Martin Luther King, Jr.'s Birth Home and see where he was born and lived for 12 years.
Listen to the sermons and speeches of Dr. King at the historic Ebenezer Baptist Church and browse exhibits about the history of the church.
The King Center holds audio, video, and written material from Dr. King, Coretta Scott King, and Mahatma Gandhi that aims to educate visitors on nonviolence. Pay your respects and reflect at Dr. and Mrs. King's Tomb.
Walk in the footsteps of civil rights pioneers at the International Civil Rights Walk of Fame.
More information: Dr. Martin Luther King, Jr. National Historical Park
22. Chattahoochee River National Recreation Area
The Chattahoochee River National Recreation Area offers plenty of opportunities for kayaking, fishing, rafting, biking, hiking, bird watching, and tube floating.
The park is spread over a 48-mile stretch of the Chattahoochee River and 15 land units from Buford Dam at Lake Lanier and ending at Peachtree Creek in Atlanta.
In addition to the recreational activities, the park contains beautiful scenery, various flora and fauna, historic sites, and Native American archeological sites.
More information: Chattahoochee River National Recreation Area
Should You Get An Atlanta CityPass?
An Atlanta CityPASS gets you access to 5 attractions at a 40% discount compared to the regular box office prices of these attractions.
The 5 attractions are:
Georgia Aquarium
World of Coca-Cola
CNN Studio Tours
Choice of Zoo Atlanta OR National Center for Civil and Human Rights
Choice of Fernbank Museum of Natural History OR College Football Hall of Fame
The cost of an Adult CityPASS is $76.00 +tax, while the regular cost of these tickets, when bought individually, is $127.93, giving you a 40% savings.
It's valid for nine days starting from the first day you use it, and you can visit the attractions in any order, at your own pace within the nine-day validity period.
If you're going to all of these attractions, then it's certainly worth buying a CityPASS.
Bonus: Best Places To Eat In Atlanta
One of the best things to do in Atlanta, or in any city, really, is to eat your way around the city.
Here's a list of the best places to eat in Atlanta, especially if it's your first time.
1. Mary Mac's Tea Room
Mary Mac's has been around for more than 70 years and is the last of the 16 tea rooms that were once scattered all over Atlanta.
Why you should eat here: Iconic status
2. Sun Dial Restaurant, Bar & View
Sun Dial Restaurant, Bar & View is a rotating restaurant from more than 700 feet high offering views of Downtown Atlanta, Midtown Atlanta, and Buckhead.
Why you should eat here: Best skyline views
3. Canoe
Tucked into a discreet corner of the Chattahoochee, Canoe offers succulent freshwater fish, classic Southern staples, and scrumptious desserts.
Why you should eat here: Best view of the Chattahoochee River
4. Paschal's
In the 1960s, James and Robert Paschal were active in the civil rights movement, and leaders such as Dr. Martin Luther King Jr. would meet with key strategists and white leaders at their restaurant to create a plan for integration.
Why you should eat here: Historically significant
5. The Varsity
When the Georgia Tech Yellow Jackets play home football games, more than 30,000 people flock to The Varsity to grab their hot dogs and onion rings. The restaurant can accommodate 600 cars at a time, making it the largest drive-in restaurant in the world.
Why you should eat here: Largest drive-in restaurant in the world
6. Busy Bee Café
The 70-year-old diner Busy Bee Café has been voted Atlanta's Best Fried Chicken and Best Soul Food for the past several years.
Why you should eat here: Best soul food in the city
7. Colonnade Restaurant
The portions are large, the food hearty, and the hospitality overwhelming at the Colonnade Restaurant, voted the best southern food in the area for years.
Why you should eat here: Best southern food (and best meat-and-threes)
8. Fox Bros BBQ
The Fox brothers from Texas opened this BBQ joint outside of Little Five Points in 2007. Since then, Fox Bros BBQ has been consistently a fan favorite.
Why you should eat here: Best barbecue
9. Atlanta Fish Market
Buckhead is home to the Atlanta Fish Market, serving more than 100 fresh varieties of seafood every single day.
Why you should eat here: Best seafood
10. South City Kitchen Midtown
South City Kitchen serves up contemporary Southern cuisine with a sophisticated twist. Their buttermilk fried chicken has been consistently on the list of the best fried chicken in the city.
Why you should eat here: Best fried chicken
More Resources
For more information about things to do in Atlanta, see these additional resources.
Which of these things to do in Atlanta are you planning to do first?
Planning to go to Atlanta soon?
Make a weekend of it! In fact, we've included Atlanta, Georgia in our list of the best cities to spend a weekend getaway.
Was this massive list helpful to your planning process? Did I miss any site or thing to do in Atlanta? Say it in the comments!