If a road trip with a twist sounds like your perfect weekend, the ghost towns in Missouri are going to be a great pick.
Mostly scattered around Route 66, the many ghost towns of Missouri are truly fascinating in history, and somewhat creepy in the atmosphere.
These locations are a favorite both for urban explorers and paranormal lovers.
From environmental disasters to haunted towns, keep reading to find out everything about the mysterious ghost towns in Missouri.
4 Ghost Towns in Missouri for Fearless Urban Explorers
1. Times Beach – an Environmental Disaster (Now Safe to Visit 2022)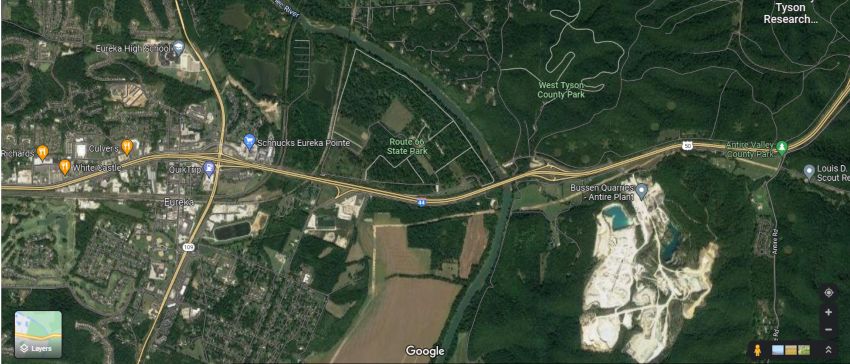 Address: 97 N Outer Rd, Eureka, MO 63025
Coordinates: 38°30'31.0″N 90°36'09.0″W
One of the largest and most famous ghost towns of Missouri is Times Beach.
This place has an interesting, yet sad history.
Why was Times Beach abandoned?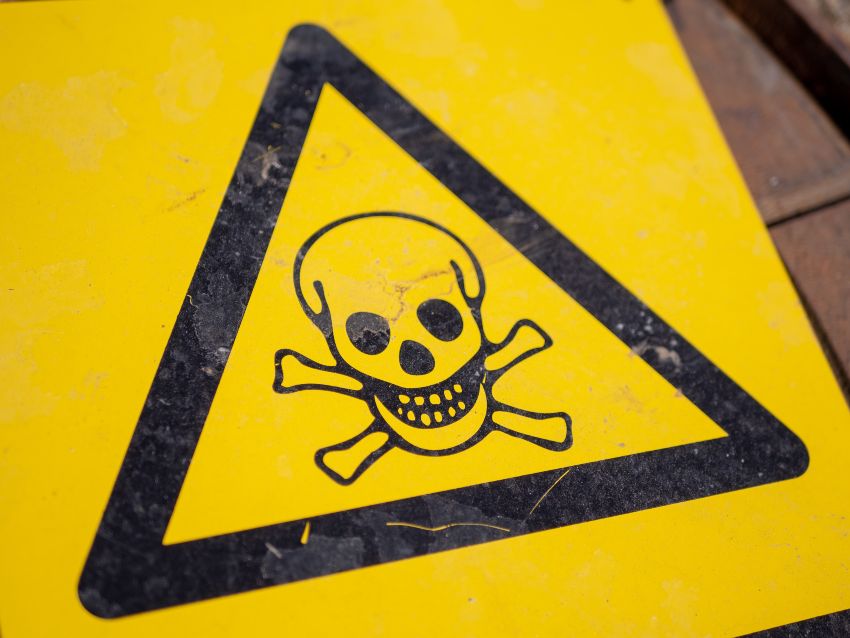 The town was founded in 1925 and had been inhabited for almost 60 years when the whole area was cleared because of dioxin contamination.
The disaster went down in 1971, when Russell Martin Bliss, who at the time owned a waste oil enterprise, started selling dioxine-contaminated oil as a dust suppressant to the people of Times Beach.
Bliss started using the contaminated oil to solve the problem of dust in indoor arenas, and because of the product's success, he was hired by several facilities and stables.
Because of the sudden rise in death among animals near the said facilities, the Centers for Disease Control and Prevention (CDC) and e Environmental Protection Agency (EPA) started an investigation into Times Beach soil pollution.
Eventually, the whole town had to be evacuated and hundreds of families were displaced in the process.
To this day the Times Beach accident remains one of the worst environmental disasters in North America.
What's left to see at Times Beach?
After almost 50 years and several cleanup operations, Times Beach is officially non-contaminated anymore and safe to visit for those interested in spooky urban exploration.
To see what's left of Times Beach, you can visit Route 66 Park, which is the former location of the town.
While the park is mostly a regular park, where people enjoy cycling, walking, and even boating, there are still some buildings left from the ghost town:
The Bridgehead Inn is still standing and is now the Park's visitors center.
The little hill in the park is the burial site of the incinerated houses and objects of what was once Times Beach and can be visited.
2. Windyville – a Haunted Town in the heart of Missouri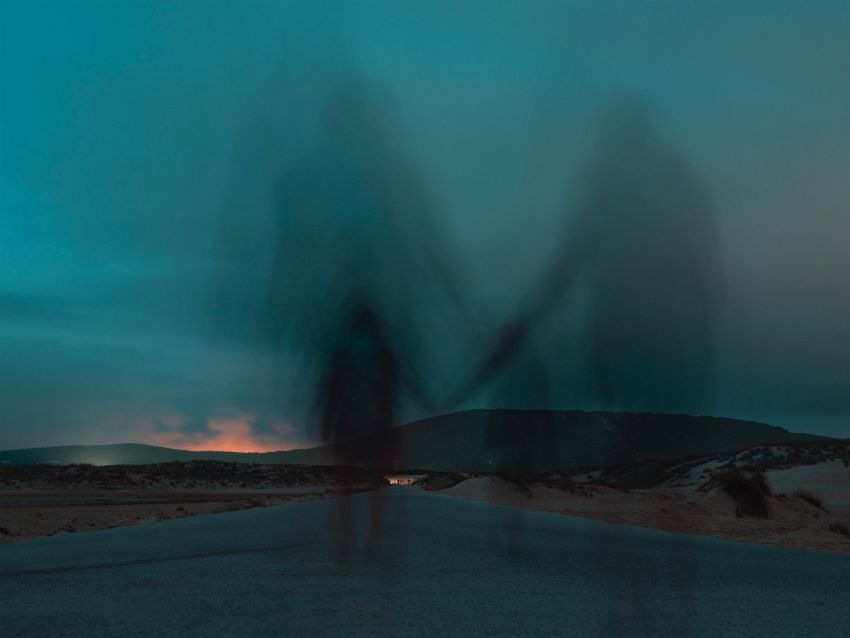 Coordinates: 37° 42′ 24″ N, 92° 55′ 38″ W
Windyville is a ghost hunter's dream come true. The creepy abandoned town has been considered haunted for centuries, with ghost stories being passed on by the few locals, and by visitors who claim to have been witness to supernatural events.
While I can neither confirm nor deny the stories, the eerie atmosphere of the abandoned small town surely reflects its dark history.
What happened in Windyville?
According to the town's lore, something horrible happened in Windyville that makes the town haunted to this day. Apparently, in the 1800s a pestilence or massacre resulted in multiple children dying abruptly.
More recently, people have reported hearing ghost children laughing in Windyville, both in the town and in the Lone Rock Cemetery.
There have also been sights of ghosts and paranormal activities in general. Here are some of the creepiest reports I've found:
A local family was driving through the town at night when they witnessed the ghost of a little girl in a Victorian gown holding a lantern.
They even stopped and managed to get a picture. While this could be just a story, the picture makes my skin crawl nonetheless.
In 2007, a couple of kids were hanging out in Windyville around 3 a.m. when they saw a couple of red eyes in the dark. You can check out the pictures they took that night, for some truly spooky evidence.
There have been several reports of white thick fog in Windyville, which many say took the shape of a ghost or a demon.
A married couple passing through Windyville reports seeing a ghost-looking old woman on the side of the road. The old woman would have stared at them, and then was seen again inside of the car, this time in the backseat! Truly terrifying.
These are just a few of the many ghost stories surrounding Windyville. None of the stories can be confirmed of course, but if you want to go and check them out for yourself, you can do so.
What's left to see in Windyville?
Windyville is a ghost town but is not completely abandoned. There are a few dozen people still living around Windyville, and some of the locals have made their life mission to share the town's spooky history with tourists:
The old Windyville General Store has reopened a few years ago, and while it sells completely normal items you could find in any store, it is decorated with many historical items from the original Windyville.
The owners are versed in the town's history and can tell you everything about the paranormal activities in the area.
You can also sleep at the Windyville General Store, which doubles as a Bed and Breakfast for ghost hunter tourists.
Visiting the Lone Rock Cemetery is a must. The site has been the object of many ghost stories through the years. Most notoriously, the cemetery is rumored to be haunted by a Victorian man riding a horse.
3. Avilla – Civil War Nightmare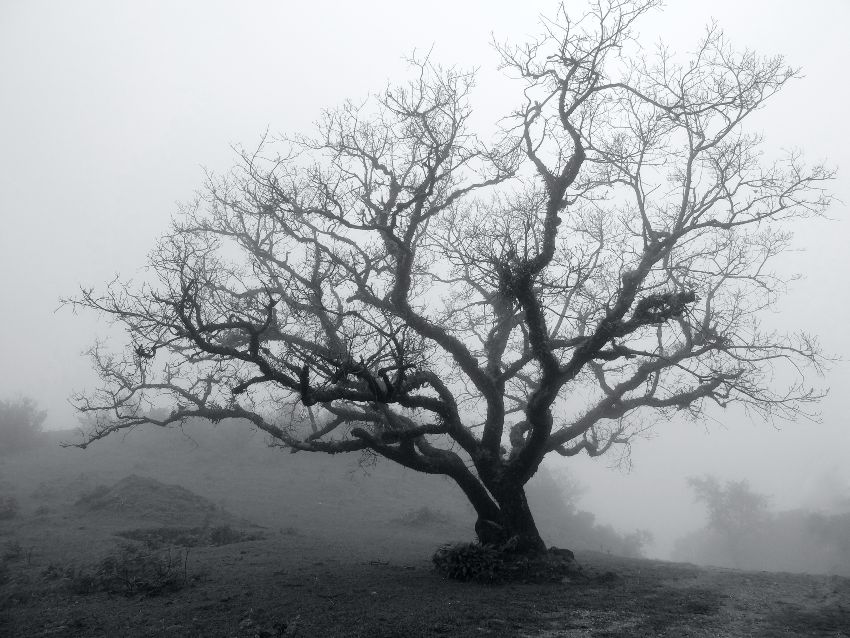 Coordinates: 37° 11′ 38″ N, 94° 7′ 44″ W
Avilla has to be one of the ghost towns on route 66 with the most unsettling history. If you're looking for a town with a truly creepy vibe, Avilla won't disappoint.
The town is not completely abandoned, as around 100 people still live in the area, but the atmosphere is not of a lively city, and this may be the result of its supernatural history.
What (allegedly) happened in Avilla during the Civil War?
To understand why people believe Avilla is haunted we have to go back to the Civil War.
As bushwhackers were regularly pillaging and attacking Avilla, the local militia was growing more and more ruthless when dealing with the enemy.
In one instance, a bushwhacker's head was found hanging from the Avilla "death three" as a warning sign.
Here is where history becomes legend: apparently discouraging bushwhackers was not the only effect of the hanging skull.
Legend has it that the Bushwacker who lost his head is still looking for it and has been haunting Avilla since the war.
The ghost is known as Rotten Johnny Reb and has been going on a killing spree for centuries now.
Many murders around the town were in fact pinned on the Bushwacker's ghost.
Is Avilla haunted by Shadow People?
Another interesting legend surrounding Avilla is the one regarding the Shadow Folks or Shadow People.
Locals and tourists have caught sight of these shadow folks for years, with apparently no good explanation.
According to common lore, shadow people are in fact "shadows" of people that have left this plane, and are still hanging around the places where they used to live.
They are not considered dangerous, but it sure would be terrifying to meet one.
What's left to see in Avilla?
The city itself is probably more interesting to visit at night, for a spooky tour in search of Shadow Folks or the Rotten Johnny Reb ghost.
There are several old and abandoned houses around town, as well as better maintained historical buildings.
The main historical building of Avilla is the former Bank of Avilla, which was then used as a post office in the 50s and is now a landmark of the town.
4. Celebration City – the Abandoned Theme Park of Route 66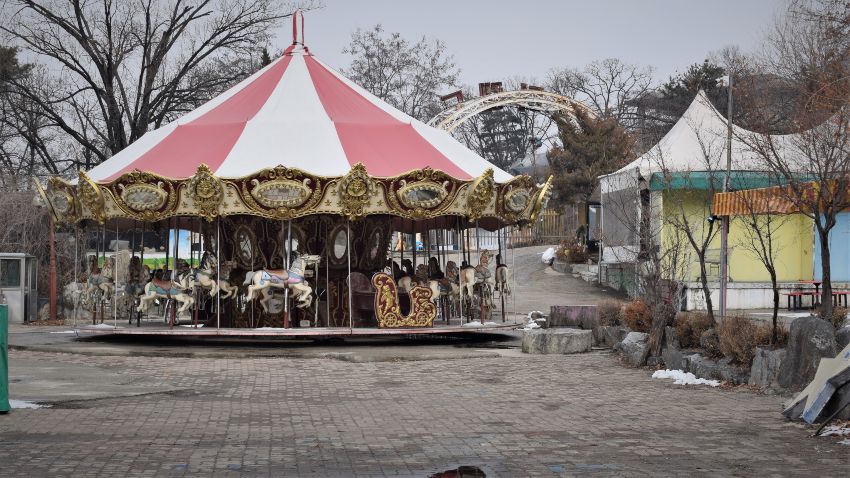 Address: 1383 MO-376, Branson, MO 65616, United States
Coordinates: 36.64765°N 93.2959°W
Celebration City is not properly a ghost town, but is still a very interesting abandoned location to visit.
The theme park was opened in 2003 but it was molded after 20th century America. For this reason, the park is characterized by a vintage look that, now that the whole place is abandoned, creates a truly creepy atmosphere.
Why was Celebration City abandoned?
The theme park was unfortunately closed in 2008 due to the financial crisis, and for not being as profitable as predicted.
Everyone working at the park was only given one day's notice before the park closed for good.
What's left to see at Celebration City?
Even though most of the rides were transferred to other parks after closure, there is still plenty to see at Celebration City.
Most of the buildings are still standing and in good condition. The abandoned-theme-park vibe is truly eerie, with the colorful buildings now empty and spray-painted by visitors.
From cute cafes to gigantic character faces, to disquieting-looking merry-go-rounds, everything that made the park look fun and joyful when it was still open, now has a disturbing look.
At Celebration City you'll also be able to visit the park abandoned diners (50s style), or arcades (80s style).
Are you looking for more historical and scary locations to explore?
If horror is what you're all about, check out my article on the 10 Most Haunted Places in America.
For more road-trip fun, you can draw inspiration from my latest posts on How to Visit All 50 States in 12 Trips: Epic US Road Trip, or 5 Best Cross-Country Road Trip Routes in the US.