The ghost towns of Indiana are super-interesting because some of them have only been abandoned recently.
Others are even still occupied. But with very few residents, they look, feel and sound like any kind of abandoned town.
About 40 Indiana ghost towns exist today, but these 5 are my favorites for the awesome photography opportunities and the ghost stories you can share while exploring them.
Check them out:
5 Interesting Ghost Towns of Indiana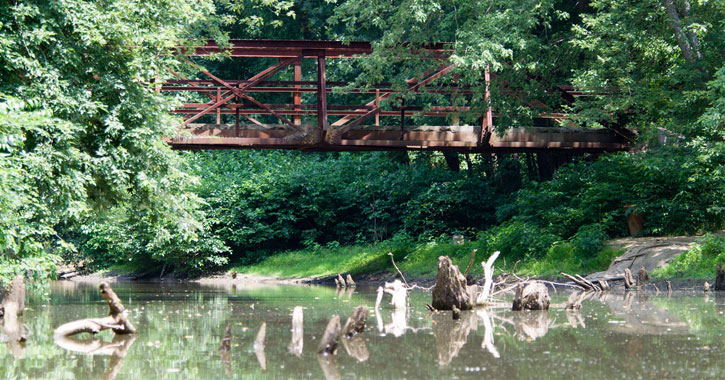 Founded in the 1850s, Elkinsville was named after its pioneer settler William Elkins.
Elkinsville is one of two Indiana towns (the other one called Monument City) that was "drowned" intentionally.
Unlike other ghost towns on this list, wherein people flee their communities, residents of Elkinsville were evacuated.
Elkinsville land was taken for the creation of Monroe Reservoir. The town was flooded in 1964, but a few buildings survived, including the Elkinsville Cemetery, the town's former post office, and some private residences.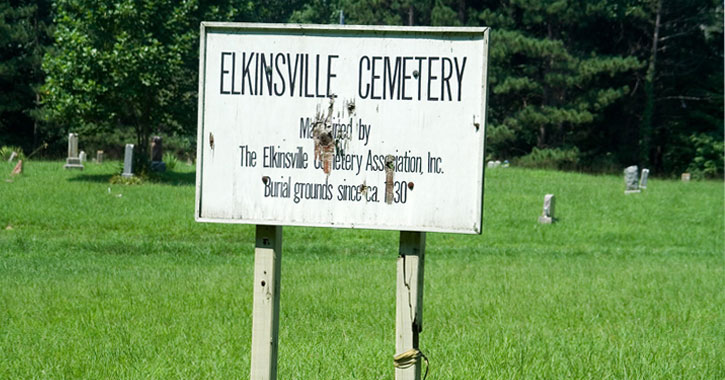 Ironically, many ghost towns of Indiana met their fate due to development.
When governments or powerful people decide to build something or preserve an area (inhabited or not), regular people who had been quietly living in these areas had been historically required to move.
This is exactly what happened to Tremont, Indiana.
When Chicago was just being developed, many landowners tried to replicate its success elsewhere.
One such town is City West, a 19th-century dream city with a promising plot (there's a planned map that shows big-city structures).
Some settlers made it to City West.
One man even built a 22-room hotel with a tavern, but the "city" had no school or church yet. Those who did stay temporarily, about 200 of them, spent their days by the lake or dunes.
Some people died at City West as well, but the town's cemetery had been eaten by the shifting sand dunes.
What Happened to Trent, Indiana?
The financial crisis known as The Panic of 1837 led to the foreclosure, seizure, and eventual stop of all the big plans for City West.
Years later, people continued to visit the area and learned to appreciate the dunes. In the early 1900s, a commuter rail station was created near the site and called it Tremont (in reference to the 'three mountains' or 3 big dunes of Mount Tom, Mount Holden, and Mount Green).
The popularity of Tremont picked up as an outdoor spot to relax, but this was shut down years later when local residents began to organize preservation efforts to keep the Dunes free from future development.
In 1926, the Indiana Dunes State Park became a reality. Today, Tremont (formerly known as City West) is now officially called Waverly Beach.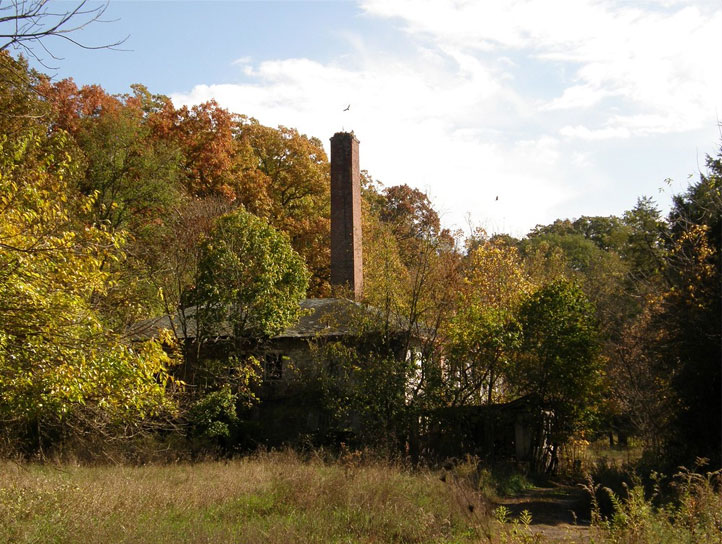 Mudlavia Springs is an extinct town that was located in Liberty Township in Warren County, Indiana.
People used to visit this place for the once-beautiful Mudlavia Hotel.
A Civil War veteran named Samuel Story discovered the natural spring in 1884 while digging a drainage ditch.
As he drank from this water, he discovered that his rheumatism symptoms disappearance gradually. Of course, this led people from around the community to believe that the water had healing powers.
What Happened to Hotel Mudlavia?
Harry L. Kramer developed a hotel, called Hotel Mudlavia on December 25, 1890.
In its heyday, it drew many notable guests from all over the world. The hotel had a golf course, a tennis course, and its own chapel. Unfortunately, the building was destroyed by fire on February 1920.
In the 1960s, a smaller building was built and served as a rest home called "Pleasant Valley Lodge."
It was also mysteriously burned down in 1968. The last resurrection came in 1971 when the site was developed as Mudlavia Restaurant, but it was also destroyed by fire in 1974.
Could it be cursed? The residents in nearby towns believe so. There were also rumors of discarded bodies found in the wells of the property.
The latest owner of the site is Perrier Water Co., which bottles and sells the water from the springs.
Hindostan Falls was founded in 1816 in southwest-central Indiana.
It was the largest settlement in the state with about 1200 residents. At the time, the town had its own hotel, a post office, two mills, houseboats, and a whetstone factory.
The popularity had its pros and cons.
With more and more people wanting to visit Hindostan Falls, and its strategic location along the stagecoach route (between New Albany and Vincennes), the town was thriving.
Unfortunately, the surge in visitors also made the town open to carriers of disease. An epidemic of yellow fever eventually destroyed the town.
Many Hindostan Falls residents died, while the rest fled away from the disease.
There's a famous rumor that an official buried the town's gold underground, hoping to go back to dig it out, but he also succumbed to the plague.
Today, you can still see abandoned buildings and the town's old cemetery, but most of them reverted to forest.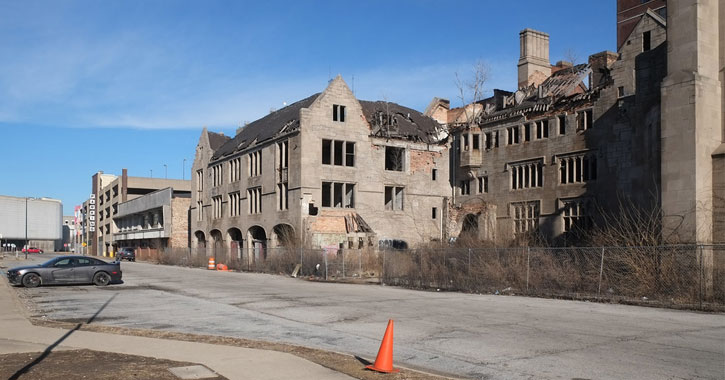 Out of all the ghost towns of Indiana, Gary is unique because we actually witnessed how it was abandoned and slowly turning into a full-fledged ghost town.
Founded in 1906, the city of Gary, Indiana had been a thriving steel town for decades. At the time, Gary Works factory attracted many Americans (from out of state) and immigrants looking for stable, evergreen job.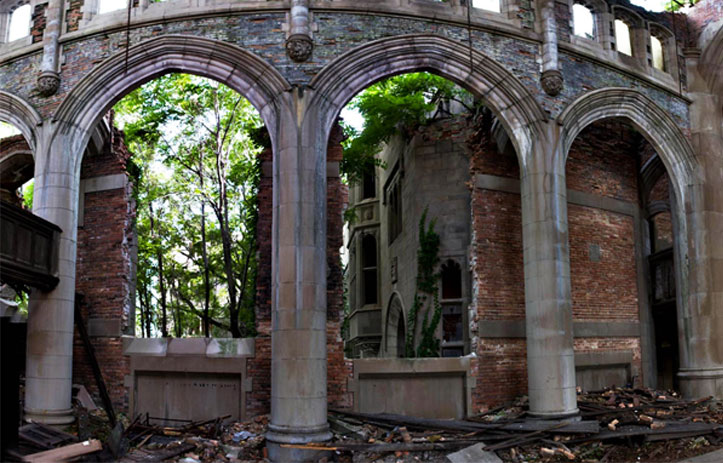 In 1970, Gary Works employed over 30,000. At the start of the 1990s, this was just 6,000.
Unfortunately, the city had its peak in the 60s and slowly lost the steel industry to overseas competition.
People still live in Gary… but with poverty plaguing the city and no major source of income left (they depended just on one industry), the city wasn't able to recover despite the local government's attempt at diversifying into other industries.
About a third of structures in Gary are now unoccupied.
Beyond Ghost Towns of Indiana: Things to do around the state
Feeling tourist-y? Here are the top 20 things to do and see around Indiana.
If you want to explore Indiana, the best way to do it is through nature. The lakes in Indiana offer so many under-the-sun activities for locals and visitors alike. For the thrill-seekers, Indiana's caverns can definitely give you adventurous satisfaction.
For history and architecture buffs, don't miss Indiana's rustic and unique covered bridges.
Of course, if you're on the hunt for the most haunted places in America, check out these posts: