According to the Connecticut Office of Tourism, there are over 3,000 lakes in CT today.
While many of them are reserved for locals and town residents exclusively, about half of the lakes are open to the general public.
9 Must-Visit Lakes in CT
If you're going to visit Connecticut, make sure to explore one or two of Connecticut's best lakes below…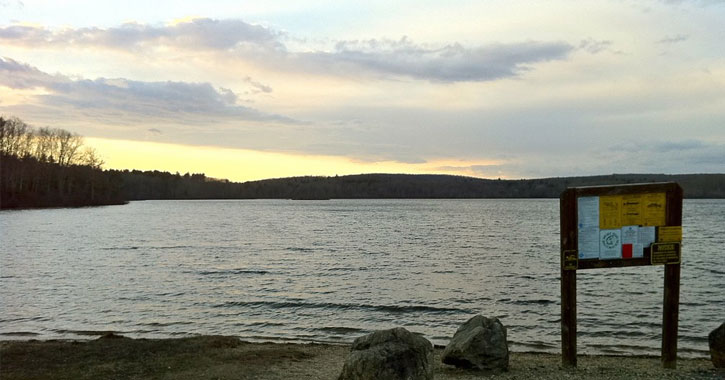 Mansfield Hollow Lake, located in the heart of the Mansfield Hollow State Park, is a famous 500-acre boating and fishing lake.
The Army Corps of Engineers created the lake by damming the Natchaug River. There is no swimming allowed in the lake since a part of it is used for public water supply.
One characteristic of Mansfield Hollow Lake is the calmness of the lake. It is one of the most serene lakes in CT.
Visiting Mansfield Hollow Lake is best as a daytrip, since there is no overnight camping allowed in Mansfield Hollow Lake (the place is only open until sunset). However, RVers will find accommodating campsites at nearby Mashamoquet Brook State Park Campground.
After you're done boating or other water activities of your choice, you can always explore the park, take a picnic somewhere shaded, mountain-bike, or embark on one of the many hike trails.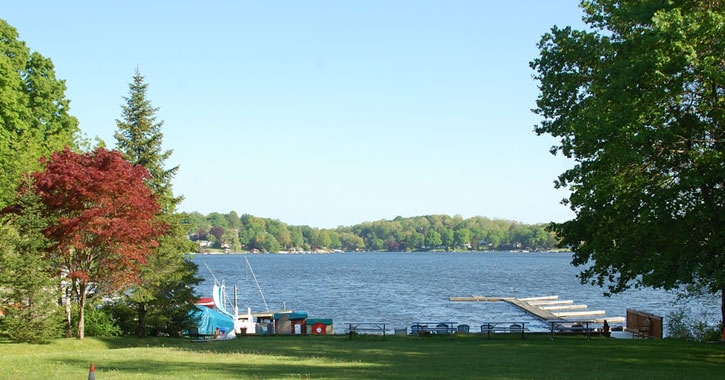 As the biggest and most beautiful lake of all lakes in CT, Candlewood Lake is also one of the most-visited lakes in the state.
Launched by Connecticut Light & Power in the late 1920s, the purpose of this manmade lake was to create hydro-electric power.
Candlewood Lake, located in the 11-acre Candlewood Town Park within Fairfield and Litchfield counties, features 200 yards of beach-front, 10 marinas, multiple boat launches, and camping spots. The boat launch is open to the public (you can pay cash at the gate).
If you have no cash, you'd have to prepay by calling Parks and Recreation at 203-797-4632, or pay by credit/debit card.
Aside from swimming, fishing, boating and sailing, Candlewood Lake is also a go-to lake for scuba diving, specifically to find the lost city of Jerusalem, which was intentionally flooded to create the lake.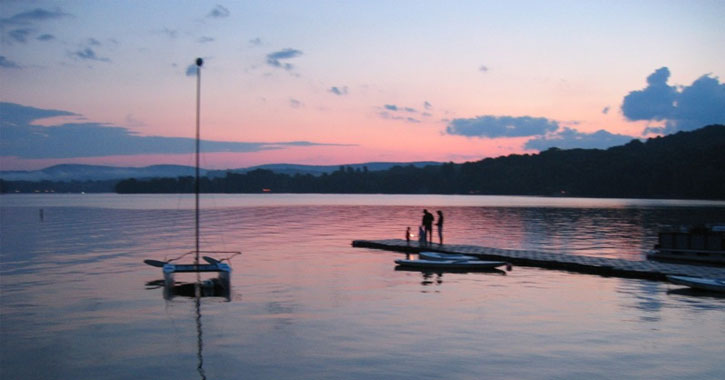 If you're searching for lakes in CT for a visit in the fall, Lake Waramaug is the best choice.
This picturesque lake is normally captivating on a daily basis, but its beauty multiplies tenfold when the colors of fall leaves and trees are reflected on the water's serene surface.
It's a favorite spot of many nature photographers…and for good reason.
Lake Waramaug, located in Lake Waramaug State Park, is one of the cleanest lakes in CT thanks mostly to continuous preservation that includes FOUR in-lake fiberglass aerators installed at the deep sections of the lake, a million cyanobacteria-eating zooplankton released into the lake weekly, and regular diving activities to remove invasive weeds and aquatic plants in the lake.
Waramaug Lake is also one of Connecticut's best parks for camping.
While kayaks are allowed, no person shall operate a motorboat on the lake. This is a win-win if you're out on the lake in search of peace and quiet.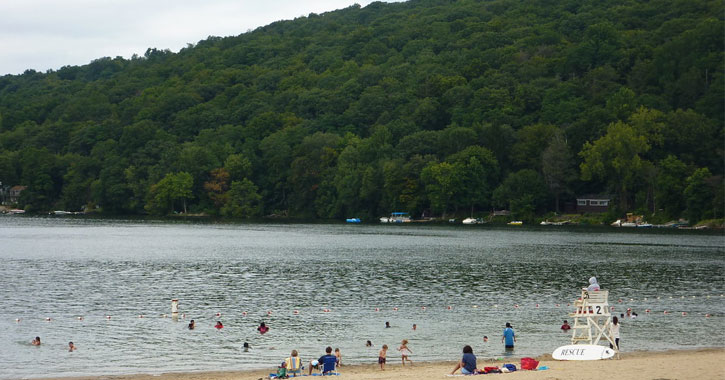 Squantz Pond is a picture-perfect mountainous lake embraced by the Fairfield County hills. It is located 10 miles north of Danbury in the town of New Fairfield, Connecticut.
Squantz Pond is a public recreation area with plenty of opportunities for water activities.
Aside from swimming, scuba diving, sailing, water-skiing, and boating, people can also fish here and catch rainbow trout, Yellow perch, Largemouth Bass, Walleye, and Chain Pickerel.
Motorized boats are allowed, but public access to Squantz Pond is provided through a state-owned boat launch located in the State Park.
If you're bringing a boat, it has to be a maximum of 7.5 horsepower (6 kW) to be allowed.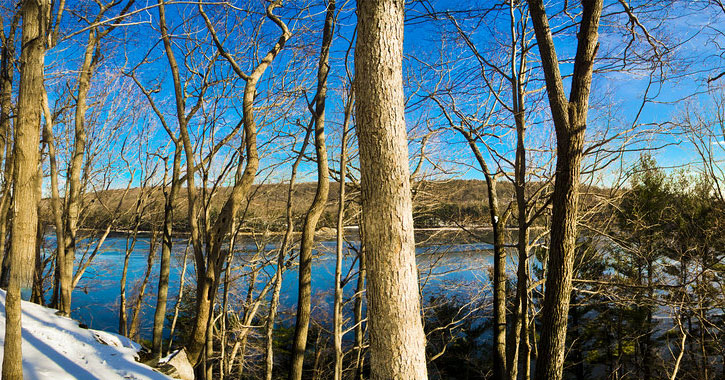 If your purpose of sorting through lakes in CT is to find a good fishing spot, the Saugatuck Reservoir is your perfect destination.
The Saugatuck Reservoir is just one of 3 Aquarion reservoirs open for fishing within the 15300-acre Centennial Watershed State Forest. It is located in Redding and Weston in Fairfield County at the intersection of Valley Forge and Davis Hill Roads.
This reservoir doesn't allow swimming since it provides water to neighboring towns, but Saugatuck Reservoir is known for fishing trout, crappie, smallmouth bass, sunfish, walleye, chain pickerel, and bluegill.
Make sure to obtain a fishing permit from the Aquarion Water Company before going to this lake.
Anglers can purchase a $25 season pass (this is on top of their standard state fishing license). Also, boats or any floatation devices aren't allowed on the water, so all fishing is from the bank.
Once you are done fishing, explore the park and any of the 6 trails you can follow. Hunting is also a popular activity here, but like fishing, you do need local permits.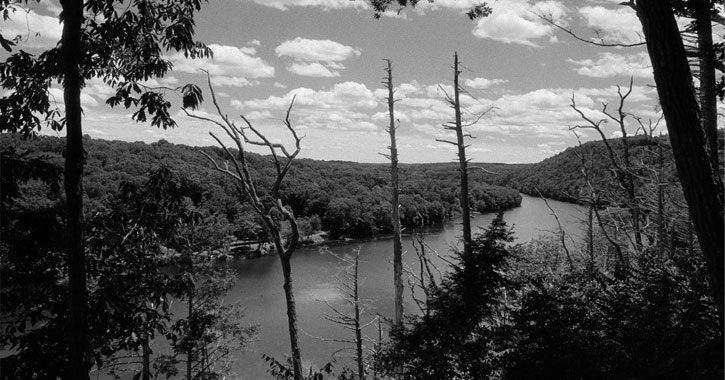 Lake Lillinonah is Connecticut's second-largest lake, measuring a whopping 1900 acres.
It is another famous fishing lake in Connecticut since many of the annual fishing tournaments are held here each summer.
Boating is also a popular activity around the lake, but only in some parts and usually in the summer.
Lake Lillinonah is also popular for its own bald eagle observation area.
If you love going face to face with Connecticut's wildlife, you can also explore the nearbyGeorge C. Waldo State Park, where you can go horseback riding or hunting.
For thrill-seekers and advanced hikers, you can experience a scenic view of Lake Lillinonah (from above) by following the trails at Lovers Leap State Park.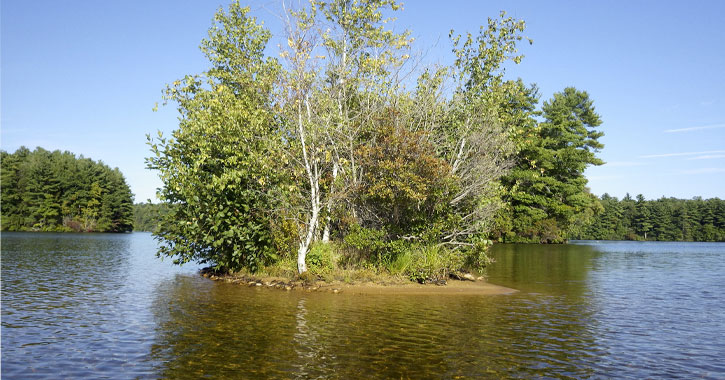 This northeast Connecticut 300-acre lake offers 4 miles of shoreline, which visitors can access only from a canoe, kayak, or boat.
Anglers enjoy year-round fishing at Mashapaug Lake and huge populations of walleye, perch, crappie, sunfish, largemouth bass, smallmouth bass, rainbow trout, brook trout, pumpkinseed sunfish, yellow perch, green sunfish, and chain pickerel.
Mashapaug Lake is surrounded by two state parks: Bigelow Hollow State Park and Nipmuch State Forest, where ice fishing and snowmobiling trails in winter are popular.
In the summer, camping, swimming, boating and hiking are popular activities.
After all, just Bigelow Hollow State Park has 30+ miles of hiking trails readily available for you to explore.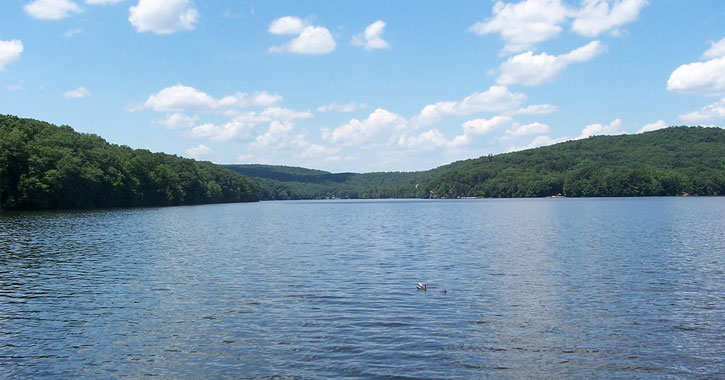 This 368-hectare recreational lake along the Housatonic River is bordered by four towns (namely, Monroe, Newtown, Oxford, Southbury).
Formed by the Stevenson Dam in 1919, Lake Zoar is home to four boat launches with one being located in every town.
Fishing is the number one activity here.
Zoar Lake gives anglers a good supply of trout, perch, bass, and catfish carp. Other water activities include skiing and jet skiing.
As for hiking, the park's 10.5-kilometre Zoar Trail encircles the lake, which makes for an awesome Instagram-worthy landscape photography spot and cool views.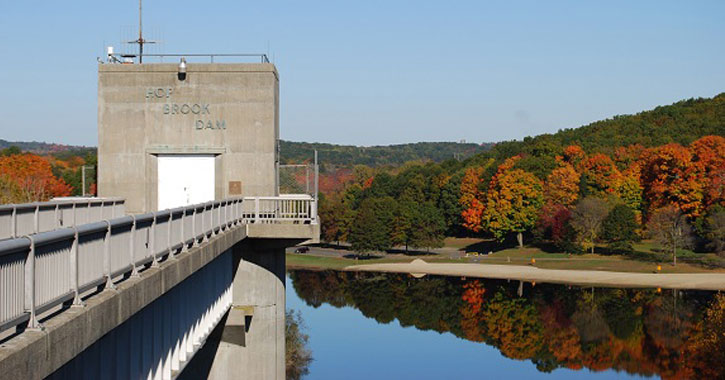 The 553-acre Hop Brook Lake is located in the towns of Waterbury, Middlebury, and Naugatuck.
The recreational lake draws visitors because of the many swimming opportunities (both the lake and the beach), as well as tons of outdoor activities, from hiking to exploring the local wildlife such as white-tailed hear, hawks, chipmunks, beavers, deer and more.
Hop Brook Lake is a popular fishing spot, especially for brook and trout (brown and rainbow).
Other water activities include canoeing, sailing and kayaking. Do note that only non-motorized boats are allowed here, so anglers use a rowboat or canoe.
If you're an eco-warrior, you can join numerous nature programs (dam tours and ranger programs) at the lake.
Beyond Lakes in CT: Things to See and Do in Connecticut
If you missed swimming in the waters (since some of the lakes in CT above do not allow swimming) and you still have time to explore the state, you can swim your heart out in any of these 10 Connecticut beaches.
Connecticut is home to a number of great fairytale-like castles, but none are as notoriously eccentric as Gillette Castle. Located between East Haddam and Lyme, this castle is home to stage actor and playwright, William Gillette (famous for his role as Sherlock Holmes).
Many of the wineries in Connecticut were established only within the last 60 years.
Unlike others vineyard towns across the U.S. that began in the 1800s, CT wineries are still babies in comparison. But the CT Wine Trail will prove that Connecticut-based winemaking is breaking grounds and booming.