Connecticut is home to a number of great fairytale-like castles, but none are as peculiar or unique as Gillette Castle between East Haddam and Lyme. The stage actor and playwright, William Gillette (famous for his role as Sherlock Holmes) designed and oversaw the building of this castle himself in the early 1900s.
Gillette originally named his castle the Seventh Sister, since it was built on the last of the Seven Sisters – a group of cliffs overlooking the Connecticut River.
The actor lived there until his death in 1937, after which the state of Connecticut purchased the property and turned it into a state park.
While the outside of Gillette Castle already gives away some of the eccentric ideas that the actor had, and even looks a little ominous with its white and gray facade (built with the local fieldstone), the inside is inviting and is where Gillette's unconventional ideas become really apparent.
If you've heard of this castle before and have been wanting to visit, or maybe you're just looking to tour the different castles in Connecticut (which is the starting state of our 7 Day New England road trip itinerary) or the greater US, then have a look at these 6 things you can do in and around the Gillette Castle State Park area.
6 Things to Do Around Gillette Castle State Park
1. Explore the Gillette Castle
Gillette Castle almost didn't exist because the actor had planned on building a retirement home on Long Island. But the legend goes that he was traveling down the Connecticut river on his houseboat (which he had named Aunt Polly) and discovered the hills, after which he decided to build his home there.
Construction started in 1914 and ended in 1919. Most of the original architecture and furniture is still there, but parts of the castle have been renovated.
History aside, Gillette Castle truly stands as a fascinating monument to the actor's zany genius. William Gillette had a flair for the dramatic, and so had several features built in to entertain (and sometimes scare) his guests.
There's a small hidden door right off the main entrance that allowed him to suddenly appear in the entrance hall, for example, and a series of mirrors in his bedroom that allowed him to spy on his guests. Every door inside (all 47 of them) are unique and feature complex wooden Steampunk-like latches as well as trick locks.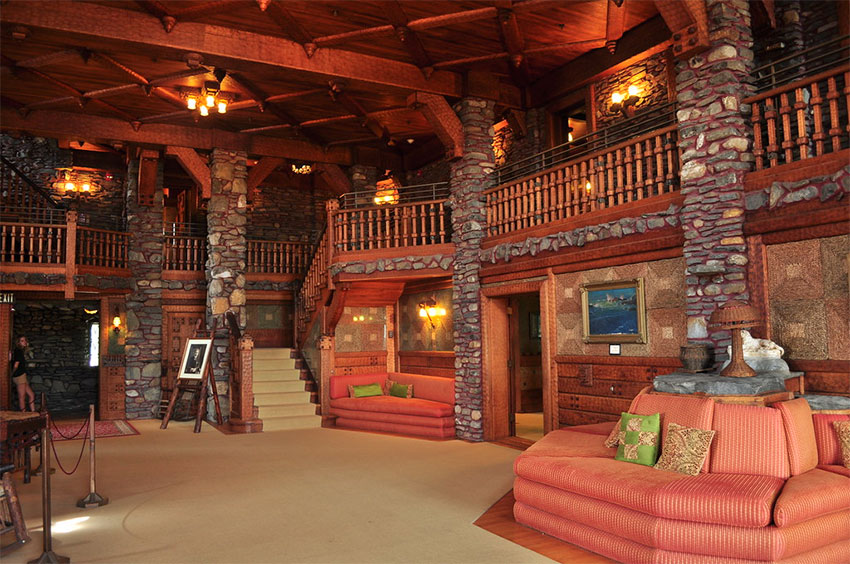 And that's only the start of his eccentric additions to the castle. Honestly, the whole thing has a dash of mystery to it that would have even intrigued a character like Holmes.
The tours in and around the Castle are self-guided but there is a visitor's center and there is staff stationed in every room, ready to share interesting bits of history and information.
The park grounds are open year-round and you can walk around the outside of the castle anytime you want. If you want to tour the inside, though, then you'll have to make sure to visit between Memorial Day and Labor Day as it's only open seasonally. Be sure to get there early-ish as well because the castle closes at around 4 pm.
Gillette Castle does charge an admissions fee for the tour, at $6 for adults and $2 for kids under 12. Children under 5 can go in for free.
2. Check out the view on the walking trails
Since Gillette Castle is built on a cliff right next to the water, you have spectacular views of the river. The 184-acre property contains a picnic site and a couple of nice walking trails, some even take you along the 100-foot-plus cliffs next to the river. Here's a map of the area.
If you decide to explore the rest of the property and do a walking trail then you should definitely check out the "Grand Central Station" train stop on the grounds. There actually used to be a train and a railroad, with a working steam train that supposedly high-profile guests like Charlie Chaplin and Albert Einstein had ridden on.
Sadly, the tracks and roadbed are no longer there, but the road was converted into a very picturesque walking trail so it's not an entire loss. If you look up at the roof of the station then you'll also see a metal cat figure. It's not just a random piece of art –  Gillette loved cats and around 17 of them (that we know of) had lived with him in his castle at some point.
There are a few other things to discover on the property as well, including stone-arch bridges, a pretty fish pond, a period barn and a few other things that I'd rather have you discover for yourself.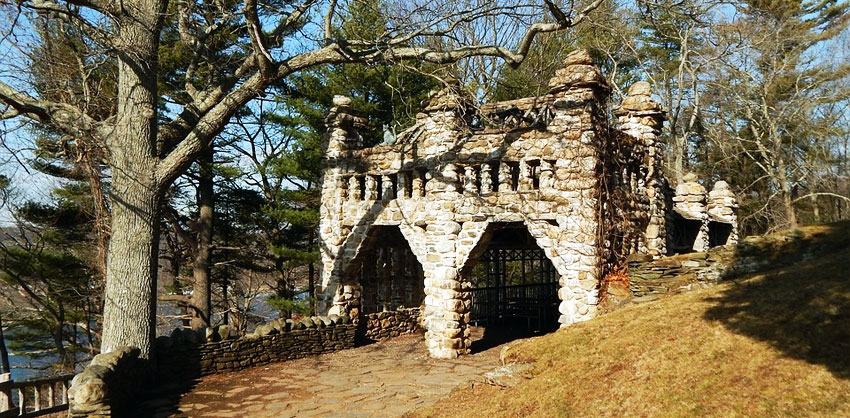 I will say that there is an outdoor theater down the hill from the castle and they often do plays and other theatrical performances there. You might also want to make a stop at the river near the castle to go see the remaining wreckage of Aunt Polly which had sadly sunk after a devastating fire.
3. Have a picnic on the grounds
As I mentioned a little earlier, the sprawling grounds around the castle are lovely to walk around in and also feature a scenic picnic spot (or a few of them if you're happy with just setting up wherever).
The "official" picnic areas offer tables and grills as well, though no bathrooms so you'll have to head back to the visitor's center for that.
4. Get the best view of the castle with the Chester-Hadlyme Ferry
The eastern landing of the Chester-Hadlyme Ferry sits on the property near the castle. Many people have said that this is by far the best way to see the castle in all its glory and I wholeheartedly agree.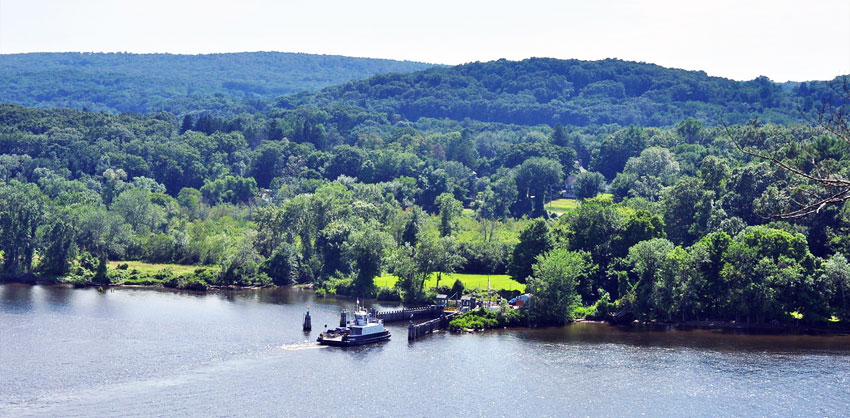 The area inside the park is really beautiful, but it just gains a whole new level from the river's point of view.
5. Visit the shops and eateries in the nearby town of East Haddam
If you're really into the history bit and want to see more then there are a few other historical homes, landmarks and a museum in East Haddam. Though those buildings have nothing to do with Gillette, of course.
There are a couple of nice places to eat too and some shops. If you're into bridges and/or photography then I would recommend you make a stop at the East Haddam Swing Bridge for some really fantastic photo opportunities.
6. Go camping in the surrounding forest
If you're looking to turn this into a weekend trip then the Gillette Castle State Park makes for a great camping site as well.
You should, however, know that camping here is considered an "overnight river camp stay" for those who are traveling down the Connecticut River. This means that you have to be traveling by river (either canoe or kayak for example) to be able to camp here, and the reservations are limited to one night only.
Camping is also only allowed between May 1 through September 30, and you need to book at least two days ahead of your stay.
Visiting Gillette Castle
Getting To Gillette Castle
You can get to the Castle either via car or boat/kayak/canoe. If you're getting there by car then you'll likely either use the State Highway 431 from East Haddam or Ferry Road from Lyme.
Best Time Of Year To Visit
Like I said, the Castle itself is only open from May until September so you'll want to go during those months if you want to get the full Gillette Castle experience. But the rest of the park grounds are open year-round.
What To Wear
The clothes you'll wear largely depends on when you're going, as it gets quite hot during the summer but cools off a bit towards September. That said, you'll want to wear comfortable shoes – even if you aren't planning on doing any of the walking trails as there's still quite a bit of walking involved from the parking lot to the castle as well as during the tour inside. The grounds also has a lot of steps, some of which are quite steep.
What To Expect
Gillette Castle receives around 300 000 visitors a year, so you'll very likely not be the only ones walking around the grounds, especially if you go on a weekend. The area is quite safe and very peaceful so feel free to take a leisurely stroll around the park.
What To Eat
Lobster rolls are a Connecticut staple. Here they serve them hot with drawn butter, unlike the chilled version up in Maine.
Clam-topped pizza sounds strange at best, but it's a Connecticut favorite with many pizzerias in the state offering this delicacy. You might have to travel around a bit to find a pizzeria that servers this near Gillette Castle, however. I'd recommend Otto in Chester.
Ice Cream is available pretty much everywhere but the ice cream in Connecticut is as tasty as it gets in the US. With plenty of dairy farms in the state, there are more than enough shops going around that sell mouthwatering ice cream with dairy fresh from the farm.
Square donuts can be found in many a bakery and mom and pop shops around the state. I'm not really sure why the residents of Connecticut love their square donuts so much, but they're certainly tasty!
Go Explore The Secret Passageways of Gillette Castle!
Do you know of any other peculiar places like this anywhere else in the US? I'd love to hear about similarly eccentric historical buildings so let me know in the comments!
Header photo credit: Daniel Hartwig