Itching to soak in hot springs near Boise, but can't decide which one to go to?
I understand this dilemma. There are dozens upon dozens of hot springs in Idaho that make choosing just one super challenging. Here, I'm going to showcase some of the best hot springs in the area that we've visited (and some, still on my bucket list).
Read THIS before Exploring any Idaho Hot Springs…
When visiting natural attractions like caves, mountains, and hot springs, everyone should go by this rule:
Take nothing but pictures,
Leave nothing but footprints,
Kill nothing but time.
Because hot springs are connected to waterways, we have to keep them clean. This means, avoid using soap, shampoo, bubble baths, and so on.
If you brought food and had a picnic near the hot springs, put all your trash, food scraps in a trash bag and bring them home (or at least to the nearest trash can).
You can't treat hot springs as your exclusive bathtub. Other visitors (some nude) would likely join you there. If clothing isn't required, you have to be OK with sharing the space with other people.
Every year, more and more hot springs are being closed to public access due to loitering, vandalism and just overall bad tourist behavior. These are the basic etiquette to follow at any hot springs you decide to visit, so we can prevent more natural attractions from closing permanently in the future.
11 Must-Visit Hot Springs near Boise, Idaho
Now that we got that cleared, here are 11 of the must-visit hot springs near Boise, starting with resorts that offer both indoor and outdoor spring water to visitors.
Hot Spring Resorts
The following are managed hot springs with accommodation options, food orders and other convenient facilities.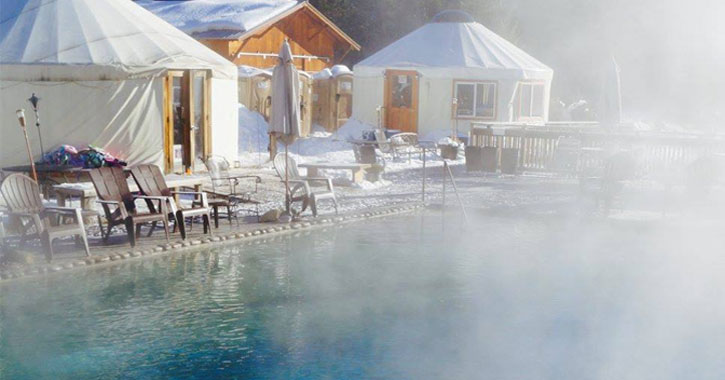 Why it's special: This place has 6 mineral-rich pools ranging from 109-98 degrees.
Location: 1026 Gold Fork Road, Donnelly, Idaho
Overnight allowed: No (Gold Fork Hot Springs is only open up to 8pm)
Admission fees: $10 for adults, $5 for kids 9-year-old and under. Make sure to bring cash, since the resort has no credit card facility.
If you want to experience the warmth of Idaho's best hot springs, but don't want to hike or stay at naturally flowing hot springs, Gold Fork is one of the hot springs near Boise to check out.
The water is sourced naturally from nearby springs and captured in modern pools with easy access to changing rooms, toilets and comfy lounge chairs. And since the place lets you bring in your own food without fees, you can snack and eat comfortably on table/gazebos readily available for guests.
Oh, and there is no smoking or alcohol allowed in Gold Fork Hot Springs.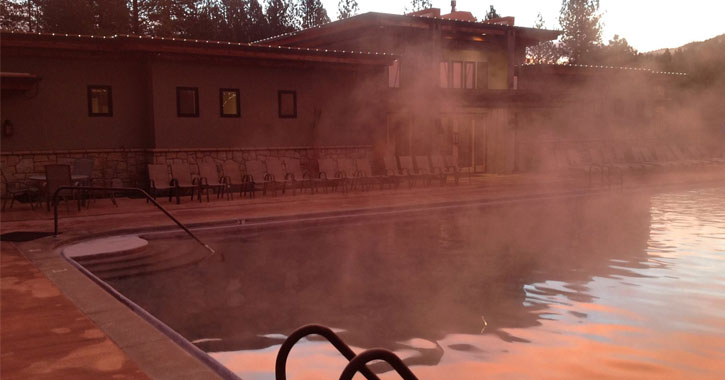 Why it's special: No need to hike, it's right in the heart of Idaho City and the nearest to Boise
Location: 3764 Hwy 21 Idaho City, ID 83631
Overnight allowed: Yes, the resort has a 7-room inn just down the road
Admission Fees: A 2.5-hour soak costs $17 for kids below 12 years old, $20 for adults. Private pools, which are only for adults, cost $45/hour per couple.
At The Springs, you can join the large communal soaking pool, or keep it romantic or exclusive by soaking on one of the several private pools you can rent per hour. The resort also offers on-site masseurs, a sauna, and overnight accommodation.
Reservations are required. Also note that The Springs is closed on Mondays, Tuesdays and Wednesdays. It also is only for 18+ on Thursdays and Fridays. Family days (all ages) are welcome on weekends (Saturdays and Sundays).
3. Zims Hot Springs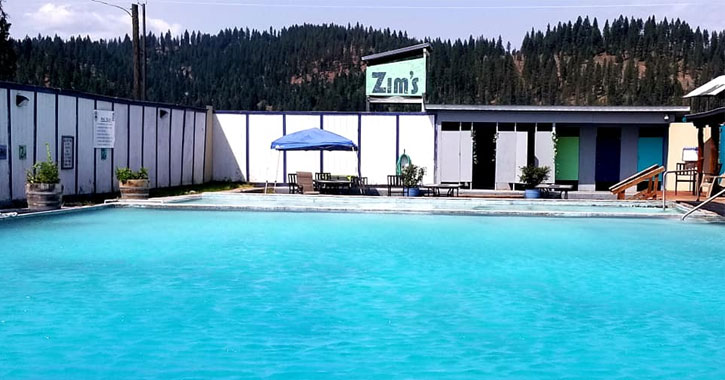 Why it's special: It's a pet-friendly Idaho hot springs resort near Boise.
Location: 2995 Zims Rd, New Meadows, ID 83654
Overnight allowed: Yes
Admission fees:  Children $6, adults $10, seniors $8 + tax.
Zim's family-friendly resort is home to a pair of outdoor hot spring pools. The resort is just outside New Meadows, which means you get to enjoy a spectacularly scenic Meadows Valley from Zim's pools.
The water of Zim's hot springs is fed by the waters of the Little Salmon River. The larger swimming pool is 90-100 degrees Fahrenheit, while the smaller soaking pool is 100-105° Fahrenheit.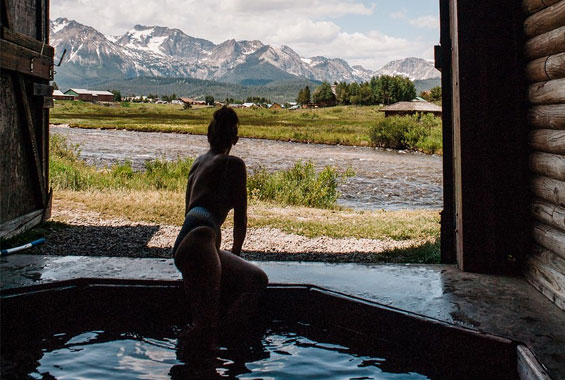 Why it's special: Private hot spring mini-pool with a stunning view of Sawtooth Mountains
Location: Mountain Village Resort, 220 Eva Falls Ave, Stanley, ID 83278
Overnight allowed: Yes, the resort has a 61-room lodge, Stanley Outpost and RV spaces
Admission Fees: Depends on the type of accommodation
It's an excellent stop before any Sawtooth Wilderness escape, Mountain Village Resort offers one of the most jaw-dropping backdrops you can find in all hot springs near Boise.
Guests of Mountain Village Resort receive free access to the hot spring. However, soaking times are only by reservation and may not be guaranteed since there is only one hot spring semi-indoor pool situated in a small log building near the resort.
If you're lucky to get a private soaking slot, the man-made pool is definitely worth all the trouble. The pool maintains between 98 yo 104 degrees Fahrenheit depending on the time of year and could fit up to 8 people.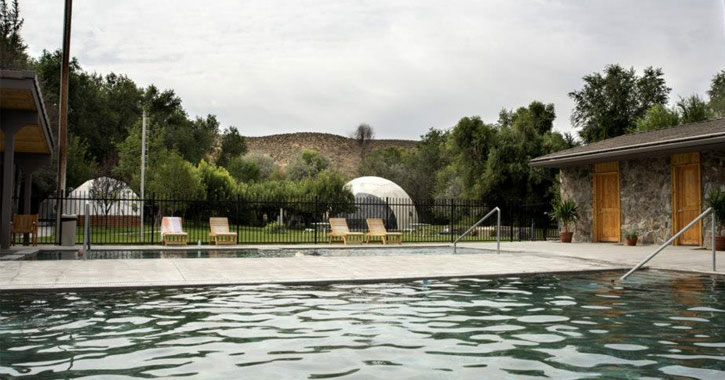 Why it's special: It's a campsite with thermal spring pools
Location: 19073A U.S. 30, Buhl, ID 83316 (it's about 1:45 min drive east of Boise near Hagerman)
Overnight allowed: Yes, there are geodesic domes available for camping, events, retreats and workshops. You can also choose to stay at campsites or RV sites right next to the river.
Admission fees: General admission ranges from $1 to $10. If you wish to rent any of the private pools, you need to add $4 to $24 per person depending on how long (60, 90, or 120 minutes) you reserve them for.
Miracle Hot Springs is a relaxing retreat for couples, friends and families. There are FOUR general admission geothermal pools and 21 VIP private pools, which could fit 4 to 8 people.
This resort also has another location, in Banbury, you might want to check that out if this resort is fully booked.
Natural Hot Springs
The next hot springs near Boise are natural, so expect no changing rooms, no comfortable pools, and no accommodation nearby. There might be toilets and picnic areas for those maintained by forest services, but not as fancy as resort-toilets.
The upside is, you don't need to pay anything (probably except for parking fees if you're within national park grounds).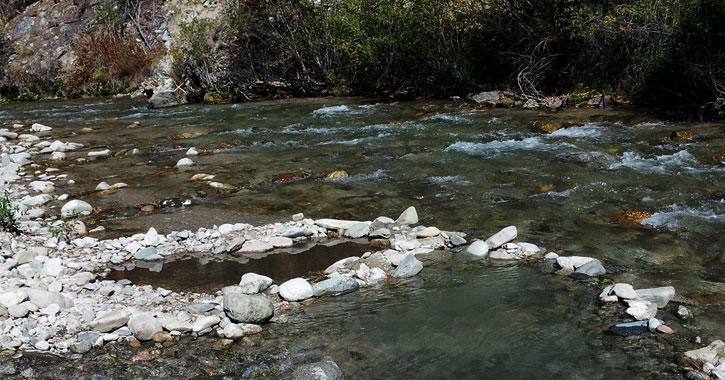 Why it's special: For those interested in hiking, fishing, camping and roughing it out in a rustic soak shack
Location:  From Boise, Idaho, take W State St. to ID-55 N in Eagle, then turn right onto ID-55 N. Turn right onto County Hwy 17/Banks Lowman Rd. Continue to follow County Hwy 17 and turn left onto ID-21 N.
Ideal time to visit: Spring to Fall only, the campgrounds close the rest of the year.
Bonneville is one of the most popular hot springs near Boise since it is very accessible. You can reach it 19 miles east of Lowman, Idaho just off Highway 21 at an elevation of 4,700 feet.
The Bonneville hot springs is just above the campgrounds, so if you're done with fishing and hiking, you can check out the hot springs with water ranging from 100 to 120 degrees. It also has a rustic soak shack, an old cast-iron bathtub located inside a tiny wooden cabin in the middle of the area. Note that the temperature of the bathtub water depends on the flow of the creek, but it is guaranteed untreated and 100% natural geothermal spring water.
Clothing is also optional here, but bring your bathing suit (especially in summer when traffic is heavy).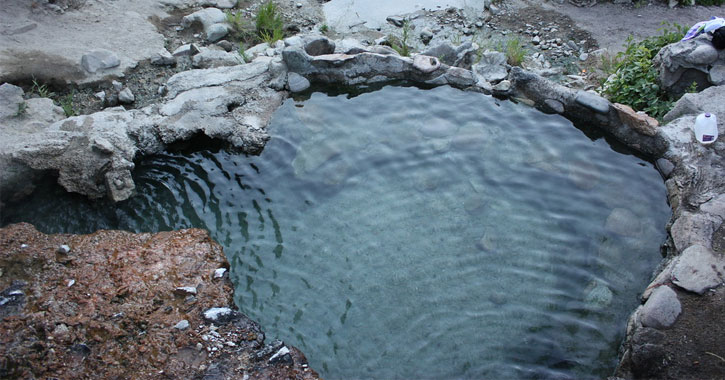 Why it's special: It's located in the heart of Boise National Forest.
Location: From Boise, Idaho, take State Highway 55 north 35 miles to Banks. Turn east onto the Banks-Lowman Highway and go 17 miles to the campground, which is on the lefthand side of the highway.
Overnight allowed: Not near the pools, but campsites around Boise National Forest is available.
Ideal time to visit: Loftus hot springs is open all year, but the path going to the poolscan be very dangerous in winter.
The two steamy pools of Loftus are located right off the washboard road between Boise and Atlanta along the Middle Fork of the Boise River.
Hot water streams down the hillside falling into the upper pool, creating a tiny grotto effect with shower and spilling over into the second pool. The upper pool, which measures 6-feet wide and 8-feet long, can fit up to ten people.
If you want peace and quiet, stay away from the place since it's known as a party spot of campers, ATVers, hunters, and just young locals hanging out. Because of all the partying, Loftus hot springs have been destroyed and renovated multiple times in recent years.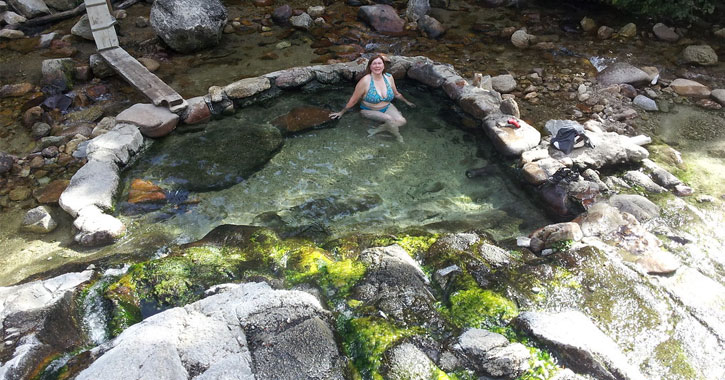 Why it's special: No hiking required, these pools are a quick walk away from the parking lot
Location: It is located off Warm Lake Road (NF-22), just east of the town of Lake Cascade in southwest Idaho. From Cascade, you need to drive about 40 minutes east from Highway 55 to reach your destination.
Overnight allowed: No
Ideal time to visit: You can visit year-round, but be careful in winter when some rocks become icy and the path is harder to walk through due to heavy snow.
Southwest Idaho residents call this spot Samuel's Hot Springs. It's a favorite stop of locals and tourists exploring the Payette National Forest.
These beautifully man-made pools, located just beside the river, were built years ago with boulders and PVC pipes that mix cold water with natural spring water. The pools can accommodate small groups.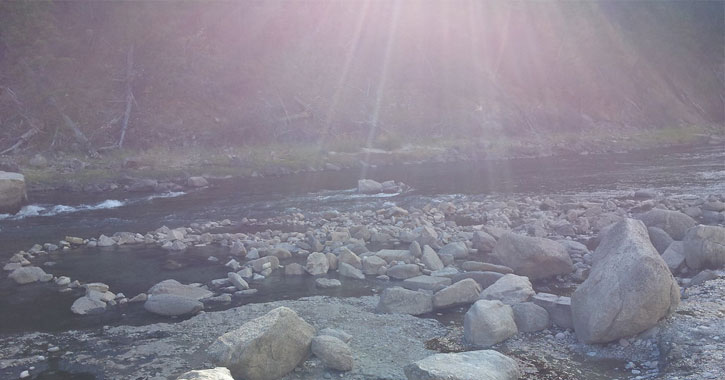 Why it's special: Both hot springs are located at the Sawtooth National Recreation Area in Stanley, Idaho and offer two different experiences.
Location: 13 miles east of Stanley on Highway 75
Overnight allowed: No, but there are campsites and the Red Fish Lake Lodge nearby.
Ideal time to visit: Best to visit from summer to fall
Sunbeam hot springs is a popular and favorite roadside stop. The waters from these shallow pools is fed by the Salmon River and can be scalding hot (so be careful). If you find a bucket nearby, that's no coincidence. Guests use it to bring cold water into the pools.
If you have more time to explore, check out the Boat Box Hot Springs (also known as Elkhorn Hot Springs). It's a soaking spot made of a huge metal tub just smacked in the middle of the river. It fits only one to two people, so you might need to wait for your turn in the summer (or weekends).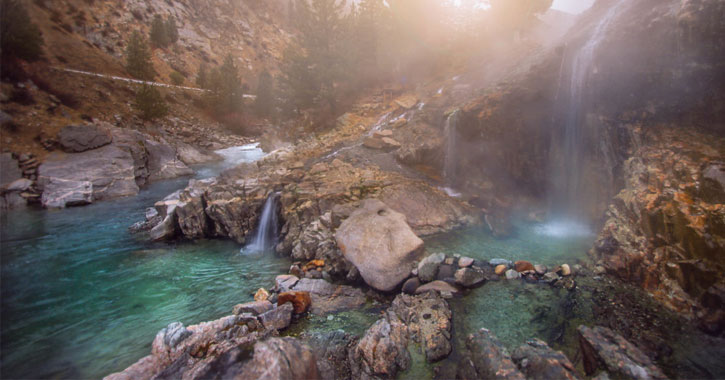 Why it's special: This is Idaho's most famous natural hot springs
Location: From Boise, head north on Highway 21 through Idaho City, then through Lowman until you reach Kirkham Campground after 5 miles.
Overnight allowed: Kirkham Campgrounds isn't open at this time (check the site for schedule)
Ideal time to visit: Open year-round but better during spring or fall, since summers can be dangerously hot, while winters heavily snowy and icy.
Kirkham hot springs boast multiple pools of different sizes and shapes. From the parking lot, you go down the wooden staircase and you can soak immediately in one of the warm pools.
It can be quite crowded in the summer since this is Idaho's most popular geothermal pool, but it is definitely worth the visit.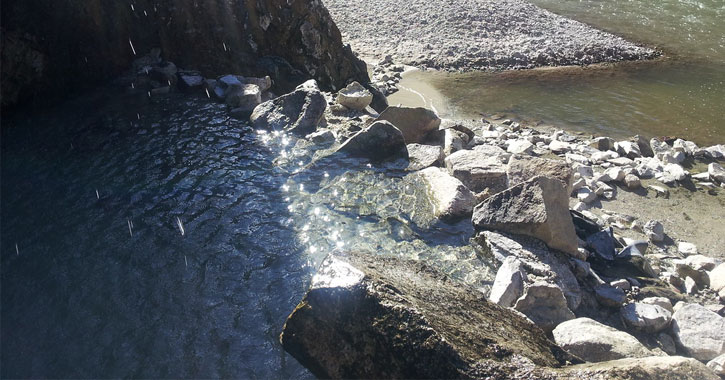 Why it's special: Perfect for hikers who want to freshen up and soak in warm secluded natural pools
Location: Pine Flats Hot Springs is located off County Highway 17, just 6 miles down the road from turning off Highway 21 in Lowman.
Overnight allowed: Not near the site, but by the campgrounds below
Ideal time to visit: All seasons from March to October
Pine Flats Hot Spring is located right off the Banks-Lowman Highway. If you came to visit Kirkham and want to explore more natural pools, then Pine Flats Hot Springs could be another easy stop to your itinerary.
Several pools of Pine Flats are situated on the side of the cliff, accessible by a 1-kilometer two-way trail. You can choose different sizes and varying degrees (those near the river have colder water, while those fed by the cliff have warm water).
Other Attractions near Boise
Idaho has been listed as one of the best spots for winter vacations in the country, and rightfully so. The state has numerous natural spots to marvel at and capture as winter wonderland photos.
And even in winter, you can dip into those hot springs near Boise and be pleasantly surprised that the water is hot (about 100- 106 degrees). Miracle Hot Springs in Buhl if you're looking for a weekend getaway or more than a week-long stay. If you want to rough it out in nature, go to Goldbug Hot Springs, between Challis and Salmon.
These hot springs near Boise are cool side attractions if you're exploring the many lakes in Idaho.
If you're spending more days in the state and want to find the best natural attractions, don't miss Shoshone Falls in Twin Falls, which is included in our must-visit waterfalls in the country.
Also, visit Priest Lake (in northern Idaho) if you're searching for a reliable location for spine-chilling views of the northern lights.