Having settled in the Steel City just out of college, I became intimately familiar with some of the best breweries in Pittsburgh.
Pittsburgh does pride itself as a beer-drinking town with over 50 craft breweries that have been making a buzz throughout the country.
It wasn't that easy to narrow down my 10 favorites. If you're just passing by and want to taste only the best beers produced here, this guide should give you a headstart with your research.
10 Best Breweries in Pittsburgh You Should Check Out
Whichever Pittsburgh breweries you decide to include in your itinerary, make sure you include at least a couple from this list: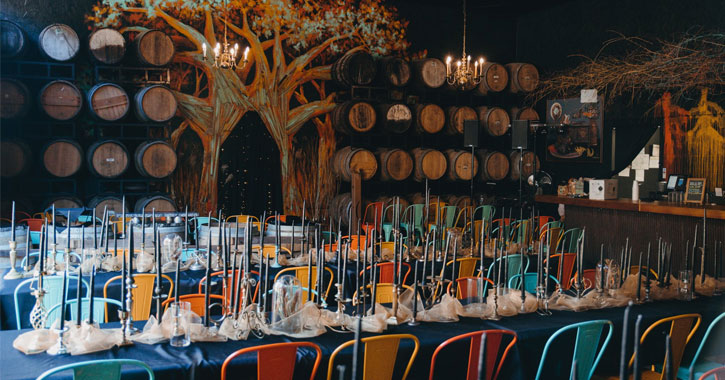 Address: 501 E Ohio St, Millvale, PA 15209 (other locations available)
Hours: Closed from Sundays to Tuesdays; Open Wednesdays to Fridays from 4 pm to 10 pm, and Saturdays from 12 pm to 10 pm.
Phone: +19152095105
Known for: one-of-a-kind sour beer and exotic brewing techniques
Initially called "Draai Laag Brewing Co.," Strange Roots is a brewery known for special sour beers, fermentation done non-traditionally, and prioritizing local ingredients. I'm not surprised the place changed names – the new one fits a LOT better.
Many Strange Roots beers are crafted with exceptional detail. For example:
Grand Blue peach ale – Incorporates the same organism used in making aged blue cheese.
Spontaneous Roots – a sour ale made of 100% local ingredients and cask-aged from 1 to 3 years.
The Plague – a blackberry and blueberry beer with notes of red wine grape and oak. This one combines younger vintages with older vintages that end up with a complex taste I'm sure you've never tasted in any other beer.
Pittsburgh Sandwich Society, which has been collaborating with Strange Roots for years with their delectable sandwiches, has also set up a permanent installation at the Millvale branch. (Note that the Gibsonia location, which offers a more backyard vibe, serves food by Off the Rails BBQ.)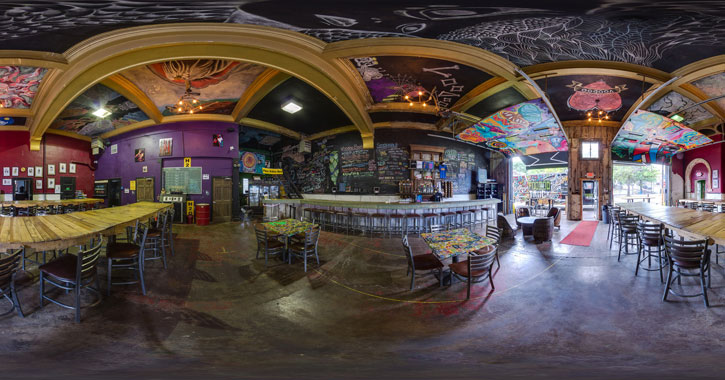 Hours: Closed Mondays and Tuesdays; Open Wednesdays to Fridays from 4 pm to 9 pm; Saturdays from 12 pm to 10 pm; and Sundays from 12 pm to 6 pm.
Phone: 412.368.8973
Known for: Big Black Voodoo Daddy
Opened in 2005 in Meadville, the Voodoo Brewery has several locations around Pennsylvania and out-of-state.
Still, all of the company's beer is produced at the original, 60,000-barrel-capacity Meadville site.
At the heart of these expansions are Voodoo's beers, such as Voodoo Love Child (a raspberry/cherry/passion fruit combo), American IPA "Good Vibes" with notes of fruits, and the best-selling Russian Imperial Stout, Big Black Voodoo Daddy.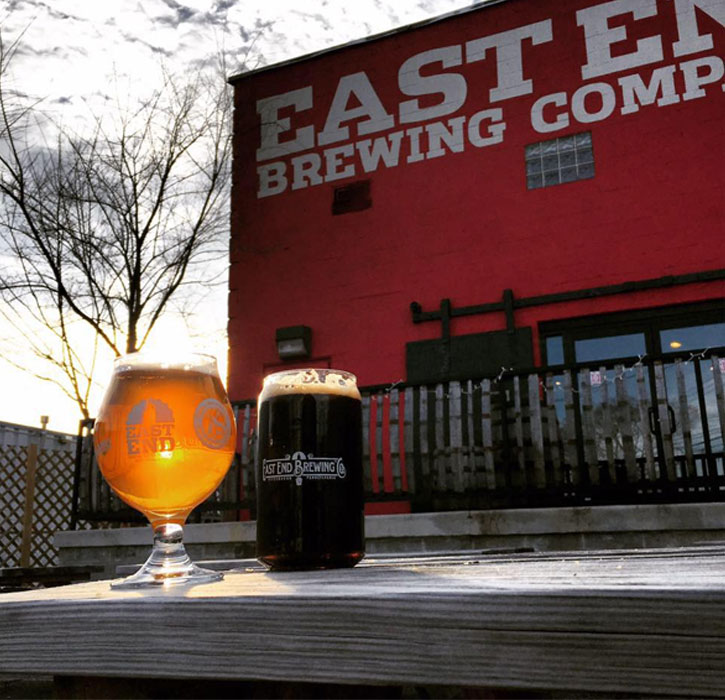 Address: 147 Julius St, Pittsburgh, PA 15206
Hours: Closed on Mondays; Open on Tuesdays to Fridays from 5 pm to 10 pm; Saturdays from 12 pm to 10 pm and Sundays from 12 pm to 8 pm
Phone: 412-537-2337
Known for: Gratitude, Big Hop American Ale, Monkey Boy
East End Brewing has been a reputable brewery in Western Pennsylvania since 2004. They have over 35 beers produced throughout the year in kegs, cans, and bottles.
East End Brewing is one of the earlier participants of the craft beer movement in Pittsburgh, and its role always focused on helping out the community, from local artists (featured on its walls) to local musicians (playing at their locations).
Bigger Hop Imperial IPA and Big Hop American Ale have been the most sought-after beers at East End, but don't discount the weirder beers that could surprise you.
East End also has trivia nights and "Grains to Glass" tours that could introduce you to classic East End beers the 'Burgh has always loved.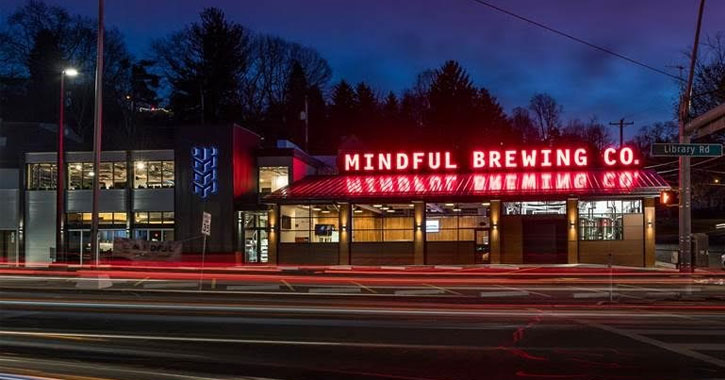 Hours: Closed on Mondays, Open from 4 pm to 11 pm on Tuesdays and Wednesdays; 11 am to 11 pm on Thursdays, 11 am to 12 am on Fridays and Saturdays; and 11 am to 9 pm on Sundays.
Phone: 412-668-3857
Known for: a health-conscious menu and beers like Battleship
Mindful Brewing Company is known for a menu geared towards those who are eating healthier, using ingredients 100% sourced locally, but with pairings of beer that would make healthy dining all worth it.
If you plan to dine in, try the kale or salmon salad with the Lee Van Cleef burger. There are also vegetarian options here.
As for the beer, now only does Mindful Brewing feature its own creations, but they also have over 70 taps that include many of the best breweries in Pittsburgh as well. This isn't surprising since this brewery has been collaborating with other microbreweries in the area since its inception.
Mindful Brewing Company only opened its doors at the start of 2016, but it continues to impress with 20+ in-house beers along with wine and mixed drinks. Must-tries include the red ale Red Brain, Straight Kolsch, Drop Bear and Zero Visibility Turbid Ale.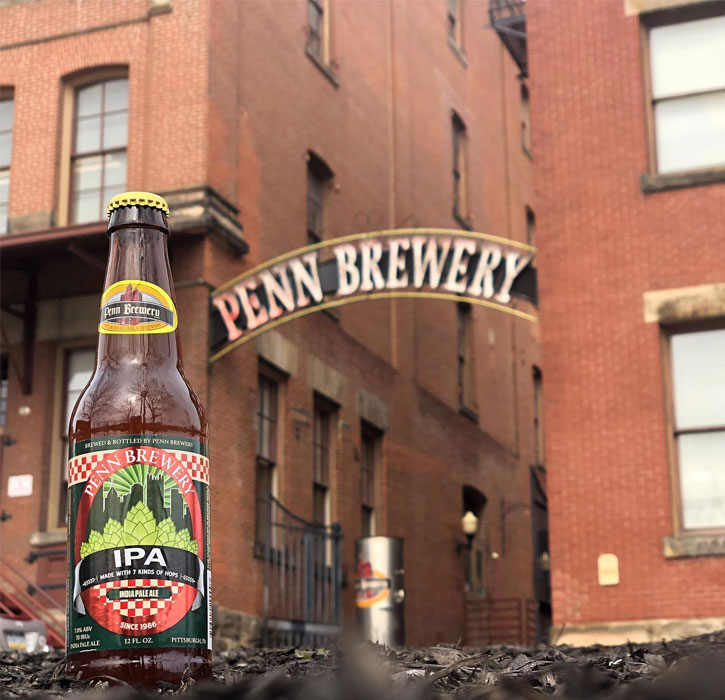 Address: 800 Vinial St, Pittsburgh, PA 15212 (airport location also available but only open on weekends from 4 pm to 8 pm)
Hours: Northside location is closed on Mondays and Tuesdays, but open on Wednesdays from 4 pm to 10 pm; Thursdays to Saturdays from noon to 10 pm; and Sundays from noon to 9 pm.
Phone: 412-237-9400
Known for: Penn Pilsner, Chocolate Meltdown, St. Nikolaus Bock
You can't have a list of the best breweries in Pittsburgh without mentioning Penn.
As the town's oldest and largest brewery, Penn Brewery is housed in the mid19-century landmark E&O Brewery Building in the North Side's Deutschtown neighborhood.
Since 1986, Penn has been producing high-end craft beers, specializing in authentic, award-winning German-style beers. They have over 20 awards from the Great American Beer Festival and World Beer Cup.
Not only will you enjoy traditional German beers like Penn Dark and Penn Gold, the place also serves classic German dishes like the Butcher Plate and ethnic-Pittsburgh favorites like french fry salad.
Even if Penn has taken new ownership a couple of times (and another one in 2022), the brewery remains "a quintessentially Pittsburgh institution, locally based and independently owned."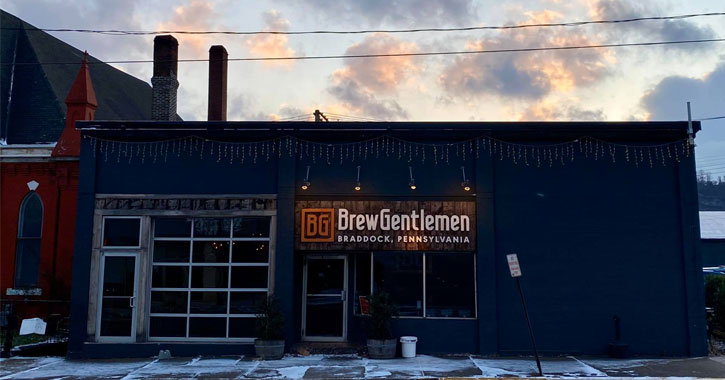 Address: Grant St, Pittsburgh, PA 15219
Hours: Closed from Sundays to Tuesdays; Open from Wednesdays to Fridays from 4 pm to 9 pm and Saturdays from 1 pm to 9 pm.
Phone: 412-212-3657
Known for: General Braddock's IPA
Some people won't call Brew Gentlemen among the best breweries in Pittsburgh because this place hasn't been around long (they opened in 2014) or isn't as big as others on this list (Brew Gentleman is a small craft brewery with a taproom), but the brewery's roster of IPAs is definitely something to celebrate, visit and try out.
After completing a successful Kickstarter, Brew Gentlemen invested in stainless steel brewing equipment and renovated an old electrical supply store in Braddock.
Since then, the brewery has launched back-to-back hop-forward flavors and stouts, ales, porters, and double IPAs like Albatross, Mammoth, MOMO, Mexican Coffee, and DoubleMex.
While Brew Gentlemen doesn't have an in-house kitchen, you can still expect awesome food thanks to food trucks like Gyros N'At, PGH Tortas, and other local small businesses weekly.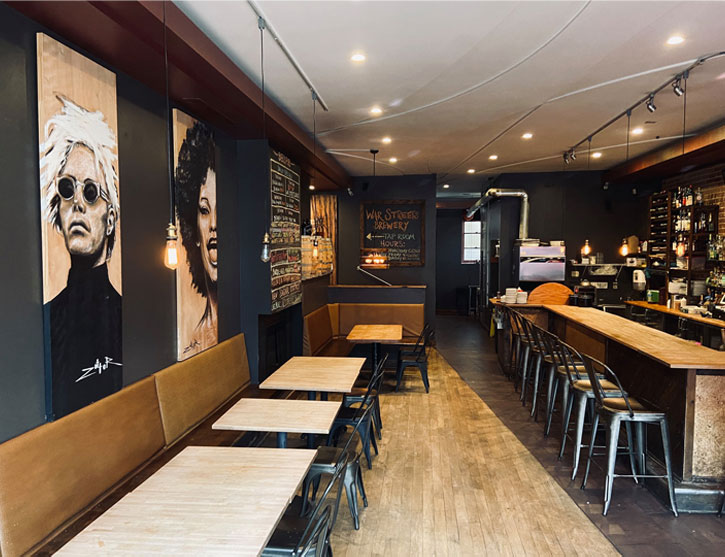 Hours: Closed on Mondays and Tuesdays; Open on Wednesdays and Thursdays from 11:30 am to 10 pm, Fridays and Saturdays from 10:30 am until 11 pm, and Sundays from 10:30 am to 9 pm.
Phone: 412-224-2163
Known for: Bloody Marys, IPAs, porter, and stout
Bier's Pub is a must-visit if you're visiting Pittsburgh's North Side. This casual neighborhood restaurant and brewery is known for serving some of the best gourmet burgers and sandwiches, short ribs, brisket and delicious brunches in town.
Of course, people also go here for the house-brewed craft beers, wine, and cocktails. Try Carrington St. Kolsch, Brington Road, Palo Alto Pale Ale, Mary Barry Bier Xmas Ale, and the seasonal cocktails.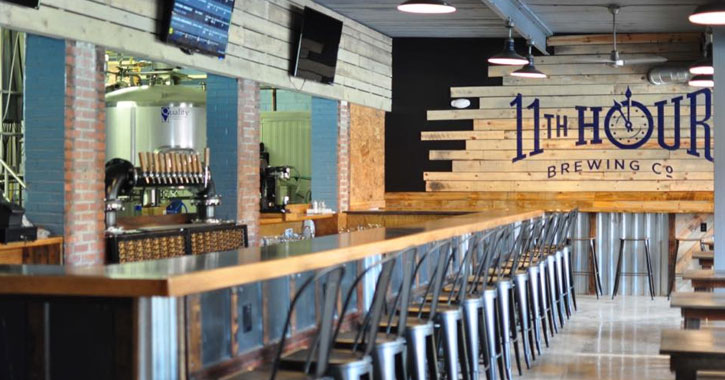 Hours: Closed on Mondays and Tuesdays, Open from 5 pm to 11 pm on Wednesdays through Fridays; Open from noon to 11 pm on Saturdays, and from 1 pm to 7 pm on Sundays.
Phone: 412-676-8034
Known for: Archer Heavy
Eleventh Hour Brewing is located in Lower Lawrenceville in a brightly-lit brewery with an eco-friendly design.
Although the brewery only opened in September 2017, it quickly made a buzz thanks to the one-of-a-kind American IPA 'Cult Logic' with a light body and notes of fruit.
While this one has been retired, it was replaced by a fantastic roster of hazy IPAs, sours, stouts, and other craft beer for everyone's taste.
As for food, Eleventh Hour has a rotation of great food trucks. Whatever you're in the mood for, we promise you'll find something to compliment our home-brewed beverages.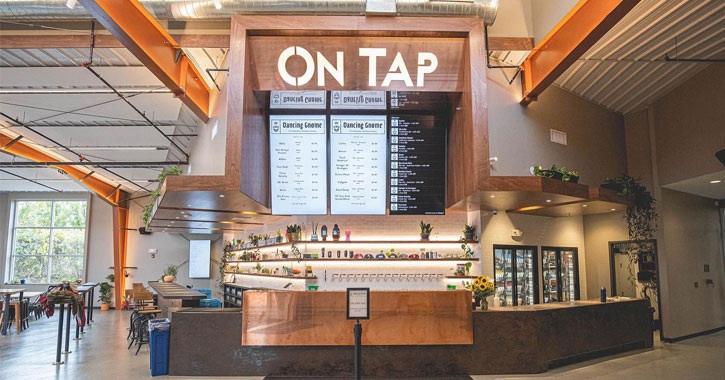 Address: 1025 Main St, Pittsburgh, PA 15215
Hours: Closed on Mondays; Open on Tuesdays to Thursdays from 4 pm to 10 pm, Fridays from 2 pm to 10 pm, Saturdays from noon to 10 pm and Sundays from noon to 6 pm.
Phone: 412-408-2083
Known for: Lustra, Infinite Highway
Dancing Gnome has one of the best-looking breweries in Pittsburgh, which is truly inviting and unintimidating.
Dancing Gnome produces mostly hop-forward beers including IPAs and American pale ales, but I prefer their fruited sours and seasonal stouts like the Dead Sleep.
Just like most of the Pittsburgh breweries on this list, Dancing Gnome also partners up with local food trucks like Alberta's Pizza and Blue Sparrow from Wednesdays through Sundays.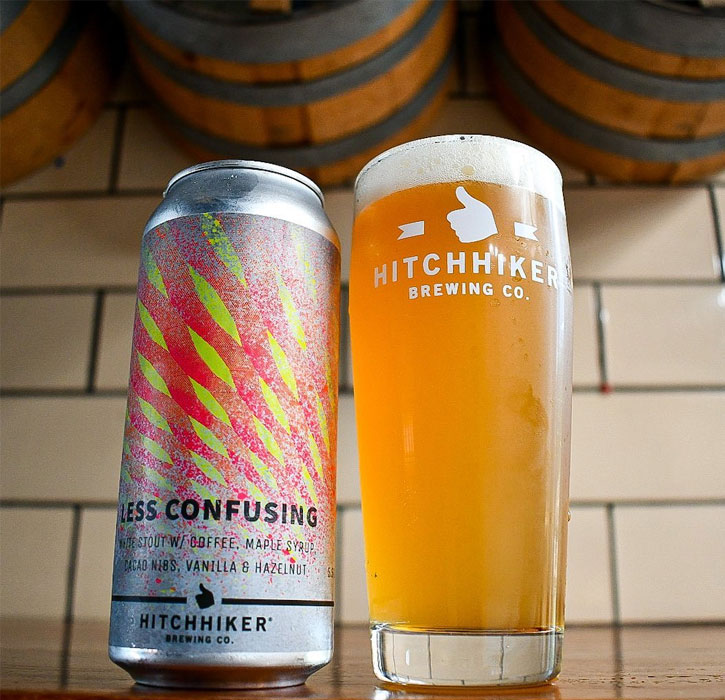 Hours: Closed on Mondays; Open from 4 pm to 10 pm on Tuesdays to Fridays, from 12 pm to 10 pm on Saturdays, and Sundays from noon to 8 pm.
Phone: 412-343-1950
Known for: The Barbarian, Bane of Existence, Myrcene
One of the best breweries in Pittsburgh, Hitchhiker Brewing is a fun place to hang out with friends thanks to its playful decor with pinball machines, board games and good entertainment.
Beer-wise, Hitchhiker produces something for everyone. From their dark craft beer to hoppy and ale, sours, and even ginger ale, wines and cider. If you're visiting, you must try the totally-refreshing fruity Bane of Existence made of fresh pine.
Hitchhiker Brewing Co. is also known for experimental beers like Mashmallow. Ask the crew when you visit – they can easily recommend which of their menu items match your chosen drink.
Beyond the Best Breweries in Pittsburgh: Got time to Explore the Town?
Other things to do around Pittsburgh include skiing (here are ski resorts to check out) and chasing waterfalls.
If you've got time to explore beyond Pittsburgh, check out these Pennsylvania water parks and Pennsylvania beaches. Or how about a one-of-a-kind wine trail in Erie?
For those on a craft beer pub crawl throughout the country, there are other places like Pittsburgh that are known for their booming brewery industry. Check them out here: