The toddler stage of your little one is a great stage to experience Disneyland; it's truly a magical time. But going to Disneyland with toddlers in tow presents unique challenges, even for seasoned travelers.
Visiting Disneyland Resort is no small expense, especially if you're coming from a far-away state. Your instinct would be to get the most out of your visit and go to experience as many things as possible.
But anyone with small kids knows that this is not going to happen; not without tantrums, cajoling, and grumpy faces.
Here are some tips on planning a visit to Disneyland with toddlers: how to plan, where they can have the most fun, and ideas to prevent an epic Disneyland meltdown.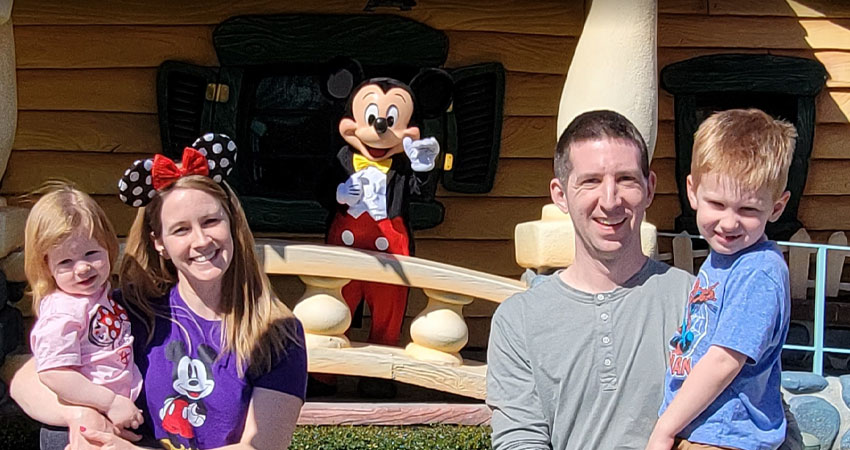 Before we dive into the tips, I just want to make sure we're all talking about the same place.
Disneyland Resort is the Disney theme park in Anaheim, California. Within Disneyland Resort are Disneyland Park and Disney California Adventure Park.
This is the original Disney theme park that opened in 1955.
By contrast, Walt Disney World is its larger, younger sister theme park in Orlando, Florida.
To be clear, in this article, I'm going to be talking about Disneyland Park in Anaheim, California, and visiting with toddlers and younger children.
If you want to know more about planning a Walt Disney World trip, here are some articles you might be interested in:
Pros of Visiting Disneyland With Toddlers
Okay, so is traveling to Disneyland with your little one even worth it?
The answer is YES for the following reasons:
Kids below three get in for free. Even if you don't get to spend the entire day at the park, you don't really lose the cost of their park tickets because they get in for free!
Kids below three eat for free. In general, in Disney buffets or family-style restaurants, there is no charge for your child under three. However, if you dine at traditional restaurants with a menu and several entrée options, toddlers under 3 can share with an adult's plate (no charge), or you can order them their own children's meal (with charge).
Disneyland is baby- and toddler-friendly. There is one baby care center in Disneyland Park and another in Disney California Adventure, both fully staffed and complete with changing rooms with tables, as well as nursing and feeding facilities, and many other helpful amenities.
Also, most Disneyland restrooms have changing tables, so if a dirty diaper is your only concern, you can easily change it.
Many rides have no height restrictions. Of the 36 rides in Disneyland Park, 26 do not have height requirements, meaning your toddler has plenty of choices of rides to enjoy in the park.
Little kids can still feel the Disney magic. Toddlers are at the age when they can see their favorite characters and believe them. Witnessing them experiencing this magic is going to be a priceless moment for you.
10 Tips When Going to Disneyland With Toddlers
We've already covered a number of Disneyland tips, including getting a Disney Park Pass (now required), arriving early, and downloading the official Disneyland app.
Here are more specific tips for exploring Disneyland with toddlers.
1. Plan WAY ahead.
All your planning would need to start at least 60 days before you plan to get to Disneyland.
Be aware of the perfect time to visit.
The advantage of going to Disneyland with toddlers is that you aren't tied down (not yet anyway) by their school schedule. School break periods (long holiday weekends, summer, spring break, or winter holidays) are the worst times to visit, crowd-wise.
Try to go between Thanksgiving and the winter holidays for cooler weather (pack your jackets, though). Early March before the spring break crowds arrive or late September when school has just started are also good choices.
Book your tickets (if flying), get your Disney Park Passes, book your Disney Genie+, or Lightning Lane passes, make hotel reservations, and make dining reservations, especially for character dining experiences (more on this later).
Plus, MagicBand+ technology is coming to Disneyland Resort, and if you're planning to go in 2022, you might be one of the first visitors to use it, so keep yourself updated.
If this is your first time, take the time to read up on health protocols, familiarize yourself with the layout of the park, and find out which attractions are open.
Measure your toddlers' heights and know in advance which rides they can't go in so you can avoid them or at least let them know they can't go on them beforehand and lessen the chances for a meltdown.
For instance, as of this writing, my daughter is 33 inches tall, which means she can't go on rides like Millennium Falcon: Smugglers Run or Big Thunder Mountain Railroad, to name just two.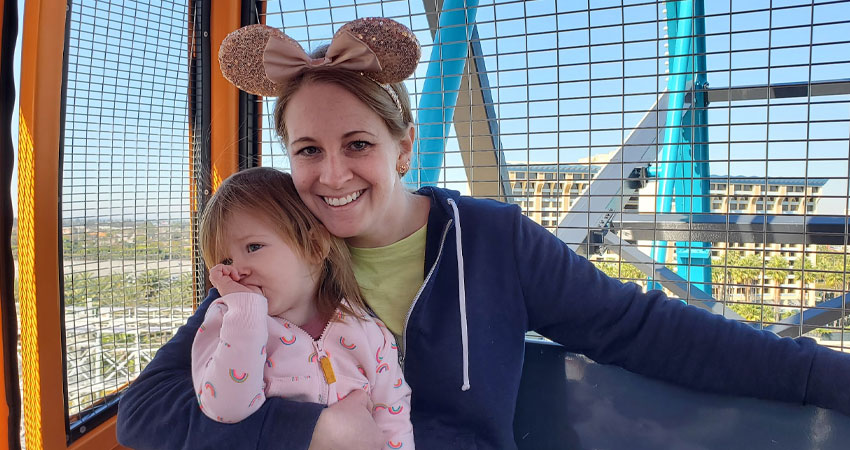 Another thing you might forget and regret once you remember is your matching Disney shirts, princess dresses, and Mickey/Minnie ear hats or headbands. Look at shopDisney first and order in advance or else be shocked at the markups on the official stores in the park.
You can also find licensed Disney products at Walmart or Target. This way, you can reserve your souvenir money for buying something unique that you can only get from Disneyland.
2. Know which rides are your "must-go" and plan around them.
Each child would have their own preferences when it comes to rides and attractions.
However, there are tried and tested Disneyland rides that are sure to be a hit with most toddlers. Here are some of them: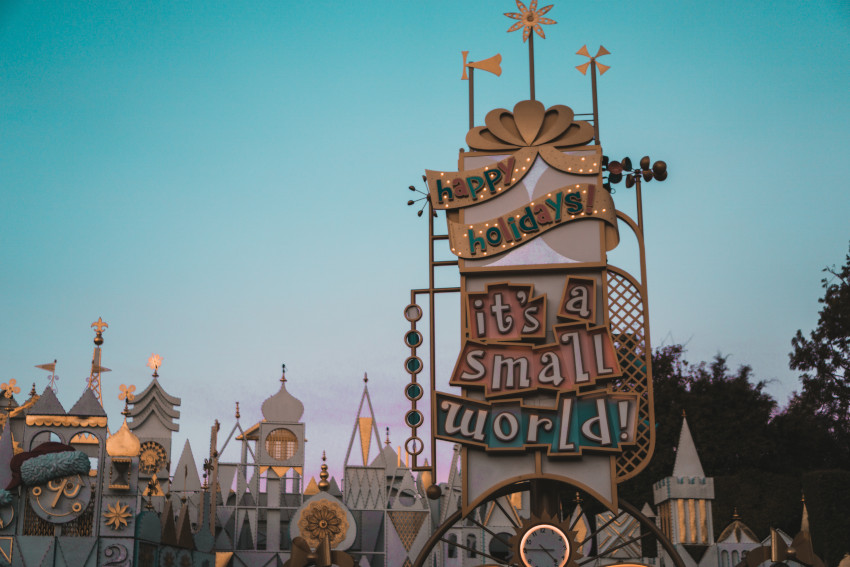 "it's a small world" (Fantasyland) – "The Happiest Cruise That Ever Sailed" is a boat ride along a canal past animatronic dolls representing children and characters from different parts of the world. The song will stay with you the whole day but it's worth it.
Peter Pan's Flight (Fantasyland) – Fly over the rooftops of London aboard a pirate ship.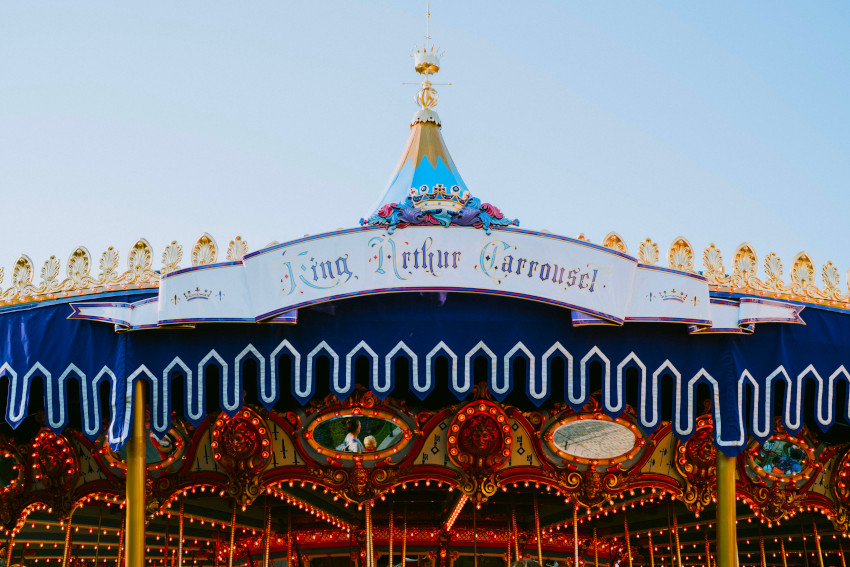 King Arthur Carrousel (Fantasyland) – Ride one of the antique horses (or take a seat in the chariot) and gallop round and round amidst color and sound.
Dumbo the Flying Elephant (Fantasyland) – Flying and spinning above a water feature aboard the world's most loved pachyderm; what's not to like?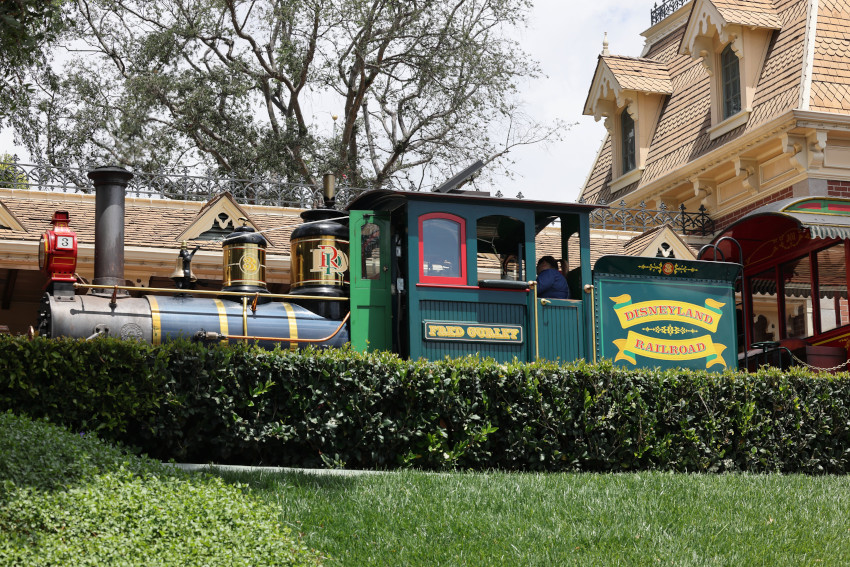 Disneyland Railroad (Main Street, New Orleans Square, Toontown, or Tomorrowland) – An 18-minute scenic train ride clockwise around the park, with views of recreated rivers, rock formations, waterfalls, and the Grand Canyon. Plus, it makes for a quick napping spot in a pinch.
You may notice that almost all of the toddler- and baby-friendly rides are in the Fantasyland section of the park; that's because Fantasyland is where childhood stories and legends come to life.
3. Take advantage of Rider Switch.
Going to Disneyland with toddlers doesn't mean the adults have to miss out on the thrill rides.
They have a program called Rider Switch, which allows adults to take turns riding and waiting with younger kids without having to stand in line again.
To use Rider Switch, your entire party needs to approach a cast member at the ride or attraction so your tickets can be scanned properly and you can switch places without incident.
Read the entire mechanics and go through the updated list of rides that offer Rider Switch.
4. Book a character dining experience in advance.
Character dining experiences involve a delicious meal in a restaurant while popular Disney characters drop by.
Kids can fill their bellies and get to meet and greet their favorites (so don't forget the autograph book and your camera!)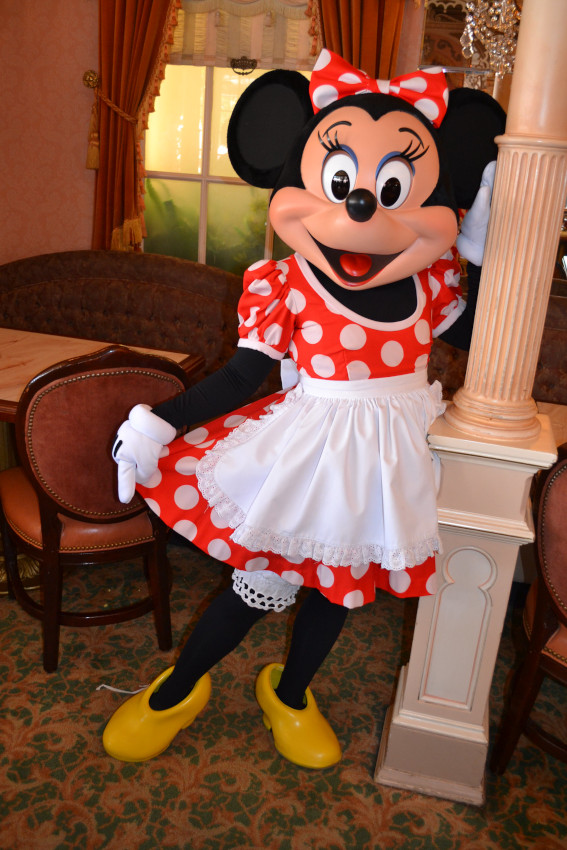 Besides, as you may well know, toddlers are more likely to sit through a meal if they're entertained at the table.
Currently, this experience is available in Disneyland Park at the Plaza Inn (breakfast only).
It's also available in Disneyland Hotel's Goofy's Kitchen (breakfast and dinner) and in the Grand Californian Hotel & Spa at Storytellers Café (breakfast only) and at Napa Rose (breakfast only).
More information: Character Dining at Disneyland
5. Stay at a hotel within walking distance to Disneyland.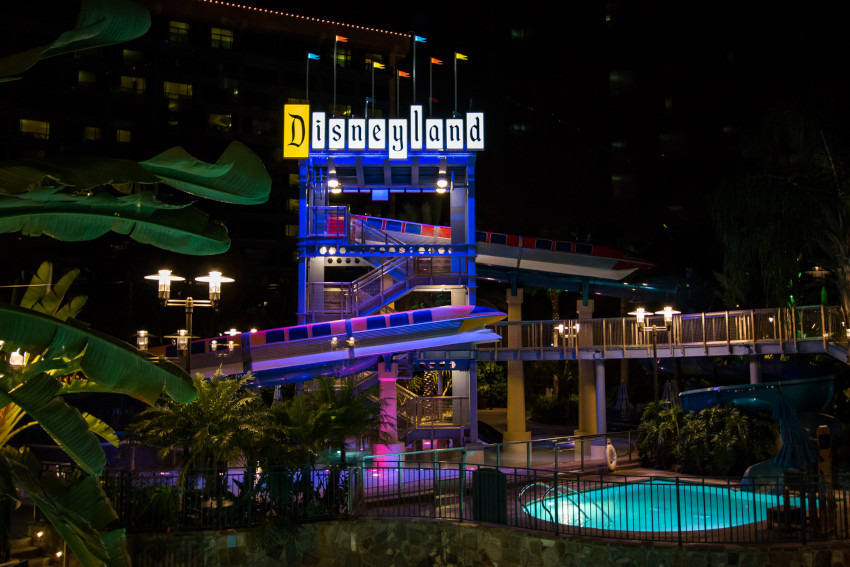 If you can afford it, hotels within the Disneyland Resort property are the best places to stay when you're visiting with toddlers.
That said, there are plenty of hotels close to Disneyland where you can come and go whenever you please without being dependent on shuttles.
When you have a cranky toddler wanting a nap or an overstimulated one wanting to ground themselves, you'll be grateful you chose a hotel you can easily walk to.
Start with Disneyland's Good Neighbor Hotels, as aside from being close, they offer various packages with perks and discounts.
6. Have a plan, but be flexible.
Yup, sounds like your entire parenting journey.
Disneyland can be overwhelming for toddlers; there are plenty of people, noise, action, colors, lights, and just non-stop stimulation.
Do your best to stick to your toddlers' usual schedule (within reason): wake times, snack times, meal times, nap times, bedtimes, and the like.
That said, if your kids are late risers, you might want to adjust their schedule weeks ahead of your trip so you can be at the park early and hit the popular rides on your list immediately.
Scheduling a quick nap back at the hotel after lunch is also a great way to make sure everyone is energized and ready to go back to having fun until the evening or even until closing.
7. Pack a proper day bag.
Even if you followed the previous tip and booked a hotel really close to Disneyland, a properly packed day bag will prevent you from having to make unnecessary trips back and forth from your hotel.
Your day bag should be a backpack that you can easily wear even on rides or hang on the back of a stroller.
Here are some examples of what your day bag should contain:
Autograph book. Characters you find throughout Disneyland will be more than happy to sign your toddlers' autograph book. You can buy a simple blank notebook before your trip and spruce it up with Disney-themed stickers if you want to.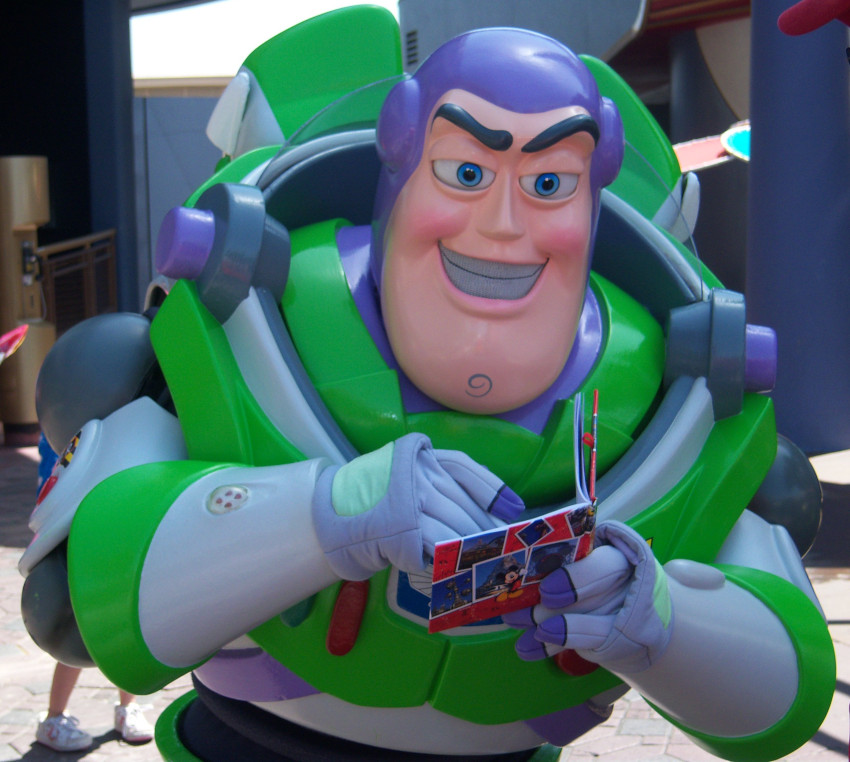 Fat pen. I'm not body-shaming pens; they literally are thick pens that mascots can easily grip to sign your child's autograph book.
Power bank and charger cords. While FuelRods are available in the park, this is a $30 expense you can save if you can take your own power bank.
Ziplock bags. You do NOT want your gadgets ruined with water. Put them and other electronics and fragile items inside ziplock bags to protect them.
Water bottles. Another thing you don't want to spend on in Disneyland is bottled water. Bring your own water bottles and get them filled for free at any quick service restaurant in the park.
Snacks. Toddlers can become snack-y at the most inconvenient times. Power packs are prepackaged snacks that are available in various food courts and quick service locations, but they cost $6 each and can quickly add up.
Pack your own snacks, such as goldfish crackers, Cheerios, fruit cups, cheese slices, or whatever healthy snacks your toddler likes.
Mobile entertainment system. Just a fancy name for an iPad or cheap tablet, kid-friendly headphones, and pre-downloaded content (internet in a crowded park will be unreliable).
You're in Disneyland, they can't be bored, right? Well, toddlers get fidgety quickly while waiting in line or while eating in a restaurant. Your future self will thank you.
Sunscreen. Whatever the weather, being outside all day means being exposed to the sun all day. Protect yourself and your little ones.
An extra change of clothes. For your toddlers, take an entire extra outfit: top, bottom, underwear, socks. For you, an extra shirt and socks should be enough, in case you get splashed on one of the rides.
Hand sanitizers and antibacterial wipes. Toddlers want to touch everything, and Disneyland is home to lots of germs. Be ready to wipe lots of sticky fingers and surfaces.
It's also a good idea to have your toddlers wear waterproof safety ID bracelets with their name, your name, and your contact numbers.
All this said, your valuables (money, credit cards, smartphone, hotel keys, car keys, parking tickets, etc.) should be kept separate. Fanny packs (or a more fashionable alternative) are great for these as you can keep these close to your body and even cover them with a scarf or a jacket to discourage pickpockets.
8. Bring your own stroller.
Trust me: you'll need a stroller in Disneyland with toddlers if you plan to cover plenty of ground in a reasonable amount of time with the least number of tantrums.
It's simply too much walking for toddlers; heck, even adults need to take plenty of breaks.
Disneyland rents out strollers, but I do NOT recommend it; not only are they expensive but you also can't take them out of the park.
Taking your own stroller is the most flexible option so you can take it anywhere, but in case you consider it too much of a hassle (like if you're flying or your stroller doesn't meet Disney's measurements), you can rent a stroller from elsewhere, such as City Stroller Rentals.
This way, you can park your stroller in the designated area per "land," let your toddler walk and explore, and then load them in the stroller to go to the next "land" or wherever your next destination is.
9. Know where characters are likely to be spotted.
Seeing their favorite characters, even from a distance, is definitely a part of the whole Disneyland experience for your toddlers.
Since it's never an easy ask for small kids to wait for the big parades, these mini character experiences are all the more precious.
Here are some top spots where you're likely to meet Disney characters:
Royal Hall, Fantasy Faire, Fantasyland – Disney Princesses
Disneyland Railroad train platform, Main Street – Mickey and friends; other characters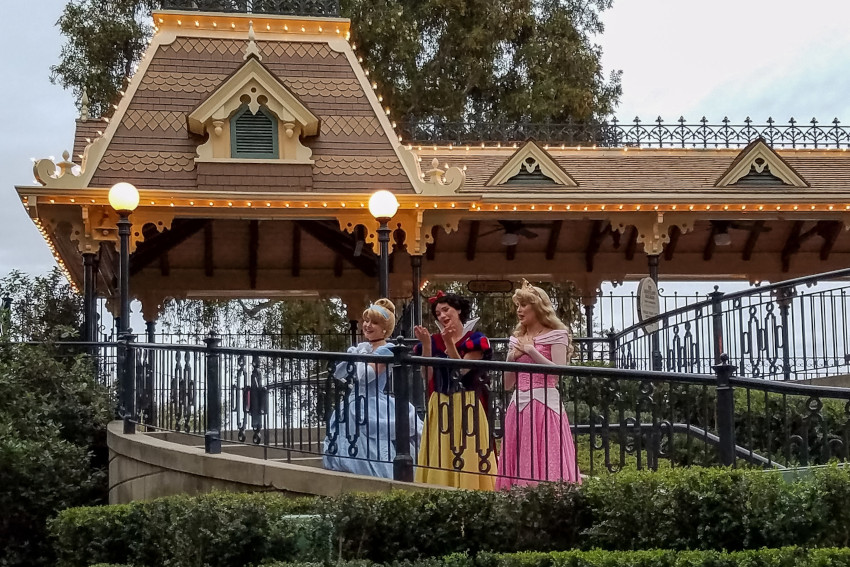 Critter Country – Winnie the Pooh and friends
"it's a small world" terrace – Winnie the Pooh and friends; Mary Poppins
Mickey's Toontown – Mickey and friends
New Orleans Square – Jack Sparrow, Tiana
Star Wars: Galaxy's Edge – Rey, Chewbacca, R2D2, Stormtroopers
Star Wars Launch Bay, Tomorrowland – Darth Vader, Boba Fett, Rey, Chewbacca
There are also characters that only appear during certain seasons.
Halloween – Jack Skellington and Sally; sometimes villains like Jafar, the Evil Queen, etc.
Lunar New Year – Mulan and friends
Christmas – Santa Claus (or Santa Goofy)
You might also be able to use your Disneyland app to find characters, or ask cast members wearing "Ask Me About Characters" buttons.
However, bear in mind that some toddlers may be frightened when seeing their favorite characters in the park.
Remember, they've only ever seen them onscreen or in books. Now, Mickey, Minnie, Donald, and the rest of the gang are HUGE, and some toddlers may not know how to deal.
Reassure them and let them observe the character as they interact with other visitors in the park, and hopefully, other kids. Let your child know you'll only approach the character when they are ready.
Of course, always have your camera and your autograph book ready. You never know when you might meet your favorite characters!
10. Know where to get the coolest souvenirs.
You'll want to take something home with you to remind you of the fun you've had. Here are all the best Disneyland souvenirs to get.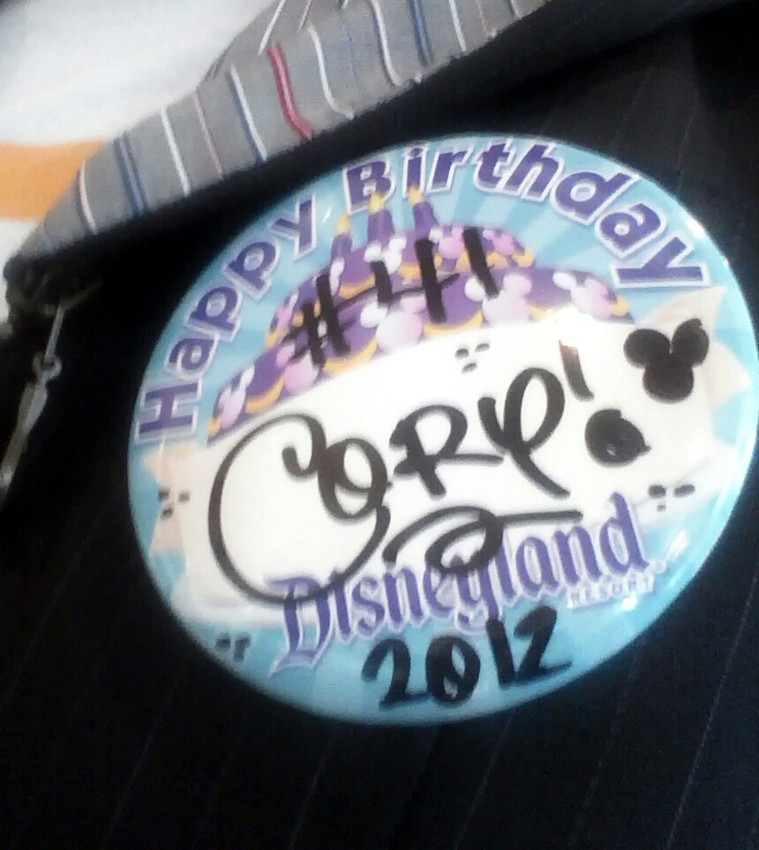 Disney Celebration Button. This is the first thing you need to get, so head straight to City Hall on Main Street to get yours. There's one for every occasion: first trip to Disneyland, birthday, anniversary, newlyweds, or just any celebration! (Cast members fill it in with a Sharpie). Best of all, they're FREE!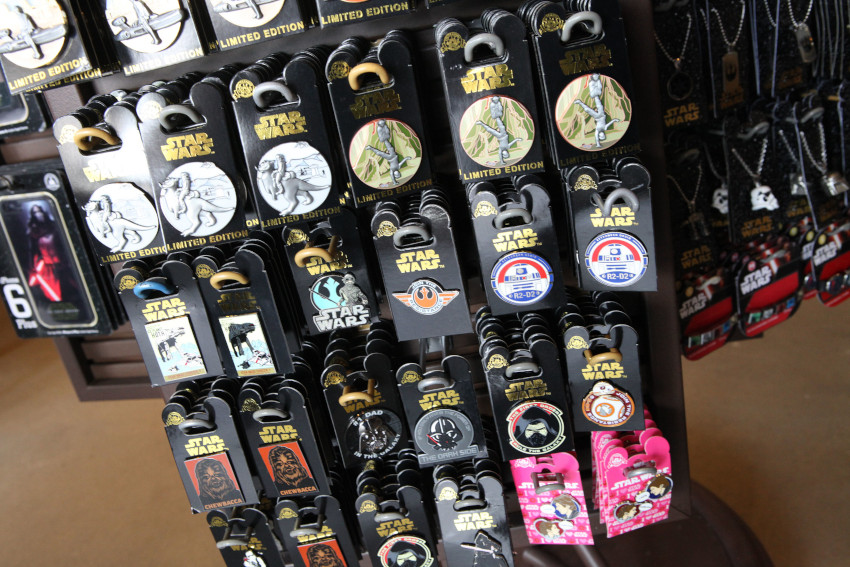 Disney Pins. An official Disney Pin represents a specific Disney event, place or location, character, or icon. You can buy Disney Pins and lanyards either online on shopDisney or in shops and kiosks throughout the park (you can use your Disneyland app to find which stores have pins).
What's fun about Disney Pins is that you can participate in Disney Pin Trading, where you can trade your pin for another pin that you want more. Read more about Disney Pin Trading.
Park Guide Maps. These are free and available throughout the park. They don't seem like much, but you can frame them or make them into a collage so you can display them on your toddlers' wall back home.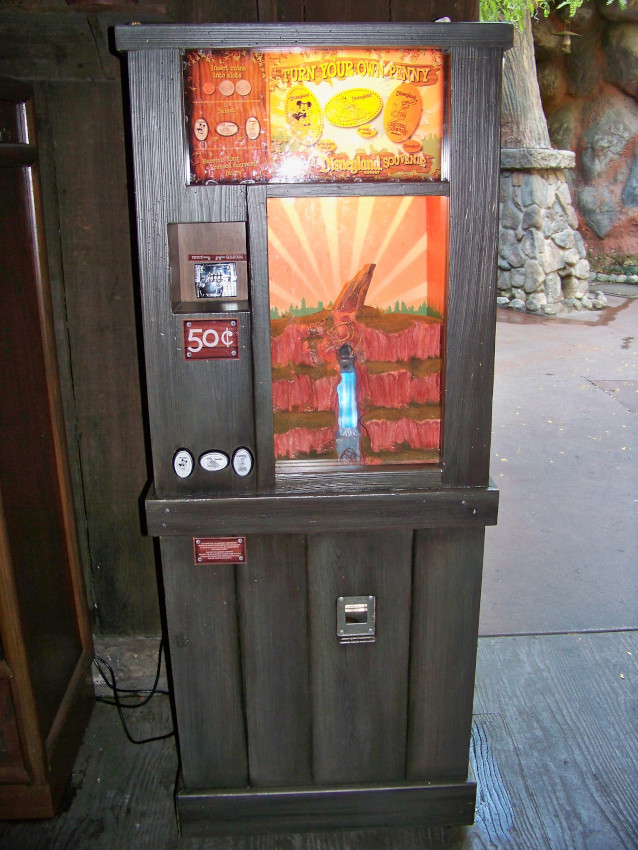 Pressed Coins. They're inexpensive and they last for years, making them ideal Disneyland souvenirs for your toddlers. There are over 150 different commemorative images that can be pressed onto a penny, nickel, dime, or quarter. You can use your Disneyland app to find where these Pressed Coin Machines are within Disneyland Park.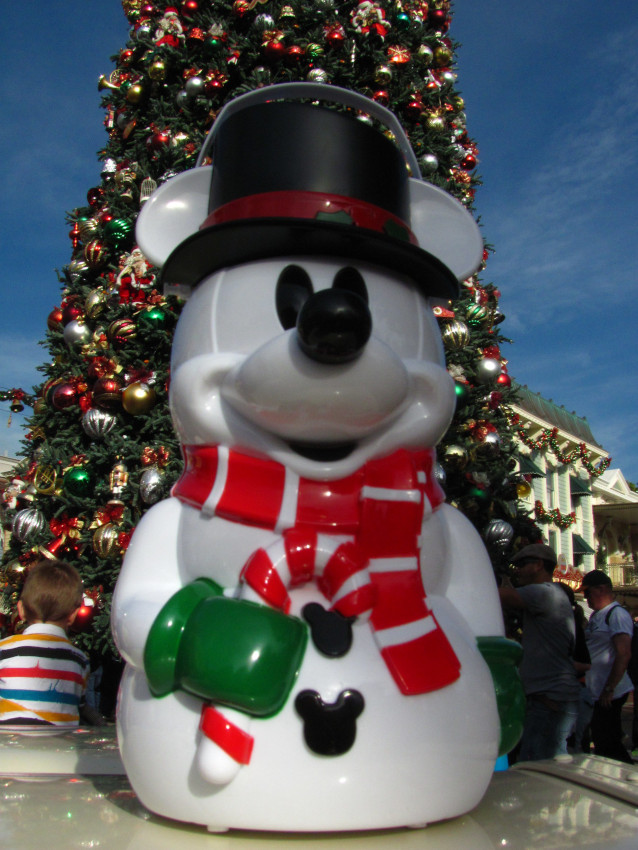 Refillable Popcorn Buckets. I know I said "bring your own snacks," but these popcorn buckets are such cute (and functional!) souvenirs! And did I mention you can refill them as many times as you want throughout your trip ($2.00 per refill versus $5 regular popcorn snack without the bucket)?
Disney PhotoPass photos. Disney PhotoPass photographers around the park will take your pictures for free and hand you a PhotoPass card with an ID. Reuse this card for as many Disney PhotoPass opportunities as you can throughout your visit.
You can then preview the photos and choose which ones you'll download or have printed (for a charge).
This way, everyone in your party can be in the photo (note that selfie sticks are NOT allowed in Disney parks).
Start planning your visit to Disneyland with your toddlers today!
As I hope you've learned after reading up on these tips, planning a trip to Disneyland with toddlers is all about careful planning and managing one's expectations.
We hope our tips help you to have an enjoyable, memorable trip to the "Happiest Place on Earth"!
Other things to do around Anaheim, California
Great Wolf Lodge is a 10-minute drive from Disneyland Park and is on our list of the best indoor waterparks in the country.
If you flew in via LAX, you may want to spend a couple of days in Los Angeles.
Or, if you're in the mood for a road trip, find your way to Santa Monica (via I-5 northbound and I-10 westbound) and continue on a northbound Pacific Coast Highway road trip or an eastbound Route 66 road trip.