Many people visit the Lone Star State for the live music, rodeos and ranches, sports, authentic Tex-Mex food, and NASA, but it isn't particularly famous for over 20+ Texas beach towns.
This year, I'm encouraging you to consider visiting at least one of the many beach towns in Texas. Here are seven that I recommend to everyone I know…
7 Texas Beach Towns to Add to Your Beach Bucket List
Location: Galveston, TX 77554
How to get to Galveston Island: You can travel by land, sea (using the free Galveston-Port Bolivar ferry) ,or air (via William P. Hobby aAirportin Houston) to get to Galveston Island.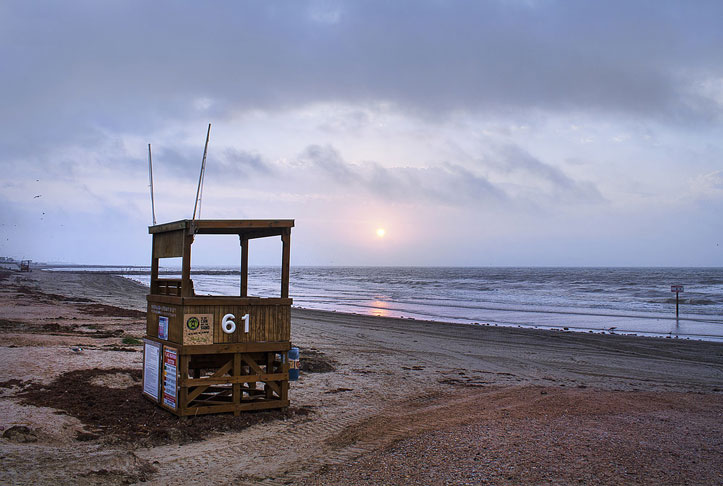 Galveston is one of the most popular Texas beach towns thanks to over 32 miles of shore.
Located just 50 miles from Houston, this island-city offers modern amenities, but with a small-town, laidback charm. Galveston also has the world's longest continuous sidewalk, which is ideal if you love chasing sunsets.
Galveston is home to several beaches, but East Beach and Seawall Urban park are my favorites because of the amenities available (especially for families). This is where most restaurants and attractions are located.
If you're done relaxing under the sun, sand and sea, there are many other spots around Galveston to explore.
For history buffs, many Victorian-style architecture are found in structures all over town.
The Aquarium Pyramid's Moody Gardens is a sight to behold, especially for young kids.
Pleasure Pier, an amusement park on the water, is a unique experience even for adults.
Of course, there's also the 200-acre Galveston Island State Park where dozens of trails, swimming spots, kayaking opportunities, and other activities can be done.
Padre Island is the longest barrier island along the coast of Texas. It is divided into two parts: North Padre Island and South Padre Island, each with their distinct personality.
Location: North Padre Island, TX
How to get to North Padre Island: Drive three hours from Houston and two hours from San Antonio, along the coastal bend of Texas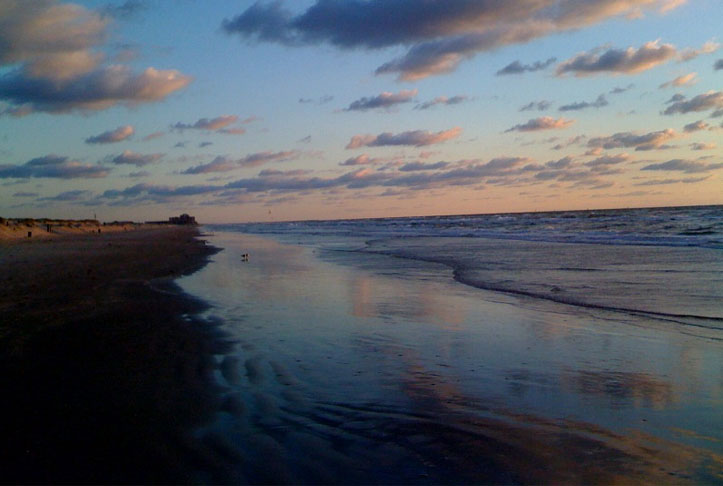 If you're looking for a beach where you can be one with nature, North Padre Island will truly give you what your craving for.
There are plenty of opportunities for surfing and windsurfing here – just make sure you pick the right beach for your kind of getaway.
Big Shell Beach (known for seashell picking) and Little Shell Beach (seashell picking but with smaller shells) both have calm and quiet beaches, but it is ideal for long walks, sunset chasing, and seashells.
Whitecap Beach is perfect for surfers and those interested in water sports because of the sizable waves this beach is known for.
Malaquite Beach is a family-friendly beach with basic amenities (such as picnic areas, outdoor shower and changing facilities).
To visit any of the beaches at North Padre Island, you'll need to pay admission fees to the Padre Island National Seashore.
Plus, if you'd like to see baby sea turtles being released, North Padre Island is the place to go. The locals have an ongoing program to preserve sea turtles since Texas has one of the most endangered sea turtle species in the world.
Location: South Padre Island, TX 78597
How to get to South Padre Island: You can access South Padre Island from the airport by renting a car, hiring a taxi, or booking an airport shuttle.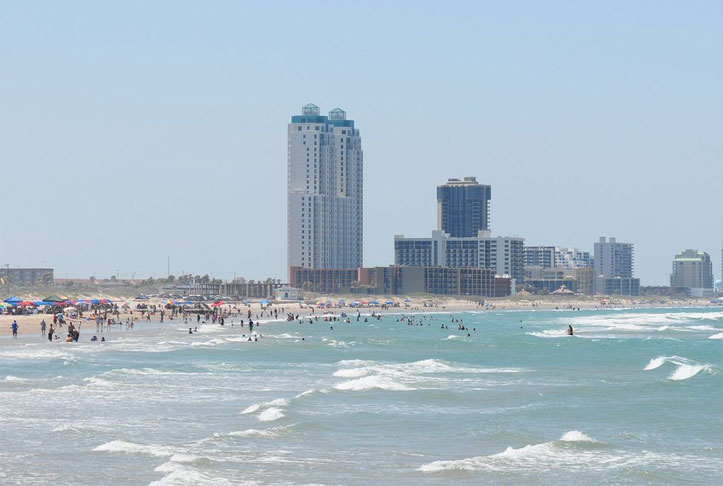 South Padre Island is a 34-mile long beach located on the Gulf Coast of Texas. It is surrounded by the Laguna Madre and Gulf of Mexico.
This area of Padre Island is where the party scene is alive the most. It is why its beaches are a popular spring break destination in March.
Like North Padre Island, this area is also involved in rehabilitation and conservation of sea turtles. South Padre Island is home to Sea Turtle Inc., where most turtle-saving programs begin.
Notable beaches in South Padre Island is the secluded Barracuda Cove Beach for thrill-seekers who love bare beaches, and Beach Access with modern amenities for a perfect family beach day out.
All water activities are available here, from surfing to parasailing, snorkeling and swimming and even dolphin cruises.
In land, there are horseback riding, birding, and biking. South Padre is also the world's sandcastle capital, so go ahead and showcase your sandcastle-building skills.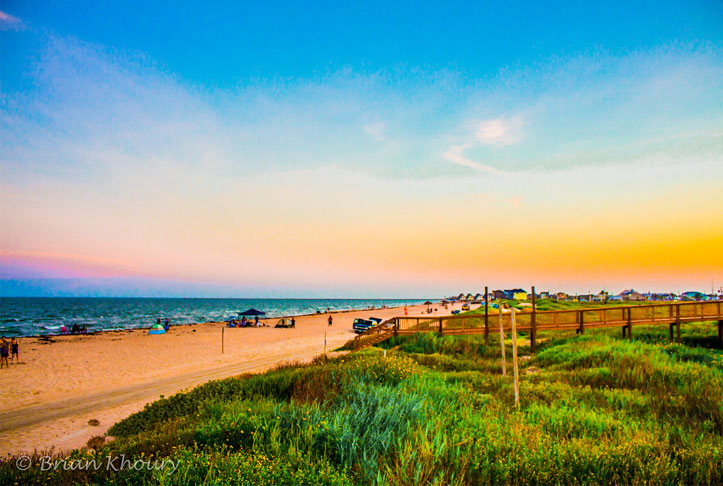 If you're just looking for a simple beach to enjoy the sand and water with your family for a few hours, Freeport (Surfside Beach) lets you drive your car right up to the sand.
Located just an hour south of Houston, Freeport is also for those looking to fulfill many water activities.
You can fish, surf, jet-ski and scuba-dive particularly at the Flower Garden Banks National Marine Sanctuary, where you can see gorgeous coral reefs, protected sea turtles, mantra rays, and if you're lucky, some hammerhead sharks.
In land, Surfside Beach also has the Freeport Municipal Golf Course and beachfront accommodation like the Hamptons Hotel and Ocean Village Hotel, so you don't have to go on long walks on your way back to the hotel after a day of fun in the sun.
Location: Matagorda TX 77457
How to get to Matagorda: 1 hour and 40 minute drive from Houston via TX-35 S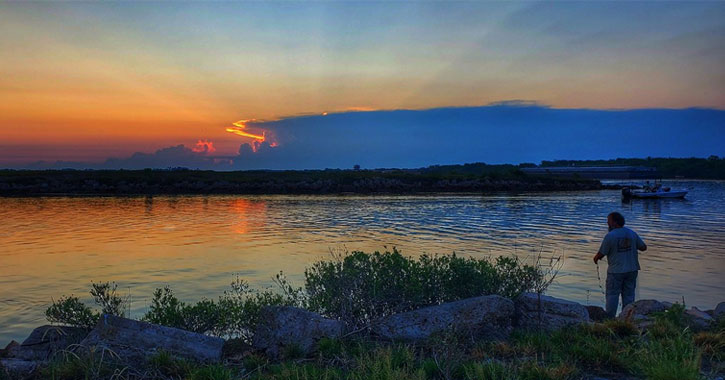 Located on the upper Gulf Coast of Texas, Matagorda isn't as busy as other Texas beach towns on this list.
Matagorda is a small beach town with numerous historical buildings and landmarks. It's the third oldest town in Texas – and it shows, so if you're a history buff and love exploring a town's history, you'll enjoy visiting Matagorda.
Of course, Matagorda is still a beach town. There is around 25 miles of beach area where you can swim, camp out and perform all kinds of water activities.
On land, there's the Matagorda Bay Nature Park for hiking and birding.
Location: Port Aransas, TX 78373
How to get to Port Aranas: It takes a 5-hour drive (about 247 miles) from Houston to Port Aransas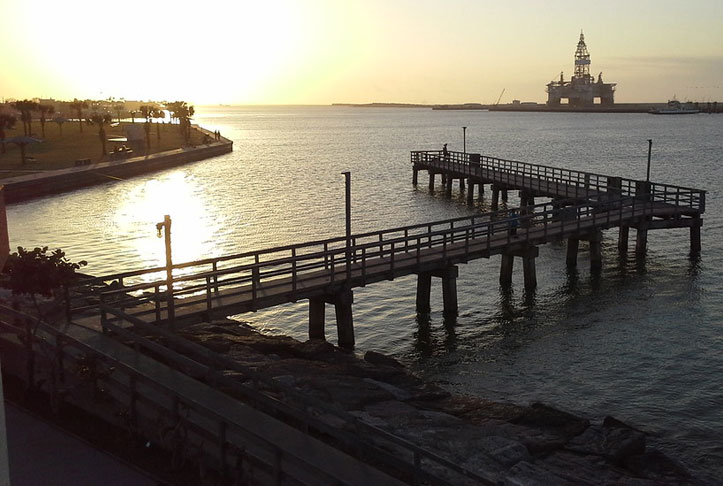 The Texas beach towns around Port Aransas isn't just the go-to for parasailing and windsurfing, but they're also known for showcasing the best of Texas culture.
Kids and families love Port Aransas, mainly for the accessibility to birdwatching and dolphin watching. You can also enjoy regular watersports (kayaking, swimming, snorkeling) and in-land activities like biking, hiking, night camping, and sight-seeing.
Port Aransas isn't a party place, but this unassuming beach has been featured in many top 10 family beaches in the country.
Check out the IB Magee Beach Park, Horace Caldwell Pier and Port Aransas Beach for the best spots.
Location: Rockport, TX 78382
How to get to Rockport: 191 miles or 307 km from Houston to Rockport, which takes about 3 hours to drive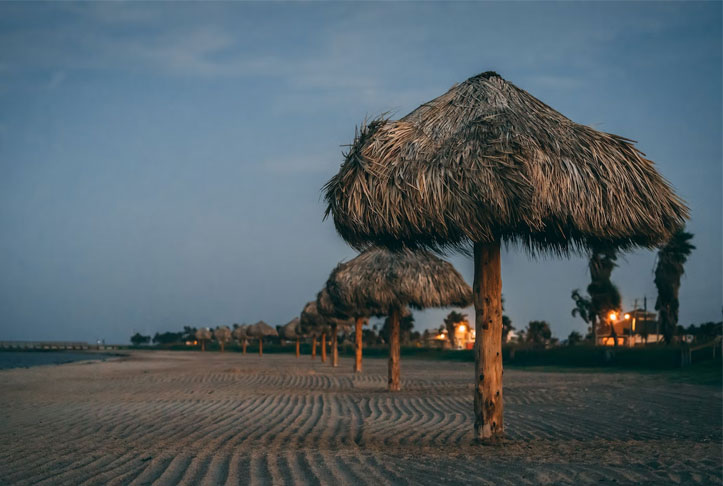 If you're looking to stay away from the crowds, but still enjoy a good beach, Rockport is the perfect place for you.
Just the vibe of the umbrella huts lined on the sand makes me want to go there again – it's so inviting for beach-hopping, people in search of Instagram-worthy beach pictures, couples looking to go on romantic getaways, and families who want to feel some kind of privacy in a pretty public beach.
And because the waters here are quite shallow, Rockport attracts families with young kids.
Rockport is a lovely small beach town with just 10,000 residents. It has something for everyone – Rockport is home to the Fulton mansion, Texas Maritime Museum, Rockport Center of Arts, and the Rockport harbor. For the most authentic Cajun seafood, visit the Boiling Pot. For some local shopping, go check out Austin Street of Rockport.
Beyond Texas Beach Towns: Things to Add to Your Itinerary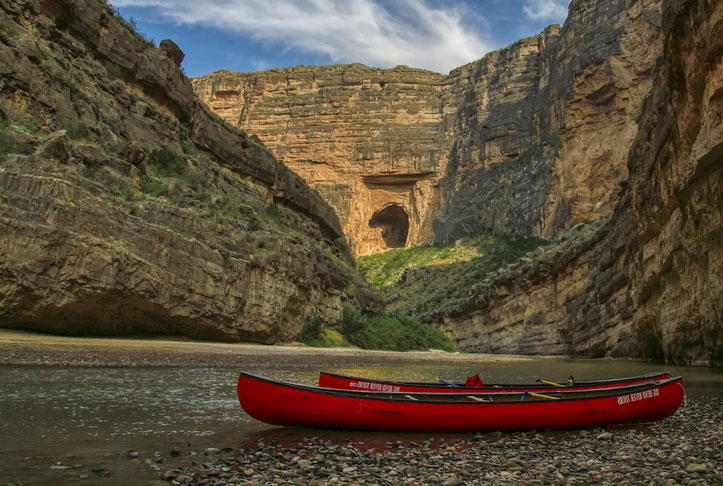 If you decided to take a trip to one of these Texas beach towns, maximize your time and include some well-known attractions along the way.
Here are guides that could help you craft a customized itinerary that you and your family and friends would enjoy: