Caddo Lake is one of the most interesting lakes in Texas. In the 1990s, it was impossible to find an accurate map or ask someone directions going to/from the lake. Some people even think this lake was a fictional lake.
Now, people who are interested in exploring wetlands come here for some of the best fishing, nature-tripping, and photography in the country.
Caddo Lake is a mysterious place, thanks to the line of ancient Spanish moss-draped cypress trees and eerily serene backdrop of interconnected waters ways, bayous, sloughs, and channels. It is considered the biggest natural lake in the eastern part of the state, but Caddo Lake isn't actually natural.
Sort of.
Let me explain.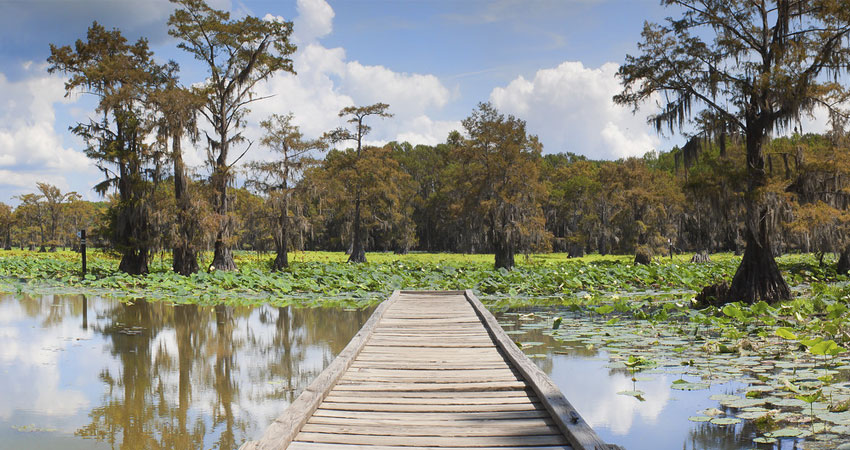 So What is Caddo Lake? Where is it located?
Caddo Lake is a 25,400-acree lake and bayou with approximately 30,000 acres of water located on the border between Caddo Parish in Louisiana and in the northern Harrison County and southern Marion County of Texas.
The lake is fed by Big Cypress Bayou beginning near Karnack, Texas, then the water twists and turns through the forest until it becomes a deep river averaging about 8 feet deep with the deepest water measuring about 20 feet.
To get here, you need to drive 3 hours from Dallas, 4 hours from Houston, or 6 hours from Austin.
I mentioned that the Caddo Lake is unknown, simply because it isn't the easiest to get to. But once you get there, you'll understand why people flock to this mystical-looking lake named after a group of Native Americans called Caddoans or Caddo – who lived in the area until their expulsion in the 19th century.
People believe Caddo Lake was formed either:
By the 1811-12 New Madrid earthquakes like how Tennessee's Reelfoot Lake was formed, or
By the 100-mile gigantic log jam, also known as the "Great Raft" on the Red River in Louisiana. Geologists believe that the lake could have been formed gradually or catastrophically. If you're interested in the history, let Caddo Lake resident/protector Fred Dahmer tell you the story.
Either way, Caddo Lake today is a breathtaking lake, but not a tourist-y lake most people expect. If you're ticking off a bucket list of Texas lakes, then only go to Caddo Lake if:
You want to push yourself to experience something unique.
You can rough it out in the wilderness. If you get squeamish with mud or moss, this place isn't for you.
You are seeking serenity with nature.
You want to go fishing or boating, even on swamp-like conditions.
You want to photography one-of-a-kind nature scenes.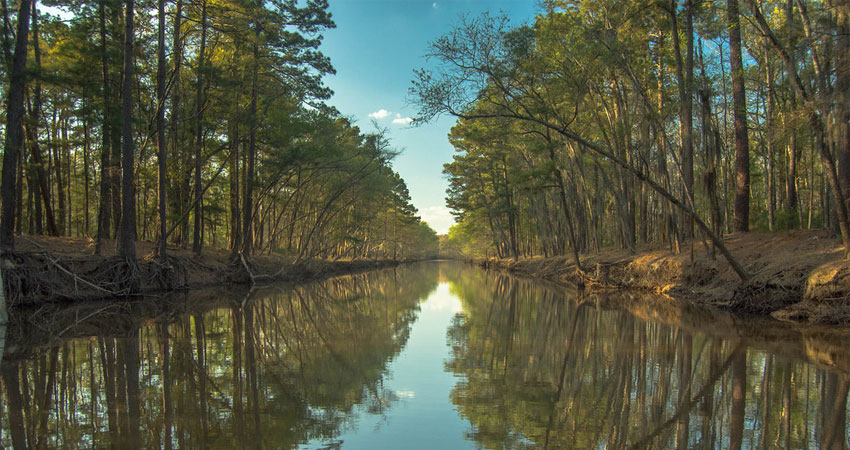 Caddo Lake Cabins and Other Lodging Options
When it comes to accommodation, there's a mix of lodging options available in and nearby Caddo Lake.
Caddo Lake State Park lodging – There are campsites with electricity, water or full-hookup. The state park also has cabins for rent, ranging from $40/night with no bathroom, to a six-person cabin with a/c unit at $115/night.
Caddo Lake Cabins – This lodging has three cabins available for rent: the Slough View, Caddo Cabin, and Cypress View Cabins with rates starting from $125/night/double occupancy upwards. There is a minimum of 2-day booking, but if you're picky with heating/air-conditioning, you'd love this place. When you book here, you can use the bikes, canoes and kayaks for free throughout your stay.
Hodge Podge Cottages – These cottages are fancier than other accommodations on this list. There are 10 cottages available, all of which come with free wireless internet access, TV, air-conditioning, heating, and use of canoes with life jackets, paddles and fishing equipment.
AirBnB lakehouses and cabins – Varying levels of cabins from basic shelter to fancier summer rest houses.
You can also find small hotels and lodges around Uncertainty and Jefferson Texas, but you may not be front and center with all the lake's amazing views.
Things to Do at Caddo Lake
Some people assume that there's nothing to do here, but the place actually have several awesome activities to offer:
Fishing – The lake is home to over 70 species of fish. The State Park itself has a fishing pier and boat ramp where anybody can use even without a fishing license. Fishing is especially good for largemouth and white bass, and crappie.
Duck hunting  – If you're an avid waterfowl hunter, head over to the Spatterdock Guest Home, where you can get all the supplies you need and even have private piers where ducks and geese call home.
Paddle the lake's water – This is the best way to sightsee the area, since there are over 50 miles available for paddling. It's the best way to see the lake's twists and turns. You can rent a canoe from the state park, or bring your own boat, kayak, or canoe.
Go hiking – While it looks like the place is covered in water, there's a 1-quarter-mile trail where you could explore the forest by foot and still be around the mysterious cypress trees.
Birdwatching – The lake welcomes migrating birds all year-round. It is also home to hundreds of birds enjoying the mostly-untouched forest. You can go on a birding tour so it would be easier to spot any of the 230 bird species recorded here, or explore on your own via boat. Totally your choice.
Nature photography – There are plenty of opportunities for photography here. Aside from the jaw-dropping moss-hung cypress trees, there are old decades-old pine, oak and hickory around the forest. If you're after animals, Caddo Lake has frogs, turtles, alligators, waterfowl, squirrels, beavers, raccoons, minks, armadillos, nutria, and white-tailed deer, among others.
If you're visiting with someone who isn't a fan of the wetlands, they could always enjoy the scenery in the comforts of screened-in shelters and cabins.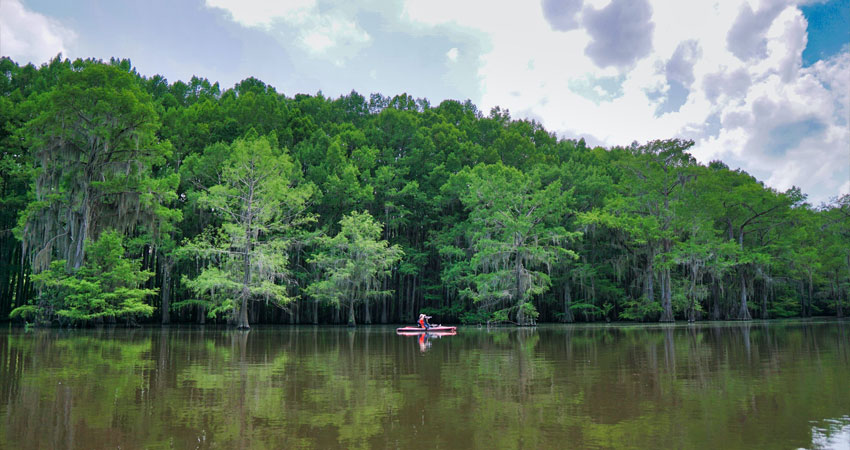 Caddo Lake Boat Rental and Boat Tours
Boat tours are a tourist draw here, but aside from the typical swamp sightseeing, you can experience something more unique if you choose boat tours such as:
Photography tours – The tour operators in the area know which spots have the best opportunities for landscape photography. If you want to take pictures of birds and other wildlife, there are tours specifically for bird watchers, alligator chasers, and so on. Of course, you also have the sunrise/sunset tours if you want to see Caddo Lake in "another light."
Night tours – Think the lake is mysterious-looking in daytime? Wait 'til you see it at night! It isn't recommended (and in some parts illegal) to paddle or go boating by yourself in the dark, but if you come with legit tour operators who know every inch of the lake, there's a bigger chance you'd get to experience Caddo under the stars.
Alligator tours – Alligators that call Caddo home are quite shy – they tend to go away at the sight of guests arriving. Someone trained at spotting them could guide you either in daytime or nighttime if you really want to see an alligator up-close.
Bigfoot tours – Yes, you heard it right. Since 1965, the lake has had hundreds of alleged Bigfoot sightings. This spot has been featured in the 2006 "Bigfoot" documentary by the Travel Channel. Don't bring your hopes up with this one, but it's still a fun tour if you don't take yourself too seriously.
Check Captain Ron's Swamp Tours, John Winn's Caddo Lake Tours, Rich McFarland's Caddo Lake Bayou Tours, and other official tour guides recommended by the City of Uncertain Texas.
Top Visitors FAQs
Here are several answers to common Caddo Lake trip FAQs:
How Long Should You Plan a Trip For?
It is always good to prepare for a trip a year away, especially if you're an airplane or two away from Texas. When it comes to reservation of cabins, make sure to book around 3 to 6 months ahead. Note that the high season is from March through November.
How Can You Get there?
Louisiana's Shreveport Regional Airport is the closest airport to Caddo Lake, located about 40 miles from the town of Uncertain.
If you're coming from Dallas or Ft. Worth, book with American Airlines.
If you're coming from Atlanta, go with Delta.
If you're coming from Denver or Houston, use United Airlines.
If you're coming from either Las Vegas or Orlando, there are Allegiant Airlines flights available going here.
You can also drive 3 hours east of Dallas-Ft. Worth, or about 30 minutes west of Shreveport, La.
Once you reach the airport, you can rent a car going straight to your camp or cabin at Caddo Lake.
What Times of Year are Best for Visiting?
If you're traveling here to get awesome photographs, your best bet is to visit in the fall, around October or November.
Those who have issues with insects and bugs, avoid July and August.
It becomes crowdy when school is out for the summer from June to August, so take note if you're after serenity.
Where Can Guests Buy Groceries?
Most cabins let you bring and cook your own food. Within Caddo Lake, there is no grocery store available. You'd have to drive 20 miles to reach the nearest Family Dollar in Karnack. Bigger grocery stores like Super 1, Walmart and Kroger are over 20 minutes away.
Other Attractions Nearby
If you're visiting in spring during April and May, go by Cypress Drive to watch hundreds of turtles come out of the lake to lay their eggs.
You can visit nearby cities like Marshall, Karnack and Jefferson if you plan to dine out or visit the more touristy attractions like the Starr Family State Historic Site, Mossy Brake Art Gallery or home of Lady Bird Johnson.
If you're staying in Texas for a while, check my most recommended things to do at Austin, and the best museums in Texas.