Hot Springs VA and Warm Springs, Virginia are two places in VA where thermal springs are found the most.
About 20 thermal springs are recognized in the state.
Many of these springs include seepages next to each other, which is why one hot spring resort could have several names. For example, the group of resorts at Warm Springs is made of 3 springs located within 30 meters of each other, plus a 4th spring approximately 250 meters to the southwest.
Hot Springs VA: The Town
Hot Springs VA is a census-designated place in the center of the Allegheny Mountains in Bath County, Virginia. The town has a population of only 700.
Hot Springs VA is home to several historical resorts that have been paramount to the development of the entire Bath County.
They include The Homestead, The Yard, Garth Newel, Switchback School, Barton Lodge, and Mustoe House – all of which are listed on the National Register of Historic Places.
5 Not-So-Secret Hot Springs Virginia Locals Love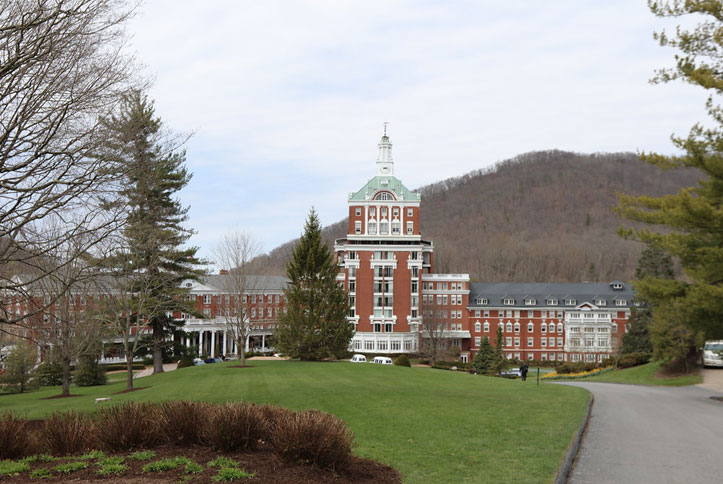 Out of all the hot springs in Virginia, the warm springs pools in this area is probably the most famous and most historical.
The Omni Homestead Resort is home to the famous Warm Springs Pools, the oldest spa structure in America. It was originally discovered by the Native Americans, about 9,000 years ago, and were considered a sacred place.
The original octagon-shaped stone basin was built in 1761 without the roofing we see today.
The pool was known as the "Great Bath" or "Warm Springs Bath" at the time.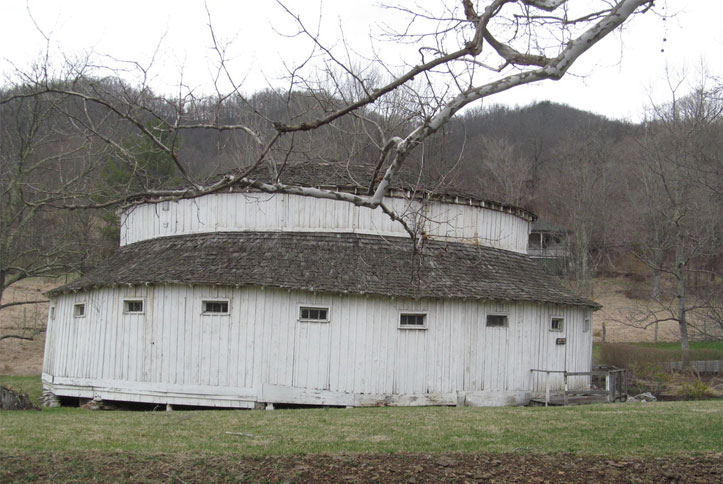 By mid-1820s, the pool was covered by a new octagonal frame building. Many illustrious historical figures such as George Washington, the Robert E. Lee family, and Thomas Jefferson traveled to this four-season resort to "take the waters."
The Warm Spring Pools had been a unique destination. Its waters maintained a temperature of 96 degrees Fahrenheit and a flow of approximately 1,700,000 gallons of water per day.
By mid-1870s, a second structure was built. Called the Ladies' Bath House, the building had 22-sided stone wall enclosed the spring and pool.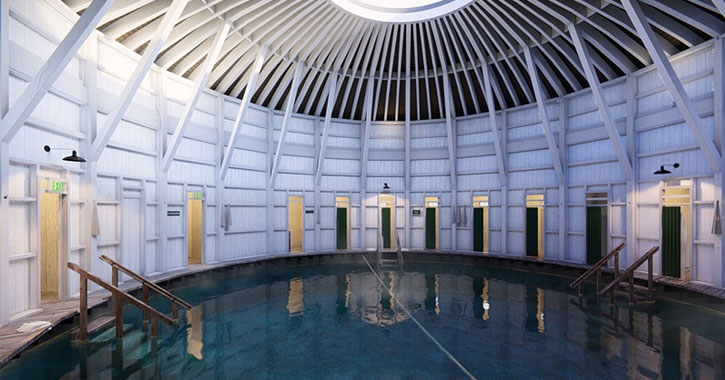 If you want to soak in your "birthday suit," they have quarters sectioned off for men and women.
These pools had been closed since October 2017 when Bath County officials deemed the buildings no longer safe for use.
But a major restoration took place at the beginning of 2020.
As part of the reconstruction, the Bath County Building, Planning and Zoning committee also decided calling the pools by their original name, the Warm Springs Pools.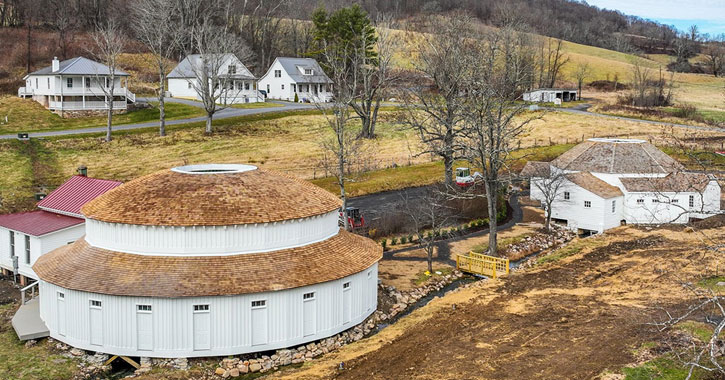 Reopened in December 2022, guests can book a 60-minute spa treatment and enjoy the waters with healthy minerals like magnesium, calcium and potassium they've been known for throughout the years.
Fees: Prices for the hour-long treatment varies by group type (it starts at $25 with day passes available for $75)
Hours: Starting at 10am, but closing time varies by age and reservations.
Aside from the pools, The Homestead also offers five-star accommodation, awesome food, and two golf courses.
Healing Springs is known for several names.
Some locals call it Sweet Alum, while others know the spot as Rubino Healing. Whichever name you decide to call it, Healing Springs has been a place for soothing, relaxing and natural healing. The water maintains its 86-degree Fahrenheit year-round.
The natural hot tubs of Healing Springs consists of 3 separate springs, located about 3 meters apart.
This isn't really a place for swimming. Ideal for soaking, the natural spring water can leave your skin super soft after your session.
3. Bolar Spring (Highland County, Virginia)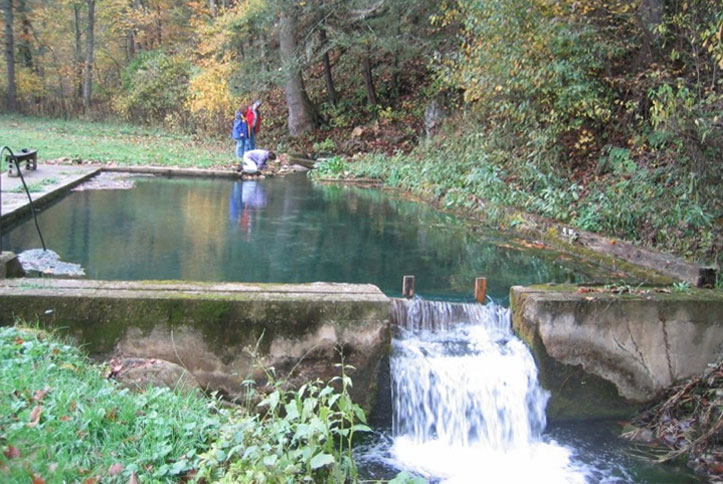 As of October 2023, Bolar Spring is now closed to the public.
Bolar Springs is another major thermal hot springs located in Warm Springs, Virginia. You can visit this spring at the Bolar Mountain Recreational Area.
As locals would say, Henry Ford built a camp community around the Bolar Springs.
It's known to heal various ailments, from skin issues to minor wounds. The camping is no longer allowed, but the public can still view remnants of the camp community since locals keep it clean.
Although it looks small in the picture above, Bolar Springs is actually a much larger spring, which comes in at the top, before filling out this man-made pool, and eventually overflowing into a creek.
There is a lot of water coming in from that spring, but what's awesome is the cool blue waters maintains an average temperature of seventy-three degrees Fahrenheit.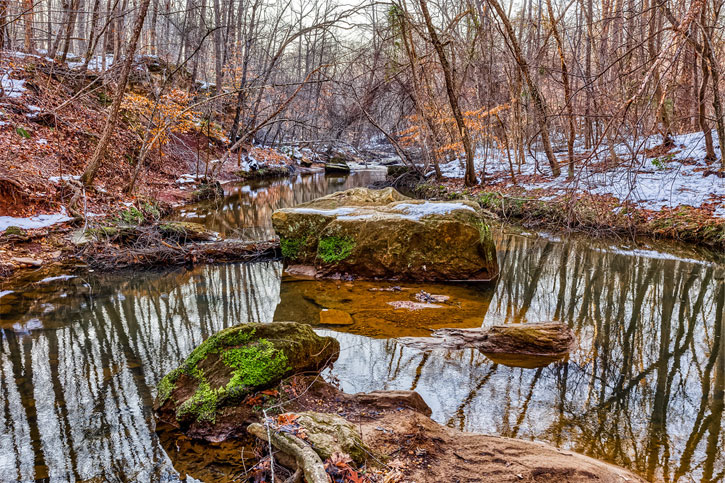 Located inside the Alum Springs Park in the city of Fredericksburg, this 34-acre woodland is an ideal side-trip for families to camp out, grill, swim a little and be one with nature. There are nature trails, man-made playgrounds, and the center of the park: Alum Springs.
The thermal spring is one of the major hot springs Virginia has to offer. Alum Spring has an average temperature of about seventy-two degrees Fahrenheit.
The waters are greenish, but clean and shallow – they're perfect for little kids splashing around. The water maintains its 72-degree Fahrenheit year-round.
The park has a couple of trails. You can view the spring from the wooden bridge (my favorite), but many people stay on the bike trail or just walk right by creek and wade in the water.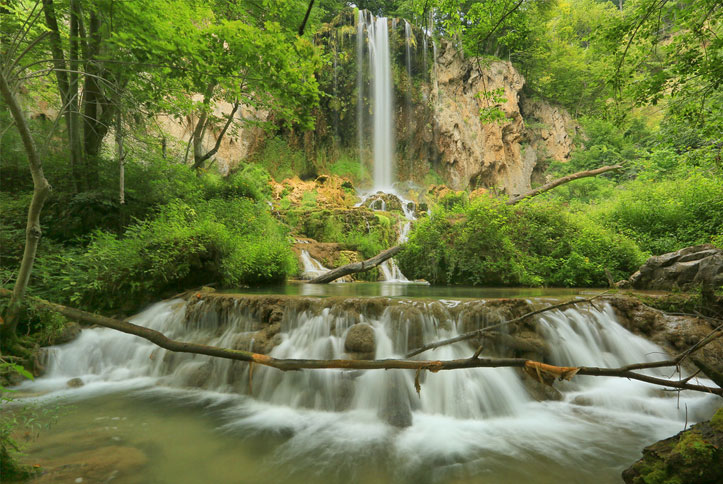 If you're interested in taking waterfall photography to the next level, Falling Springs should be on the top of your list.
Falling Springs are actually made up of a number of flows and seepages that are at a much lower temperature the other hot springs in popular Warm Springs VA destinations.
Falling Springs also have waters with a greater discharge than any other VA springs in the region.
The water from the springs come from the 8-foot tall Falling Springs Fall and maintains temperatures at around seventy-seven degrees Fahrenheit.
Located at Alleghany Highlands in Alleghany County, this naturally-heated waterfall and spring is maintained by the Virginia Department of Conservation and Recreation.​
Beyond the Hot Springs in Virginia
If you can't get enough of Virginia's waters, check out our favorite Virginia waterparks, and six must-visit lakes in Virginia. You can also explore West Virginia's wonderful waterfalls and all other cool things you can do in WV if you're traveling with a group of all ages.