No other state offers the most number of beaches and lakefronts than Michigan, so if you've decided on checking out Michigan beaches for your next trip, you're in for a treat. The state has PLENTY of good beach opportunities for you and I, which can be overwhelming if you're trying to decide just one beach town at a time.
To make it a bit easier for you, I grouped my favorite Michigan beaches into two – (1) the go-to beaches with hotels, restaurants, and their downtowns nearby and (2) beaches with a more relaxed vibe.
Michigan Beaches with a Nightlife
Michigan beaches are known mostly for their chill vibe. Many of the beaches I found within the state (and locally recommended) are hidden gems with very few facilities, especially those not part of a park). However, there are a handful of spots that have a livelier atmosphere than the rest.
They include Silver Beach, Grand Haven, and Oval Beach in the Saugatuck/Douglas area.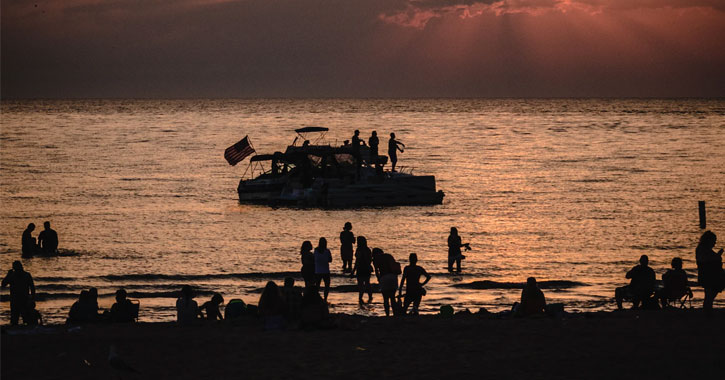 Location: Saint Joseph (-94 Exit 16, three miles southeast of Bridgman on Red Arrow Hwy)
Nearby beaches: Other Saint Joseph beaches that are less touristy include Weko beach, Lions Park, Warren Dunes State Park, Rocky Gap Park. Grand Mere State Park, and Jean Klock Park.
Silver Beach is located within Silver Beach County Park in Saint Joseph, Michigan. It is a favorite summertime spot for both locals and tourists. 1,600 feet of the 2,450 feet of Lake Michigan frontage is exclusive for public swimming in the summer months. The park also has lakefront camping (about 197 campsites) with electricity and running water, as well as a ton of family-friend facilities.
Don't miss the Silver Beach Carousel – it's an awesome sight to behold. The Silver Beach area transforms into a place for cross-country skiing in winter and a hunting venue in the Fall.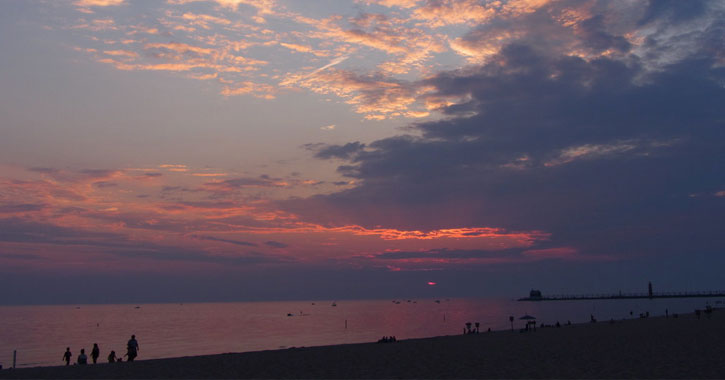 Location: South Harbor Drive, West Michigan
Nearby beaches: North Beach, Kirk Park, Rosy Mound Natural Area, Olive Shores (where Tom Hanks' Road to Perdition was filmed), and P.J. Hoffmaster State Park.
Two West Michigan beaches, Grand Haven City Beach and Grand Haven State Park. are located along Harbor Avenue south of Grand Haven State Park on Lake Michigan. Both offer modern facilities and proximity to the downtown area, the Grand Haven Pier and two red lighthouses.
Grand Haven has a $9 a day entrance fee to the state park, but you have access to everything. It can be busy during the summer months, but if you're after the crowds, events and a bit of nightlife, then the Grand Haven beaches should make your stay worthwhile.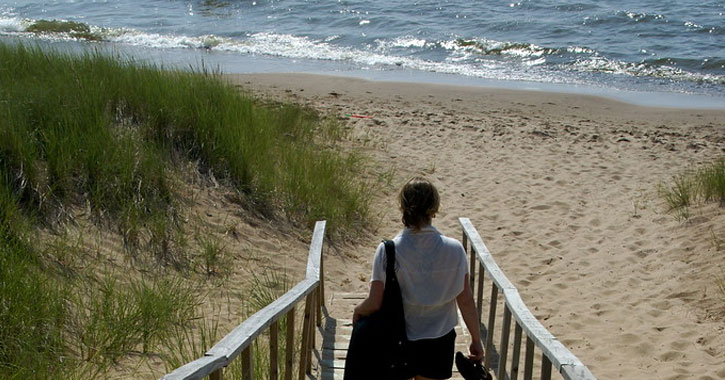 Location: Saugatuck/Douglas (Perryman St. & Oval Beach Drive)
Nearby beaches: West Side County Park, Laketown Beach, Pier Cove Beach, Douglas Beach, Saugatuck Dunes State Park.
This beach has been included in many US top-10 beaches lists in recent years, including MTV's Top 5 Beaches in the USA and National Geographic Traveler's Top Freshwater Beaches in the USA). One look at its sweeping shoreline amidst a backdrop of rolling dunes, and you'll get why this is a special place.
These days, the area is known for two things:
High-end antiques and art from locals, giving the Saugatuck and Douglas area an adorable nickname of "The Great Art-Doors."  Be sure to check Saugatuck Antique Pavilion and Saugatuck Center for the Arts.
Gay-friendly events thanks to the  Dunes Resort and events like Dunes Diva competition and Drag Queen Bingo that it hosts regularly.
Low-Key Michigan Beaches for a Relaxing Getaway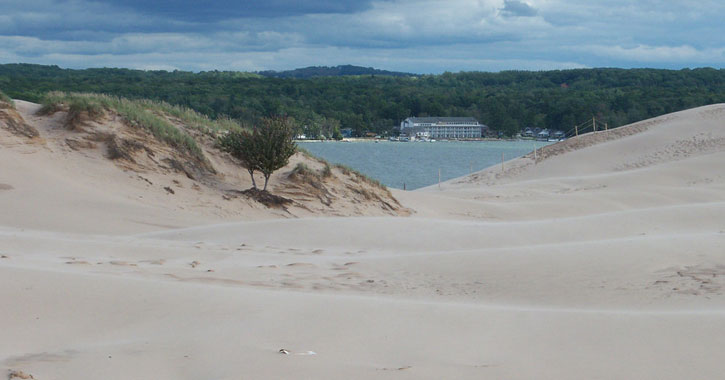 Location: Between Ludington and Muskegon (North Comfort Drive, Hart, Michigan)
Nearby Beaches: Little Sable Point Lighthouse, Golden Township Park, Claybanks Township Park, Cedar Point County Park, Benona County Park, Mears State Park.
Silver Lake Sand Dunes is like a world of its own. The area is perfect for all kinds of water activities like swimming, boating and just playing around the sand. But it is also a place where you could golf, hike, explore the dunes (there are over 2,000 acres of sand dunes in the area alone).
Getting to the beach can be tricky though since you'd have to walk about 45 minutes from the Silver Lake parking area to get to the beach. If you arrived in a 4×4 wheeler or off-road vehicle, you can go straight over to the dunes and onto the beach.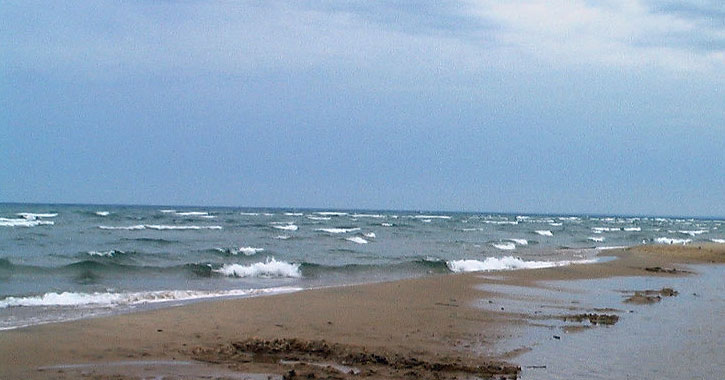 Location: Tawas Beach Rd, East Tawas, MI
Known as the "Capecod of the Midwest," this 183-acre park is located along Lake Huron at the end of a sand spit that forms Tawas Bay. The waters here are shallow, making it a favorite beach for families with young kids. (You do have to pay closer attention to children since the area has no lifeguard on the beach.
Aside from the picturesque beach, people can also go bird watching by the Lake Huron Flyaway where over 300 bird species migrate each year.
East Tawas has such a lovely small-town vibe, where you can enjoy the local farmer's market on Saturday mornings, or meet new people during its county fair and blues festival.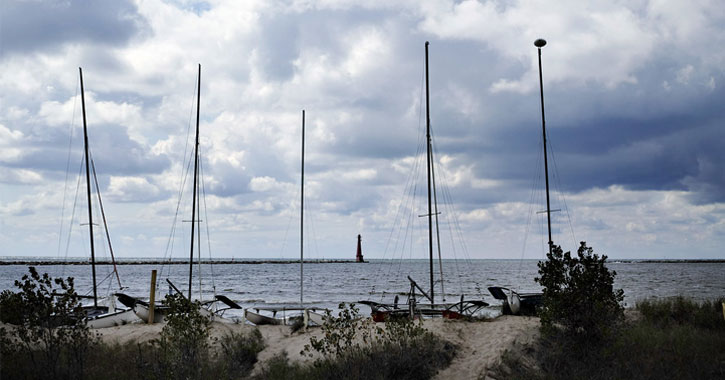 Location: Muskegon
Nearby Beaches: Blue Lake County Park, Twin Lake County Park, Ross Park, Pioneer County Park, Norman F. Kruse Park, Muskegon State Park, Moore County Park, Meinert County Park, Lake Harbor Park and Duck Lake STate Park.
It is located within a 27.5-acre park with 2.5 miles of long, sandy public beach bordered on the north by the Muskegon Channel. The water quality is exceptional, but it can be quite windy at the beach.
Pere Marquette is one of the most well-maintained Michigan beaches in Muskegon. You can fish, swim, sail, and just hang out. Entrance to the beach is free with restrooms and other amenities found near the parking area.
If you're coming here with kids, you can visit the nearby amusement park, called Michigan's Adventure and take a quick detour with its water park and roller coasters.
Location: Holland
Nearby beaches: Holland State Park beach, Kirk Park, Tunnel Park
This off-the-beaten-path beach is truly a hidden gem that most mainstream Holland tour guides don't even include it on their official Holland Michigan beaches. But if you're nearby and is on a hunt to explore all Holland beaches, then this would surely make your beach-heart happy.
Riley Street Beach is very near the Riley Trails and is a favorite stopover for those exploring the 300-acre trail. Note that the water on this beach isn't shallow and winds can be brutal, which is why local surfers flock to the area if the conditions are perfect for surfing.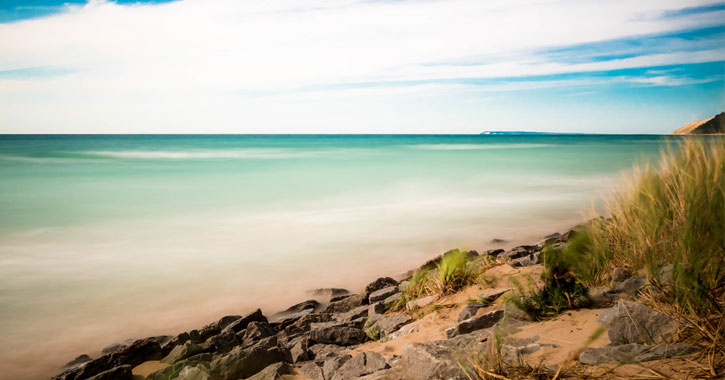 Location: 10484 Niagara Street, Empire, MI
Nearby: Sleeping Bear Dunes National Lakeshore
This dog-friendly, family-favorite, public beach is located a block from downtown Empire.
Empire beach is a small section of beach National Geographic named one of the top 21 beaches in the world, thanks to the pure fresh water, perfect sand, vast views over Lake Michigan, and the Robert H. Manning Memorial Lighthouse nearby.
On top of water activities like boating, fishing and swimming, there are bird-watching, hiking, playground-playing opportunities for everyone at Empire Beach.
What makes Empire beach special is it is the spot where the warm waters of North Bar Lake spill into the cool waters of Lake Michigan, so you kinda get to experience both by just swimming on the beach.
Beyond Michigan Beaches
If you have more time and want to explore the awesome Michigan state, here are some cool attractions you might want to check out:
The Mackinac Bridge (located in Mackinaw City, Michigan) is one of the most famous US bridges. It is considered the world's longest suspension bridge between anchorages (and isn't for the faint-hearted to pass).
Tahquamenon Falls (found in Paradise, Michigan), called endearingly the "Rootbeer Falls" for its unique brown colors, is one of my favorite hidden falls in the country. This is a must-see stop, especially if you're visiting during the fall season.
Nature trip at Silver City, Michigan – Another cool destination that shows off spectacularly vibrant fall colors, Silver City is home of the Porcupine Mountains.
Northern Lights from Keweenaw Penninsula, Michigan – Head on to Keweenaw Penninsula in Michigan around October or November if you're on the hunt for a good spot to view Aurora Borealis without going overseas.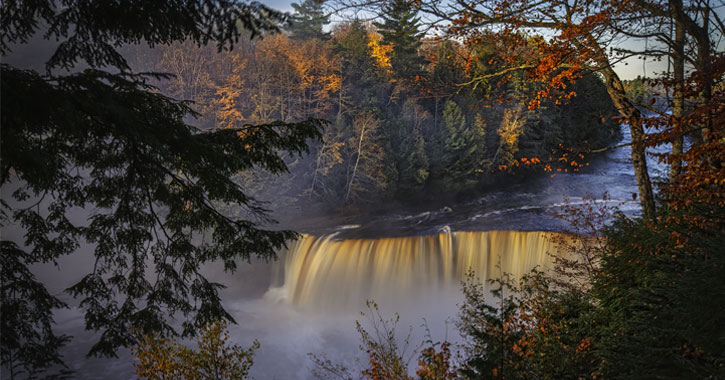 There's also Lake Michigan, one of the five Great Lakes of North America that encompasses the states of Wisconsin, Illinois, Indiana, and (mostly northern) Michigan. If you're a diver, don't miss the snorkeling or diving tours that guide you through 1 in over 1500 shipwrecks that call Lake Michigan home.
And if you can, take time to visit Mackinac Island and marvel at the area's old-world Victorian charm, water activities, biking, horseback riding, and local events to actually get to meet the people there. Don't forget to buy some fudge – it is Mackinac Island's most popular export nowadays, so much so that they hold an annual fudge festival every August.