Combining old-world Victorian charm with history and the great outdoors, Mackinac Island, Michigan is an amazing vacation destination.
Located in Lake Huron, between Michigan's Upper and Lower Peninsulas, it was home to various indigenous peoples before it became colonized in the 17th century.
From the late 18th century to the early 19th century, Mackinac Island was the main hub for the Great Lakes fur trade, and Market Street was where the wealth was at.
By the late 19th century, the island was a popular tourist destination, with vacationers from major cities on the Great Lakes, such as Buffalo, Cleveland, Chicago, and Detroit arriving on lake excursion boats in search of the cooler weather on Mackinac Island.
Today, the entire island is listed as a National Historic Landmark, with careful preservation efforts, including a motor vehicle ban, a limitation on new developments, and a requirement for leaseholders of buildings to maintain the architecture.
Here are the best things to do on Mackinac Island and some useful information to help you plan your trip.
Best Things To Do On Mackinac Island
1. Explore the Mackinac Island State Park.
It really doesn't seem like you have a choice in this; Mackinac Island State Park comprises 82% of the island's total land area.
It is the nation's second-ever national park (after Yellowstone), and the first state park in Michigan.
Mackinac Island has over 70 miles of roads and trails, both paved and unpaved. Some are shared by bikers, horses, and walkers, while others are good for walkers only.
The network of trails and roads allow you to explore the island's forests, natural rock formations, rolling landscapes, historic sites, and many more. Get a glimpse as well of the wildlife in this island, such as gulls, ducks, otters, and beavers.
There are also plenty of scenic routes that connect beautifully preserved Victorian houses, allowing you to sightsee in leisure.
Interpretive panels are scattered throughout the island to provide relevant information at historical and natural monuments.
Mackinac Island State Park Road Map With Mile Markers
Biking
You can bike almost everywhere in Mackinac Island, as long as it is within the State Park and not on private property.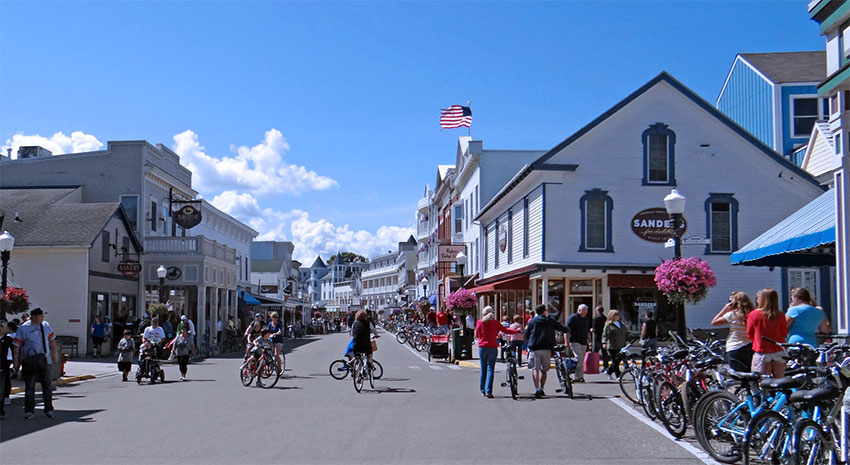 The most popular biking (and hiking) trail in the island is the Mackinac Island Outer Loop, also known as the Lake Shore Boulevard or M-185 route.
This paved interstate wraps around the island's 8.2-mile perimeter and generally takes around 1 to 1.5 hours to bike non-stop, but of course you should stop and take in all the sights.
Notable views include the Mackinac Bridge, Straits of Mackinac, Arch Rock, British Landing, Brown's Brook, and Devil's Kitchen.
The Native American Cultural History Trail coincides with the M-185, so keep your eyes out for the six informational panels that share historical information about life in the island before the Europeans came.
Map: Mackinac Island Outer Loop Trail Map
Another popular, albeit shorter, bike trail is the Arch Rock Bicycle Trail, a 2.2-mile trail that rewards you with spectacular views of Arch Rock from different angles.
The recently installed Mackinac Island Botanical Trail coincides with this trail, which features turnouts highlighting various plants and interactive signs about floral life unique to the island.
Trailside benches are also installed to provide bikers and hikers places to stop and appreciate the scenery around them.
Map: Arch Rock Bicycle Trail Map
You can bring your own bike to the island, but don't feel like you need to; you can simply rent a bike from one of these shops:
You need to exercise extreme caution when biking on the island streets and roads. They are often crowded with pedestrians and horses, and they always have the right of way.
Horseback riding
For equestrians, or simple the more adventurous travelers, you can explore Mackinac Island's 40 miles of bridle paths by horseback.
The classic Tranquil Bluff Trail is the longest trail on Mackinac Island. It follows the Mackinac's eastern side from the northern tip down to Arch Rock in the south.
Even if you own a horse (or a stable of them), transporting them to the island so you can ride them is impractical. If you do decide to take your horse to the island, you can board them at the Mackinac Horsemen's Association where they will be taken care of with the highest quality of service.
If you need to rent a horse, head to Cindy's Riding Stable. If you're a beginner, you can take a few lessons first. They also normally offer guided horseback tours.
There are a number of saddle horse safety rules you'll need to follow. In general, always wear a safety helmet, use good judgment, and treat your horse humanely. Here are a list of rules.
Essential Information: Mackinac Island Office
Address: 7029 Huron Rd, Mackinac Island, MI 49757 | 906-847-3328
Website: Mackinac State Historic Parks
2. Brush up on your military history.
During the time of the American Revolution up until the Battle of 1812, Mackinac Island had military significance because of its geographical location and its economic importance to both Canada and the Northwestern states.
Such is its significance that the British built Fort Mackinac in 1780 during the American Revolutionary War and Fort Holmes in 1814 during the Battle of 1812.
Fort Mackinac
Fort Mackinac is located on a bluff overlooking the Straits of Mackinac.
It closed as a military installation in 1895. The fort has since been converted into a museum.
With guides dressed in period costumes, you can tour the 14 original buildings filled with exhibits and videos, cheer to battle reenactments, watch cannon and rifle firing demonstrations, and even reserve a spot to fire a cannon yourself.
Afterward, have lunch or a snack at the Fort Mackinac Tea Room.
Nearby, find Anne's Tablet, an Art Nouveau sculptural installation by William Ordway Partridge as a memorial to local author Constance Fenimore Woolson.
It is located in a bluff where there are some stone benches as well as a bronze plaque depicting a young girl reaching for a tree branch as well as a few lines from Woolson's novel Anne.
Essential Information
Address: 7127 Huron Rd Mackinac Island, MI 49757 USA | 906-847-3328
Hours: Summer: Mon–Sun 9:30am–7pm; admission times vary the rest of the year
Cost: $13.50 per head for adults; discounts available for children below 13
Website: Fort Mackinac
Fort Holmes
Fort Holmes is located at the highest elevation on Mackinac Island.
Originally called Fort George in honor of King George III of Britain, it was constructed by the British to protect Fort Mackinac against an anticipated attack from the Americans.
When United States soldiers peacefully reoccupied the island after the Battle of 1812, the fort was renamed Fort Homes in honor of slain American Major Andrew Hunter Holmes who was killed in 1814.
They don't have reconstructions, but because it's on the highest elevation on the island, the views here are spectacular.
Essential Information
Address: 2234 Fort Holmes Rd, Mackinac Island, MI 49757 | 231-436-4100
Hours: Mon–Sun 24 hours a day
Cost: Free
Website: Fort Holmes
3. Check out the natural wonders.
Mackinac Island's many limestone formations are an important part of the island's history. Stories and legends about these formations have been passed from one generation to the next.
In fact, these limestone formations were formed by wave action, breaking and recementing limestone on the island.
However they were formed, don't leave the island without exploring these formations. Here are some of the more popular ones.
Arch Rock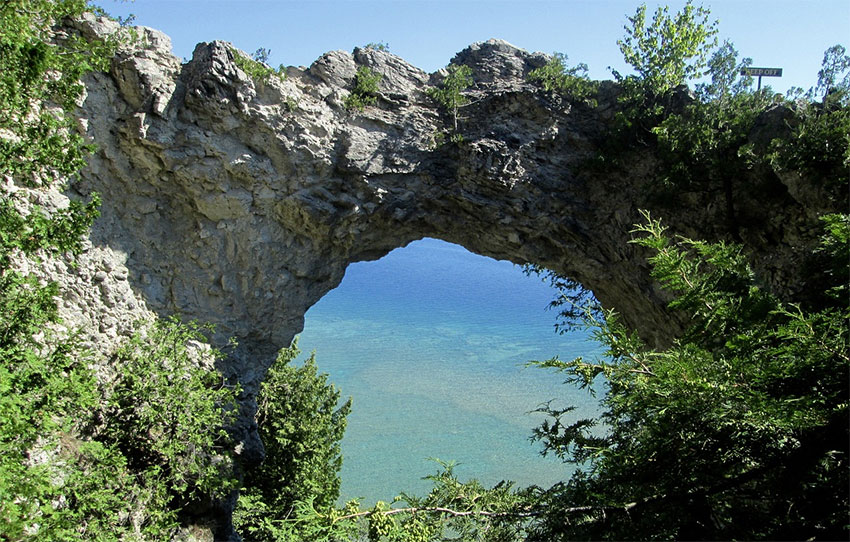 This 50-foot wide natural limestone arch standing 145 feet above Lake Huron is one of the most iconic features of the island. It has attracted sightseers for more than a century and a half.
Street Address: 6131 Arch Rock Rd, Mackinac Island, MI 49757
Sugar Loaf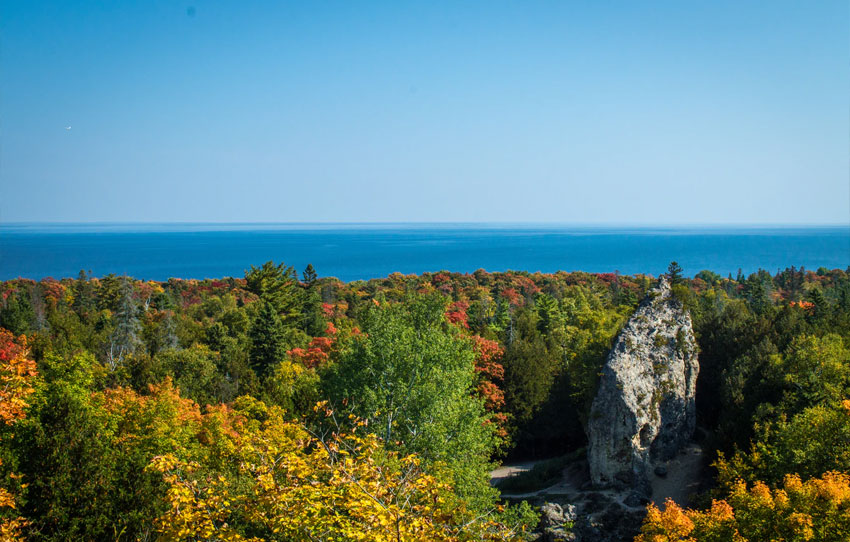 Hundreds of years ago, a huge lake covered all but the center of Mackinac Island. Sugar Loaf was then a small, eroding island detached from the surrounding land area.
When the lake receded, the 75-foot limestone stack was left standing, and now it's one of the usual tourist destinations on the island.
Street Address: Sugar Loaf Rd, Mackinac Island, MI 49757
Skull Cave
Skull Cave is a small, shallow cave that used to be a sacred burial site. It was believed that fur trader Alexander Henry hid out in this cave during the Indian uprising of 1763 and discovered human bones scattered on the floor of the cave believed to be Indian bones.
Street Address: Rifle Range Rd, Mackinac Island, MI 49757
Devil's Kitchen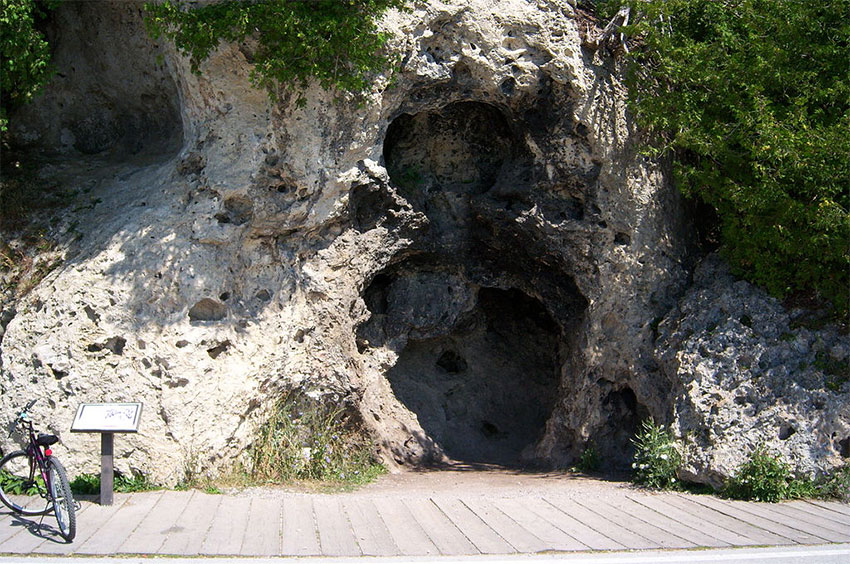 Devil's Kitchen from the outside is two hollows in a rocky cliff, but is actually a group of small sea niches formed more than 350 million years ago.
The cave's appearance is comparable to a human face with an open mouth, giving rise to stories that the cave is haunted by cannibals who capture and eat humans who came too close to the opening.
Street Address: 350 Lake Shore Dr, Mackinac Island, MI 49757
4. Tour the Historic Downtown Mackinac.
During the peak of the fur trade, the American Fur Company exported beaver pelts to different parts of the US and Europe for thirty years. Four historic buildings on Market Street remain as a living testament to the wealth that this area once inhabited.
American Fur Company Store and Dr. Beaumont Museum
The American Fur Company (AFC) was founded by John Jacob Astor in 1808, capitalizing on the burgeoning fur trade. By 1830, the American Fur Company grew to monopolize the fur trade and was one of the largest businesses in the country.
The retail store on Market and Fort Streets was founded around 1820 to sell surplus merchandise and was one of several general stores where employees of the AFC, residents on the island, and Fort Mackinac soldiers bought various goods.
By some strange coincidence, in this same place, a fur trader named Alexis St. Martin was blasted by a shotgun that discharged accidentally.
Dr. William Beaumont, an Army surgeon stationed at Fort Mackinac, came to the rescue. He attended to the hole in his stomach, which healed in a most unusual way and allowed the doctor to do experiments for years on how the stomach digests food.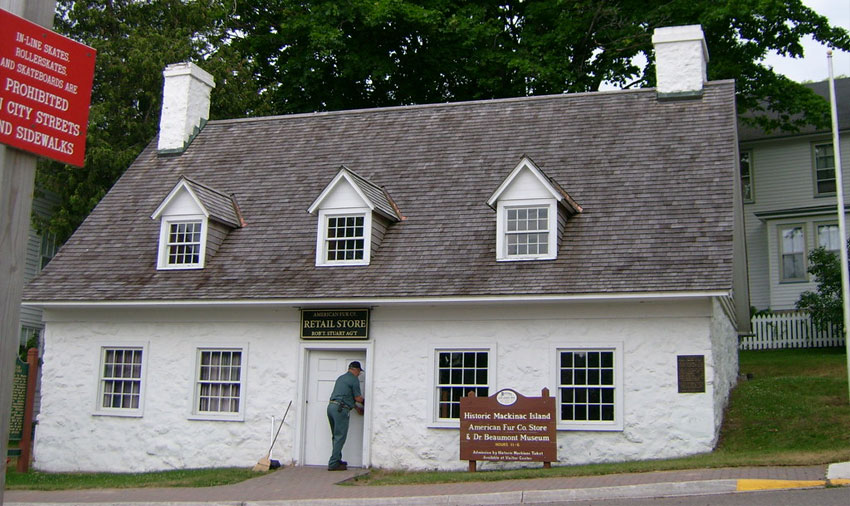 Street Address: 7232 Market Street, Mackinac Island, MI 49757
Benjamin Blacksmith Shop
Originally known as the "Star Blacksmith Shop," the Benjamin Blacksmith Shop was sold by William Jackson to Robert Benjamin and Frank Cummins in 1885.
By 1900, Robert Benjamin's son Herbert took over the shop's operation and continued to offer the services the shop offered, such as repairing and manufacturing iron objects, horseshoeing, and repairing carriages.
Herbert ran the shop until his death in 1965, and in 1968, Herbert's family donated the blacksmith shop to the Mackinac Island State Park Commission, which moved the building and its contents to its present location near Biddle House.
Today, the Benjamin Blacksmith Shop is both a blacksmithy and museum with blacksmiths that showcase traditional blacksmithing skills, such as forming hot iron into various mild steel items like fireplace tools, hinges, and household items.
These items can be bought by both the residents of the island as well as tourists.
Street Address: 7406B Market Street, Mackinac Island, MI 49757
McGulpin House
McGulpin House is a gable-roofed French Canadian house that is one of Mackinac Island's oldest structures.
It was once the home of William McGulpin, a baker for the American Fur Company. It was moved to its current location in 1982 when it was restored with the help of Mackinac Associates.
Visitors are guided through the house by a historic interpreter who explains the architectural significance of the structure.
Street Address: 1675 Fort Street, Mackinac Island, MI 49757
Essential Information: Historic Downtown Mackinac
Address: 7029 Huron Rd, Mackinac Island, MI 49757 | 906-847-3328
Hours: Mon–Sun 11am–6pm; last admission 5:30pm
Cost: $8.50 per head for adults; discounts available for children below 13; admission includes entry into The Richard and Jane Manoogian Mackinac Art Museum and the Biddle House
Website: Historic Downtown Mackinac
5. Soak up local arts and culture.
Mackinac Island doesn't only offer natural beauty, it also has plenty to offer in terms of artwork, furnishings, textiles, personal items, archival documents, photographs, fine and decorative arts, Native American art, and contemporary art made by local artists.
Richard & Jane Manoogian Mackinac Art Museum
The newest museum on the island, The Richard and Jane Manoogian Mackinac Art Museum isn't just a mouthful; it offers a wide variety of exhibits feature art inspired by Mackinac Island.
The museum's collection offer no shortage of beauty and history: from Native American garments and baskets, to historic paintings, maps, and photography from the mid-17th to the mid-20th century, as well as contemporary art and photography from local artists.
Children will have a lot of fun exploring interactive displays, hands-on exhibits, and other activities in the Kids' Art Studio.
Essential Information
Address: 7070 Main St, Mackinac Island, MI 49757 | 906-847-3328
Hours: Summer: Mon–Sun 10am–5:30pm; last admission 5pm
Cost: $8.50 per head for adults; discounts available for children below 13
Website: The Richard and Jane Manoogian Mackinac Art Museum
Biddle House
The Biddle House may date to as early as the 1780s; records are vague, but the earliest mention of this house was in 1797.
In 1830, Agatha and Edward Biddle moved into the house. Agatha was an Anishnaabek woman, and during this time, Native American culture was experiencing an overhaul with the arrival of colonizing Europeans.
Michigan tribes knew they were going to be forced out of their land soon, and their heads soon converged in the Biddle House to draw up the Treaty of 1836.
As a result of this treaty, most of the tribes in Michigan avoided being included in the Trail of Tears. And because of the land ceded in the same treaty, Michigan officially became a state in 1837
Nowadays, the Biddle House appears as it would have appeared in 1820, complete with guides in costumes and cooking demonstrations of dishes from that era.
A recent exhibit called the Mackinac Island Native American Museum details the life and story of Agatha Biddle, as well as the ties of the Native American tribes to Mackinac Island and Michigan.
Essential Information
Address: 7406 Market Street, Mackinac Island, MI 49757 | 906-847-3328
Hours: Mon–Sun 11am–6pm; last admission 5:30pm
Cost: $8.50 per head for adults; discounts available for children below 13
Website: Biddle House
6. Taste Mackinac Island's world-famous fudge.
This last item on the list is definitely not the least: you absolutely cannot go back home and you'll never forgive yourself if you don't try fudge.
Fudge is Mackinac Island's most popular export nowadays, so much so that they hold an annual fudge festival every August.
Here are the fudge shops you absolutely must go to before you leave the island.
Essential Information And Tips On Visiting Mackinac Island
Getting To Mackinac Island
Because motor vehicles are prohibited on the island, the only way you can access the island is by ferry. You can board a ferry from either Mackinaw City or St. Ignace, which are both accessible from the I-75.
You can ride a ferry from either Shepler's Ferry or Star Line Ferry.
The nearest commercial airports to Mackinac Island are Pellston Regional Airport (PLN), near the ferry dock in Mackinaw City, and Chippewa County International Airport (CIU), near the ferry dock in St. Ignace. Both airports have shuttle services to the ferry docks.
Propeller planes and small jets can land in Mackinac Island Airport, which is the only link to the mainland from early January to mid-April, when the ferries are closed.
Getting Around
As mentioned above, the only ways around the island are by foot, bicycle, horse, or by horse-drawn vehicle.
Golf carts are only allowed on golf courses, and snowmobiles are only allowed in winter and only with special permits.
Concessions are given to persons with disabilities, so electric wheelchairs, electric-assisted bicycles, and similar vehicles are allowed with certain permits.
Mackinac Island Lodging And Accommodations
Scattered throughout the island are various resorts, inns, and B&Bs.
For those who can afford a luxurious experience
Known as "America's Summer Place," the Grand Hotel in Mackinac is almost a destination by itself.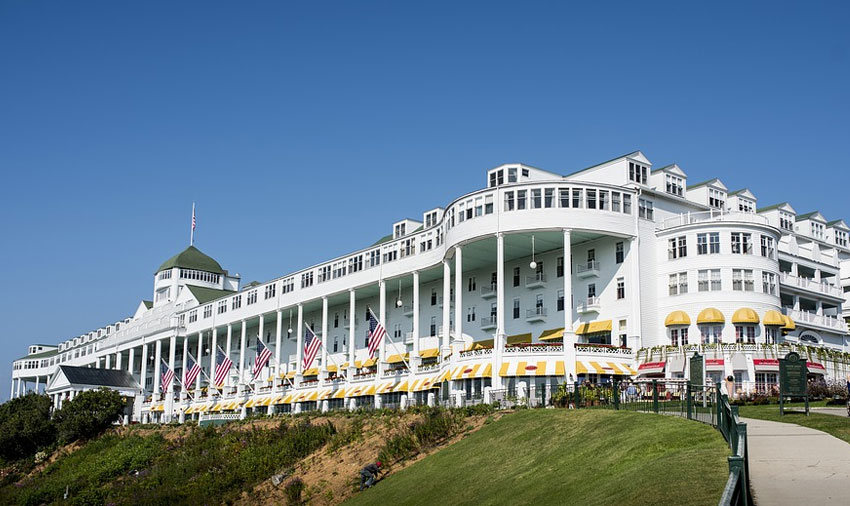 It boasts the world's longest front porch at 660 feet, and it's so distinctive that travelers arriving from the Straits of Mackinac can't miss it.
The Hotel also has a hundred-year-old garden, a stable that is also an antique carriage museum, a heated swimming pool, and a full-service Aveda Salon and Spa.
For families looking for a complete lake resort experience
Mission Point Resort has the biggest lakefront lawn on the island where you can play bocce ball and croquet, or just lean back and gaze out over the lake.
Gardens, a pool, a movie theater, and an arcade room are some of the amenities on the grounds that you can enjoy.
Bonus: visit in the spring or fall, and you might be able to witness the Northern Lights.
For couples or solo travelers who want to be nearer downtown
Cottage Inn can hardly be called a luxury hotel, but it's two blocks away from the ferry docks and is right next to the shops and restaurants downtown.
The rooms are actually charming, with bright, floral décor, and well-used furniture, but all are air-conditioned and have flat-screen TVs.
For those who want to be closer to nature
This inn may be 100 years old, but its old-world charm and its remote location in the woods away from downtown make it a great choice for vacationers who want a peaceful ambiance.
Guests can relax near breathtaking views of the Straits of Mackinac and Mackinac Bridge. A heated outdoor pool, a classic wood-paneled cocktail lounge, and a sumptuous breakfast await guests staying in the mansion or in the Summer House.
Best Time Of Year To Visit
The tourist season peaks around May to July, when tour companies, shops, and restaurants are the busiest. June to September is the warm season, with daily temperatures averaging just over 65°F.
By October, the season begins to wind down, but several Mackinac Island hotels and restaurants stay open during the winter for the few tourists and residents who want to do cross-country skiing.
What To Pack
No matter what season you visit, it's always wise to pack sunglasses, sunscreen, a hat, and comfortable shoes for walking.
During the spring and fall, pack a couple of sweaters and jackets. Dress in layers so that when there's an unexpected temperature change, you'll be prepared.
What To Expect
Over 80% of the island is state park, as mentioned above, so expect to have to follow rules and regulations of the state park.
The park boundaries can be irregular, especially in the downtown area and the west end of the island. Be mindful of this when you go out exploring, because you can be apprehended for trespassing if you wander on private property.
In addition, remember that it's illegal to camp, hunt, or build fires in Mackinac Island State Park, so don't even try.
Here is a detailed document with the complete state park rules.
Mackinac Island Restaurants
1852 Grill Room
Fine Dining
1852 Grill Room features a first-class menu featuring seafood and steaks served in a relaxed setting highlighted by stunning Mackinac Island views. 
Essential Information
Address: 6966 Main St Inside Island House Hotel, Mackinac Island, MI 49757 | 906-847-7222
Hours: Mon–Sun Breakfast: 8am–10am; Dinner: 6pm–9pm; Lounge: 5pm–10pm
Attire: Smart casual
Reservation Required: Recommended, but not required
Cost: $$$$
Website: 1852 Grill Room
Pink Pony
Drinks
Known as Michigan's Most Iconic Bar, Pink Pony is popular with tourists. Try the Pink Pony Martini (dragonberry vodka, watermelon pucker, lemonade, cranberry) or the Pink Pony Punch (dragonberry, Peach Schnapps, and lemonade).
Essential Information
Address: 7221-105 Main Street, Mackinac Island, MI 49757 | 906-847-3341
Hours: Mon–Sun 8am–2am
Attire: Casual
Reservation Required: No
Cost: $$
Website: Pink Pony
The Chuckwagon
Brunch
Officially Mackinac Island's tiniest eatery, the old-school diner dates back to the 1950s.
Come in here to have eggs, hash browns, bacon, and the best burger in town. At $7 for a third-pounder, this burger certainly offers the best value for money.
Essential Information
Address: 7400 Main Street, Mackinac Island, MI 49757 | 906-847-0019
Hours: Mon–Sun 7am–3pm
Attire: Casual
Reservation Required: No
Cost: $$
Website: The Chuckwagon
Seabiscuit Café
Seafood
Named after the famous champion thoroughbred Seabiscuit, this popular eatery features, predictably, a horse theme décor. The seafood is superb, but don't ignore their cocktail selection. Try their mango-infused mimosa to start your meal off.
Essential Information
Address: 7337 Main Street, Mackinac Island, MI 49757 | 906-847-3611
Hours: Mon–Sun 7am–2am
Attire: Casual
Reservation Required: Recommended, but not required
Cost: $$$
Website: Seabiscuit Café
Plan Your Visit To Mackinac Island, Michigan!
Hopefully, this article helps you plan the perfect Mackinac Island vacation.
Other Places To Visit In Michigan
Michigan is a beautiful state, and aside from Mackinac Island, there are other scenic places to visit in Michigan.
Detroit, MI has one of the most famous bridges in the country, Paradise, MI has one of the best waterfalls, and Silver City, MI is one of the best places to see fall colors.
Planning to go visit Mackinac Island soon? Which activities are you planning to do first? Tell us in the comments!