Nestled in the picturesque Ouachita Mountains, sits the 150-year-old city of Hot Springs, Arkansas.
Historically, the city had been a haven for outlaws, gamblers, and tourists alike, owing to the fabled curative waters of the geothermal springs dotted throughout, which have drawn people from many different walks of life.
Hot Springs used to be known as the "Spa City" and became a popular attraction for gamblers and mobsters before Las Vegas took up that mantle.
Despite the rather unsavory company, this resort city also attracted tourists in droves, from those seeking out the mysterious healing properties of its warm springs to those who were just looking for a good time.
It also became the home of spring training, seeing as many as 250 baseball players show up every year.
The result was a city built on contrasts, where it was said that you could enjoy the speakeasies and brothels to your heart's content on one side of the street, and cure whatever you caught with the water on the other side.
These days, Hot Springs is a much more family-friendly destination, but the historical bones of its old prohibition days remain and make for an interesting walk down memory lane. In this article, I list some of the best things to see and do around Hot Springs so you can take full advantage of your time there – whether it's a day trip or a week-long vacation.
Top 5 Things Things To Do In Hot Springs
1. Follow a hiking trail in the heart of the city
Hot Springs is the only city in the US that's located right inside a national park. That means, while you usually have to travel a few miles from most towns or cities to even see a national park, here you can walk right off the street and into one.
This famous national park, which many residents still suggest was the first national park established in the US (even before Yellowstone), hugs the northern part of the city.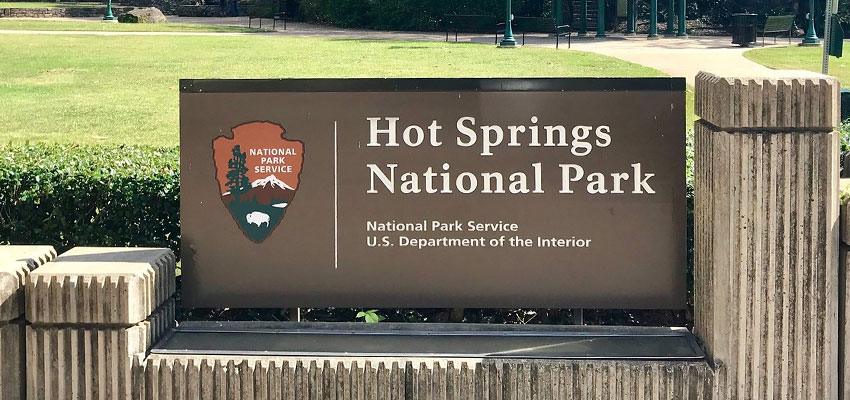 There are dozens of hiking trails dissecting the park, encasing you in scenes of lush greenery, streams, and waterfalls – all of which can be accessed within minutes from your hotel room. Although, if you're more into the idea of roughing it then the park also maintains a public campground at Gulpha Gorge.
Hot Springs National Park is probably best known for it's 47 hot springs, which gave the city and nearby mountain their names. These springs run at a temperate 143°F and there are a few spots where you can dip a hand into the pools – just be careful because it is hot!
How to get to Hot Springs Mountain Tower
The tower sits near the middle of the park, and provides a stunning viewpoint for those looking to take pictures or just admire the view.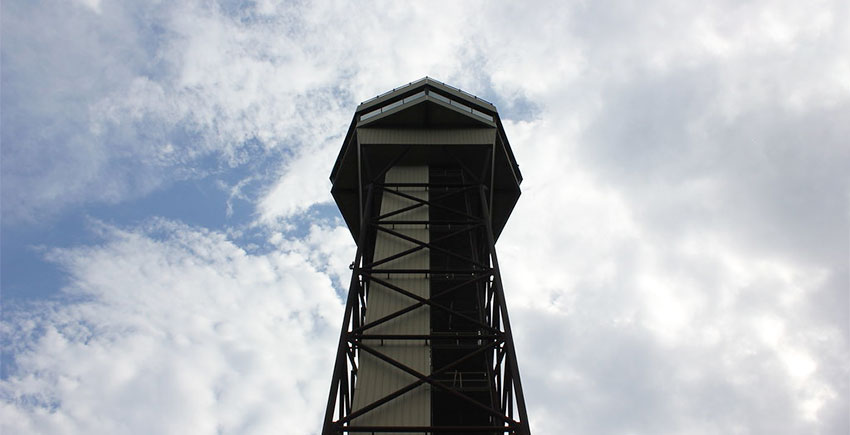 It can be accessed from Hot Springs Mountain drive, but getting to the tower requires a bit of climbing, so wear some comfy shoes. You don't need to drive up to the tower if you're feeling a bit more adventurous, however.
Just pick one of the many trails dissecting the park and find your way there.
You can take a look at a map of the trails in Hot Springs National Park here.
2. Wade through history on Bathhouse Row
Bathhouse Row is one of the main streets in the Hot Springs National park, but it's an experience all unto itself.
This legendary street houses 8 grand bathhouses in different turn-of-the-century architectural styles.
Fordyce Bathhouse
The historic Fordyce Bathhouse (the largest and some would say the grandest bathhouse on the row, which has been converted into the visitor center for Hot Springs National Park) offers a satisfying look into its prime, with marble, stained glass, and even a gymnasium.
Take a bath at Buckstaff Bathhouse or Quapaw Baths & Spa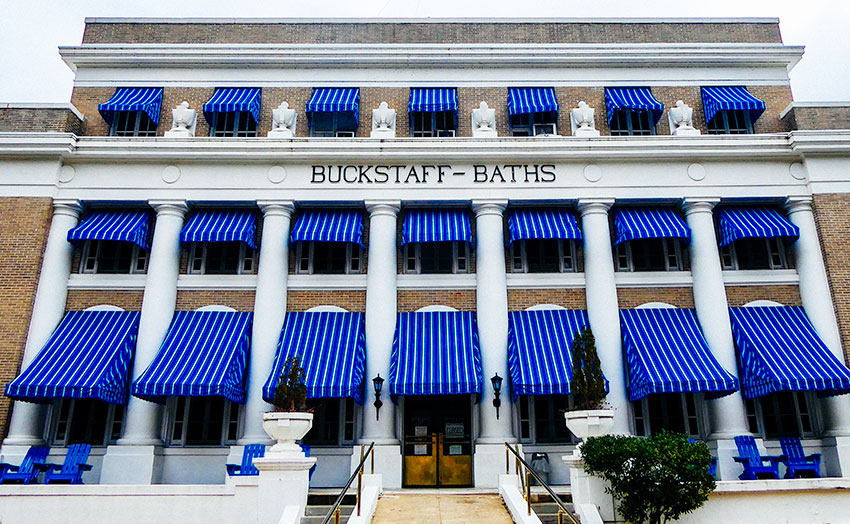 Unfortunately, only two of the original eight actually still operate as bathhouses, but they do offer an authentic spa-like experience – with a few modern additions for those who want them. Relax in the thermal waters at either Buckstaff Bathhouse or Quapaw Baths & Spa.
They have different packages but the more traditional experiences are one of a kind and not to be missed! Pick either and immerse yourself into the thermal waters and a relaxing day back in the roaring '20s.
Superior Bathhouse Brewery & Distillery
This old bathhouse was renovated and turned into a restaurant, brewery, and distillery by Rose Schweikhart.
The restaurant's menu is small but scrumptious (with some vegetarian options as well), but the real star is the beer.
The brewery uses the thermal spring water to craft their beer and there's a wide and revolving selection of craft beers.
If you're not into beer or don't drink alcohol, then you could go for their root-beer instead as is made with the thermal waters as well. Plus it's simply lovely.
3. Learn about notorious criminals at the Gangster Museum of America
Hot Springs was a place where you could walk into notorious criminals like Al Capone and baseball legends like Babe Ruth on the same day.
And while the city doesn't have the same laid-back attitude towards criminals that it did a hundred years ago, those days are still memorialized thanks to the Gangster Museum of America.
The museum houses 7 galleries, each of which focuses on a different person, except for the PowerBrokers and Casino galleries.
The Casino gallery is a treat too because they have a working antique casino – just for fun of course!
4. Enter a fairytale wonderland in the Garvan Woodland Gardens
Surrounded by the Ouachita Mountains, this 210-acre woodland covers both wild growth and manicured gardens. Part of it also runs alongside Lake Hamilton, offering another stunning dimension to this magical place.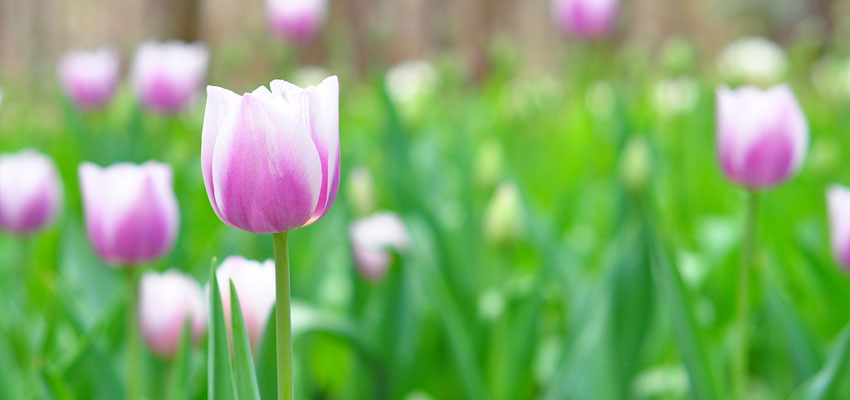 If you find yourself there between January and March, then the tulip paths with thousands of blooming tulips are a must-see.
But there's also an impressive array of different flowers that you'll probably get to see during the other months of the year too.
I really cannot stress enough how beautiful this place is.
5. Discover the Mid-America Science Museum
This isn't just your old run-of-the-mill museum. It's a fun attraction for the whole family.
Kids will love the interactive exhibits and experiments, as well as the dinosaur walk outside. Don't think this will be boring for you, though. The activities at the Mid-America Science Museum are fun for adults too, and you might even learn a thing or two while you're there!
Try to come early, if you can, because it gets crowded and you don't want to have people elbowing you while trying to get to the interactive exhibits.
Information And Tips On Visiting Hot Springs
Where To Stay
If asked, many people will likely point you towards The Waters hotel, a historic five-story building located right across Bathhouse Row. And their advice would be sound because this is definitely a great place to stay, especially for anyone who's interested in doing more than one of the many hiking trails in the park. But it is pricey.
That said, this is a tourist-centric city and you can find a whole lot of fantastic places to stay that will fit almost any budget.
Getting Around
If you didn't drive here yourself, then your best bet would be to rent a car. Getting around the park is easy enough if you like to walk, but you'll need a car if you want to see the rest of the city.
What To Eat
Hot Springs might not have a reputation for being a food mecca, but there's a diverse range of cuisines here, from Latin-fusion to Italian. Whether you have a sweet tooth or you're in the mood for high-end creations at the hands of award-winning chefs, here are some dishes you need to try when you're visiting Hot Springs.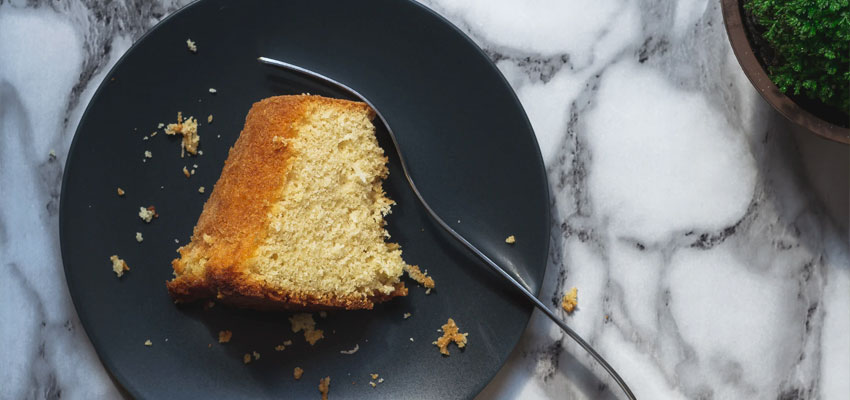 Reuben sandwich is a corned beef sandwich usually served on rye bread with sauerkraut and a side dressing. Though many Arkansians prefer to swap out the sauerkraut for a less pungent option such as mustard.
Smoked hams are a staple in Arkansas and you'll find a few places selling these either whole or in slices around Hot Springs.
Cornbread is as southern as it gets and there's no better place to try authentic cornbread than in a city in Arkansas.
Possum pie is a layered pie that consists of a crust topped with cream cheese, chocolate custard, and whipped cream.
Barbecue baked beans can be found pretty much anywhere in this state, but if you're going to try them then Hot Springs is certainly the place to do so.
Chocolate gravy is another Arkansian staple. Chocolate might seem like a strange ingredient for gravy, but it goes down really well with a buttermilk biscuit.
Get Packing For Your Hot Springs Trip!
Not only is Hot Springs nestled in spectacularly beautiful surroundings, from the national park and mountains to the lakes and Ouachita river, but it's a historian's dream. The museums and historic buildings paint a charming picture of the lives of turn-of-the-century Americans.
If you're looking for more adventures in the state of Arkansas then make sure to check out the Arkansas & Missouri railroad through the Ozarks or the Victorian buildings at Eureka Springs.
Did I miss anything? What would you add to the list?