The lakes in Idaho are some of the most serene, most photogenic, and most happening places in the West. And like other Mountain states, you are guaranteed to get as much oneness with nature as you could possible imagine once you reach any of the lakes in Idaho.
Visiting Idaho lakes is also budget-friendly (many of them are virtually free to visit) and can be perfect day trip destinations if you have limited time.
So which ones do you go to first?
Lakes in Custer County, Idaho
Custer County is a rural mountain county located in the heart of the state of Idaho. It is home to only 4,000 people, but this is where the most number of lakes in the state can be found. Out of the 107 Idaho lakes here, the following destinations are a must-see: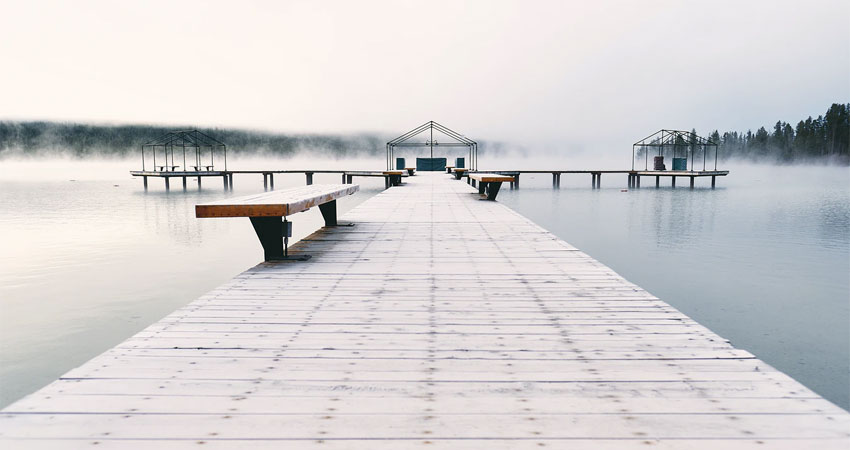 Redfish Lake is the largest lake in the Sawtooth National Recreation Area. It is also a year-round destination with breathtaking views of snow-capped mountains. The lake itself is crystal clear and is ideal for day-trip fishing. If you have time, hike one of several trails nearby, then stop over and chill at one of the local coffee and pastry shops at Stanley.
Location: Sawtooth National Recreation Area
Best for: Fishing, boating, camping, swimming, nature photography
Fishing info: rainbow trout, Atlantic salmon, Bull trout, Dolly Varden trout and Sockeye salmon
Main park access:  The bridge at the junction of Redfish Lake Creek and the Salmon River
Amenities: Boat ramp, Tent camping, Camping trailer, Picnic tables,
Where to stay: Redfish cabins, campgrounds, RV park, Redfish Lake Lodge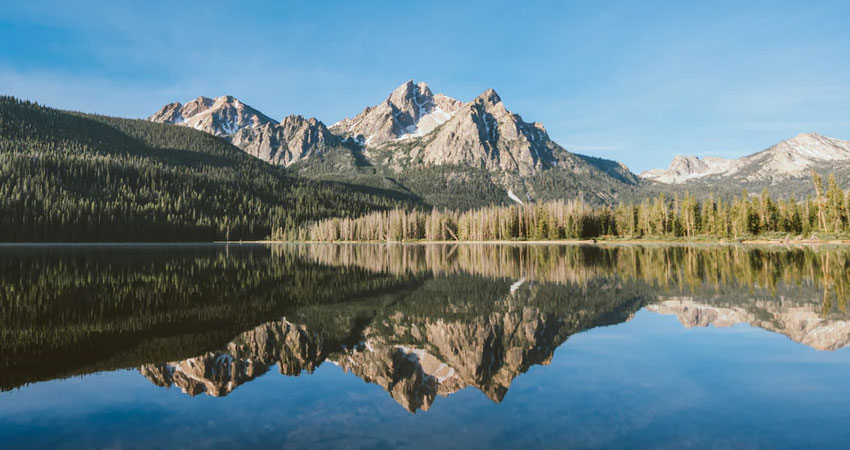 Stanley Lake is another must-see Idaho lake located in the Sawtooth wilderness. It is a camper and hiker's dream, giving you views of the creeks, Mount Regan, other lakes and snowy trails. As the most popular lake in Sawtooth National Recreation Area, it gets busy in March, so plan ahead.
Location: Sawtooth National Recreation Area
Best for:Advanced hiking, fishing, boating, camping, swimming
Fishing info: rainbow trout, yellow perch, walleye, Channel catfish and largemouth bass, among others
Main park access: State Highway 21, then turn on paved Stanley Lake Road
Amenities: Tent camping, Picnic tables, vault restroom, drinking water
Where to stay: campgrounds, Valley Creek Lodge & RV park or private cabins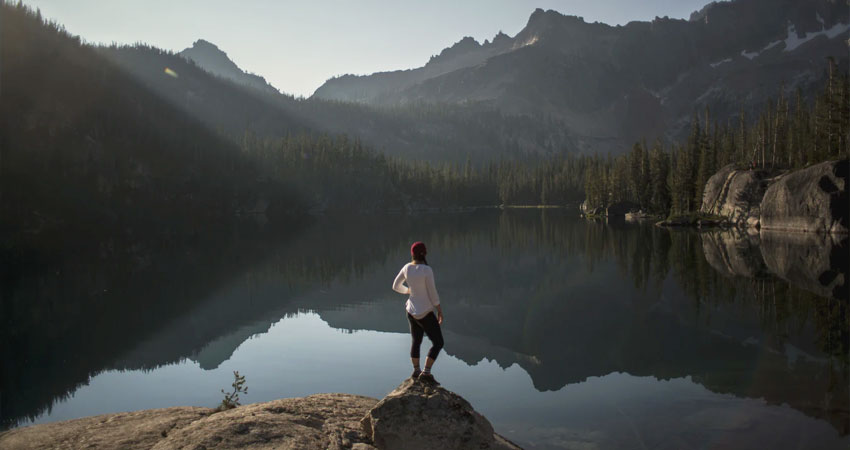 The trail to reach the Sawtooth Lake is a moderately-challenging, yet fulfilling day trip perfect for experienced hikers. Lots of uphill and switchbacks, the trail is covered in snow during winter and could go over 2 hours each way if you're planning to go on a day-trip.
Location: Sawtooth National Recreation Area
Best for: snowshoeing, backpacking, fishing, nature photography, kayaking, camping, swimming
Fishing info: Bass, Kokanee, salmon, Steelhead, Sturgeon, Whitefish, and a wide variety of trout
Main park access: Iron Creek Trailhead
Amenities: tent camping
Where to stay: campground by the lake, cabins, RV camping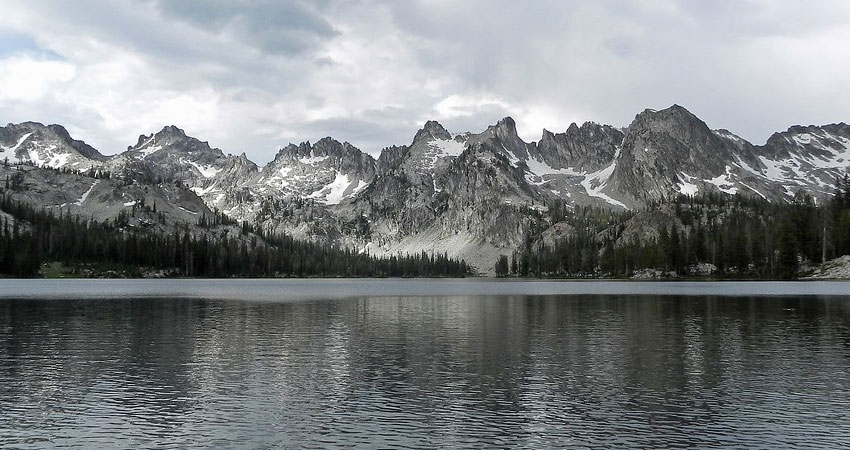 This alpine lake may be small, but it is just as breathtaking as other bigger Idaho lakes. It is located about 16 miles from Stanley Idaho, higher in the Sawtooth wilderness and is often included as part of a longer backpacking adventure. Note that permits are required if you're planning to explore any of the trails of Sawtooth.
Location: Sawtooth National Recreation Area
Best for:adventurers, hikers, campers, backpackers, nature photography
Fishing info: The lake remains frozen into early summer, so schedule appropriately if you're planning to fish here.
Main park access:18 miles south of Stanley on Highway 75, take the Pettit Lake turn. A short drive on a dirt road leads you to the lake and the Tin Cup Trailhead.
Amenities:Expect pure wilderness and no amenities
Where to stay: campgrounds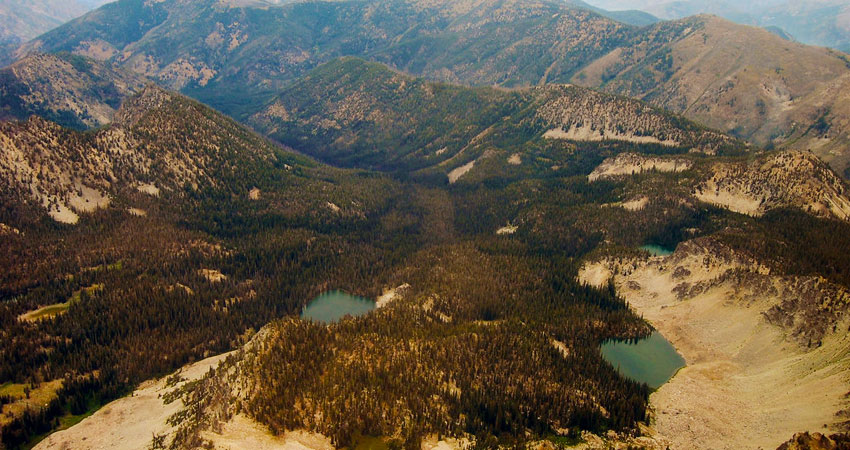 Knapp Lakes is a cluster of several alpine lakes about 20 miles west of Stanley, Idaho. It is 8000 feet above sea level in the middle of the Challis National Forest, which you can reach after an eight-mile hike in. Ideal for those in search of a literal "high," this adventure leads to other lakes in the area.
Location: Challis National Forest
Best for: hikers, backpackers, nature photography, birding
Fishing info: fly-fishing is popular here. You can also catch Tiger Muskie, Sturgeon, Salmon, Whitefish and various trouts.
Main park access:Northwest of Stanley off State Route 21.
Amenities: none
Where to stay: own tents
Like the group of Knapp Lakes, Boulder Chain Lakes are a chain of thirteen alpine and glacial Paternoster lakes located in Custer County, between Stanley and Ketchum, Idaho. The lakes are pretty secluded and are around 8,500 feet to 10,500 feet above sea level, so be prepared for a hike.
Location: White Cloud Mountains in the Sawtooth National Recreation Area
Best for:backpacking, swimming, fishing, photography
Fishing info: Ideal fishing months are from April until September
Main park access: Sawtooth National Forest trail 683
Where to stay: own tent
Other Must-Visit Lakes in Idaho
They may look similar in pictures, but each Idaho like has its own charm, and level of hiking skills required. Some notable lakes you should check out include: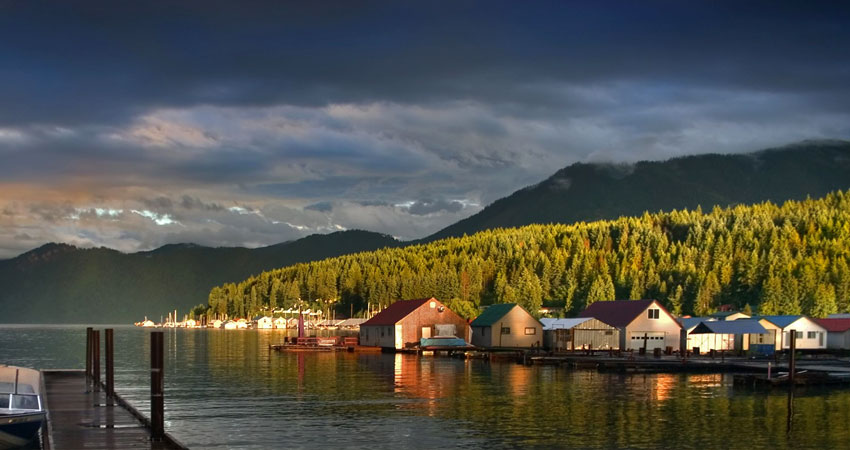 As Idaho's biggest lake (it is 43 miles (69 km) long, and 1,150 feet (350 m) deep in some areas), Lake Pend Orielle has a lot of nature-oriented activities to offer.  Surrounded by forested mountains and off the beaten path, this beautiful lake is perfect for various watersports from parasailing to fishing.
Location: Bonner and Kootenai counties
Best for: boating, fishing, swimming, wildlife, camping, beach trip, picnic, backpacking
Fishing info: kamloops (a giant rainbow trout specie), mackinaw and kokanee salmon
Main lake access:  Kaniksu National Forest
Where to stay: There are various campgrounds for every park surrounding Lake Pend Orielle, but if you don't want to rough it out in nature, go to the quaint little town of Sandpoint (it's been voted America's most beautiful town in the past, so I'm sure it's worth the side trip).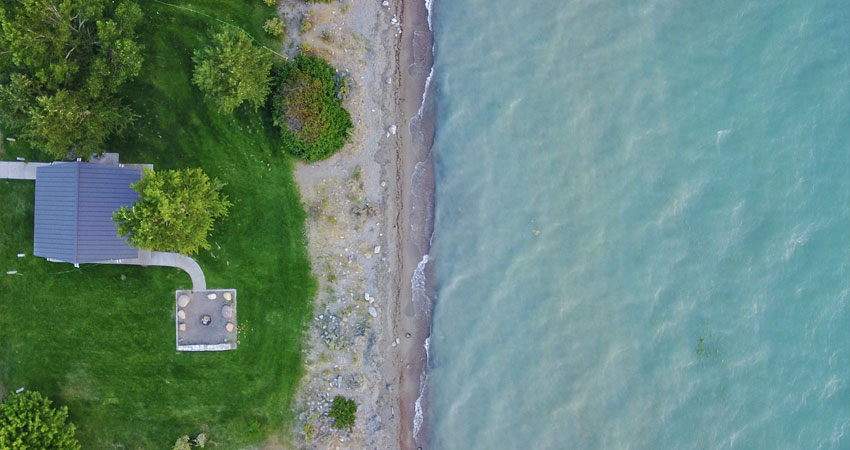 Bear Lake is over 250,000 years old, but it is still a very popular spot until today.
Half of Bear Lake is in Utah, while the other half is in Idaho, but the whole lake has been called the "Caribbean of the Rockies" for the unique turquoise-blue color created by the refraction of limestone deposits that are suspended in the lake.
Location: Bear Lake County, Idaho
Best for:Fishing, boating, water sports, sail boat, swimming, picnic, kite flying, playing volleyball, hiking, biking, ice fishing, bird watching
Fishing info: This lake is famous for Bonneville cisco, a fish found nowhere else on earth.
Amenities: Vault toilets, dump station, electricity, water
Main park access:The park can be accessed from U.S. 89 at St. Charles via the North and East Beach roads. The park is 2 hours south of Pocatello, Idaho and 3 hours north of Salt Lake City, Utah.
Where to stay:There are campgrounds, ranches, cabins, houses, and hotels near Bear Lake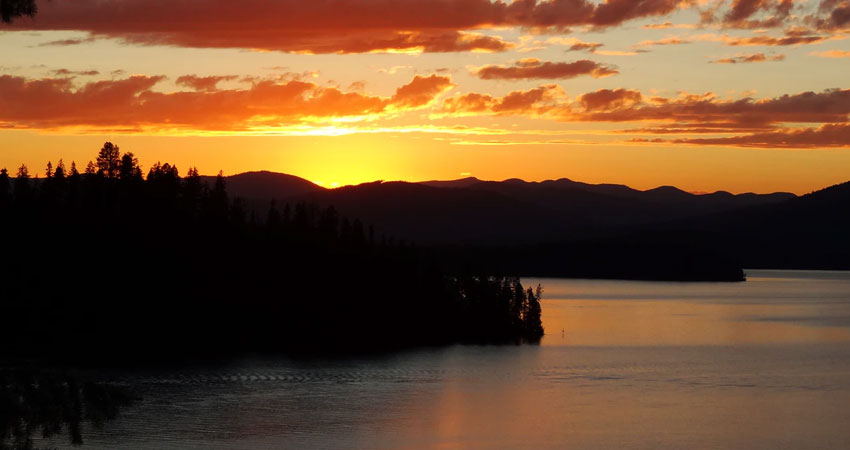 Aside from its picture-perfect backdrop of mountains, forest and miles and miles of water, Priest Lake offers unlimited activities for families, explorers, and sportsman (and woman). And unlike other smaller lakes that have little accommodation, Priest Lake is scattered with many lodging options.
Make sure to look up if you're staying here overnight – the resorts at Priest Lake has been known to provide awesome views of the Northern lights.
Location: 62 miles NW of Sandpoint, Bonner County, Idaho
Best for: swimming, hiking, biking, boating, ice fishing, beach hopping, wakeboaring, backpacking,
Fishing info: Fishing is available at over 40 square miles of fishing spots around Priest Lake all year-round. There may even be a trout fishing competition at places like Elkins Resort.
Main park access: From US Hwy 2 onto ID State Highway 57, take a scenic 25-mile journey into the Priest Lake area
Amenities: Showers, flush toilets, dump station, full service park store with gasoline
Where to stay:There are several large private resorts on the lake including Elkins and Hill's Resort. Popular campgrounds include Indian Creek and Lionhead run by the State of Idaho as well as Beaver Creek, Reeder Bay, Osprey, Outlet Bay, and Luby Bay, which are all located in and run by the Idaho Panhandle National Forest.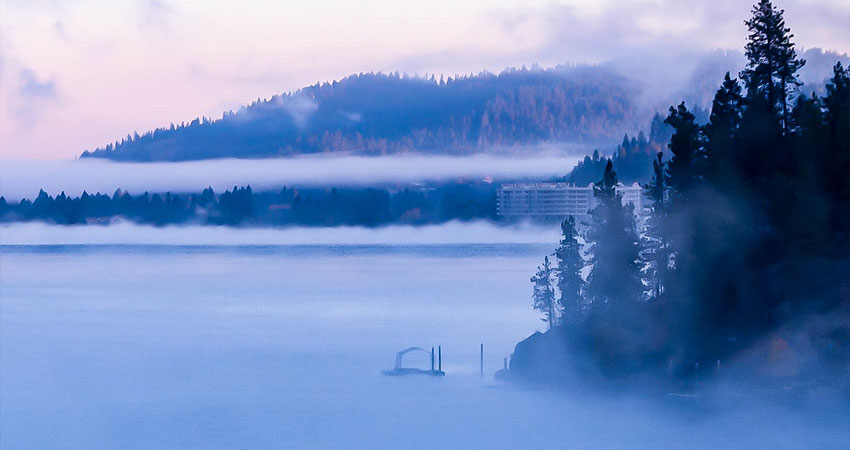 Coeur d'Alene is a charming place with upscale galleries, shopping, golfing, and eateries. It is also home to the magnificent Coeur d'Alene Lake (a natural dam-controlled lake) formed by the Missoula Floods hundred of years ago, but is now fed by waters from 3 different rivers. This lake used to be a venue for hydroplane racing. Now, it is a popular summer destination for almost every water sport imaginable.
Location: Kootenai/Benewah counties, Idaho
Best for: fishing, boating, nature photography, beaching, biking, hiking,
Fishing info: bluegill, yellow perch, white crappie, largemouth bass, smallmouth bass, kokanee, Chinook salmon, northern pike
Main park access: Coeur d' Alene Parkway
Where to stay: There are hotels, bed and breakfasts, vacation rental homes, campgrounds and RV resorts in Coeur d'Alene.
Other Places to Visit in Idaho
Aside from the many fishing spots all over Idaho, make sure to visit the following attractions if you still have time:
Shoshone Falls – This 212-foot-tall waterfalls is known as "Niagara of the West." (check the country's best falls here if you're chasing waterfalls).
Sun Valley Resort – If you're on the hunt for the best winter vacations, this resort offers almost 2000 acres of skiable terrain thanks to Bald Mountain and Dollar Mountain.
And for those trying to check a lake-visiting bucket list, check out what Indiana's lakes have in store.